This page contains affiliate links. Please read our disclosure for more info.
I understand why some people are disappointed with Bali. The touristy, over-developed, and traffic-clogged beach towns in the south aren't quite the tropical paradise they were expecting. We felt the same at first and haven't had particularly good experiences outside of our beloved Ubud.
On our third visit to Bali, we decided to make an effort to discover the less visited parts of the island by heading north and west of Ubud on a five-day road trip. We visited the mountains of Munduk, Menjangan Island, and the surf town Balian Beach. We stayed at a friendly homestay, a luxury glamping resort, and an Airbnb villa with dramatic sea views. We hiked to waterfalls, snorkelled over reefs, and drove past stunning rice terraces, lakes, and jungle ravines.
The road trip was so much better than we expected, and despite being high season right now, everywhere we visited was very quiet. It reminded us how beautiful Bali is and how it is possible to escape the crowds.
We headed off on our trusty Scoopy motorbike, but you could also follow the same route by taxi (the most common way to get around as public transport is limited). All accommodation can arrange a driver to take you to your next destination. If you are confident on a motorbike, we recommend exploring Bali this way. It's inexpensive, gives you the most freedom, and you feel immersed in the landscape in a way you don't in a car.
Contents
Our Bali Road Trip Itinerary
Our trip was a total of five nights not including Ubud, where we are living for five months.
Ubud
Munduk – 1 night
Banyuwedang (near Menjangan Island) – 3 nights
Balian Beach – 1 night
Ubud
Our Bali Road Trip Map
Day 1 Ubud – Munduk (1 night)
Distance: 62km
Time: 2.5 hours (including photo stops and an accidental detour)
We set off from Ubud at 8.30am under ominous grey skies hoping we wouldn't have a repeat of the torrential rain from the day before (it has been a very wet dry season). About 15 minutes outside Ubud we left the development behind and drove past typical Balinese rural scenes of rice fields, jungle ravines, and giant banyan trees. We alternated between the lush green landscapes and small villages with ornately carved temples.
Temple ceremonies are frequent occurrences in Bali, and we came across one with locals parading the streets dressed in traditional sarongs, playing gamelan music, and holding masks of the lion-like Barong.
Towards Bedugal it became even more scenic (and colder and wetter) as we climbed higher, up and down steep mountainsides past rice terraces, misty jungle, vegetable and strawberry farms, and fields of bright orange marigolds. Despite my four layers and waterproof jacket and trousers, I was freezing on the back of the bike. Yes, Bali can be cold!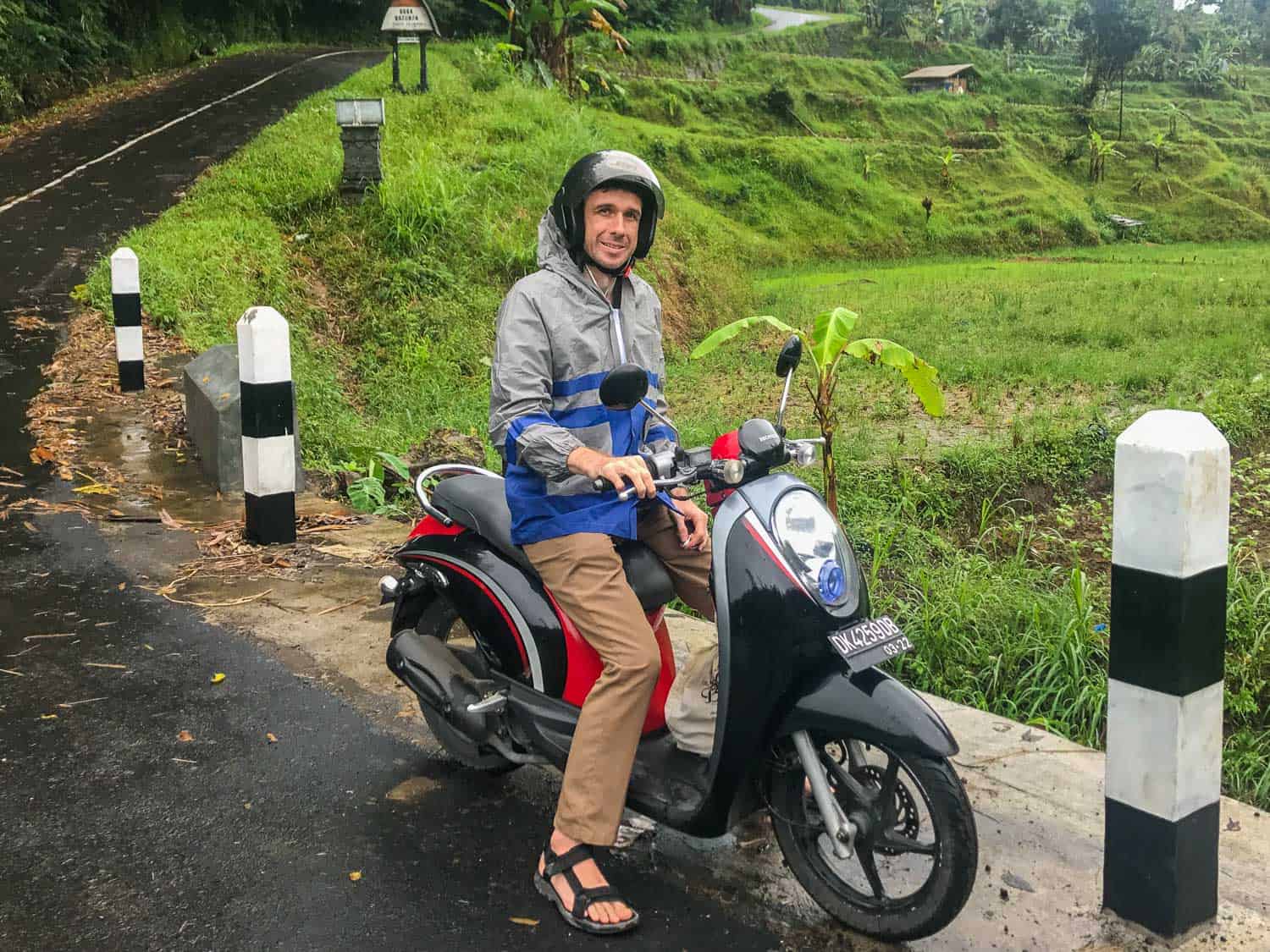 We passed Lake Bratan, where the Ulun Danu Bratan Temple is a popular attraction. It's worth stopping, but we'd visited before (and found it too commercialised) so continued to the quieter lakes of Buyan and Tamblingan.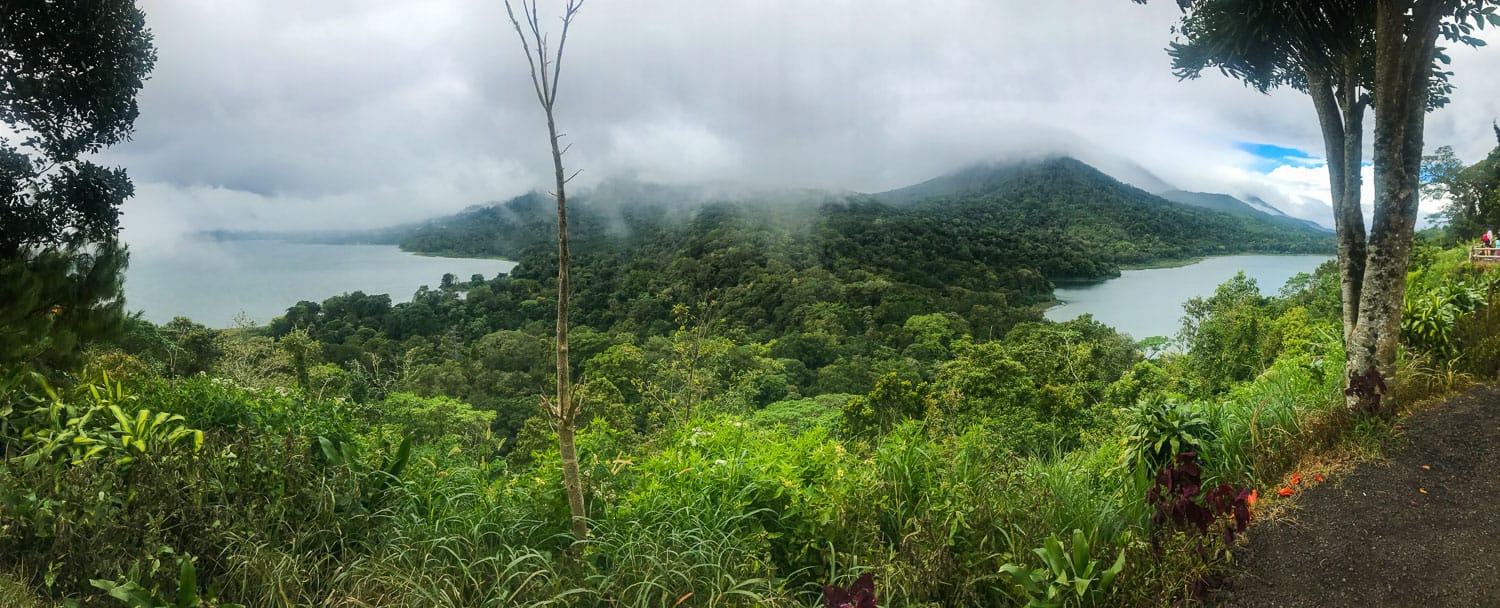 We were in desperate need of a break and hot drink, so we stopped at Terrasse du Lac, which has a view of Lake Tamblingan below (although there's a quiet road in between). With some vegetarian options on the menu it could have made a good lunch break, but as it was too early, we stuck with a drink. The hot chocolate was awful; the hot ginger tonic delicious.
Due to the rain and chilly (19ºC) weather we skipped taking a closer look at the lake and continued to Munduk, 15 minutes away. Munduk is a quiet mountain town known for its hikes and waterfalls. It's always cooler than the rest of Bali and often rainy.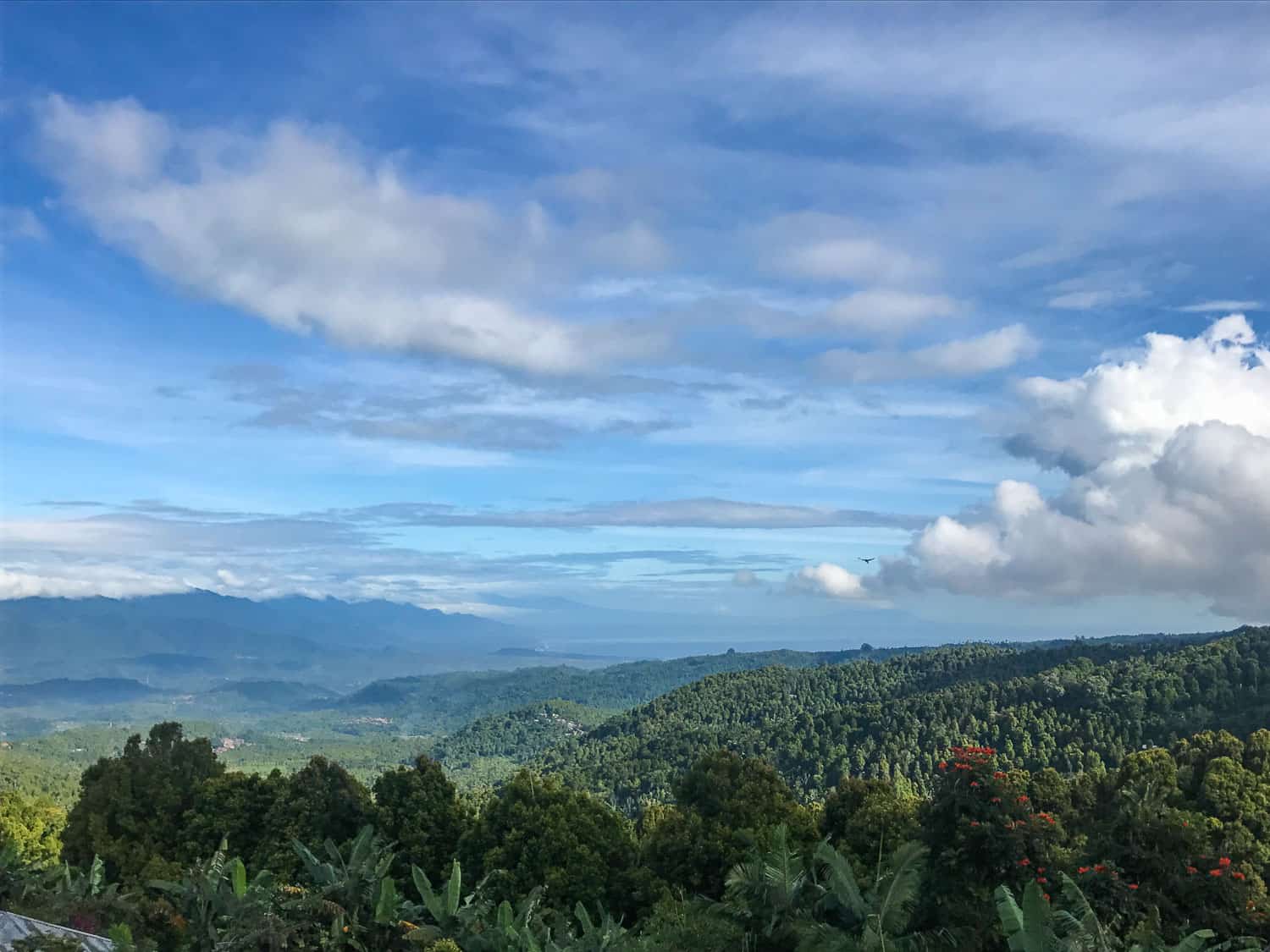 Thankfully the rain eased off and we were able to hike to two waterfalls from our homestay. It took us 1 hour 40 minutes to walk to Munduk and Melanting Waterfalls on quiet paths through the jungle and down many steep steps to Melanting (the climb back up was the only difficult part of the hike). Both waterfalls were lovely and we had them to ourselves.
Where to Stay in Munduk
Adila Homestay was the perfect base for visiting the waterfalls as a trail started just below our room. The owners are very friendly, and our room was simple but comfortable with a gorgeous view of the mountains and sea from our terrace. At just 315,000 IDR ($23) it's great value.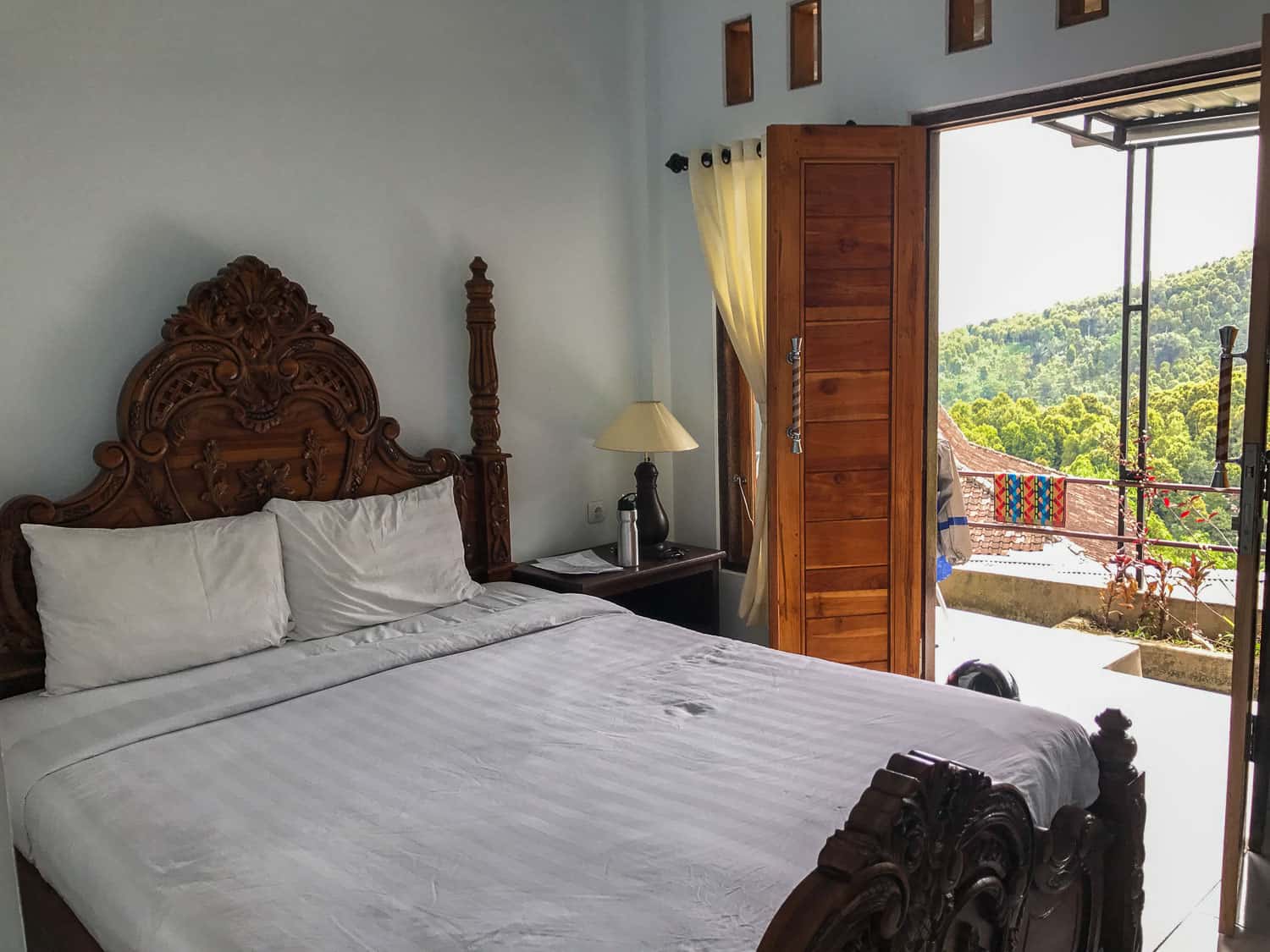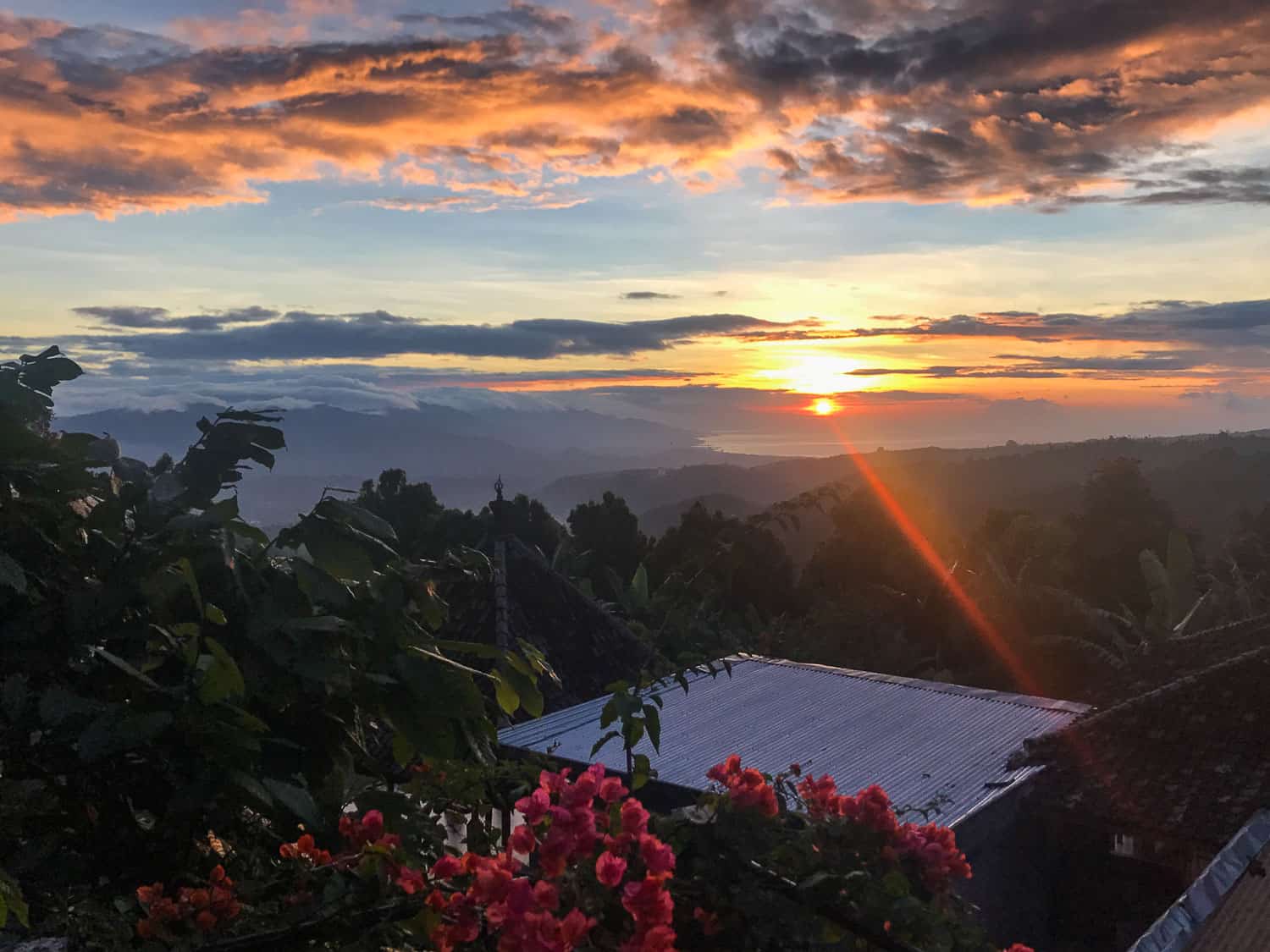 If you want to splurge on somewhere more luxurious, Munduk Moding Plantation looks stunning.
Find more homestays and hotels in Munduk here.
Where to Eat in Munduk
We ate all our meals at Adila Homestay. The Balinese dishes were delicious, cheap, and they have a vegetarian menu. Breakfast is included and includes fruit and a choice of cooked options—the banana fritters are wonderful.
Day 2 Munduk – Banyuwedang (3 nights)
Distance: 66km
Time: 2 hours
The sun came out the next morning and we wished we had longer in gorgeous Munduk. The drive down to the coast was the most stunning route we've driven in Bali. The jungle covered mountains stretch unspoilt all the way to the sea and vibrant green rice terraces plunge steeply down the mountainside.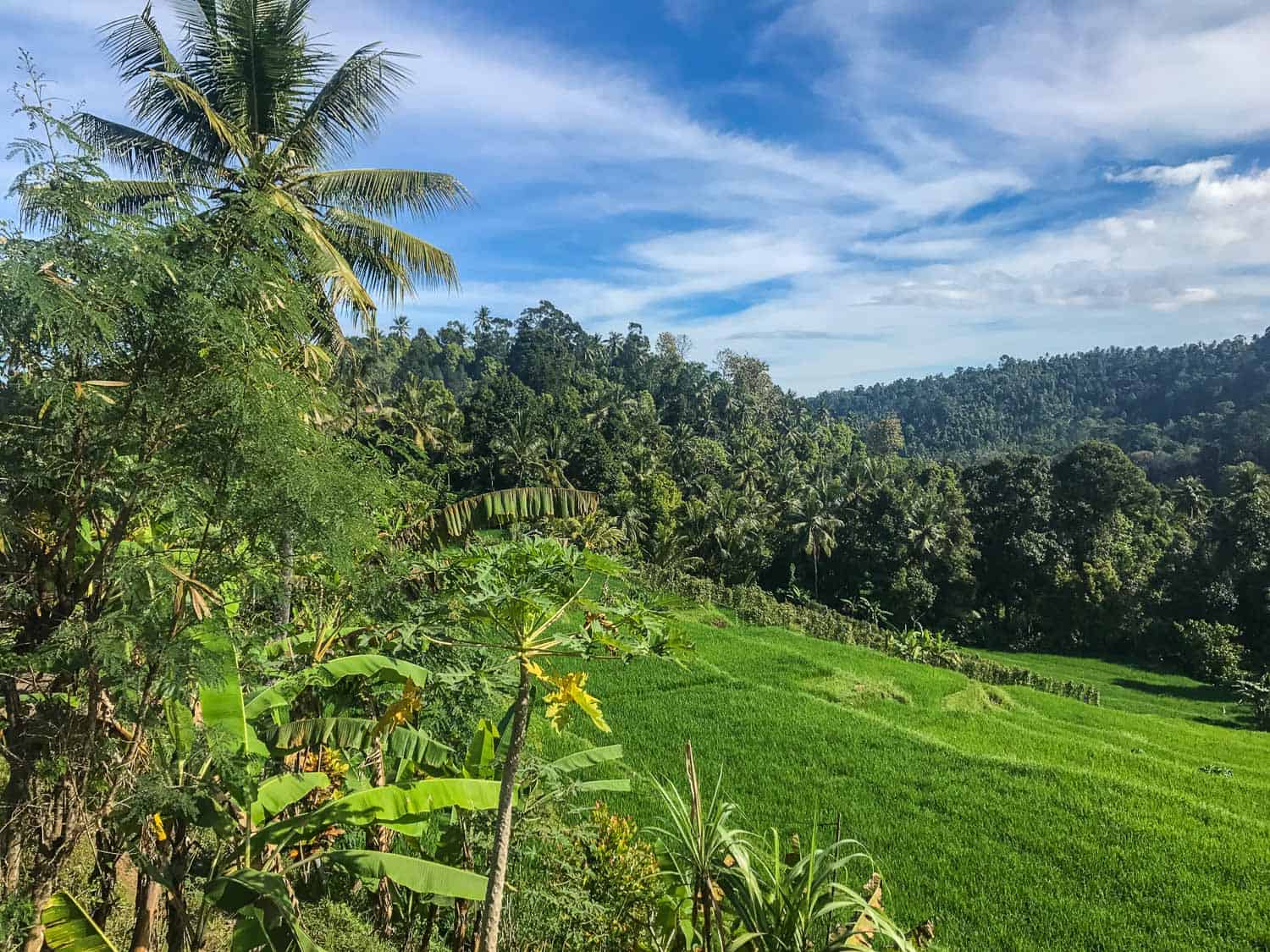 On the coast we hit a busy town and left the cool mountain air behind. The coast road was fairly busy and you can't see the sea until towards the end, but there are some pretty rice fields and mountain views to keep things interesting. We got caught up in another temple ceremony.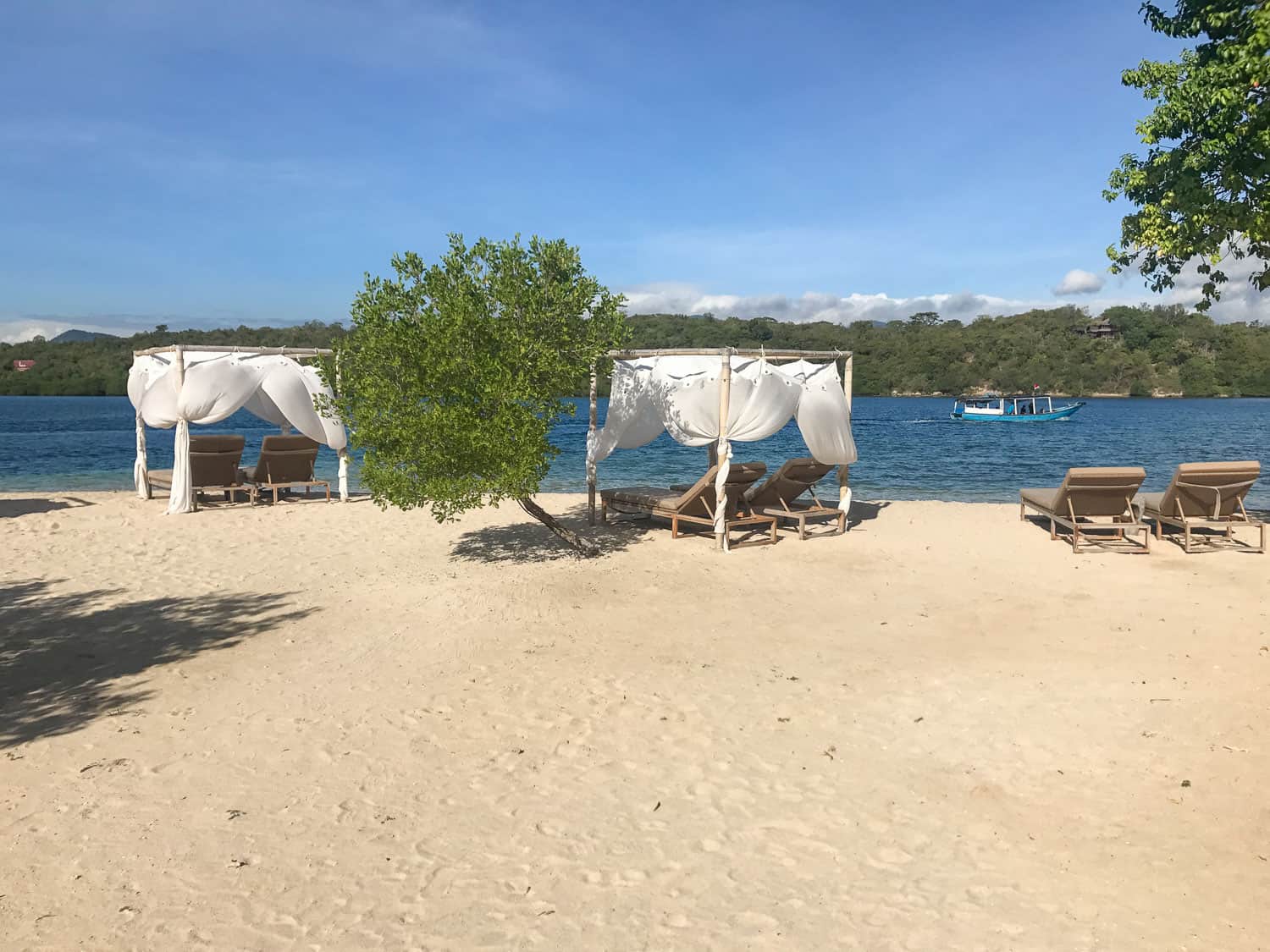 We were celebrating our anniversary so splurged on the luxury resort Menjangan Dynasty for three days of relaxation. It's close to West Bali National Park where you can go hiking, but the only activity we did was a snorkelling trip to nearby Menjangan Island (about 40 minutes on a slow boat).
Menjangan is known as one of the best snorkelling and diving spots in Bali. We're somewhat spoiled, so we found it good rather than spectacular. Most of the coral is bleached but we did see a good amount of fish. As the sea was rough we didn't get to snorkel in the best spot. It's worth doing if you are in the area.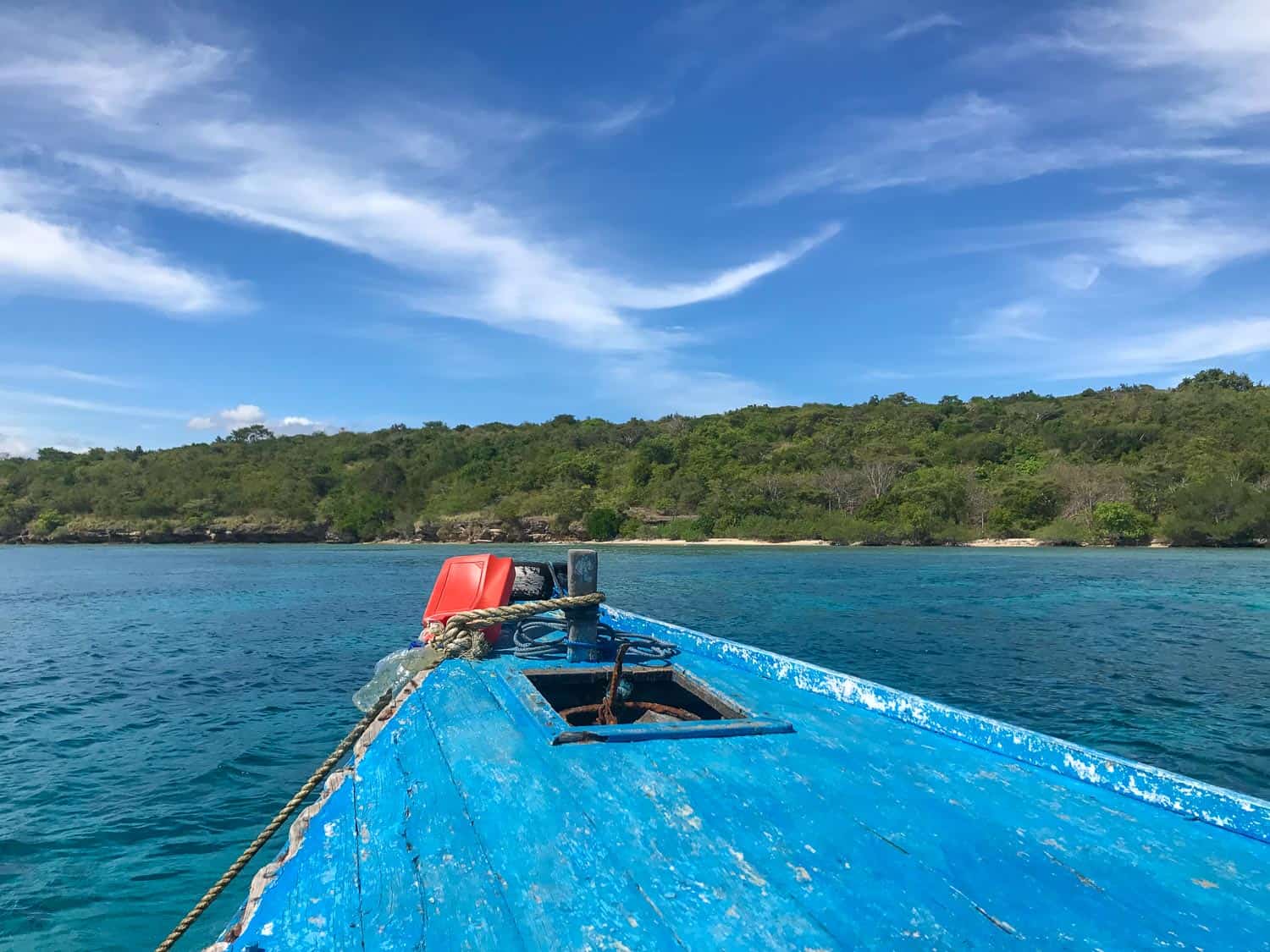 Where to Stay
Menjangan Dynasty Resort is a new luxury glamping resort on Banyuwedang Bay. Our tent was as luxurious as any room we've stayed in with a comfortable bed, ensuite, air conditioning, minibar, fast wifi and all the amenities you could need. Our terrace was surrounded by frangipani trees and had comfortable seating and a sea view. I love that the resort provides water bottles that you can fill up for free from the water stations around the resort.
The resort was perfect for relaxing—either on the small but lovely white sand beach by the calm sea (on an island where black surf beaches are the norm) or by the stunning infinity pool overlooking the sea. It was very quiet and we usually had the pool to ourselves.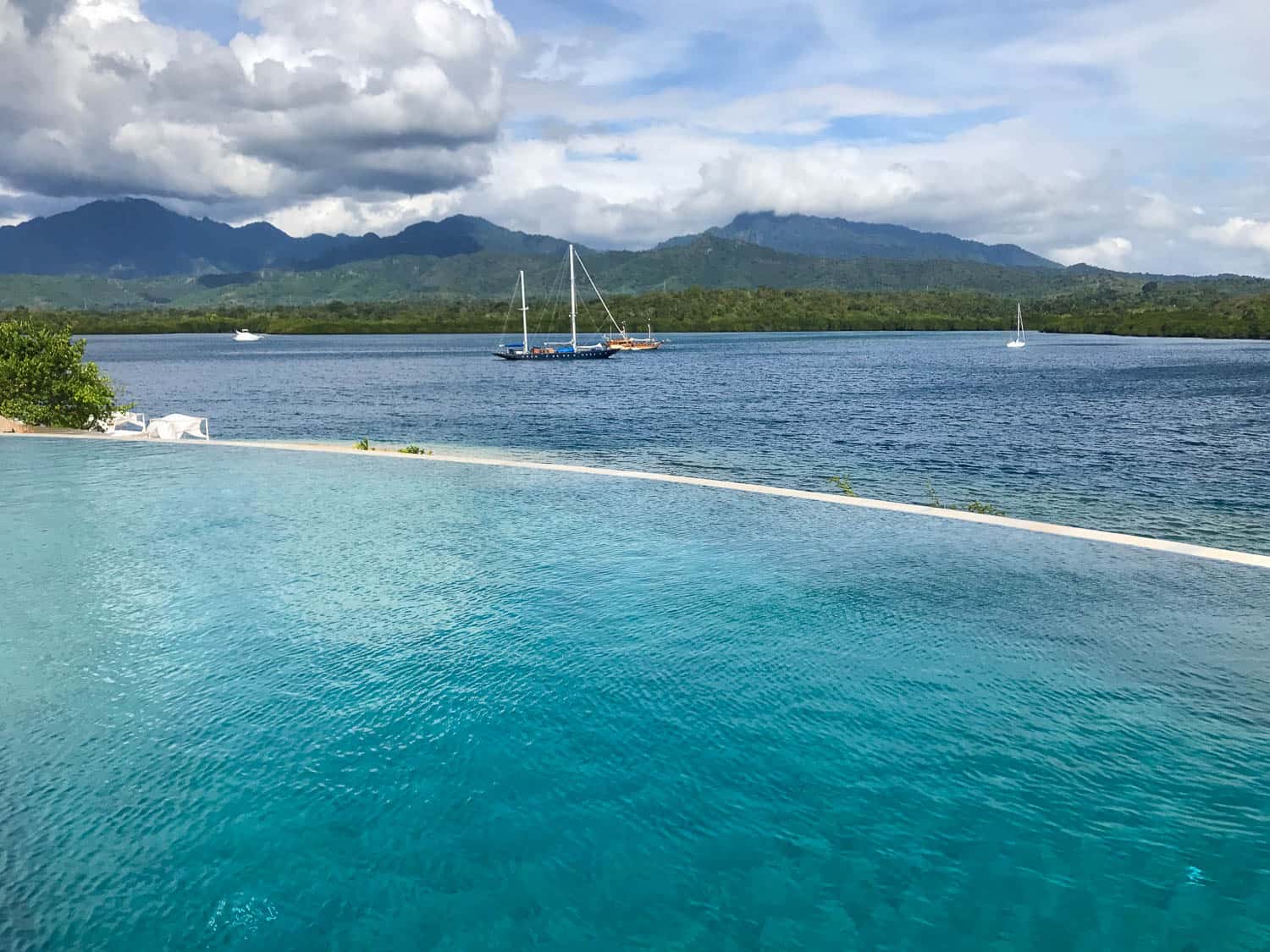 If you can't afford Menjangan Dynasty, there are some cheap homestays from $14 a night in Banyuwedang, but if you want to be on the beach, I would stay in Pemuteran instead. It's a quiet beach town only 15 minutes from Banyuwedang and it's easy to arrange snorkelling and diving trips to Menjangan Island from there. Find hotels in Pemuteran here.
Where to Eat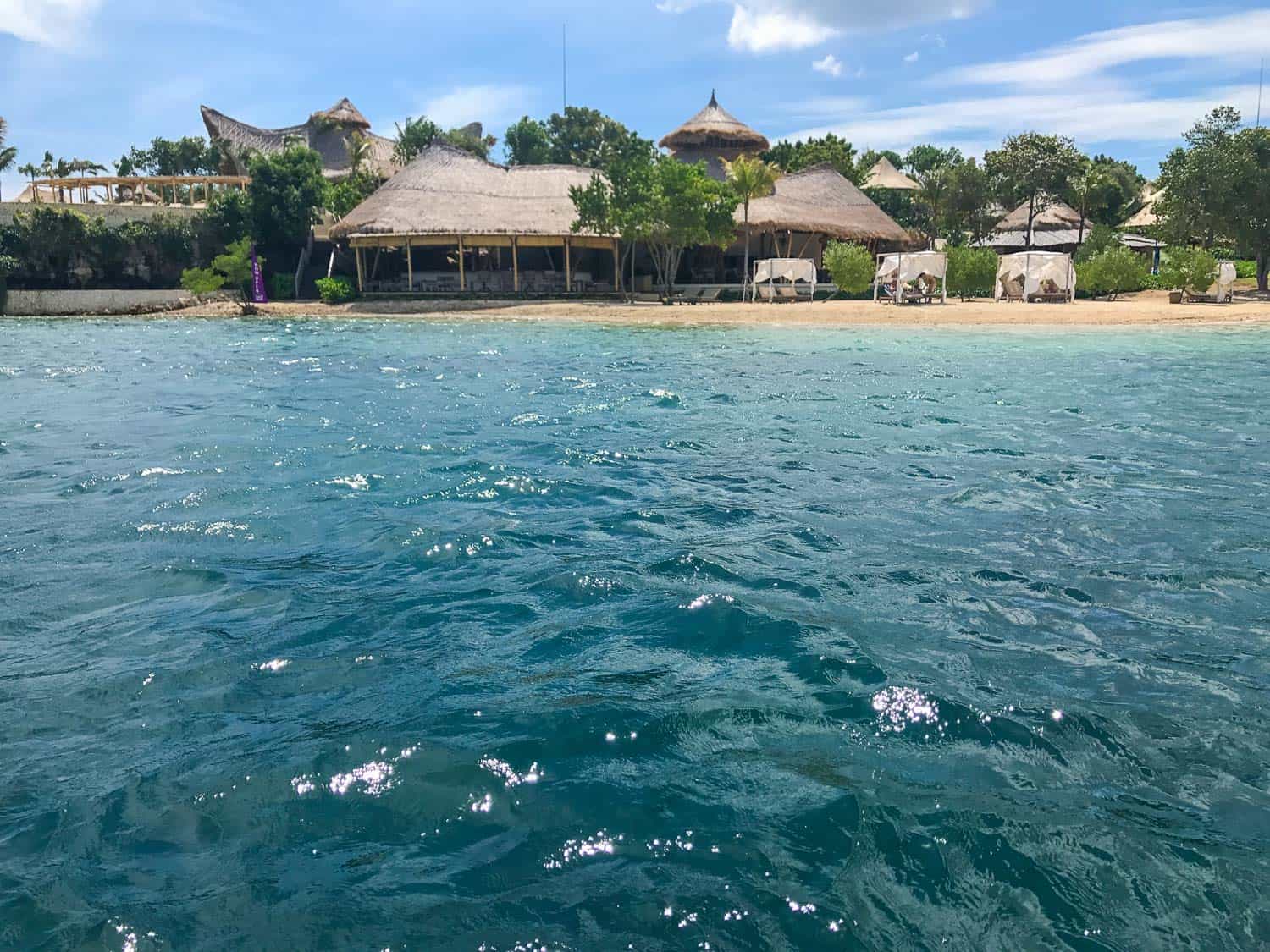 We ate all our meals at Menjangan Dynasty's Pasir Putir Beach Club. The food was good especially the excellent breakfast and afternoon tea that are included in the price. Vegetarian options on the menu are limited but the chef cooked us a special meal each evening. The restaurant is open to non-guests.
Day 5 Banyuwedang – Balian Beach (1 night)
Distance: 98km
Time: 2.5 hours
The drive down the west coast was our longest drive. It was pleasant at first on tree-lined streets past the national park, but it became busier once we hit the main road from Java full of buses and trucks. The scenery towards Balian was lovely with green rice fields leading towards the rolling blue surf.
Balian Beach is a tiny surf town with a relaxed vibe. The long black sand beach is backed by cliffs draped in green vines and has a dramatic, wild beauty. There are no bars or restaurants directly on the beach so it feels unspoilt. On our walks it was empty except for the surfers and a handful of sunbathers.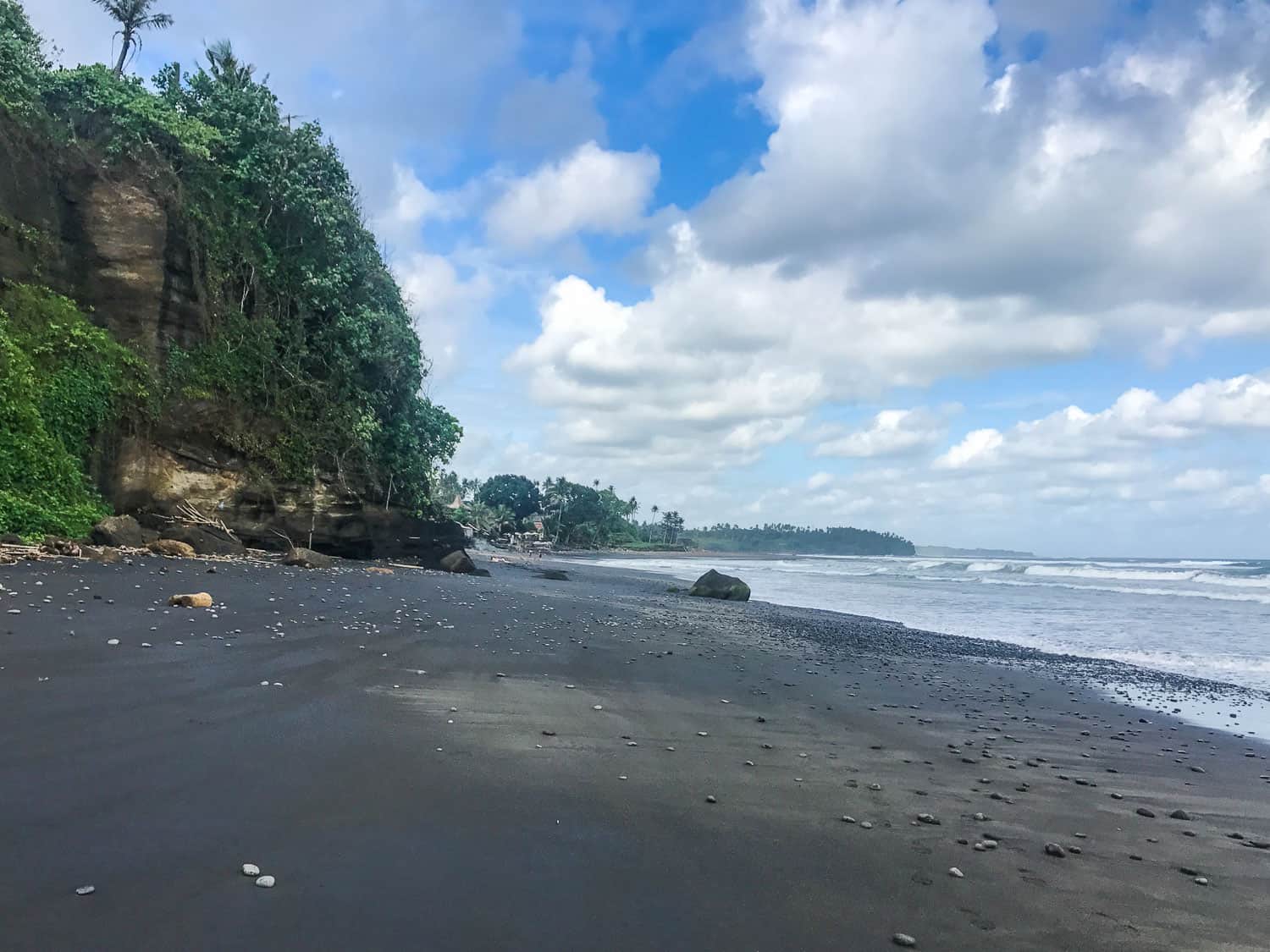 There isn't much to do except surf, but we had a relaxing afternoon by our pool enjoying the beach view and didn't want to leave the next day.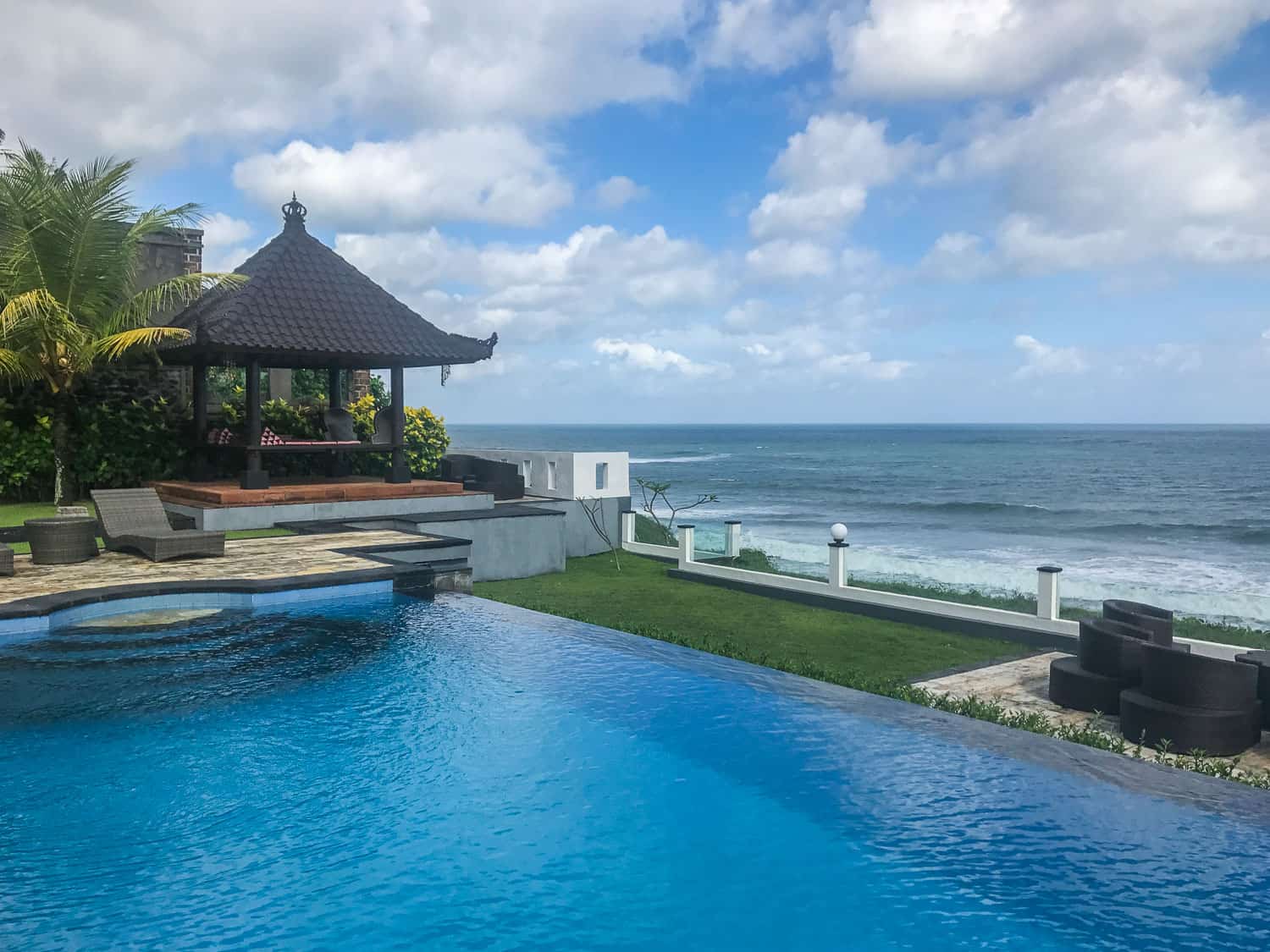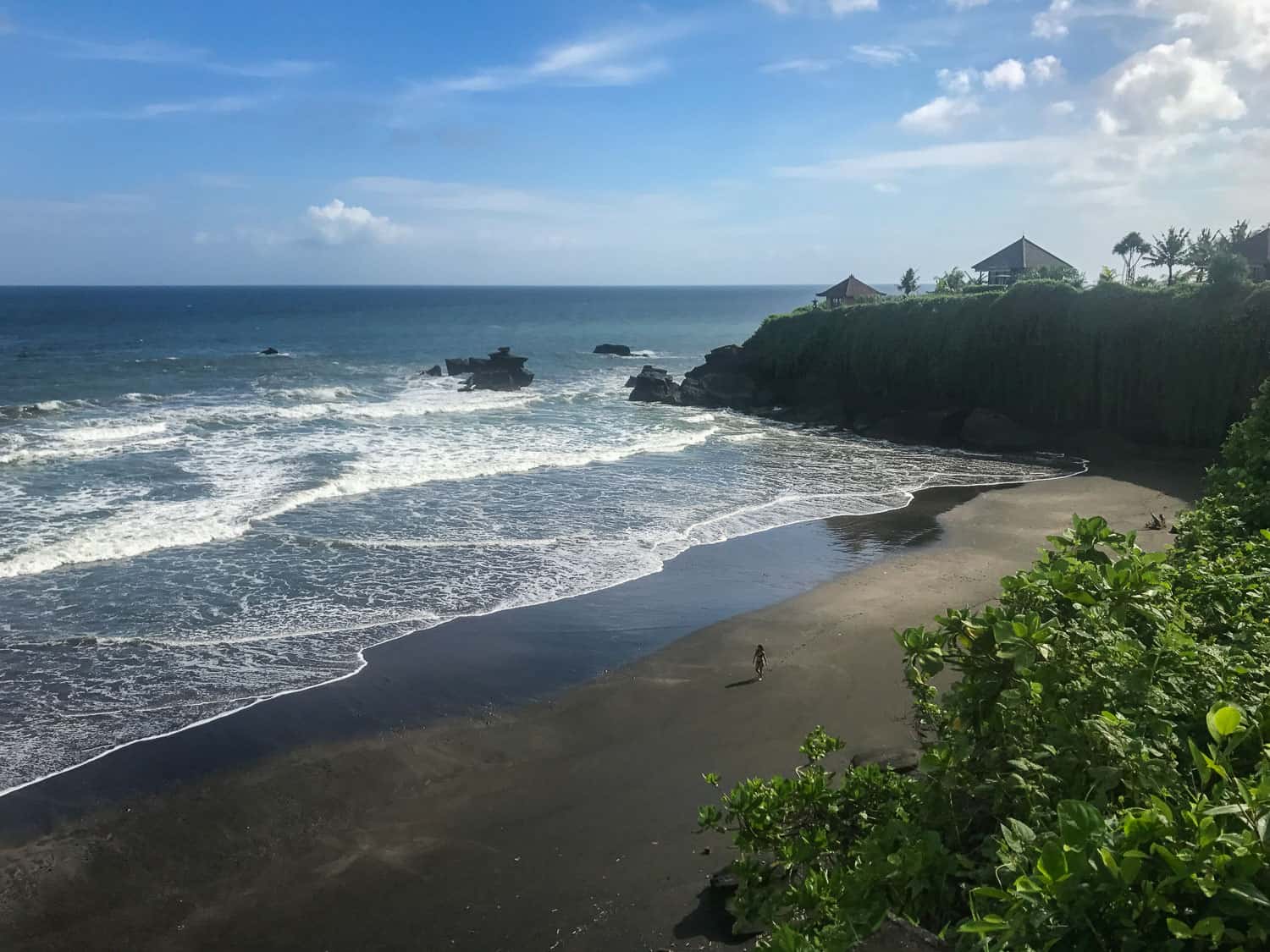 Where to Stay at Balian Beach
There are no big hotels in Balian. Most people seem to stay at Pondok Pitaya, the only busy place in town with a range of accommodation, two restaurants, yoga classes, and a pool overlooking the sea.
We stayed at Villa Helen, which is on Airbnb and Booking.com. The setting is stunning perched on a cliff above the beach with a large pool and lots of places to relax and enjoy the view. We were the only guests so had it all to ourselves. Our room was bright and modern with a sea view, air conditioning, fridge, ensuite and good wifi. The service wasn't great but we'd stay here again.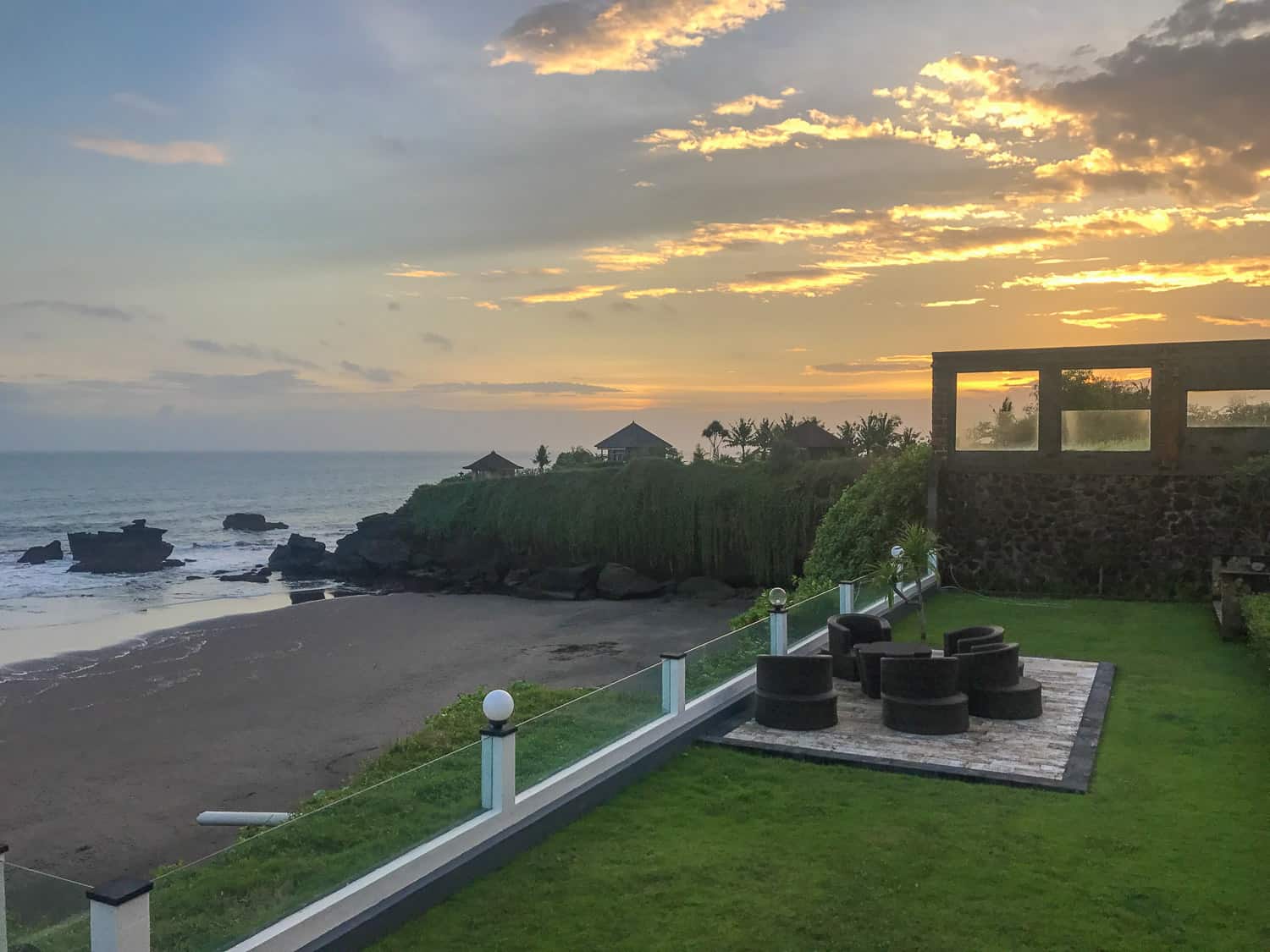 Airbnb is a good option for Balian Beach with a range of private villas and rooms. Get $39 off your first stay by signing up here. You can also find homestays and villas on Booking.com.
Where to Eat at Balian Beach
We had lunch at Pondok Pitaya which has the best beach view and a wide range of options including plenty for vegetarians. Service was slow but the vegetable curry was good.
Tom's Garden Cafe also has a number of vegetarian options. Again the curry was good but the service painfully slow. Don't be in a rush at Balian Beach!
Day 6 Balian Beach – Ubud
Distance: 52km
Time: 1 hour 45 minutes
Other than sea views at the beginning and rice fields at the end, this was our least scenic drive through busy towns. Our route back into Ubud took us past Sage, one of our favourite restaurants, where we stopped for their delicious tempeh tacos.
Where to Stay in Ubud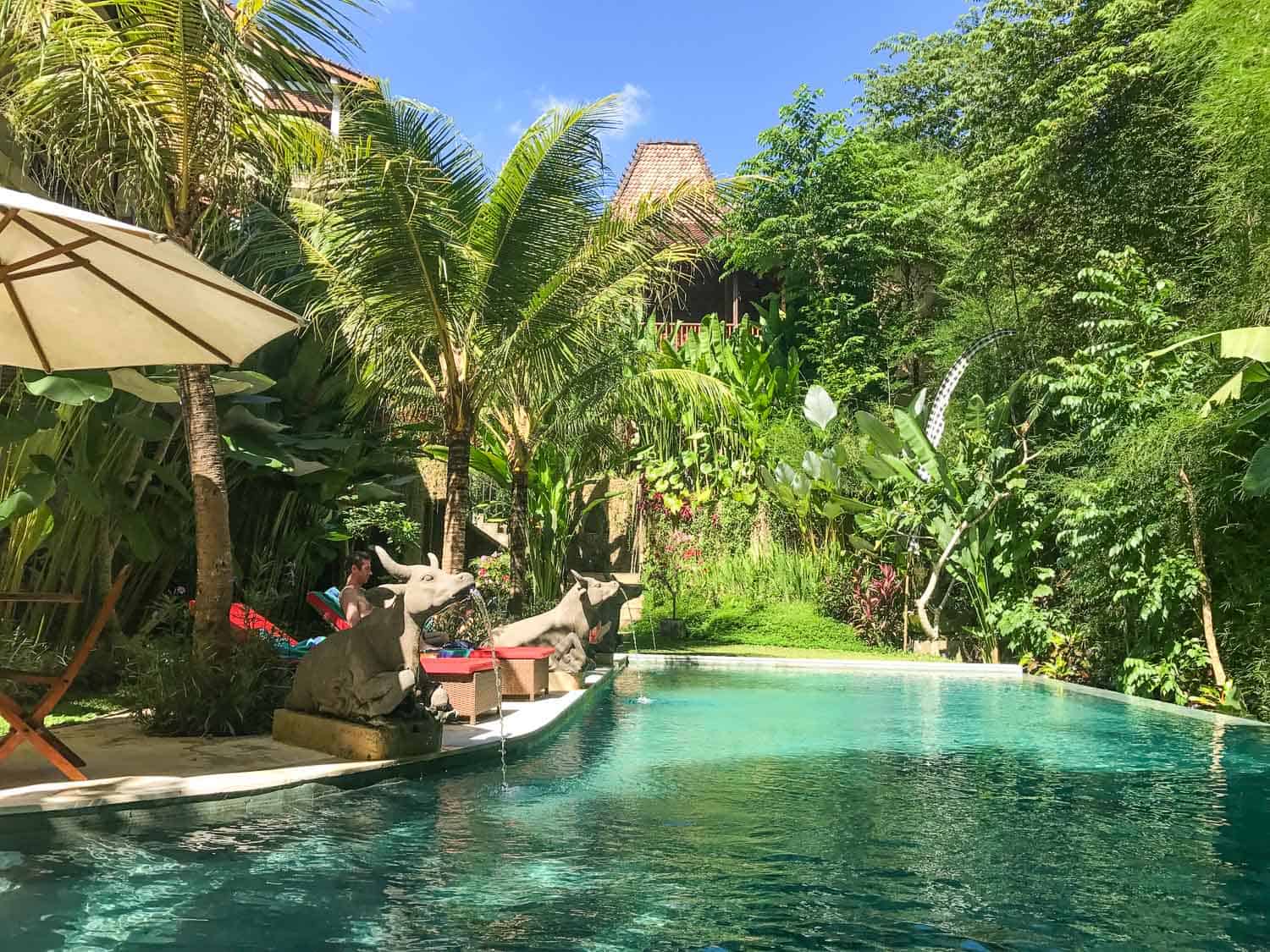 We are renting a house for our extended stay in Ubud. Our favourite place to stay in the centre is Desak Putu Putera Cottages, which has a quiet jungle location with fantastic views and a lovely pool—it feels like an oasis from the chaos. The comfortable rooms are clean, spacious and have air conditioning, fridge, decent wifi, powerful hot showers, and balconies.
You can find more homestays and hotels in Ubud here.
Where to Eat in Ubud
Read our vegetarian guide to Ubud for our favourite places to eat.
Bali Motorbike Road Trip Tips
Don't forget travel insurance as accidents do happen (only do this trip if you are confident on a motorbike). As always we used True Traveller, which is the best value we've found for UK and EU residents. Heymondo is another reliable option that's available worldwide.
You can rent automatic motorbikes in Bali for about 50,000 IDR ($3.75) a day or 600,000 IDR ($45) a month. You don't usually need a deposit or driving licence, just a passport number.
Rentals include helmets. Make sure you wear one.
Officially an international driving licence is required to drive in Bali. In practice, many people don't have one and just pay a negotiable "fine" to the police if stopped (aim for 50,000 IDR). We weren't stopped on our road trip—it's more common near the beach towns in the south.
Pack layers and waterproofs (or a poncho) if you are driving to the mountains around Munduk—it's cold on the back of a bike.
You could do this trip at any time of year. Technically the dry season is from June to September, but it has rained more in the last few months than it did when we were here during the rainy season.
Petrol is cheap. It cost us about 20,000 IDR ($1.50) to fill our tank. We found petrol stations everywhere except around Munduk where you can look out for bottles of petrol sold in old water bottles by the side of the road.
We felt achy and tired after two hours on the motorbike, so try not to cover too much distance in one day or plan on taking breaks.
We used Google Maps for directions.
These are just some of the options for a Bali road trip away from the crowds. Leave the busy southern beaches behind and you'll discover how beautiful this island is.
If you enjoyed this post, pin it!