This page contains affiliate links. Please read our disclosure for more info.
Our ideal digital nomad destination has warm weather, good vegetarian food, beautiful scenery, interesting things to do, low cost of living, decent WiFi, and availability of apartments (with kitchens) to rent for 1-3 months.
The artsy town of Ubud in Bali not only meets all our requirements but we don't even need to rent an apartment—here houses are the norm, always with a garden, and often with private pools. Since the success of the book and film Eat Pray Love Ubud has become increasingly popular and new villas are springing up in every rice field so there are many to choose from.
If you want to book a rental house in Ubud in advance, look on Airbnb which has many options. It's cheaper than vacation villa websites but prices will be higher than if you find somewhere once you arrive. If you are staying for a week or more, contact the owner to see if you can negotiate a discount.
If you are staying in Ubud for a month or more and are on a budget, I recommend waiting until you arrive to look for a house—there are many options and prices will be much lower than online.
Before we arrived we booked one of the many guesthouses for a few nights—Gerhana Sari 2 Guesthouse and then we moved to Corner Guesthouse as it was full. (On our second visit we preferred Desak Putu Putera Cottages which has a pool and quiet location.)
The centre of Ubud was overwhelming at first, full of tourist shops and traffic, and I wouldn't want to stay there for long, but it was a convenient base while we got our bearings and started our house hunt. We ended up spending six nights in a guesthouse before we moved into our house, but you could find a place in as little as a day if you are less fussy than us. We spent one day recovering from jet lag and 3.5 days looking for our perfect house.
Get a SIM Card and Motorbike
It's a good idea to get a local SIM card for your phone so you can call and message house owners during your search. You can buy a Telkomsel SIM card for 10,000 Indonesian rupiah ($0.70) in Circle K shops. They don't have the nano size SIM so we went to one of the many cell phone shops on Jalan Cok Gede Rai just outside of town and bought one for 15,000 IDR ($1.10), but they cut it down to size for us and set it up.
A motorbike will be invaluable in your house hunt as most rentals are a few kilometres outside of the centre amongst the rice fields. You can rent an automatic scooter for 50,000 IDR ($3.65) a day—when just one short taxi ride costs 50,000 this is the most affordable and easiest way to get around.
Many travel agents rent bikes and they don't ask to see your driving licence or for a deposit (just your passport number). However, the centre of Ubud is not a good place to learn to ride a motorbike. You can also hire bicycles or get a taxi driver to take you around.
Decide Your Budget and Requirements
Before you start your search decide your budget and what you are looking for. We paid 12 million IDR ($877) a month for a two bedroom house with pool and air conditioning. I've seen nice houses without pools listed from 3-6 million ($220-440) a month, and places with pools from 8 million ($584) a month. For large luxury villas you can pay 20 million ($1460) or more.
It's worth looking at places slightly over your budget as bargaining seems to be expected and you should be able to reduce the rent a little, especially if you are staying for a few months. If you are renting for 6-12 months you'll be able to get much lower rates.
You are usually expected to pay all the rent in advance so we had to pay for two months. The maximum you can withdraw from ATMs in Bali is 3 million IDR so it's worth starting to gather your cash when you arrive.
We didn't have to pay a damage deposit, but we did pay one million of the rent once we made our decision (the day before we moved in) to secure the house.
This was our wish list:
Private house
1 or 2 bedrooms
Good WiFi – We used the Speed Test app on our iPhone for places we were considering. Fibre optic is sometimes available, especially in Penestanan village.
Quiet – There's a lot of construction in Ubud so keep that in mind.
Garden
Swimmable Pool – Some places only have small plunge pools.
View
Kitchen
Hot water
Sofa
Table big enough for working and eating
Air conditioning in bedrooms – Most living areas are open air and don't have A/C.
Our initial budget was 10 million IDR a month but we went over budget for the right place. The pool and A/C increase the price, and the view and sofa were the hardest to find. I also wanted somewhere secluded, without other houses around, but this is difficult to find these days.
Note that I've given the exchange rate at the November 2015 rates, but when we rented the house at the beginning of September we were getting a better rate. 12 million was £550/ $827 at the time we paid. Exchange rates in Indonesia fluctuate a lot.
Ask Around and Look on Noticeboards
Once you are in Ubud ask everyone you meet if they know a house for rent. Look for signs advertising houses on noticeboards at restaurants like Bali Buda, Alchemy, Pizza Bagus, and supermarkets Delta Dewata and Bintang.
Explore Different Villages and Look for Rental Signs
The most common advice for finding a house is to wander around and look for "To Rent" signs. You won't find any in the centre of Ubud so you need to head out to the surrounding areas.
A good place to start your search is Penestanan, a village just outside Ubud that's the most popular area for expats to live. It's quieter than the centre but there are plenty of restaurants and yoga studios.
A Penestanan landmark is raw vegan restaurant Alchemy on the main road Jalan Raya Penestanan, so start there. We looked at many houses in the area just behind it—with your back to Alchemy go left and on the left hand side is a narrow road (motorbikes only) that leads into the rice fields. Look for the sign to Hotel D'Omah.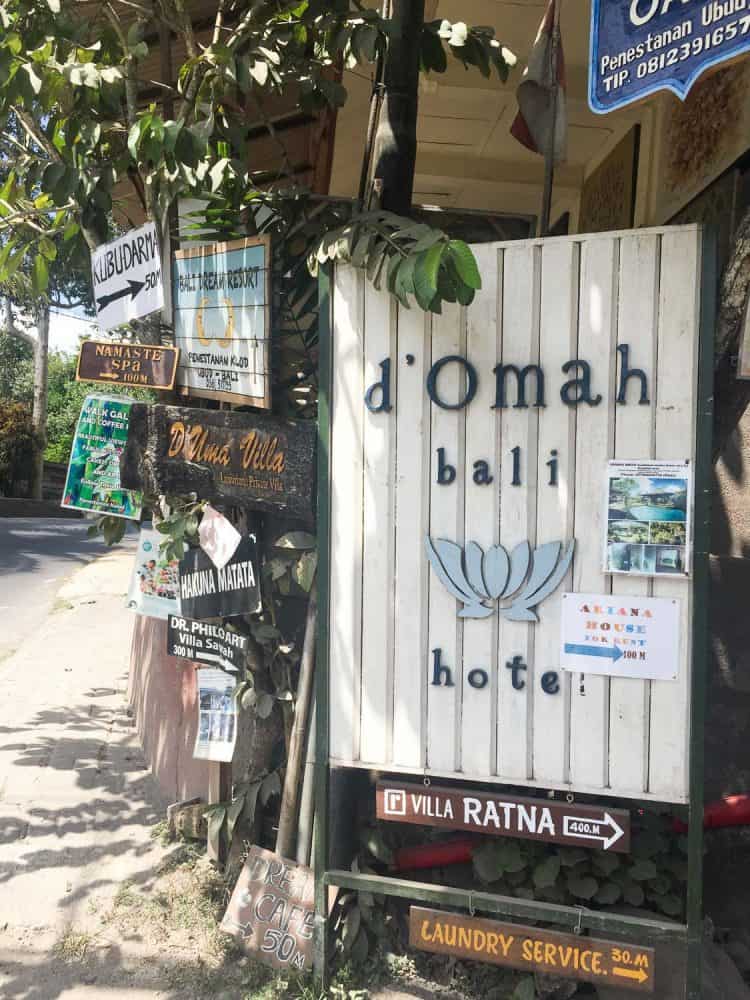 There are lots of signs for houses to rent in this area, and you can also ask anyone you see. Locals get a commission if they take you to see a house and you rent it, so many are happy to help. This area is cute but felt too built up and crowded for me, like a little suburb in the rice fields.
Another area with lots of rental signs is opposite Alchemy—look for the pedestrian only path that leads to the Intuitive Flow yoga studio and Yellow Flower cafe. Cafe Vespa is another landmark further away from Ubud with lots of rentals nearby—head down the side streets into the rice paddies.
Other areas to look are north of Ubud along Jalan Tirta Tawar (where we ended up living) and Jalan Sri Wedari. There are fewer restaurants here than in Penestanan, but I prefer the area as it feels more spacious, less foreigner focused, and has better views.
I would not recommend living near the Monkey Forest as the monkeys are thieves and can be aggressive—not ideal when many houses are open sided.
Post in Facebook Groups
As we didn't know Ubud well we found randomly looking around tiring and hit or miss. We had our most luck by posting our requirements in the Facebook groups Ubud Rentals and Ubud, Bali – Housing, Rental & Pricing Awareness. We got many responses, arranged a number of viewings, and this is how we found the house we eventually rented. We know others who've had success with it too.
The Facebook groups are the best place to start your search as you can browse the ads and get an idea of what's available. If you arrange some viewings, even if you don't like the houses, you'll get ideas of which areas to look. To save time post your requirements a day or two before you arrive in Ubud and set up viewings for your first day.
Our House in Ubud
We looked at more than 10 houses and eventually set ourselves a time limit to chose the best of the options. I had a clear idea of my perfect house (yes, I wanted the Eat Pray Love house but with a pool and A/C!) and had to let that vision go. Despite my initial concerns I ended up very happy with the house we chose.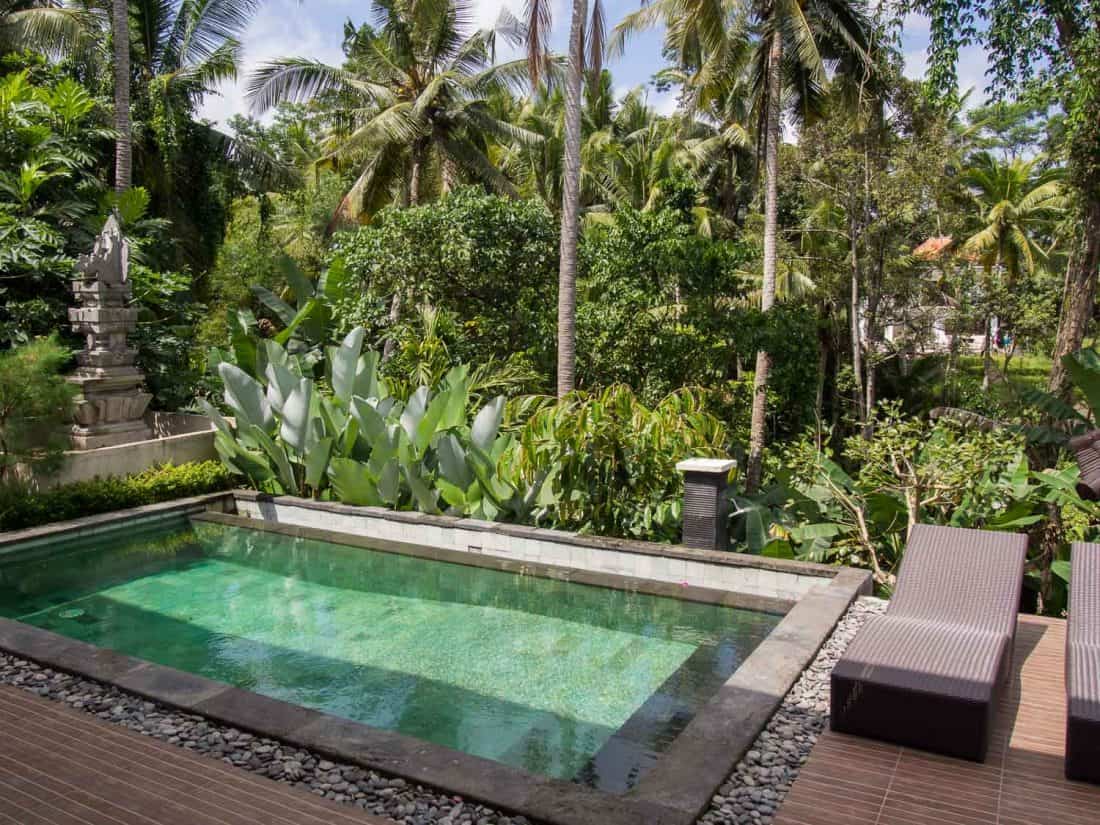 Our house Villa Heaven is a two storey, two bedroom house down a narrow path through the rice paddies off Jalan Tirta Tawar in Junjungan village. It's 3 km north of Ubud and a 5-10 minute motorbike ride into the centre. There are a couple of restaurants in walking distance and a few very basic shops in the village. We have neighbours on both sides but it feels private and quiet.
Downstairs is one ensuite bedroom, an open sided kitchen and dining room, swimming pool and sun loungers, garden, and pavilion. We love the view of the frangipani, banana and coconut trees, jungle covered gorge, and rice paddies beyond. We even have a shrine where the landlord's wife or daughter brings offerings and lights incense to keep the gods happy.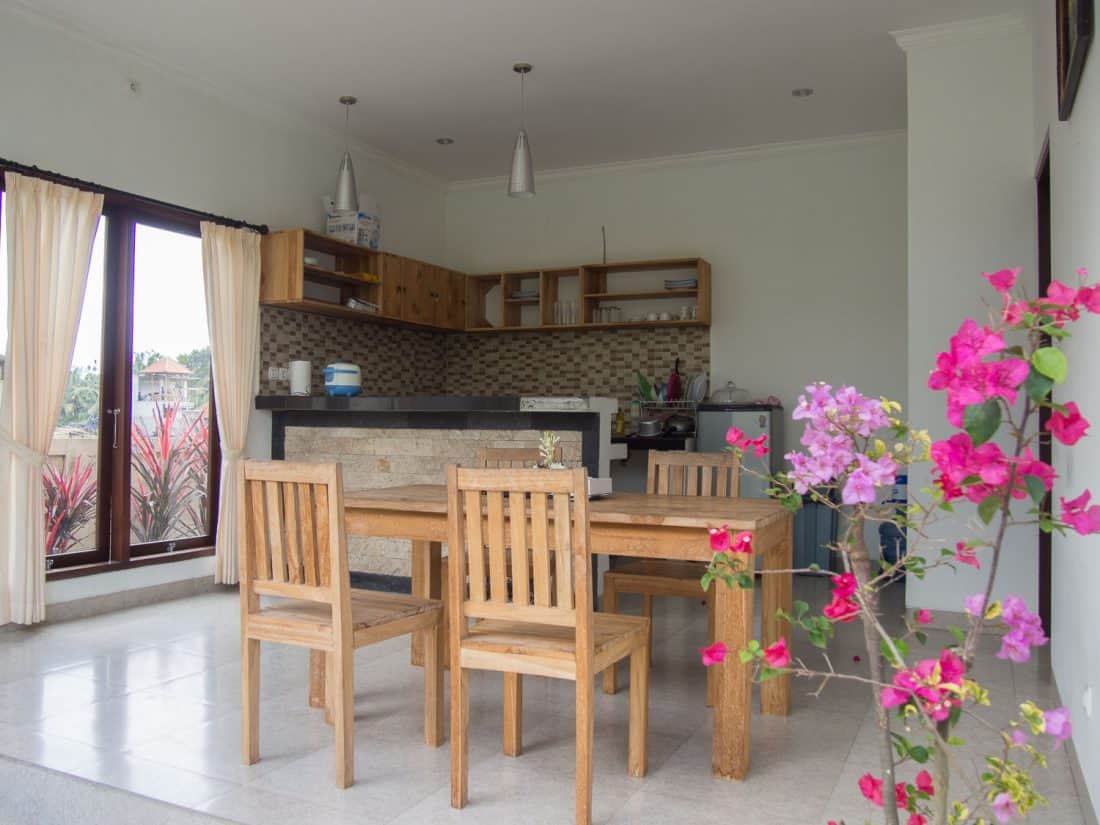 The layout is strange with the staircase on the outside of the house. Upstairs is a very basic living room with just a couch and coffee table, and the second ensuite bedroom. All the rooms have large sliding doors to take advantage of the views and breeze.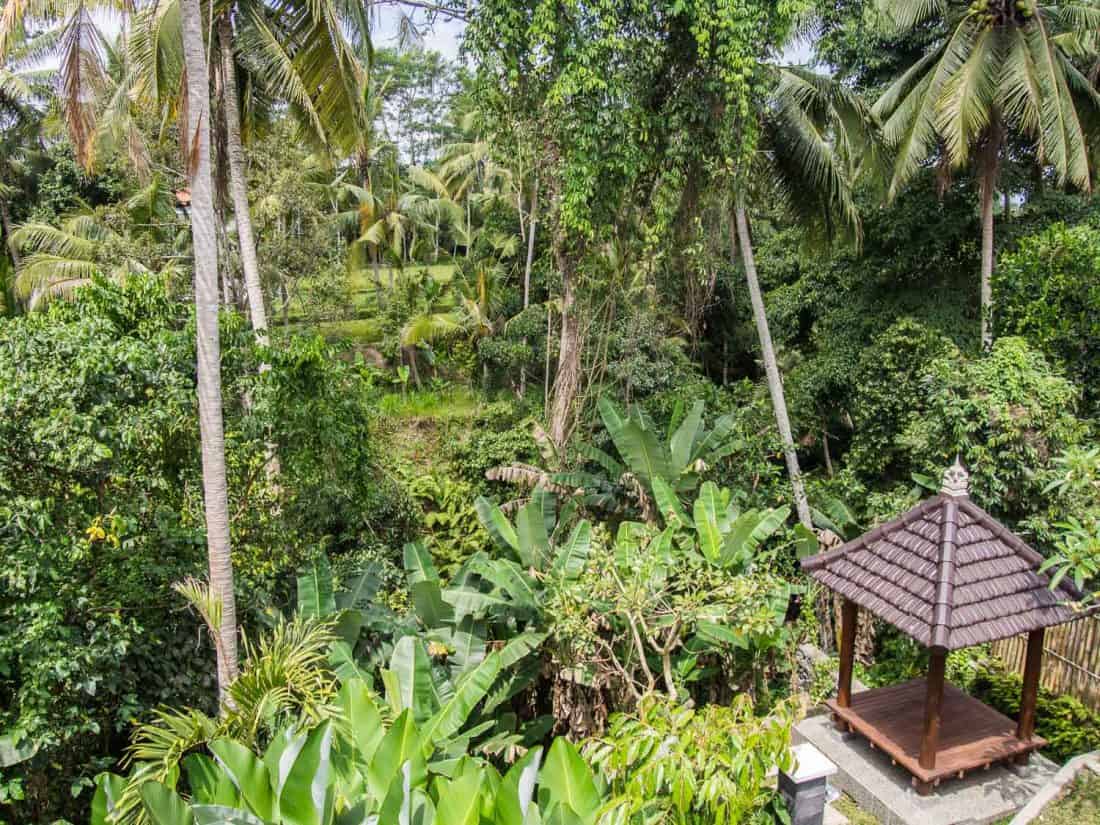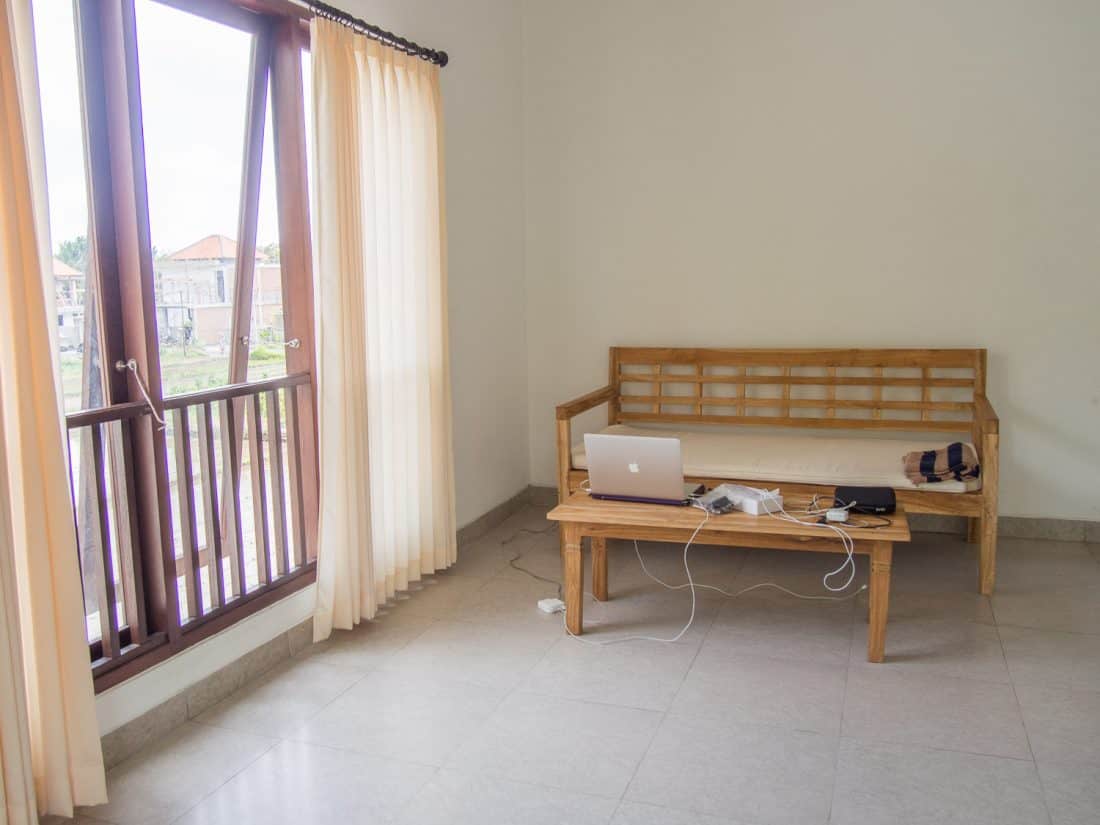 We have air conditioning in the bedrooms, and good WiFi throughout—we get about 4-7 mbps down, 2 mbps up. Netflix works fine; Skype can be a bit flaky.
The house is lovely but it was missing some things to make it liveable—hangers in the wardrobes, cushions for the hardback couch, and lots of kitchen equipment—so we bought them to make our stay more comfortable. The kitchen is basic with two gas burners, fridge, blender, and toaster. We bought a rice cooker as it makes life in Asia so much easier.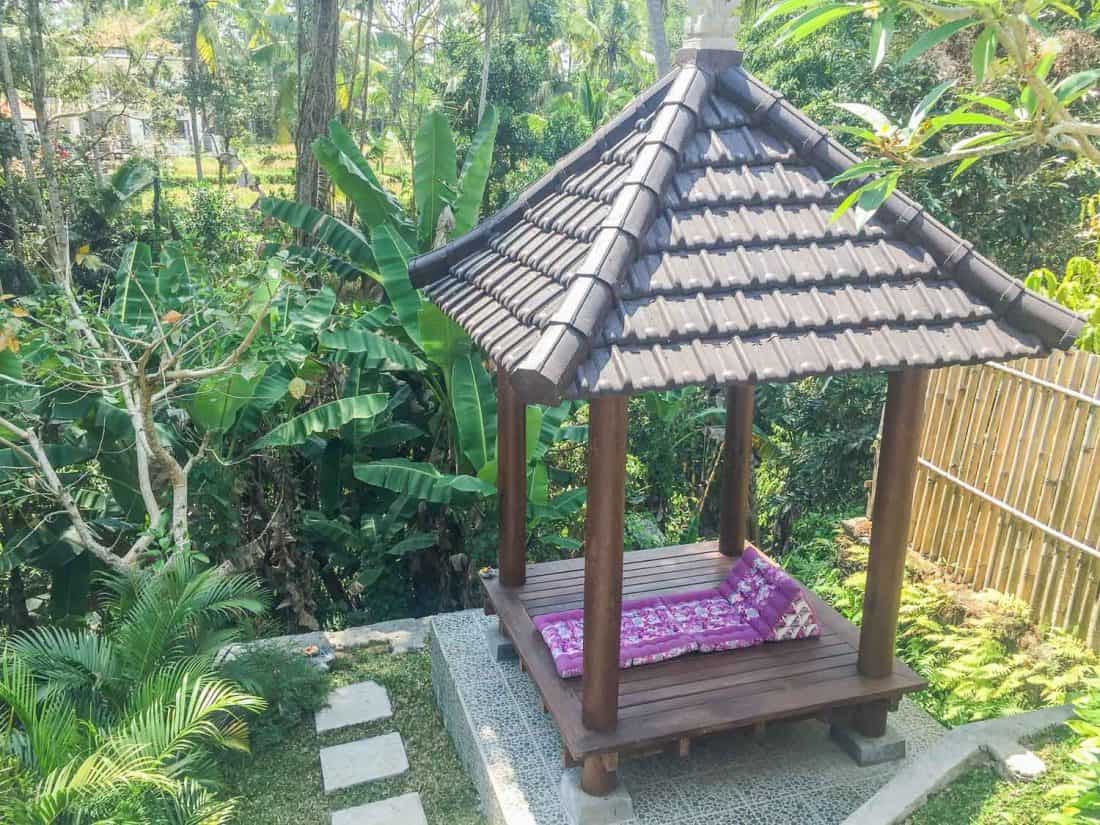 We enjoy having an open sided kitchen. It's cooler to cook in, and we have a great view for our meals. There is a wall and locked door around the outside of our garden. It wouldn't be difficult for someone to jump over the wall so we don't leave any valuables in the outside area, but theft doesn't seem to be a major problem here. There's no comfortable seating downstairs so I tend to work on the couch upstairs and Simon has set up a desk in the air conditioned bedroom.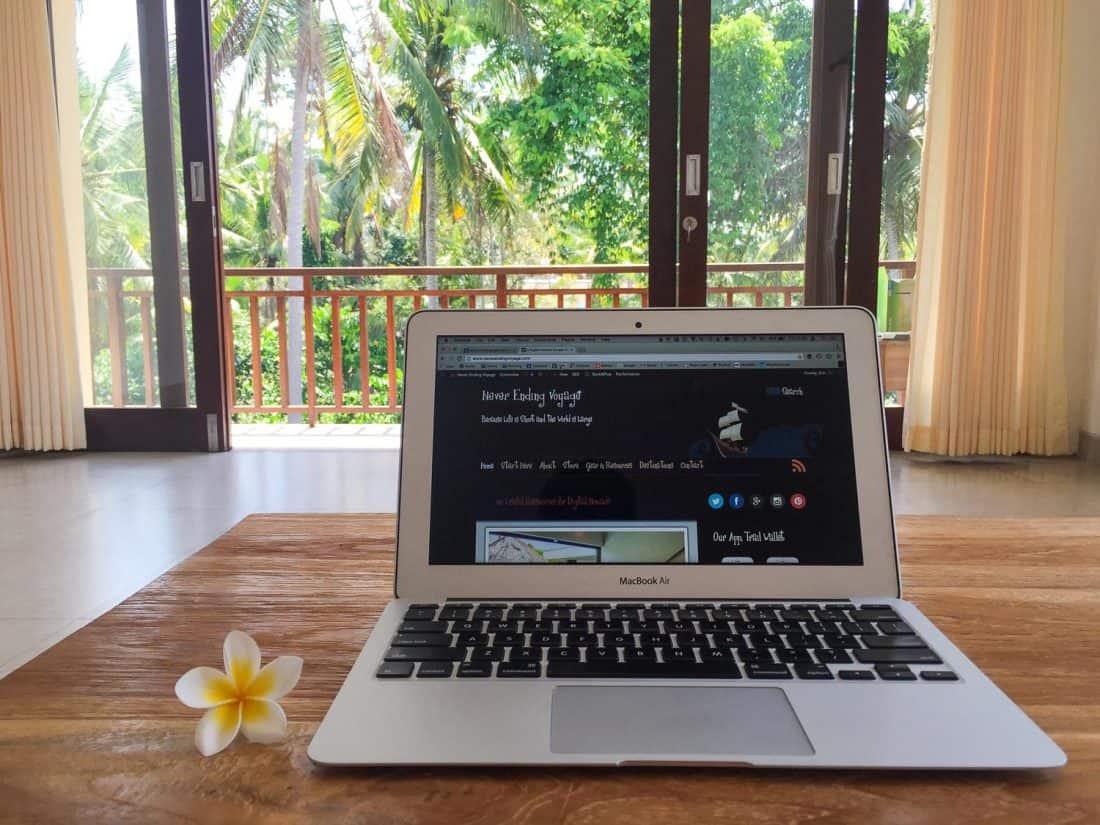 One of the things we found difficult to get used to was the owner turning up frequently without warning or knocking—we'll be eating breakfast and he'll just appear. The Balinese live in family compounds so there's a very different sense of privacy here!
Our house was listed at 15 million IDR ($1100) a month, but we negotiated it to 12 million ($877) a month including electricity, internet, gardener, and pool maintenance. We pay for cleaning (50,000 IDR/ $3.65 for two hours), sheets and towels laundry (16,000 IDR/ $1.17 a set) which the cleaner arranges, and gas for cooking which has cost us 23,000 IDR ($1.68) for one bottle in two months.
Many people have asked us how to book our house but booking in advance wouldn't be practical as our landlord doesn't speak much English and I don't know how you'd pay the deposit. If you are in Ubud let me know and I can give you his phone number.
We love Ubud and our house so much that we extended our initial two month stay to four months and we'll be here until the end of December. There aren't many places in the world where we can afford a beautiful house with private pool and jungle view so we're making the most of it!
If you want to stay in Indonesia for more than 60 days, make sure you apply for a 60 day tourist visa in advance from your nearest Indonesian embassy—here's how we got ours in London and in Singapore. This visa can be extended by 30 days four times for a total stay of six months.
Read more about our digital nomad life in Ubud, our cost of living in Ubud, and our detailed guide to living here.