This page contains affiliate links. Please read our disclosure for more info.
This isn't a post about how to live in Ubud as cheaply as possible. We wanted to take advantage of everything the town had to offer—affordable villa rentals with private pools, delicious vegetarian food, a wide variety of yoga classes, and fun activities like cooking classes and bike tours. You can have a high quality of life in Ubud at a very reasonable price (read more about our Ubud life here).
We are living in Ubud for four months from September 2015. I have taken our total costs for our first three months and divided them by three to get our average monthly expenses.
These are our monthly expenses in USD for two people:
Monthly Expenses in Ubud
Accommodation
$836
Eating Out
$478
Food Shopping
$215
Coffee
$33
Drinking Water
$20
Motorbike Rent
$40
Petrol
$11
Other Transport
$47
Yoga
$94
Other Entertainment
$57
Laundry
$16
Cleaner
$25
Phone Credit
$7
Visa Extension
$59
Other Miscellaneous
$116
Total Monthly Expenses
$2054 (£1342) for 2 people
Please note that the exchange rate varied widely during our stay and we got a much better rate at the beginning of our stay (when we paid for the first two months of our accommodation). The amounts above are calculated with the exchange rate at the time of purchase. The amounts given below are in Indonesian rupiah (IDR) with an approximate rate in USD based on the current rate: 1 USD = 14,000 IDR.
Here's what $1027 (£671) per person a month got us in Ubud:
Accommodation
We paid 12 million IDR ($860) a month for a two bedroom house with private pool, wonderful views, good WiFi, and A/C. It's in a quiet location in Junjungan village a 5-10 minute motorbike ride north of Ubud centre. The rent includes all bills except gas and cleaning which I've included in miscellaneous below. You can read more about it in my post on how to rent a house in Ubud.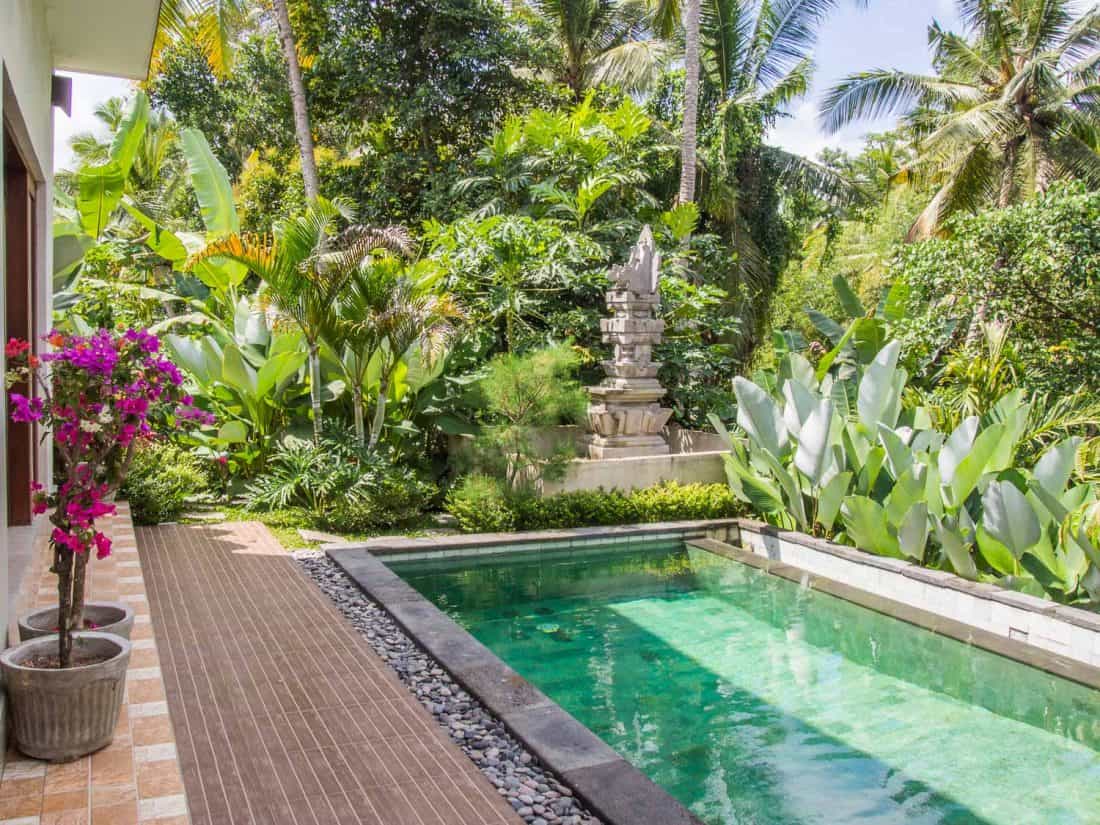 We chose to pay more for a house that had everything we wanted. You can find much simpler one bedroom houses from 3 million ($215) a month.
Eating Out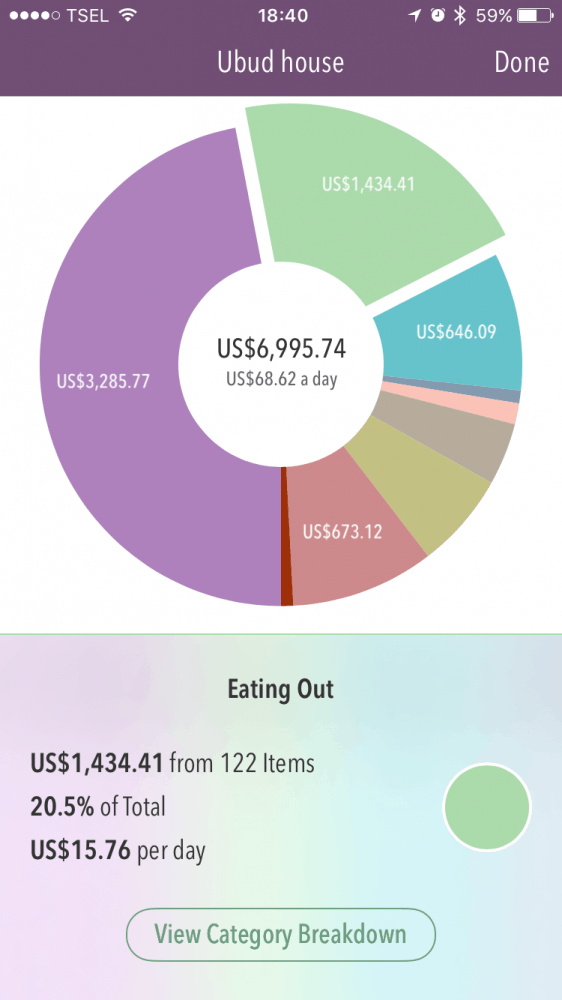 Ubud has a fantastic food scene with many healthy vegetarian, vegan, and even raw restaurants (read my full guide here). We want to take advantage so we eat out a lot more than we usually do when we have access to a kitchen—about seven meals a week. I was pretty shocked by how much we spent on eating out but it was worth it!
While you could eat only local dishes for 15,000-30,000 IDR ($1-2), we crave variety and often eat at more expensive international and organic restaurants. A meal out for two costs us from 100,000 IDR to 300,000 IDR ($7-21) including one or two dishes and a fresh juice each. Alcohol is expensive but we don't drink much—Simon has the occasional beer with dinner and we had some cocktails when we visited Gili Air for his birthday. Juices and smoothies cost from 15,000-35,000 IDR ($1-2.50).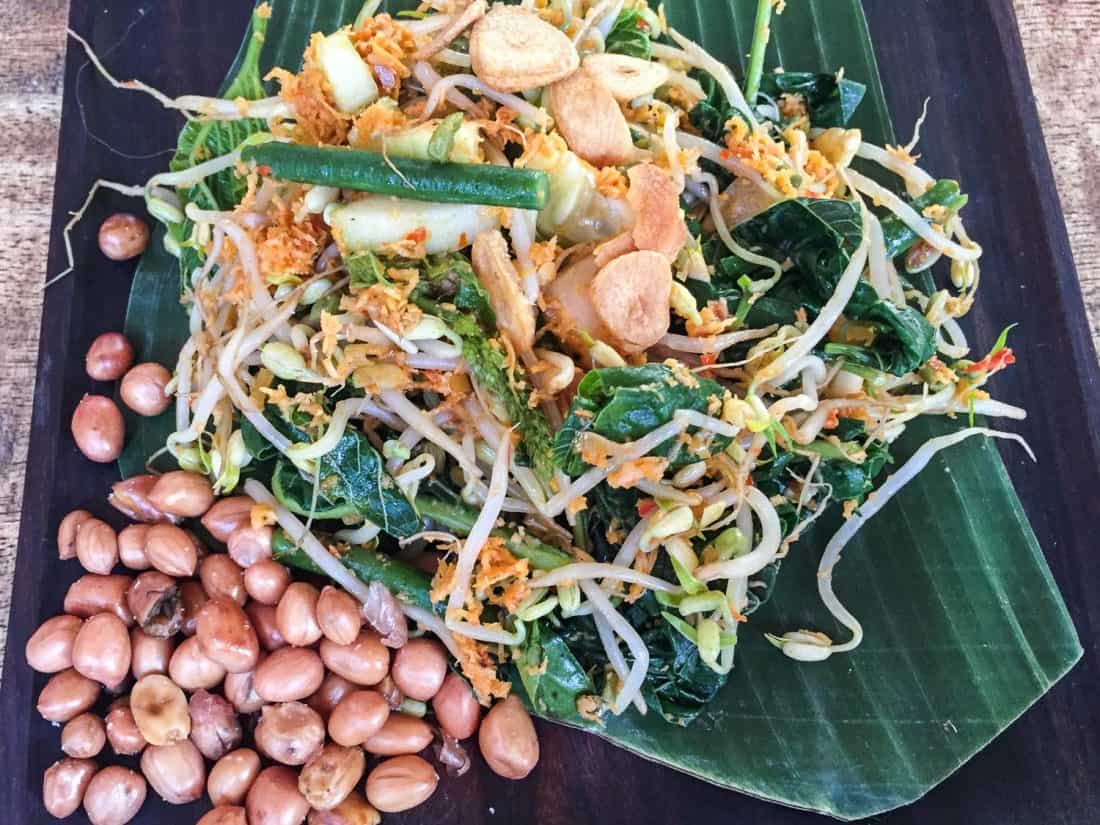 Here are a few example prices:
15,000 IDR ($1.07) for jukut arab (a Balinese vegetable salad) at Warung Bintangbali
29,000 IDR ($2.07) for nasi campur (red rice and seven vegetable, tofu and tempeh dishes) at Wulan Vegetarian Warung
42,000 IDR ($3) for tempeh coconut noodle curry at Melting Wok
47,000 IDR ($3.35) for salad bar with four toppings at Alchemy
55,000 IDR ($3.92) for vegan tempeh tacos at Sage
55,000 IDR ($3.92) for raw Mexican lasagna at Seeds of Life
58,000 IDR ($4.14) for 8 layer veggie burrito at Taco Casa
Most of the more expensive restaurants add 10% tax and 5% service to your bill.
Food Shopping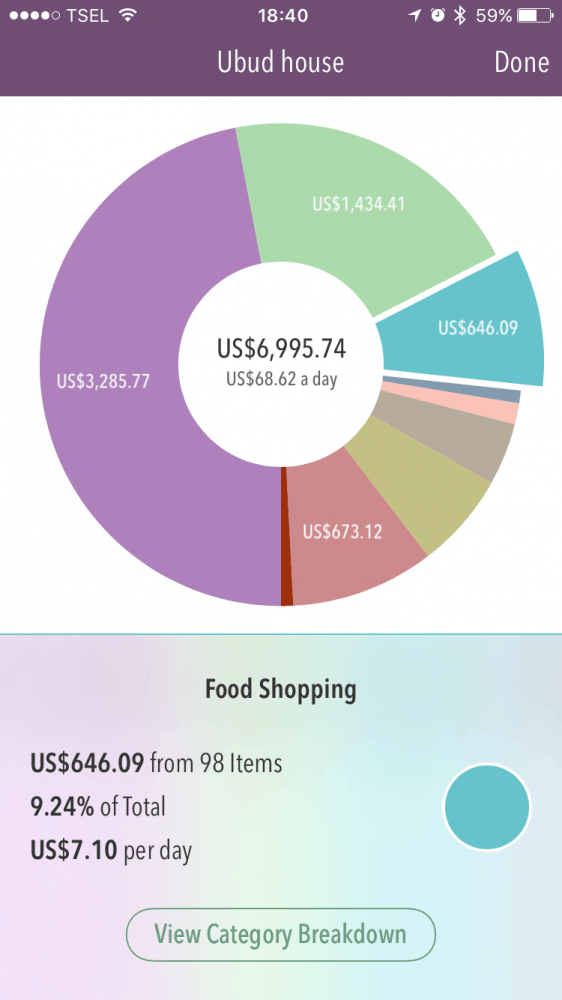 We eat most breakfasts and lunches at home and about three dinners a week. We do most of our food shopping at the organic farmer's market on Saturday mornings at Pizza Bagus and rarely spend more than 100,000 IDR ($7) for a load of fruit and vegetables. Organic red rice costs 25,000 IDR ($1.78) a kilo.
Our food shopping costs are increased by buying imported and health food items. We often buy rye and multigrain bread at Bali Buda, and muesli ingredients, hummus, and cheese at the Pizza Bagus deli (it's cheaper than other health food shops). Simon buys excellent quality Indonesian coffee beans from Seniman which they grind to order and cost about 130,000 IDR ($9.28) for 290g. We also indulge in chocolate, cakes from Caramel Patisserie, bliss balls, and kombucha.
Coffee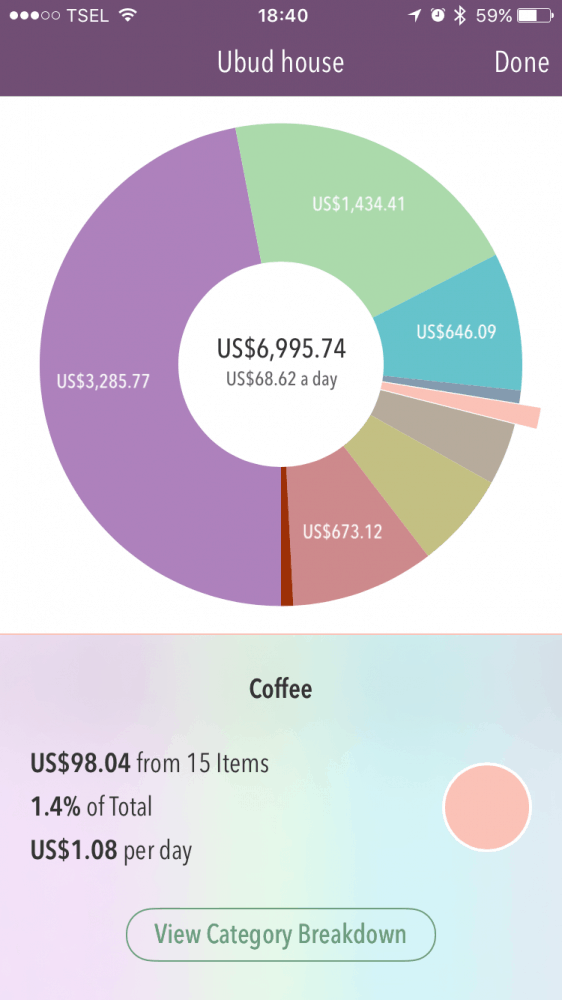 Simon loves the coffee at hipster coffee shop Seniman which costs 28,000 IDR ($2) and comes with a little snack.
Drinking Water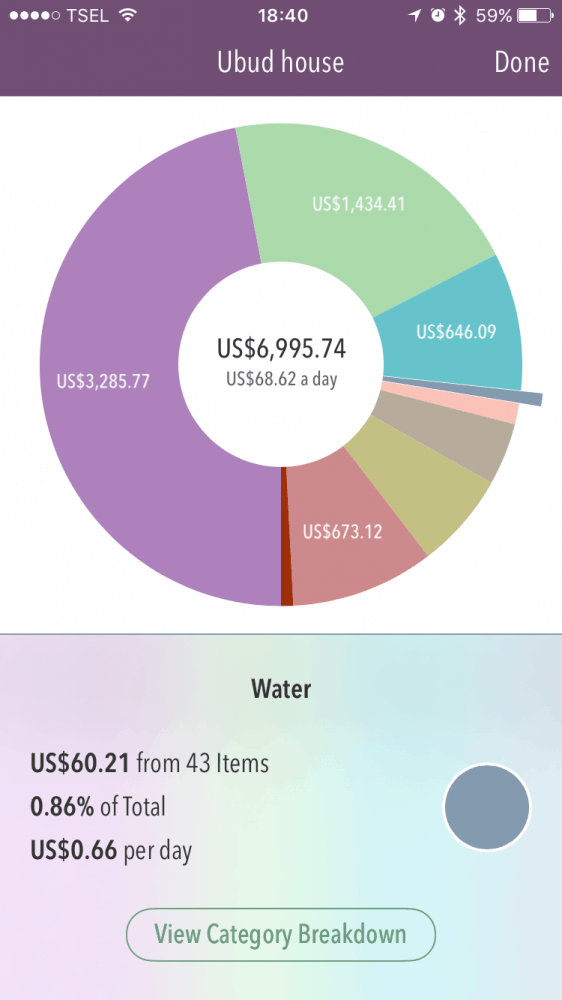 We exchange our reusable 19 litre jug at local shops every two days which costs 16,000-20,000 IDR ($1.14-1.43).
Transport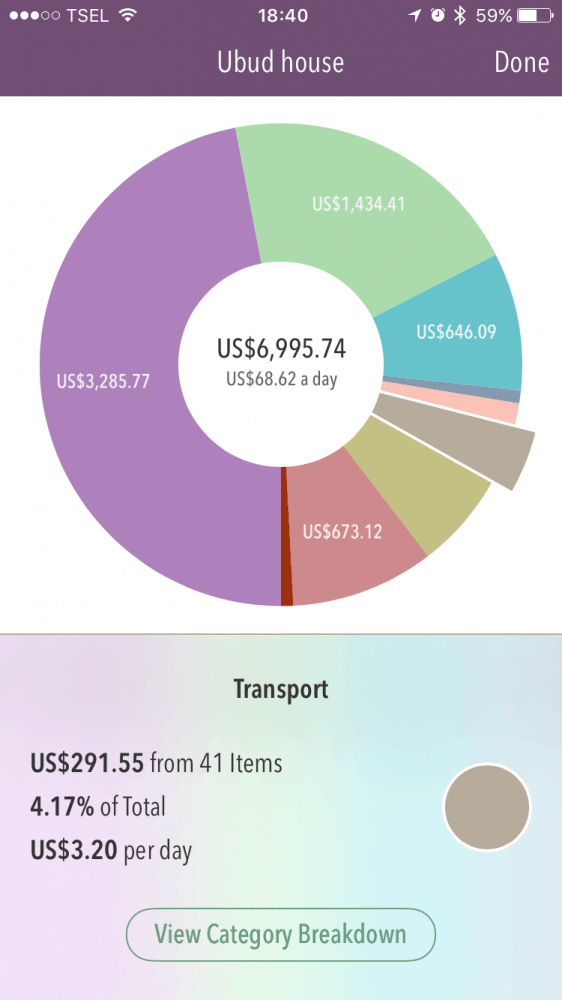 This includes motorbike rental and petrol as listed separately in the table above. It costs 550,000 IDR ($40) a month to rent an automatic Scoopy scooter and 20,000 IDR ($1.43) to fill our tank with petrol. As we live outside town we drive everywhere.
Other transport costs include taxis around town when we had guests (50,000 IDR/ $3.57 a ride), and two side trips we took. We paid 370,000 IDR ($26.42) for a taxi from Balangan beach a few hours away to Ubud and 600,000 IDR ($43) each for a return speed boat ride to Gili Air where we spent four days.
Entertainment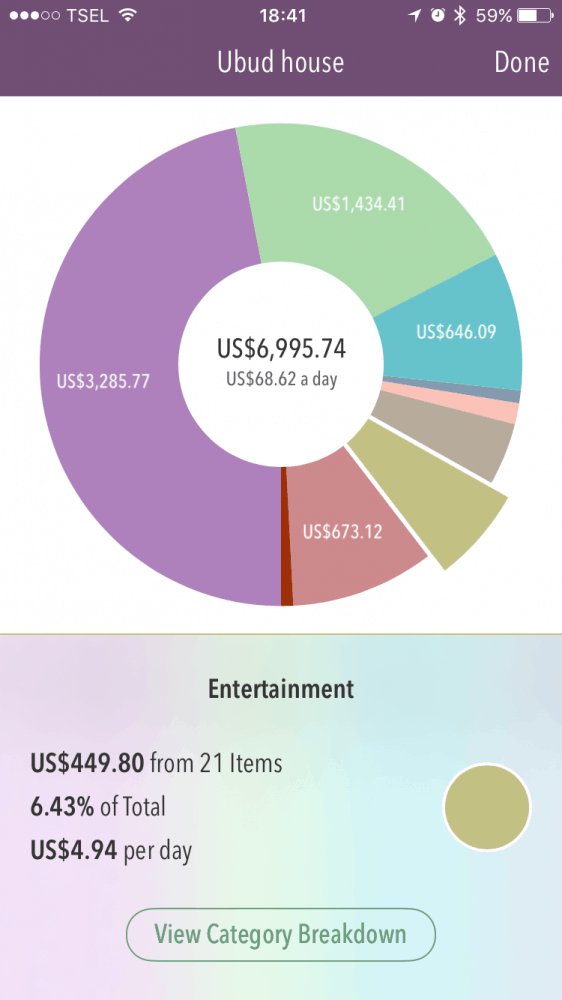 This includes yoga which was listed separately above. Yoga is a major focus for me in Ubud. The $94 a month cost was for an average of 19 classes a month at about $5 per class. The usual drop in class rate is 120,000 IDR ($8.57) but you can halve that by buying class passes. I tried five yoga studios and bought two 20 class passes (1.2 million IDR/ $86) at the Yoga Barn, and a mix of one and three class passes at the other studios. Read my review of the various yoga studios in Ubud .
Other entertainment costs include (per person):
Two museum entrance fees – 75,000 ($5.36) and 80,000 IDR ($5.70)
Temple entrance fees – 15,000 IDR ($1.07)
Snorkelling gear hire on Gili Air – 25,000 IDR ($1.78)
Cooking class with Payuk Bali – 350,000 IDR ($25)
Kecak dance performance in Junjungan – 75,000 IDR ($5.36)
Eco cycling trip – $35
Miscellaneous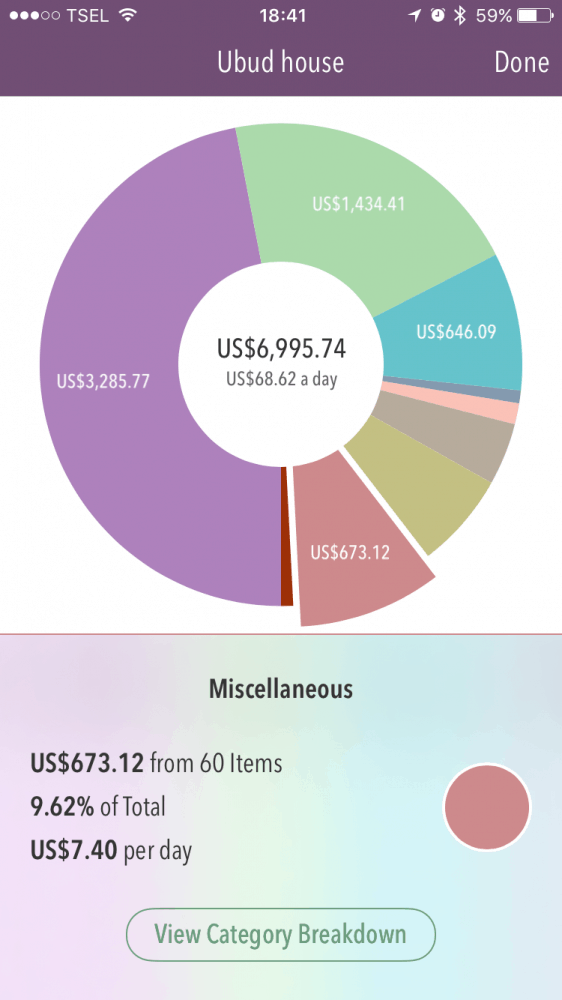 This includes the sub categories laundry, cleaner, phone credit, and visa extension:
There are many laundries in Ubud. Each week we usually pay 25,000 IDR ($1.78) to wash our clothes, and 16,000 IDR ($1.14) for our sheets and towels.
The cleaner costs 50,000 IDR ($3.57) for two hours—she came twice a week in our first month and once a week after that.
A data plan for our phone costs 80,000 IDR ($5.70) for 2GB of data.
We got a 60 day Indonesian tourist visa before we arrived which we then had to extend each month. A visa extension by an agent costs 605,000 IDR ($43) each—see my visa post for details.
The rest of our miscellaneous expenses include:
Gas for cooking – We used two bottles at 23,000 IDR ($1.64) each.
House purchases – We spent about $150 at the beginning of our stay buying things for the house—Aeropress coffee maker, rice cooker, frying pan, knife, cushions, mattress chair, and other kitchen items (our kitchen wasn't very well equipped).
Doctor visit – 625,000 IDR ($45) including consultation fee and medication.
Other medications
Toiletries including suncream, shampoo, and shower gel.
Simon haircut – 75,000 IDR ($5.36).
Guitar – 350,000 IDR/ $25 (which wouldn't stay in tune—don't buy cheap guitars!).
Although we spent more in Ubud than in other places we've lived we absolutely love it here and think it's good value for money for a high quality life.
For more information see our guide to living in Ubud for digital nomads.
You might be interested in our other digital nomad cost of living posts: