This page contains affiliate links. Please read our disclosure for more info.
We weren't in Guatemala to travel; we were there to live. We settled down for a few months in the small Mayan village of San Marcos La Laguna on the shores of magnificent Lake Atitlan, one of the most beautiful lakes in the world. Every day we woke up to views of the lake and its volcanoes, swam in its cool waters, and took yoga classes on its shore.
We spent two and a half months in San Marcos in high season, from November to January. These were our monthly expenses in USD for two people, averaged over our first two months.
Monthly Expenses in San Marcos La Laguna
Accommodation
$750
Eating Out
$81
Food Shopping
$378
Drinking Water
$28
Transport
$11
Entertainment
$68
Cellular Data
$64
Miscellaneous
$28
Total Monthly Expenses
$1408 (£905) for 2 people
As always we tracked our expenses with our travel budgeting app Trail Wallet. Here are the total costs for our first two months in the three currencies we used: British pounds, Guatemalan quetzals, and US dollars. Each currency is shown in one of Trail Wallet's new themes.
The cost of living in San Marcos La Laguna isn't expensive. We budgeted £30 ($47) a day and for once we managed to come just under budget. For the daily average of each category see the Trail Wallet screenshots below.
Here's what $704 (£453) per person a month got us in San Marcos:
Accommodation
We rented two places in San Marcos. For the first six weeks we paid $700 a month for a modern, spacious, studio apartment at Pasajcap with huge windows overlooking the lake. Gas, electricity, and internet were included, but we paid an obligatory $48 a month fee to have the apartment cleaned twice a week—well worth it. Pasajcap is a 15 minute walk outside the village. Read more about it and see photos in our post about our temporary home in San Marcos.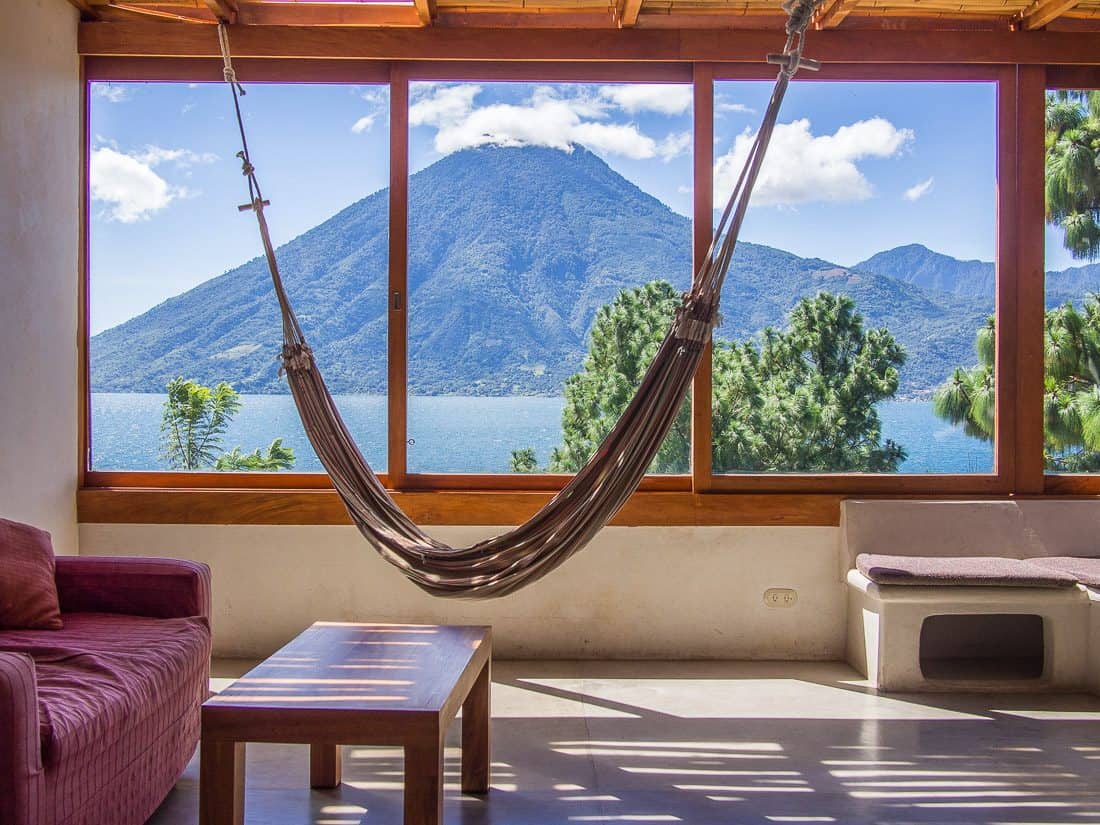 For our final month we paid $750 a month for a two bedroom house with a terrace and garden a few minutes outside the village. Bills were included but there was no internet so we relied on 3G (see Miscellaneous section).
We rented both places online and they were comfortable and well-equipped. We could have found somewhere cheaper if we'd just turned up, but it was nice not having to hunt around when we arrived and the options over Christmas were limited. Basic places are available to rent for as low as $300 (even less in other towns around the lake), and there are plenty of houses for $500-600. You'll get a better rate in the off season and if you stay for longer.
I've written detailed reviews of our rentals plus listed other options in our guide to living in San Marcos.
Eating Out
There are plenty of vegetarian and international restaurants in San Marcos, but coming from California we generally found the food disappointing and preferred to cook for ourselves.
We ate out about once a week and usually paid around 100Q ($13) for two main courses and drinks, including the 10% service charge that all the gringo restaurants add.
Food Shopping
As San Marcos is a small village prices are higher than at the bigger towns around the lake, but it's still good value. We did most of our shopping from the vegetable stalls around the village and the small shops on the main plaza. Occasionally we'd go to the market and health food shop in San Pedro.
We could have spent less if we had stuck to vegetables, dried beans, rice, and tortillas. But we took advantage of the health food and international items that are surprisingly available—things like kombucha, nuts, seeds, coconut oil, olive oil, and cheese increased our grocery spending.
Although officially Guatemala uses the metric system, the fruit and vegetable vendors use US lbs. Here are some example prices in San Marcos (prices were usually lower in San Pedro):
1 pineapple 7Q ($0.91)
3 avocados 6Q ($0.78)
1 large banana 1Q ($0.13)
1 lime 1Q ($0.13)
Bunch of cilantro 1Q ($0.13)
4 fresh corn tortillas 1Q ($0.13)
Large loaf of fresh wholemeal bread 25Q ($3.30)
0.5 lb cheddar cheese 28Q ($3.70)
1 lb quality local coffee 40Q ($5.25)
500ml local kombucha 20Q ($2.60)
100g Guatemalan Ixcacao dark chocolate 35Q ($4.55)
Drinking Water
For the first six weeks we paid $3 for a 5 gallon (19 litre) water bottle which we got through every two days (we drink a lot of water). Our second house had a water filter so we didn't have to pay for water.
Transport
San Marcos is small enough to walk everywhere so we didn't spend much on transport. We took a tuk tuk twice between San Marcos and Pasajcap for 10Q ($1.30) each. The public lancha (boat) ride to San Pedro cost 10Q ($1.30) each.
Entertainment

Most of the entertainment budget is on yoga—I attended classes about four times a week at 40Q ($5.25) for a 90 minute class. My favourite classes were at Hostal Del Lago (for more options see my San Marcos La Laguna guide.)
We hired a kayak for an hour which cost 20Q ($2.60) per person. Other activities like swimming and hiking are free.
Cellular Data
We bought a Tigo SIM card (50Q/ $6.55) and three 10GB data plans which cost 299Q ($39) each. 3G was often faster than our internet so we used our iPhone as a personal hotspot to connect our laptops as a backup in our first apartment, and as our only internet in the second house.
The internet can be slow in San Marcos so if you need it for work we do recommend budgeting for a data plan. You can buy a USB modem for your laptop if you don't have a smartphone.
Miscellaneous
This includes laundry, medications, and small online purchases of apps and games.
We paid 4Q ($0.52) per pound of laundry by the in-house staff at Pasajcap (our loads ranged from 12-24Q). At our second house we paid 10Q an hour for cleaning and laundry—the cleaner spent a full day at the house and we only did this once in December.
Guatemala is a very affordable country. Our above average accommodation costs did increase our cost of living, which was more than in Playa del Carmen and San Pancho in Mexico, even though Guatemala is generally less expensive. We don't regret it though as I can't think of anywhere else where we'd be able to rent such a beautiful apartment with world-class views for that price.
For more information see my guide to living in San Marcos La Laguna.
If you enjoyed this post, pin it!