This page contains affiliate links. Please read our disclosure for more info.
My wish list for this winter's digital nomad base was somewhere quiet, scenic and sunny, with decent WiFi, apartments for rent, and yoga classes. With the exception of decent WiFi (it depends on your definition) we found all of that in San Marcos La Laguna, a village on Lake Atitlán in the highlands of Guatemala, where we just spent two and a half months.
San Marcos is a peaceful place to live with mesmerising views of the deep blue lake and the verdant volcanoes that surround it. It's one of the smaller lake villages with a few thousand inhabitants, a mix of Mayan locals and bohemian expats, where everyone says buenos días as they pass you on the street.
Known as a spiritual centre, people come here for yoga retreats and to practice Reiki, crystal healing, and meditation. You'll find workshops for ecstatic dance, tantric yoga, and lucid dreaming. Even if you aren't mystically-inclined, San Marcos is a beautiful spot to escape the world and enjoy swims in the lake and hikes in the mountains.
Panajachel is the main tourist town on Lake Atitlán, and San Pedro is a popular spot for backpackers, known for its party scene and Spanish schools. We're glad we chose San Marcos—we think it's the prettiest, with the most relaxed vibe and the best views of the volcanoes. It is small though, and if you want more choice of shops, bars, and Spanish schools, one of the other towns might be a better option.
If you're considering living in San Marcos La Laguna, here's what you need to know.
Contents
Visas
Many nationalities including the US, Canada, Australia, and EU countries don't need a visa in advance and receive a 90 day stay on arrival. Guatemala is part of the Central America-4 border control agreement, so the 90 days applies to Nicaragua, Honduras, and El Salvador as well.
You can extend your visa once in Guatemala City, or I've heard agents at Lake Atitlan can do it on your behalf. The other option is to cross the border to Mexico or Belize. We didn't need to extend our visa so don't have any experience of this.
When to Go and Weather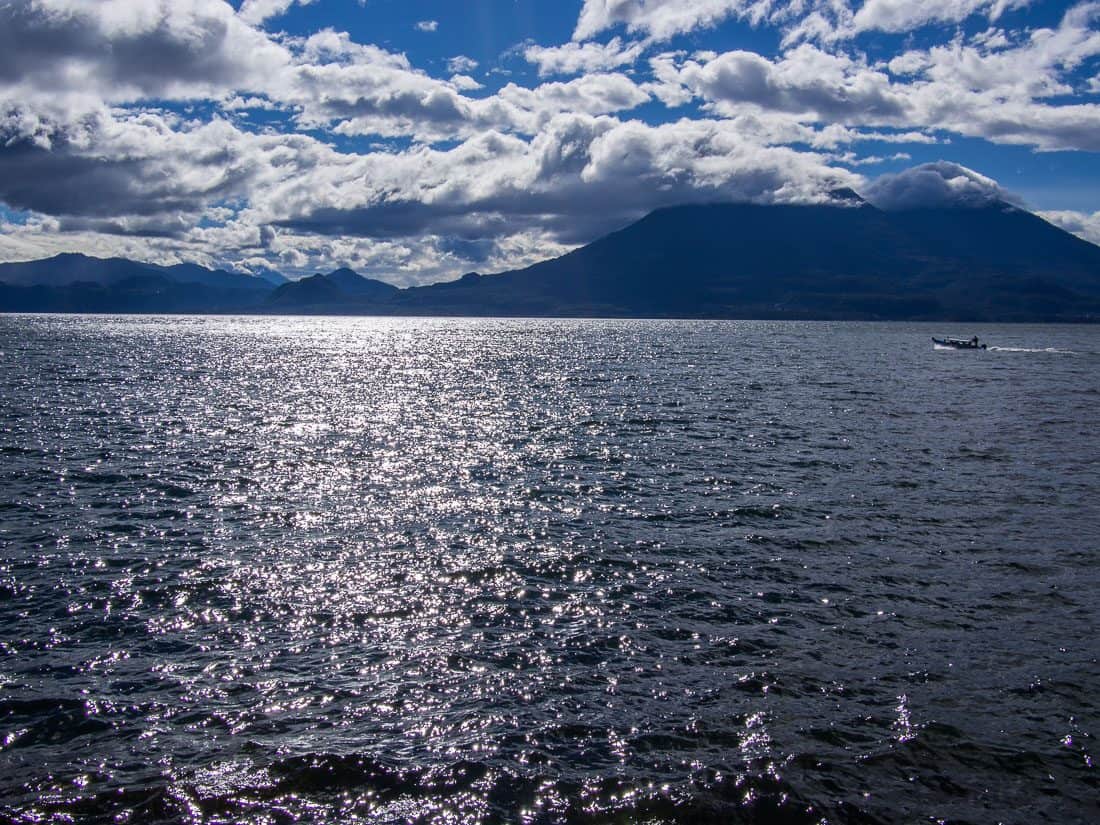 The dry (and high) season is from November to April and the wet season is from May to October, when it rains mostly in the afternoons and evenings.
My biggest concern before coming to Lake Atitlán was that it would be too cold for me at the elevation of 1565 metres. I saw average temperatures listed as low as 17ºC in December.
When we arrived we discovered that the weather forecasts here are completely inaccurate—the temperature was far warmer. It was hot, but not humid, every day when we were there from November to January. It felt like the temperature was in the late 20sºC during the day—I wore a summer dress and sandals without being cold. The mornings and nights are cooler—you'll need a jumper and long trousers. In the afternoons it can get windy, so swims and boat trips are best in the morning when the lake is calmer.
Lake Atitlán really has the perfect weather with no need for air conditioning or heating.
Getting Here
Guatemala's international airport (GUA) is in Guatemala City. From there we took a one hour taxi (included in our hotel deal, usually $30) to the colonial city Antigua where we spent a few days. You can also take a shared shuttle (mini van) from the airport to Antigua for $10.
From Antigua we splurged on a private shuttle ($90, three hours) direct to our apartment in San Marcos. This made the journey much easier and we could stock up on groceries in Antigua.
Depending on demand it might be possible to get a shared shuttle from Antigua to San Marcos; otherwise, you'll need to get a chicken bus (old US school buses) or shuttle to Panajachel, and a boat from there to San Marcos.
Antigua is well worth a few days (do the chocolate workshop!), but if you want to come direct to San Marcos here are a few options.
The most popular route to/from Mexico is the shuttle to San Cristobal de las Casas in Chiapas. We did this when we left the lake. You can book the shuttle from any of the agents in the village; most are along the path to the dock. We paid 225Q per person. We had to get the first lancha to Panajachel just after 6am (20Q) which arrived at 7am and the shuttle met us at the dock. The journey to San Cristobal took 10.5 hours arriving at 5.30pm with a change of bus at the border. Take dramamine if you get motion sickness as most of the trip is along winding roads.
Getting Around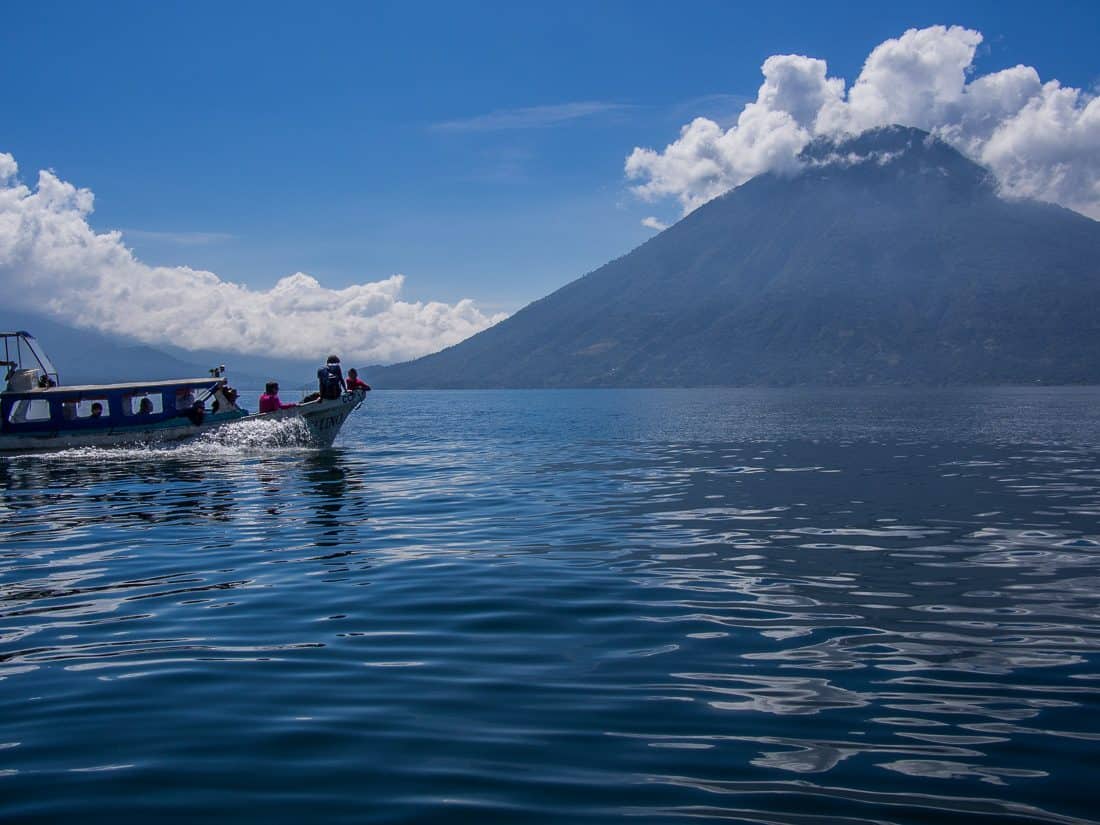 San Marcos is small enough to walk everywhere.
To get to the neighbouring villages you can take a lancha, a small public boat, that run every 20 minutes until early evening. The boat driver may try to overcharge you (and foreigners already pay more than locals), so it's best to have the correct change available and give it to him when you get off. The rate to San Pedro La Laguna (15 minutes) is 10Q, and to Panajachel (40 minutes) it's 20Q.
You can also take a three wheeled tuk tuk to the nearby villages. We paid 10Q per person for the 10 minute ride from San Marcos to Pasajcap.
Money
The Guatemalan currency is the quetzal. The current exchange rate is US$1 = 7.63Q, £1 = 11.9Q, and €1 = 9.40Q.
There is no ATM or bank in San Marcos so make sure you withdraw money in advance. The nearest ATM is in San Pedro—there's one close to the dock and one up the hill, at the bank past the market. ATMs have a withdrawal limit of 2000Q.
Some restaurants and hotels might be able to change small amounts of dollars in San Marcos, but don't rely on this. We managed to change $10 at Tienda El Centro on the plaza, but it's best to go to the bank in San Pedro (or Panajachel) to change larger amounts. They are very fussy about the notes so make sure they don't have any marks or tears.
Change is often in short supply—don't expect fruit vendors to have any. You can always get change at the small tiendas (shops) on the main plaza so use your 100Q bills there.
Accommodation
There are plenty of small houses and apartments for rent in San Marcos, although you'll have more choice in low season or if you arrive before the start of the high season (end September/October). I've seen prices at $300-500 a month, but we paid $750 booking high quality places online. You'll get lower rates if you rent long term.
We rented two places:
Pasajcap
We booked Pasajcap a month in advance by email and they were already almost full in November and early December, and fully booked for Christmas. Pasajcap is well run by Frenchman Pierre and his helpful team, and is justifiably popular. It's located in a quiet area of the same name between San Marcos and Tzununa, a 15 minute walk from San Marcos.
There are nine apartments and cottages amongst lush gardens on the mountainside above the lake. The apartments are spacious, loft-style studios with huge sliding windows to maximise the panorama of the lake and volcanoes—they are designed so you can see the view from everywhere, even the shower.
They have well equipped kitchens (with oven, blender, coffee maker), plentiful hot water, and quality furnishings. The WiFi is decent for Guatemala but very variable. Sometimes we could Skype and watch Netflix with no problems; other times it would slow right down or cut out completely. It was useful to have 3G on our phone as a backup (see internet section below).
There's a private dock where you can swim or catch a lancha to one of the villages. Barbecues, sun loungers, and hammocks are scattered in palapas around the gardens.
We paid $700 a month for an apartment; cottages are $575 a month. This includes all bills except the obligatory cleaning fee of $48 a month for two cleanings a week. Prices are higher here than other places in San Marcos, but it's worth it for the high quality, excellent service, and incredible views, and it's a good option if you want to book in advance.
VRBO
As Pasajcap was full over Christmas we found two bedroom Casita Quetzal on VRBO for our final month. The location is very convenient—a few minutes walk outside the village on a quiet stretch of road with no other houses around. The bright living, dining and kitchen area upstairs has views of the surrounding trees and volcanoes. It leads on to a lovely terrace with a table and comfortable seating with views of the volcanoes, and a little bit of the lake through the trees.
Downstairs is the main bedroom and large attached bathroom with plenty of hot water. It leads into the garden of fruit trees and flowers, and the second bedroom is in a separate building next door.
The kitchen was well equipped with an oven, blender, and espresso maker, and there's a water filtration system throughout the house so we could drink the tap water.
There's an alarm system and a locked cupboard for valuables so we felt safe. The biggest downside was no WiFi so we had to use 3G on our phone as a personal hotspot, which ended up being expensive as we use the internet a lot.
We paid $750 a month for the house including all bills. Although we preferred Pasajcap (you can't beat the view), Casita Quetzal is a lovely house and is more convenient for the village.
Other Options
Prices are lower in other villages around the lake and you can rent basic apartments for $200 in San Pedro or Panajachel.
Internet & Mobile Data Plans
Many restaurants, hotels, and house rentals have WiFi but the quality is variable. At Pasjacap our download speeds varied from 1.5 to 9.5 mbps, and our uploads from 0.14 to 0.85 mbps. Sometimes is would cut out completely.
Our 3G speeds ranged from 1.2 to 9.99 mbps download and 0.34 to 1.63 mbps upload. We used it as a backup at Pasajcap, and it was our only internet in our second rental. Tigo and Claro have the best coverage at the lake. We bought our Tigo SIM in Antigua for 50Q (including 25Q credit, 50 messages, and 200MB data) at the phone kiosk in La Bodegona supermarket. You can also buy SIMs in Panajachel, and can add credit in the shops in San Marcos.
Many people buy USB modem sticks to connect their laptops to 3G; we used our iPhone 6 as a personal hotspot. The largest Tigo data plan is 1497Q for 35GB valid for 30 days. When you run out of data you can buy a new plan even before the 30 days is up. Tigo often have triple credit days—they send you a text message—but the bonus credit can only be used for calls not data packages and it expires after 30 days.
Many of the restaurants in San Marcos have WiFi but it's pretty slow. In Il Giardino we got speeds of 0.52 mbps down and 0.10 mbps up, and in Fe it was 0.23 mpbs down and 0.34 mbps up. San Pedro has faster internet—Italian restaurant Idea Connection was good.
Power cuts can be a problem during the rainy season, but in the dry season we never had one for more than a few minutes.
Water
The water is not drinkable. You can buy large five gallon (19 litre) water bottles from the shops in the village. We bought them at Pasajcap for $3.
We washed our fruit and vegetables with the solution Sanavida, available at the shops on the plaza.
Food Shopping
We did a big shop in Antigua before we arrived—at the market and La Bodegona supermarket—as quality and prices are better than in San Marcos. We expected to need to go to Panajachel for most of our shopping, but we managed to find what we needed in San Marcos and so never bothered to take the 40 minute boat trip there.
In San Marcos
On the main plaza in San Marcos there are three small shops and an even smaller health food shop. Here you can buy basics like eggs, cheese, and dried goods, as well as a surprising range of health food and imported items: fresh wholemeal bread, lentils, wholemeal pasta, pesto, quinoa, nuts, seeds, coconut and olive oils, nut butters, coconut flour, cacao, soba noodles. The range varies and we'd often look in all the shops to find what we needed. It's always worth asking what you are looking for as things can be hard to find or unlabelled.
One of the great things about San Marcos is the locally made products including honey; goats cheese; kombucha, ginger beer, and other fermented items from Love Probiotics; and coffee and jams from Shangri-La Roasters. The cigar shaped chocolate bars are made in San Pedro, but we found them a little bitter and preferred the Antiguan brand Ixcacao (available in the health store), especially the dark chocolate and the milk chocolate with coconut (like a fancy Bounty bar).
For fruit and vegetables there are stalls on the plaza and on the pedestrian paths towards the dock. Quality and choice is variable, depending on how recently they've stocked up—Saturdays and Tuesdays tend to be good days. To get to our favourite stall go down the pedestrian path that leads from the main road towards the dock, and turn right at the sign for La Paz. There's one vegetable stall on the left, but we prefer the friendly guy just past that on the right.
We bought fresh corn tortillas (4 for 1Q) from a lady in an unmarked house. To get there turn left from the plaza (with your back to it), take the first left, cross the small bridge, continue up the hill and it's the second house on the right after the small shop on the corner. It's a two story house with the sign Casa Juanita at the top. If the door's open just go up and ask for tortillas. Ask for directions if you aren't sure.
In San Pedro
A few times we went shopping in San Pedro. There's a good health food shop Salud Para Vida on a road on the left just after the dock (look for the sign). They have a bulk section selling spices, nuts, seeds, flours, and lots of items you can't find anywhere else. It's pricey but as many items are imported from the US that's to be expected.
If you follow the steep hill up the road from the dock you'll reach San Pedro's covered market. The quality and price of fruit and vegetables here is better than in San Marcos, and it's also a good place to buy dried beans, lentils, chiles, and nuts.
Eating Out
On the plaza there's a stall selling tostadas and tamales, and a small local restaurant, but most of the restaurants serve gringo food. Despite good TripAdvisor reviews and recommendations from expats, we found the food disappointing. If you've been in Central America for a while you'll probably appreciate the options, but we'd just come from California, so it couldn't compare.
Being vegetarian is easy here and there are a few vegetarian restaurants in San Marcos and San Pedro. Our favourite places to eat in San Marcos were Il Giardino which has a garden setting and decent veggie burger, and Fe which has tasty Indian curries. In San Pedro we liked Home (Update October 2019: Now closed permanently) for the vegan wholewheat pancakes made with flax, sesame, and pumpkin seeds, and the bread and pan de chocolate at the Italian restaurant Idea Connection.
Our favourite pizza was from Pizza Pablo which delivers to San Marcos. A vegetarian pizza cost 55Q plus 5Q for delivery. To order call Stuart (5448 2469) around lunchtime and they deliver between 5 and 6pm.
Yoga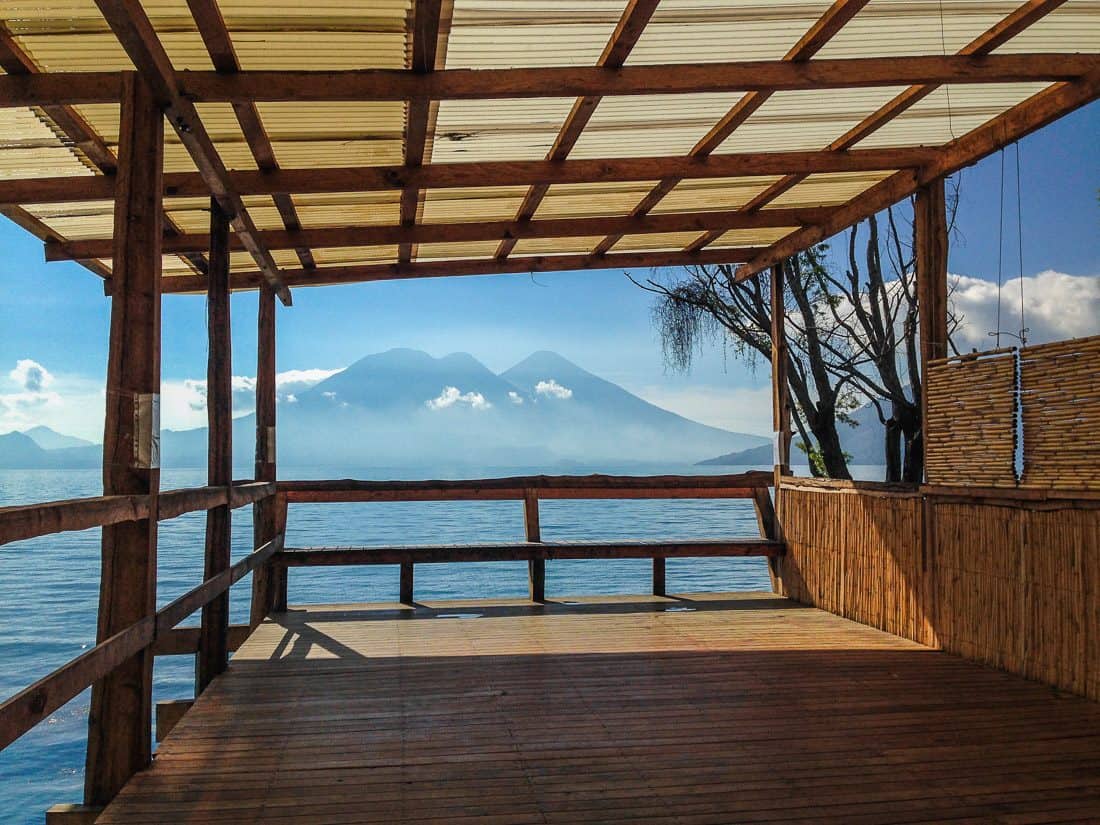 San Marcos is the yoga village on Lake Atitlán so there are plenty of options. Drop-in classes cost 40Q and mats are provided.
Hostal Del Lago – Located just outside the village on the road to Tzununa, this is where I went most often. It has the best views on a platform over the lake, and classes daily at 7.30am and 9am. The teachers change each week—check the schedule next to their door—but usually include a mix of hatha and vinyasa.
Hotel La Paz – The circular yoga palapa is in the gardens of this hotel in the jungly area towards the dock. Classes are daily at 9am. They don't post a schedule with teachers or type of yoga. I enjoyed Paola's hatha class—she teaches on Monday and Wednesdays.
El Venado Azul (The Blue Deer) – Paola's own yoga studio is a 20 minute walk outside the village in Pasajcap. Look for the sign and follow the path up the steep hill through the forest. It's a peaceful, secluded location with views of the lake through the trees. Hatha classes are on Fridays and Sundays at 9am. Unsurprisingly given the location, there was never more than one other student when I went there.
You can also attend drop-in classes as these yoga retreats (I didn't try them):
Las Piramides – Hatha yoga at 7am Monday to Saturday. It's located towards the dock.
Kaivalya – Hridaya yoga, a slow, spiritual practice, at 10am and 3.30pm (including lecture) Tuesday to Saturday. On the road out of San Marcos towards San Pablo.
Yoga Forest – Hatha flow 7am and Restorative 4pm Monday to Saturday. It's a 25 minute walk from the dock up a steep hill.
Running
I ran regularly at Lake Atitlán and only saw another runner twice. Running is challenging here with rocky dirt trails, lots of hills, and the altitude takes it out of you. The views make up for it though. Unless you want to go straight up hill (I don't) your options are to head towards Tzununa (3km+) or San Pablo (2.5km). Most of the time I ran to Tzununa—there are more pedestrians on this route and I felt safer, but the road is rocky and uneven. The road to San Pablo is paved but the hills are bigger.
Security is a slight issue as there have been robberies in the past of hikers between villages. Our apartment owner said he hadn't heard of any problems on the road to San Pablo and San Pedro in the last five years. To be on the safe side I didn't wear earphones (although I did use my iPhone for tracking my run hidden under my clothes) and didn't run on Sundays when there are less people around. I never had any problems and didn't feel unsafe.
Things to Do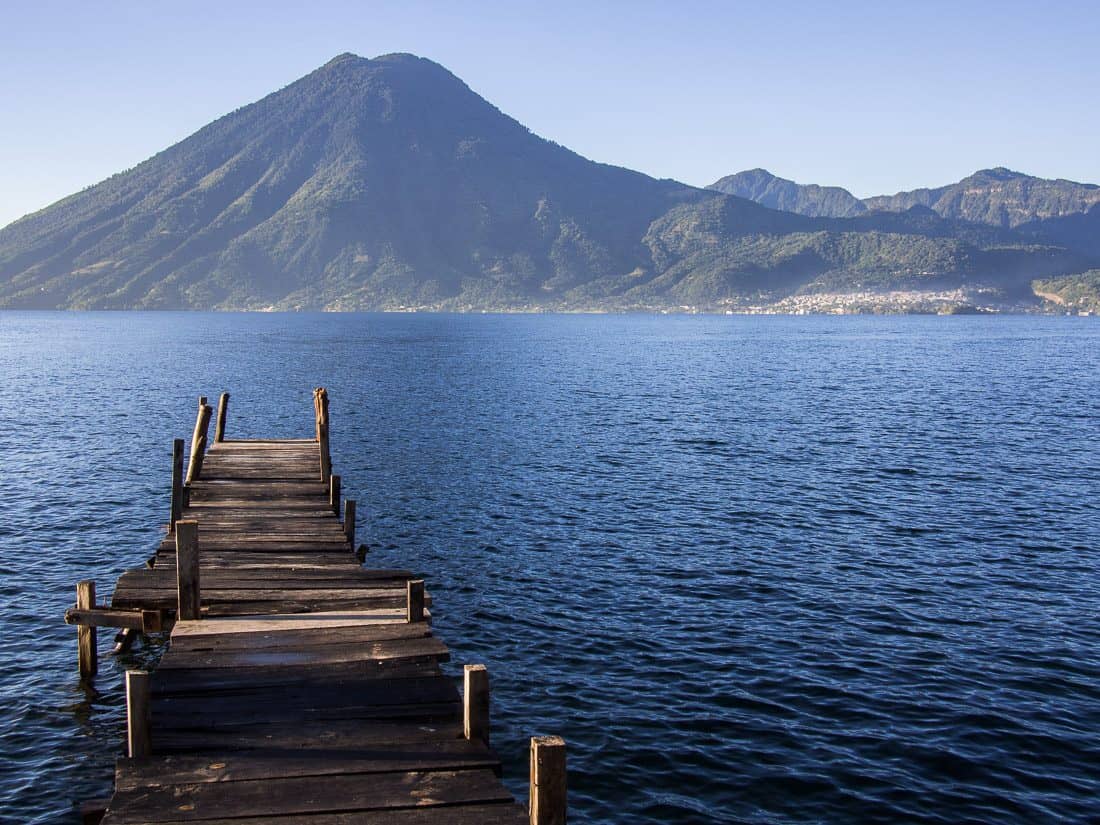 We were happy living a quiet life in San Marcos and didn't do much other than yoga classes and lake swims. Here are some options though:
Swimming – From the docks you can swim in the lake—the water is clean, clear, and cold (you get used to it). The water is calmest in the mornings.
Reserva Natural del Cerro Tzankujil – Just past Hotel Aaculaax on the lake is a small nature reserve with short trails, swimming spots, and La Trampolina, a seven metre high platform where you can jump into the water. Entrance is 15Q.
Kayaking – You can hire kayaks for 20Q per person per hour from the entrance to the nature reserve.
Hiking – Hike up the San Pedro volcano or Indian Nose, or to the villages of Jaibalito or Santa Cruz (and get the boat back). It took us 1.5 hours to walk from San Marcos to Jaibalito—follow the road to Lomas de Tzununa where it becomes a narrow trail carved into the mountainside with stunning views. There are some steep hills and rocky sections but it wasn't a difficult hike. There was hardly anyone around and although we didn't feel unsafe it might be best to minimise your valuables as there have been robbery reports in the past.
Exploring other villages – The Globetrotter Girls and Lunaguava have written about the options.
Atitlan Nature Reserve – Zip-lining and butterflies near Panajachel.
Hostal Del Lago – Events most nights including film screenings, live music, karaoke, and international food nights.
Check the noticeboards in the village as there are often festivals and events taking place including theatre, circus, acro-yoga classes, cacao ceremonies, and fermentation workshops.
Learning Spanish
You could probably get by without it, but it's a good idea to learn some Spanish, and Guatemala has some of the cheapest classes in Latin America.
Hostal Del Lago has beginner and intermediate group classes for 40Q an hour, and you can get private lessons at the San Marcos Spanish school. There are many more options in San Pedro.
We didn't take classes as we studied in Buenos Aires at the start of our digital nomad journey.
Cost of Living
We spent $1408 (£905) a month for two people. We rented relatively expensive accommodation, so you could live here for much less. See our cost of living in San Marcos La Laguna post for more details.
Further Resources
San Marcos is a wonderful base for digital nomads, as long as reliable high-speed internet isn't essential. It was the perfect retreat for us—tranquil, affordable, and with some of the best views in the world.