This page contains affiliate links. Please read our disclosure for more info.
We were in need of stillness. Of quiet, focus, routine.
We found it at Lake Atitlán in Guatemala. Our apartment, near the small village of San Marcos, is built into the mountainside and surrounded by fruit trees and colourful flowers—coffee, banana, papaya, lime, jocote, bougainvillea, angel's trumpets, and many more I can't identify.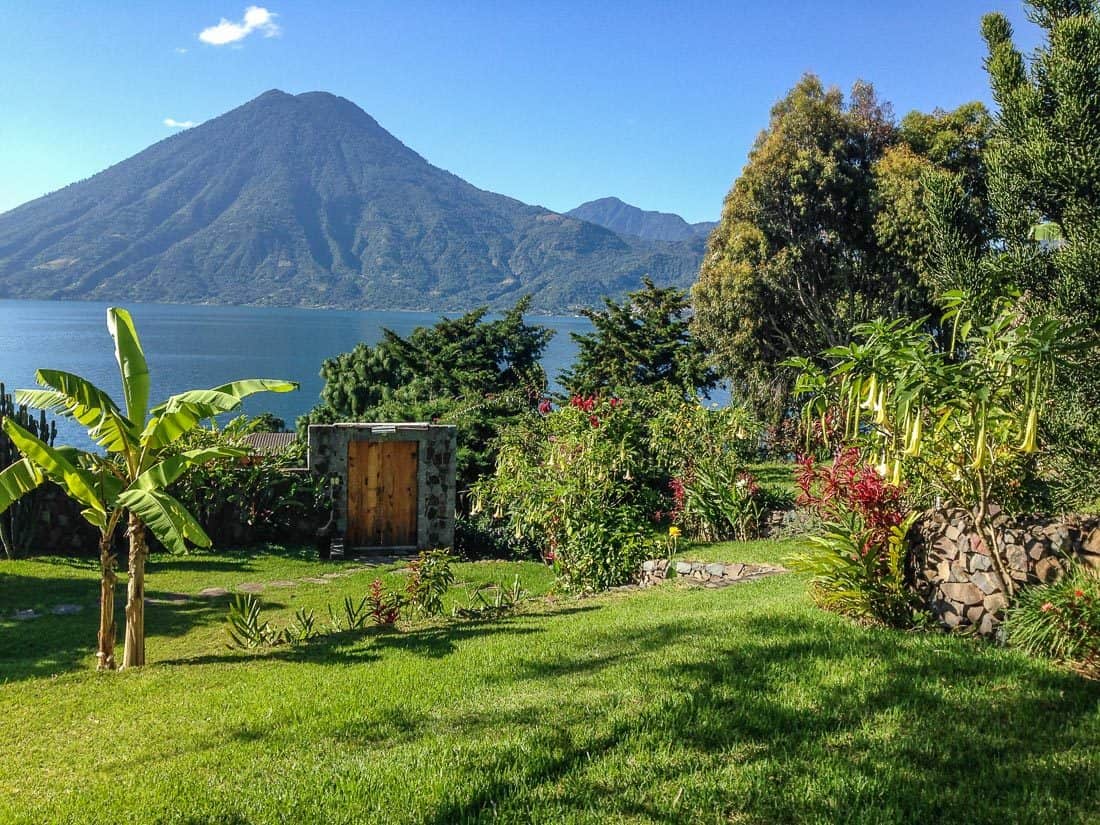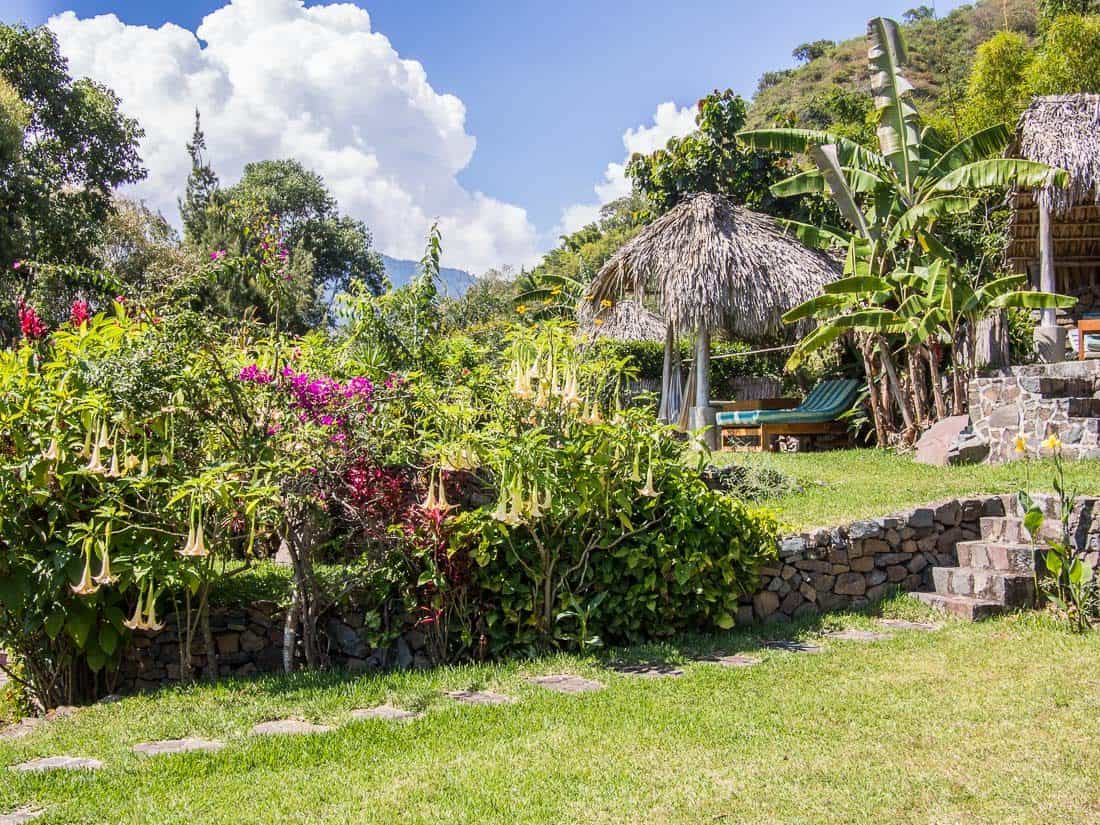 Every morning we wake up with the sun and roosters to the expansive lake and its three volcanoes Atitlán, Toliman, and San Pedro.
Our apartment is designed to maximise the view with large windows that slide open to let the outside in: the breeze and birdsong along with scorpions and giant bees. The volcanoes and lake are ever present—when we're lying in bed, cooking in the kitchen, even when taking a shower. We watch its changing colours and moods.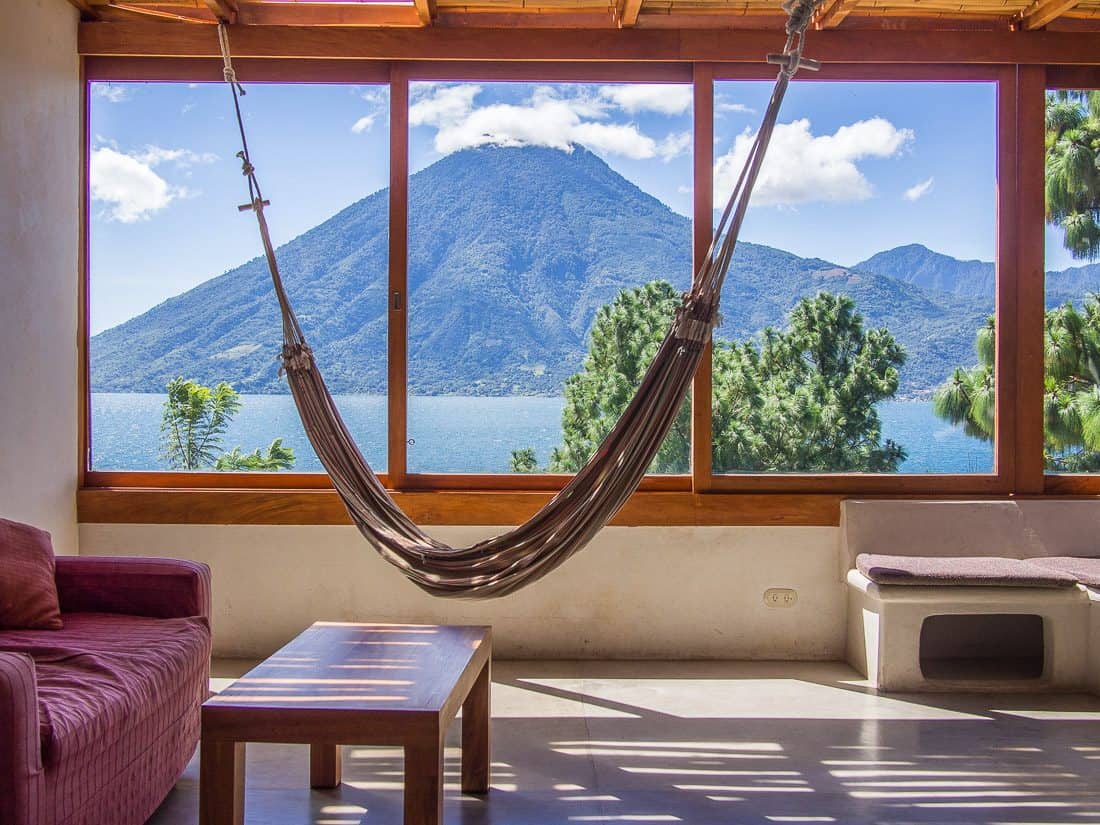 A steep walk down the hill brings us to the lake. From the rickety private dock we can jump into the cool water, or flag down a passing lancha to take us to one of the villages.
It's quiet here. There are no distractions, not even a shop close by. We've hardly gone anywhere—we haven't hiked a volcano, gone kayaking, or toured the villages. Sometimes the urge to explore fades and we're content to revel in routine. Simon rarely leaves the apartment, he's so immersed in his projects. I run, go to yoga classes, write, swim, and experiment with vegan baking.
My morning runs are challenging. I stumble on the rocky trails, gasp for breath up the many hills, my lungs burning at the 1585m altitude. But it's one of the most beautiful places I've run, and I don't need music or podcasts to entertain me.
I run through Tzununa, a traditional Mayan village. Pigs, fluffy chicks, plump ducks, and scraggly dogs wander the cobbled streets. I pass women in vibrant embroidered blouses carrying baskets of corn to be ground into masa dough, or back with the masa, ready to be made into tortillas, the staple of Guatemalan cuisine. The teenage boys wear jeans and t-shirts, the men broad cowboy hats and machetes. The kids call out "hola" or, the more confident ones, "hello"; the elders a polite "buenos días". I must look strange to them—there aren't many runners around here—but they withhold comment.
Our nearest village is San Marcos La Laguna, a 15 minute walk away along a rough dirt track, the lake on one side, the forest covered mountains brightened with yellow flowers and red coffee beans on the other. There's no street lighting and traffic is rare, just the occasional three wheeled tuktuk or pick up truck crammed with passengers.
The village's main plaza consists of three small tiendas, an even smaller health food shop, a simple restaurant I've never seen anyone in, a desolate children's playground, occasional tamales stalls, and a few women sat on the floor selling fruit and vegetables. Next door is a basketball court where we were pleased to see a girl's team playing.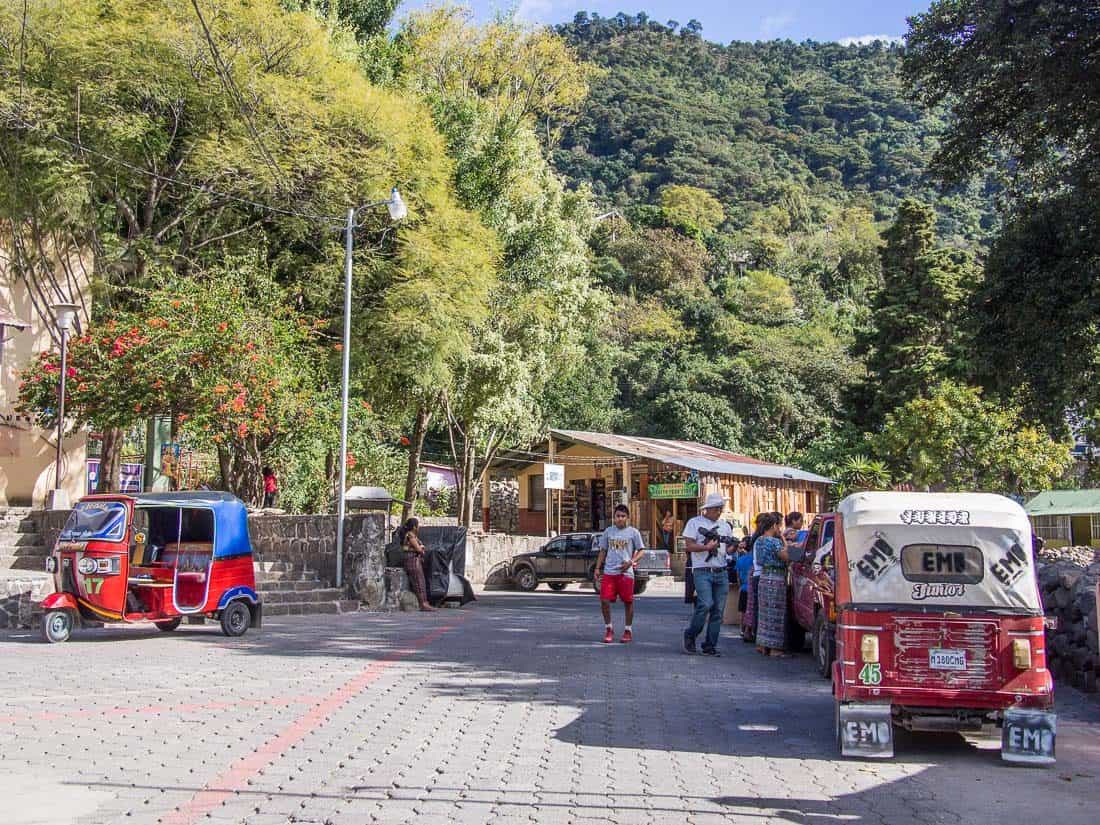 From the main road a pedestrian track leads towards the dock through a jungly maze of gringo restaurants and guest houses; local women sat on the floor selling banana bread and bracelets. Narrow dirt paths veer off through the avocado and banana trees, and at first we felt like we were intruding in someone's backyard.
San Marcos is known as the spiritual village and signs on noticeboards advertise events like the Spiritual Sexual Shamanic Experience, Conscious Cacao Ecstatic Dance, Astrological Acupuncture, Lucid Dreaming Retreat, and Men's Sacred Circle, along with the more pedestrian yoga, Reiki, and crystal healing.
The Mayan community live up the hill from the plaza, in part of the village that's hidden at first glance by the vegetation and steep incline. Their first language isn't Spanish but Kaqchikel, one of three indigenous languages spoken at Lake Atitlán. The women wear traditional dress—colourful patterned blouses, long woven skirts, and a wide belt where they tuck away their mobile phones.
The locals are friendly and helpful, but there's a slight reserve, a sense of separateness: they don't eat in the same restaurants as we do, speak a language we don't understand, live a life that seems so different from ours.
And, in all honesty, breaking through the cultural barrier isn't something we're here to do. After months of travel staying with friends and family, we're in hibernation mode, happy to retreat into ourselves, rest, and work towards our goals.
We couldn't have asked for a more beautiful place for it.
We rented an apartment at Pasajcap which is both the name of the apartment complex and the area between the villages of San Marcos and Tzununa. It's a beautiful, tranquil place with well-equipped, spacious studio apartments and cottages. The views are stunning, and it's well run by owner Pierre and his team. We paid $700 a month in the high season; cottages are cheaper. We've been here for six weeks, and as our apartment is booked up, are moving to a new house for our final month.
I've also written about the costs and practicalities of living in San Marcos.