This page contains affiliate links. Please read our disclosure for more info.
Renting apartments is our favourite way to travel. Even though we're nomadic we're homebodies at heart and love having a kitchen and a comfortable place to relax and work. Apartments can also be more affordable than hotels, especially for longer stays and in expensive parts of the world like Europe.
We've written before about how we find apartments around the world and this post continues the series with the methods we used in 2013. After starting the year in an apartment by the beach in Playa del Carmen, Mexico we rented apartments and houses in other parts of Mexico, Paris, Sicily and Thailand for anywhere from three days to three months.
Mexico City, Mexico
How we found it: Airbnb
How long we rented for: 2 weeks
How much it cost: $373 a week
After two weeks completely offline in Cuba we knew we'd need a decent place to catch up on work when we returned to Mexico so we splurged on an apartment in Mexico City which cost more than a budget hotel but was better value than a mid range one. We didn't regret our decision and loved our spacious, homely one bedroom apartment with lots of art work (the helpful owner is an artist) and plants, a comfortable bed, fast WiFi and well equipped kitchen.
The location was really convenient, off the beaten track but we could walk to the Centro, Roma and Condesa neighbourhoods, and the metro and metrobus were right across the road. The only downside was the noisy road that the apartment is on, but that's to be expected in such a big city.
We love Airbnb which we think is the easiest way to find an apartment and it's our go-to site in North America and Europe. If you sign up using this link then you'll get $25 credit to try it.
San Pancho, Mexico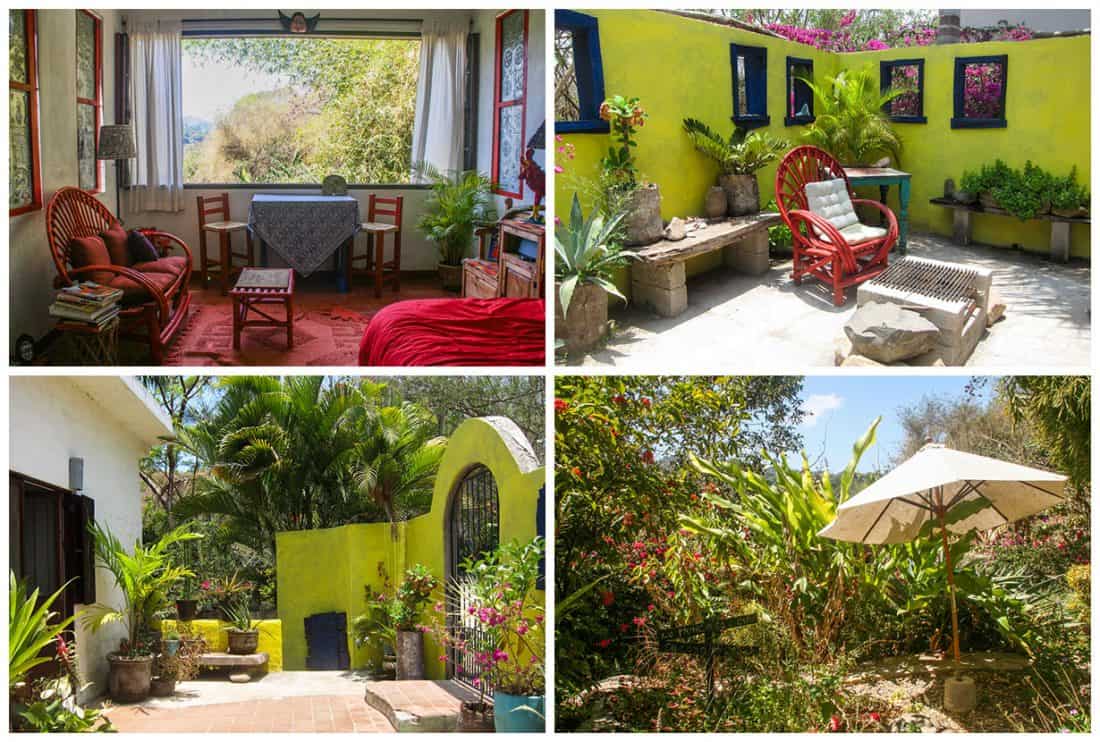 How we found it: Friend
How long we rented for: 3 months
How much it cost: $400 a month
Our most serendipitous apartment search involved no actual searching. We were staying with friends in Guanajuato and planned to head to the tiny beach town of San Pancho next. It just happened that they had a friend from back in the US who lived there and was coming to visit them at the same time we were going there. We were able to arrange to rent her house while she was away which we ended up extending to three months. Our luck demonstrated the advantage of having friends around the world and of travelling in low season when accommodation is easier to find (the house wouldn't have been available in the high season).
Our house in San Pancho is the most charming place we've rented and also the cheapest. It's a quirky, colourful and unique home full of Mexican artwork and creative details. One wall is completely open air with views of the flower filled garden and jungle covered mountains with a constant soundtrack of birds. It would have been difficult to leave but by July the increasing heat, cockroaches, and rain made it easier to move on.
We often get asked the best way to find an apartment in San Pancho. Holiday rentals are available online but are expensive. To find the cheaper places you need to come to town and ask around in the shops and restaurants.
Read more about living in San Pancho.
Paris, France
How we found it: Airbnb
How long we rented for: 3 nights
How much it cost: £40 ($66) a night
Paris was our first stop on a month long train journey across Europe. Hotels were expensive so even though we were only staying for three nights I looked on Airbnb for apartments. I was amazed to find that we could get a whole apartment for less than a hostel double room. It was only a studio with a tiny kitchen and bathroom but the main room was lovely—light, spacious and artsy.
Best of all was that the apartment was in the untouristy neighbourhood of Belleville which we wouldn't have visited otherwise. We loved experiencing Paris like a local visiting the markets, bakeries, parks and street art filled alleyways of this multicultural area. It led to a completely different experience than staying in the centre but one that was more unique and rewarding for us than visiting the tourist attractions during the peak summer season.
Our great apartment deal and being able to make our own food meant we managed to spend less than $50 per person per day. Not bad for Paris.
Airbnb can be quite expensive in developing countries but in Europe and the US it often works out cheaper than a hotel so it's always worth checking, even for short stays.
Read more about our stay in Belleville. Our apartment is no longer listed on Airbnb but there are plenty of other apartments in Paris.
Palermo, Italy
How we found it: Visit Palermo
How long we rented for: 1 month
How much it cost: €600 ($820) a month (we received a discount from the usual €950 rate)
Finding our apartment in Palermo, Sicily was one of our easiest searches. Visit Palermo is run by three locals who are passionate about their city and list hand picked quality holiday rentals on their website. They don't give monthly rates on the site but it's always worth asking and they responded to our email within a few hours with the options.
We ended up choosing Casa Filo, a spacious one bedroom apartment in the "new" 19th century part of the city just a few blocks from the seafront and walkable everywhere. It's a real home (the owner lives next door) with artwork, books, DVDs, and plenty of furniture and kitchen equipment.
Read more about Casa Filo and our life in Palermo.
Alcamo Marina, Italy
How we found it: HomeAway
How long we rented for: 2 weeks
How much it cost: €490 ($670) a week
My parents came to visit after our month in Palermo and we rented a two bedroom house by the sea. We used HomeAway and the Vacation Rentals section of TripAdvisor to search for a place. We didn't mind where it was as long as it was by the sea and not too far from Trapani airport (where Ryanair fly). We ended up in Alcamo Marina, a small beach town just outside the pretty town of Castellamare del Golfo on the coast between Palermo and Trapani. In October it was very quiet and the beach was usually empty.
We found a villa we liked on HomeAway but it was fully booked so the owner referred us to his friend who had recently started renting out her house. Villa Francesca turned out to be ideal. It's modern and clean with two double bedrooms each with ensuite and a separate living area and kitchen. The terrace is huge and we loved eating breakfast with views of the sea and mountains. It was a great base for exploring Western Sicily.
We liked it so much that we stayed on for an extra week when my parents left and managed without a car as the train station is only a five minute walk away (although a car is recommended to explore further afield).
If you are interested in booking Villa Francesca let me know and I'll give you Rose the owner's contact details.
Chiang Mai, Thailand
How we found it: Independent agent
How long we rented for: 3 months
How much it cost: 20,500 baht ($624) a month
Last time we rented an apartment in Chiang Mai two years ago we had a frustrating week long search but this time we were better prepared. We had a more realistic budget for our requirements (one bedroom, kitchen) and knew that it was easier to get an agent to help us find a place. We booked a hotel for the first few nights and a few days before we arrived emailed a number of agents to see what they had available for our requirements. We received responses from Sathioga, Chiang Mai Properties, Perfect Homes, Open Realty, Chiang Mai House, and Roberta Thitathan, an independent American agent who had helped one of our readers find a place (update: she is no longer working in real estate). I also emailed a few serviced apartment buildings (The Opium and Anunyapham) and responded to some ads on Citylife's classifieds.
The best options available were with Roberta and Sathioga so we set up viewings. Thankfully we had a much easier search this time and the first place we saw was where we ended up living. Houses in Chiang Mai are usually only available for a year rental but Roberta happened to find us a house that had been rented for the family of our neighbours who had delayed their plans of moving to Thailand for a few months. It worked out perfectly for us and we ended up with a spacious, modern two bedroom house in a quiet (except for occasional planes), leafy area only 15 minutes walk from the cool Nimmanhaemin Rd area.
Apartment prices had gone up since we were last here and our previous apartment was going for 25,000 baht a month (prices go down if you commit to 6 or 12 months). For less than that we got a spare bedroom (Simon's office), lots of space, huge windows, gardens, a porch swing, and even an oven (rare in Asia). The only thing missing from our requirements was a pool so we splurged on fitness club membership at the nearby Kantary Hills hotel to use their lovely pool.
Finding our house was a one off and you're unlikely to find a house to rent in Chiang Mai for just three months but there are plenty of apartments available. For more details see the article we wrote on our last search for an apartment in Chiang Mai, and we recommend getting in contact with agents to help you find somewhere. You can also find serviced apartments listed on Nomad Rental.
Looking back 2013 was our easiest year for apartment hunting without the struggles we've had in previous years finding decent, affordable places to rent. We're either getting better at this or we've been lucky to find some gorgeous places to live.
See Part 1 for how we found apartments in Argentina, Colombia, Japan, and Thailand; and Part 2 for apartments in Thailand, Italy, Portugal, Egypt, USA and Mexico.
If you'd like to try Airbnb yourself then sign up here and you'll get $35 credit to use towards an apartment (and we do too, so thank you!).