This page contains affiliate links. Please read our disclosure for more info.
View from our apartment in Medellin, Colombia.
We may be travelling permanently but this doesn't mean we spend all our time in hostels and hotels. Living in hotels may seem a glamorous life but it gets old fast. After a while we crave a couch, reliable internet and a kitchen so we don't have to eat out for every meal. Most importantly we need a comfortable and quiet place to focus on work (unfortunately an essential part of the digital nomad thing).
Every few months or so when we feel travel burnout setting in we find an apartment to rent (or if we are lucky a housesit) for a month or two to slow our pace, take a break from the rigours of constant movement and get some work done. The problem is, finding a decent, reasonably priced short term apartment rental isn't always easy. We are often asked how we find the apartments we rent, so we've decided to walk you through the process of finding one in each of the places we have "settled" in the last two years.
Buenos Aires, Argentina
We started our digital nomad life in South America and after a few weeks travelling in Brazil we decided to spend a month (which turned into two) in Buenos Aires to take Spanish lessons to prepare for the next 14 months we'd spend in Latin America.
We never book apartments before we arrive but sometimes we'll book a hostel or hotel for a few nights. It can take us 2 – 7 days to find an apartment and move in.
In Buenos Aires we used our hostel as a base to find an apartment. We asked the staff at the hostel, responded to listings on Craigslist, and searched through apartment listings websites. After a few days we weren't getting anywhere. No one on Craigslist responded to my emails, the listings on the websites were too expensive and the place the hostel receptionist suggested was shared.
In the end we found our apartment through another blogging couple Audrey and Dan of Uncornered Market who had been in Buenos Aires a few months before, and responded to our request on Twitter. They put us in contact with the woman they'd rented their apartment from (they had actually found it on Craigslist) and a few days later we moved in.
Our apartment was a very modern and spacious studio in Barrio Norte. It cost $800 a month, about the same as we were spending at the hostel, and we had a kitchen, balcony, rooftop pool and great location.
Lesson learned: Reach out to anyone you know who might have contacts.
Salta, Argentina
We didn't plan to stay long in Salta. We were couchsurfing with another blogger Leigh and her family, who took us to a barbeque at their friend's house. The British couple had been in Salta for a few months but were leaving soon and suggested we could take over their apartment rental. We rejected the idea at first as we had plans to move onto Bolivia, but we couldn't get their apartment out of our minds. It was a modern one bedroom with an oven (seriously, that never happens) and a huge balcony complete with jacuzzi and views of the mountains that surround Salta. All for $800 a month. We couldn't resist.
We ended up staying for a month, moving out of town to housesit our friend's house and then back into the apartment for a few weeks to complete some work before we finally made it to Bolivia. We loved Salta and the surrounding area and were glad we'd taken up the opportunity and stayed. It was our easiest apartment search ever!
Lesson learned: Embrace serendipity, it can lead you to unexpected places.
Peru
After a few months in exhausting (but incredible) Bolivia and southern Peru we were ready for a break again. In the white city of Arequipa we began our search by posting messages on the local couchsurfing group forum, responding to newspaper ads (I so don't enjoy phone calls in Spanish), searching listing websites and having a friend put us in contact with her friend who lived in the city. We looked at a lot of apartments but couldn't find a place we liked in an area we liked at a price we could afford. After a week we decided that we didn't like Arequipa enough to continue with the search and we gave up.
We moved on to Lima. We had mixed feelings about the capital and weren't sure we wanted to stay there long term, but by that point we really needed to stop moving for a while. We half-heartedly looked for an apartment by looking for rental signs as we walked the streets and asking on the Lima couchsurfing group. Our hearts weren't in it and after a long search in Arequipa we couldn't face more of the same.
We never did manage to find an apartment in Peru but it worked out well in the end as while treating ourselves for Simon's 30th at a luxurious hotel in the rural Andes near Huaraz, we were given the opportunity to stay and eat for free in exchange for creating a website for their NGO. The three weeks we spent at the comfortable and friendly family-run Lazy Dog Inn was just what we needed.
Lesson learned: Finding an apartment can be hard work and it isn't always worth it.
Medellin, Colombia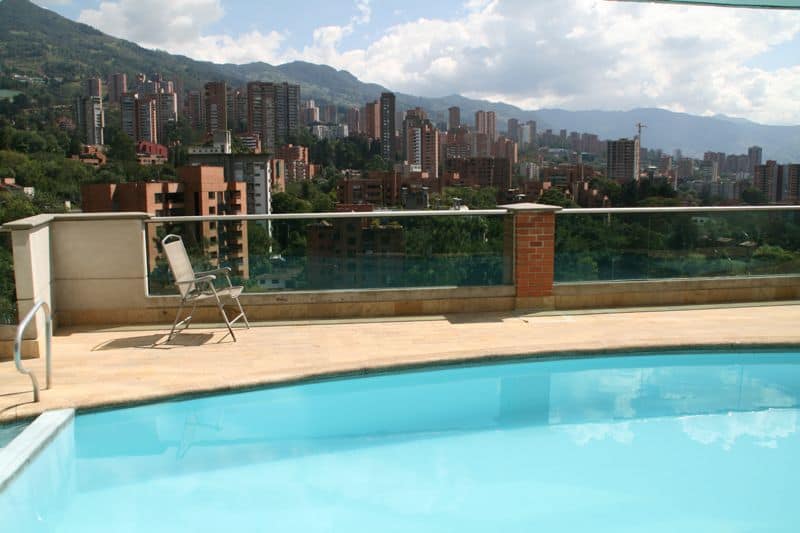 During our stay at Lazy Dog Inn Simon had a huge amount of web design work come in. As every freelancer knows it's difficult to say no to work, and we realised our plans to travel overland through northern Peru and Ecuador were not compatible with creating five websites. Instead we booked a flight from Lima to Medellin, the Colombian city that was becoming a popular base with other digital nomads and travel bloggers.
While staying with a friend we gave ourselves two days to find an apartment. We saw a LOT of apartments in those two days. We asked people we knew in the city for contacts, looked on Craigslist, searched through Spanish language listings sites and contacted a number of rental agents. The agents were the most helpful and we saw a lot of apartments this way. The problem is we didn't like the apartments or areas they showed us – near busy highways and far way from everything and for a lot more that we wanted to pay.
Due to our time constraints we ended up taking a place on Craigslist that was way over budget (at $1200 a month it was the most we've ever paid by far) and didn't meet many of our requirements. But, it was absolutely beautiful, had an amazing location, stunning view, rooftop pool and gym. We never regretted taking it and stayed for two months.
Lesson learned: Sometimes the splurge is worth it.
Tokyo, Japan
Japan is expensive and accommodation costs in Tokyo are particularly high. We were lucky enough to have our week stay there partly sponsored by the holiday rental website HomeAway. Our apartment was great value for Japan and at $120 a night only cost a little more than a tiny hostel room with shared bathroom would have cost. We had a clean, modern apartment with a separate bedroom, kitchen, and a cool location in an untouristy area close to a train station. It was the only apartment we booked in advance as we were only staying for a week.
Lesson learned: Apartments can be cheaper than hotels and even hostels.
Chiang Mai, Thailand
We are currently renting an apartment in Chiang Mai, and plan to stay for four months (we've been here for three already) – the longest we've spent in one place in our two years as digital nomads.
It took us a week to find our apartment and was particularly challenging because we wanted a kitchen and separate bedroom. Before we came to Chiang Mai we'd heard apartments cost $150 – 300 a month here, but it turned out that is what you pay for a studio without a kitchen (eating out is cheap here so it's what most people do), and you pay a lot more if you want a bigger place.
We spent a lot of time searching for an apartment that met our requirements. We asked friends and searched the web to compile a list of apartment buildings to take a look at. We rented a scooter which gave us the freedom to search further afield quickly. As well as looking at the apartments on our list we stopped and asked at any apartment building we saw along the way.
When we still couldn't find anything we liked we decided to use the services of an agent, Chiang Mai Properties. They took us to look at a number of places and we found a few places we loved but that were, of course, over budget. Oh well. We decided that $630 a month (plus bills) was worth it for our super comfortable one bedroom apartment with kitchen, lots of light, balcony and a gorgeous pool and gym.
Lesson learned: You pay more for western conveniences but it's important to do what is right for you.
We have found apartments all over the world using a range of means – social media, personal contacts, Craigslist, rental agents and apartment websites. If your requirements are high and your budget limited then it can take some time, but it's always possible. With the availability of short term apartments worldwide it's easy to take a break from hotels and experience local life in a bit more comfort.
Also see Part 2 of How We Find Apartments Around the World with apartments we've stayed in in Asia, Europe and North America and Part 3 for Mexico, Italy, Paris, and Thailand.