This page contains affiliate links. Please read our disclosure for more info.
After months of living out of a backpack in Central America, staying in cramped hostel rooms and getting sick of eating in restaurants, we unpacked in our new apartment in Jacksonville, Florida. There's more space than we know what to do with, a ridiculously comfy bed, a well equipped kitchen, and even a terrace overlooking the river. Best of all we are staying here for four weeks without paying a penny.
This is our second house sitting assignment, and we've just arranged another in Japan. It's proving ideal for our nomadic lifestyle for a number of reasons.
1) A Home Without Going Home – Travel gets tiring and although we have no urge to settle down, it helps to have a rest from constant movement every now and again. We get to enjoy home comforts like a couch, privacy, a/c, kitchen, our own washer/dryer, fast internet, comfortable office chair and desk, swimming pool and we even have use of a car. It makes a wonderful change from crappy hostels.
2) Save Money – We get to stay in places we'd never be able to afford. The only expenses we have for the month are food and petrol. This opens up many possibilities. We've just arranged a house sit in Kyoto, Japan for the end of the summer. It's a country that's been on our wish list for a long time and we wouldn't be able to afford to go if we hadn't found the house sit.
3) Get Work Done – It's much easier to work when we aren't moving around and staying in uncomfortable accommodation without a suitable place to work.
4) Visit Places We Wouldn't Usually Visit – We would never have visited Jacksonville if it wasn't for the house sit, but there are many beaches and national parks to visit in the area, we've eaten the best cheesecake ever at the French Pantry and it's a convenient base for day trips to St Augustine and Savannah.
5) Live Like a Local – When you are staying in someone's home you adopt their life to a certain extent and get to explore untouristy areas of town. Our house sit owners introduced us to their family before they left and one of their daughters invited us to a local improv comedy night that she performs in. We enjoyed an entertaining evening and chatted with Jacksonville locals – we never would have known about it without the house sit.
6) Temporary Pets – Many house sits require you to look after pets. As our nomadic lifestyle isn't best suited to owning pets it's nice to have some temporary ones every now and again.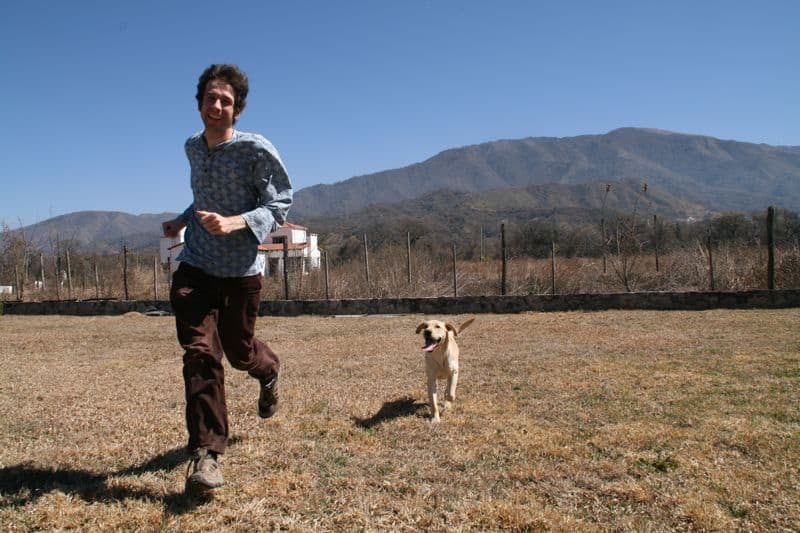 How to Find a House Sit
Are you convinced on the joys of house sitting? It's an opportunity that's available to everyone as you can do it for as little as a few days up to a year.
Here's how to find a house sitting placement.
1) Join a House Sitting Organisation – There are many websites that put house sitters in touch with house owners for a small annual fee. We are members of Mind My House and Trusted Housesitters and have also tried House Carers.
2 ) Create a Good Profile – Write a detailed profile about yourself and why you'd be a good house sitter. Make sure to include details of any previous experience looking after houses or pets. I think linking to our blog helps as owners can read a lot more about us there. We also link to our couchsurfing profile as it has references from strangers who have hosted us in their homes.
3) Check Opportunities Daily – Once you are a member set the alerts to email you every day. It's very competitive so apply as soon as you see a suitable opportunity.
4) Be Flexible – If you don't have any luck at first, keep trying. It helps to be flexible – you'll have more luck in the beginning applying to less well known destinations. Once you've built up some experience you'll have a greater chance of getting the most competitive house sits – we really want a house sit in Italy for the summer but haven't found one yet.
5) Keep Your Eyes Open – It's also possible to find house sitting opportunities through friends and informal networks. We found our first house sit in Argentina while couchsurfing with a family who needed a sitter a few weeks later.
More Information
The Globetrotter Girls have house sat in Italy, Germany, the USA, Canada, Thailand, Mexico, Costa Rica, Chile, New York and many more. See their excellent and very detailed book Break Free: The Ultimate Guide to Housesitting that's available for the Kindle.
Dalene and Peter at Hecktic Travels have looked after houses in Canada, on a tropical island in Honduras, Turkey, and all around the world. They've written a guide to house sitting – see Housesitting 101 and their ebook How to Become a House-sitter and See the World.