This page contains affiliate links. Please read our disclosure for more info.
The words "Savannah, Georgia" pronounced in a southern drawl evoke another time—a graceful world of colonial mansions and southern belles. Although we suspected things may have changed since the time of The Legend of Bagger Vance, one of Simon's favourite films, when we learned the city was doable as a day trip from Jacksonville we couldn't resist a visit.
We had just one day in Savannah but it didn't disappoint and we fell for it instantly—here are the reasons why.
1) Elegant Mansions – Savannah's historic district is packed full of beautiful, colonial houses, preserved with love. You can visit many mansions that were once the residences of historic figures, but I was just as enamoured with the homes belonging to current Savannahians.
It's all in the attention to detail: freshly painted doors, a pot of colourful flowers, a curving staircase, or a rocking chair on a bright white verandah.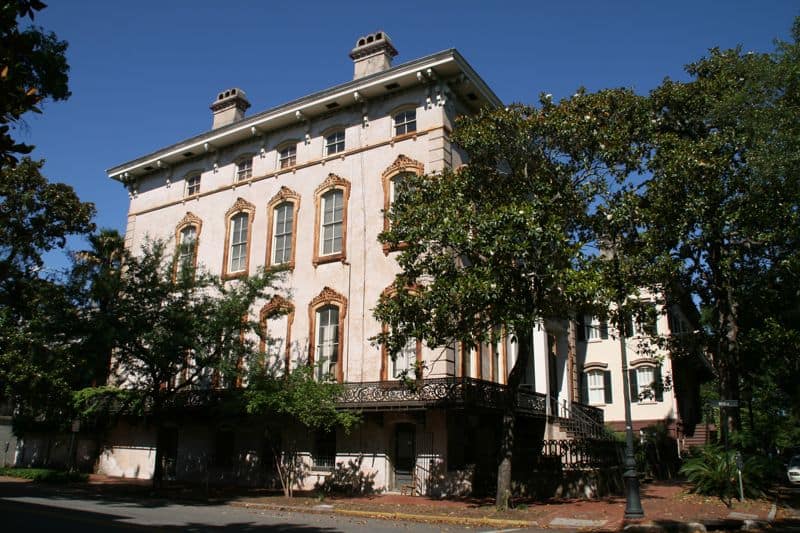 2) Mammoth Oak Trees – Giant oaks dripping in Spanish moss line the streets and parks of the city.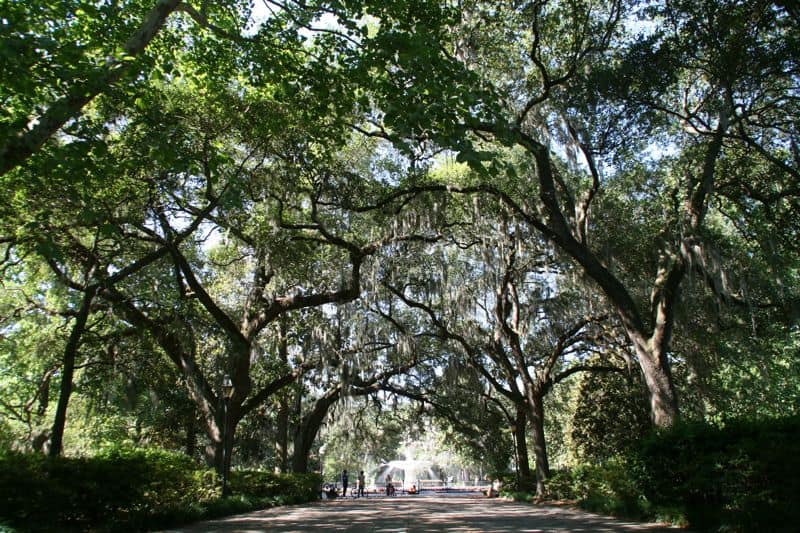 3) Many Squares – In the compact historic district there are 22 leafy squares – perfect places to sit on a bench and watch the world go by. The earliest date back to 1733 when the British General James Oglethorpe devised the renowned city plan with squares at the centre of each neighbourhood.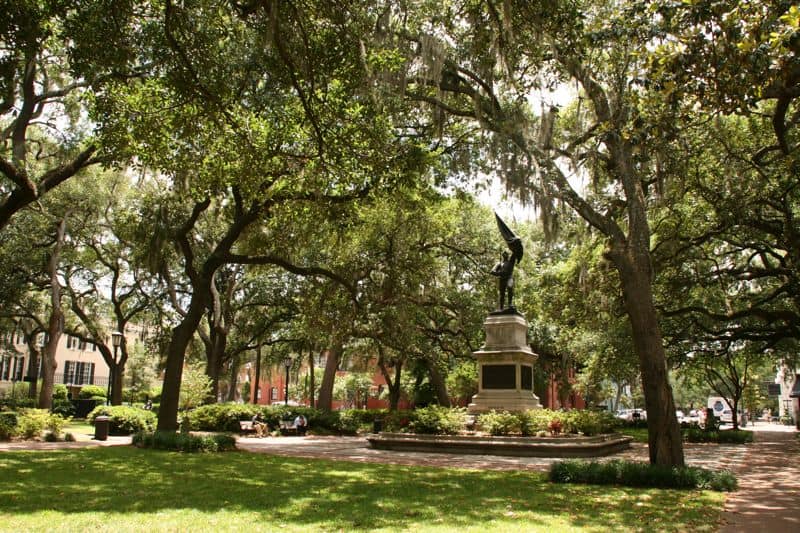 4) Aimless Wandering – Central Savannah is very pedestrian-friendly with quiet streets and a relaxed vibe that demand aimless wandering, and this is how we spent most of our day. We particularly liked the tranquil residential streets just north of Forsyth Park.
5) Forsyth Park – Another relaxing place for a stroll amongst ancient oaks is Forsyth Park. The beautiful white fountain was featured in the film Midnight in the Garden of Good and Evil – make sure you watch this or read the book before you visit as there are references everywhere.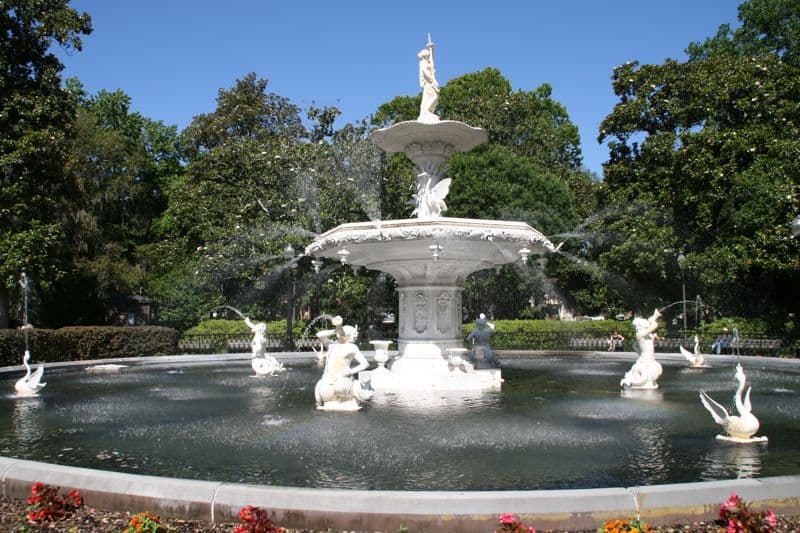 6) Mrs Wilkes' Dining Room – The foodie travel bloggers The Road Forks gave us this tip and we're glad they did. As vegetarians we didn't think southern cuisine would have much to offer us but Mrs Wilkes proved us wrong.
We were seated with eight strangers at a large table laden with bowls of food. Even skipping the fried chicken we had plenty to choose from: mashed potatoes, mac and cheese, candied yams, collard greens, black eyed peas, okra, green beans, baked beans, biscuits and many more.
A local sitting next to us said it's the best southern food he's eaten aside from his grandmother's. It certainly was good and plentiful.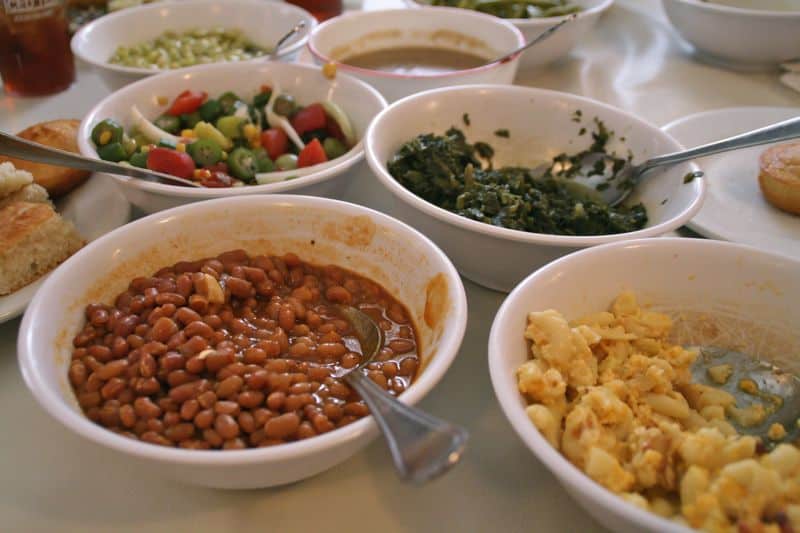 It's a popular place – Obama even ate here in 2010 – so get here early. We arrived at 10.30am, 30 minutes before it opens and there was already a line of 40 people. Our 45 minute wait wasn't a hardship though with the street's handsome buildings to admire and a Kindle on hand.
7) Cupcake Emporium – We were stuffed for the rest of the day after Mrs Wilkes' but we couldn't ignore The Road Forks' recommendation for Mabel Francis Potter's Cupcake Emporium, so we picked up a box to take home. Oh my god! These cupcakes are so good that we are seriously tempted to make the five hour return trip to Savannah just to get some more.
It took us a while to choose from the beautiful selection but we ended up trying Red Velvet with Cream Cheese Frosting, Coconut with Coconut Butter Cream, Chocolate with Chocolate Butter Cream and the wonderfully inventive Chunky Chocolate Chip Cup Cookie: who knew cookies would make such an delicious cup cake? They were all gorgeous – moist cake and soft, creamy frosting.
The owner was very friendly offering us travel tips and even giving Simon a free cupcake for attempting the tongue twister challenge.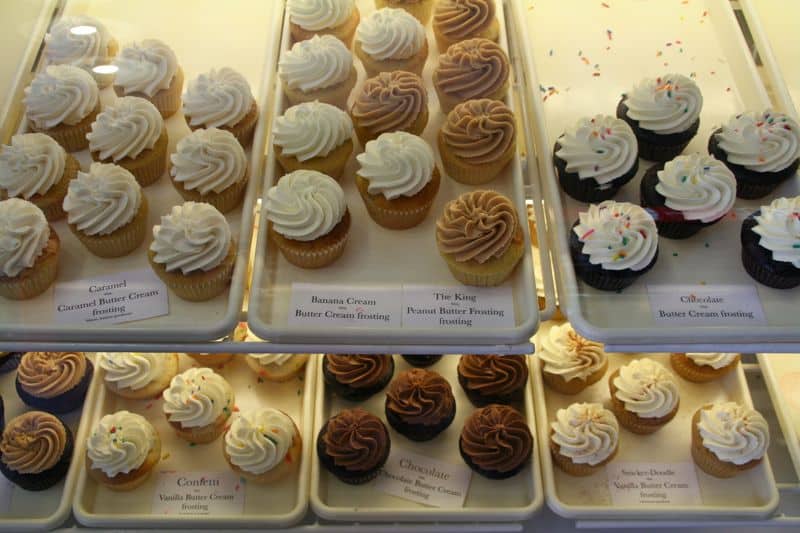 8 ) Friendly People – The Savannah locals are super friendly. As we wandered the streets we were often asked by strangers "How y'all doing?", customer service was excellent everywhere, a random lady complimented my dress, and Simon was even mistaken for someone's son (that was a bit weird though!).
9) Independent Businesses – As well as gems like Mrs Wilkes' and the Cupcake Emporium, Savannah is full of independent cafés, restaurants and shops. We only wish we hadn't been so stuffed so we could sample more of them.
10) Bonaventure Cemetery – A 10-minute drive from downtown, Bonaventure Cemetery is famed for being featured in Midnight in the Garden of Good and Evil. It's huge and filled with spooky moss draped oaks and Victorian headstones.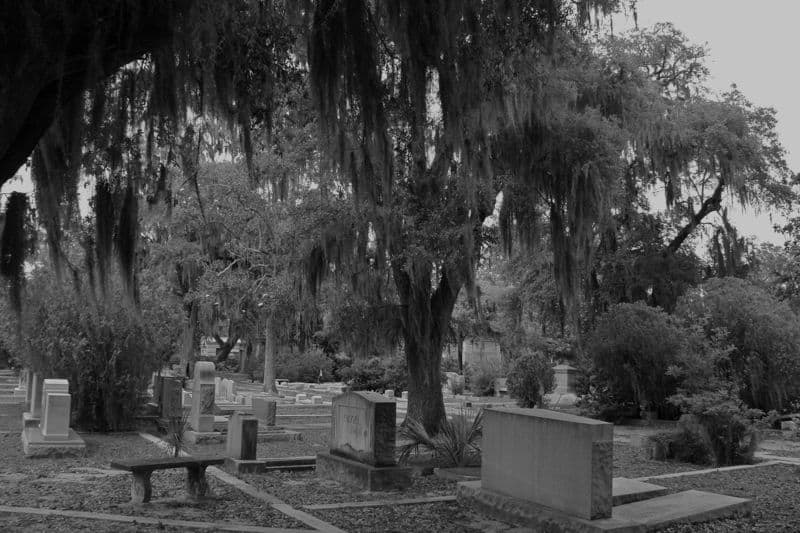 11) Ralph Mark Gilbert Civil Rights Museum – We couldn't visit the Deep South and ignore the African-American history of the area. This interesting museum focuses on the civil rights movement in Savannah.
12) Boat Watching – We weren't big fans of touristy River Street but it's certainly worth a wander, especially to gaze at the boats in one of the US's busiest sea ports.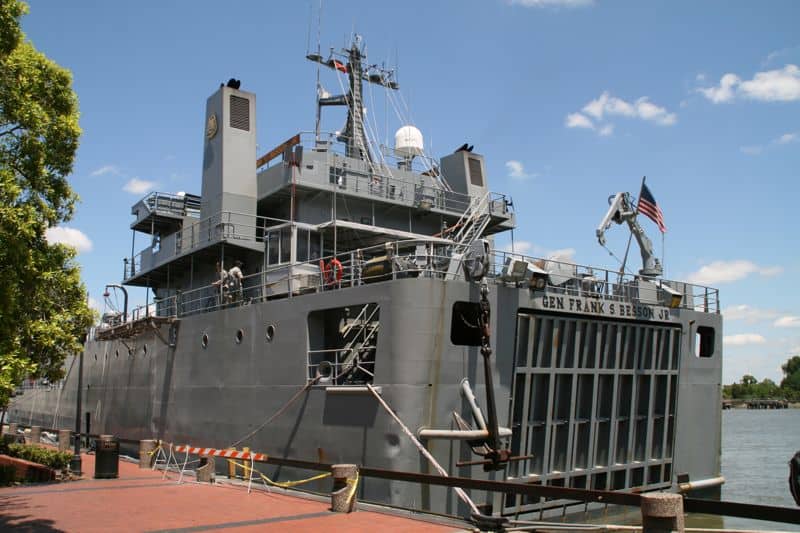 Savannah Tours
There are plenty of tours you can take in Savannah for a fascinating insight into the city's history such as this small group walking tour or delicious-sounding food tour.
Make sure you also allow time for strolling the streets independently. We recommend parking at the Visitor Centre on Louisville Rd ($1 an hour, first hour free), picking up a free map, and wandering from square to square.
Or you could also take the Savannah hop-on hop-off trolley tour to learn some history but explore at your own pace without having to walk everywhere.
How Many Days to Spend in Savannah?
We spent just one day in Savannah visiting as a day trip from Jacksonville, Florida. It was definitely worthwhile and possible to see the highlights of the city in a day.
It's such a gorgeous city, though, that it's well worth staying for a few days if you have the time. Find great deals on hotels in Savannah here and see this three day Savannah itinerary for ideas of things to do and eat on a longer stay.
This post was originally published in 2011 and updated in 2018.
If you enjoyed this post, pin it!