This page contains affiliate links. Please read our disclosure for more info.
We had planned to rush through Costa Rica – it was touristy and expensive we were told. But stories of beautiful beaches on the less developed Caribbean Coast convinced us to make a stop at Puerto Viejo. It was only just over the border from Panama and we'd be passing through anyway. Somehow we got stuck and a quick stop turned into 12 days – judging from the amount of expats here this happens a lot.
Puerto Viejo has a reputation as a party town, but although there are plenty of bars to drink in if that's your thing, we found it easy to avoid. As long as you don't stay on the one main street you won't hear any noise at night other than the cicadas. It's a small, very laid-back place with a lush green jungle backdrop. It's touristy, sure, but not overtly and you won't find high rises or chain restaurants here.
Things to Do in Puerto Viejo
It's easy to do nothing at all (or get some work done as we did) but there are plenty of activities on offer.
Cycle to Beaches
There is a beach right in town but it's not that great. The best thing to do is to hire bikes ($5 a day) and cycle out of town. It's a lovely trip on a quiet, flat road through the rainforest. In an hour you reach Punta Uva, a pretty cove with green sea and a jungle backdrop, or you can continue on to Manzanillo (we weren't hardcore enough for that).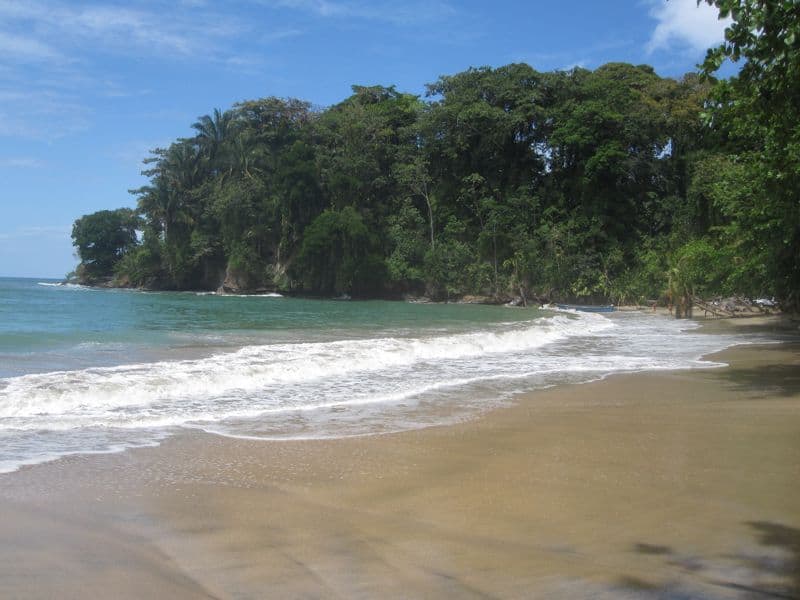 Surfing
Puerto Viejo is a great spot for experienced surfers, but the reef break isn't ideal for beginners. The surf shops do offer lessons though and can take you to some easier spots.
Day Trip to Cahuita National Park
We really wanted to take a day trip to Cahuita National Park (about a 30 minute bus ride away) for walks along the coast and a chance to spot monkeys and sloths in the forest. Somehow we ran out of time though. It has been highly recommended by other travellers if you get a chance.
Whitewater Rafting
We loved our whitewater rafting trip on the Rio Pacuare. We rafted through rainforest and canyons, past waterfalls and colourful butterflies. The class 4 rapids are exhilarating but not too scary (it's low water in March/April). It's best to do the trip on your last day as the company will pick you up in Puerto Viejo and drop you off at the end of the day in your choice of San Jose, Monteverde or Arenal.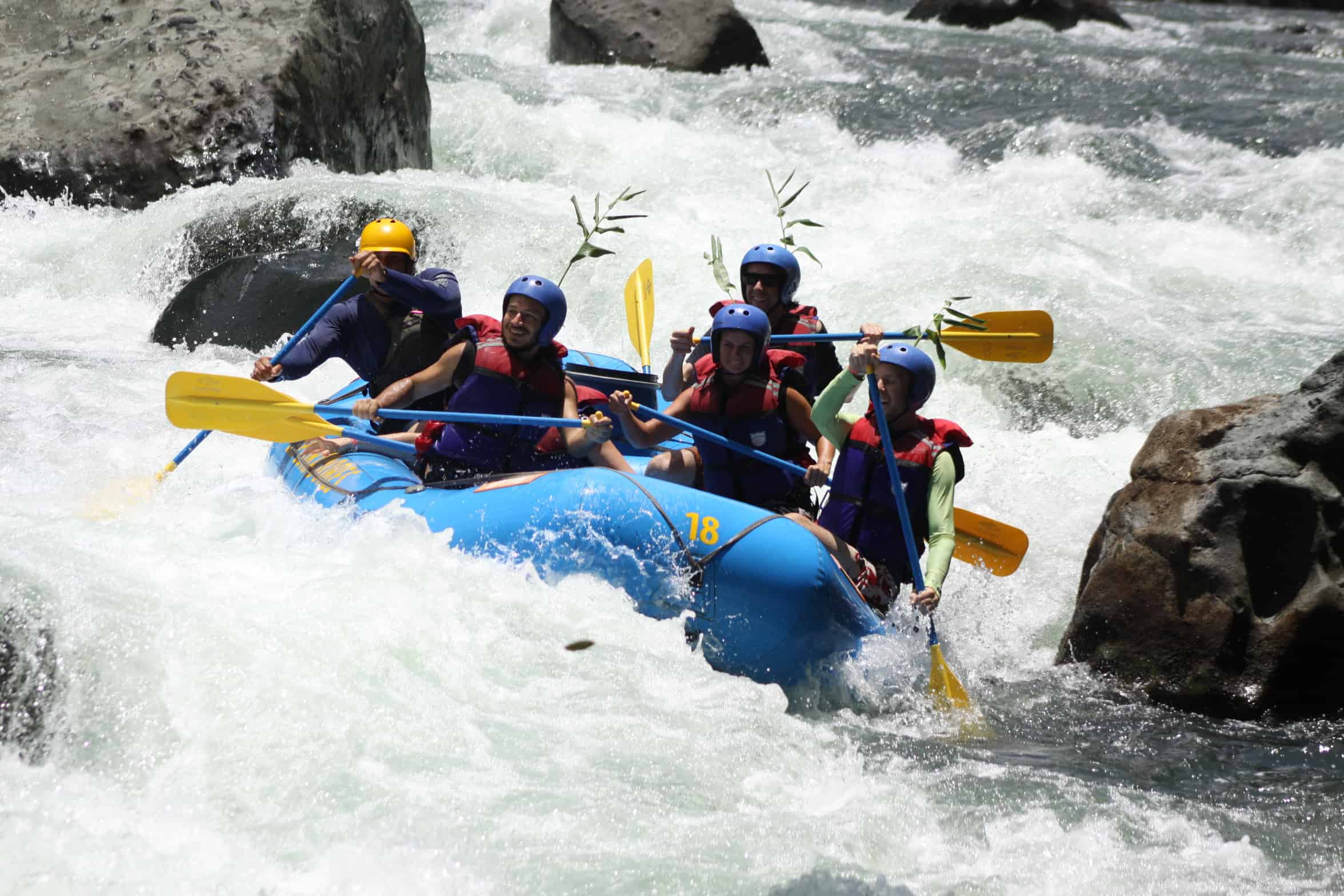 Trek to Indigenous communities
We helped out in the soup kitchen of El Puente, a NGO supporting the local indigenous Bribri people. For the chance to learn more about this hidden community get in touch with El Puente – you can go along to the soup kitchens, volunteer on other projects or arrange for a guide to take you trekking into the hills where the Bribri live.
Where to Eat
Although we didn't manage to do all the activities we planned, we did eat a lot! Although you can get Costa Rican cuisine at local sodas, this means rice and beans for us vegetarians so we chose to indulge in the excellent gringo fare available.
Bread & Chocolate
We love Bread & Chocolate and ate here as often as possible. On an open air, wooden deck you can enjoy fantastic America-style breakfasts, gourmet sandwiches, brownies and five choices of chocolate cake. Our personal favourites were the waffles with chocolate sauce and fresh fruit, the grilled cheese sandwich with salad, the huge plate of fried potatoes with barbecue sauce and of course chocolate cake. Everything is home-made, fresh and wonderful. Don't miss it!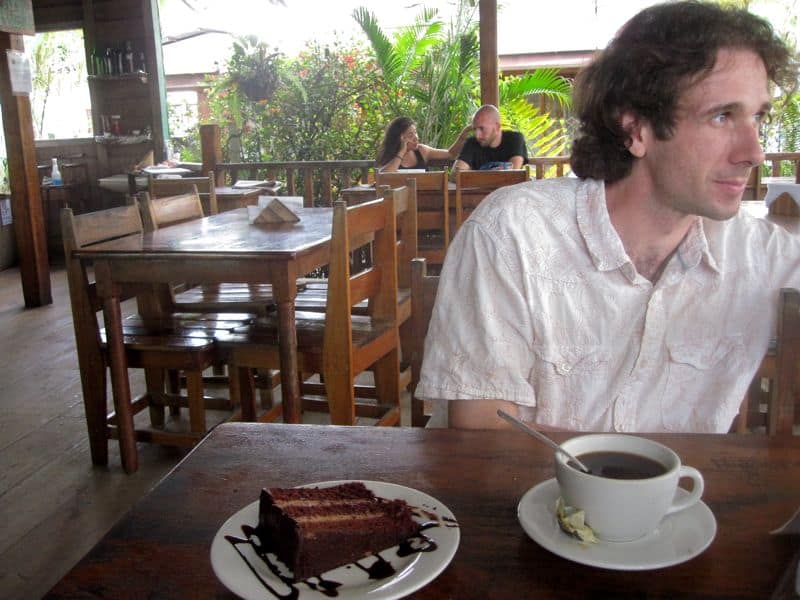 Loco Natural
The food at Loco Natural is rather expensive but amazing and worth a treat. It's fantastic for vegetarians as there is a vegetable option for every item on the menu. Just choose your sauce from the tempting selection – on two trips here we sampled the Tamarind sweet and sour, Malaysian guayaba green curry and Tandoori coconut sauce. The combination of flavours was unique and delicious – we haven't eaten anything like it in 14 months in Latin America. Each dish comes with rice and a tasty salad. The portions are huge so you don't need starters (although the focaccia with marinated vegetables was gorgeous!). We also recommend the Ginger cocktail – a tangy mix of pineapple, rum and ginger.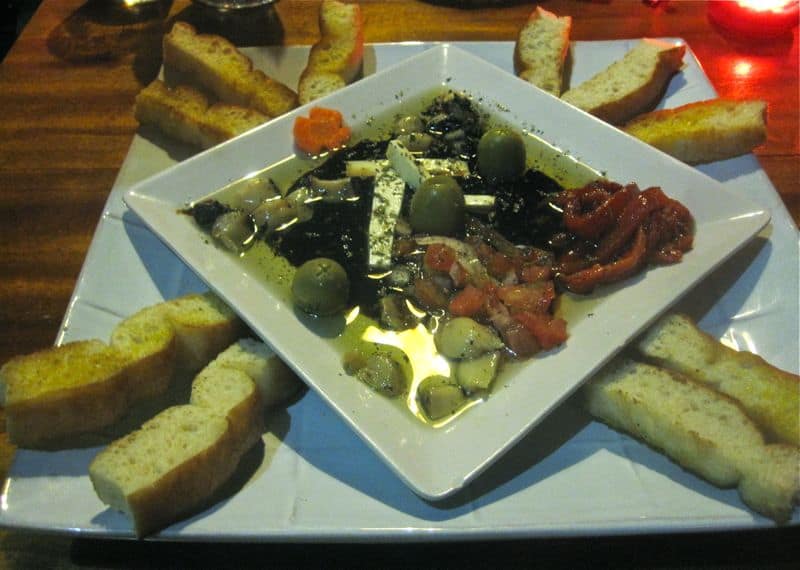 Veronica's Place
A good option for vegetarians with tasty carrot burgers and a range of vegetarian versions of Costa Rican dishes.
Chile Rojo
A mix of Asian, Mexican and Middle Eastern dishes. We liked the nachos and the mezze plate was pretty good.
De Paso
A small open-sided cafe just out of town towards Cocles Beach. Good for a quick, cheap bite – the nachos and tacos were good.
Dee Lite Ice Cream Shop
An excellent Italian run gelateria with different home-made flavours every day.
Where to Stay
We moved around a few times, trying to find the perfect digital nomad hostel.
Hostel Pagalu
Pagalu is a great option if you are looking for a hostel. The common area and kitchen are spacious and airy. Everything is new and clean, including the comfortable rooms. The downsides for us were that the wifi didn't work in the rooms so we had to work in the common area which got crowded in the evenings, and people often smoked there. The kitchen was generally too busy to use and the fridge was ridiculously full. A double room with bathroom is $28.
Monte Sol
We moved to Monte Sol in search of a quiet work space and a kitchen. We rented their 'apartment' for $40 – two rooms on the lower floor of a rustic wooden cabin set amongst the trees. Pros: very quiet, tropical garden location, private kitchen, wifi. Cons: it's older and more basic than Pagalu with a rather uncomfortable bed, small bathroom with crappy electric shower and a smelly water supply.
Casa Verde
As it was my 30th we upped our budget for our final three nights. For $60 a night the rooms at Casa Verde are nothing special although the bathroom is spacious, the beds comfortable and there is a lovely private terrace with hammock and comfy chair. What really attracted us was the wonderful green pool complete with mini waterfall, jacuzzi and tropical garden setting. The water is warm (possibly too warm in this heat) and we whiled away many hours there.