This page contains affiliate links. Please read our disclosure for more info.
2012 was the year of the apartment for us. We've always enjoyed renting apartments as we travel but in the last year we've stayed in them for the majority of the time. We've found they are the best way for us to balance work with travel, they are more affordable and comfortable than hotels, and as slow travellers we appreciate the chance to experience life in a new destination more like locals than tourists.
In Part 1 of How We Find Apartments Around the World we shared details of our search for apartments in Buenos Aires and Salta in Argentina, Medellin in Colombia, Tokyo, Japan, and Chiang Mai, Thailand where we spent last winter. The last year has taken us from Asia to Europe, the Middle East and North America and we've rented apartments for anywhere from a few days to a few months.
Bangkok, Thailand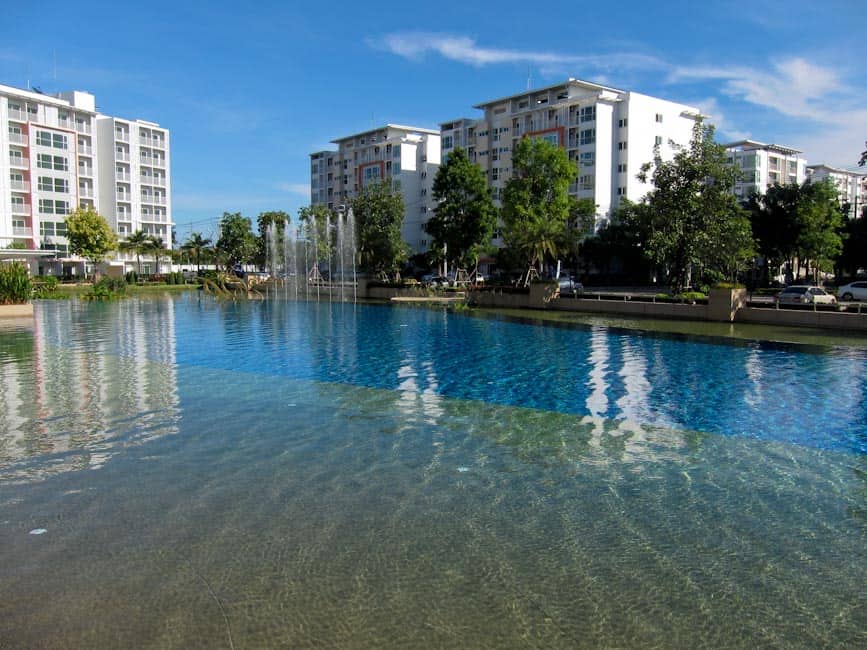 How we found it: Roomorama
How long we rented for: 1 week
How much it cost: $40 a night
We'd been offline in Burma for a few weeks and returning to Bangkok all we wanted to do was hole up for a week and catch up on work. As we've visited the city before we didn't mind (and actually appreciated) that the apartment we found through the Roomorama holiday rental site was in the quiet outskirts of the city. We shopped for vegetables in a market where vendors were shocked to see foreigners, took full advantage of the fast WiFi, and relaxed in our huge infinity pool.
Koh Lanta, Thailand (Apartment)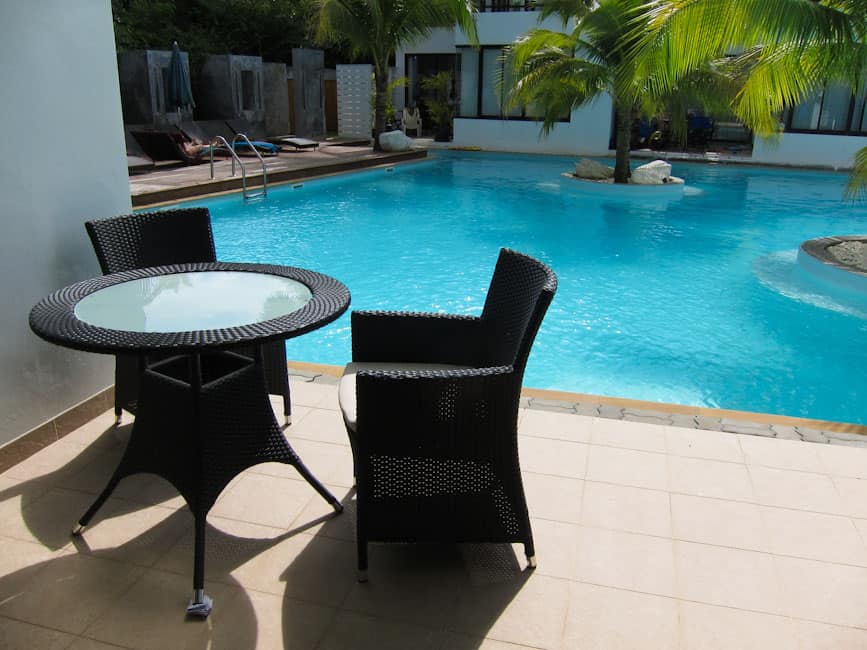 How we found it: Friend's recommendation
How long we rented for: 2.5 weeks
How much it cost: $28 a night in low season
A friend had recommended Koh Lanta as the ideal Thai island for digital nomads: not too touristy but with enough amenities like WiFi and apartments for rent. We agreed that it struck the perfect balance and ended up staying for 6 weeks. It helped that we visited in April-May, the low season, when things were much quieter and cheaper.
On our friend's recommendation we started our stay at Sai Naam Residence, a complex of 19 modern and stylish apartments set around a large pool and just a one minute walk from a quiet stretch of Long Beach. We chose a pool access apartment and loved being able to jump straight into the pool from our balcony. We ended up returning to Sai Naam twice more in between stays at other villas on the island and side trips to the nearby quiet (but not digital nomad friendly) island of Koh Jum and a visa run to Malaysia.
Read more about our Koh Lanta apartment.
Koh Lanta, Thailand (Villa 1)
How we found it: Tripadvisor
How long we rented for: 1 week
How much it cost: $96 a night in low season
Baan KanTiang See invited us to try out one of their villas at Kantiang Bay on the quiet, southern part of Koh Lanta. Our luxurious two bedroom villa was spacious and comfortable and we had the best view of anywhere we've ever stayed. From our bedroom, living room, large terrace, or the infinity pool we couldn't get enough of the spectacular view of the jungle covered hill and Kantiang Bay below us. Definitely one of the most special places we've ever stayed.
Read more about our Baan KanTiang See Villa.
Koh Lanta, Thailand (Villa 2 & 3)
[nevphotolayout ids='17648,17649′]
How we found it: Same complex as the apartment we rented
How long we rented for: 2 weeks
How much it cost: $570-792 a week in low season
Our Koh Lanta apartment Sai Naam is part of a villa complex called Malee Seaview. The Swedish owners invited us back to try out a couple of the villas (which are all rented privately by the owners), including their own luxury beachfront villa—the very same villa we'd been drooling enviously over on our beach walks!
All the villas at Malee Seaview have pools and are no more than a few minutes walk from the beach. Our first villa was one of many managed by Lanta Hideways and was great, but it was the beachfront villa that was truly special. We had four bedrooms, a cinema room, a piano, a private infinity pool, and the beach at the end of our garden. It had true designer style and was decorated with artwork by Thai artists and lots of attention to detail. Stunning.
Read more about our beachfront villa on Koh Lanta.
Tuscany, Italy
How we found it: Airbnb (exact apartment no longer available)
How long we rented for: 1 month
How much it cost: €567 a month including admin and cleaning fees
From Thailand we headed to Europe and we realised that the most affordable way to travel there would be to rent apartments. Hotels are expensive in Italy so we were amazed that we found a two bedroom apartment in Tuscany for such a low rate. The apartment itself was pretty simple but had everything we needed and an excellent location just outside the tiny village of Montecarlo, where we discovered that it is possible to get off the beaten track in Tuscany. Due to the rural location we had to rent a car and this enabled us to take day trips all over the region including Lucca, Pisa, Florence, Siena, San Gimignano, Volterra, and our favourite—Barga and the Garfagnana.
Airbnb is a great way to find affordable apartments in Europe and North America, and it's particularly helpful that most listings show monthly rental prices which usually offer a big discount. Sign up here and you'll receive $35 credit to try it out (and we do too).
Read more about Montecarlo.
Rome, Italy
How we found it: Roomorama
How long we rented for: 1 week
How much it cost: €100 a night
In Rome we went with Roomorama again and rented a funky loft apartment in Trastevere, one of our favourite neighbourhoods in Rome. We loved it here, and if only we could afford it, would definitely come back for a few months.
Read more about Trastevere and our apartment.
Lisbon, Portugal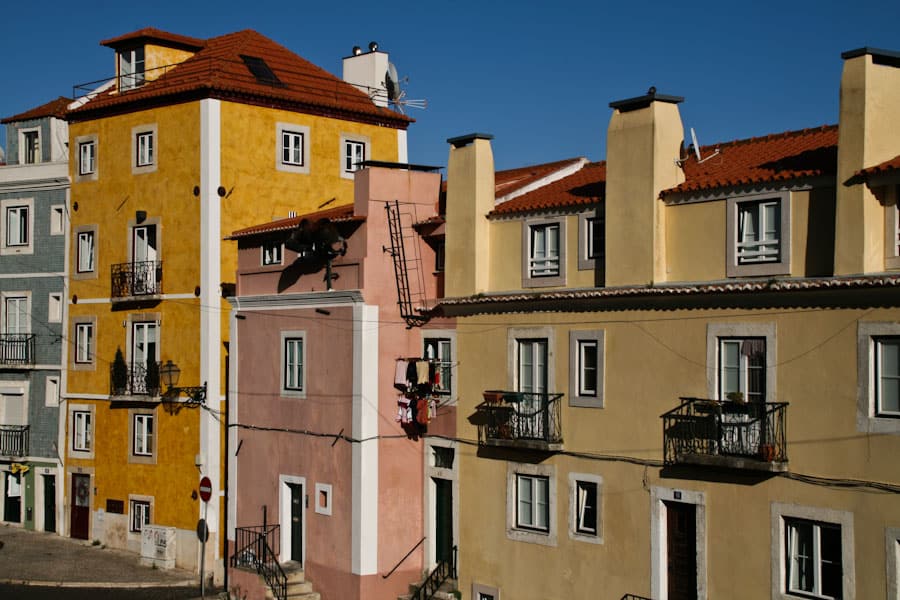 How we found it: Waytostay
How long we rented for: 1 month
How much it cost: €1200 a month
It's tricky to find an affordable place to travel to in August in Europe but Lisbon turned out to be an excellent option—it's not as expensive or as crowded as other Western European capitals, the weather was perfect, and as many locals head to the beach the city was quiet and easy to navigate.
Our apartment was modern and stylish with lots of homely touches, and we absolutely loved the location in the historic neighbourhood of Alfama.
Note that some rental sites like these don't list monthly rental prices, and the night rates can be very expensive, but it's always worth contacting them directly and asking for a discount for a long term stay.
Read more about Alfama and our apartment.
Spello, Italy
How we found it: Tripadvisor
How long we rented for: 2 weeks
How much it cost: €70 a night
We couldn't stay away from Italy for long and in September we returned to Umbria. We chose Spello because we wanted somewhere quiet and near the countryside but that had a train station so we didn't have to rent a car. We found B&B Terra dei Santi on Tripadvisor and were pleased that it had apartments for rent that cost no more than a room. It was the best of both worlds—the space and amenities of an apartment, and the friendly welcome and delicious breakfast (with homemade cakes) of a B&B.
Read more about Spello and our apartment.
Rome, Italy (again)
How we found it: Wikitravel
How long we rented for: 4 nights
How much it cost: €88 a night
Back in Rome we wanted to stay in Testaccio, a neighbourhood that is rarely visited by tourists but that we'd discovered on our food tour earlier in the year. There aren't many hotels in the area so we were happy to find Hotel Re Testa, an apartment hotel in the perfect location—above the amazing Testaccio market and opposite MACRO—the old slaughterhouse that is now a cool art gallery. The studio apartment was small but well designed and we even had a balcony.
Read more about Testaccio and Hotel Re Testa.
Dahab, Egypt
How we found it: Wikitravel
How long we rented for: 11 nights
How much it cost: €58.50 a night
In expensive Europe we rented our apartments in advance but arriving in the Egyptian beach town Dahab we went back to our usual method—staying in a hotel for a night while we looked for an apartment for a longer term stay. We did some online research and gave ourselves a day to walk the streets and find an apartment. Unfortunately Dahab wasn't as cheap as we would have liked and we were unimpressed by the quality of the apartments we found for quite high prices. It didn't help that as we were only staying for a few weeks we couldn't take advantage of lower monthly rates.
We ended up spending more than we planned but really liked our comfortable apartment at Sea Star Apartments. It's run by a friendly British couple and we felt that a lot more love had gone into decorating the apartments than the others we looked at. The six apartments are located in a lovely garden, have roof terraces with sea and mountain views, and are a few minutes walk from the seafront (Dahab doesn't have much of a beach). The Bedouin neighbourhood Assalah has goats roaming the streets, and plenty of local shops for self-catering. We wouldn't recommend Dahab for digital nomads though as the internet was slow.
Miami, USA
How we found it: Tripadvisor
How long we rented for: 1 week
How much it cost: $195 a night
Chic Place at Lincoln consists of nine apartments in a modern art deco building in a quiet residential neighbourhood in South Beach. It's away from the party scene but central enough to walk anywhere in the area. Each apartment is individually designed with vintage furnishings, lots of quirky details, and high tech conveniences. It made a great base for us to explore Miami.
Playa del Carmen, Mexico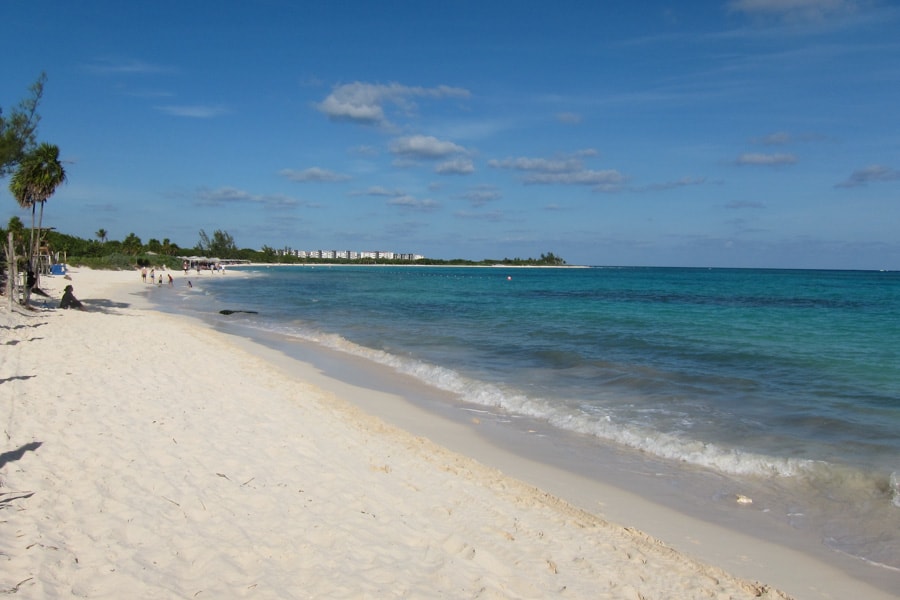 How we found it: Elizabeth from Renting Playa del Carmen
How long we rented for: 2 months, extended to 3
How much it cost: $500 a month
Playa del Carmen was our last stop of 2012 and we planned to stay for a few months. We looked on booking.com for a hotel for our first few nights and ended up booking an apartment at Casa Naaj while we looked for a longer term place, as it was the same price as a decent hotel. It's a good option if you aren't staying for long.
Most apartments you find online in Playa are expensive so it's best to hit the streets and answer the "Se Renta" ads that are found on apartment buildings all over the city. We weren't having much luck as things book up at Christmas but Elizabeth, a friend of fellow blogger Wandering Earl, helps foreigners find apartments and negotiates local rates for them. She found us a one bedroom apartment in the untouristy Colosio neighbourhood, just a two minute walk from a quiet beach, for $500 a month plus electricity. Elizabeth charges $75 but it's well worth it to save yourself the hassle and she'll help you negotiate a much better rate.
Read more about our apartment in Playa del Carmen
This was the first year that we started booking apartments in advance, and although it's a more risky strategy it did save us time and money, and we never regretted anywhere we booked. In developing countries though we've found that online rates aren't as good, and if we are staying for a month or more we still prefer the method of turning up and looking around.
If you'd like to try Airbnb yourself then sign up here and you'll get $35 credit to use towards an apartment (and we do too, so thank you!).
Please note that we received discounted or complimentary stays in some of these apartments. See the full apartment review for details.