This page contains affiliate links. Please read our disclosure for more info.
When you enter the ancient fortress walls of Spello you step back in time; walking through medieval gateways, past Roman ruins, and shopping in small delis that have been run by the same family for generations.
Our month in Tuscany in June wasn't enough so we were back for some more Italian magic. We chose the neighbouring region of Umbria that has the same rolling hills, vineyards, and ancient towns but with far less visitors. We've visited Italy enough times to know that we don't need somewhere with lots of tourist sights as it's the simple pleasures of eating, drinking wine, and getting lost in winding streets that we love about the country. Not wanting to rent a car we narrowed it down to a medieval hill town on a train line and knew we couldn't go wrong. There isn't a medieval hill town in Italy that isn't gorgeous.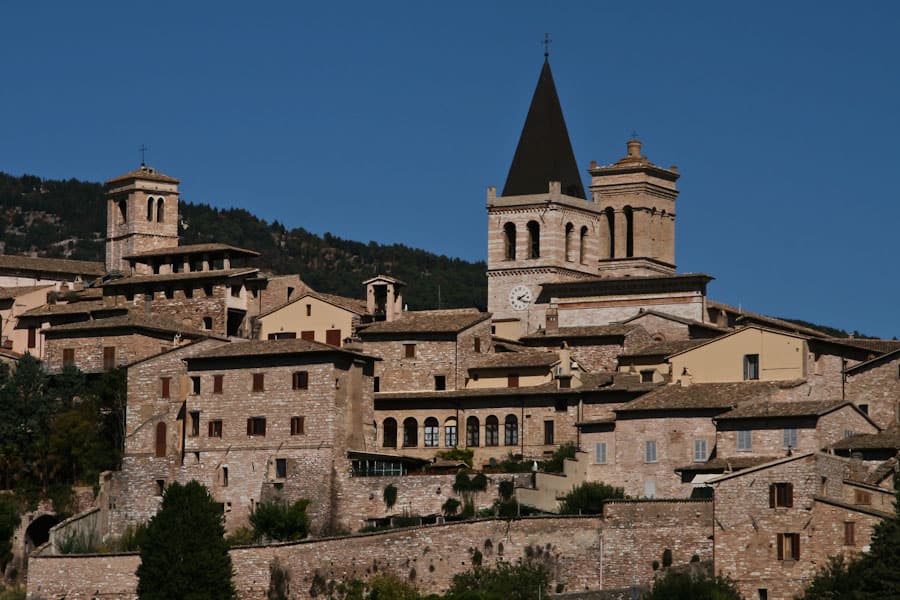 Spello turned out to be the perfect base for exploring Umbria, with easy access to other towns by train and a laid-back charm that draws you in. It's only 8km from Assisi but lacks the crowds of tourists and pilgrims. It's a small town but even after two weeks we still found new streets to explore, ducking through archways down another winding alleyway.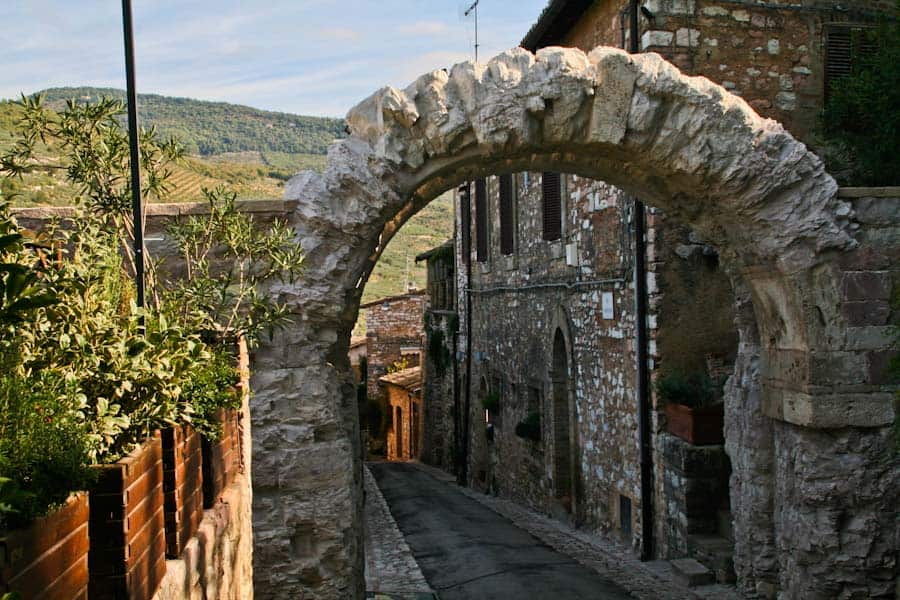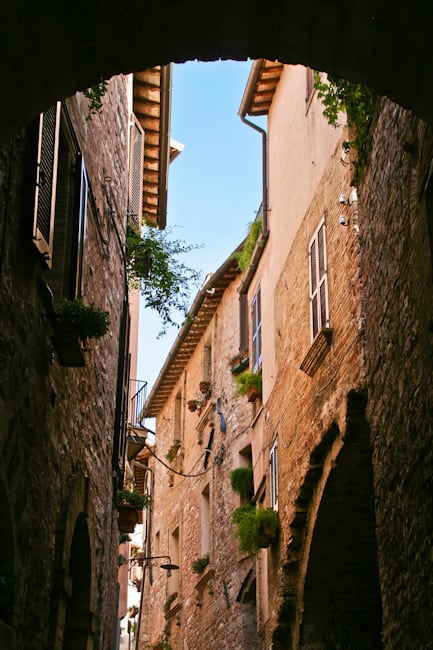 Spello is all texture—rose coloured stone walls, crumbling terracotta roof tiles, stone pathways, and weathered wooden doors.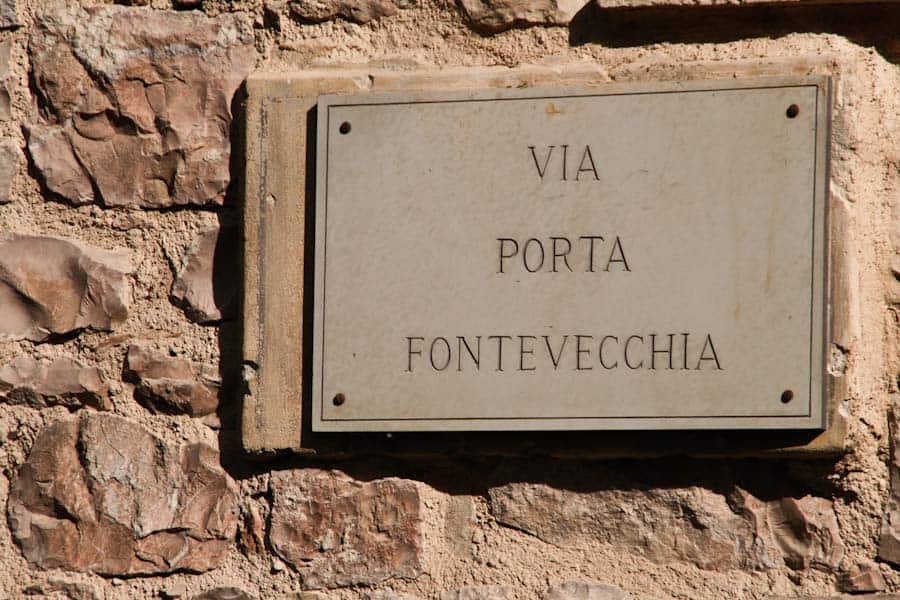 The town has aged well and its citizens maintain it with pride. Flower pots adorn balconies, walls and stairways and although they weren't in full bloom in September it must be a riot of colour in spring. We'd love to return for the Infiorata flower festival when the streets are covered with intricate flower designs.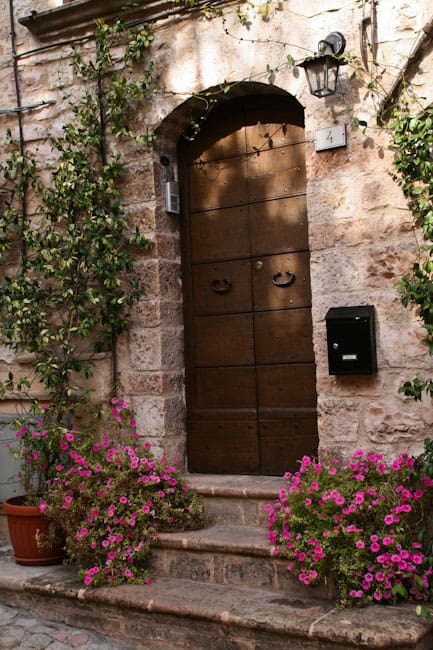 Spello isn't known for major attractions but there's enough to keep you occupied. There are a surprising number of churches and Pinturicchio frescoes decorate the Baglioni chapel in Santa Maria Maggiore.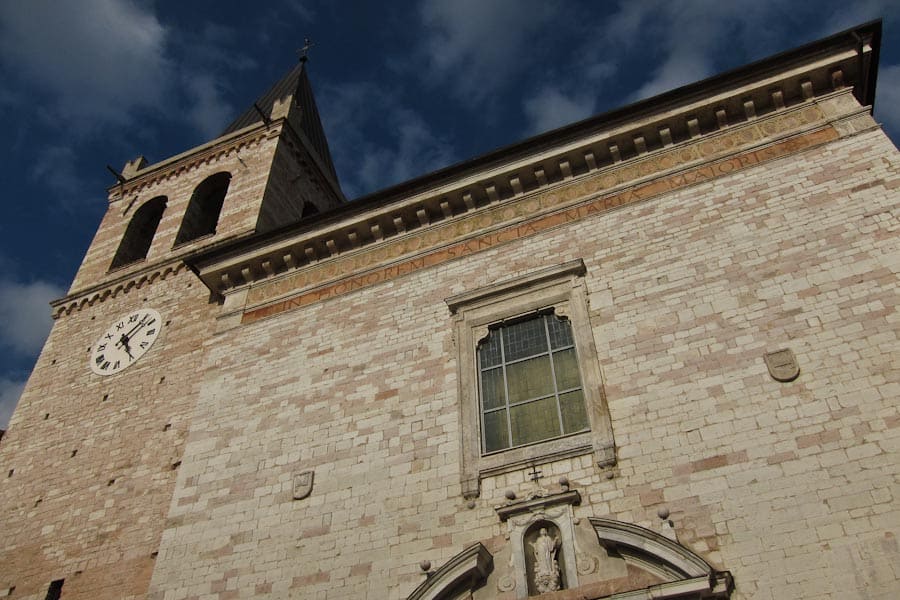 Like most small Italian towns the quiet streets come to life on Sundays with big groups of families and friends strolling the streets, chatting, laughing and enjoying leisurely lunches on restaurant terraces. In the tiny Piazza della Repubblica old Italian men in smart shirts and trousers occupy the benches and you get the feeling they've known each other their entire lives.
When you follow the main street up the steep hill to the top of the town, the quiet lanes become impossibly picturesque and there are views of the rolling green hills of the Umbrian countryside.
To experience the countryside you can hike along the Roman Aqueduct above town. To get there walk to the top of the town, past Piazza Vallegloria and out through the Porta Montanara. Follow signs for Collepino and look for the sign to the Aquedotto Romano on the right. The path takes you through peaceful olive groves with views of Spello in the distance. You can walk all the way to the little village of Collepino in about 1 hour 40 minutes each way, or just turn back to Spello whenever you want.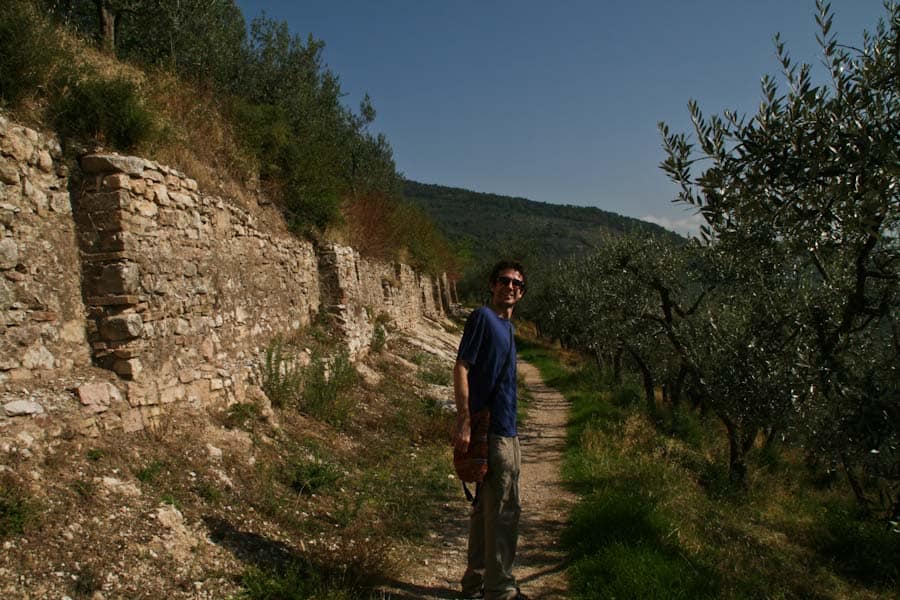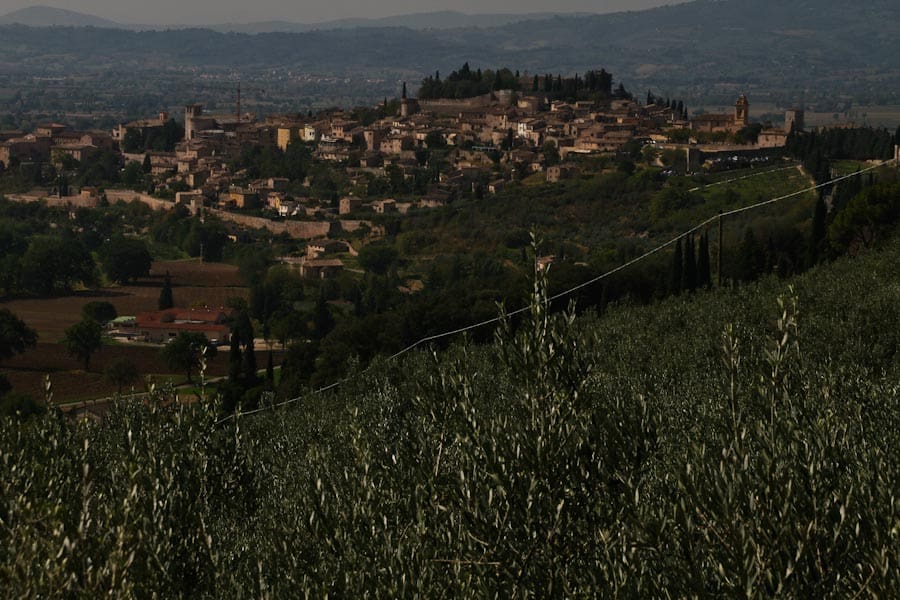 Another way to see the rural landscapes without a car is with Gusto Wine Tours. Mark picked us up in Spello and we spent a day sampling many fantastic wines at small wineries in the Montefalco area. Read more about our wine tour experience.
Where to Drink
The one place we returned to again and again was Vinosofia. It had only been open for a month when we visited but American sommelier Brenda and her Italian husband have created the perfect wine bar. It's relaxed and unpretentious with guests sitting on stools around the bar chatting with Brenda, who'll go out of her way to hunt down your ideal glass of wine.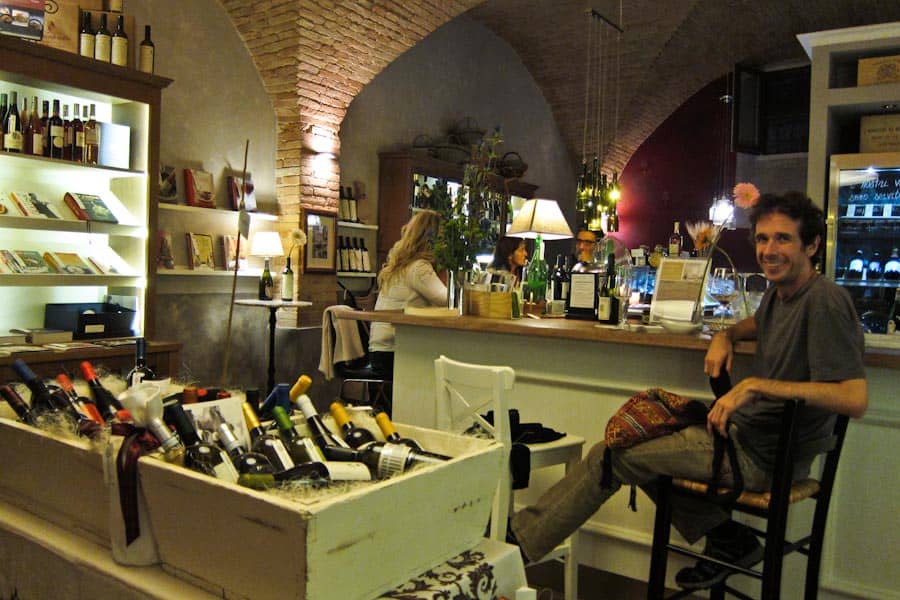 And the wine is seriously good. Our highlights included a Montefalco Rosso Riserva from Fattoria di Milziade Antano and an unusual natural, unfiltered prosecco from Casa Coste Piane. But really, everything was wonderful. We loved being able to sample wines by the glass and enjoy them accompanied by delicious snacks like aged pecorino cheese, and crostini with olive and truffle pastes. The food is as high quality as the wine and it helped tide us over until the late Italian dinner time. The blind olive oil tasting is fun too and we wished we had space in our backpacks for a bottle of the Umbrian liquid gold.
Vinosofia is located at Via Maddalena, 1A and is open every day except Wednesday from 12-8pm (until midnight on Friday and Saturday). Don't miss it if you love wine.
Where to Eat
The best pizza we had was at L'Orlando Furioso just outside the town's walls at Via Centrale Umbra 75.
We enjoyed good antipasti and pasta at Il Pinturicchio (try the amazing rocket, radicchio, walnut and pecorino salad), Drinking Wine, and L'Osteria del Buchetto which has a terrace with a view at the top of town.
Our favourite place for gelato is the bar in Piazza Kennedy at the bottom of town. It's cheaper than the places in the centre too—only €1.50 for a generous two scoops.
Where to Stay
We stayed in an apartment at B&B Terra dei Santi where we had the best of both worlds: a spacious apartment and breakfast provided by the welcoming hosts Delia and Americo. We could cook for ourselves when we wanted to, chill out on our couch or terrace, and work at our dining table, but we also enjoyed the morning spread of bread, focaccia, cheese, yogurt, juice and at least three different homemade cakes.
We love family-run businesses and this is a perfect example. Delia and Americo take great pride in giving you the best experience possible—from the homemade cakes, to the immaculately clean apartments, welcome box of teas and coffee, free bikes, free use of a washing machine, and their helpful advice on what to do and see in the area. They go above and beyond and we really appreciated the warm welcome.
Our spotless one bedroom apartment had WiFi, a flatscreen TV, and a kitchen complete with an oven. Each apartment has its own terrace with table and chairs.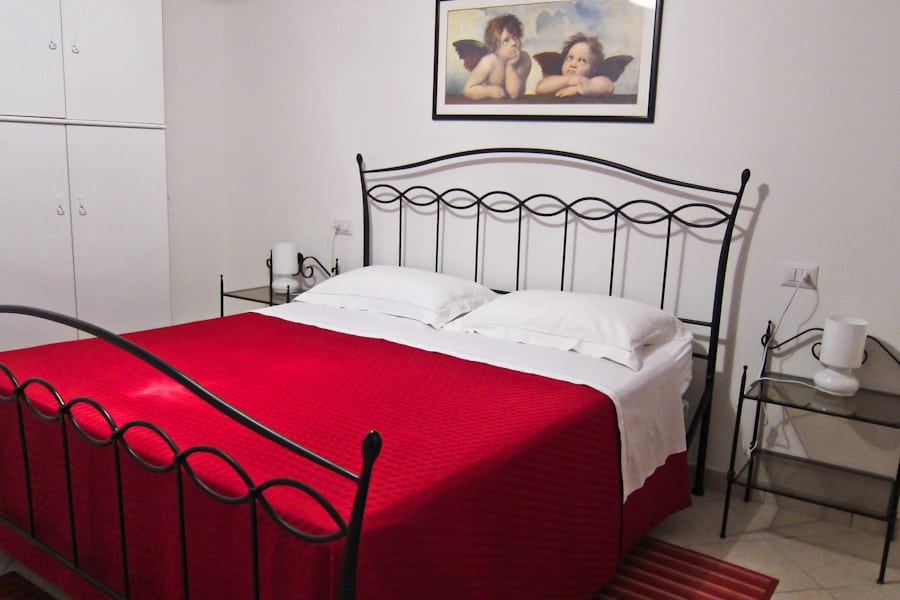 B & B Terra dei Santi is about a 15 minute walk from Spello and the train station. It's a modern building so it's not the place to come for historic charm but it does mean everything is new and works perfectly. If you have a car it's ideal as there's free parking and you don't have to worry about driving in Spello's narrow streets.
For two people an apartment is €70 a night including breakfast. For more information see the B&B Terra dei Santi website.
How to Get to Spello
Spello is on a train line so you can easily get to Rome, Assisi, Perugia, Spoleto and other destinations in Umbria. See trenitalia.com for train times. On our second visit to Umbria we returned to London by train which was a great way to travel—read more about our Italy to London train trip. If you want to explore the smaller towns and countryside you might want to rent a car.
Many thanks to B&B Terra dei Santi who gave us a discount on our apartment
If you enjoyed this post, pin it!