This page contains affiliate links. Please read our disclosure for more info.
The intrinsic problem of visiting wineries is that as they are in rural locations they are hard to access without driving—not a good thing when there's so much wine to sample. We were in the central Italian region of Umbria without a car anyway so decided to take a tour with Gusto Wine Tours. We benefited from so much more than just transport as British expat Mark was a knowledgeable guide who introduced us to the world of Umbrian wines by taking us to some off the beaten track cantine (wineries).
Mark and Giselle Stafford have been living in Umbria for years and realised that the fantastic wines the region produces are not very well known around the world, unlike the wines from its neighbour Tuscany. They started Gusto Wine Tours to introduce visitors to the region to its wonderful wines which they believe are even more delicious and much better value than Tuscan wines.
The tour's focus is on visiting small, family-run wineries in Umbria that you probably wouldn't have found by yourself. It's a day of wine tasting, chatting, drives through the rolling hills of the Umbrian countryside, and a delicious multi-course Italian lunch. Mark keeps groups small so we were joined by just one other couple on our trip around the Montefalco area where Umbria's best DOCG and DOC wines are produced.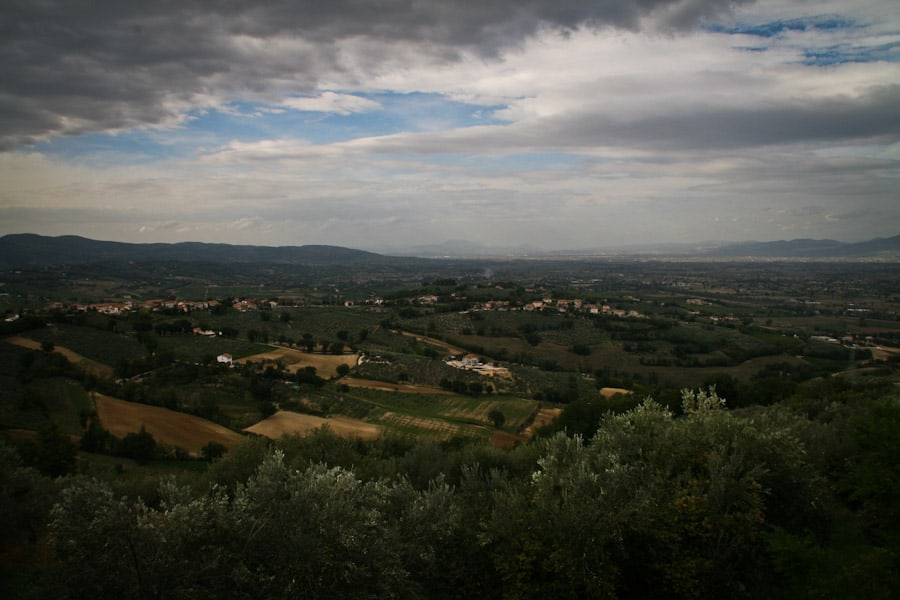 Romanelli
Our first stop was the Romanelli family's farm on a hill with sweeping views of the Umbrian countryside. Like most of the wineries in the area it's organic, whether they are certified or not, simply because the families live on site and have children who play in the vines so they don't want there to be any chemicals around.
Three generations of the family run the farm and they insist on working their own land so they can guarantee the quality. Only at the busy harvest time do friends and family come along to help, getting paid in wine and food. The Romanellis could make more money by chopping down the trees on their land, planting more vines and hiring workers, but they don't. They only grow as much as they can work themselves and control the quality while maintaining quality of life—spending time with family is ultimately what life is about for Italians.
We love hearing stories like this, and they are common in Italy—food producers who truly care about what they do. It was heartening to hear that the tiny Romanelli winery had beaten the area's largest commercial producers in wine awards. This was especially impressive considering the family has only been making wine since 2007 when the sons became old enough to take on the winemaking; before that their focus was olive oil.
Our tasting began with their olive oil, sitting in a cosy room in the family's house. If you haven't tried olive oil in Italy you may never have tried the real thing. It's completely different from the tasteless stuff that gets exported and sold in supermarkets. Here, at the source, it's so much more flavourful and makes a huge difference to the simplest foods. On toast we sampled a four olive blend and a single variety Moraiolo with a strong, peppery flavour. If only we could take a bottle of this with us everywhere we go.
On to the wines…
Mark is a wonderful wine guide. He's knowledgable but unpretentious and has a great sense of humour, and it didn't matter that we knew little about wine. He guided us through the tasting process, encouraging us to focus on the look of the wine by swirling it in our glass and observing the colour and texture, smelling it, and finally tasting by paying attention to the feel and texture in our mouths, and the aftertaste once we'd swallowed. It made for a more heightened tasting experience.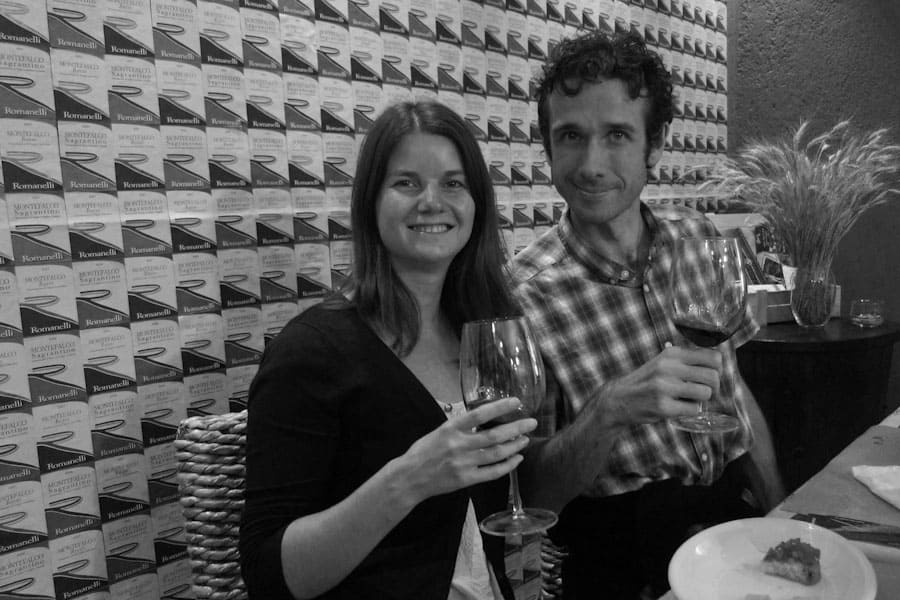 Italian wine is made to be eaten with food so we snacked on tomato bruschetta and cheese with our wine. Although the region is known for its full bodied reds there are also some excellent whites. Our first tasting was the white Grechetto dei Colli Martani DOC with hints of tropical fruit. It was lovely and we hated to throw some away, but it was only mid morning and we had many more wines to come.
The region is known for the bold, tannic Sagrantino grape that is only grown in this small area and makes big, powerful red wines. We tried the Montefalco Rosso DOC which is made with 65% Sangiovese, 15% Sagrantino, and in this case 10% Merlot and 10% Cabernet Sauvignon. It's aged for at least two years with one year in an oak barrel which softens the tannins and imparts an oaky vanilla flavour.
The Montefalco Sagrantino DOCG is the star of the show. Made with 100% Sagrantino grapes it's very full-bodied and is best accompanied by strong foods. It was wonderful and is unlike any other wine we've tried. At €19 it's a bargain for the quality compared to Tuscan wines such as Brunello that go for at least €40, and you'd pay much more outside of Italy, if you could even find it.
We finished our tasting with another new wine experience—the Montefalco Sagrantino Passito, a dark red dessert wine made by drying out carefully selected Sagrantino grapes for three months and then gently pressing the resulting raisins. It's a strong, smooth dessert wine that isn't very sweet so often converts those who think they don't like dessert wines. Served with homemade biscuits made with their own olive oil it was a delicious way to end our tasting at Romanelli.
Fongoli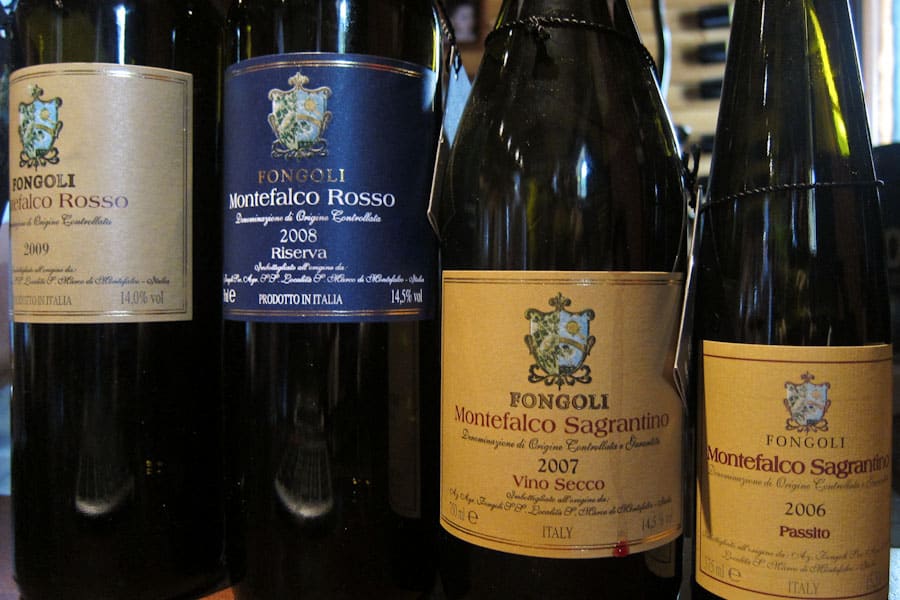 The Fongoli estate is another family-run business dating back to the early 1900s and is currently run by a brother/sister team. The wine makers were busy out in the vineyards as it was harvest time but Mark knows the family well enough that he was free to take us on a tour.
He talked us through the wine making process, showing us the destemmer where the stems and stalks are removed from the grapes and they are gently split so the juice can come out. Nobody here crushes the grapes any more to avoid the astringency from the seeds. Instead they are gently pressed in the horizontal soft press machine.
The white grapes go from the destemmer to the press and then to the fermentation tanks for 3-6 months before bottling. The red grapes go straight from the destemmer into the fermentation tanks. The Sagrantino grapes spend 40-50 days there to get the full flavour from the skins. The solids accumulate at the bottom of the tanks and the quality juice at the top gets syphoned off and put into barrels for the DOC and DOCG wine, while the rest gets pressed to make table wines.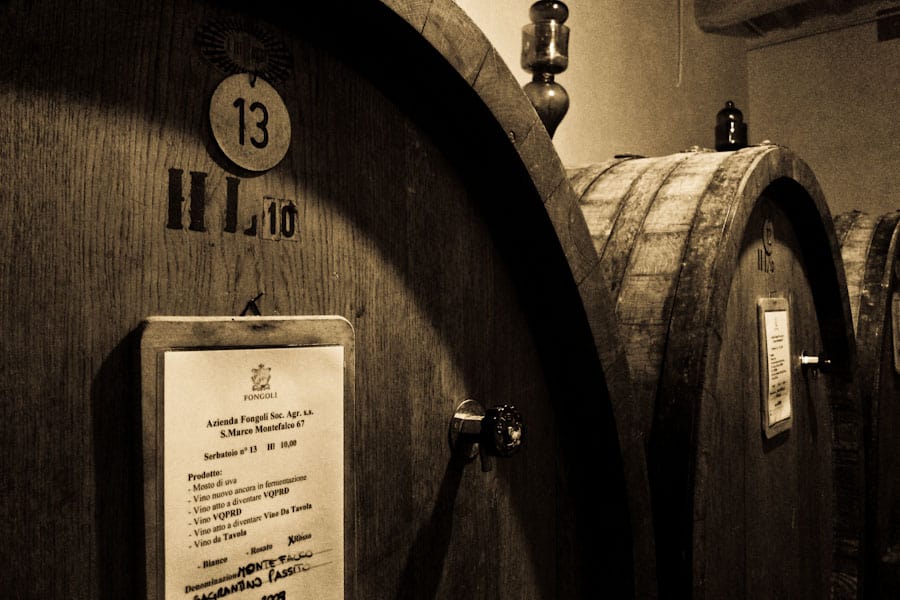 We also looked around the cellars where wine ages in barrels including 150 year old Slovakian oak barrels that are worth €15,000, and the dusty old reference bottles of every bottle of wine they've made but aren't allowed to open.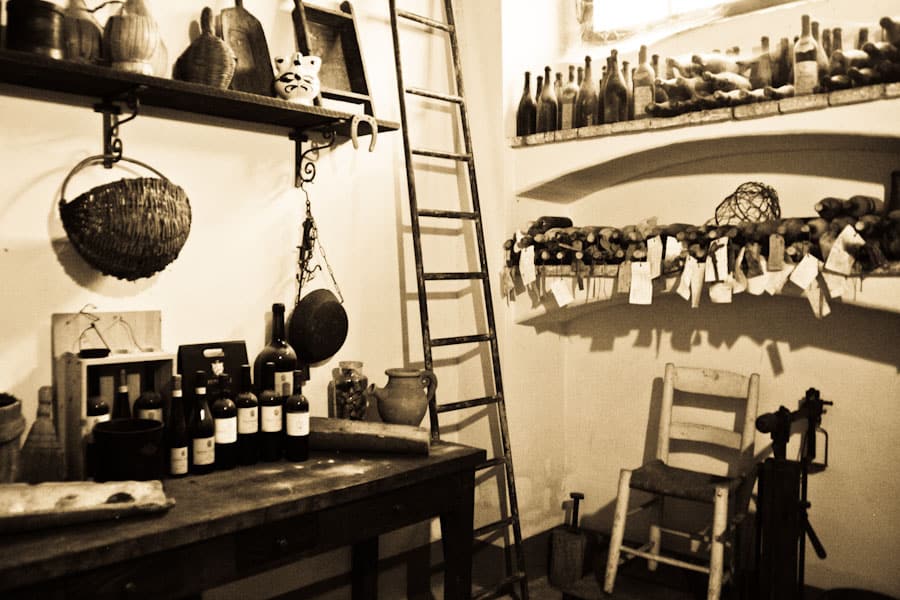 The locals have not been impressed by Umbrian wines becoming more well known and the increasing prices when the wines became DOC and DOCG regulated. Fongoli offers some good table wine though for just €1.6 a litre—you can bring your own container or buy a five litre plastic container and fill it up from their barrels.
At Fongoli we tried four more wines: a citrusy white L'Agnoletto, another excellent Montefalco Rosso and Montefalco Sagrantino, and our favourite, the Montefalco Rosso Riserva which is aged for three years rather than two. We finished with another Sagrantino Passito paired wonderfully with some dark chocolate, each bringing out the flavours of the other.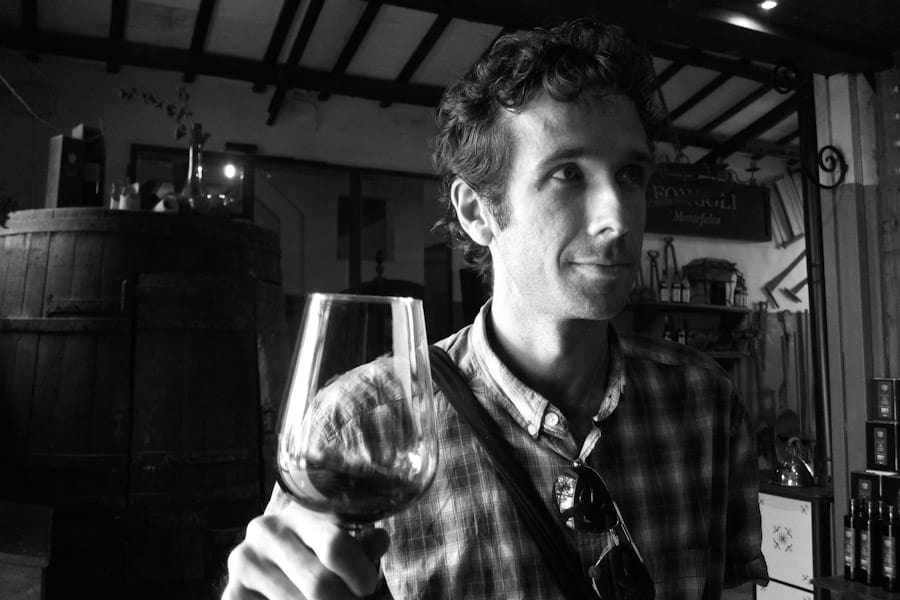 Agriturismo Camiano Piccolo
After a morning trying nine different wines it was definitely time for lunch. Camiano Piccolo is a working farm that also hosts tourists, known as an agriturismo in Italy. Amazingly it's been in the same family for 500 years. Pietro the owner is the 23rd generation, Giuseppe the chef is the 24th generation, and his 13 year old son is the 25th.
We were treated to the full on four course Italian meal, all made with olive oil and vegetables that they grew themselves. Our vegetarian option was delicious: rocket and tomato bruschetta; handmade tagliarini with tomato, basil and lemon zest; truffle omelette with rosemary potatoes and green beans; and a chocolate drizzled pannacotta.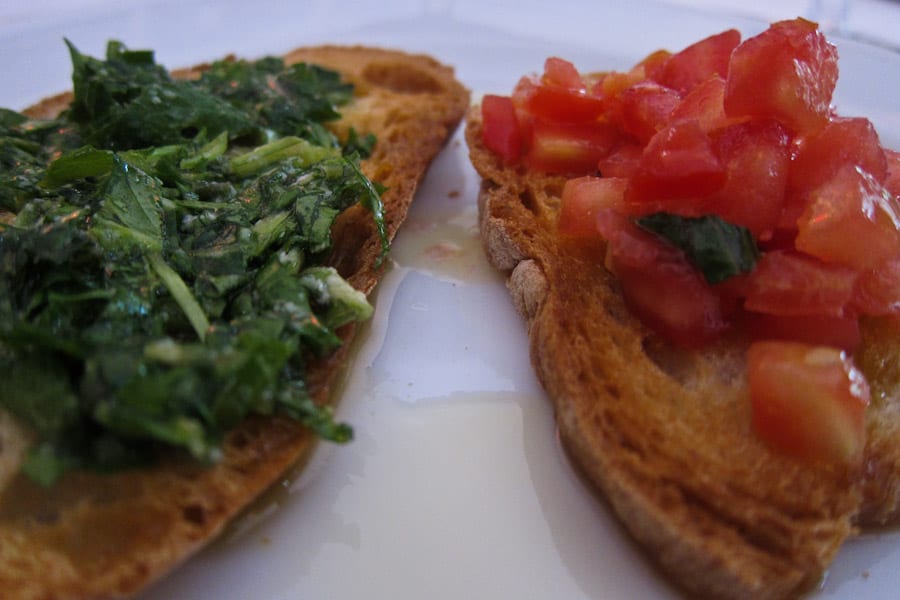 After all that it felt like time for a siesta but we had one more cantina to visit.
Dionigi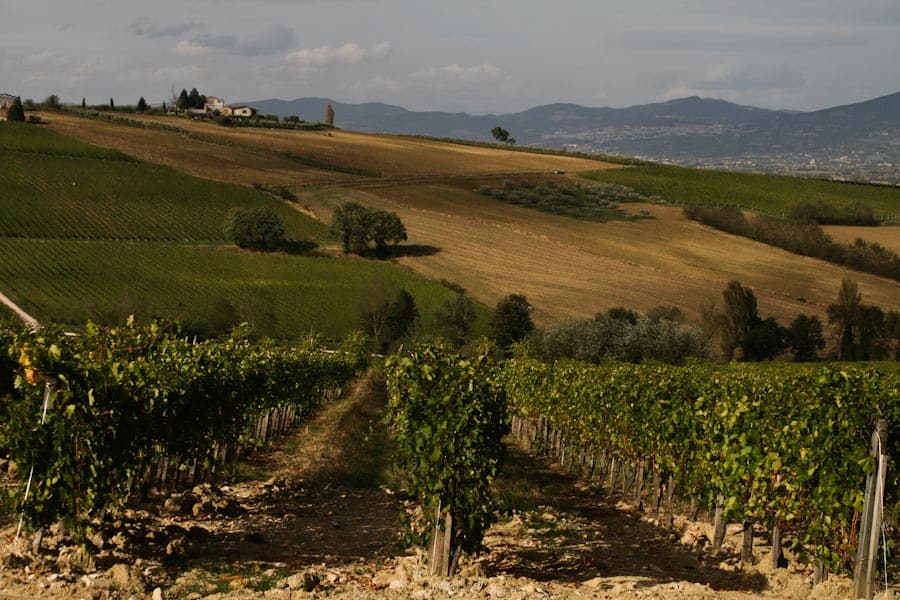 At Dionigi we were happy to witness the grape harvest that had just begun. The grapes hang on the bottom of the vines, with other grapes picked before they get a chance to grow so that the flavour is concentrated in those special few bunches. All the grapes are hand picked to further ensure the quality.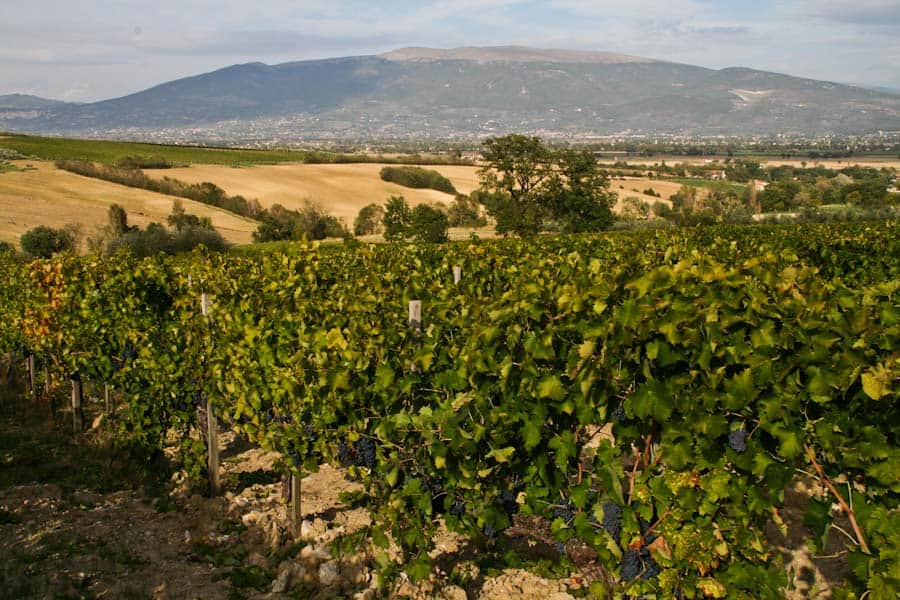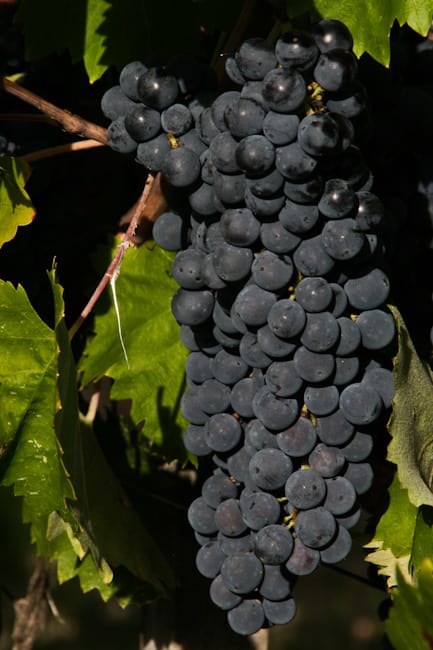 We watched as Roberto unloaded the freshly picked grapes from a trailer on the back of a tractor into the destemmer machine from where they were pumped into the fermentation tank and the stalks and stems discarded.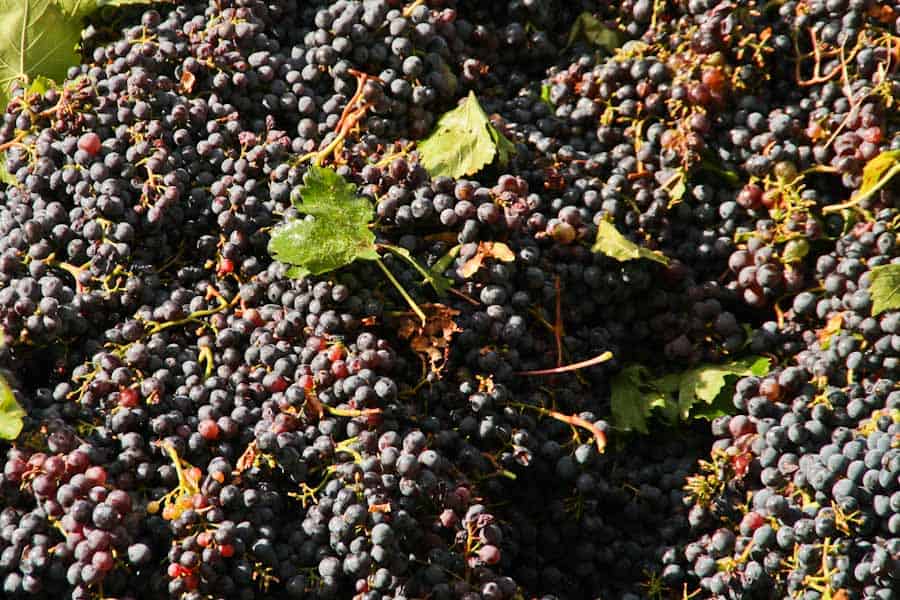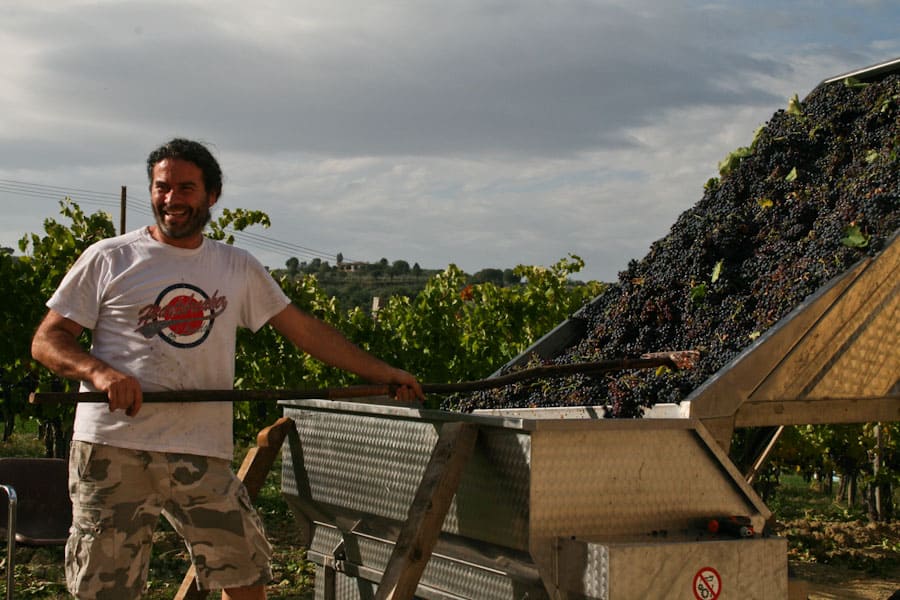 Our last tasting was a big one: eight wines! Dionigi makes an impressive range of wines for their size and of course we had to try them all.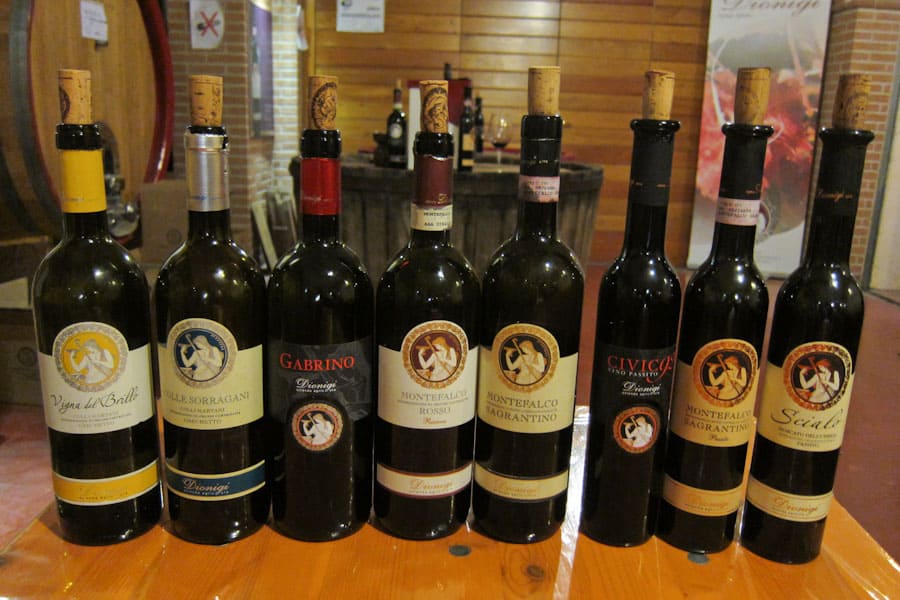 The two whites were interesting: both the Vigna del Brillo and Colle Sorragani are made with 100% Grechetto grapes using a very modern technique of cryomaceration where the grape temperature is reduced by dry ice prior to fermentation to enhance the flavours. Although both wines were made this way with the same grapes, they tasted very different and the Colle Sorragani had a darker, golden colour as it was aged in oak rather than stainless steel. It was interesting to see how one change in the wine making process can make such a difference, and made us realise just what a complicated art this is.
Dionigi makes a number of Passito dessert wines. We enjoyed the Merlot and the Sagrantino but it was the white Scialo made from muscat grapes that enamoured us all. Golden in colour, it looked, smelt and tasted incredible with a smooth, honey-like flavour. At €50 a bottle it isn't cheap though.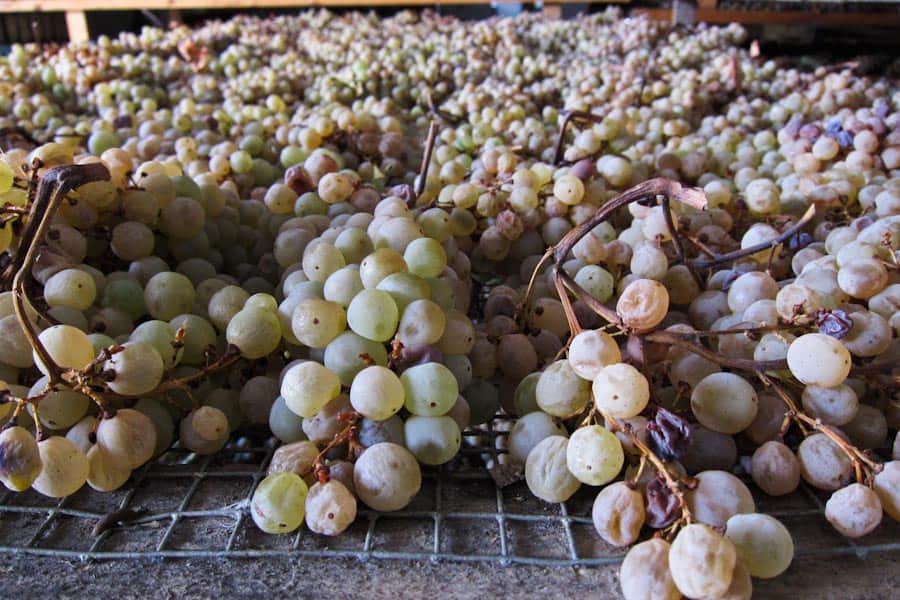 By the end of the day we'd sampled 18 wines (!) and learnt so much about Umbrian wines and the winemaking process—more than we ever have on winery visits on our own. We got much more out of the experience by having our own guide and it was a stress-free, fun day. We got to see beautiful countryside, eat tasty food, meet small family-run businesses who are passionate about quality, and of course drink many delicious wines. Umbria is an underrated wine region but, with this quality of wines, we are sure that it won't stay that way for long.
Gusto Wine Tours cost €135 per person for a full day tour to three wineries including wine and olive oil tastings, snacks, multi-course lunch, bottled water and transport.
If you enjoyed this post, pin it!
Many thanks to Mark and Giselle for a wonderful day and for giving us a discount on our tour.