This page contains affiliate links. Please read our disclosure for more info.
In just 11 days in Jordan we travelled from dusty plains to pistachio forests, from dramatic rocky mountains to vast desert, and on to relaxing beach resorts. We floated in the most buoyant body of water on the planet; visited Bedouin camps and learnt about their customs; wandered through Roman ruins; scuba dived with a turtle in the Red Sea; ate our weight in mezze and learnt to make them ourselves; galloped through the Wadi Rum desert on horseback; and hiked through the remains of a 2000 year old rose coloured city carved into the mountains.
Jordan is a small country made even more easily explored as 90% of the country is desert and most sights are within the populated 70km strip of land that runs down the western edge of the country. With our own car and driver we were able to cover a lot in a short amount of time. We got a taste of Jordan—enough to know that we'll definitely be back.
There are so many to choose from but here are our highlights from our time in Jordan.
Petra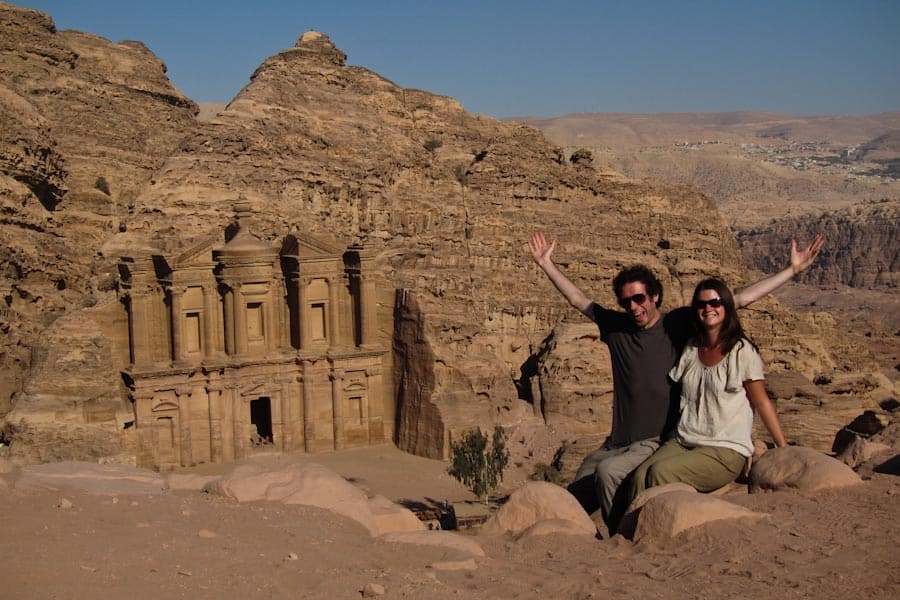 Jordan's most popular tourist attraction is an obvious choice, but it truly did exceed every expectation we had. We weren't prepared for the scale of Petra—the vast rocky mountains stretching on for miles; the awe induced by the fact that 2000 years ago people with limited tools carved a city out of the mountain rock face; the pinks, reds, oranges and purples of the rocks, changing colour as the sun moved.
We spent eight hours hiking around Petra, up to viewpoints at the High Place and to the Monastery, and were surprised by how much of the time we had the place to ourselves. Our highlight wasn't the well known Treasury that featured in Indiana Jones, but the tranquil hike down from the High Place through Wadi Farasa with no one else around except for the occasional Bedouin playing the flute or selling cold drinks.
Feynan Eco Lodge
The word eco gets thrown around so much these days that it's practically meaningless, but Feynan is an eco-lodge in the truest sense of the word. Cradled in a remote valley of the Dana Biosphere Reserve surrounded by craggy granite mountains, it works in partnership with the local Bedouin community who live in tents spread out through the area. All the staff are local Bedouin and the lodge runs projects like candle and leather making workshops to provide income for the women in the community. Most waste is recycled, the water is filtered rather than bottled, the food is a delicious vegetarian spread, and power is solar which means nights are candle lit—perfect for stargazing on mattresses on the roof.
We didn't have enough time at Feynan to take advantage of all the hikes and activities available in the nature reserve but we will always remember our short sunset hike. Our guide took us to visit his family's camp and told us about Bedouin life and showed us how the paper-thin shrak bread is made—eaten fresh off the open fire it's sublime.
The sunset was magical, with the haunting call to prayer from the small mosque echoing through the valley. Afterwards we drank sweet Bedouin tea, freshly brewed on an open fire with sage and lots of sugar.
Feynan is a truly special place, a comfortable lodge in a beautiful setting that is making a real difference to the lives of the community.
Horse Riding in Wadi Rum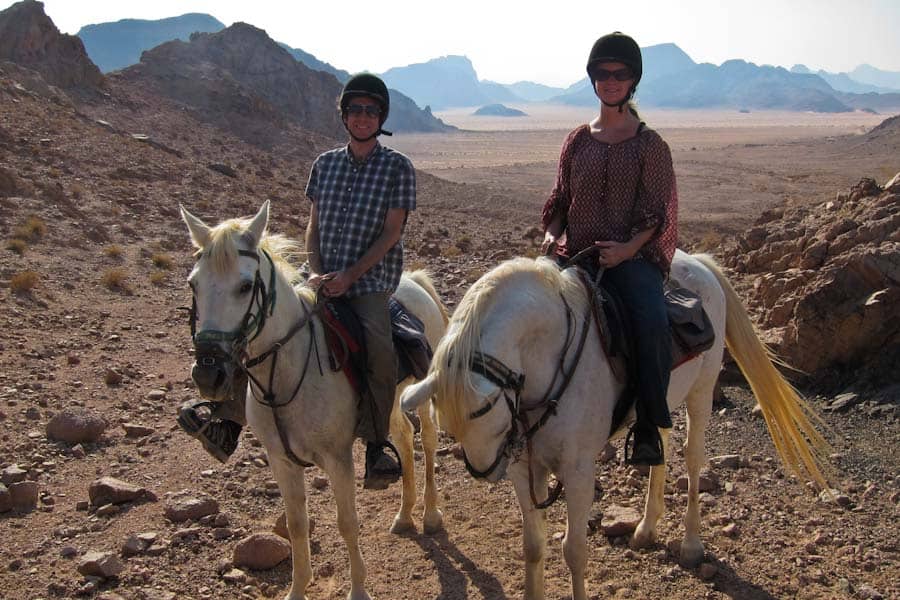 Galloping an Arabian horse through the desert was a dream that came true in Wadi Rum. The beautiful horses were responsive and exhilaratingingly fast, with the rock formations the perfect backdrop.
We followed our ride with a jeep trip further into the desert, the rippled sand dunes and craggy mountains glowing orange as the sun set, before spending the night in a Bedouin style camp and enjoying traditional music by the campfire.
Seeing a Turtle and Whale Shark in the Red Sea
Never before have we woken up in a tent in the desert and a few hours later been sailing out into the ocean. The Red Sea is the perfect place to wash off the desert dust, relax after your adventures or discover the underwater world. On our scuba dive we saw a green sea turtle and later, swimming alongside our boat was a huge (although apparently small) whale shark—its spotted grey-blue body was an extraordinary sight.
Floating in the Dead Sea
At 400m below sea level the Dead Sea is the lowest point on earth and like no where else we've been. It was wonderfully relaxing to float effortlessly in the buoyant waters, and lots of fun to smother ourselves in mineral rich mud.
Delicious Mezze
Food can make or break a travel experience for us so we were happy to discover that Jordanian cuisine is vegetarian-friendly and delicious. Although vegetarianism isn't really understood here, the Jordanians naturally eat lots of fresh vegetables, beans and pulses, especially in the diverse range of mezze appetisers that are served before the main course. They was always more that enough to make a meal in themselves (and are good for breakfast too).
Our mezze highlights included old favourites like hummus (chickpea dip), baba ghanoush (roasted aubergine dip), falafel (fried chickpea balls), tabbouleh (parsley and bulgar wheat salad), fattoush (toasted pitta bread and vegetable salad); and new discoveries such as labaneh (strained yogurt that makes a creamy cheese), mutabbal (aubergine and tahini dip), za'atar w zeit (thyme, sesame, sumac and olive oil dip), and Turkish salad (a spicy tomato and chilli dip). Olives and olive oil featured heavily, and flavours like lemon, garlic, parsley, and tangy sumac were common. Everything is eaten by scooping it up with the flat breads that are essential to every meal. Read our guide to vegetarian Jordan for more details on the tasty food on offer.
The Roman Ruins of Jerash
Petra steals the show but history buffs shouldn't miss the well preserved Roman ruins at Jerash. Theatres (complete with excellent acoustics), archways and temples are still standing, there are some lovely mosaic floors, and you can walk along the original stones of a Roman street.
Diverse & Dramatic Landscapes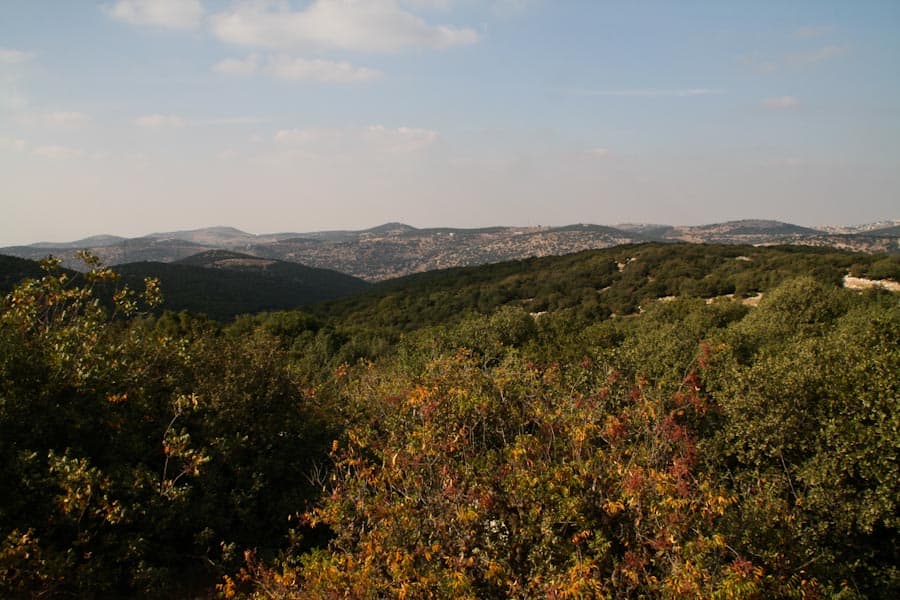 For such a small country the diverse landscapes of Jordan are surprising. Within an hour or two we drove from the dusty Jordan Valley through unruly olive groves to the pistachio and oak forests of Ajloun nature reserve. You can hike in a canyon and 10 minutes later float in the Dead Sea or ride a camel through the desert and snorkel with turtles an hour later. Jordan has it all—even snow in winter.
Sunsets
Every night we watched the day end with a colourful sunset and the call to prayer as our soundtrack.
Camels
Camels are the strangest looking creatures and although we skipped a ride on one (our two day camel trip in India four years ago was enough for a lifetime), we loved seeing them around—by the side of the road just outside the capital Amman, in the city streets of Aqaba, and of course ridden by Bedouin in the desert.
They really are the weirdest looking animals, especially when viewed running towards you, their big lipped head bobbing around, skinny legs flaying from side to side, all knock-kneed and awkward.
We've moved on from Jordan now, to the other side of the Red Sea and the beach town of Dahab in Egypt. Look out for many more posts coming soon about our experiences in Jordan, such as our 36 random observations about Jordan.
A big thank you to Visit Jordan who hosted us during our stay in Jordan.