This page contains affiliate links. Please read our disclosure for more info.
We often aren't very good with ruins or "must see" tourist attractions, but Petra blew us away and exceeded every expectation. We'd read a lot about it in advance but we just weren't prepared for the epic scale of these ancient ruins—a city carved out of the mountains by the Nabataeans over 2000 years ago. It is deservedly Jordan's most popular tourist attraction, a UNESCO World Heritage site and one of the New Wonders of the World.
We drove to Petra along a spectacular mountain road from Feynan Ecolodge, setting us up for a day of incredible scenery. Our first glimpse of Petra was from above and we knew we were somewhere special.
In the 2nd century BC Petra was an important stop on the trade route, an extension of the Silk Road, that connected China and India to the Middle East, Greece and Rome. The entrepreneurial Nabataeans became rich from the trade of frankincense and myrrh that were more expensive than gold.
Petra is approached through the Siq, a narrow gorge over 1km long with mountains soaring to 100 metres on either side. The sights started even before we entered, with the colours and formations of the rocks, and this man and camel carved into the mountainside.
At the end of the narrow Siq you emerge at the famous Treasury, which was featured in the Indiana Jones film.
It wasn't actually a treasury but a tomb created in honour of an important King. It was incredible to think that this monument was carved over 2000 years ago with simple tools like chisels and hammers. The sandstone makes it easier to carve into the mountain, but still it's a remarkable feat. It was also interesting to hear that the Nabataeans didn't use slaves, so all the work was done by professionals.
Almost all the ruins in Petra are tombs. The Nabataeans believed in life after death and looked after their tombs well, so these have lasted longer than houses. The Treasury is the most famous sight at Petra but there is so much more to explore. Tombs are scattered all over an immense site of rose coloured mountains.
Vehicles aren't allowed in the site but as it's so huge donkeys and camels are available to transport people around.
It's difficult to know where to start so we were happy we were with our guide Kamel who suggested we start by hiking up to the High Place of Sacrifice. You have to climb over 800 steps through a narrow gorge to get there but the views of Petra when you turn around and look back down are wonderful.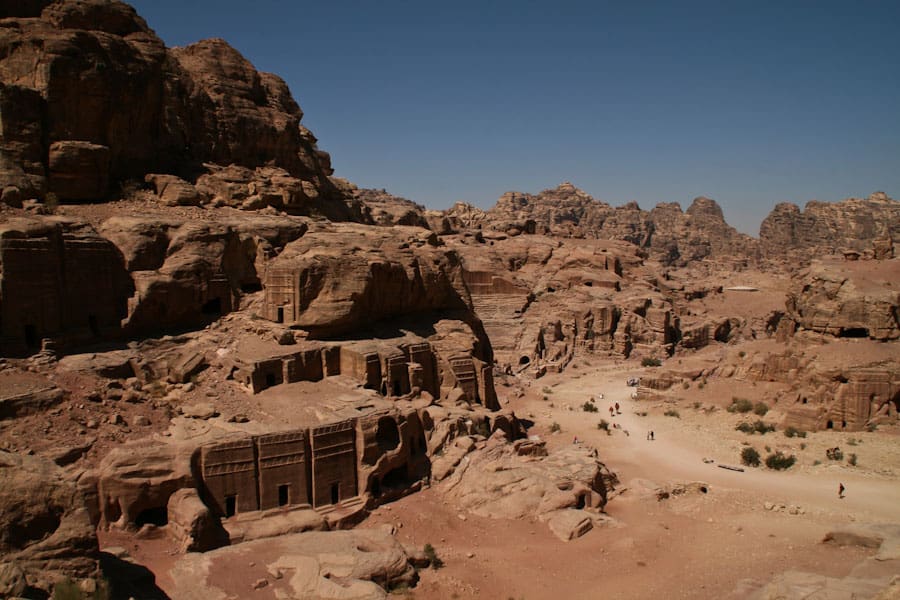 The High Place was used for animal sacrifices but the real reason to hike up here is the 360 degree views—down to Petra and of the rugged mountain scenery.
Rather than walking back down the stairs we had climbed we took a route on the other side of the mountain via Wadi Farasa. It was very quiet, we hardly met anyone else along the way which is something we didn't expect from such a popular tourist attraction. The scenery was spectacular and dotted with ancient tombs and rock carvings.
The iron oxide in the rocks has caused them to be so colourful that in some parts they look like they've been spray painted.
We came across a number of caves where Bedouin had lived as recently as 1985 until they were moved to a nearby village. I had read the book Married to a Bedouin before our visit and was amazed at the story of a young woman from New Zealand who had married and moved into a cave with a local Bedouin man. But as we walked around this peaceful place I could see the advantages of waking up every morning to views like this.
Most of the walk was very quiet but occasionally we'd come across one of the local Bedouin selling souvenirs or very welcome cold drinks. Our guide thought these camels looking thirsty.
The Wadi Farasa route ended at the Basin where there's a restaurant for lunch. After eating we began another climb up to the Monastery.
At first we were amazed by how much busier it was—we were stuck walking in a line up the 750 steps. Then we realised we were in the middle of a tour group so sat on a rock and waited for them to pass. We had this gorgeous view to ourselves and when we began the climb again it was quiet except for the occasional kid or tourist trotting past on a donkey.
The Monastery is another memorial tomb. It's not as ornate as the Treasury but it's bigger and we preferred its location where you can fully appreciate how it was carved out of the mountain.
You can also continue beyond the Monastery to a viewpoint for an even greater context.
There's a lot to see at Petra but one of its pleasures is taking the time to sit, be still and really take in the incredible landscape.
Eight hours wasn't enough time in Petra. At the end of the day we had to power walk out of the massive site to get to our Petra Kitchen cooking course on time. It had been a long day but we weren't ready to leave. On the way out we got one last glimpse of the Street of the Facades and the Treasury and saw how much they'd changed colour as the sun began to set.
Petra is epic in scale and as we discovered it's about more than just ruins—if you like hiking you'll love Petra. It's a geological and manmade wonder and our definite highlight of Jordan.
Visiting Petra
Entrance to Petra is 50/55/60 JOD ($71/78/85) for a 1/2/3 day pass.
I would recommend allowing at least two or three days to visit, especially if you like hiking.
For a different perspective consider visiting Petra by Night which runs a few nights a week.
You need to wear comfortable walking shoes—Simon wore hiking shoes but I wore hiking sandals and both were fine.
Petra is about an hour from Wadi Rum and one and a half hours from Feynan Ecolodge in the Dana Nature Reserve via a scary but spectacular mountain road in Wadi Namla.
Petra Accommodation
We stayed at the hotel Taybet Zaman, which was a wonderful surprise. It's a restored Ottoman village that's 80% original and you need a map to explore the winding stone streets. Each room is actually a small house with exposed brickwork and wooden beams. We had a separate lounge and bedroom area and a cute courtyard garden. We really wished we'd had more time here, and although it's a bit further out from Petra we do recommend it if you want to splurge on somewhere special.
From Taybet Zaman we got one last look at the lunar landscapes around Petra.
Thank you to Visit Jordan who hosted us on this trip and to our guide Kamel who helped us get off the beaten track in Petra and shared his knowledge about this amazing place.