This page contains affiliate links. Please read our disclosure for more info.
Vegetarians are in luck in Jordan: it's very easy to survive without eating meat. Although vegetarianism as a concept isn't widely understood (Jordanians love their meat) the food culture naturally relies on lots of fresh vegetables, beans and pulses. There are plenty of salads to choose from, lots of vegetable based dips to scoop up with flatbread, and tasty cheap snacks like falafel are easily found. Everything is flavourful from tangy to spicy with olive oil, lemon, garlic, parsley and mint featuring heavily.
Arabic Phrases
English is widely spoken in Jordan so in most places you shouldn't have problems making your needs as a vegetarian understood. It is worth learning some Arabic though, just in case. To say "I'm vegetarian" it's "Ana nabati" for men and "Ana nabatiye" for women.
Mezze
Jordanian meals start with mezze—an array of appetisers including salads, dips and fried snacks. They are often followed by a main course but most of these are meat based so for vegetarians the mezze can make an excellent meal in themselves. Most of these dishes aren't specific to Jordan but can also be found in Lebanon, Palestine, Syria and other Middle Eastern countries.
Our favourite places for mezze were Haret Jdoudna in Madaba, Green Valley in Jerash, Feynan Ecolodge which serves only vegetarian food, and Petra Kitchen where we helped make them ourselves.
Here are some of the diverse range of mezze available.
Salads
Salads are an important part of every meal for Jordanians and there's always a huge variety on offer. Banish thoughts of limp iceberg lettuce because in Jordan salads are fresh and flavourful.
Fattoush – Tomato, cucumber, lettuce, and radish with toasted pitta bread croutons and a dressing of tangy sumac, mint, parsley, lemon, garlic, olive oil, and vinegar. Crunchy and piquant—our favourite salad.
Tabbouleh – Parsley is the star of the show in this green salad with supporting parts from bulgar wheat, tomato, onion, mint, lemon and olive oil. It's often scooped up with a lettuce leaf.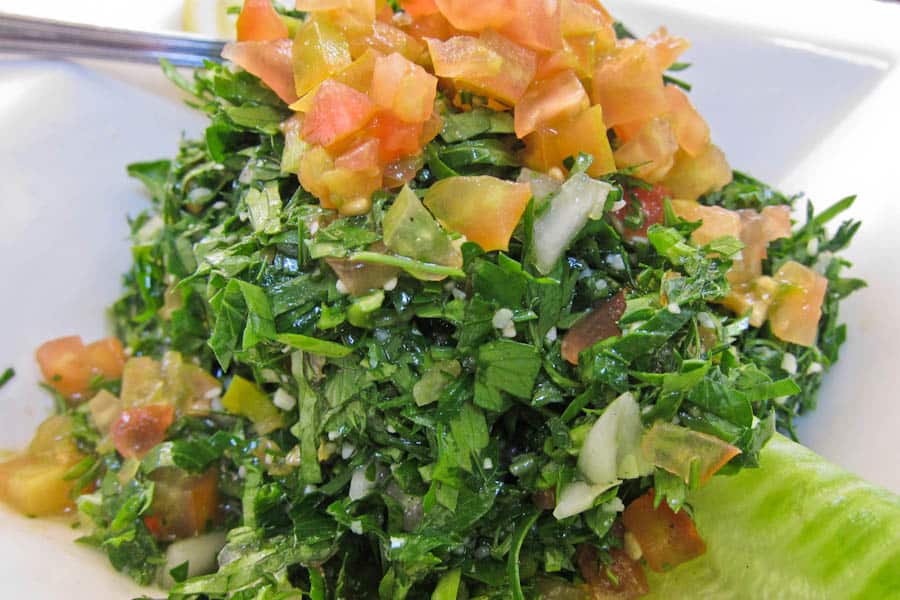 Rocket salad – Big peppery rocket leaves simply dressed with lemon and olive oil.
Tomato, goats cheese and basil – A Jordanian caprese salad.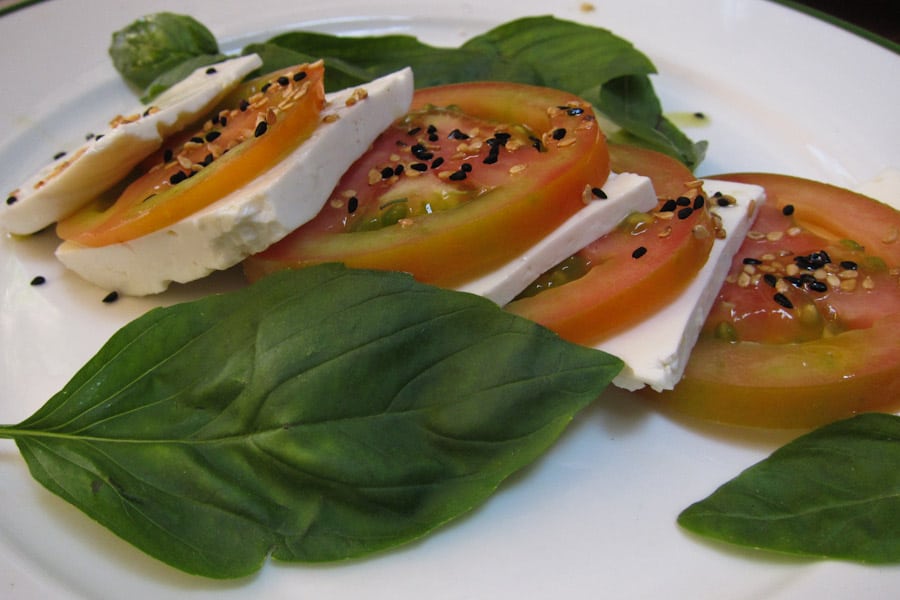 Arabic salad – There are lots of variations of this tomato, cucumber and onion salad, sometimes it's served with feta.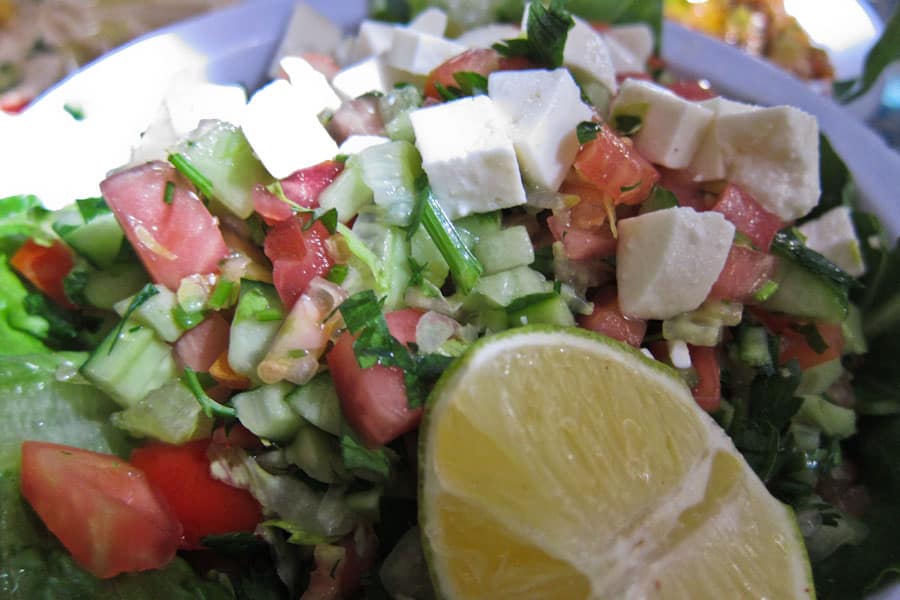 Dips
Perfect to go with the flatbread that's always served with mezze.
Hummus – The Middle Eastern classic: chickpeas, garlic, lemon, tahini and lots of olive oil.
Baba Ghanoush – Smoky roasted aubergine with tomato, onion, chilli, garlic, mint, lemon, and olive oil.
Mutabbal – Aubergine with tahini and lemon. It doesn't have chopped tomato and onion like baba ghanoush but they look similar.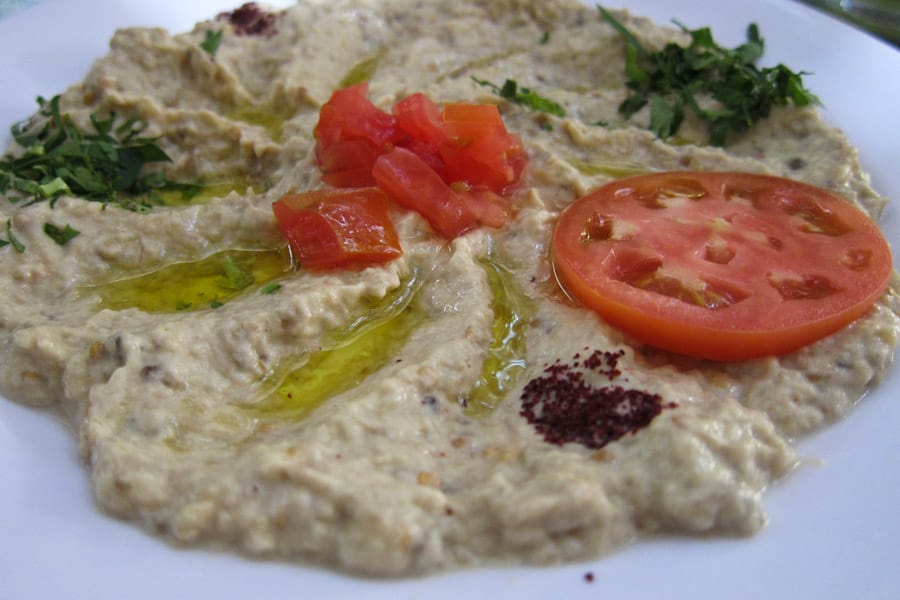 Zaatar w Zeit – Dried thyme, sumac, and sesame seeds are mixed with olive oil. This is often eaten at breakfast by dipping bread in it. A delicious new discovery for us.
Turkish salad – A spicy dip of tomato and chilli.
Bagdonsyyeh – Parsley and tahini.
Other Mezze Dishes
Galayat Bandura – One of the few hot vegetarian mezze, this means tomato from the frying pan. Tomatoes are fried with garlic, chilli, olive oil, and pine nuts are sprinkled on top.
Labneh – Yogurt is strained until it becomes a thick creamy cheese. Often served in balls in olive oil. It's common at breakfast and is delicious.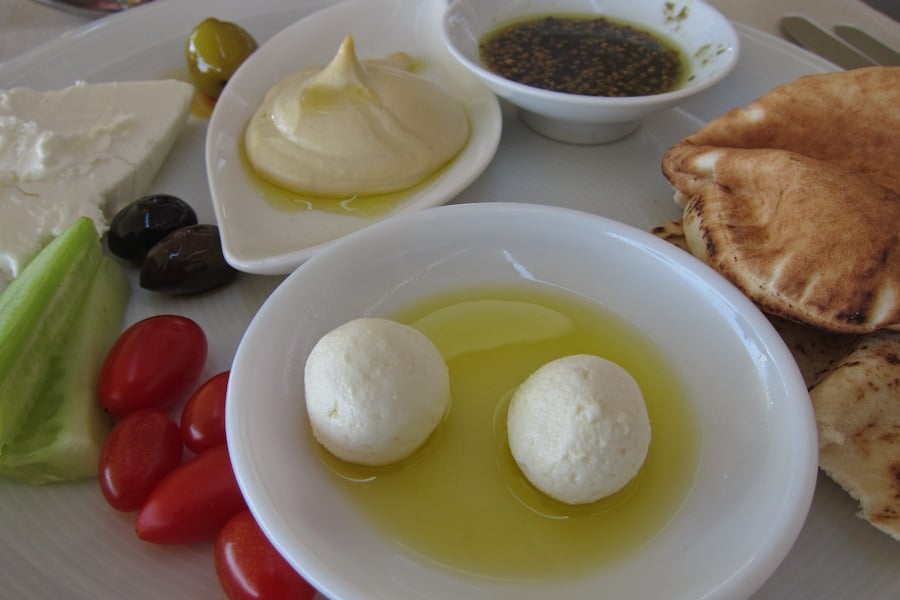 Cheese Fatayer – There are different variations on these cheese pastries.
Mafarika Batata – Scrambled eggs with potato.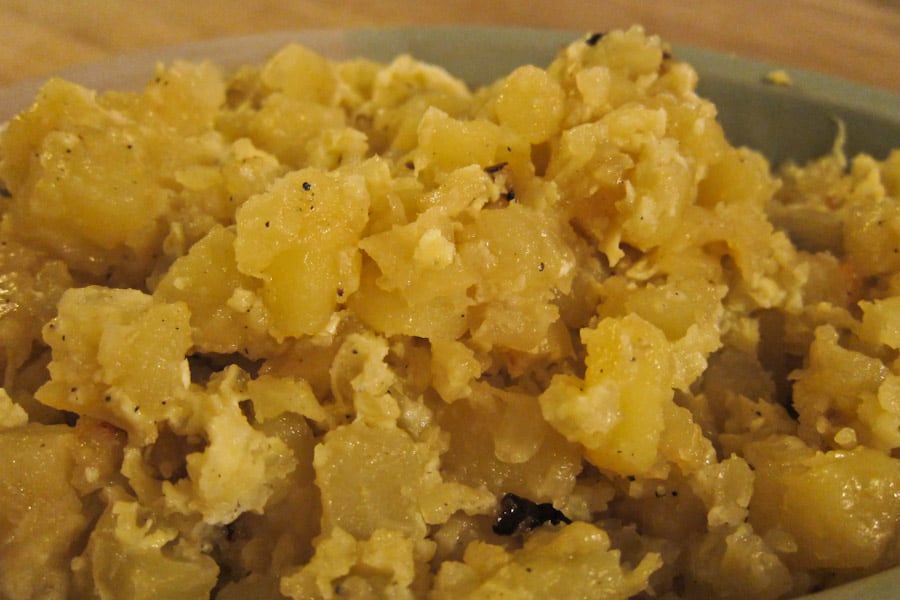 Warak Enab – Vine leaves stuffed with rice and vegetables. These are often stuffed with meat too so be careful.
Makdous – Small pickled aubergine stuffed with walnuts and garlic.
Pickles – Olives and other pickled vegetables are common.
Bread
Flatbread is served with every meal in Jordan and is fresh and tasty. Here's a few varieties to look out for.
Khubz (Pita) – Literally, "ordinary" bread. This bread with pockets is common.
Shrak – Our favourite Jordanian bread is baked by the Bedouins. Dough is thrown to make a very thin disk and cooked on a hot iron griddle shaped like an inverted wok. I don't think you can find it in restaurants but we ate it at Feynan Ecolodge, when visiting a Bedouin camp, and at Captain's Camp in Wadi Rum.
Taboon – We saw these large traditional Jordanian flatbreads being baked on hot pebbles in a taboon oven at Green Valley restaurant in Jerash.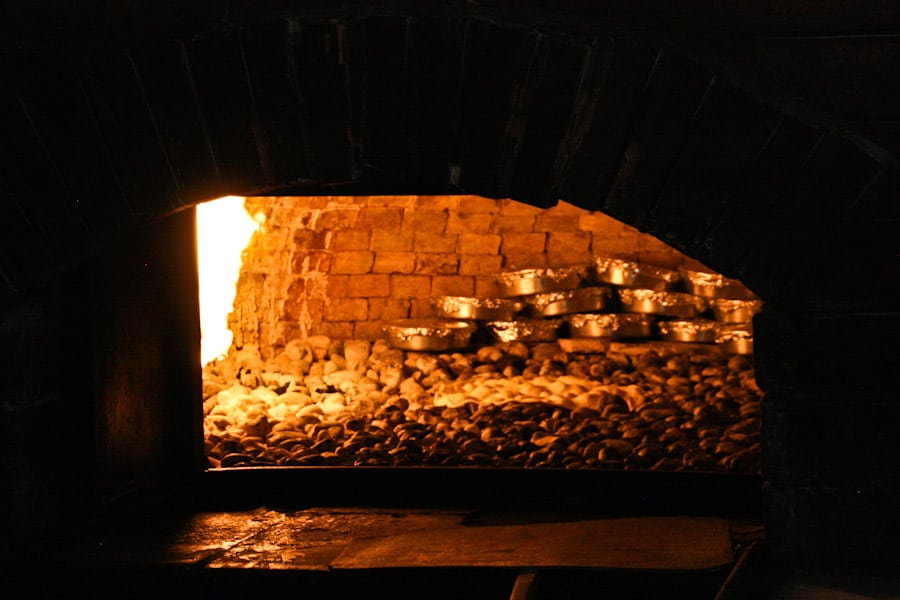 Main Dishes
Traditional main dishes are rarely vegetarian but restaurants did cater for us and brought us roasted vegetables with rice or vegetable stew. We were usually happy to stick with mezze though. There are a few other dishes to look out for.
Falafel – These fried chickpea balls are sometimes found on their own as mezze but our favourite is a falafel sandwich, stuffed in pitta with hummus and salad. It makes a very cheap and quick meal. In Aqaba we liked the falafel sandwiches at the basic local eatery Al Muhandas where we got two large falafel sandwiches and a drink for 1 JOD ($1.40).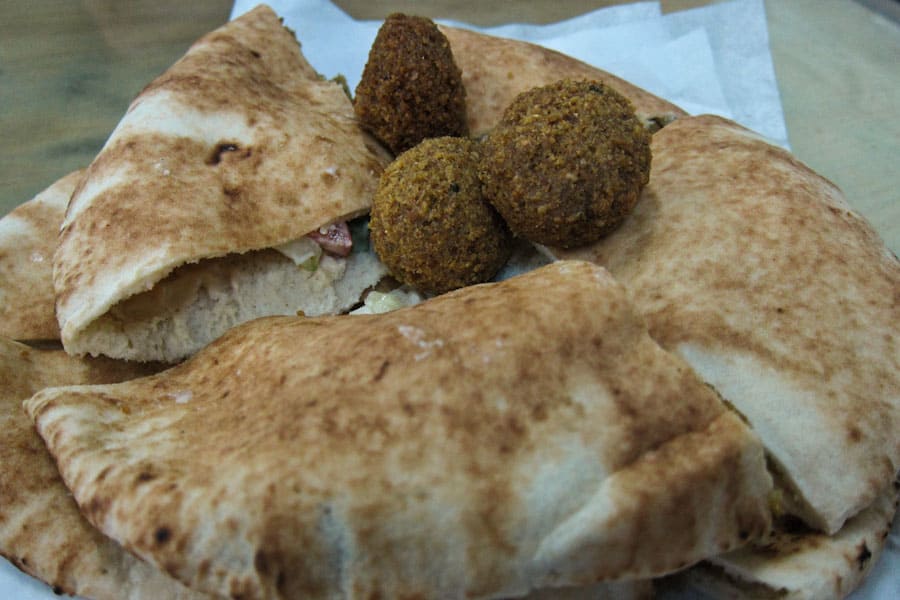 Ful medames – A simple dish of cooked and mashed fava beans, often served at breakfast.
Magluba – This upside down rice dish usually contains meat but it's possible to make it with just vegetables like eggplant and cauliflower as we did at Petra Kitchen cooking class. It's cooked in a pot and then served flipped onto a plate so the vegetables are on the top, hence the name.
Shourbat Adas – Another dish we made on our cooking class. This simple lentil soup in popular in the winter. Check that it's made without meat stock though.
Fasoulya Beyda – White beans cooked in tomato sauce.
Drinks
Turkish coffee – Thick, strong, grainy coffee served in small cups and sometimes flavoured with cardamon.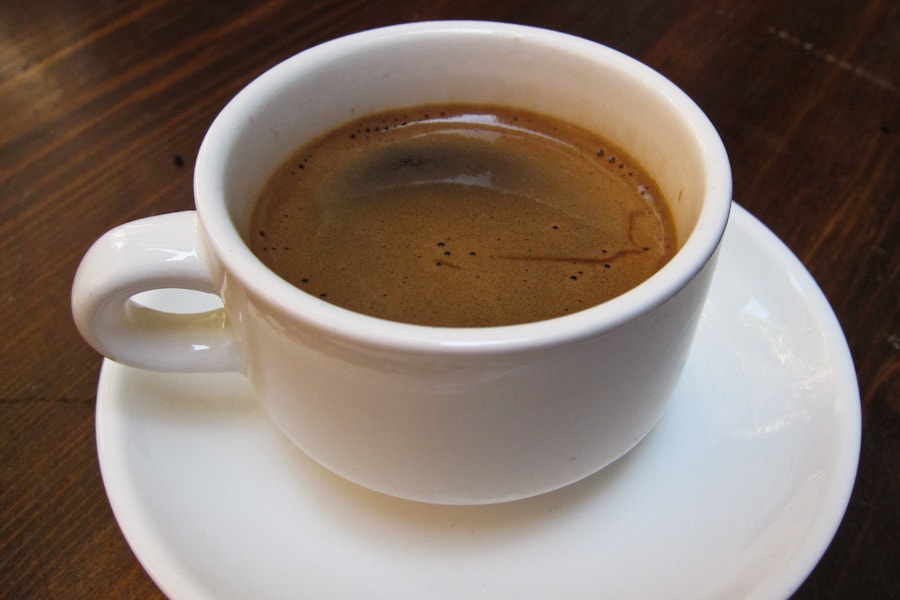 Tea – Tea is served black and very sweet, sometimes flavoured with mint or sage. It's best brewed by the Bedouin over an open fire as we enjoyed at Feynan Ecolodge.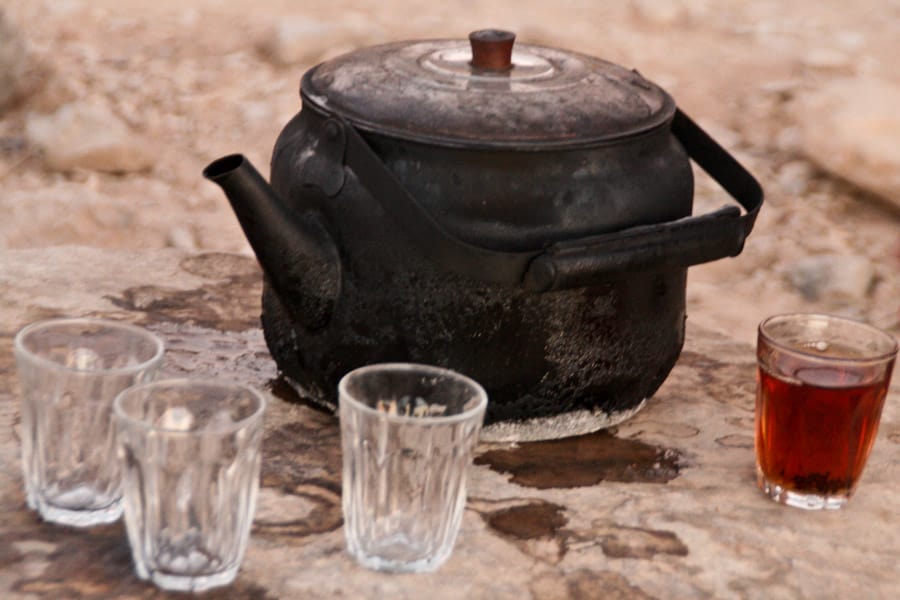 Lemon and mint juice – Very refreshing.
Dessert
Our meal usually ended with tea or coffee and some fresh fruit. We didn't try many desserts but they all seemed to be very sweet.
Warbat – A heavy, filling dessert made from layers of filo pastry and cream cheese, topped with syrup.
Halawa – A dense crumbly sweet made from tahini and pistachio. This was often found at breakfast.
Knafeh – A typical dessert that we didn't get to try. Cream cheese is topped with shredded wheat, syrup and cashew nuts.
Breakfast
Breakfast is usually a simple version of the mezze served for lunch or dinner. This is what a typical one looks like: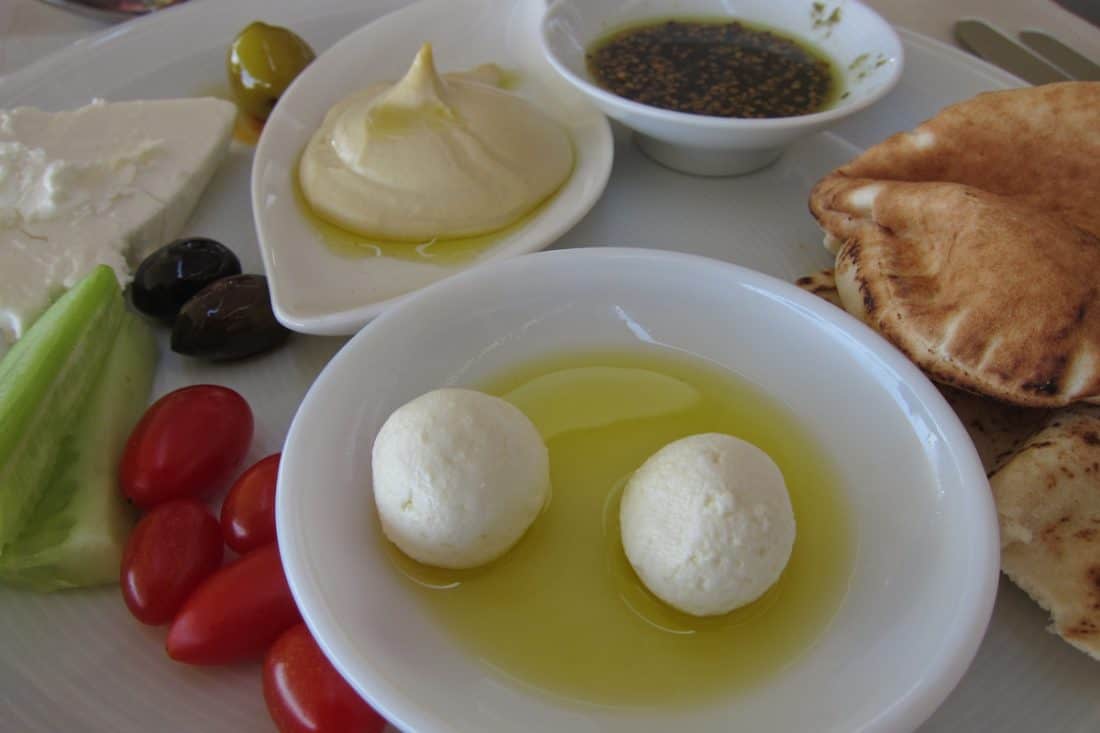 This breakfast was selected from the Jordanian section of the extensive and wonderful breakfast buffet at the Kempinski Hotel in Aqaba on the Red Sea, but we had a variation of this everywhere.
Here's what I ate (clockwise from the top):
Hummus—chickpea dip with tahini, lemon, garlic and olive oil. Popular mezze dish in Jordan.
Zaatar w zeit—dried thyme, sesame seeds and sumac mixed with olive oil. Often the herby mix was served separately from the oil and you mixed it up yourself.
Pitta bread. Flat bread of some kind is essential to every meal.
Labneh—strained yoghurt that has a creamy cheese consistency. Served in balls in olive oil.
Cherry tomatoes and cucumber
Feta cheese—oh so creamy.
Olives
Discovering Middle Eastern mezze was one of our highlights of Jordan. Jordan is one of the most vegetarian friendly countries we have visited and it was a pleasure to be able to enjoy local dishes that we are often unable to in less vegetable focused countries. With an emphasis on fresh, healthy ingredients and lots of flavour Jordanian food has become one of our favourites.
If you are a travelling vegetarian don't miss our vegetarian survival guides to Burma, Chiang Mai, Thailand, Japan, Hong Kong, Argentina, Brazil, Paraguay, Bolivia, and Peru.
A big thank you to Visit Jordan who hosted us during our stay in Jordan and to our wonderful guide Kamel for answering all my food questions and waiting patiently while I took photos of the food before we ate.