This page contains affiliate links. Please read our disclosure for more info.
When first glancing at restaurant menus in Hong Kong things don't look promising for vegetarians. Often there are no meat-free options and items like pig's blood, chicken's feet and shark fin on the menu can be a little off-putting. Eating is an important part of experiencing Hong Kong though and with a little planning vegetarians can eat well too. One advantage is that many menus are written in English, so even if the staff don't speak it you can always point to a vegetarian option. The best and safest bet though is to try one of the many vegetarian restaurants in the city. You can find listings on happycow.com.
These are our tips for surviving as a vegetarian in Hong Kong, based on our short three day trip there.
Where to Find Vegetarian Dim Sum in Hong Kong?
Hong Kong is the home of dim sum and is the quintessential eating experience for breakfast or lunch, so it'd be a shame for vegetarians to miss out. Pots of jasmine tea are served with snack sized portions of various dishes, usually shared amongst a group. We tended to go for about four items between us but you may want 3-4 items per person for a more filling meal. Here is where we went to yum cha in Hong Kong.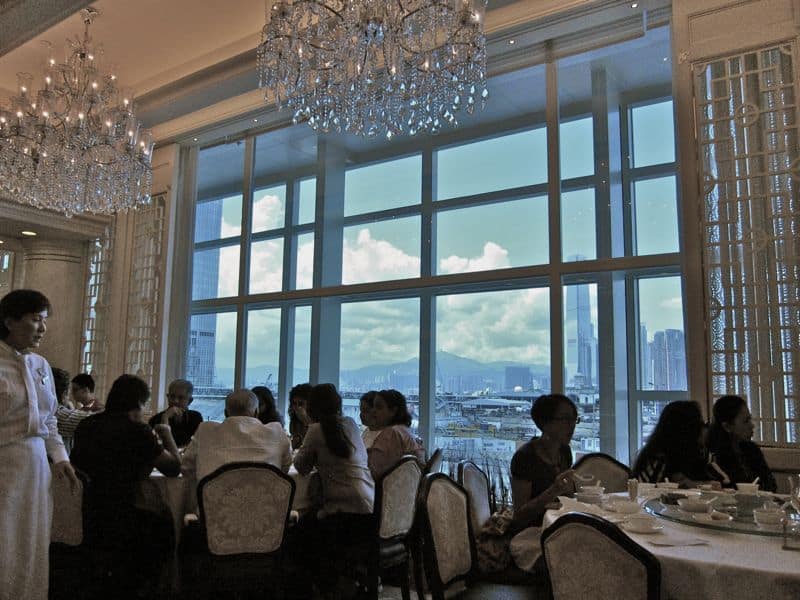 Maxim's Palace is one of the most famous dim sum restaurants in Hong Kong. In the huge classy dining room you'll find crystal chandeliers, sliver teapots and big windows with wonderful harbour views. It is one of the few places where you can still find the dying art of dim sum trolleys. There's no menu for dim sum, instead you choose what you'd like from the trolleys as they pass you by. Luckily dishes are labelled in English. It gets very busy so go for an early or late lunch. We waited 20 minutes at about 2pm on a Saturday. Take a ticket from the desk and wait for your number to be called.
It's an atmospheric place to experience dim sum but we aren't sure we'd recommend it for vegetarians. Although there is a decent veggie selection we had to wait a while for the first vegetarian dishes to come around and then we were unsure whether certain things were actually meat-free. We ended up with bean curd rolls (the contents of which were a bit dubious so we didn't finish them), steamed aubergine with bean paste, vegetable buns and vegetable dumplings.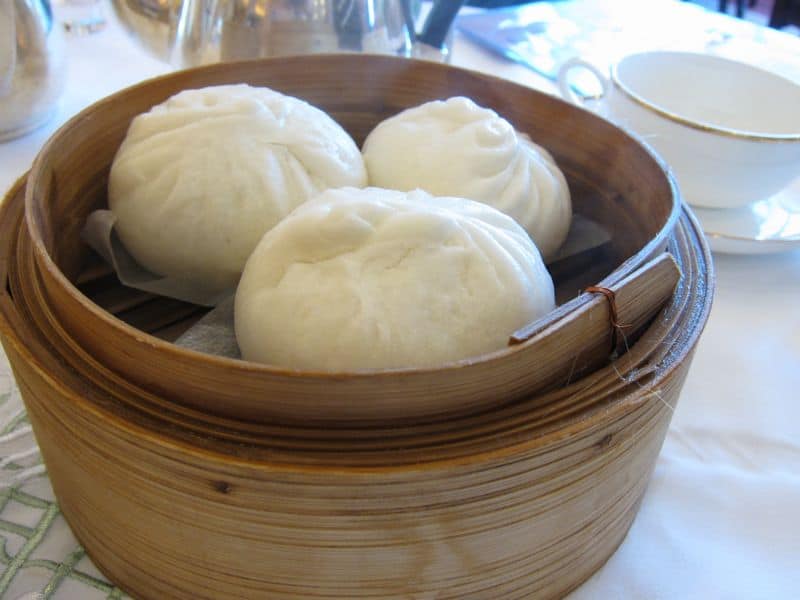 Most of the trolley ladies don't speak much English but if you were with a Cantonese speaker you'd have an easier time figuring out what you can eat. It is also quite expensive – we paid HK$200 (US$26) for four dim sum and tea for two people (including service charge).
3rd Floor, Low Block, Hong Kong City Hall, 1 Edinburgh Place, Hong Kong Island. An easy walk from the Star Ferry or Central MTR station.
After our experience at Maxims wondering whether we'd accidentally consumed meat or not we were eager for the safety of a purely vegetarian place to eat more dim sum. Three Virtues doesn't have the elegant setting of Maxims but is still a popular place to yum cha and on a Sunday it was full of big family groups and a few monks. We were the only tourists in the restaurant and the staff didn't speak much English but they did have an English menu for us to mark off our choices. Initially we were disappointed as the majority of the menu is fake meat which we don't like. It was rather strange with mock sashimi, cartilage and shark fin on the menu.
We did find other options though and ended up ordering taro spring rolls, stir fried rice rolls, wonton and vegetable soup, plus a wonton, veg and noodle soup from the a la carte menu. We found the soups a little bland but the other dishes were delicious. It's good value too with dim sum priced from HK$13-20 (US$1.67-2.56). We paid HK$100 (US$13) for three dim sum, noodle soup and two teas (including service). There's also a takeaway shop downstairs if you need a packed lunch.
4/F, JD Mall, 233-239 Nathan Road, Jordan, Kowloon. Take Exit C from the Jordan MTR Station, turn left and walk for a few minutes until you see a pair of elevators on the left. There is also a branch on Hong Kong Island.
Light is another vegetarian restaurant in Jordan that serves dim sum although we just had noodles here in the evening. There is still plenty of mock meat on the menu but they have a better vegetable selection than Three Virtues. There's an evening buffet for HK$100 (US$13) each but we saved money by sharing a huge portion of tasty vegetable and black pepper noodles for about HK$60 ($7.70).
13 Jordan Road, at the corner of Nathan Road. Exit 4D at Jordan MTR.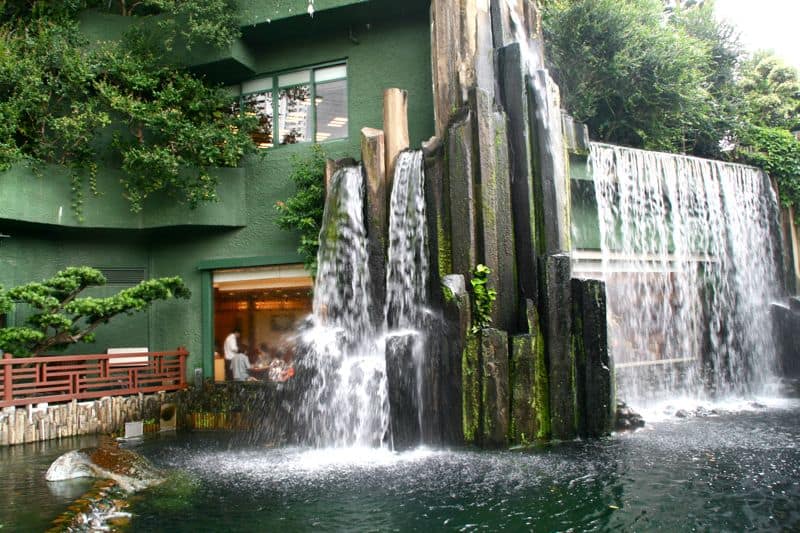 Our favourite dim sum experience was at the Chi Lin Nunnery. This Buddhist temple complex is a peaceful retreat from the hectic city with a vegetarian restaurant hidden within the beautiful Nan Lian gardens. The restaurant is simple and elegant with large windows overlooking the garden and waterfall. It's the only vegetarian restaurant we found that didn't rely on fake meat and it was a relief to eat light, non-greasy vegetable based dishes. We both opted for the HK$88 (US$11.30) lunch set which included tea, soup, congee or rice, fruit and four dim sum: braised soy dough with radish, deep-fried stuffed pumpkin, steamed enoki mushroom and bean curd stick with pickle, and sauteed bell pepper with bean curd paste. We highly recommend a few hours wandering around the nunnery and gardens followed by a delicious vegetarian lunch.
Chi Lin Nunnery. Exit C2 from Diamond Hill MTR and follow the signs.
Other Vegetarian Dishes in Hong Kong
We focused on dim sum but we did discover a few other vegetarian friendly dishes and snacks.
Congee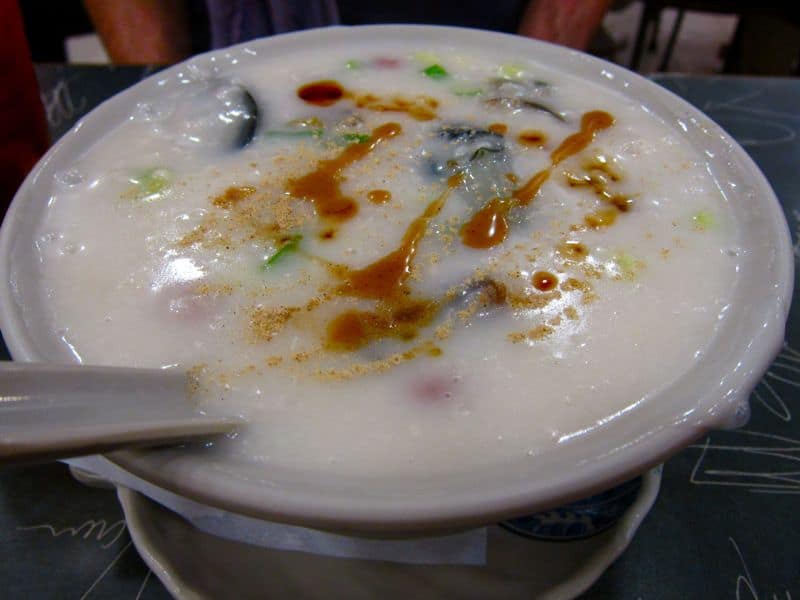 Congee is rice porridge which my friend promised me tastes better than it sounds. She was right! We had a century egg version in a simple local eatery and is was surprisingly tasty. Add a splash of soy sauce, sesame oil and white pepper and you get a filling bowl of comfort food for just HK$25 (US$3.20). We actually shared a bowl and finished the meal with one of the giant doughnuts yao dar gwei (deep fried ghosts) in the window. A bowl of congee, doughnut and lemon iced tea came to HK$44 (US$5.64) – bargain! I also saw mushroom congee in another restaurant but didn't get to try it.
This congee place was near to our hostel Ah Shan in Mong Kok. You'll find it on Argyle Street just after Fa Yuen St next to McDonalds. It has a Chinese sign and doughnuts out front.
Dessert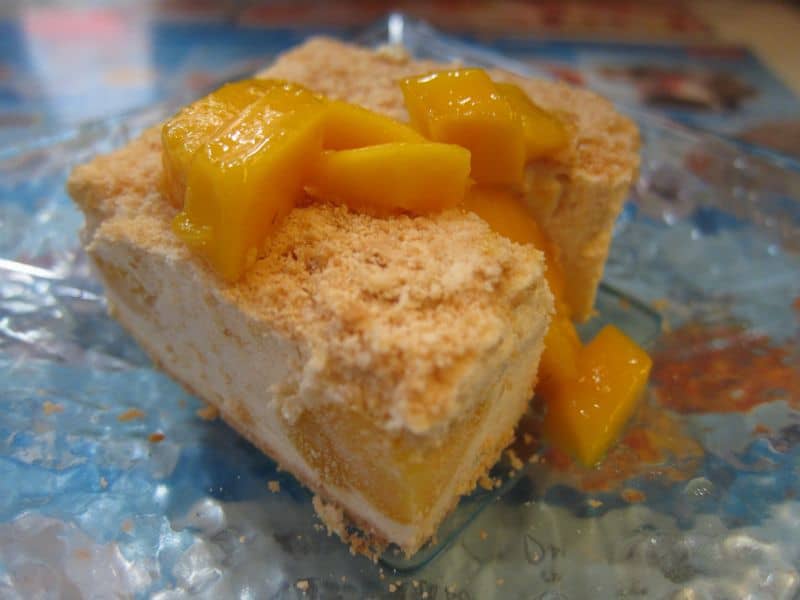 For dessert head to one of the dessert restaurants open late into the night. We enjoyed Mango Icing (ice-cream?) Cake and a wonderfully refreshing icy mango juice at Hui Lau Shan a chain found throughout the city. There's a huge variety of mango based treats – just point to the pictures or ask for an English menu.
Dried Mango
Our favourite snack was the wonderfully juicy dried mango from the chain Aji Ichiban. They have plenty of other snacks to choose from too.
Drinks
You can find stalls selling fresh fruit juice all over the city, but in Hong Kong it's really all about the tea. I'm not a tea drinker (yep, I know, I should renounce my British citizenship) but I was told I couldn't leave Hong Kong without trying Lemon Iced Tea and Bubble Tea. Thankfully in the Hong Kong summer heat they are both cold drinks. Surprisingly I loved lemon iced tea, the palm sugar and copious slices of lemon offsetting the bitterness of the tea. Very refreshing on a hot day.
Bubble tea didn't go down so well. I found it too milky for my taste and the chewy black 'bubbles' just plain weird. Still, if you do like bubble tea (and you should try for yourself) then I'm told the best place is Gong Cha – you'll find these small shops all over the city.
Thanks to our friend Amy for providing us with many of these eating tips for Hong Kong.