This page contains affiliate links. Please read our disclosure for more info.
Finding vegetarian food in Paraguay is like shopping for snowboards on Raratonga.
It's even more meat-orientated than Brazil or Argentina but without the strong Italian influence that we found in those countries (pizza and pasta are often our saviours).
In fact, even the meat-eating American Peace Corp volunteers we met were sick of the amount of meat consumed in Paraguay – every day and every meal involved a chunk of meat of dubious origin. 'Roast catgut? Again? Now you're really spoiling us…'
The big downside to being a vegetarian is not being able to sample much traditional cuisine and not being able to take advantage of cheap street food. It's tricky, because food is a big part of any culture but we did manage to find a few local dishes. Mostly though, we survived by not eating Paraguayan.
Chipa
Update: We have since discovered that chipas are made with lard!
Chipa is found everywhere in Paraguay and makes a cheap, easy snack. It's a cheese corn bread similar to pão de queijo which we tried in Brazil. When you haven't planned ahead and brought a packed lunch, chipa and fruit are likely to be your only options on a Paraguayan bus trip. We found that cheese empanadas (South American pastries) weren't very common – we only had them in Asuncion.
Mbeju
Mbeju is a traditional starch pancake filled with cheese and melted over a fire. It can often be found on stalls at local festivals, which is where we sampled it. We weren't overly impressed as it didn't have much flavour but apparently it can really vary in quality.
Bori-Bori Soup
Bori-bori is an indigenous soup with corn dumplings. It is usually made with meat but our hosts at San Ignacio Country Club made us (we hope) a vegetarian version. The thick soup was very filling but to be honest it had an odd taste that we weren't very fond of.
Mandioca
Mandioca (also known as cassava, tapioca and yuca) is a potato-like root vegetable that's a staple in the Paraguayan diet. You are bound to end up eating it so if you don't already, learn to like it! We find it a little dull but best when fried.
Natalia from Discovering Paraguay gave us this advice: "If you are staying somewhere that is having problems coming up with something for you to eat you can ask for mandió Shururú which is fried mandioca and eggs. If you like hot sauce bring your own to spice it up." Good advice as the locals don't do spicy at all.
Learn Some Spanish
I have a feeling this advice is going to apply everywhere in South America, but it is particularly true in Paraguay which sees so few tourists that no-one speaks English (the only exception is the German owner of Granja El Roble).
To check that something doesn't contain meat or to explain your dietary requirements you are going to need to speak Spanish. At least take along a good phrasebook like Lonely Planet Latin American Spanish.
A useful phrase to know is "Soy vegetariano/a" (I'm a vegetarian), although it is better to be more specific: "No como carne, pescado ni pollo" (I don't eat meat, fish or chicken).
Stay at Catered Accommodation
This is our biggest piece of advice: stay in accommodation that provides meals. We found that staying at places like Pro Cosara, San Ignacio Country Club and Granja El Roble took the stress out of finding a restaurant with vegetarian options.
Home-cooked food is better anyway and you can explain your eating requirements. Although telling them you're a vegetarian can be a bit of a shock at first, we usually ended up with really good meals. We got Spanish tortilla a lot so we are learning to like eggs – it just makes things easier.
Self-Cater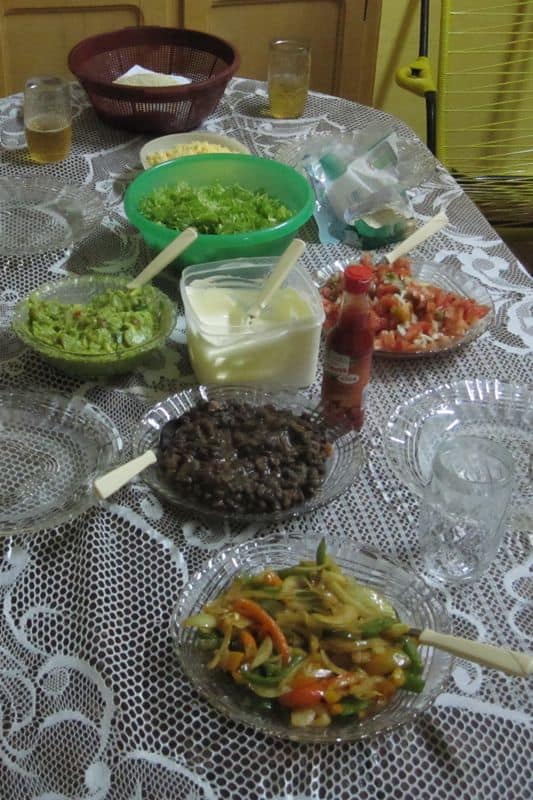 The best food we ate was when couchsurfing with an American Peace Corp volunteer. It was wonderful having a kitchen where we could cook our own meals. A highlight was introducing some young Paraguayan guys to the joys of spicy, vegetarian Mexican food.
OK, it's kind of a cheat as we weren't eating local food at all, but frankly I am not actually sure it's possible to enjoy the food here if you are veggie. Survival is key and self-catering is definitely the easiest way to eat healthily, cheaply and be sure there are no animal based ingredients lurking in your meals.
Even when you don't have access to a kitchen it's a good idea to be prepared and buy sandwich ingredients and snacks when heading off on a bus or day trip. You can never be sure that you'll find any food that you can eat otherwise.
Head to Asuncion
As you'd expect from the capital city, Asuncion is the best place for good restaurants with a decent vegetarian selection.
We ate Mexican at Hacienda Las Palomas (Senador Long 644) near Shopping Mariscal Lopez; vegetarian paella at Spanish restaurant Taberna Española (Ayolas 631); a range of empanadas, sandwiches and salads at Bolsi (Estrella y Juan Batista Alberdi), and really good ice-cream at Heladería 4D (Avenida San Martin y Andrade).
Although the capital has the best selection we also managed to find a Hare Krishna vegetarian restaurant in Ciudad del Este. Gourangas is behind the Municipalidad and only open for lunch. The choices are limited and it's not authentic Indian food but our lentil soup was tasty and healthy, and the juices delicious.
Be Flexible
In Paraguay I'm afraid we had to adopt a "don't ask, don't tell" policy. I'm sure our food was cooked on surfaces alongside meat and it's best not to question too closely the hidden ingredients of certain local foods. It's either that or go hungry, and Simon doesn't handle hunger very well.
And now, a warning to veggies coming to Paraguay:
At a Japanese restaurant in Encarnacion we ordered two rice dishes that we believed to be vegetarian friendly. When it came it was full of … LITTLE BITS OF MEAT!
(To be fair, it was a Japanese restaurant. I don't really know what we expected.)
We asked the waiter about it but it was quite clear they weren't going to offer us an alternative. Travelling through South American as a vegetarian, we knew that this day would come. Gritting our teeth, we reached for our chopsticks and picked those little chunks of beef right out of there. And then we ATE the rice! All of it!
Right now all of our meat-eating readers are thinking 'So?' – back us up, veggie friends, this is a Big Deal, right? We deserve a medal, surely (possibly from the US Army)?
If you're vegetarian, you don't come to Paraguay for the food (hell, if you're a carnivore you still don't come to Paraguay for the food), you come because it's a unique, less-visited part of the world full of friendly and interesting people. Just know that it is perfectly possible to get by – especially if you are flexible and plan ahead.