This page contains affiliate links. Please read our disclosure for more info.
Was Peru better for vegetarians than anywhere else in South America? In a word, no. We still lacked the ability to be able to eat cheap, local food as it almost always contained meat. Peru is one of the most touristy destinations on the continent though (especially Cusco) so we were always able to find vegetarian food in restaurants aimed at foreigners. As we didn't get to explore Peruvian cuisine this guide focuses more on the restaurants we enjoyed, including one particular gem in Lima.
Papas a La Ocopa
Papas a la Ocopa is the only typical Peruvian dish we tried. We visited one of the many traditional restaurants in Arequipa hoping we'd find something without meat and the waiter recommended this dish. It was listed as a starter so we ordered two, plus a salad but the portions were huge. Boiled potatoes are served in a creamy peanut sauce alongside fried cheese.It was pretty good but not something you'd want to eat every day.
A similar dish is Papas a la Huancaína, although strangely we more often saw this on menus in tourist restaurants rather than in cheap Peruvian places.
Chicha Morada
To make up for not sampling more Peruvian food we took a liking to Chicha Morada, a non-alcoholic drink made from purple corn boiled with apple, cinnamon and sugar. It is served cold and is very refreshing.
Fruit
There's a fantastic range of tropical fruit available in Peru and the markets are always lively places to shop. Orange juice stalls aren't as commonly found as in Bolivia but we did come across a few. The markets usually have fruit juice stalls willing to blend you up a treat. It's not as cheap as Bolivia but still very reasonably priced.
Learn Spanish
We always say it but in order to communicate your dietary needs it's important to learn some Spanish. That said, Southern Peru probably has the most English speakers of all the places we have visited.
Our Favourite Restaurants
Although we couldn't try much Peruvian food we did find some good veggie-friendly restaurants in Peru. In general we found the vegetarian set lunch places terribly bland, although you get a lot of food for your money. We preferred to eat in non-vegetarian restaurants with meat-free options and more flavour.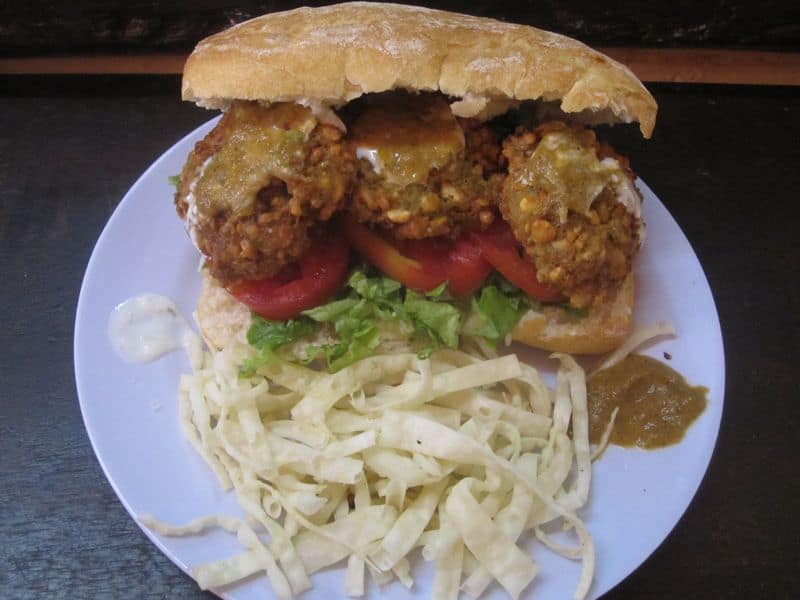 Cusco: see our post on vegetarian restaurants in Cusco, including wonderful falafel, gourmet toasted sandwiches, curry and coca chocolate.
Machu Picchu Pueblo/Aguas Calientes: This village is packed with average tourist restaurants with identical menus. We splurged and found the only decent food in town at La Cafeteria in El Mapi Hotel on the main street. It's expensive but the quinoa taboleh, hot sandwiches, waffles and chocolate cake were delicious.
Arequipa: We tried a few places but ended up alternating between falafel and roast vegetable wraps at Fez (San Francisco 229) and salads, crepes and sandwiches (with good bread) at Crepisimo (Santa Catalina 208).
Lima: The only place worth mentioning is AlmaZen. It's absolutely worth the high prices and was the best food we've eaten since Buenos Aires.
Huaraz: Our favourite restaurant in town was Chilli Heaven (Parque Ginebra Lote 28) for surprisingly good spicy curry.
If you are in need of good home cooked food with lots of fresh vegetables then we recommend a stay up in the mountains at Lazy Dog Inn. It was just what we needed after too long eating in restaurants.
If you are travelling as a vegetarian around South America you can also read our survival guides to Brazil, Paraguay, Argentina and Bolivia.