This page contains affiliate links. Please read our disclosure for more info.
I've always dreamed of galloping an Arabian horse through the desert, and in Jordan's Wadi Rum my dream came true. Arabian horses are known for their speed and beauty and the craggy rock formations of this sandstone and granite valley were the perfect place to follow in the footsteps of Lawrence of Arabia, who led the Arab Revolt here against the Ottomans during Word War 1.
The magnificent red rock landscape is usually explored by jeep or camel, but we opted for horseback: slower than a jeep but more comfortable than a camel (our two day camel trip in the Indian Thar desert was enough for a lifetime).
Rum Horses is located off the road that leads to the visitor centre, easy to find but not as deep in the desert as we would have liked. We were given hats (that never happened in Latin America), paired with horses to match our abilities, and set off into the desert.
The well looked after horses were as lovely to ride as I had hoped—light footed, responsive, and as I discovered later, devilishly fast. We rode through rocky mountain scenery, up a hill and down into a valley where we had plenty of space to put them through their paces.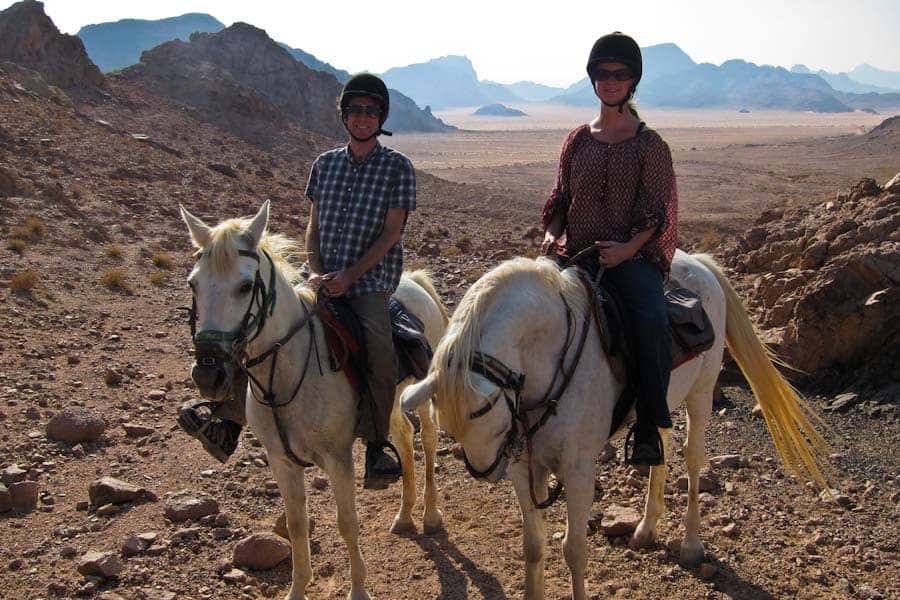 Simon doesn't have as much riding experience as me and although he has galloped a horse a number of times before our guide wouldn't let him this time. These Arabian horses aren't for beginners and they need a firm hand and balanced rider to make sure things don't get out of control in this vast space. It's a good sign that he was looking out for the riders, but Simon was disappointed as the other rider and I headed off for a gallop.
We started at a steady canter but my horse soon picked up speed. He was strong but responsive and I could have held him back but instead I lifted out of my seat, leant forward and let him fly. It was an exhilarating feeling of freedom, and my heart was beating fast as we returned to Simon and our guide.
All too soon we had to return to the stables. We only had an hour of riding which was a good taster of these beautiful horses but not nearly enough time to explore vast Wadi Rum. I'd love to return and spend at least a few days riding through the desert and camping out in Bedouin tents.
Wadi Rum by Jeep
As we hadn't got to see much of Wadi Rum we arranged a jeep to take us deeper into the desert for sunset. We are so glad we did as Wadi Rum is at its best when glowing orange in the last light of the day.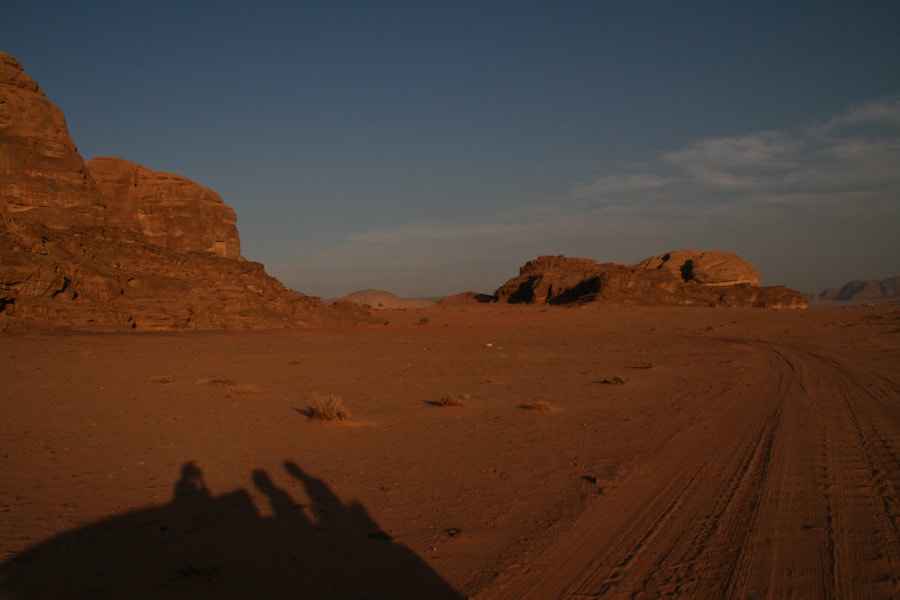 Wadi Rum had been inhabited since prehistoric times and you can still find ancient rock carvings.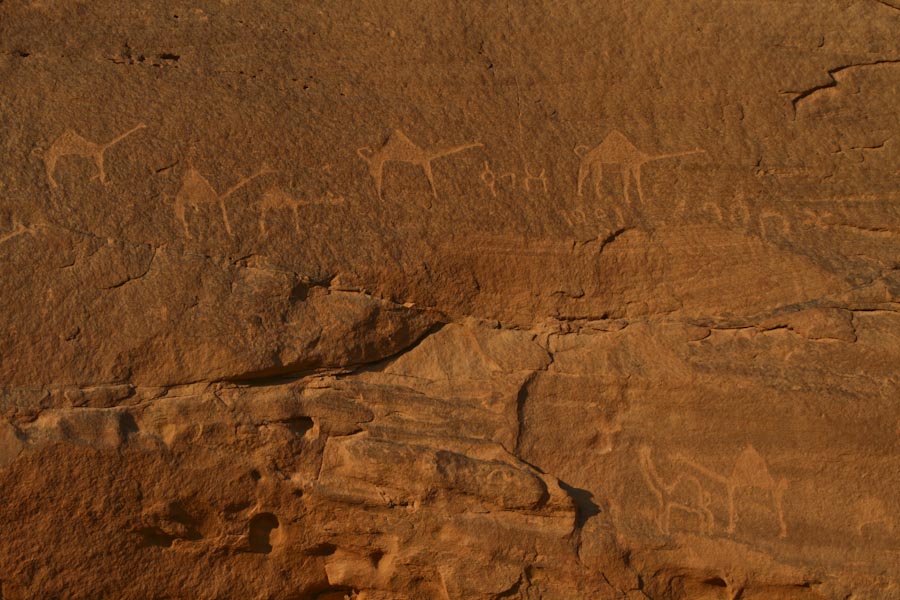 Now the desert is inhabited by the Bedouins who lead a semi-nomadic lifestyle living in goats hair tents in family camps.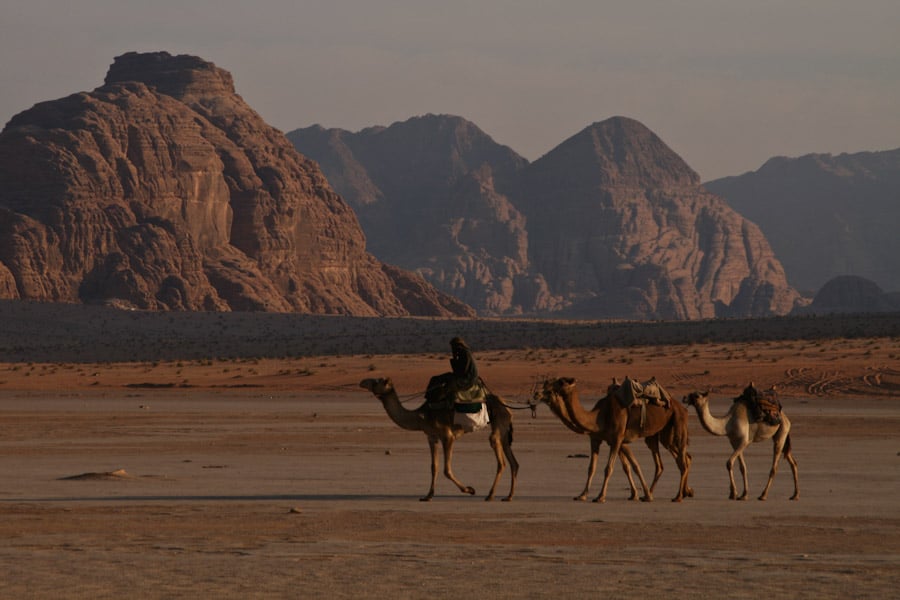 We rode outside in the back of the jeep so had perfect views of the rock formations as we drove through the sand with the wind in our hair.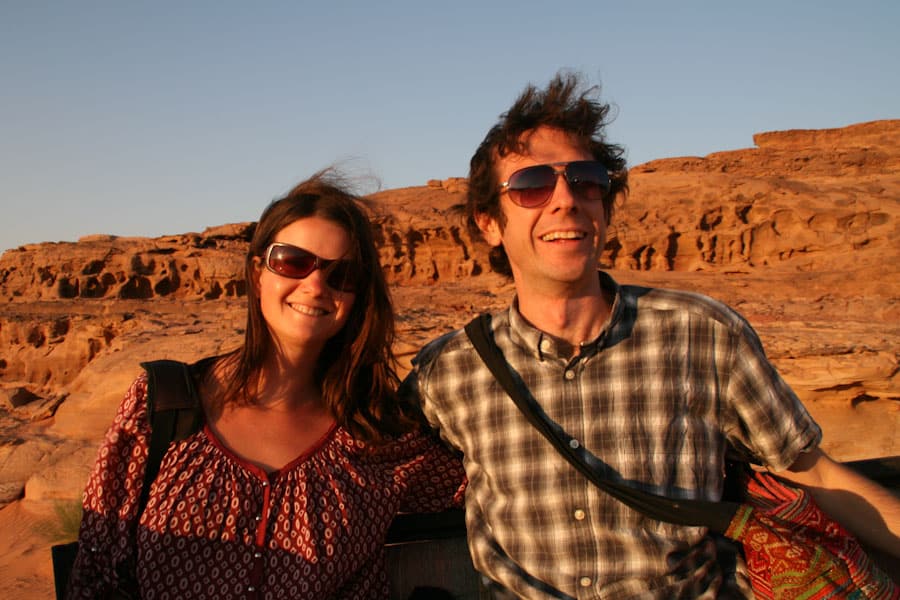 To watch the sunset we stopped at a perfect desert scene with rippled sand dunes and weather-beaten rocks glowing in the golden light.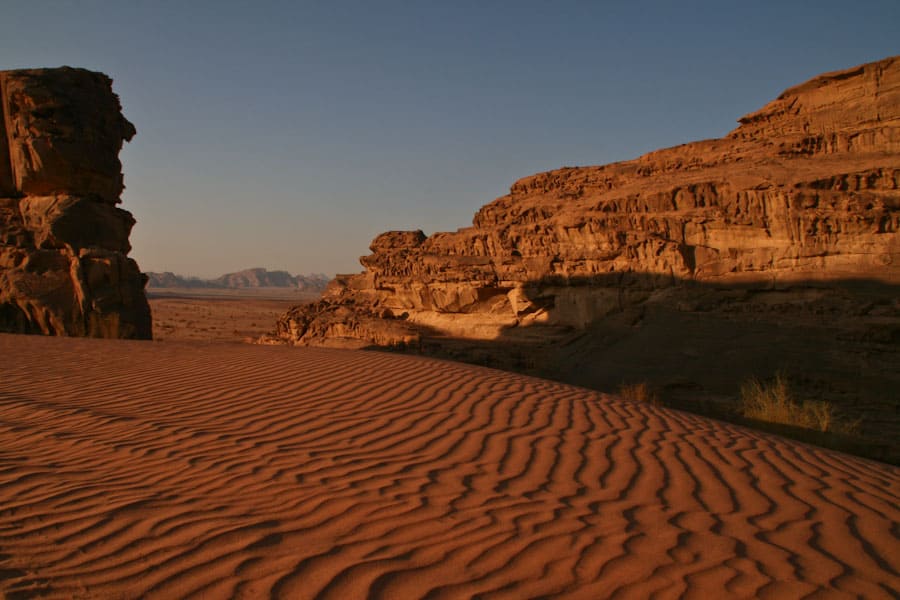 Simon had fun jumping off the rocks.
No one was around so we enjoyed the spectacular sunset in peace, another magic moment in Jordan.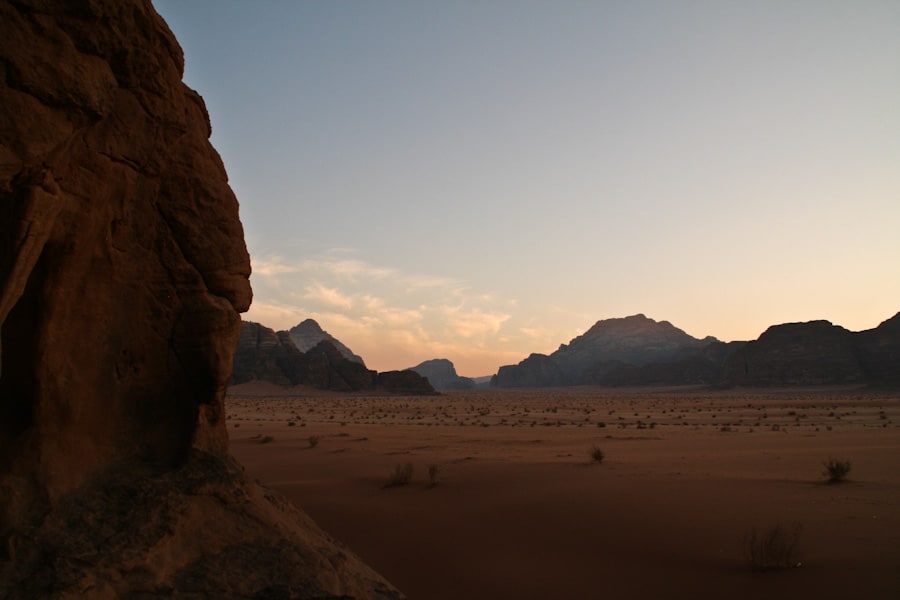 Captain's Camp
When the sun sank behind the mountains and the sky turned pink we drove to Captain's Camp where we'd be spending the night in a Bedouin tent. We ate mezze and freshly baked shrak bread for dinner before sipping tiny glasses of sweet tea under the stars by the campfire. Old Bedouin men sucked on nargileh (water pipe or hookah), the apple scent filling the air, while we listened to the sounds of the oud (lute) and tableh drums playing popular Jordanian and Bedouin songs, the guests' guides and drivers often joining in with the singing.
We had a proper bed in our large tent but it wasn't the most comfortable night—the bed was hard and the goats hair walls don't provide any sound proofing from those who stayed up chatting into the night. It was worth it though to experience the incredible scenery of Wadi Rum and have the opportunity to gallop through the desert, like Lawrence of Arabia 100 years before.
Thank you to Visit Jordan who hosted us during our stay in Jordan.