This page contains affiliate links. Please read our disclosure for more info.
Our lastest Nomadic Interview is with Mark Weins, a travelling entrepreneur who seeks out the best street food around the world. He writes about his travels and the food he eats at Migrationology and about his passion for Thai food at Eating Thai Food.
1) How long have you been travelling and where have you been?
I began traveling with my parents when I was a child, and then I re-started traveling solo after graduating from university in 2008.
I spent about 6 months in South America visiting Chile, Argentina, Uruguay, Peru and Ecuador and have spent the last 3.5 years in Asia – Thailand, Laos, Cambodia, Vietnam, Burma, Malaysia, Indonesia, Philippines, Brunei, China, Sri Lanka, and South Korea. I also took a recent trip to East Africa.
2) What made you decide to become a digital nomad?
I wanted to continue traveling and tasting delicious foods from around the world, while not having to worry about getting back for a job and schedule somewhere.
3) How do you fund your travels?
I make a bit of money through advertising on my websites and I also sell two different eBooks about Thai food on my Thai food site.
Along with my own projects I do some freelance writing for a number of blogs / online magazines and also do some social media marketing.
4) Do you find it difficult to balance travel and work? How do you manage it?
Yes, but though I do find it difficult and struggle at times, with some planning and focus it's much easier.
If I really need to get work done, I simply say no to requests to hang out or even to visit an attraction. I keep lists, written on real paper – things I need to do throughout the week and things I need to do each day – seems simple, but checking things off a list is one of the best ways to push yourself to finish it.
Strong self motivation and setting personal goals are another way I manage to balance travel and work.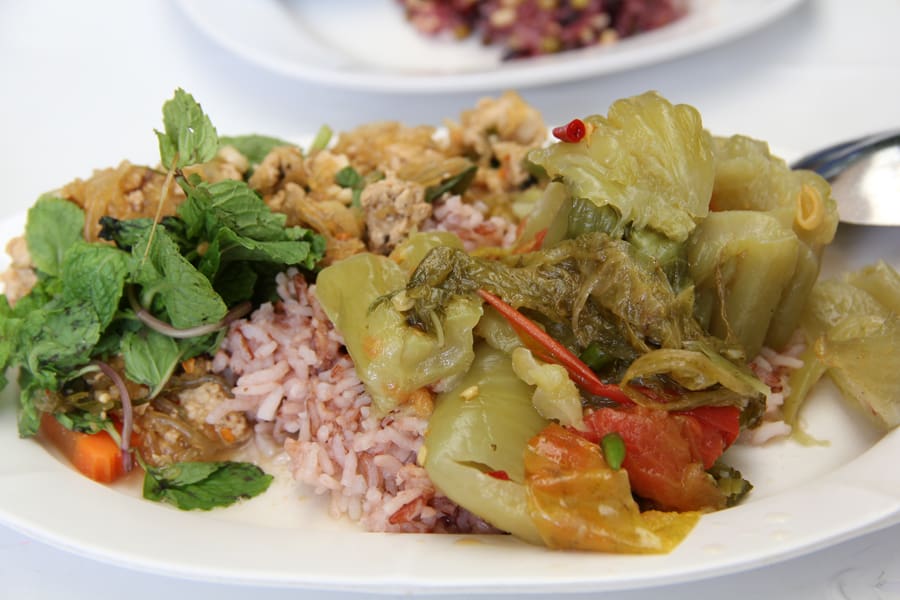 5) What's your advice for creating and marketing an ebook?
Create an eBook about something you know a lot about and on a subject you're passionate about. Not only will it be easier to write, but your natural voice will come across proving your expertise. Finally when you do have an idea, just do it. Don't think about all the hard work it will take, and if it will sell well or not, or any worrying like that. Just focus on completing it!
As for marketing, learn from the experts. Study some of the marketing strategies that others selling similar products have done and then come up with a marketing plan that will work for your eBook. Also, think about things you've bought – what lured you into buying it?
Rarely drinking, eating local, cutting out all unnecessary snacks and junk food from convenience stores, and simply not purchasing things I don't need (clothes, souvenirs, etc.).
7) What are some of your favorite dishes that you've eaten on your travels?
Southern Thai Kaeng Som
Anything made with Stink Bean (Thailand)
Kimchi Jiggae (South Korea)
Nasi Campur (Malaysia and Indonesia)
Sichuan Fish Hot Pot (China)
8) You aren't vegetarian but you wrote a Vegetarian Thai Food Guide. What are your tips for vegetarians in Thailand?
Although it may be confusing and challenging sometimes to find vegetarian food in Thailand (at normal restaurants), due to the wide availability of vegetables and because Thai food is often prepared after you order it, cooks are often happy to customize your order to your specific request.
Substitute mushrooms for meat – for instance I like to order "pad kra pao het," mushrooms stir fried with holy basil.
Also be sure to take full advantage of the delicious array of tropical fruit in Thailand. The fruit carts around Bangkok serve delicious fruit for normally just 10 THB ($0.30) per piece. If you like durian, don't miss out either!
9) What are your favourite off the beaten track destinations?
As for destinations, I often find myself in large capital cities the majority of my travels, but I look for off the beaten track locations within big cities.
Food is a major part of my travels so I always try to explore and hunt down some of the local and home-cooked style restaurants which often leads to areas of town that aren't so touristy.
10) Where are you heading to next? Do you think you'll ever settle down in one place?
I'm now based in Bangkok and travel frequently around Southeast Asia. In the future, yes, I hope to be settled in a place but still be able to travel every couple of months. Also, I would love to have a family in the future!
You can follow Mark's travels at Migrationology, on YouTube, and Twitter.
If you enjoyed this interview then read about other long term nomads in our Nomadic Interviews series.