This page contains affiliate links. Please read our disclosure for more info.
When we think of wine regions around the world we think of Chianti, Bordeaux or Napa Valley. Portugal just hasn't been on our wine radar, but just north of Porto the Douro Valley is the oldest demarcated wine region in the world. It's certainly the most spectacular we have visited with man made vine terraces sloping steeply down towards the winding Douro river.
Portugal wasn't on our must-visit list but this summer we have fallen for its charms. From the medieval maze of the Alfama district in Lisbon and the fairytale palaces of Sintra we moved three hours north to Porto, another lovely city of winding alleys and azulejo tile work. We were in town for the TBU travel blogger's conference and afterwards were invited on a trip to explore the wine estates of the Douro Valley just north of the city.
We drove slowly on the winding mountain roads above the steep banks of the Douro river. This is a traditional rural area of Portugal where the small villages of white washed houses with terracotta roofs are spaced out through the valley in enviably peaceful settings. Residents are served by grocery vans selling meat, bread or vegetables; all fresh and local. We stopped to buy grapes at a roadside stall—their juicy, concentrated flavour made them the most delicious grapes we'd ever tasted.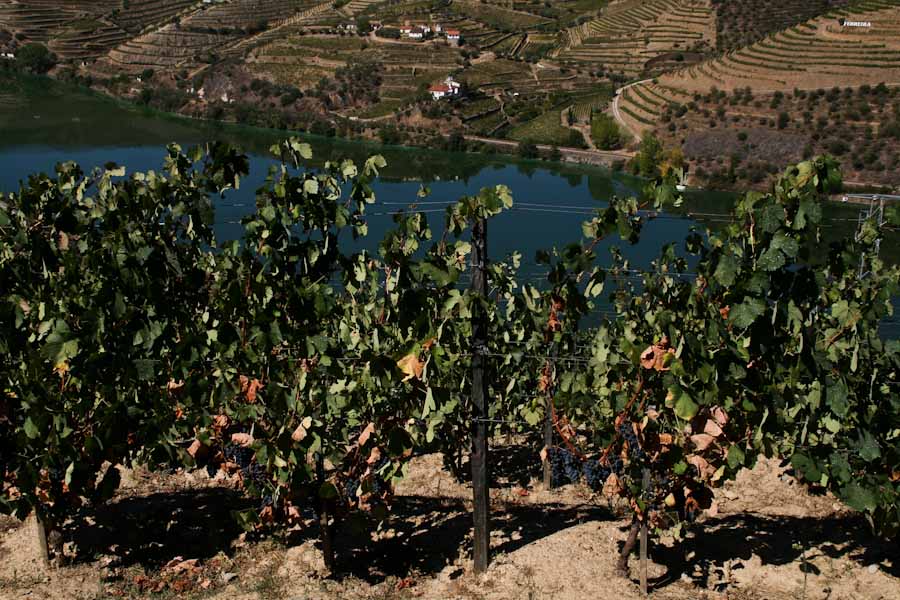 We got excited at the sight of a fairytale pink house perched on top of a hill overlooking the river surrounded by terraced vines. We thought it must be somewhere well known but it was just a typical Douro house with its peaked tower.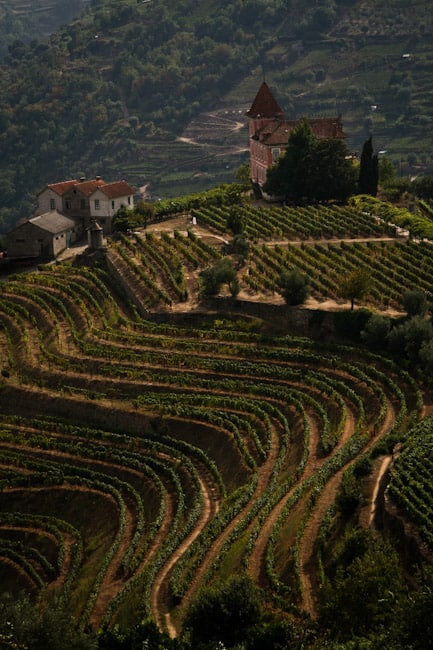 The Douro valley is a world heritage site and it's all protected. If you buy a wine estate here you are obligated to maintain it, resulting in a never-ending swirl of vines.
We toured two quintas or wine estates in the Douro and both were very different.
Quinta da Pacheca
Quinta da Pacheca is a friendly, family-run winery and one of the first in the region to bottle wine under its own label in 1903. September is harvest time and we were happy to have our first experience visiting a vineyard with the grapes blooming on the vines.
Sadly we were a few days too early for the harvest which was a particular shame as Quinta da Pacheca still uses the traditional technique of crushing grapes with feet; seven men stomping on them in large stone vats to get the most colour and sugar out of the skins. It's hard work but also celebratory with music, singing and food all part of the event.
Although the region is famous for its port wines, port makes up only 10% of Quinta da Pacheca's production as it's difficult for them to compete with the large port companies in Porto. Instead their focus is on quality red and white wines which we enjoyed a tasting of as well as their port.
Quinta do Seixo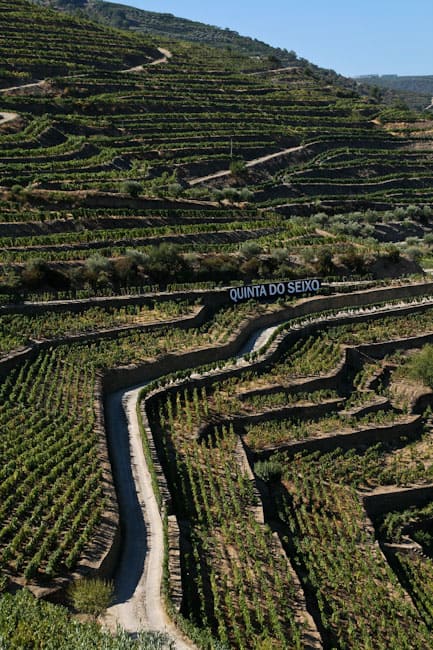 Quinta do Seixo takes a very different approach, contrasting Quinta da Pacheca's traditional techniques with very high tech methods. This modern wine estate is part of the Sandeman port empire, founded in 1790 by a Scotsman, whose iconic caped Don logo is seen all over the region.
Here human feet have been replaced by machines to crush the grapes, and the wine room is ultra high tech, using an innovative technique of suspending the wine vats so that the wine makers can access them from above and below.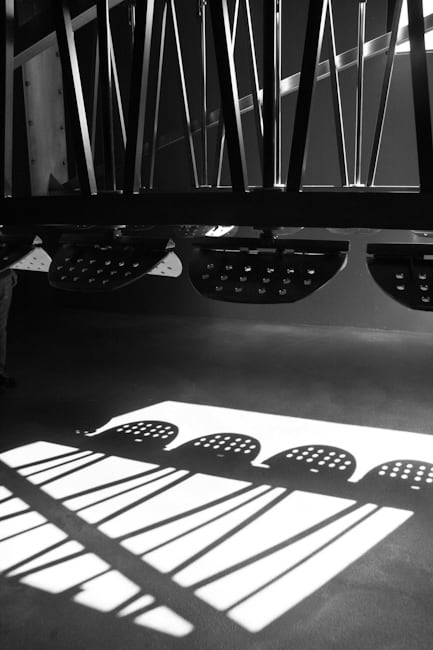 The wine tasting room takes full advantage of Quinta do Seixo's stunning location with large windows overlooking the steep wine terraces and Douro river. It was here we had our port education.
Before coming to Porto we don't remember ever trying port. We thought of it as a sickly sweet drink that only old ladies drink, but during our week in northern Portugal we discovered its delights.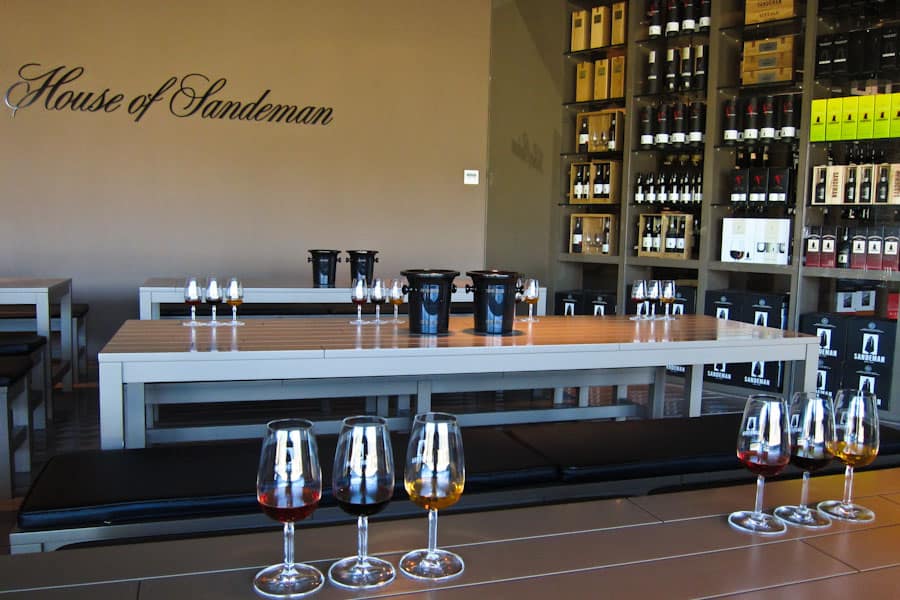 Port is made by adding brandy to wine making it sweeter and higher in alcohol. There are different types of port: the younger white port is excellent as an aperitif, especially in the port and tonic cocktails that we came to love; ruby port is made from red grapes and is the most common variety; while tawny port is more complex, aged for longer in oak casks.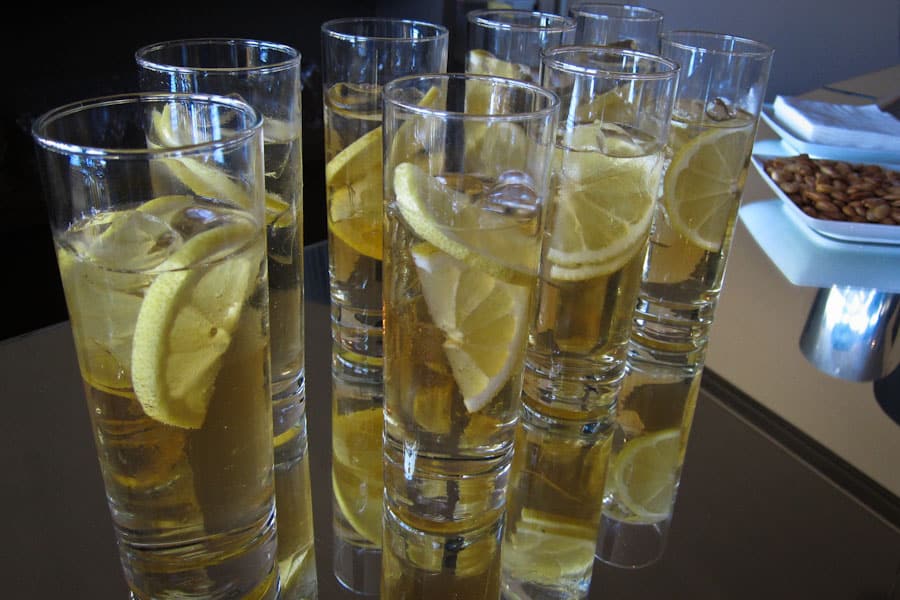 Our favourite port at the tasting was the 20 year old tawny made from a blend of different wines with an average age of 20. It's a mahogany colour with a rich flavour and hints of dried fruit and cinnamon. It can be served before or after a meal and is particularly good with strong cheeses or peaches.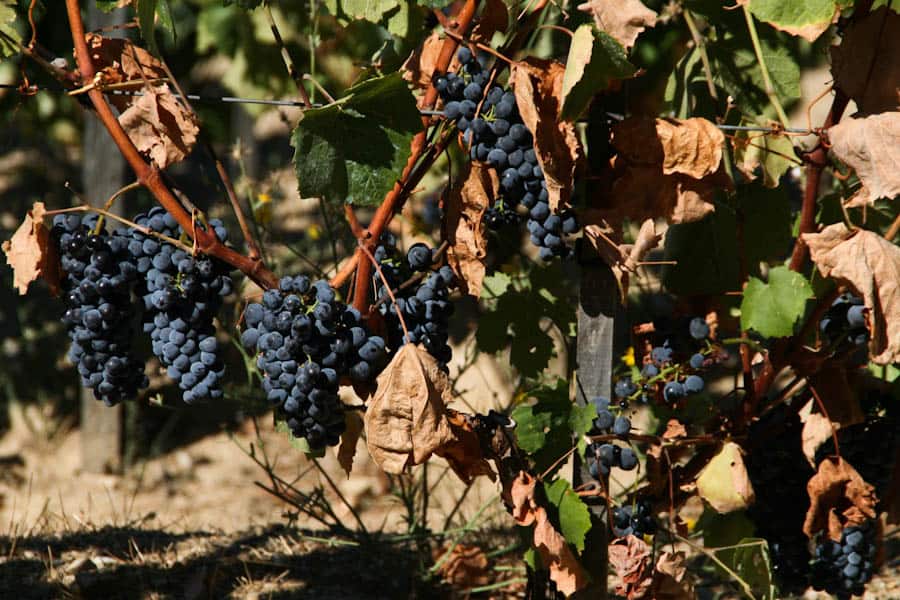 Pinhão
One of the best ways to get a feel for the valley is on a river cruise. You can take a trip all the way from Porto but we just went on a short trip from Pinhão. The rabelo boats are the traditional boats that were once used to transport port wine from the Douro Valley to Vila Nova de Gaia, just across from Porto where the port wine cellars are located.
Also in Pinhão it's worth taking a look at the tiny train station that is decorated with a collection of azulejos (tiles) from 1937, representing rural scenes of wine growing.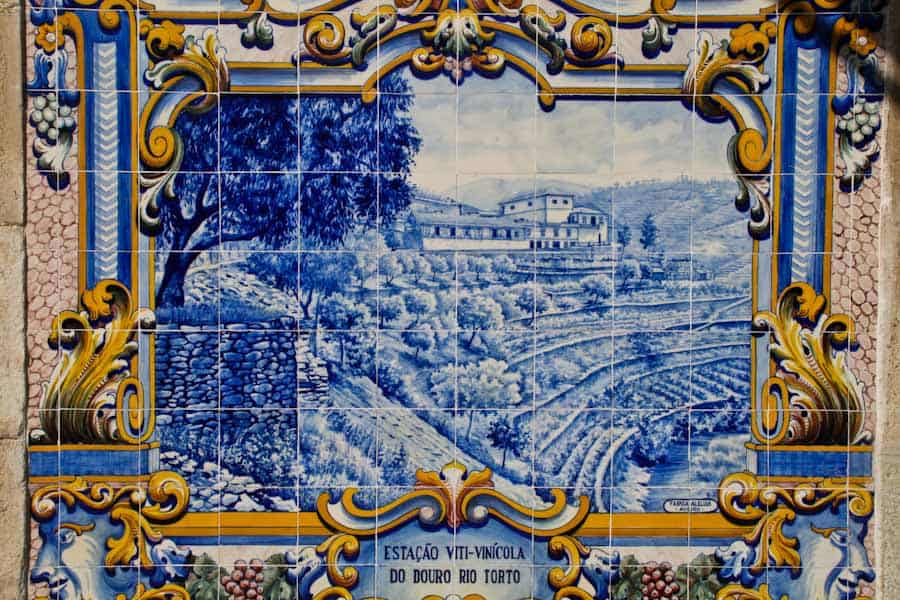 The Douro Valley was a wonderful surprise—not only was the scenery truly spectacular but we have a new appreciation of port.
Where to Eat
Our most memorable meal was at the DOC restaurant in Armamar, between Régua and Pinhão. We ate on a terrace overlooking the river and our multi-course gourmet meal was accompanied by perfectly paired wine and port. They even managed to cater well for vegetarians, serving us a fresh cheese and mango salad, and goats cheese filled mushrooms with three pepper chutney. We loved the fun palate cleanser before dessert: a white chocolate and red berry ball with pop rocks that exploded in our mouths as the chocolate melted and the berries oozed out.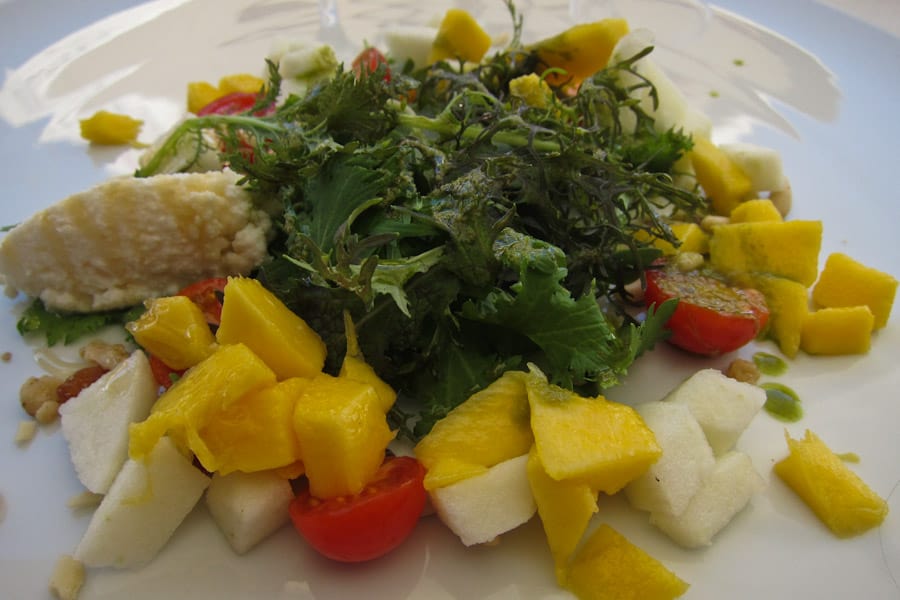 The Castas e Pratos Restaurant in Régua also has high quality food and wine. We enjoyed our meal but some vegetarians may not have been so happy with the light salad served as the meat-free main course.
Where to Stay
We stayed in Lamego but to truly make the most of the stunning scenery I'd recommend staying on one of the wine estates. We visited Quinta Nova de Nossa Senhora do Carmo and wish we could have stayed much longer. The 18th century manor house has the perfect setting overlooking the wine terraces and river, with the pool the perfect place to relax and enjoy it. I also liked that they provided details of hiking trails in the area.
How to Get to the Douro Valley
Access to the Douro Valley is from Porto in northern Portugal which has its own airport. Ryan Air offers cheap flights here from various cities in Europe.
We visited the Douro valley on a tour from Porto but you can also visit on a boat tour, or rent a car and explore on your own. Another alternative is to take the train to Régua or Pinhão. The problem then would be accessing the wineries without your own transport but you could get a taxi to one of the estates and base yourself there for some peaceful relaxation.
Many thanks to our wonderful guide Margarida Falcão and to Travel Bloggers Unite and Portugal Tourism for organising and hosting us on our fantastic trip around the Douro valley.
If you enjoyed this post, pin it for later!