This page contains affiliate links. Please read our disclosure for more info.
We've been in Lisbon nearly a month and what we love most is our neighbourhood Alfama, the oldest in the city and one of the only areas that survived the 1755 earthquake. The Moors created a labyrinth of narrow cobblestone streets that wind their way up a steep hill overlooking the Rio Tejo and it still feels like stepping back in time.
It's a place to wander and get lost in the maze of alleyways, past intricately tiled houses with wrought iron balconies, magnificent churches, and viewpoints where Lisbon opens up beneath you.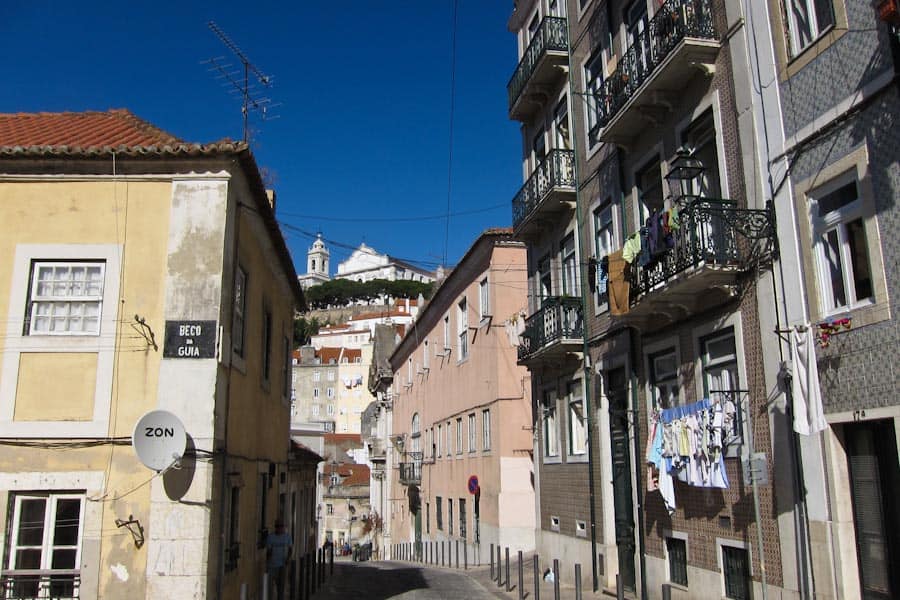 Alfama isn't perfectly preserved—tiles are chipped, paintwork flakes, derelict buildings have been abandoned to ruin. It's a place where people live, not a Disney-esque tourist site. Washing hangs from balconies in the narrow alleys, sardines are barbecued outside hole in the wall restaurants, pastelarias serve custard tarts and shots of strong espresso, and melancholic Fado music drifts out from tiny bars.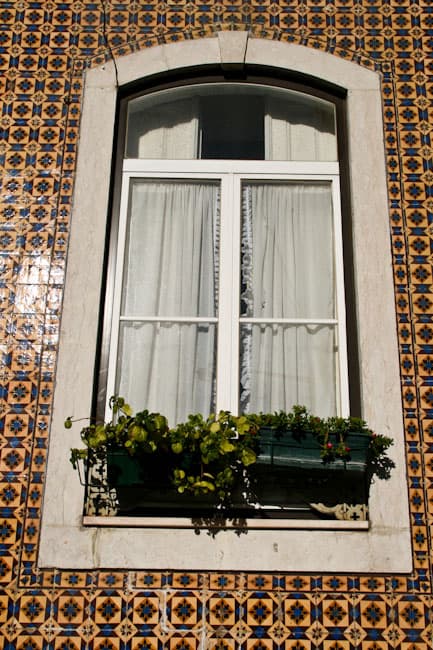 Our neighbourhood is quiet except on Tuesdays and Saturdays when the streets fill with stalls from the flea market Feira da Ladra. Occasionally a lady on our street shouts—we don't understand her ravings but the melodic Portuguese sounds almost like singing. The rest of the time it's tranquil.
Alfama is colourful. On our small street alone there are houses of purple, red, green, blue, pale yellow, ochre, cream, and pink; all with bright orange terracotta roofs against the deep blue cloudless sky.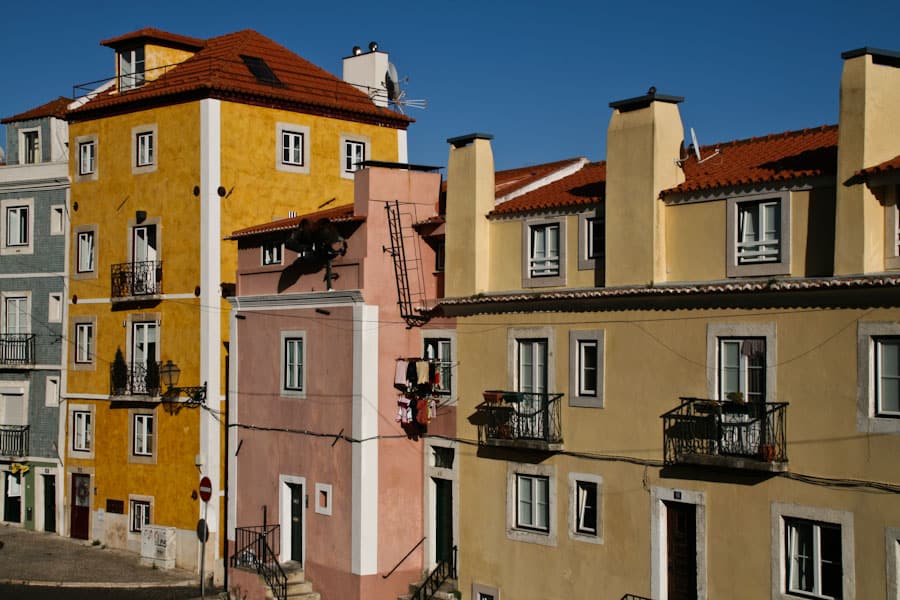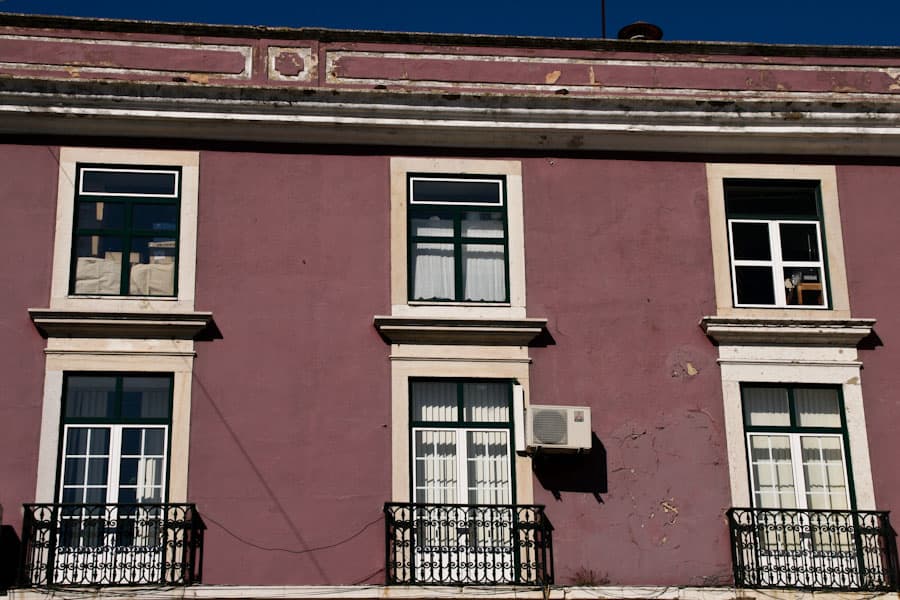 The nearby park provides a splash of green and a place to relax on one of the benches or at the small bar.
We live in the shade of the 17th century Santa Engracia Church, now the National Pantheon housing tombs of presidents and famous Portuguese writers and singers.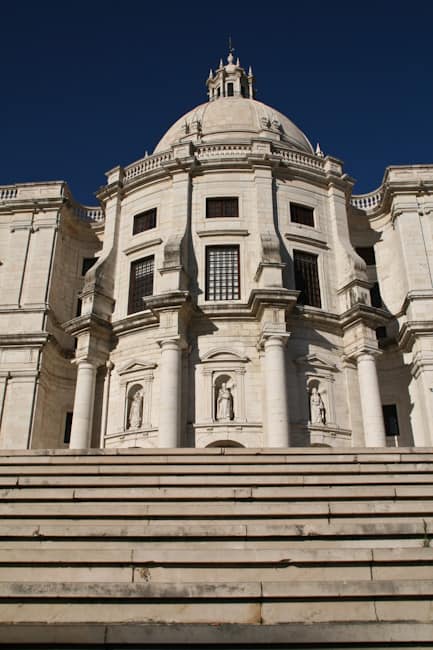 It's an imposing building outside and in, and from the terrace there are 360° views where you can admire Alfama from above with the Rio Tejo shimmering just beyond.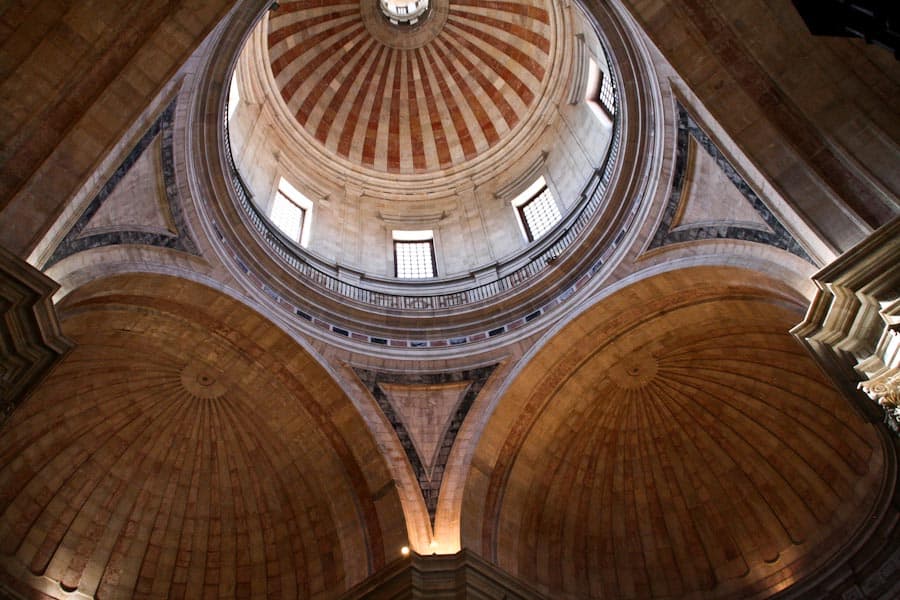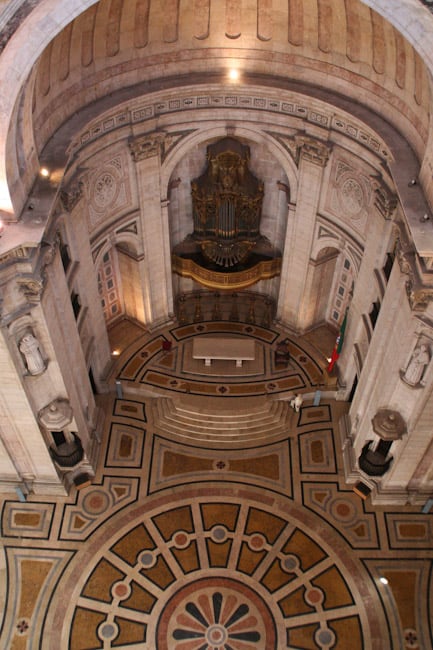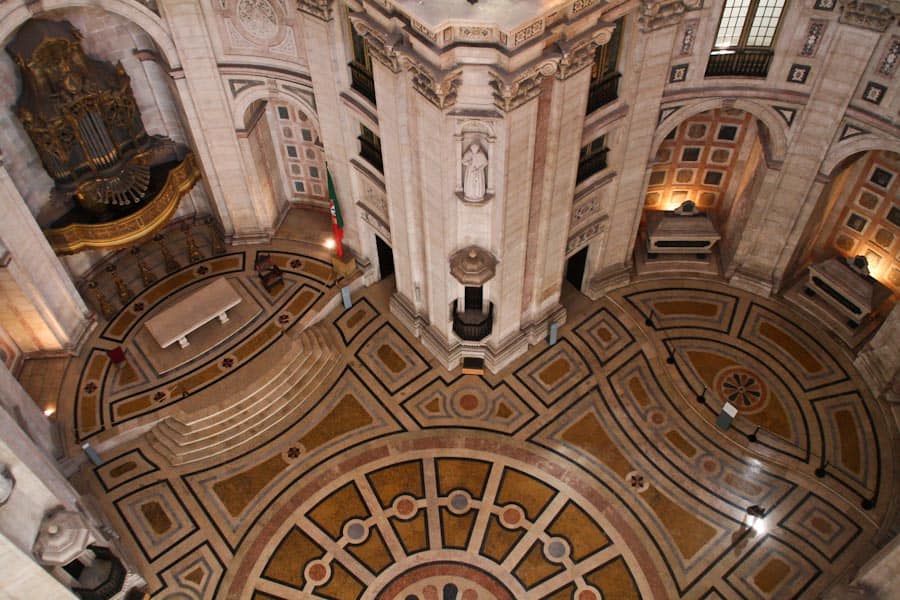 Our Alfama Apartment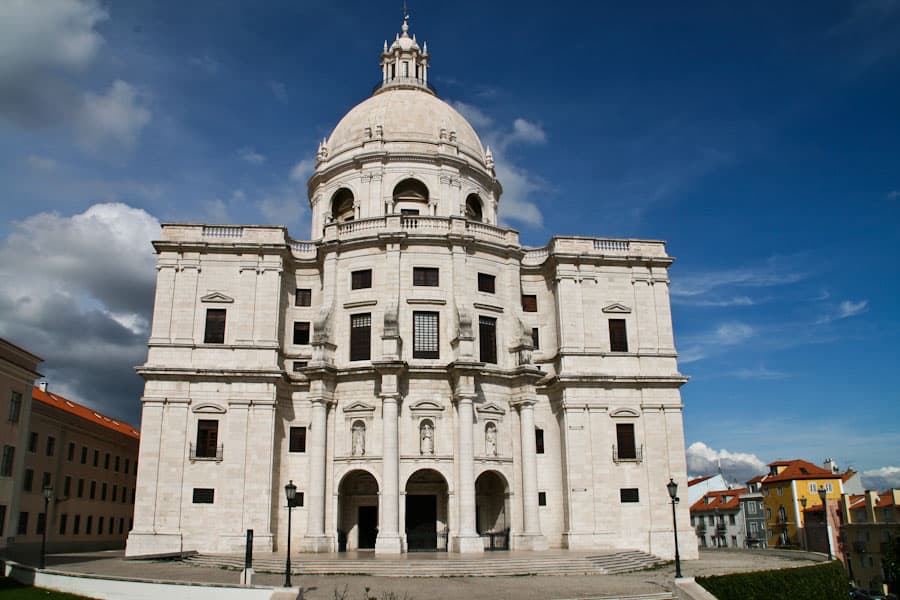 We rented our Alfama apartment through Waytostay.
Our one bedroom apartment is modern and stylish with wooden floors, neutral decor with splashes of colour, and lots of small touches like candles, cushions and framed photos that make it feel like home.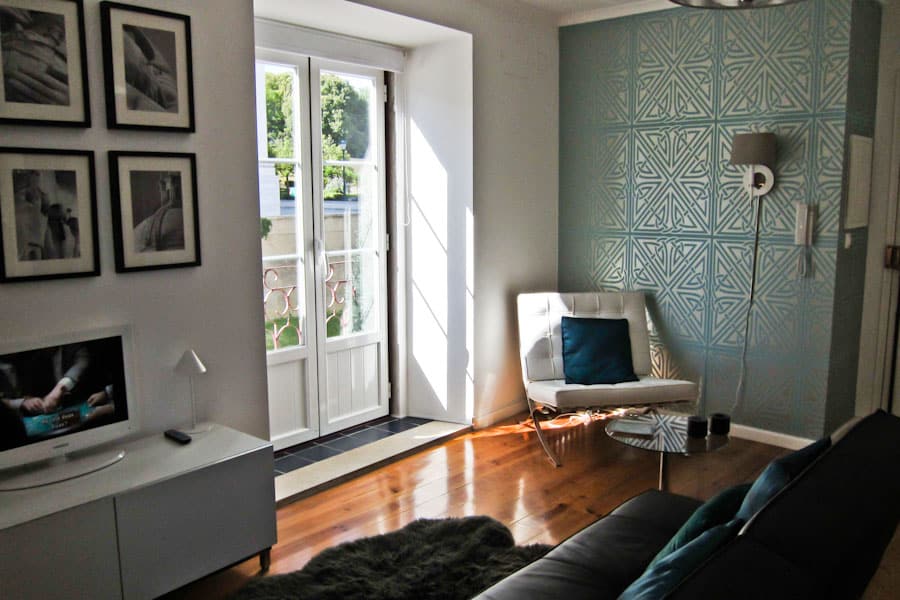 There's cable TV, a DVD player, and wonderfully fast WiFi so it is perfect for digital nomads like us. The best feature of the living room is the two double doors opening onto French balconies—they let in lots of light, a cooling breeze, and we can keep an eye on what's going on in the neighbourhood.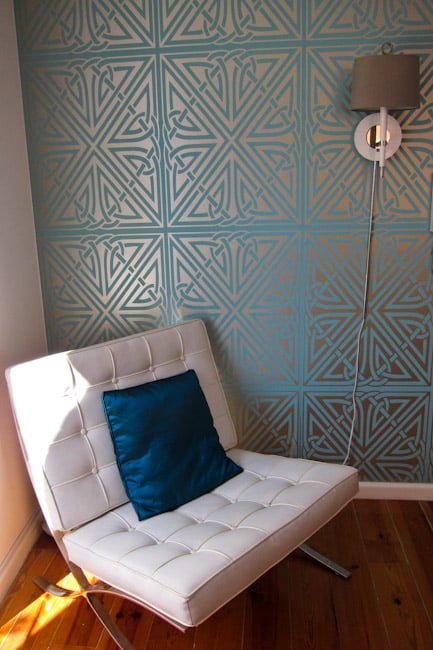 The location is perfect on a colourful street next to the wonderful National Pantheon on the edge of Alfama. We can easily get to other parts of Lisbon. We walk everywhere but we are also only a five minute walk to the Santa Apolonia train station and metro which takes us all over the city (including the airport for a bargain €1.15!).
Our street in Alfama with the river and blue train station behind:
The only downside to the apartment (and Alfama in general) is the walk up from the train station. It's short but it is very steep, and although we don't mind it (most of the time) it could be a problem for some.
The hill leading to our house: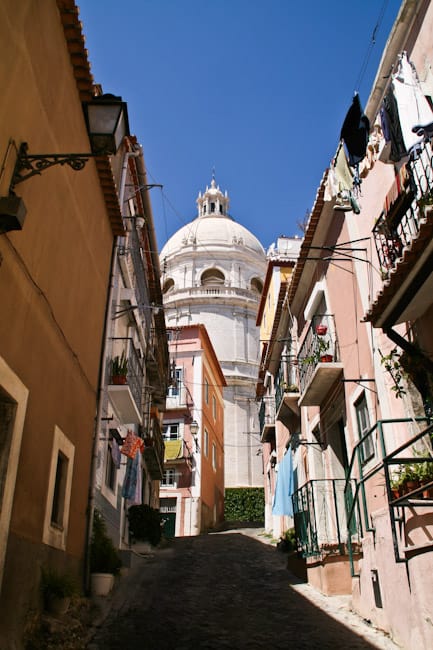 We love renting apartments and we much prefer them to hotels but the fact that there isn't someone on site can be inconvenient. Our only problems with the apartment were having to wait outside for 40 minutes to check-in, and it took 24 hours for someone to come out and fix our internet when it went down.
Because of issues like this I don't think it's worth renting an apartment for just a few days but for a week or more the space, comfort and facilities make an apartment much better value than a hotel.
We definitely recommend Lisbon and renting an apartment in Alfama is the perfect way to experience it.
If you enjoyed this post, pin it!