This page contains affiliate links. Please read our disclosure for more info.
Lisbon may not have the famous attractions of other Western European capitals but it doesn't have the crowds and high prices either. The Portuguese capital surprised us with its charm, colour and relaxed atmosphere. It's a city of spectacular views, winding cobblestoned lanes, pavement cafes, and magnificent churches. It's the perfect place to wander aimlessly, getting lost in the maze of hilly streets, but there's also plenty to do.
Here are our highlights from our month in Lisbon.
Alfama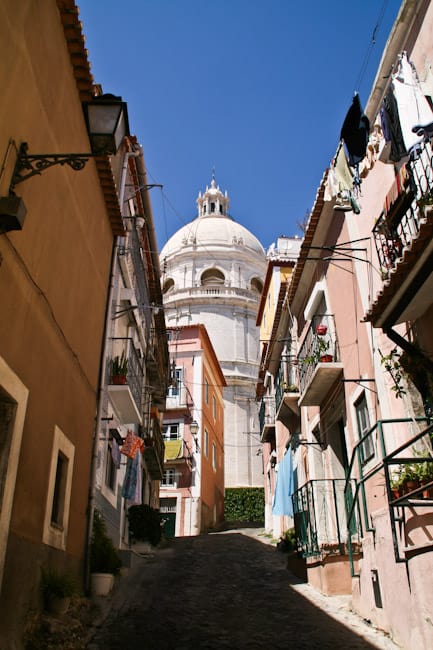 We were so glad we decided to stay in Alfama as it turned out to be our favourite part of Lisbon. The big attraction in this traditional neighbourhood is the Castelo de Sao Jorge but for us the highlight was getting lost in the medieval alleys that wind their way up the hill, and taking countless photos of the colourful tiled houses with their wrought iron balconies adorned with flowers and laundry.
For more information and photos see our post about the Alfama neighbourhood.
Miradouros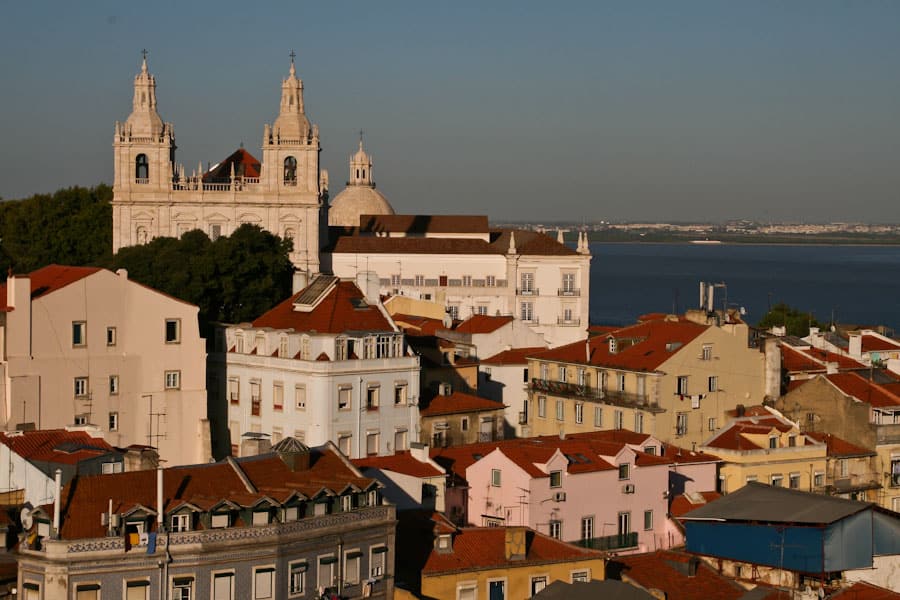 There are dozens of miradouros (viewpoints) all over Lisbon due to its location on seven hills overlooking the Rio Tejo. From these terraces you can really appreciate the beauty of the city with its colourful houses and terracotta roofs, perhaps while enjoying a drink at one of the cafes that are often found at the miradouros.
We mostly explored the viewpoints in Alfama. The best overall view we found was from the Miradouro da Senhora do Monte but also worth a visit are the castle (although this costs €7), Largo das Portas do Sol, and Miradouro da Graça.
National Pantheon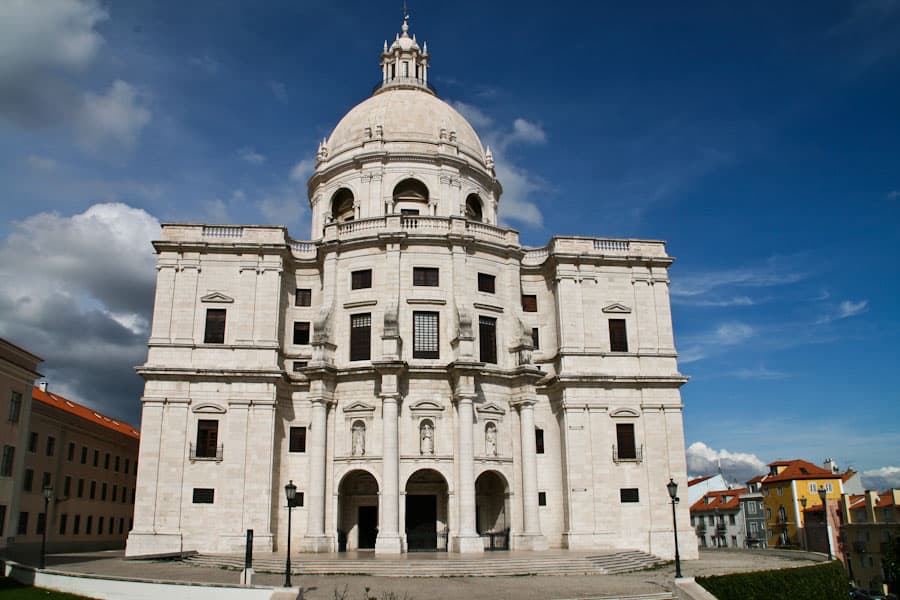 We lived next door to the 17th century Santa Engracia Church (now the National Pantheon), in Campo Santa Clara which is probably the only reason we visited. We are so glad we did as the domes and patterned floor of the interior are stunning and from the terrace there are wonderful views of Alfama and the Rio Tejo. Go on Sundays before 2pm for free entrance or pay the €3 entrance fee.
For more photos and a video see our post about Alfama.
Fado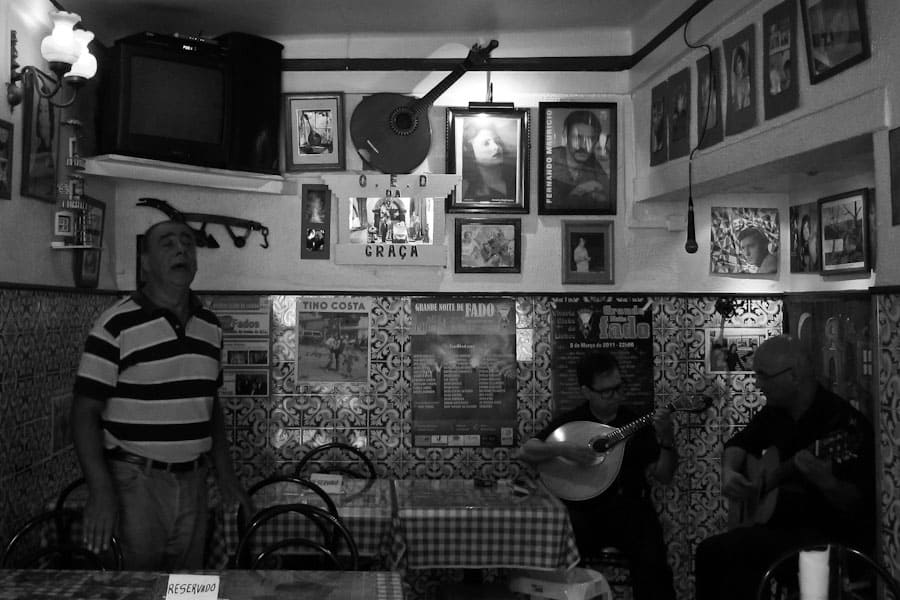 Lisbon is famous for fado, mournful folk music that expresses saudade, a feeling of longing and melancholia. Unfortunately many of the restaurants that host fado performers have a €25 minimum spend per person. Luckily we found a place called Tasca do Jaime, in the working-class neighbourhood of Graca, that doesn't have a minimum spend or cover charge and is a place where locals go to sing and listen to fado, along with a few tourists.
It's a tiny, unpretentious bar with walls covered in fado posters and memorabilia. The warm and friendly owner welcomes guests with a kiss and dances around checking that everyone is OK. Various old men from the audience got up and sang, accompanied by two guitarists. The passionate singing was powerful, tragic and beautiful.
Tasca do Jaime is at Rua da Graça, 91 and fado is performed on Saturdays, Sundays and public holidays from 4-8 p.m – get there early for a chance of a seat.
Azulejos & The Tile Museum
We've never been anywhere that uses tiles (called azulejos) as much as Lisbon. These colourful, patterned ceramics are used to decorate the exteriors and interiors of everywhere from humble homes to palaces, churches and metro stations. Take a look at our azulejos photo essay to see the range of tiles in the city.
If you fall in love with the tiles as much as we did then the Museu Nacional do Azulejo (National Tile Museum) is worth a visit. It's located in a beautiful old convent and takes you through the history of tiles in Portugal. It's located at Rua Madre de Deus, 4 and is open from 10am to 5.30pm Tuesday to Sunday. Entrance is €5 or free on Sundays before 2pm.
ViniPortugal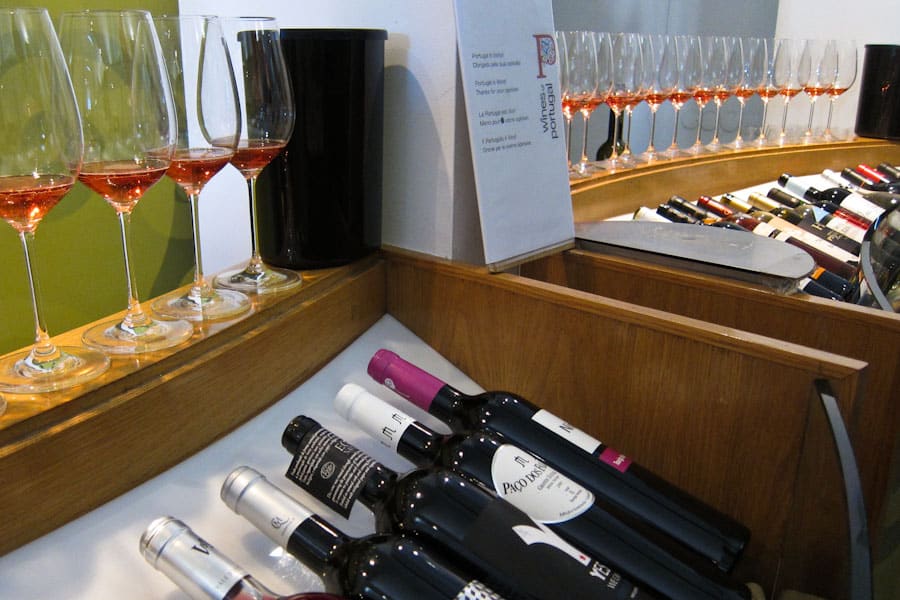 Besides port, Portuguese wine is less well known than its neighbours but at the ViniPortugal tasting room we discovered that it's just as delicious. You can visit ViniPortugal on Praca do Comercio for free to learn about and try wines from all over the country.
Mãe d'Água Amoreiras Reservoir
If you are a fan of quirky attractions then you might enjoy a trip to the Mãe d'Água Amoreiras Reservoir. The reservoir was used to collect and distribute the water carried by the 18th century Aguas Livres Aqueduct. The building of arches and pillars is not in use any more but still contains the seven metres deep water (so inviting) as well as temporary art exhibitions. From the roof top terrace there are views across Lisbon and of the aqueduct.
The reservoir is at Praça das Amoreiras, 10 and is open from 10am to 5.30pm Monday to Saturday. Entrance is €2.
Belem
You can spend a whole day in Belem as there's so much to do in a small area. It's a historical riverside neighbourhood from where many Portuguese explorers, including Vasco da Gama, left on their voyages of discovery.
The highlight is the Jeronimos Monastery, a UNESCO World Heritage site and an example of the flamboyant late-Gothic Manueline style that is distinctively Portuguese. The cloisters are truly stunning with intricately carved arches and columns surrounding the courtyard.
Other attractions that we admired from outside are the small but ornate fortress the Torre de Belem, and the Discoveries Monument, built in 1960 to commemorate the 500th anniversary of the death of Prince Henry the Navigator.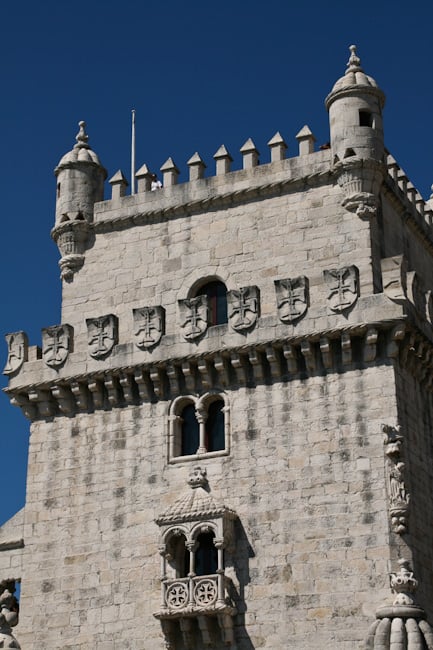 Belem isn't just about history though. The Berardo Museum has an excellent collection of modern art including works by Picasso, Warhol, Pollock and Dali. Best of all it's always free.
Everyone tells you that when in Belem you must eat a pasteis de Belem and they're right—see the Food section below.
You can reach Belem by tram 15 from Praca da Figueira or Praca do Comercio. We went on Sunday morning when the attractions are free before 2pm but the monastery was crowded. Most things are closed on Mondays.
Day Trips
There are a few towns outside of Lisbon that are easy to reach by train in 30-40 minutes.
Sintra
If you do one day trip from Lisbon we'd recommend Sintra. It's a magical world of fairytale palaces and enchanted forests in the hills above Lisbon. The nobility indulged every whim and fantasy when constructing their summer homes here in the 19th century.
The Palacio da Pena is the most extravagant with Disney-esque pink, yellow and purple turrets, battlements and watch towers. We loved the creative exuberance, the views of the castle and Sintra from the wall walk, and the extensive forested park. It's the most crowded and expensive of the palaces (€13.50 for the grounds and inside the palace or €12.50 before 11am) so get here early. We walked up the steep hill to get here in 45 minutes from the train station (ask the tourist office there for a map and directions).
The Quinta da Regaleira is less colourful but just as over the top. The magical gardens were the highlight for us—you can spend hours discovering the underground tunnels, grottoes, lake, hidden waterfall, and towers. One tunnel emerges at the bottom of a well 27 metres deep where you can climb up spiral stairs to get back to the garden. It's lots of fun and well worth the €6 entrance fee.
Cascais
Cascais is the easiest place to access the beach from Lisbon. The beaches were a bit too crowded for us in August (and the Atlantic is freezing!) but it's still a lovely town to visit and walk along the seafront or explore the cobblestone streets and brightly coloured houses.
Food
Our only disappointment in Lisbon was the food. Portuguese cuisine is all about meat and fish so as vegetarians we couldn't try the local cuisine. There are a number of vegetarian and Indian restaurants but we didn't find them particularly exciting so preferred to save our euros and cook for ourselves. When we did eat out we found Italian a better option.
Antiga Confeitaria de Belém
The Portuguese food that a vegetarian can indulge in is the vast array of pastries served in pastelarias. Some people love them but they weren't to our taste so we didn't expect to enjoy the pasteis de Belem that everyone raves about from the Antiga Confeitaria de Belém. But they haven't been serving them to crowds for 175 years for no reason and we really enjoyed these warm custard tarts sprinkled with cinnamon. So everyone was right—don't miss them when you are in Belem. Rua de Belém, 84.
Casanova
Casanova was our saviour—it was so near our house and so good we went back many times. It's very popular with locals due to its excellent thin crust pizzas, riverside location and cool vibe. We loved that you walk past the glass walled kitchens to get to the restaurant. It doesn't have a sign but you can find it next to Deli Delux opposite the river side of the Santa Apolonia train station in Alfama. Get there by about 7pm if you don't want to queue.
Primo Basilico
Another Italian choice (yes, we miss Italy) that serves pizza by the slice. It's not quite as good as in Italy but they have a variety of toppings that changes every day (including vegetarian options) and the large slices fill you up so it's a cheap meal for €2.70. Rua dos Remédios 37.
Santini's Gelati
Tasty gelato with a wide variety of flavours. At €2.60 for two flavours it's more expensive than Italy but then we are in Portugal. Rua do Carmo 9 and there's also a branch in Cascais.
Mercado da Ribeira
For self-catering this large market has a wide variety of excellent quality but cheap fruit and vegetables. Avenida 24 de Julho, near Cais do Sodré metro station.
Getting Around Lisbon
We loved how easy it was to get around Lisbon. We walked almost everywhere and that's a good option if you don't mind the hills. There is always the clean, efficient metro system too which only costs €1.15 a ride if you get the Viva Viagem card which you can top up and use on the metro, bus, tram and even the trains to Cascais and Sintra. The metro runs from the airport too making it a very cheap airport transfer.