This page contains affiliate links. Please read our disclosure for more info.
Italy draws us back again and again so although we knew it'd be quite expensive we couldn't resist a visit when an Italian food craving hit us after nine months in Asia. We experimented with keeping costs affordable without giving up comforts or, most importantly, as much food as we wanted to eat, by renting an apartment in Tuscany rather than moving around every few days.
Our base in Tuscany gave us some stability but we were still able to do day trips in our rental car to many places including Florence (twice), Siena, Pisa, San Gimignano, Volterra, Lucca, Pistoia, the Garfagnana, and horse riding in the Tuscan countryside. It was the perfect balance for our digital nomad lifestyle as we didn't waste time on travel and finding new accommodation every few days, and we had a kitchen and space to work.
After Tuscany we spent a week in Rome, which was much more expensive, which is a shame as we could easily have spent another month or two in this wonderful city.
Here is what we spent during our month in Italy, broken down into the time in Tuscany and Rome. These costs are for two people.
Currency: EUR
Summary

| Country | Total Spent | Days in country | Cost per day |
| --- | --- | --- | --- |
| TOTALS: | €2,918.02 | 32 | €91.19 |
| Tuscany | €2,170.00 | 25 | €86.80 |
| Rome | €748.02 | 7 | €106.86 |
Breakdown

| Country | Accommodation | Food | Transport | Entertainment | Other | Total Per Day |
| --- | --- | --- | --- | --- | --- | --- |
| Tuscany | €22.68 | €29.36 | €27.56 | €6.68 | €0.52 | €86.80 |
| Rome | €52.86 | €43.71 | €3.00 | €5.00 | €2.29 | €106.86 |
Currency: GBP
Summary

| Country | Total Spent | Days in country | Cost per day |
| --- | --- | --- | --- |
| TOTALS: | £2,246.88 | 32 | £70.21 |
| Tuscany | £1,670.90 | 25 | £66.84 |
| Rome | £575.98 | 7 | £82.28 |
Breakdown

| Country | Accommodation | Food | Transport | Entertainment | Other | Total Per Day |
| --- | --- | --- | --- | --- | --- | --- |
| Tuscany | £17.46 | £22.61 | £21.22 | £5.14 | £0.40 | £66.84 |
| Rome | £40.70 | £33.66 | £2.31 | £3.85 | £1.76 | £82.28 |
This is the breakdown of how much this works out on an average daily basis.
Notes on our Expenses
You could travel in Italy for less but we didn't skimp on anything we wanted, which mostly meant food! Considering how much amazing food we ate and how much we did, €45.50 (£35) per person per day doesn't seem that bad.
Here are some notes to explain what we spent in each place.
Tuscany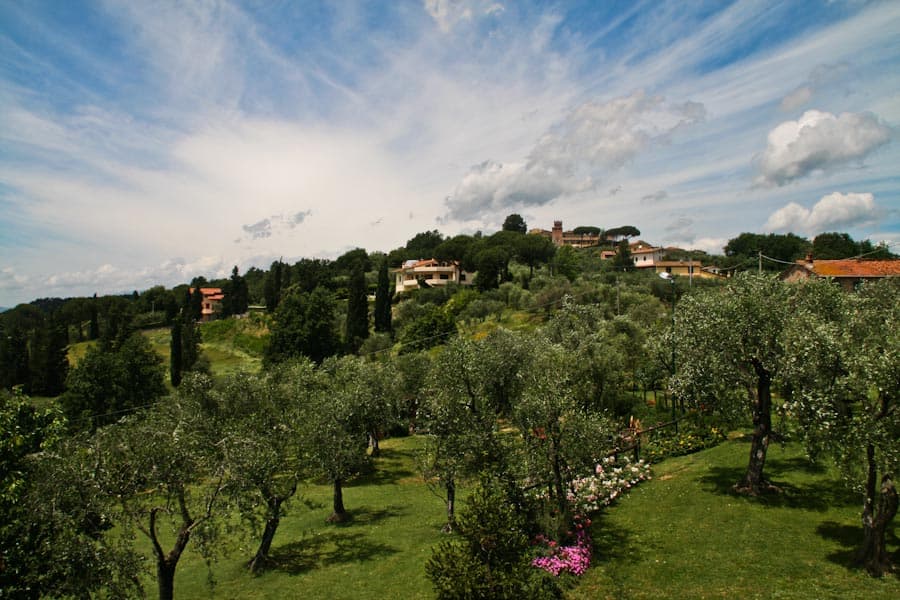 We rented an Airbnb apartment just outside the little village of Montecarlo. It had two bedrooms with a small kitchen, living area, modern bathroom, and a garden seating area. Furnishings were a little old-fashioned but it had everything we needed. It was amazing value for Italy.
We ate out about four times a week and enjoyed cooking at home with the excellent fresh pasta the rest of the time.
Gelato was a regular treat and cost €1.50-2.
We rented a car for £289 for 25 days which we found by searching on travelsupermarket.com.
The rest of the transport costs were petrol, parking and toll fees – we did many day trips all over Tuscany.
We travelled from Pisa to Rome by train.
Entertainment costs included a winery tour, wine school in Siena, and entrance fees which were usually €5-8. A number of our other activities were sponsored.
Rome
We rented a cool loft apartment in Trastevere with Roomorama. It was partly sponsored so the full price would have been €100 a night.
We had a kitchen so had most breakfasts and lunch at home but ate out for dinner every night.
Trastevere was a great location so we walked everywhere and the transport cost was just from the train station and to the airport.
Money Saving Tips for Italy
We didn't set ourselves a budget or try too hard to keep costs down but there are some things you can do to make travel in Italy more affordable.
Accommodation
Consider renting an apartment. They can be great value, especially for monthly rentals, and you can save money by cooking for yourself.
Transport
Book car hire as far in advance as possible – it gets more expensive nearer the time.
Book long distance train travel within Italy online at trenitalia.com. The further in advance you book the greater chance you'll have of getting a cheaper rate.
Food
We found meals in restaurants to be great value for the quality. We paid €20-30 (occasionally up to €40) for two people usually with two courses (antipasto and primo), wine, water and un caffè for Simon.
In Italy there is a choice of two types of main courses – a primo which is usually pasta, risotto or soup, and a secondo which is meat. You'll save money by ordering a primo rather than a secondo.
Don't feel you have to order every course. An antipasto (starter), primo (first course), secondo (second course) with contorno (side dish), and dolce (dessert) is a lot of food and expensive.
The cheapest meal out is at a pizzeria – a margherita pizza in our village in Tuscany cost €4 and we never paid more than €8.
Check the menu for their pane e coperto (bread and cover) charge which cost us €1-2.50 per person.
Soft drinks in restaurants often cost more than wine. Stick to the house wine – it's usually good and only €2.50 or €3 for un quarto, a quarter litre jug, enough for two glasses.
If you are on a tight budget then avoid restaurants. Buying pizza by the slice from takeaways or a sandwich from a bar should only cost a few euros.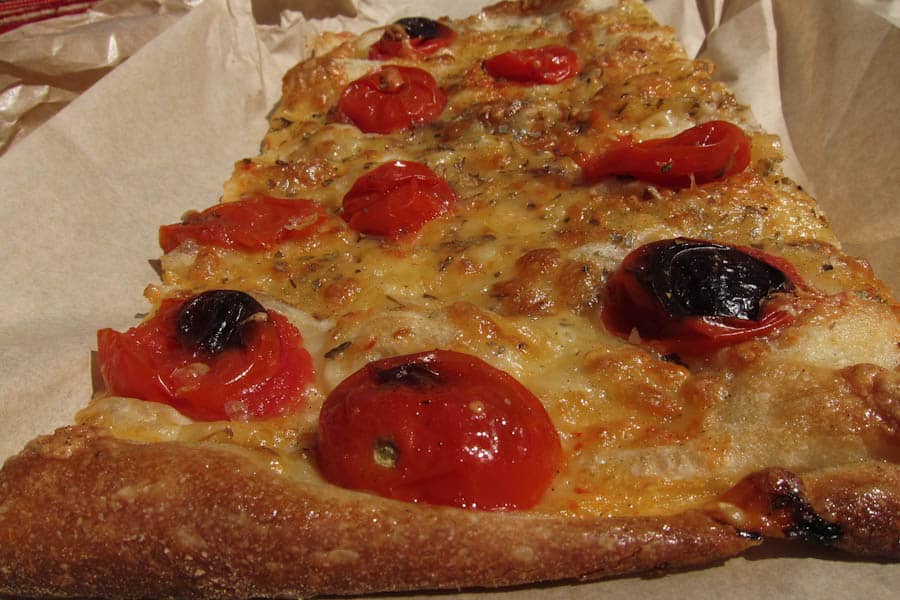 Happily, gelato is very affordable if you avoid the gelaterias by major tourist attractions. A small gelato is plenty and includes two flavours for €1.50-2.
For self-catering, supermarkets are cheaper than small delis.
Italy is one of the most expensive countries we've travelled to since becoming digital nomads (although not as expensive as Japan) but it was completely worth it. The food, the wine, the architecture, the people, the history, and yes, the food make it one of our favourite countries and we will definitely be back.
If you enjoyed this post, pin it!