This page contains affiliate links. Please read our disclosure for more info.
Despite visiting Italy numerous times before it's a country we can't stay away from for long. After nine months in Asia we were craving Italian food and the best thing about our life is that if we feel like pasta, we book a flight to Italy.
We came to eat and food has definitely been the highlight so far – creamy gelato, thin crust pizzas, comforting pasta. Even the simplest things taste good here – cherries are bursting with flavour, and I've never enjoyed a bowl of lettuce so much as when drizzled with olive oil made a few kilometres away.
Tuscany can be surprisingly affordable – we found some amazing deals on monthly rentals on Airbnb and our two bedroom apartment costs just 500 euros a month. It's simple but has everything we need and gorgeous views of the surrounding countryside.
We are just outside the pretty medieval village of Montecarlo, between Lucca and Florence. It's not a tourist village but it is on the Lucca wine trail so a few pass through to sample wines at one of the many vineyards in the area.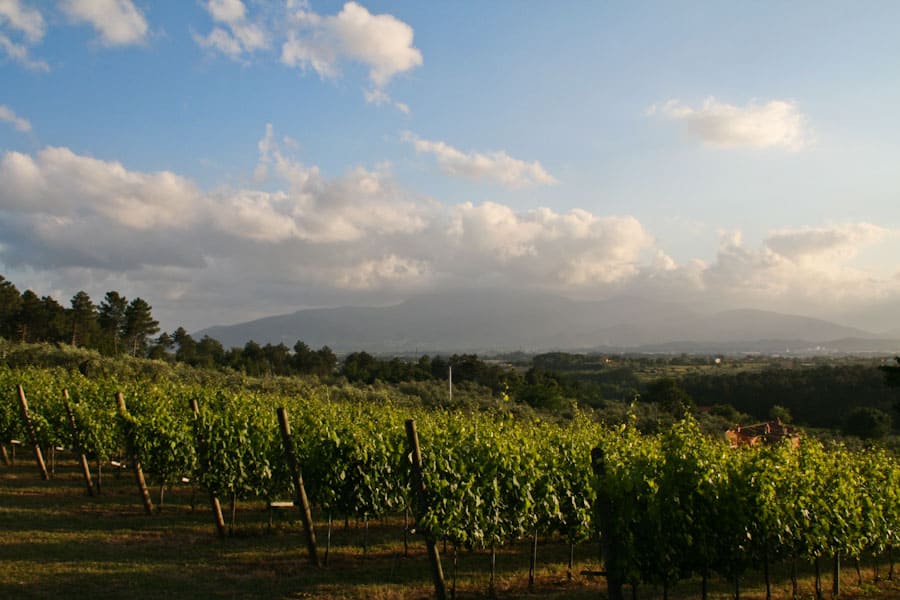 Montecarlo is a hilltop village perched above the surrounding olive groves and vineyards, with thick stone walls and a fortress dating back to 1333.
We love walking up the hill into the village, past silvery olive trees, vines crammed into everyone's garden, and the houses with terracotta roofs and ochre walls melding perfectly into the classic Tuscan scene.
We walk along the quiet road past trees dripping with cherries and apricots, church bells ringing above, and the air heady with the vanilla scent of thousands of small white flowers we can't identify (it's star jasmine – thanks Tracy & Della!).
The first time we walked into the village the same thought struck us both – it looks like Disney! That's what two Disney visits in the last year will do to you.
It really was the picture-perfect Tuscan street scene that Disney recreates so well, especially at Tokyo's Disney Sea. We entered the arched 700 year old doorway into the cobblestoned streets of yellow hued houses with shuttered windows and ancient wooden doors. Washing swayed from balconies in the narrow lanes and old Italian men sat on chairs outside their homes, watching the world go by.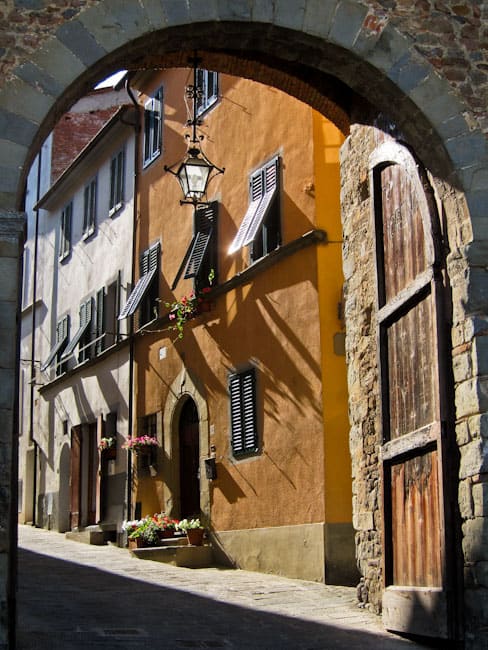 Despite wandering down every side street within the walls of the sleepy village it didn't take us more than ten minutes to explore. There's not much to do except the most important – eat. In this tiny village there are a couple of bar/pizzerias/gelaterias; a few alimentari selling bottles of local olive oil, wine and chunks of pecorino cheese; an enoteca (wine bar) to sample the local Montecarlo DOC wine; and about 10 restaurants.
That first night we knew we'd be happy here when we sat down at the Osteria del Vento and were brought a big basket of bread plus complimentary melt in your mouth mini pizzas. The baked ricotta with spinach and orange sauce, and the pecorino, fava bean and tomato ravioli that followed were delicious, while Simon's white chocolate mousse dessert was the best we've ever sampled. We finished the meal with intense espresso and complimentary biscotti.
This is why we came to Italy.
We don't need to eat out to enjoy the food though. Eating a caprese salad with focaccia under the apricot tree in our garden can be just as satisfying.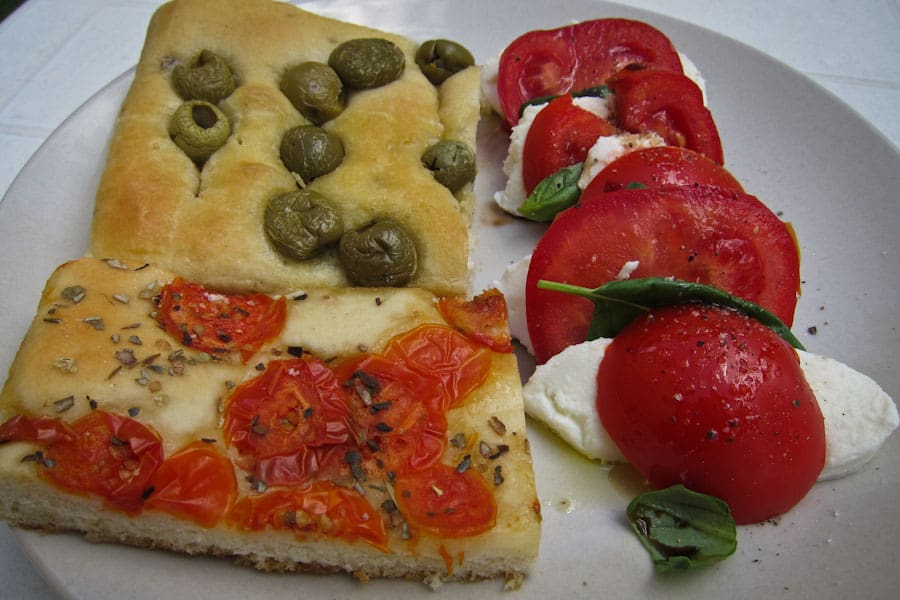 Although Montecarlo is usually very quiet, on Sundays it comes to life with families on their passeggiata, eating gelato or drinking an aperitivo outside one of the bars. On our first Sunday the streets were busy with an antiques market, while last weekend we found men in medieval dress engaged in a serious archery competition.
Weekends are also the only time you can visit the privately owned fortress (open 4-7pm, 5 euros) which you'll only have to share with a few other visitors. It was the site of many battles during the Middle Ages due to its strategic position between Lucca and Florence.
From the towers there are views of the village and countryside and there's a surprisingly manicured courtyard garden. The garden was created in the early 20th century as before that it was used for more practical purposes like storing weapons and training soldiers.
One of the main things to do in Montecarlo is visit one of the many vineyards. A few kilometres down the road we visited Tenuta del Buonamico where for 10 euros we got an informative tour of the winery, and sampled many of their wines and olive oil accompanied by delicious aged pecorino. We loved them all but ended up leaving with a bottle of their award winning sparkling rose and the heavenly olive oil.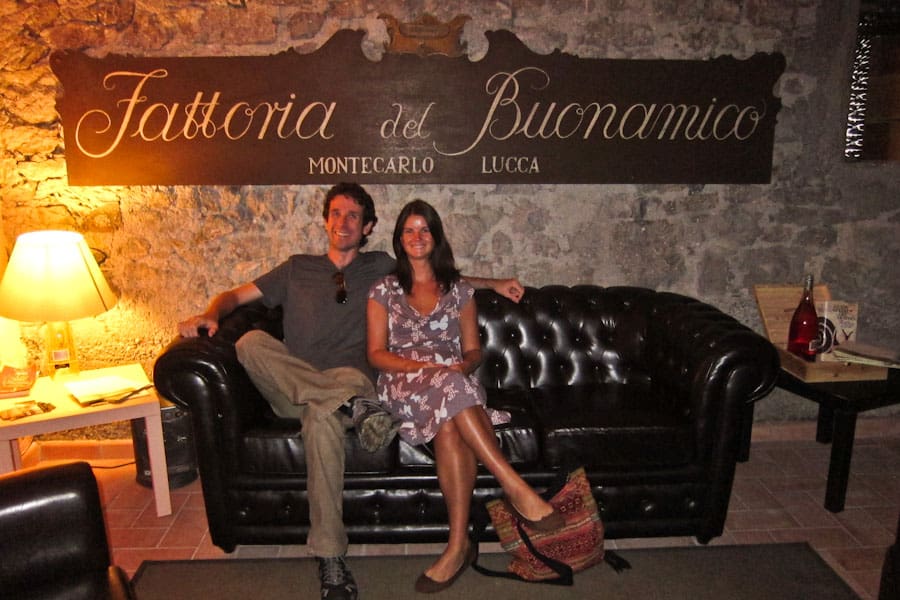 We've rented a car for the month and are using Montecarlo as a base to explore Tuscany, getting lost every single time we venture out to explore. There are numerous single track roads off this mountain and they all look the same through olive groves.
So far we've been to Lucca, Siena, Pistoia, Pisa and horse riding near Volterra. See our Tuscany tips here. We've got lots more to explore so please let us know if you have any tips – especially for restaurants!