This page contains affiliate links. Please read our disclosure for more info.
Heather Jarman is passionate about food. Her company Sapori & Saperi means 'flavours and knowledge' and her food tours, with their focus on slow food and artisan producers, brings this passion alive. Her boundless enthusiasm is infectious as she takes you deep into Tuscany's food scene, visiting local family-run restaurants that you won't find in the guidebooks; introducing you to producers using traditional methods; taking you behind the scenes to see food and crafts being made; and giving you the opportunity to learn how to make food this way yourself.
We joined Heather and her guests for one day of her week-long Cheese, Bread and Honey tour in the Garfagnana region, a peaceful corner of Northern Tuscany surrounded by mountains and with a strong foodie tradition. The tours are seasonal, each with a different theme built around the best quality produce of that season.
Cheesemaking
The EU likes rules.
Many local shepherds made a few blocks of cheese to supplement their income so when the EU introduced new hygiene rules, these shepherds found a piece of their livelihood threatened—they simply couldn't afford to meet the EU's exacting standards.
Step forward Verano Bertagni. This jolly Italian, who looks like a full-size gnome with his bushy beard and his white gumboots, struck deals with these shepherds where he would buy their milk from them and incorporate it into his new, modern factory—which could afford to comply with the new regulations.
Bertagni knows a lot about cheese—his family has been in the business for generations—and he is managing to carefully walk that very thin line between embracing the future and respecting the past. He has taken those parts of the process that don't affect the quality or taste, and brought them up to date: large pumps move vast quantities of milk through his little factory; walk-in refrigerators and refrigerated vats store the milk and cheese at precisely controlled temperatures; and ricotta cauldrons can re-heat the whey to an exact 92ºC.
The bits that do affect quality, however, are done by hand.
Every batch of milk is painstakingly tested for quality and bacteria content. The highest quality stuff is then left unpasturised and goes in to making Caseificio Bertagni's finest cheeses.
The rest is pasteurised, after which it's infused with a starter culture which Bertagni buys off of a bacteria dealer who sells him little petri dishes from a dark alley behind the train station.1
The curd is cut by hand using a metal pole called a guitar which releases the whey and allows it to rise to the top—Bertagni even keeps a branch of white hawthorn to hand, which was the traditional method of cutting the curd. How finely the curd is cut affects the texture of the cheese, so if you find yourself with some pecorino from Tuscany that's a little bit lumpy, it's probably Simon's fault: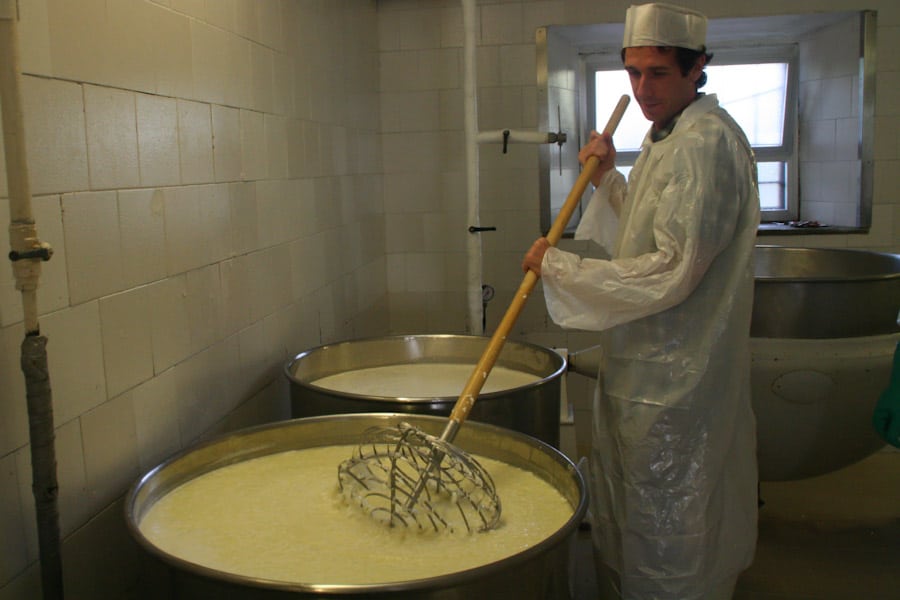 The whey is then pumped from the top into the large ricotta cauldron, where it is re-heated (ricotta literally means re-cooked) until the ricotta forms on the surface, where it is then skimmed off—again, totally by hand—and left to cool. Ricotta is technically not a cheese at all as it's the by-product of cheesemaking, and it doesn't require maturing – it's ready to eat as soon as it has cooled2.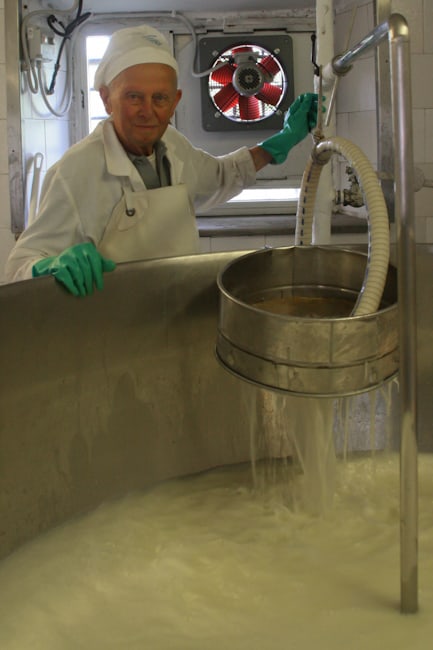 There's something inspiring about seeing craftspeople at work. In the age of bland production and a race-to-the-bottom mentality, it's heartwarming to see people who truly care about what they produce, striking this delicate balance between meeting the demands of a modern world while staying true to their values.
Trying The Cheese
Of course, it would be horribly unfair of them to show us all this delicious cheese being made and then not give us an opportunity to try it.
Thankfully, they put on a good spread.
We tried caciotta a slightly sour cows milk cheese that pairs wonderfully with some homemade jam; goats cheese; and two types of pecorino a sheep's milk cheese that is very popular in Tuscany. Our favourite was the strong, tangy mature pecorino, which we also tried pairing with some local chestnut honey.
We felt the limits of our palate when sampling the cheese and trying to explain its flavour, but one of the strengths of the tour was Heather's continual encouragement. She offered tips on how to get the most from each taste by involving all of the senses and by concentrating on what was happening in your mouth. She invited you to share your ideas about what you were tasting without making you feel, as can especially happen in groups, like there was a right answer that you needed to give.
The difference of how food tastes when you are truly dedicated to the task of eating and drinking is astounding. This was something we also found with our wine tour —once we stopped to appreciate this simple task, we began to appreciate the value of fine food and how important it is for us to take time to eat well.
Traditional Weaving For High Fashion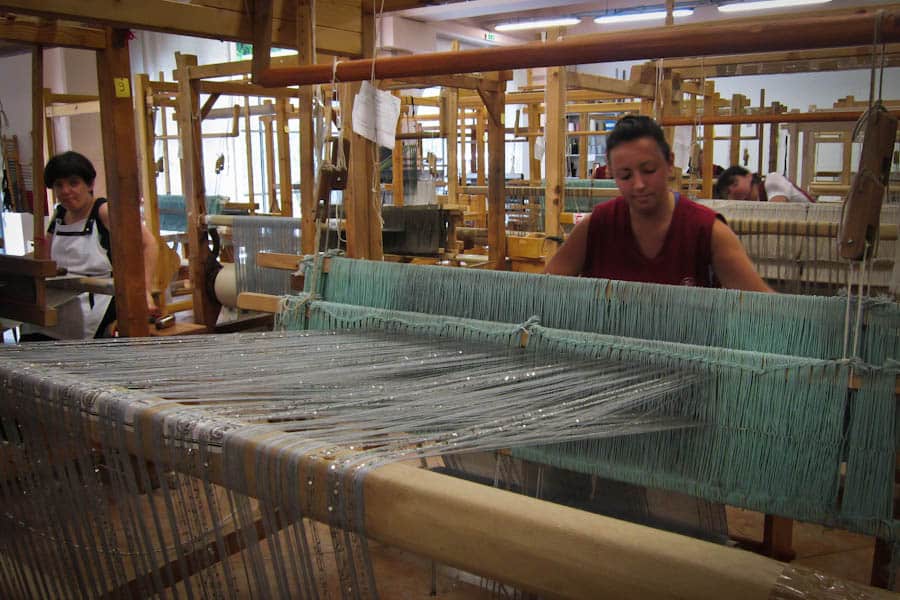 Along a windy road up in the mountains of Castelnuovo di Garfagnana sits a well-designed but otherwise unremarkable textile mill. Stepping inside, we were greeted in the light, modern reception area by Francesca, who works with the two brothers who now run the mill.
The first unusual thing about the mill is that it was started by their grandmother in the early 1950s to preserve traditional weaving techniques by training women which also had the liberating side effect of providing employment for them.
The second unusual thing is that the scarves they produce today—often using the same handlooms—are sold to some of the biggest and best names in fashion: Chanel, Valentino, and Dolce & Gabbana all feature among their impressive client list.3
Here was another company whose focus was on quality and it was heartening to learn that this small mill was being sought out by some of the world's most luxurious brands, who appreciated the complicated weaving techniques being employed and the top drawer materials being used—like cashmere and silk, many from yarns spun with added hand-sown beads and sequins.
Up close in the outlet, we could begin to appreciate the commitment to strict standards that saw these scarves fetch up to €2,000 each4. For those with a more modest budget, the prices begin at €50.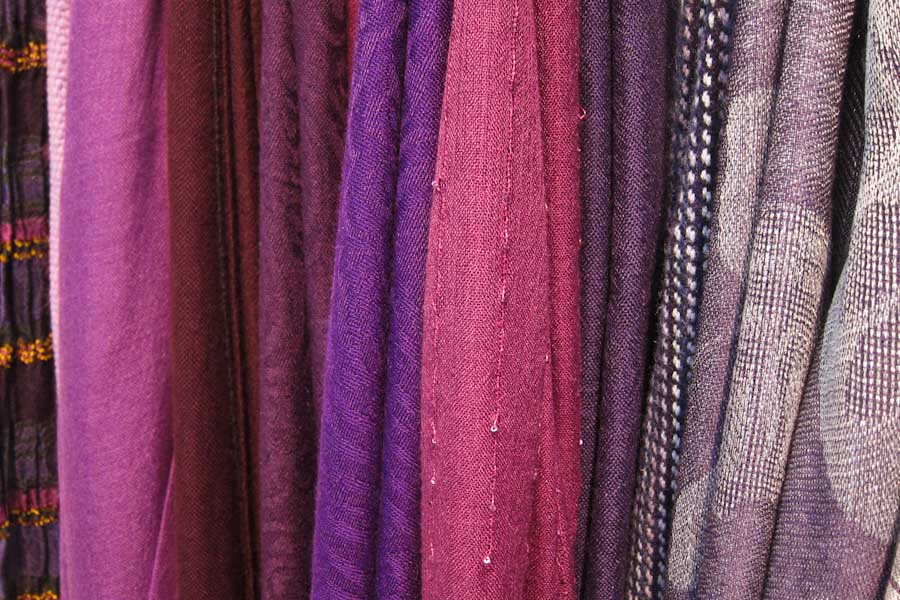 Erin's favourite:
Lunch At Osteria Il Vecchio Mulino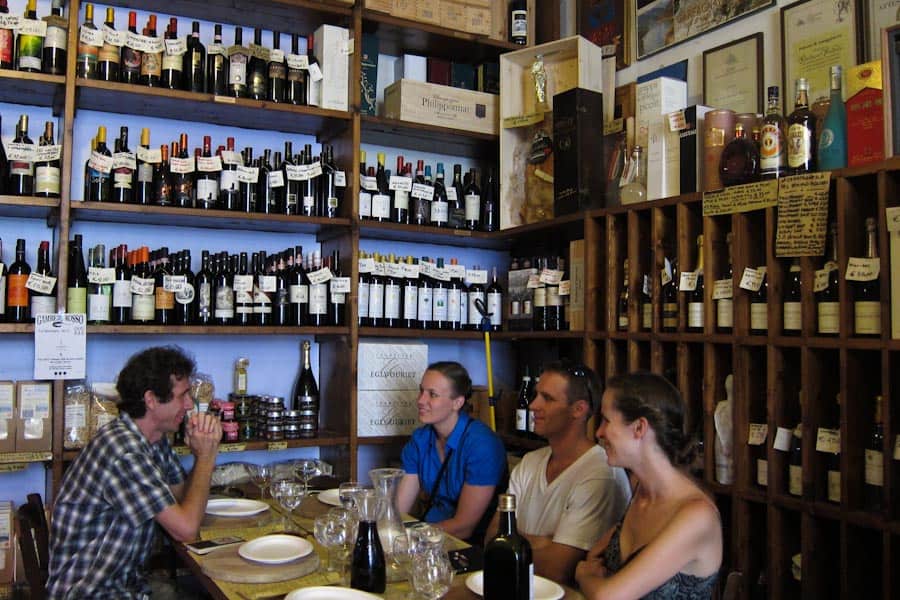 After a wander around Castelnuovo to work up an appetite we moved on to Il Vecchio Mulino for lunch. It's not a restaurant in the usual sense as none of the food is cooked on site and the kitchen is just a small area behind the counter. Owner Andrea Bertucci is a food collector who has scoured the Garfagnana for the best food and wine which he serves up as part of a never-ending tasting menu.
It's part wine cellar, part grocery shop, part pub and Andrea has aimed to make both wine buffs and local farmers feel comfortable. It's an atmospheric place with walls stacked high with bottles of wine, jars of artichokes and peppers, packets of pasta and the local grain farro, bottles of local olive oil and balsamic vinegar. At the deli counter there's a huge mortadella, cheeses, fresh porcini mushrooms, and an array of salads. In the middle of this foodie heaven there are two long rustic wooden tables.
We were brought out endless platters of food – Andrea's best finds. Although as vegetarians we could't eat all the dishes there was still plenty for us – a farro salad with peppers and carrot; crostini with porcini mushrooms; crostini with tomato and balsamic; olives and mushrooms in vinegar; a crunchy vegetable salad; a bread basket piled high; and a cheese platter with an array of cheeses to sample. Our favourite dish was the torta salata a local speciality of the Garfagnana that we'd never tried before. It's a savoury tart – one was made with egg and rice, the other with egg, ricotta and farro.
Andrea joined us towards the end of our feast, encouraging us to eat more and convincing us to try some tarts for dessert despite being stuffed.
Back to the Monastery
Heather and the other guests on the Cheese, Bread and Honey tour were spending the week at Ai Frati, an agriturismo (farm stay) where a gorgeous 14th century monastery has been converted into apartments for guests. The mountainside setting is utterly tranquil so we relaxed by the pool enjoying the views before our next activity.
Next we learnt to cook cucina povera or Italian peasant food – read about our Tuscan cooking class here.
About Sapori & Saperi Tours
Heather's enthusiasm goes beyond food. She has a great respect for all artisans and her tour took us past the conveyor belt nature of other tours which often leave us with that particular tourist feeling of checking items off a list.
The beauty of Heather's tours is that she is interested in teaching you something much deeper and that can be applied long after the tour is over: appreciation.
If your idea of heaven is spending the day learning about and eating delicious food then we highly recommend taking a Sapori & Saperi tour. Heather enabled us to get an insight into the food scene of the Garfagnana, meet passionate local foodies, and sample some of the most delicious food of our trip to Italy so far (and that's saying something!).
Heather runs week-long tours four times a year, each one seasonal with tempting themes like Truffles, Olive Oil & Chestnuts, and Autumn Harvest: Grain & Grape. Our Cheese, Bread and Honey tour runs in June and we were sad to miss out on the rest of the week that included bread making, a beekeeping tour and honey sampling, more cooking lessons, and a pizza party with locals. Groups are kept small with no more than 8-10 people per tour.
She also organises personalised food adventures for families and groups, day tours, and even practical courses with artisans. For more information see the Sapori & Saperi website.
Thanks so much to the wonderful Heather who invited us as guests for one day of the Cheese, Bread and Honey tour.