This page contains affiliate links. Please read our disclosure for more info.
You don't need to eat in fancy restaurants to enjoy good food in Italy. In fact, the best meals you'll experience are in an Italian home, or a family-run trattoria focused on simple home cooking. That's why we were excited to take a cooking class as part of our Sapori & Saperi food tour and learn the art of Tuscan cucina povera for ourselves.
Cucina povera means peasant cooking and dates back to when Italy was a poor and rural country and people had to make do with the ingredients that were available to them – what they could grow in their orto or gather from the countryside. People had to be creative and resourceful with their limited ingredients and learned to make everything as flavourful as possible. They transformed humble ingredients into something special with a focus on simple, pure flavours. That's why cucina povera is still so popular in Tuscany today – because it tastes really good.
A no-waste philosophy is central to this style of cooking and in particular Tuscans have come up with some ingenious recipes for using stale bread, transforming something we'd throw away into a delicious meal.
Our cooking teacher was Italian mamma Gabriella Lazzarini. She's passionate about food, and about sharing her cooking secrets with us. Her focus is on using the best ingredients possible so she despaired at the porcini mushrooms we'd bought for our vegetarian main course that didn't meet her high standards despite tasting perfectly good to us, and apologised for using a store bought passata rather than using one made from her own tomatoes.
Like all Italian mammas Gabriella has strong views about the right and wrong way to cook. The right way (as for all Italians) is the way her mother did it, and no doubt her grandmother before that. She wasn't shy in correcting our techniques during the lesson but it was always with a smile and good humour. Although Gabriella doesn't speak English we found that good for picking up some Italian and our tour leader Heather is also an excellent cook and translated for us.
As there were only four of us it was an informal and fun lesson, everyone pitching in here and there, more like cooking in a real Italian kitchen than the more structured large class we'd taken in Thailand.
In just four hours we made a five course feast.
Scarpaccia di Camaiore (Zucchini tart of Camaiore)
We had never tried the local specialty scarpaccia before but it turned out to be our favourite dish on the menu and was surprisingly easy to make (well, we'll see how it turns out when we try it on our own.)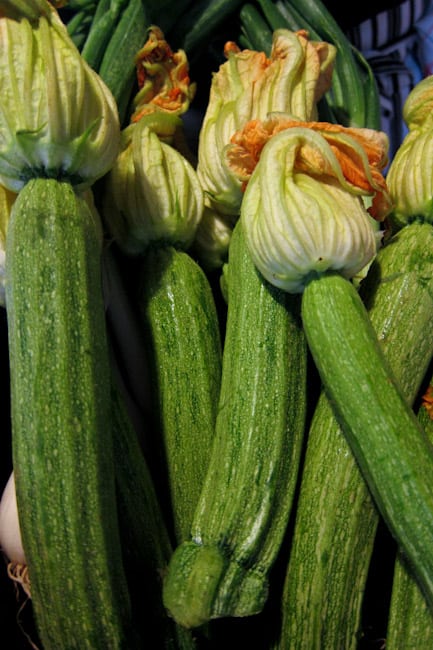 Zucchini, zucchini flowers and onion are thinly sliced and mixed in a bowl with salt, pepper, flour and water. Gabriella doesn't use exact measurements so it was all done by feel – we kept adding water and flour until it had reached the right consistency.
Finally we added extra virgin olive oil and more salt and pepper to taste. This became a theme of the class as Gabriella was generous with her use of oil – we used 1/3 of a litre during our class!
The tart is baked in a shallow tin until it's crisp and golden. Yum.
Panzanella (Tuscan stale bread salad)
Panzanella is one of my favourite Tuscan dishes. We used the bread that the other two in our group had made earlier in the week and was now stale, soaked it in water with a little vinegar, left it while we prepared the other ingredients and then squeezed the liquid out. This was mixed with finely chopped tomato, sliced red onion, basil, olive oil, wine vinegar, salt and pepper.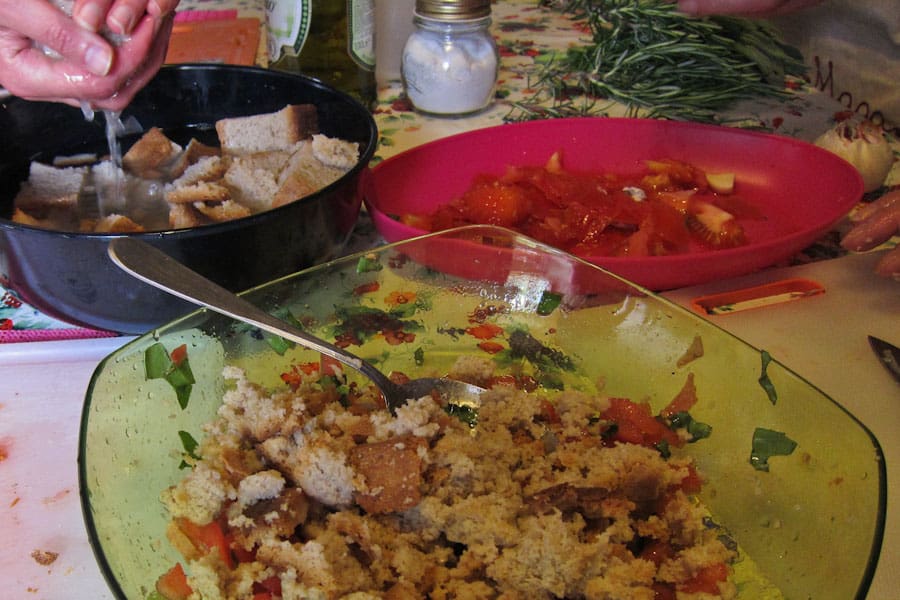 Ridiculously simple but delicious, filling and an ingenious way to use up stale bread.
Pappa al Pomodoro (Bread and tomato soup)
Pappa al pomodoro uses almost the same ingredients as panzanella – tomatoes, stale bread, basil, olive oil – but is made into a flavourful soup.
At the beginning of the lesson we made our own vegetable stock to use in the soup. This is something I've always been resistant too as it seems like too much extra work but it was surprisingly easy. We added a chopped carrot, red onion, celery (including leaves) and parsley stalks to water and let it simmer away for half an hour or so while we got on with other things. It's simple but makes all the difference to the flavour of soups and risottos.
For the soup we gently heated whole, peeled garlic cloves and a bunch of basil in a good amount of olive oil to infuse the favours. We then added the tomato passata but you can also use good quality peeled fresh tomatoes, squashing them with your hands. We seasoned and simmered this for 10 minutes before adding the chunks of stale bread (no soaking needed this time) and enough stock to cover. We left it to simmer until the bread was soft and served drizzled with olive oil (of course!).
I love this soup – again it's so flavourful but easy to make. There's really no excuse for wasting stale bread!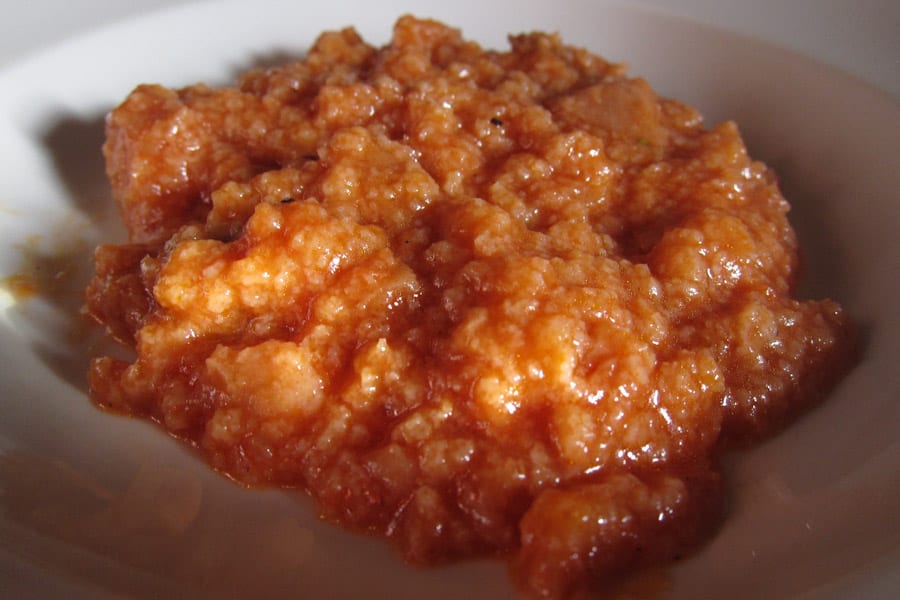 Polenta and Porcini Mushrooms
For the main course the focus was polenta served with rabbit in a tomato and olive sauce for the others and porcini mushrooms in a tomato sauce for us vegetarians. Cucina povera is actually very vegetarian friendly – all the dishes above are vegan – as meat is expensive, but I suppose as rabbits can be raised yourself or hunted in the fields they make a cheap source of meat.
Polenta has a reputation of being bland but we made ours with formenton otto file, a primitive local variety of corn that has much more flavour than usual polenta. Later in the week the other guests actually visited the water mill where the corn was ground.
We added some pecorino cheese to our polenta which we'd picked up at the cheese farm we'd visited earlier in the day.
Castagnaccio (Chestnut flour cake)
Chestnuts are readily available in the Garfagnana and are used in many local dishes, including the dessert castagnaccio. It's very simple – just chestnut flour and water mixed together until we achieved the right consistency. A pinch of salt and some olive oil was added and the top was sprinkled with rosemary leaves, pine nuts and more olive oil.
It was baked in the oven until cracks formed and the edges were crispy, and we served it with ricotta.
This was the only dish we weren't too keen on. It's an acquired taste and very different from the sugar-laden desserts we are used to. Heather suggests livening it up with orange rind and raisins.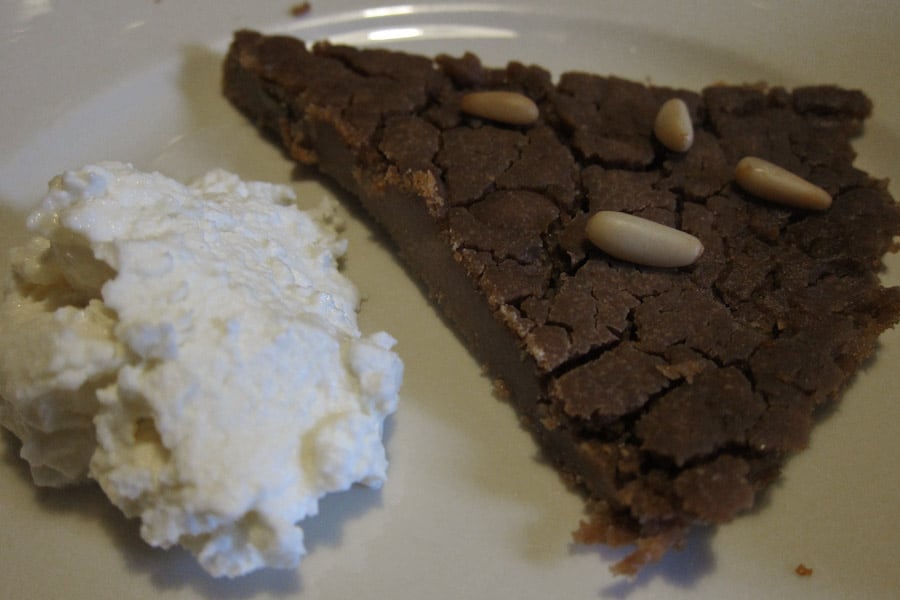 Everything we cooked and ate was simple but tasty. We are convinced of the benefits of cucina povera – it's not only delicious but healthy and ecological as by its very nature it uses local, seasonal ingredients with the minimum of waste.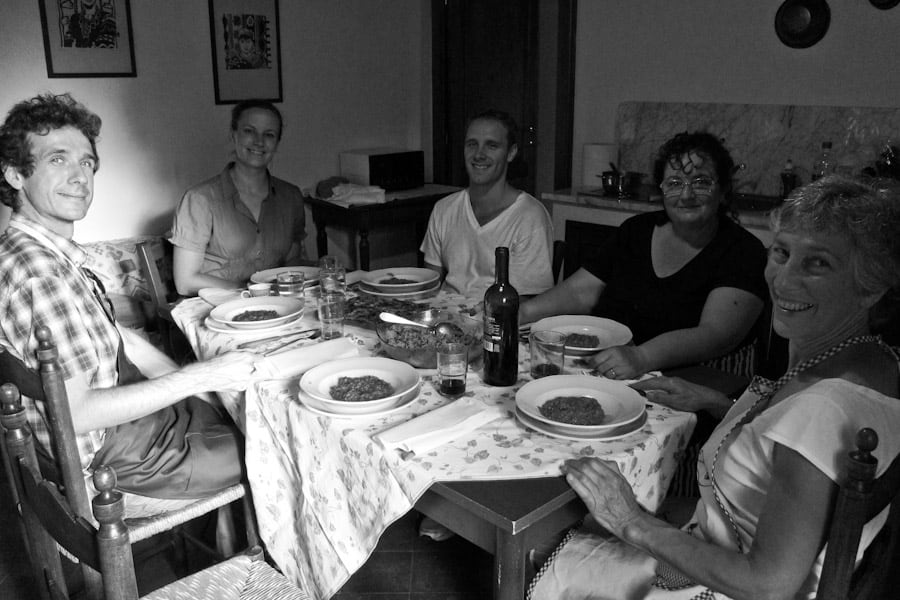 About Sapori & Saperi
Our Tuscan cooking class was part of Sapori & Saperi's week-long Cheese, Bread and Honey tour in the mountainous Garfagnana area of Tuscany that we attended for a day. Read more about our other experiences on this gastronomic adventure where we saw cheese being made (and sampled plenty), visited a textile mill, and sampled a delicious tasting menu at a unique local restaurant. Yes, we ate a lot that day!
The other guests in our group went on to do even more food activities during the week including visiting a shepherd and water mill, having a pizza party with locals, and more cooking lessons with Gabriella. One of their recipes was ravioli with ricotta and stinging nettles that they'd collected themselves – we'd loved to have tried this prime example of cucina povera.
Heather at Sapori & Saperi organises four seasonal themed food tours each year and they are a wonderful way to delve into Italy's food culture, meet local producers and eat at the best restaurants. If you love to eat and are looking for an off the beaten track trip to Italy then we definitely recommend checking out these tours. See the Sapori & Saperi website for more details.
Thanks to Gabriella for teaching us to cook a Tuscan feast and to Heather who invited us as guests on the Sapori & Saperi tour.