This page contains affiliate links. Please read our disclosure for more info.
We only recently came across the Life Remotely website but are glad we did as it's packed full of useful information for digital nomads, especially those travelling in Central and South America. Jessica, Jared and Kobus are undertaking the long drive from Seattle to Argentina and working online as they go.
1) How long have you been travelling and where have you been?
We started traveling in our early 20s, roughly 10 years ago. Jared lived in Holland for two years as part of an exchange program and traveled most of Europe. Kobus, a native South African, worked on cruise ships for several years and travelled in Asia, the Mediterranean, and North and Central America. That's where he met me (Jessica). Before signing on to work as a cruise ship photographer I spent four summers living, studying, and eventually working in Croatia and backpacking through Europe.
We left the cruise ships in 2006 and traveled overland in Africa twice, covering most of the south and eastern parts of the continent. We also managed a four-week backpacking trip through Southeast Asia and returned to Europe a couple times to hang out with friends. Finally, in 2010 we took another short overland trip in Australia to test this idea of working on the road. Things went better than expected, so naturally we chose to drive to the last two continents we hadn't seen.
In October 2011 we became full-time digital nomads after leaving our home in Seattle to start an 18 month overland trip to Argentina. After eight months on the road we're currently in Cartagena, Colombia waiting for our car to arrive via cargo ship from Panama.
2) What made you decide to become digital nomads?
For us it was a matter of connecting the dots. We worked hard for years to develop careers that we enjoyed and could do from home, largely on our own time. We all like to travel, so it was just a matter of combining the two lifestyles. When you put three telecommuters who really want to go places in one house, it's only a matter of time before they become digital nomads.
As soon as we realized what was possible, the rest was relatively easy. Turns out we'd already done the hard part – having careers that could make money online, from anywhere. We've never really wanted to work long hours, we don't need fancy toys, or house payments, or a new car every five years. We just wanted to travel! We wanted to see and experience and explore. Once we figured out the logistics of working and traveling, and realized we only had to work one or two days a week to afford to travel, the rest was history.
3) How do you fund your travels?
Jared is a software engineer, he works contracts developing healthcare software for the Department of Defense. He also does the majority of the writing for our website.
Kobus teaches online classes in web design and development for a college back in Seattle. He takes on some freelance projects from both new and old clients when they come in.
I am a graphic designer working with about a half dozen clients back in Seattle. My specialties before leaving home were events and presentations. I also fly back to the states to work as an onsite PowerPoint designer at big corporate events, although this doesn't happen often.
4) Did you have established businesses before you started travelling? How do you find new clients while on the road?
Yes, we all did pretty much the same things back at home. We had to scale our businesses for traveling, because we move locations every 3-4 days and don't want to commit to working 40 hours a week.
Almost all new clients are referrals. We have found some business from places we have stayed, but it's few and far between. We do everything possible to keep our current clients happy, because finding new work is much harder when you're traveling.
5) Do you find it difficult to balance travel and work? How do you manage it?
Yes. We get frustrated, yell at each other, then apologize and change the schedule. It happens a lot. With three people working totally different jobs for different clients, it is close to impossible to make everyone happy all the time.
We started establishing "work days" where we stay in one spot with good internet and get things done. We usually plan one a week, two if everyone is really busy. The rest of our work falls in between everything else. If one person over-commits to a project they have to ask for an extension, or bribe the others into stalling the travel plans. Usually it involves buying food, chocolate and beer, lots of beer.
Keeping open channels of conversations with clients also helps. We schedule our travel plans 1-2 weeks in advance, so we know when we'll be out of contact and they let us know when hard deadlines are. It's not without faults, but the more we travel the easier it becomes to manage.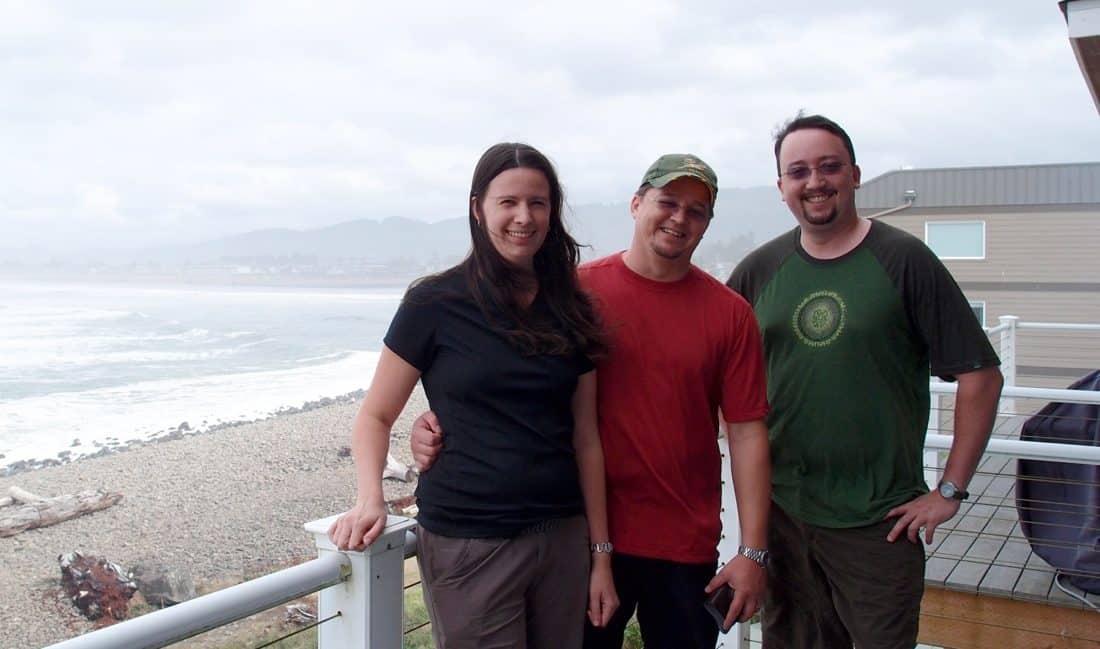 6) What are the pros and cons of travelling in your own vehicle rather than on public transport?
When we first started planning this trip we had a huge debate about whether to overland or to backpack. The decision came easily after we realized two things. First, our clients need us to check in every 48 hours. And second, we wanted to go to some serious backwoods national parks that were very difficult to get to with public transport.
Having our own vehicle seemed the only way we could keep in frequent contact with clients and still manage to get to most of the awesome off-the-beaten-path places we wanted to go. We ran the numbers, and the cost of buying, driving and maintaining a car could be almost totally offset by being able to camp and cook most of our meals.
Advantages of having a vehicle:
Freedom to control where we are going and the ability to change our schedule at a moment's notice
Being able to carry more stuff (this might be a con, it depends how you look at it)
Being able to camp and cook easily
Being able to charge our laptops while driving and have a fridge everywhere we go
Not having to unravel the mystery that is public transportation
Advantages of public transport:
It's almost always cheaper
Meeting a lot more local people
Not having to pay for maintenance and vehicle permits
Not having the stress of dealing with a vehicle and driving in terrible conditions
Not having to figure out how to navigate through big cities
7) I love the Wifi reports you do for each country you visit. How do you usually stay connected and which country has had the best internet so far?
Two keys for staying connected: research accommodation in advance, and buy prepaid 3G USB modems. On our scheduled work days we always have a place picked out that has internet, or is in a town we know there is a reliable café. All the rest of the time we rely on these magical little dongles.
The cell phone networks in Mexico and Central America are amazing, and the costs are significantly less than back home. For about $30 you can buy a prepaid 3G modem that usually comes with a month of free data. Plug in and connect. We recently started using an unlocked modem we bought in the States. Now we can just buy a SIM card and put it in the modem and connect. It takes a little trial an error, but only costs about $2 plus air time, not more than $1 per day.
The modems aren't incredibly fast, but they work fine for most things. And the cell phone networks are infinitely more reliable than the average hostel wifi connection.
8 ) You are spending around $70 a day for all three of you. How do you keep your expenses low?
Yes, we are spreadsheet budget geeks and we do track pretty much everything we spend. Tracking is part of the key to keeping costs down. We spend roughly $70/day for the three of us on gas, food, lodging, and supplies. This excludes personal money and any big expenses we budgeted separately like shipping our car to Colombia.
In reality our daily expenses have been closer to $90/day once you factor in vehicle maintenance, six weeks of Spanish lessons, and personal expenses like souvenirs, alcohol, and stress-relief chocolate bars. Of course it varies a lot per country. In the US we spent over $125 per day, and in the cheaper Central American countries it was closer to $70 per day.
We keep our expenses low by camping a lot, 60% of our nights so far, and by cooking most meals ourselves. We shop at grocery stores and markets every three to four days and avoid restaurants as much as possible. We also research where we want to spend the night ahead of time and try to find the cheapest two or three options that will fit the bill. Having 18 months to do this trip also helps, we don't have to move around as much. This helps us keep our daily gas expenses down and keeps us from unnecessarily spending money on conveniences like meals out or cushy hotel rooms after long travel days.
9) What are some of your favourite off the beaten track destinations?
Candelaria caves in Northern Guatemala- It was less than two paragraphs in Lonely Planet, but this place was incredible. A 27km cave system, inhabited by and sacred to the Mayans. We took a tour here, a few hours of hiking and few hours of floating on inter tubes. It was a nightmare to find the place and arrange a tour (we never do tours). But it was the most incredible place we have been on this entire trip.
Osa Peninsula, Costa Rica- Osa is a crazy wild place, but most people skip past it. It is a royal pain to get out to the Corcovado, lots of river crossing and bad roads, or long expensive boat rides. But this park is phenomenal. Scarlet macaws everywhere, monkeys, tapirs, crocodiles, huge white sandy beaches. We actually parked our car for a few days and did a hike into the park. It was hot and humid and full of bugs, but worth every single moment.
10) Where are you heading to next? Do you think you'll ever settle down in one place?
After we get to Argentina… who knows? We might continue north to Brazil and Venezuela. We might ship our car to Kobus' home in South Africa, we might go back to Seattle and then ship to Korea or Australia.
Or possibly, we'll do something totally different. As for the settling down idea… we'll probably slow down, but settling is a scary and permanent sounding word. Let's not talk about it anymore.
You can follow Jessica, Jared and Kobus's travels at Life Remotely and on Twitter and Facebook.
If you enjoyed this interview then read about other long term nomads in our Nomadic Interviews series.