This page contains affiliate links. Please read our disclosure for more info.
Garfagnana is a rugged, mountainous area in the northwest corner of Tuscany north of Lucca. It's wilder and more isolated than the rolling hills and vineyards that make up the classic central Tuscan landscape, with winding mountain roads, gushing rivers and medieval towns perched on top of hills.
Garfagnana receives far fewer tourists than the Tuscany heavyweights like Florence and Siena, but that's part of the charm. Although central Tuscan hill towns like San Gimignano are gorgeous you have to fight your way through the narrow lanes with bus loads of other tourists, whereas in the Garfagnana you can have equally picturesque towns like Barga almost to yourself.
There are less major attractions up here but that can be a relief after the overwhelming number of "must-see" sights in Florence. Here the focus is on outdoor pursuits – hiking, biking or caving in the mountains, wandering around ancient villages, and sampling the region's delicious traditional food.
We only spent a few days here – one of them exploring Garfagnana's gastronomic delights on our Sapori e Saperi tour – but we will definitely be back.
Barga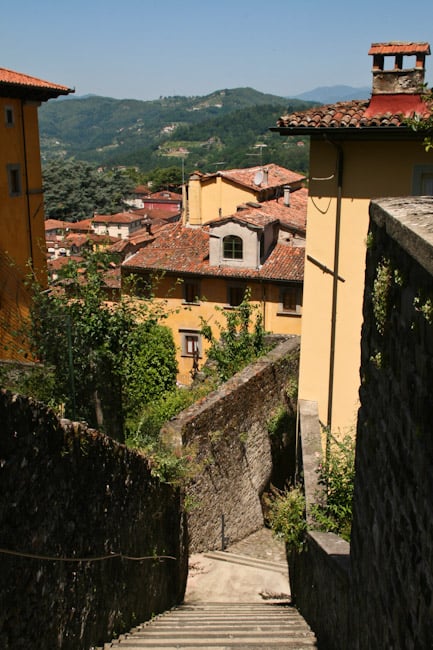 Barga quickly became our favourite town in Tuscany – it's just so cute! It tumbles down a hillside, a winding maze of narrow cobblestone streets and pastel coloured houses that are perfect for random wandering – and thankfully there are no tour groups to contend with. As with so many Tuscan medieval towns it's the details that strike us as we explore – the shuttered windows, ancient wooden doors, and balconies enlivened with boxes of bright red geraniums.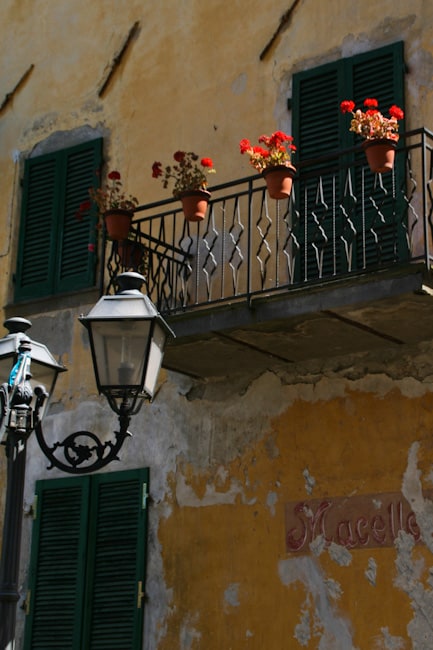 The atmosphere in the historic centre is deliciously sleepy and we encountered few people, just a few Italian men sat in a piazza watching the world go by.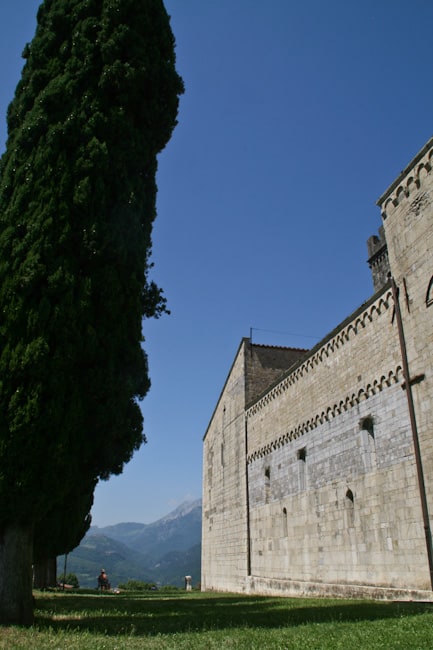 The highlight of Barga is the view from the romanesque cathedral Duomo di San Cristoforo at the top of the town. From the large terrace you can gaze down at the terracotta roofs of the town and the dramatic mountains that surround it. It's no wonder that it's a popular place for artists to sketch and paint – Simon joined them while I took photos from all angles.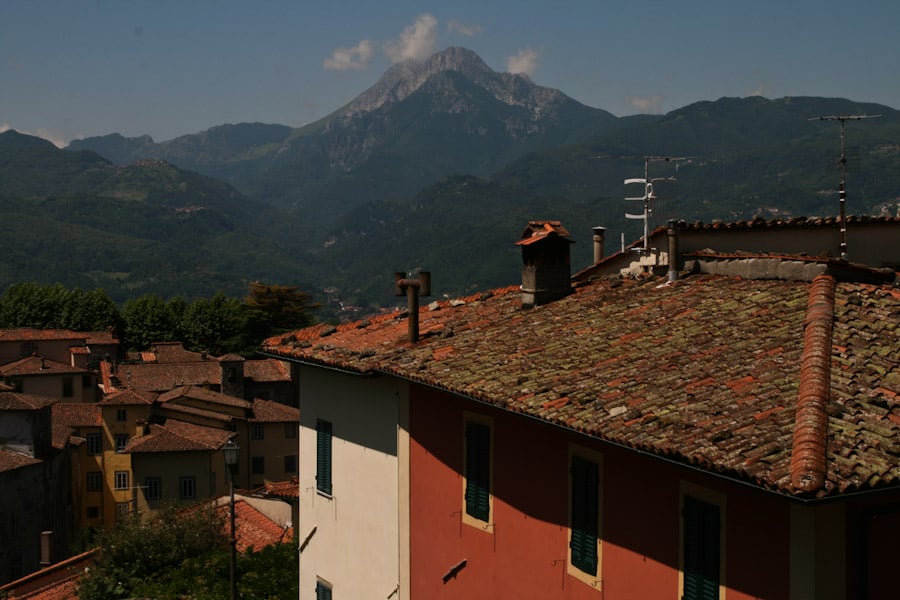 We had a leisurely lunch at L'Osteria on quiet Piazza Angelio – Simon's ravioli with cherry tomatoes, pecorino and basil was particularly good – before indulging in our daily gelato at a place simply called La Gelateria.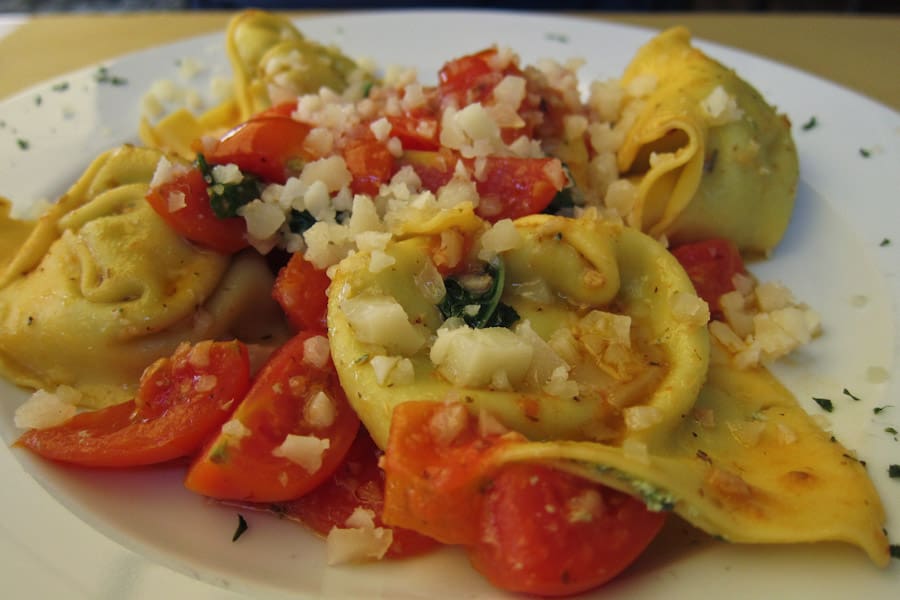 Our love of Barga was probably helped by the fact that we stayed in the perfect place to admire it from afar – the agriturismo Al Benefizio which we've written more about below.
Castelnuovo di Garfagnana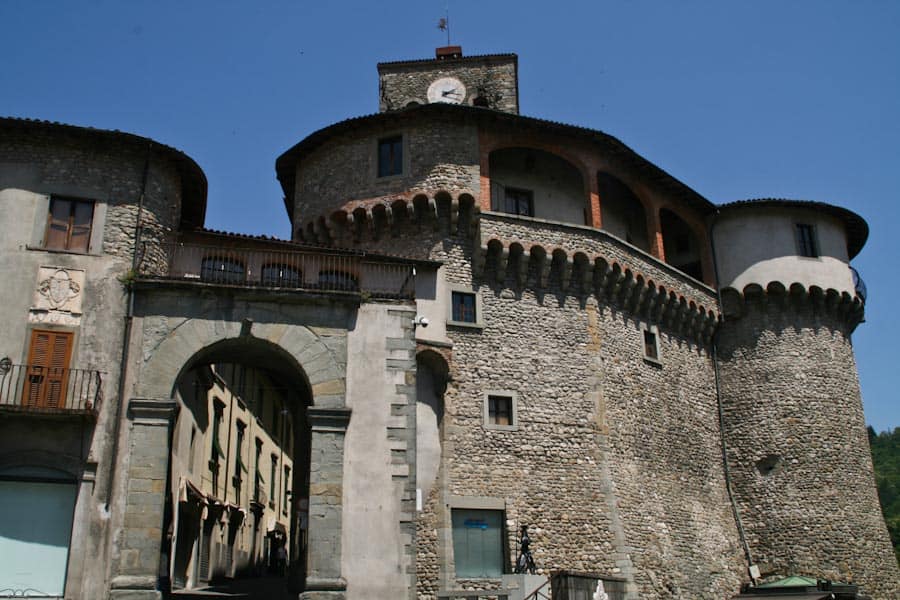 Castelnuovo di Garfagnana is the main town of the Garfagnana and although we didn't find it as charming as Barga it's worth a visit to see the striking Rocca Ariostesca (Aristo's Castle) built in the 12th century and named after the poet who lived there in the 16th century as governor of the Garfagnana.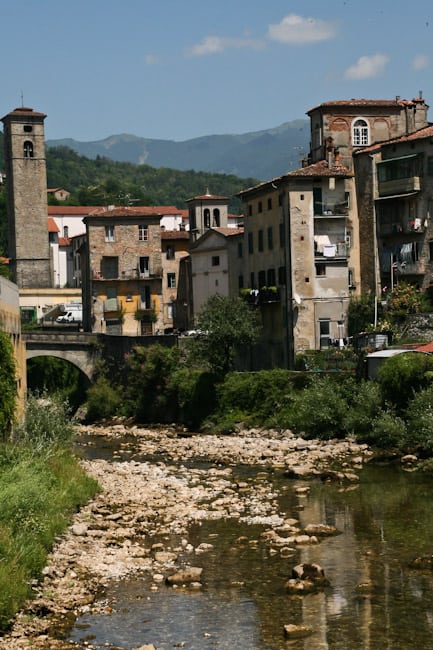 We also visited Castelnuovo on our Sapori e Saperi culinary tour where we visited a textile mill that weaves scarves by hand for the top fashion houses, and had lunch at Osteria Il Vecchio Mulino (via Vittorio Emanuele 12) – which is another good reason to visit the town. It's a unique eatery that isn't really a restaurant – no food is cooked on site – instead owner Andrea Bertucci serves up a tasting menu of cold dishes using the best ingredients of the Garfagnana.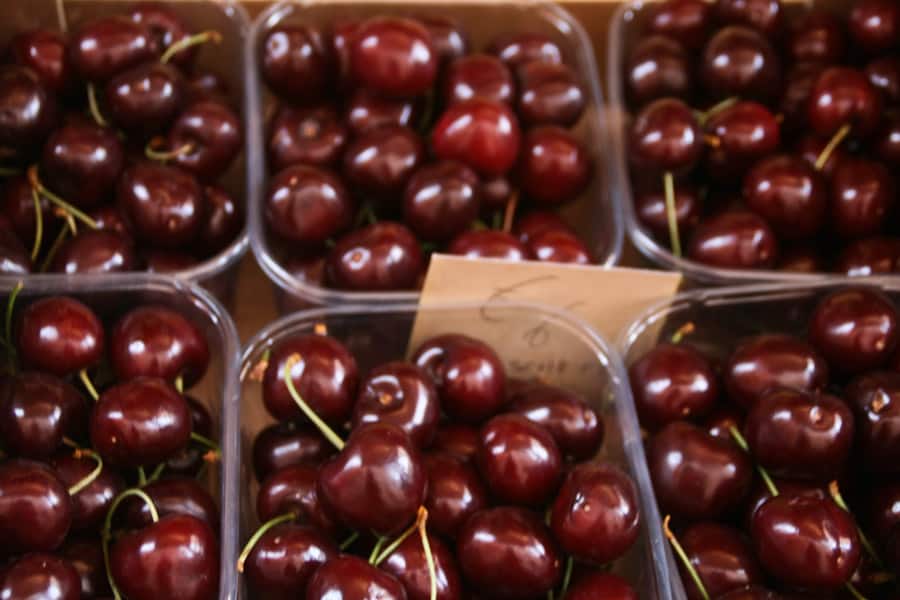 The Apuane Alps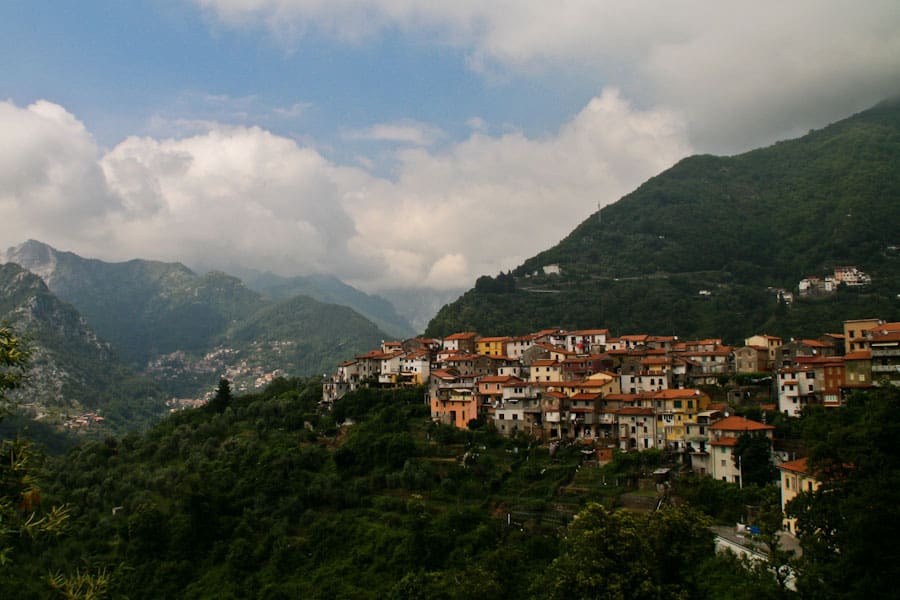 Castelnuovo di Garfagnana is the starting point for one of the most spectacular drives in Italy – a winding road that takes you over the Apuane Alps and down to the coast at Massa. While driving along narrow roads around hairpin turns there are some heart-stopping moments as Italians whizz around the corners towards you, but it's worth it for the dramatic mountain scenery past marble quarries and views of villages clinging to the mountainside.
To follow this route take the SP13 from Castelnuovo and continue on to the SP4. It took us about 1hr 15 mins although you could spend more and stop along the way. If you get motion sickness then make sure you take some dramamine before you start – don't make my mistake!
Where to Stay: Al Benefizio
Al Benefizio is one of those magical places that you fall in love with instantly and never want to leave. At least it was in my case and I'm already plotting how we can return to spend a month there. Agriturismi are one of the best types of accommodation in Italy. These farms that offer up accommodation for tourists are usually great value, in beautiful rural settings and offer the chance to get to know your Italian hosts.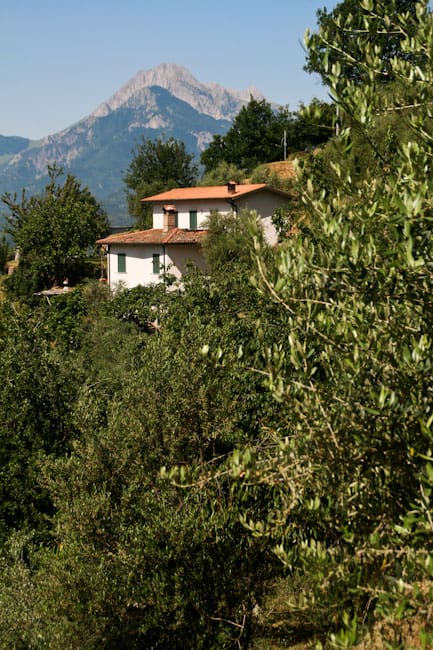 Al Benefizio is on a small farm run by welcoming Francesca who is happy to show you around her bee hives and olive groves. There are a few donkeys, chickens, and a vegetable patch as well as the bees and olives. The most striking thing about the farm is the setting – the view is truly spectacular. It's a blissfully tranquil location surrounded by farmland, forests and mountains with Barga perched on the mountain opposite, but easy to reach only a few kilometres away.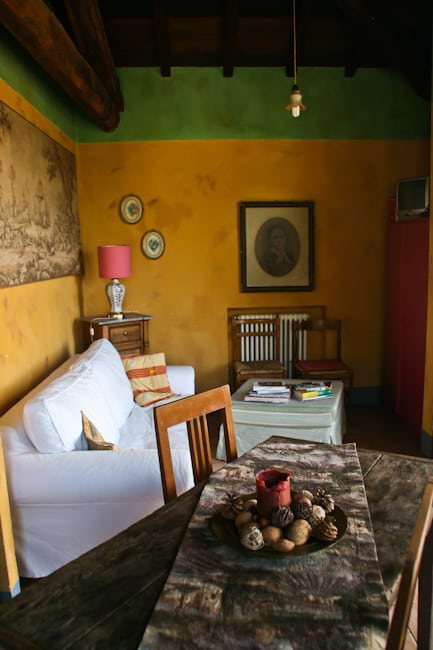 We loved the cosy apartments in the old stable. They have been lovingly and sensitively restored striking the balance between the atmospheric charm of wooden beams, exposed stone walls and a wood burner stove, and modern conveniences – a new bathroom, well equipped kitchen and washing machine.
We felt instantly relaxed as Francesca had added lots of homely touches – artwork, candles, cushions, books and magazines. We also appreciated the very comfortable couch (always a winner with us).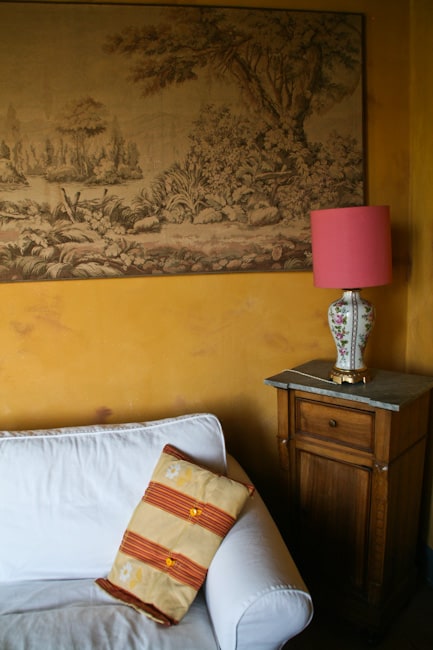 The views are just as spectacular from the apartment. Our one bedroom apartment on the upper floor had doors that opened on to the balcony so you could enjoy the views of Barga from the couch, kitchen or when sitting on the balcony.
Another highlight is the large swimming pool with plenty of sun loungers. Again, the views from here are amazing. There are only three apartments so it should never feel crowded.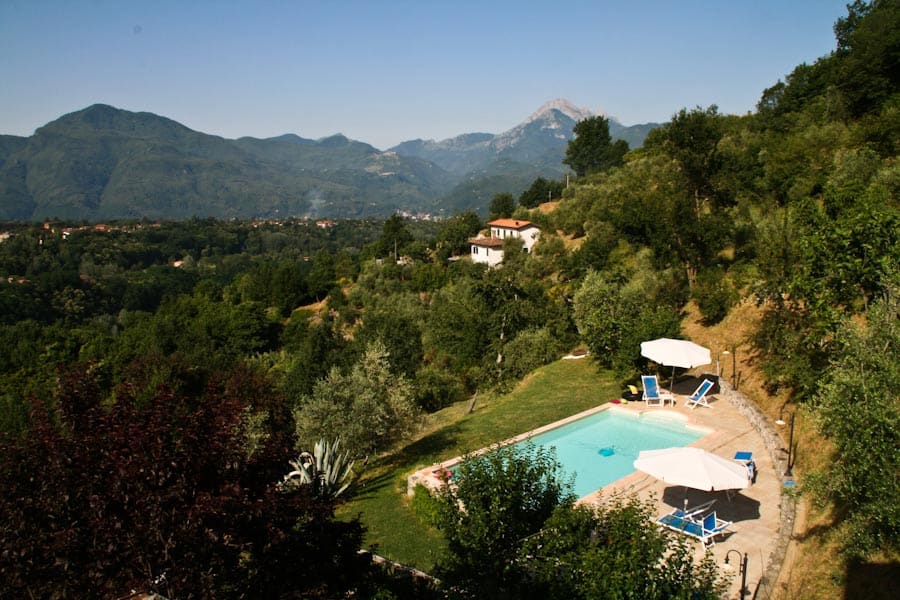 The only downside we found was that the WiFi didn't reach our apartment. You can access it in the garden though and Francesca says she is going to sort this out.
Apartments sleep up to four people and cost from 80 – 110 euros a night depending on the time of year, with a 20% discount for one week stays. The pool is open from 1st May to 30th September. For details see the Al Benefizio website.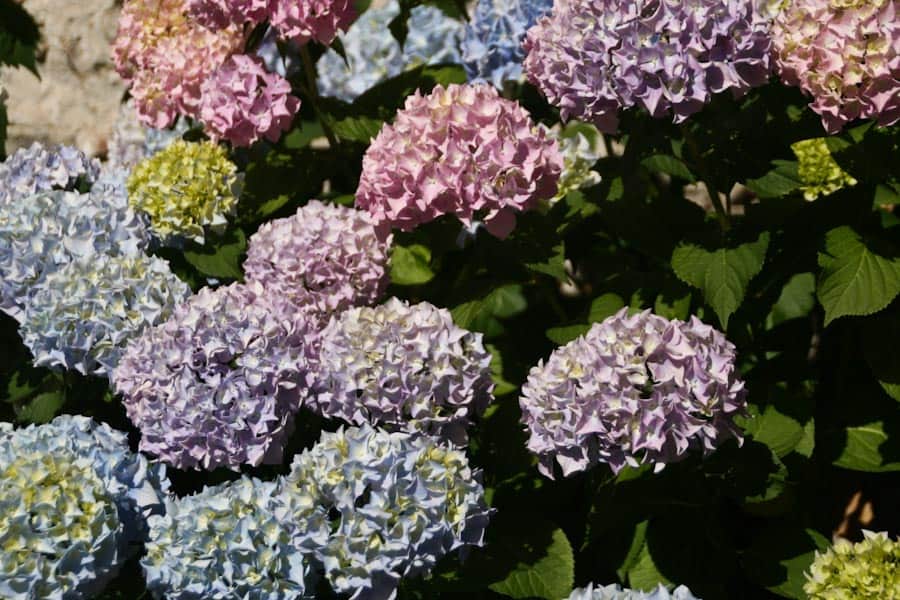 If you'd like to get away from the crowds in Tuscany's cities and indulge in some good food and relaxation then the Garfagnana is the perfect place. We definitely want to head back to go hiking, to explore the many cute medieval villages, and of course to eat some more.
Thanks to Francesca who hosted us for a night at Al Benefizio