This page contains affiliate links. Please read our disclosure for more info.
Siro Chini has the relaxed confidence of someone who's on very familiar territory as he leads our small group of six in to the Uffizi gallery in Florence. Picking up our pre-booked tickets and taking us directly past the queues, we began our introduction to the story of Florence and Renaissance art.
And, like so many good stories, it was a tale of power, money and sex.
We first learned about Context Travel from The Road Forks and a few interesting things stood out: they use docents, not guides—scholars and specialists who are experts in their fields; they keep the groups small; and they don't call their trips tours—they are walking seminars.
We had signed up for the Uffizi Gallery Tour and, as we followed Siro and his pony tail around the gallery, we were given an education.
The Price of Entry to Heaven
In the 1300s Florence was rich and more powerful than Rome. The many wealthy bankers, including the Medicis, were considered sinners1. They made a lot of money fast by charging high interest rates on borrowing so, in order to clean their soul, they commissioned works of art for God.2
As modern, middle class artists wring their hands about the whole notion of 'selling out', it's illuminating to learn that the Renaissance movement—a movement that changed the path of painting, sculpture and architecture forever—was kickstarted by freelance artists hired by rich people trying to buy themselves out of trouble.
Art is very much rooted in its time. Technology, politics, and knowledge all play a part in limiting the possibilities of an artist—all they can generally do is push the boundaries. There are, of course, those rare exceptions that are able to run through them as if they were nothing more than a misty illusion3.
We were to be introduced to a bunch of them.
The 13th Century & Giotto
The Uffizi is generally arranged chronologically, although recent renovations have caused things to be moved around a bit, so we started in the 13th century with a room full of religious paintings surrounded by gold, including many images of Madonna and Child—a standard theme of the time.
To our untrained eyes, they all look more or less the same until it's pointed out to us that, if we look carefully at this particular painting by Giotto, we can see that he used new shading techniques in such a way that, for the first time, Mary has breasts.
After that, it just gets sexier.
On the Subject of Sleeping with a Nun and the Consequences Thereof
Filippo Lippi was a Carmelite friar who fell in love with a nun.
The Church still held considerable power in the 1400s and doing something as racy as ripping up the Cloth and marrying a nun could be hazardous to one's health4. Thankfully for the amorous little scallywag, he had friends in high places and Cosimo de' Medici, the ruler of Florence, protected him because of his talent as a painter.
Cosimo commissioned many works by him and other artists (obviously a guilty conscience) and so Lippi was able to marry the nun and have a son, Filippino Lippi, who took after dad and also became a great painter.
His painting Madonna and Child with Angels was a private thank you gift for Cosimo, so is much smaller than the usual paintings for churches. Although it has an ostensibly religious theme it's actually a portrait of his new wife and their son. Unlike the Mary in the Bible, this Mary is beautiful and elegant and obviously from a noble background (and seated in front of a noble background—detailed landscape views only began in the Renaissance).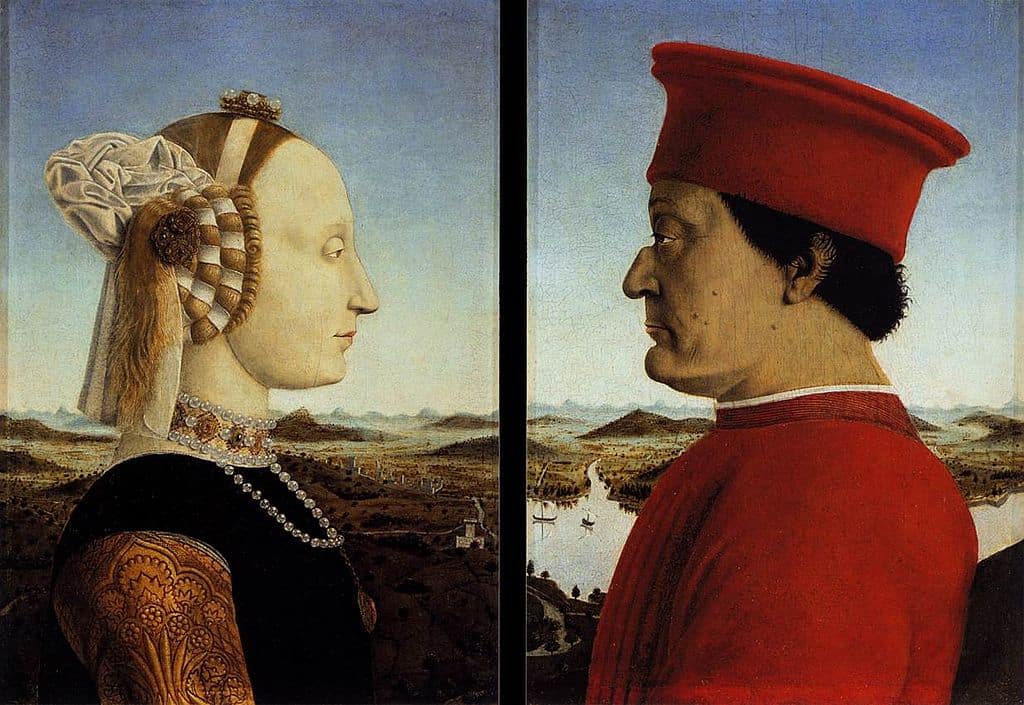 Throughout the walk, Siro would point out aspects of painting that had symbolic meaning. Nothing gets you paying attention like a good symbol—it's like Where's Wally for adults. In the iconic Piero della Francesca's double sided portrait of the Duke and Duchess of Urbino, it's the orderly countryside in the background, which represents good government.
Many of our initial thoughts (like "cor, don't his nose look funny? And ain't she pale? Like a ghost, she is!") were given an extra dimension when the stories behind the things we were noticing were explained—in this case, his nose was caused by a battle injury and the paleness of his wife was representative of nobility (rich women didn't go out in the sun), and by the fact that she was actually dead when the portrait was painted.
Botticelli
As we entered the Botticelli room—the biggest in the Uffizi—we were (not for the first time) grateful that the groups on these seminars were kept small.
The Birth of Venus is the first work in the Uffizi to be painted on canvas rather than the usual wood and features a welcome transition from purely religious to mythological imagery, reflecting the interests of patron Lorenzo de' Medici who empathised with the Greek gods—he had the painting created for his bedroom.
Siro explains that the two angels hovering above the beautiful naked Venus—unashamed of her nudity—is a symbol of the rise of Florence thanks to the Medicis: they are literally breathing fresh air to Florence by their role as patrons of new art—although there are many other interpretations.
Primavera (Spring) is another Botticelli classic that was probably commissioned along with Birth of Venus and is another fantastical scene with roots in mythology.
One of the advantages of taking a tour like this with someone who really knows what they're talking about is getting the benefit of their reading of the masterpieces. The story of Spring is a particularly fascinating one—tackling the the transition from earthly to spiritual love—and, when it was shown to us, it permanently transformed how we saw the painting, giving us a deeper understanding of the ambition of the piece.
Michelangelo
Siro's favourite piece is Michelangelo's Doni Tondo, one of his few moveable works as he more commonly created sculptures (such as the famous David) and frescos (like the Sistine Chapel). Painted in 1507 you get a deeper sense of how much painting had evolved from the 13th century where we began our tour.
Gone were the flat images, stark gold colour and lack of perspective. Instead Michelangelo created a sculpture within a painting – the figures of the Holy Family and St John the Baptist jump out from the surface by his use of contrasting colours and shading.
Mary is painted as almost masculine and Siro hinted—with a slight, knowing smile—that Michelangelo painted what was beautiful to him, and the male form was his idea of beauty.
Titian
By 1538 things had gotten racier.
Titian was one of the leaders of the Venetian renaissance. While the Florentines believed that drawing was the centre of all art (painting, sculpture and architecture), the Venetians put a much greater focus on colour to create contrast or harmony.
Titian's Venus of Urbino was erotic by the standards of the time. A nude young woman reclines on a bed, looking directly, unashamedly at us, waiting for a man. The roses she holds represent love, while the dog by her side represents fidelity, but of course he's sleeping…
According to Siro the painting was a private commission by the Grand Duke of Urbino to teach his young wife how to be: gentle and, er, always ready.
Then we were introduced to a more interesting symbol—the hand held with fingers in a subtle V. Apparently, this sign is the equivalent of saying "Hey! I'm naked and horny over here!"
We spent the rest of the tour looking out for this symbol in all the paintings.
Context Travel
The Uffizi is vast and also features works by Leonardo, sculptures by Donatello, portraits by Bronzino and much more. Of course, it's impossible to see everything in a single day so instead of going for breadth, we went with depth—choosing a selection of pieces that best represented the evolution of art through this prolific time—and we ended with a far better understanding of what we did see as a result. Siro's explanations of context, symbolism and technique helped us to place these works in history and to really appreciate them.
The Context Travel Arte Firenze three hour walk costs €70 per person, plus admission to the gallery (€14). They also run many other walks in Florence and in cities around the world with themes including art, architecture and food. If you want to understand galleries like the Uffizi rather than just passively wandering around then we'd definitely recommend the Context walks.
Thank you to Context Travel who sponsored our Arte Firenze walk and to our fabulous, informative guide Siro.
All painting photos from Wikimedia.
---
No change there, then. ↩
Apparently, God can be bought. ↩
Which they are, but made apparently solid by generally held beliefs about what's possible. ↩
Although violence is generally no longer used, it's still possible to be hazardous to people's health in subtle ways, using nothing more than reality-distorting words. ↩