This page contains affiliate links. Please read our disclosure for more info.
Florence is a walking museum. As the birthplace of the Renaissance its streets, churches and of course galleries are full of masterpieces – paintings, sculpture and architecture. But it's also overwhelming. There's just too much to see, the crowds are exhausting, and burn out comes quickly.
If you take your time and travel Florence your way then you can have a great time. Here are our tips on making the most of a trip to Florence.
Research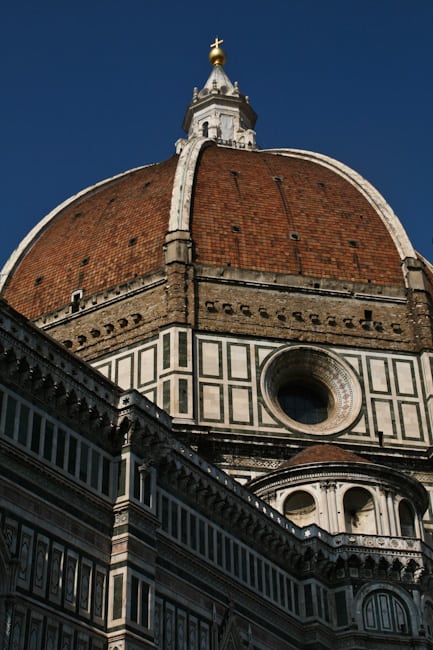 It's a good idea to do some planning before your trip. Read up on things to do, check opening times (some of the main attractions close on Mondays for example), and find restaurant recommendations. Unless you enjoy queueing for hours then you'll want to book your tickets to the major museums like the Uffizi and Accademia in advance. It costs €3 on top of the ticket price but is well worth it.
I'd also recommend reading up on the art and history of the city, especially of the pivotal Renaissance period when Florence was centre stage. It'll give you a better understanding of what you are seeing. I read Ross King's Brunelleschi's Dome before visiting this time and had a much greater appreciation of the mammoth and revolutionary undertaking it was to build the cathedral's dome and climbing up the dome itself was an even more interesting experience as I knew the story behind it.
Don't Try to Do Everything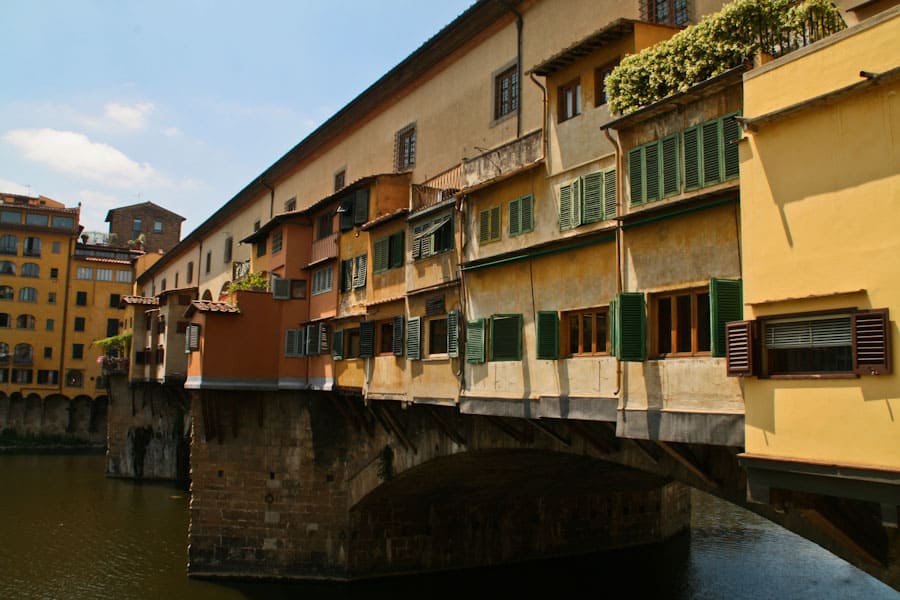 It's impossible to visit everything in Florence. It's not a huge city but it's packed full of masterpieces – world class art museums, churches that are art galleries themselves, and architectural gems down every street. I spent a month in Florence 10 years ago and every day after my Italian class I'd visit a different site – I barely touched the surface of what there is to do in Florence.
I was able to visit things at a relaxed pace but most visitors are only in Florence for a few days and rush around trying to see it all. Just don't. Burn out is common and you'll see plenty of exhausted looking people, eyes glazed over as they can't take in another work of art.
Prioritise what's important to you – this is when your research comes in. If you want to spend most of your trip shopping then do it – you'll probably have a more rewarding trip than the people on tour groups being dragged around to dozens of museums and churches. If you are into food visit one of the local markets such as Sant'Ambrogio or make it your mission to hunt down the best gelato in the city.
Walk
Firstly – don't drive into the city. If you are staying elsewhere and visiting on a day trip then drive to a train station and get the train in. We were staying west of the city towards Lucca so drove to Prato where there is free parking right outside the station (if you are lucky enough to find a spot) and the train only takes 20 minutes.
Florence is a compact city so it's easy to walk everywhere – and this is part of the fun. The only place you might consider taking the bus if you are tired is up to Piazzale Michelangelo where you can see a replica of Michelangelo's David and get expansive views of the city.
Consider a Small Group Tour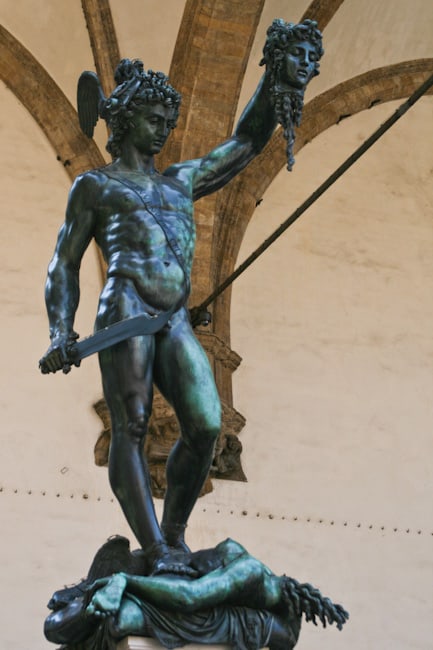 While we don't recommend joining the bored looking members of the massive tour groups with their headsets and umbrella-waving tour leader, it can make sense to take a small group tour in Florence.
With the right guide a tour can help you gain a greater appreciation of Florence's art and history. We visited the Uffizi on a three hour Arte Firenze walk with Context Travel. There were only six of us and our art historian Siro helped us put the artworks in the historical context of the Rennaisance as well as explaining the symbolism and interesting stories that went along with each painting. Read more about our Art Firenze Uffizi visit.
Get High
I'd really recommend getting a birds eye view of the city during your visit. To climb the duomo's cupola (dome) or campanile (bell tower) you have to ascend hundreds of narrow stone steps but it makes a good workout and you are rewarded with views of the city.
This time we climbed the duomo's cupola which has the added benefit of providing a close up view of Vasari and Zuccari's The Last Judgement fresco on the inside of the dome with its horrific, gory depiction of hell. It costs €8 to climb and is open from 8.30am – we recommend going as early as possible to avoid queues.
There's now a new tower to climb in Florence. The Palazzo Vecchio tower on Piazza della Signoria was opened to the public for the first time in June. Most people don't know about it yet (we only did thanks to our Context guide) so it's a far less crowded experience than the duomo.
There are perfect views of the duomo from the top, except for the fact you have to stand on your tiptoes to get the views. Annoyingly due to health and safety they have prevented you getting to the edge so it's difficult to see over the side. To take photos you have to hold your camera over your head, or poke it through barred windows on a lower level. It costs €6.50 to climb the Palazzo Vecchio tower or €10 when combined with entrance to the Palazzo Vecchio.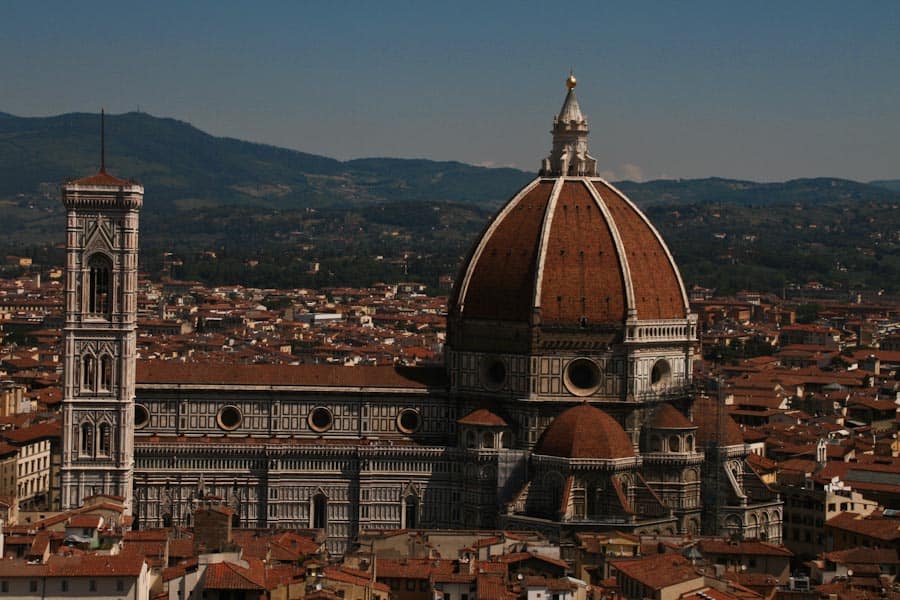 Escape the Crowds
Florence is a very popular city and the crowds can get too much. Luckily the tour groups stick to the same route of popular attractions and it's really not difficult to escape them – just head down any side street. The best areas for aimless wandering are Oltrarno on the other side of the Arno river and Santa Croce. It can be surprisingly quiet in many parts of the city.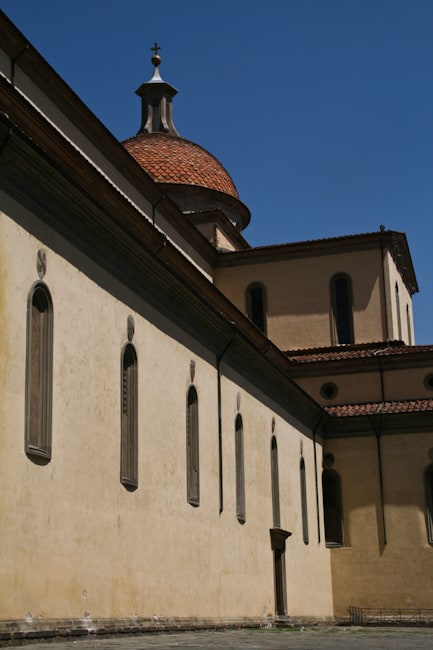 If you really need to escape the city then head to Fiesole, only 9km away, or to the nearby Chianti countryside to enjoy the scenery and visit some vineyards.
Eat Smart
You'll eat much better food for less if you get a local's recommendation of a place to eat rather than eating in the most touristy areas. Avoid the restaurants that have someone outside encouraging you to come in or that have tourist menus. We originally found a great list of restaurants, cafes and gelaterias all over the city on the Divina Cucina website although it now seems they have moved it to an app which we haven't tried.
We had lunch at one of the recommendations – Al Tranvai, a family-run trattoria on the untouristy Piazza Torquato Tasso in San Frediano, over the river but an easy walk from the centre. We loved this friendly, cosy restaurant full of locals. There are plenty of vegetarian options and pasta dishes costs around €8-9.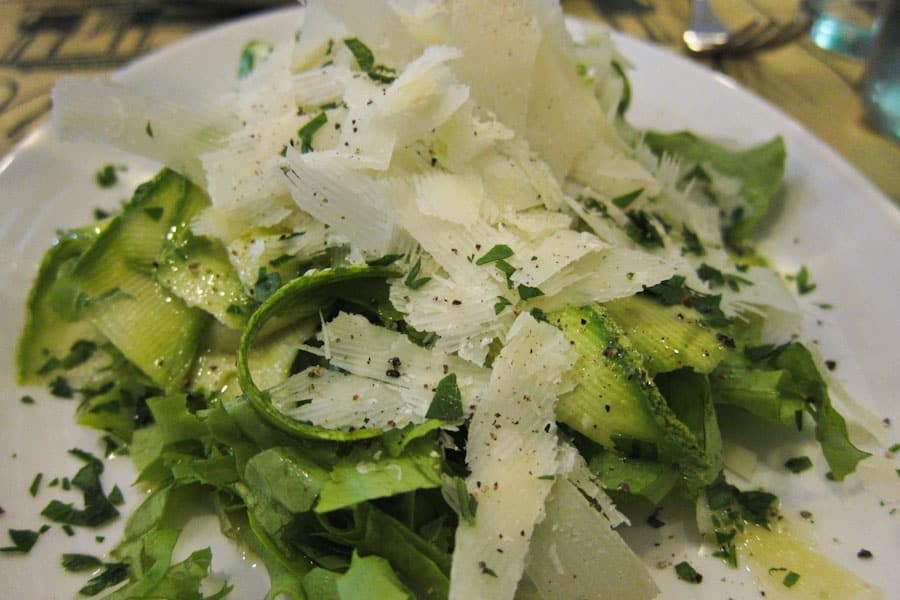 We started with carpaccio di zucchini a simple dish of thinly sliced zucchini with lemon, olive oil, parsley and parmesan shavings that was bursting with flavour. Our mains were just as delicious – a spicy linguine all'arrabiata and an asparagus risotto.
If you are on a budget your best bet is picking up a slice of pizza or buying some bread, cheese and fruit for a picnic.
You can also get delicious sandwiches for €2.50 each at I Due Fratellini, a hole in the wall sandwich shop that's very popular – get there early. It's in a convenient location on Via dei Cimatori 38r a side street just off the main street Via dei Calzaiuoli between the duomo and Piazza della Signoria. There's no place to sit so join the locals on the pavement curb, perhaps with a €1 glass of wine. We tried goats cheese and sun dried tomato, and pecorino, truffle and rocket on warm crunchy rolls – they were wonderfully flavourful.
Gelato is delicious in Florence and at €2 for a small cone it's affordable too, so don't miss it. We liked Festival del Gelato (Via del Corso) and Perchè No! (Via dei Tavolini) – both conveniently located just off Via dei Calzaiuoli.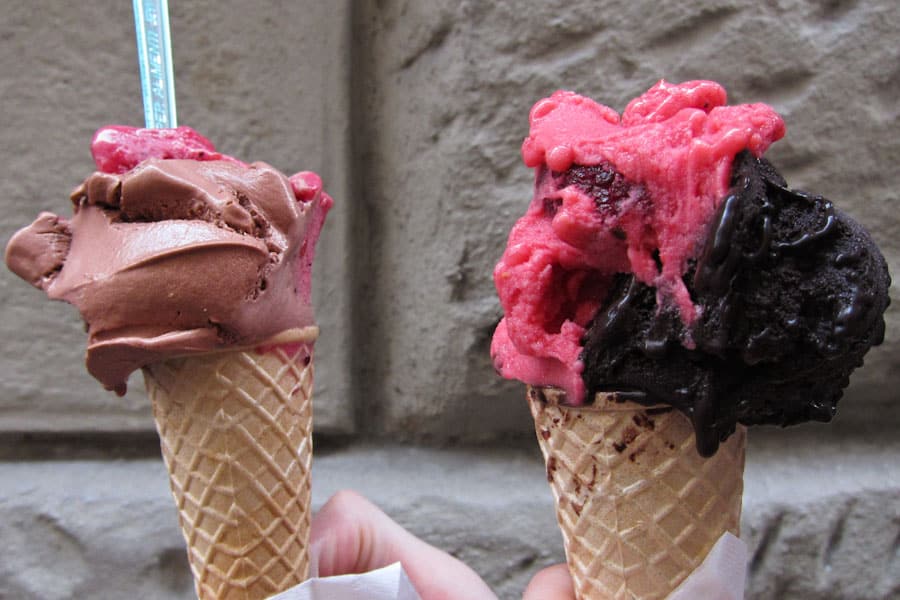 It's hot in the summer so make sure you keep hydrated. You can fill up your water bottle for free at taps and fountains all over the city and in Piazza di Signoria there is even a water tap offering fizzy water.
We hope you find these tips useful for making the most of a trip to Florence. Remember that the important thing is to enjoy it. There are no "must-see" sights – just do what you feel like doing, make time to wander aimlessly, and have fun. Oh, and eat – definitely make time for lots of eating!
If you enjoyed this post, pin it!