This page contains affiliate links. Please read our disclosure for more info.
The piles of colourful fresh produce in Chiang Mai's many markets made me long for a kitchen. I love eating out in Thailand and trying new dishes, but I wanted to take the foodie exploration further and learn to cook Thai food myself. Once we were settled in our Chiang Mai apartment (and yes, it had a kitchen!) it was time to take a cooking class. It's a popular tourist activity in the city and we had an overwhelming number of schools to choose from. We looked at a few of the vegetarian-only cooking classes but as most schools are happy to cater to vegetarians, in the end we went with the Road Forks' recommendation and chose the Asia Scenic Thai Cooking School.
Our day began with a trip to the Sompet Market with our lively teacher Sarah. She speaks excellent English with lots of humour, and gave us a knowledgeable tour around the stalls. She explained the differences between the dozen varieties of rice which you can buy by the kilo; showed us how coconut milk is homemade from fresh coconut; introduced us to the different types of fresh rice noodle; and pointed out the differences between Thai and western eggplant (Thai is smaller, round and white and green).
Back at the school our education continued with a tour around Asia Scenic's garden where they grow many of the herbs essential to Thai cooking – basil (Thai, holy and lemon), kaffir lime, lemongrass, galangal, tumeric, chives and lots of chillies.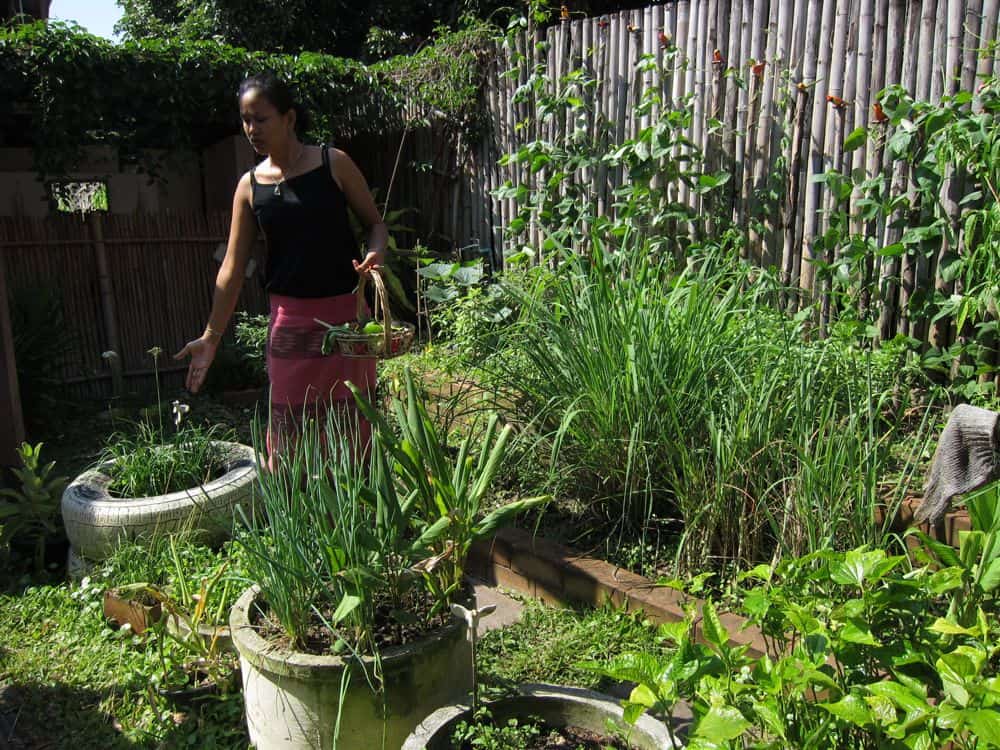 Our class of 11 students was a little larger than I would have liked (we were spoilt with a private cooking class in Japan), and we could all choose from a number of options for each course. With everyone cooking different dishes it did get a little confusing at times, but Sarah managed it well and it often meant you got to see how other dishes were made as well as your own. We cooked six courses in total and ate all of it – the warning to come with an empty stomach was a good one.
To keep our hunger at bay before we began cooking we were introduced to the Thai welcome snack meang kum. We filled a betel leaf with roasted peanut, toasted coconut, ginger, chilli, lime, shallots and sweet syrup to create a parcel and popped it into our mouths. I was a little dubious about it but the combination of all the flavours was delicious.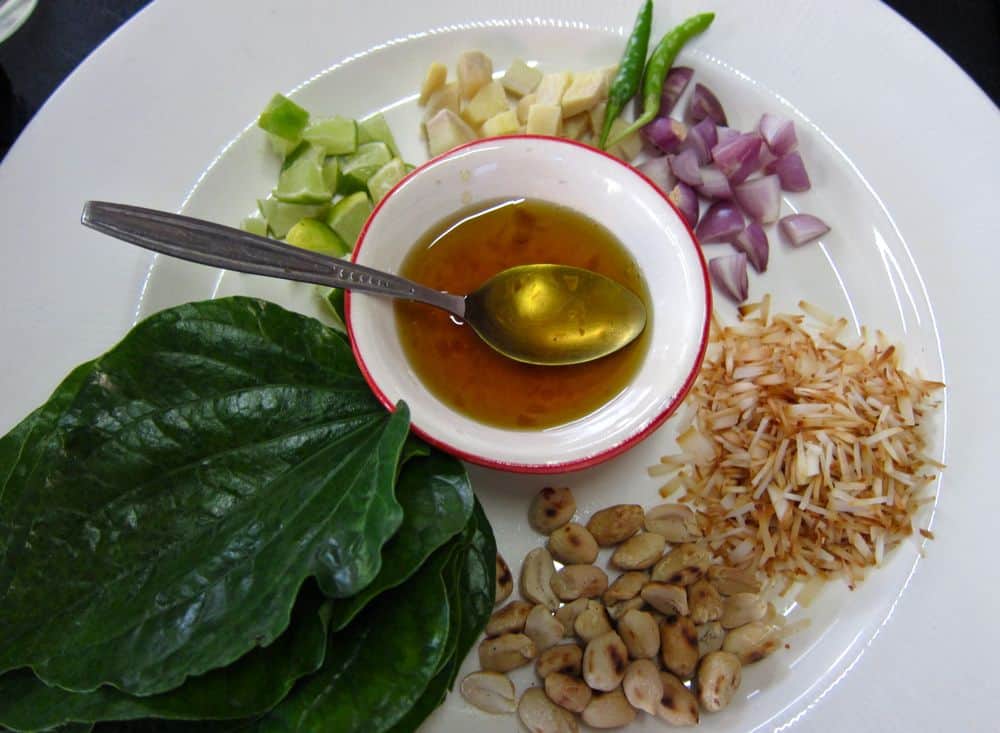 Stir Fry
For breakfast we cooked a stir fry. These are popular street meals in Thailand as they are quick, can be cooked in one wok and as we discovered, are easy to make. Although the ingredients vary, the seasoning follows the same formula – 1tsp sugar, 2 tsp fish sauce (or soy sauce for vegetarians), and 3tsp oyster sauce (or mushroom sauce for us – we used the Healthy Boy brand). It was easy to make the dishes vegetarian friendly by using these replacements and tofu instead of meat.
I made the classic pad thai by frying garlic in oil, adding tofu, egg and seasoning before adding the rice noodles and a little water. Finally throw in beansprouts, grated carrot and garlic chives and cook briefly. The whole dish is finished in minutes and is topped with ground peanuts, chilli flakes and lime. This has become one of my favourite easy dishes to make at home.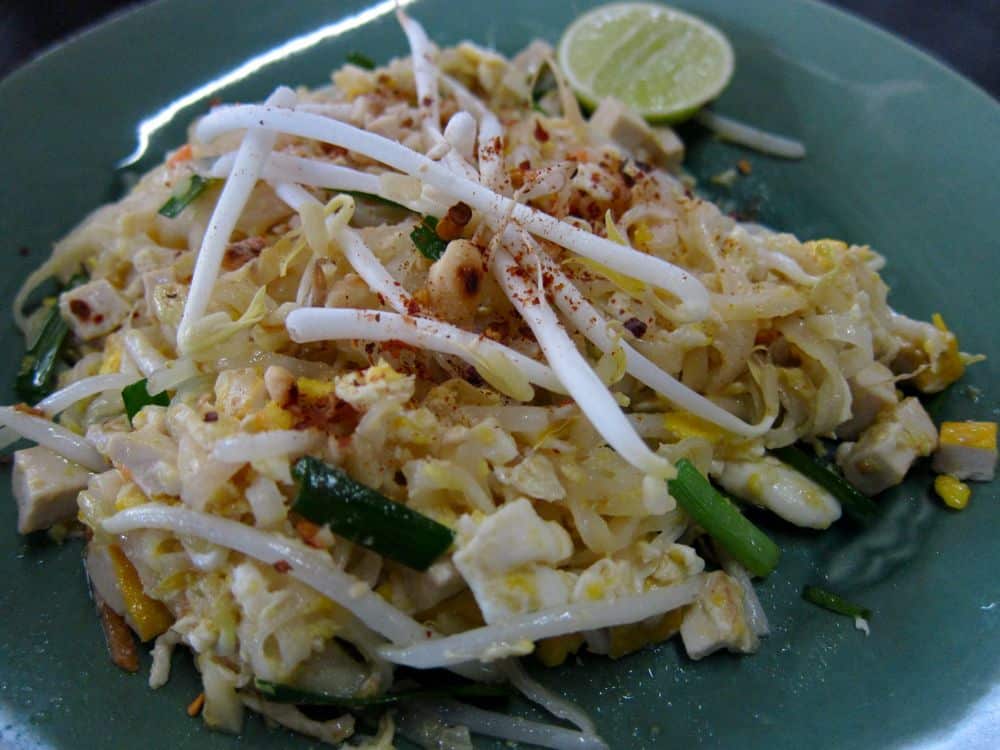 Simon's pad see uw followed a similar formula with kale and carrot as the vegetables alongside tofu and egg, and thick rice noodles soaked in soy sauce replacing the thin pad thai noodles. Again, delicious and simple.
Appetisers
Once we had polished off the stir fries it was back to the kitchen to make our appetisers. Simon, along with most of the group couldn't resist making spring rolls (por pia tod). The filling of tofu, beansprouts, carrot, chives and glass noodles followed the stir fry formula and was the easy bit.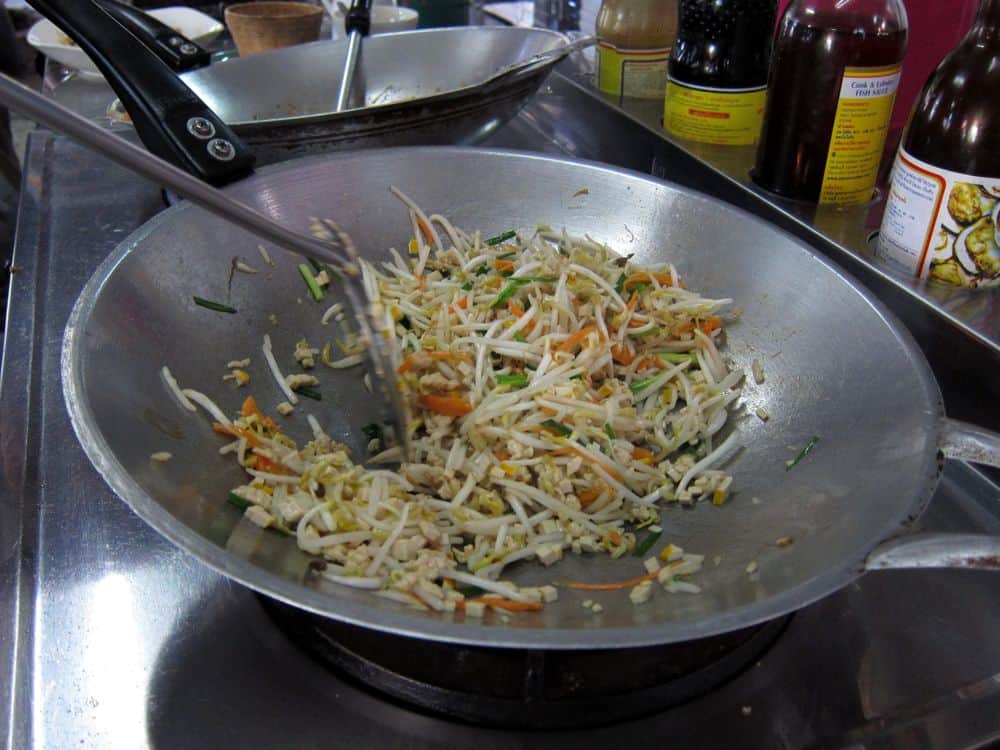 Rolling them up neatly was a little trickier.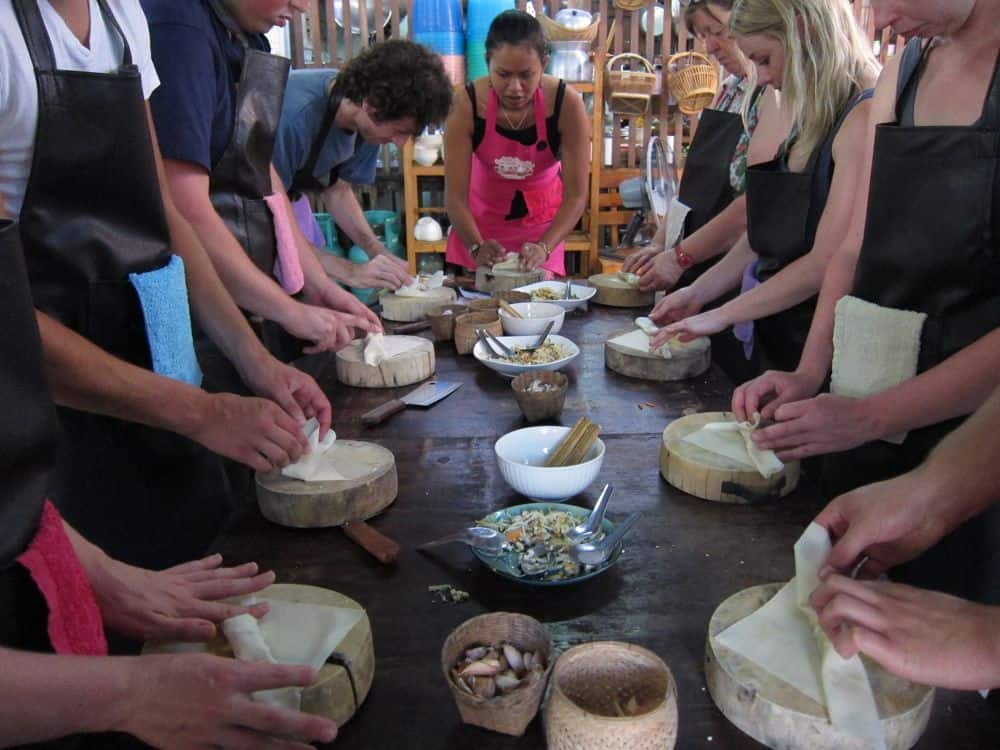 Fry until golden brown and hope they stay together…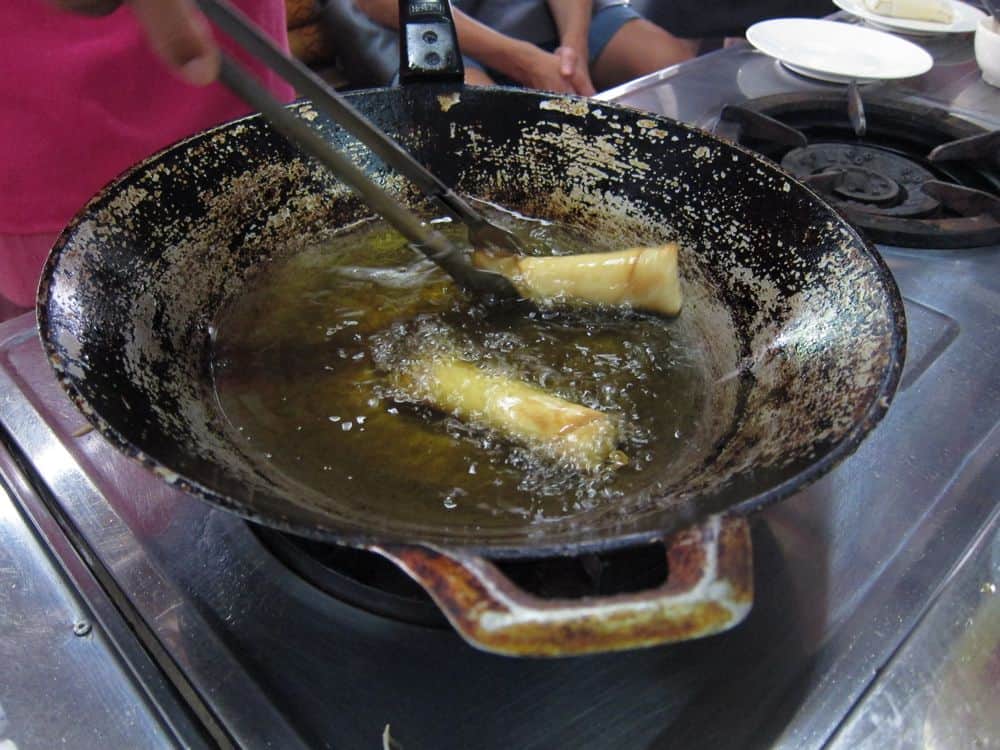 The final product…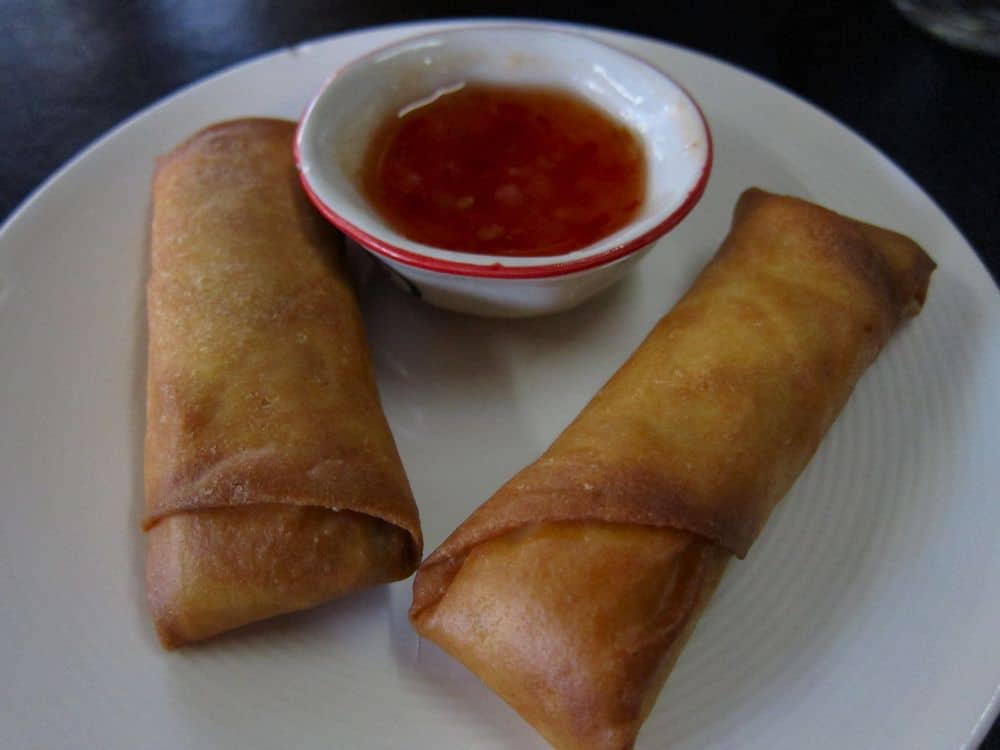 I opted to make one of my favourite Thai dishes som tam or green papaya salad. Again it was surprisingly simple, although the papaya was already shredded for me by the helpful staff (I've picked up a handy tool to use at home though). Chillies (I went for a spicy four, the Thais have a lot more), garlic and green beans are pounded in a pestle and mortar until they begin to break. Sliced tomato, palm sugar, lime juice and salt (or fish sauce for non vegetarians) are added to the mix and finally the shredded green papaya. It's all pounded together to create a wonderful tangy, spicy salad and topped with crunchy peanuts.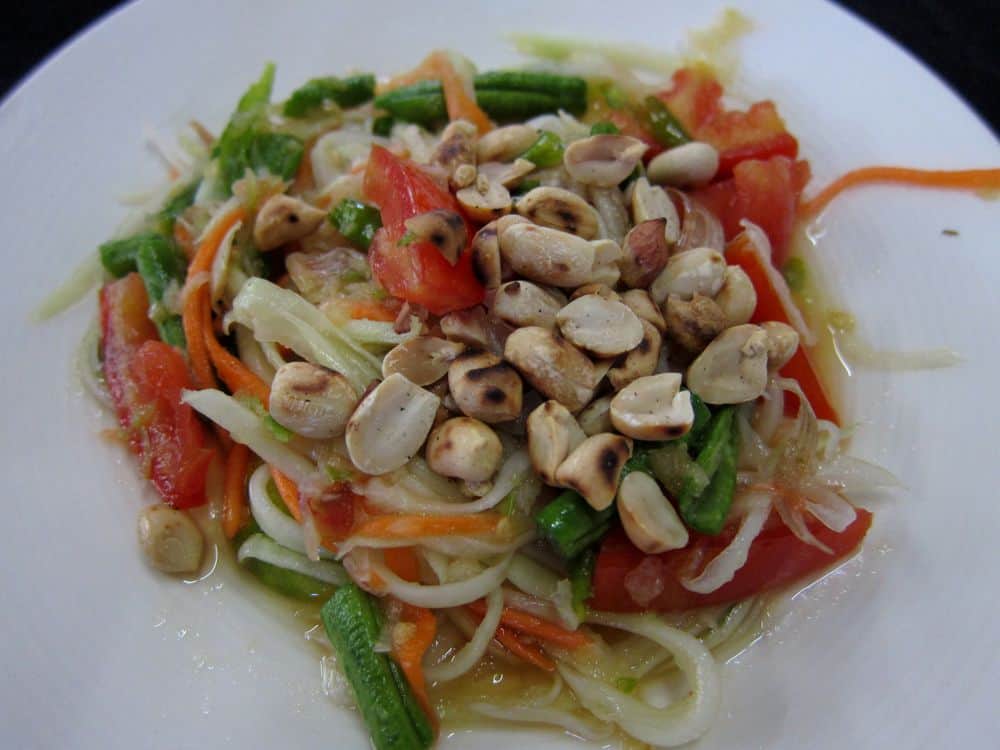 We sat down to eat again, and by the end of my salad I was stuffed and wondering how I'd eat the rest of the dishes (Simon had no such concerns). Luckily we would be making the next four courses all together and finishing the day with a feast. I hoped I'd have cooked up an appetite by then.
Curry & Soup
Fresh curry paste is an essential ingredient in Thai cooking and would form the basis of our curry. It's hard work pounding together all the ingredients but the aroma of lemongrass, chilli, kaffir lime, garlic and coriander seeds was wonderful.
All Thai curries follow a similar pattern – add a little coconut milk to a hot wok, add the curry paste and stir until deliciously fragrant, add the tofu (or chicken etc) and cook for a few minutes before adding more coconut milk. Add all the vegetables (we used Thai eggplant), kaffir lime leaves, palm sugar, and fish sauce (or salt for us). Garnish with basil and enjoy with rice.
I made the local specialty soup khao soi which is cooked in a similar way to the curry but with curry powder added to the red curry paste. Once the curry is finished it is poured over a bowl of egg noodles and topped with deep fried egg noodles, spring onion, coriander and lime.
We also made some fragrant Thai soups – my vegetarian version of tom yum with a tangy tamarind chilli jam, and Simon tried the herby local soup tom sab.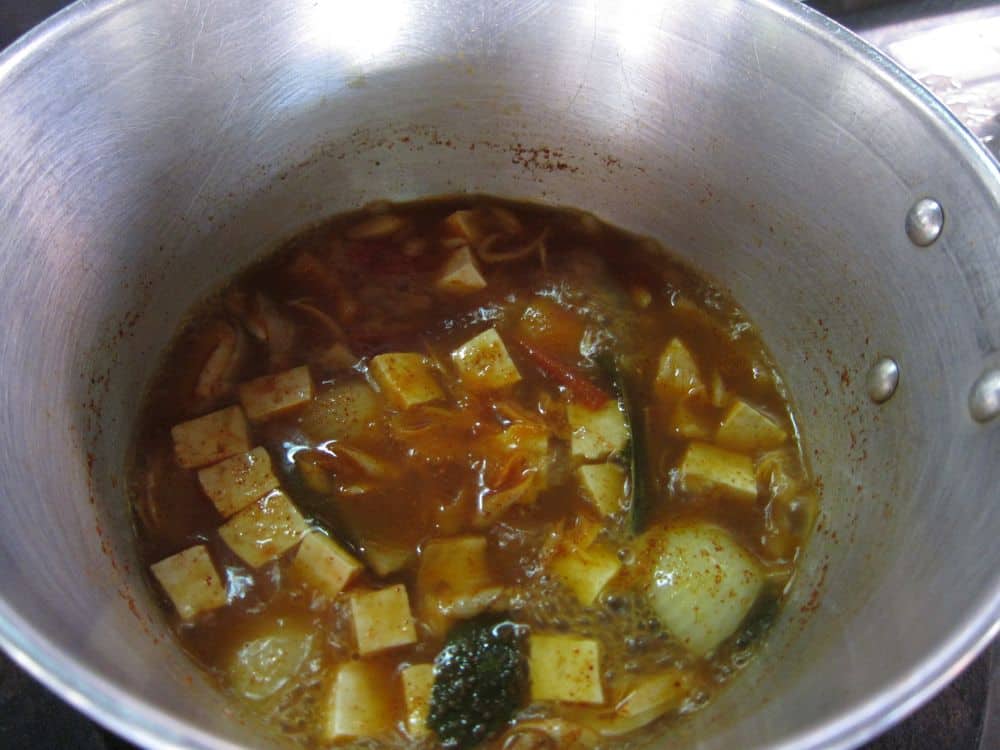 Dessert
Finally, dessert. The Thai classic sticky rice with mango (khaw neaw ma maung) was simple to make. Steamed sticky rice is cooked up with coconut cream, palm sugar and a little salt (somehow this makes it sweeter – we tested it), and served with juicy mango.
Simon's deep fried bananas (glauy tod) were a little more complicated but still easy enough to make us want to try them at home. Sliced bananas were dipped in a delicious batter of flour, grated coconut, coconut cream, palm sugar, sesame seeds and salt, and then deep fried until golden brown. Yum.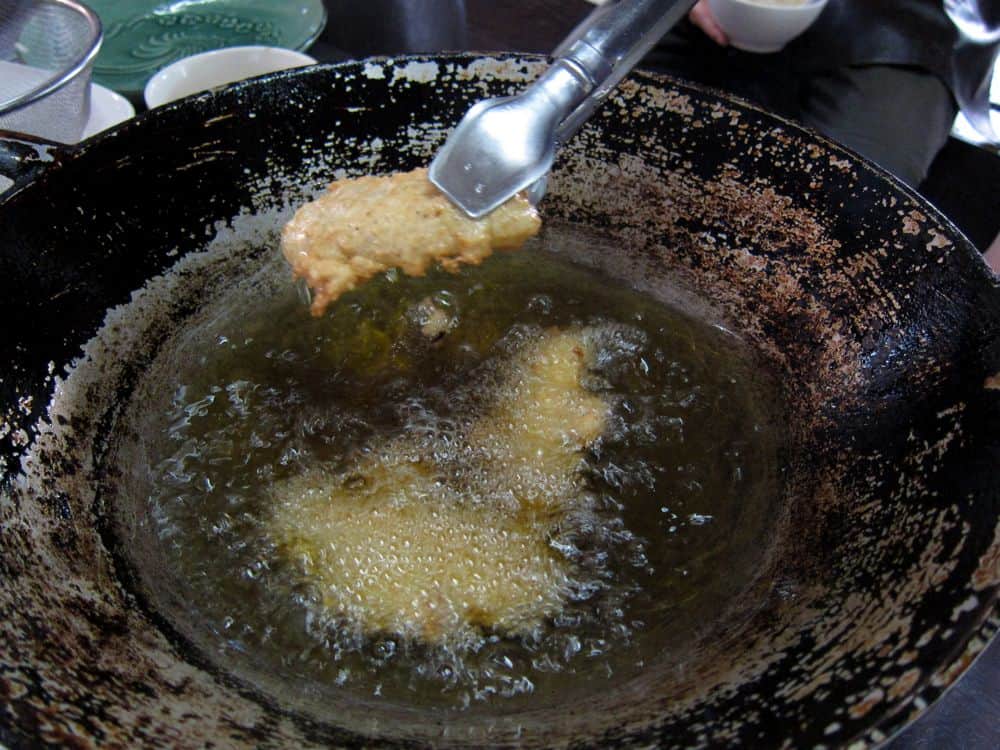 Our final feast was huge and I barely managed half of it. We were all very satisfied with our creations though and came away with a greater understanding of Thai food. We were sent away with a cook book with all the recipes and a helpful glossary of ingredients. Usually I wouldn't have the opportunity to try them out but as we are living in Chiang Mai for a while I was able to get cooking straight away.
If you'd like to learn more about Thai food, and a day spent eating sounds perfect to you then we would recommend taking a cooking class in Thailand. Simon doesn't like to cook at home but even he enjoyed it.
Asia Scenic classes cost 900B (US$30) per person for a full day (9am-3pm) or there are half day options.