This page contains affiliate links. Please read our disclosure for more info.
Update: Sadly, Emi no longer runs cooking classes.
A Kyoto cooking class is the best way to learn more about Japanese cuisine. It's especially useful for vegetarians like us to learn what we can and can't eat.
Emi Hirayama from Uzuki Cooking Class is happy to cater to vegetarians. Kyoto is the heart of traditional Japan and has a long history of shojin ryori or Zen Buddhist cuisine, which can be sampled at some of the city's 1600 temples.
We enjoyed eating in many of these Kyoto vegetarian restaurants, but Emi's cooking class gave us a much better understanding of what we were eating.
Contents
Arriving at Uzuki Cooking Class
We met Emi outside the University of Art & Design and she took us to her home where she has been running cooking classes for 14 years. It was just the two of us as only a few students can easily fit in her kitchen.
Emi is soft-spoken and graceful, polite in the way only the Japanese are, and was forgiving of our bad chopstick technique and inelegant presentation (we soon learnt the Japanese way). She speaks good English so communication wasn't a problem.
Our lesson began with a cup of cool hojicha, a Japanese green tea, roasted until it is reddish brown and has a smoky flavour.
Emi had written out the menu for the day. Although you can choose something specific in advance, we were happy to leave it in her hands.
Our menu included two main dishes, rice, and we were asked to choose from two out of three other dishes. So we'd be cooking five dishes in the next three hours including the all important time to eat it at the end.
Multiple small dishes eaten together in one meal are common in Japan especially for shojin ryori.
Introducing the Ingredients
Emi started by introducing us to the ingredients, many of them unfamiliar to us. As well as the menu she also provides a glossary of common Japanese ingredients to take away and there is an English dictionary of Japanese food to consult for more in depth explanations on everything from different types of tofu to umami (one of the key tastes in Japanese cooking).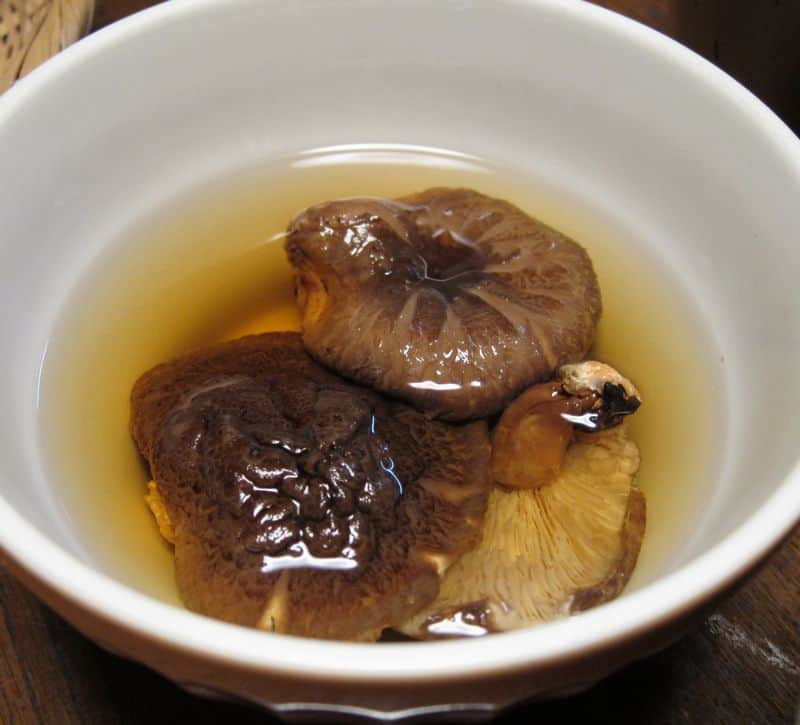 Konbu is a key ingredient. This long strip of dried seaweed is soaked in water, boiled until it has flavoured the water and then removed to leave behind a stock that is the basis for many dishes.
Usually fish flakes are also added, but we used the liquid the dried shiitake mushrooms had soaked in instead.
Konbu and shiitake provide umami which the Japanese believe is one of the primary tastes along with sweet, sour, salty, and bitter. There doesn't seem to be an English translation.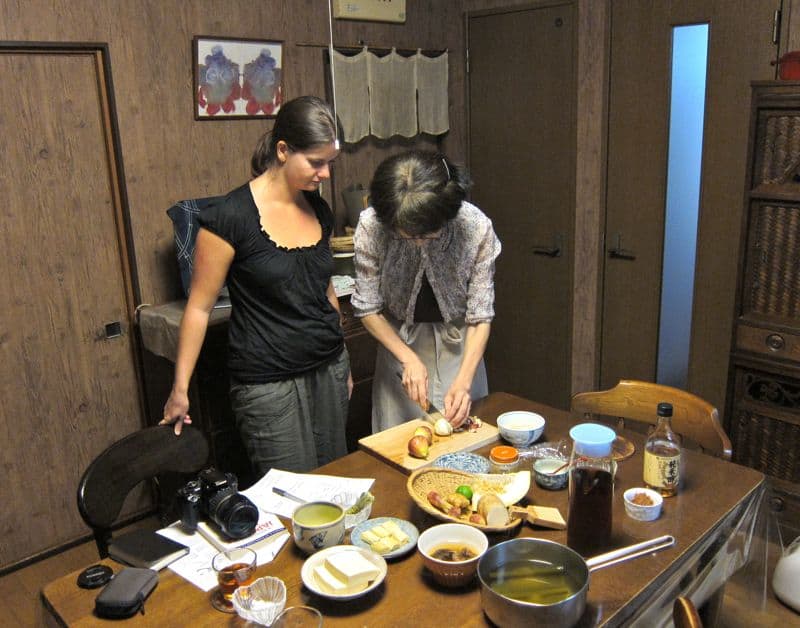 The same seasonings are used in many of the dishes. Mirin is a sweet rice wine, sake is a drinking rice wine, and there are three types of soy sauce—koikuchi is the regular, dark basic sauce, usukuchi is lighter with less soybeans but saltier, and tamari is 100% soy bean with no added fermented wheat.
I took photos of the bottles so I could find them later in the supermarket where we usually wander around bewildered in a sea of kanji.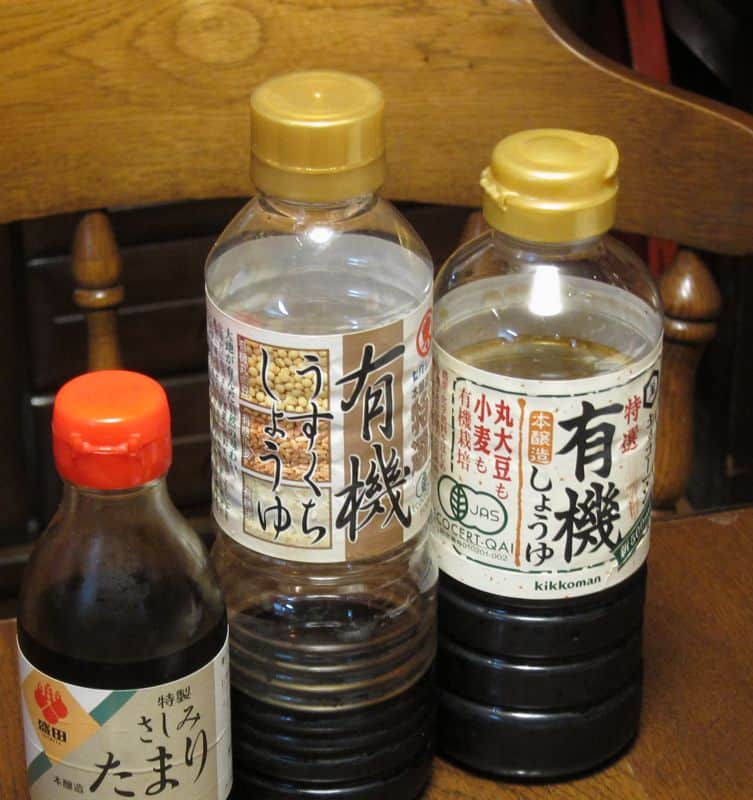 Miso is also an important seasoning. This fermented soybean paste comes in a range of flavours—the creamy beige is sweeter and used for dressings, while red miso is stronger and good for soups.
Although we are vegetarian, we've never been fans of tofu, thinking it is all the tasteless white blocks you are served up in the UK.
In Japan there are infinite varieties of tofu and the main dish we were cooking included two types, neither of which we'd tried before.
Yuba is the thin skin that forms on the surface of boiled soymilk—it sounds weird but is delicious, creamy and light.
Koyadofu is freeze-dried tofu originating from the temple-filled Mount Koya (where we later stayed in a temple and ate a vegetarian feast). It's reconstituted in water and becomes springy and sponge-like, absorbing the flavours it is cooked in.
Emi introduced us to some Japanese vegetables. Togan she described as Japanese gourd or melon with its white flesh, Nagaimo Yam has rough brown skin, and purple myoga is ginger flower buds which are much milder than the ginger root we are familiar with.
We would also be cooking with fresh figs, ginger root and okra.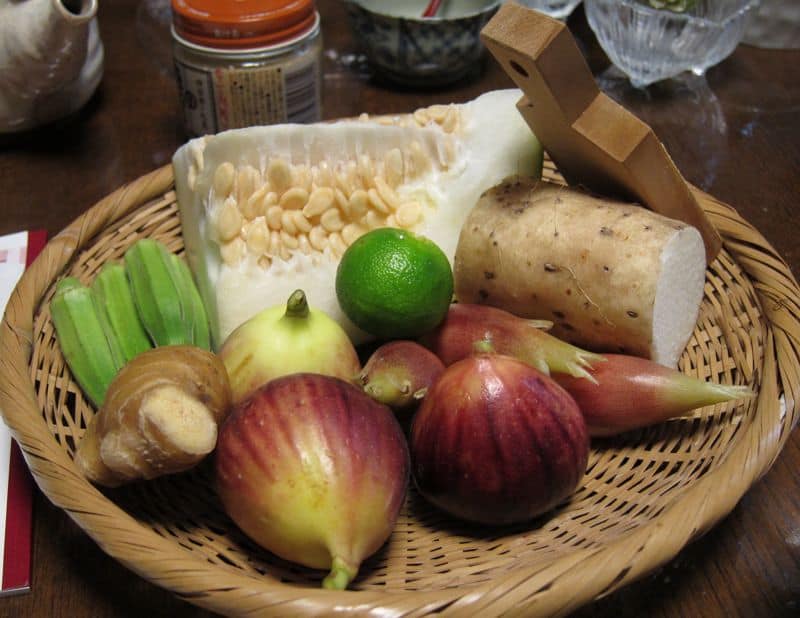 Edamame would be an ingredient in the rice dish (an essential of any Japanese meal). These soybeans are in season at the moment and are rich in protein and vitamin C. Emi had pre-boiled the edamame for a few minutes and removed them from their pods.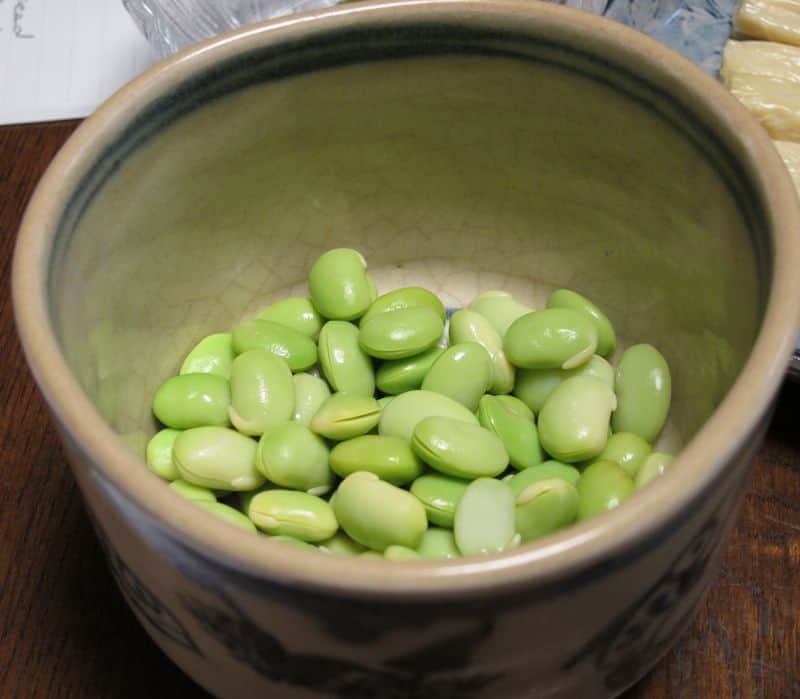 We had tried spicy wasabi before but had never seen it raw. To garnish one of the dishes we would later grate this root on a special grater with a raised surface.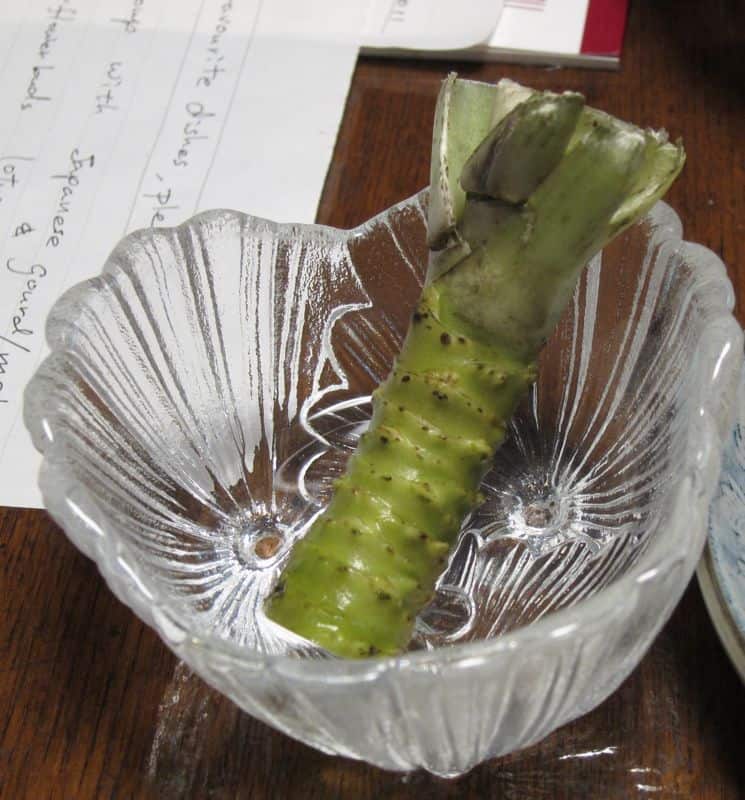 Cooking
Once we knew what everything was we began to cook under Emi's command, following her simple instructions. Here's what we made:
Simmered Yuba (Soy Milk Skin) & Koyadofu (Dried Tofu) with Thick Amber Sauce
Tofu
The dried tofu is soaked in water until it becomes spongy and then the excess water is squeezed out. It is chopped into chunks and added to a pan of konbu stock (400ml) with 1tbsp mirin, 1 tsp sake, 1 tbsp soy sauce and 1 tsp sugar.
Cook for around 15 minutes until it has absorbed much of the liquid. The japanese use a otoshibuta or wooden lid inside the pan to keep the tofu down.
The yuba is added with some extra seasoning after 15 minutes and cooked for another 3-4 minutes.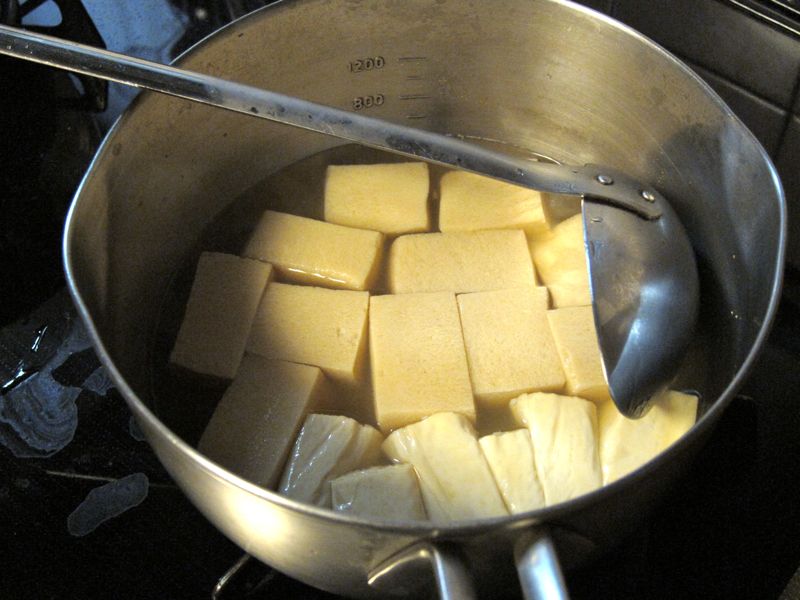 Amber Sauce
For the sauce we finely chopped a carrot and 3 shiitake mushrooms (that had been reconstituted in water) into matchsticks.
The shiitake mushroom liquid is added to some konbu liquid to form the basis of the stock and heated up.
This is seasoned with 1 tbsp each of mirin, sake, dark soy sauce and 1tsp sugar. The carrots and shiitake are added and cooked until soft.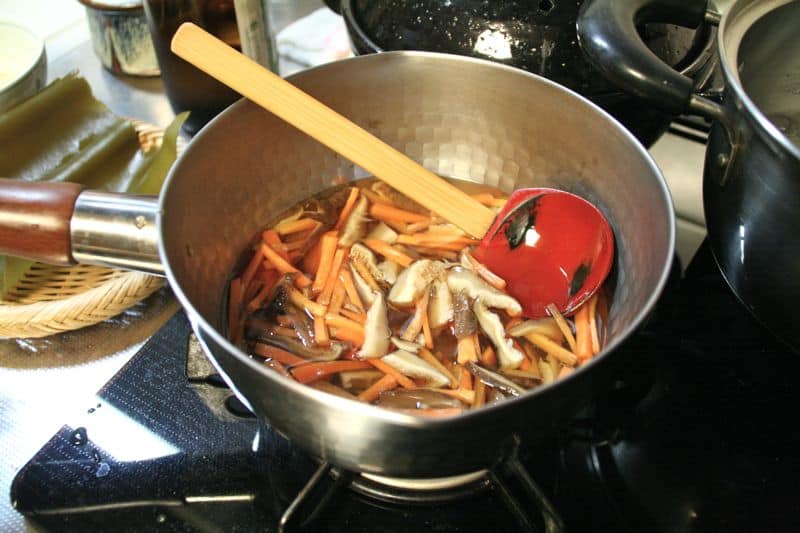 Once the vegetables are soft we made a paste from 1 tsp of water mixed with 1 tsp kuzu (a thickener) and gradually added it while stirring the sauce until it has thickened.
Chopped mitsuba (a Japanese herb a bit like coriander) is added at the end.
To serve
We put the tofu into a large bowl with the two kinds stacked separately with the highest section at the centre. We learnt that Japanese cuisine favours this kind of "mountain" presentation.
Next we added a little of the tofu cooking liquid and poured the amber sauce on top. Garnishes are important in the beautiful presentation of Japanese food and we finished this dish with some grated ginger on the very top.
It looked too good to eat!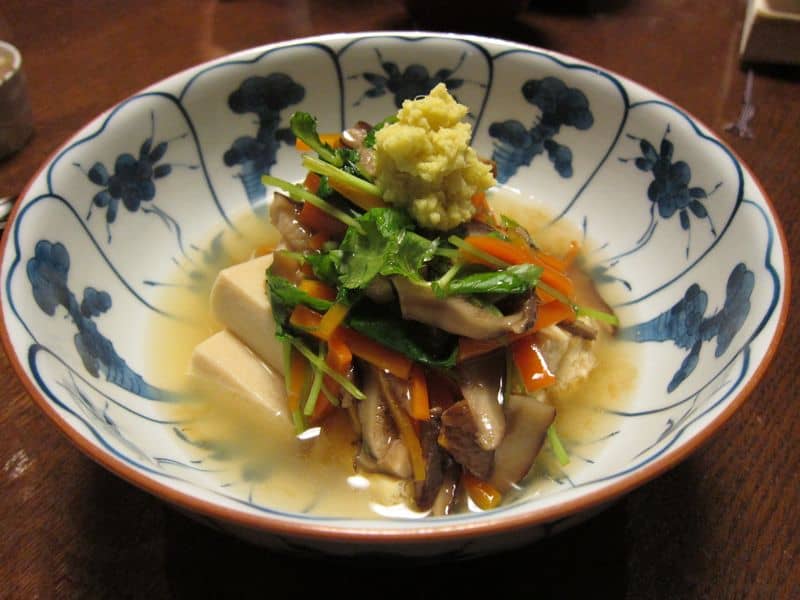 Miso Soup with Togan (Japanese Gourd/Melon) and Garnished with Ginger Flower Buds and Lotus Roots
We peeled the togan, cut it into chunks and boiled it in water until it became soft and transparent.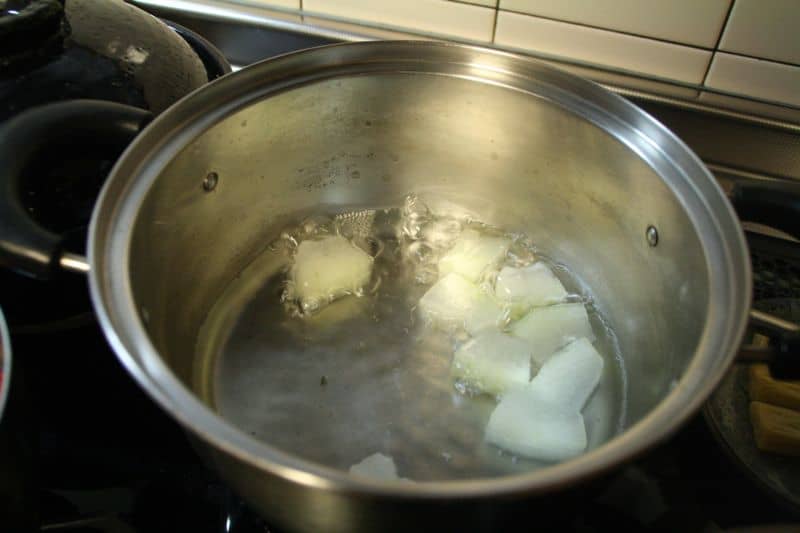 To prepare the garnish we thinly sliced the myoga (ginger flower buds) and lotus root and soaked the lotus root in water and a splash of rice vinegar. It was then shallow fried for a few minutes until crispy.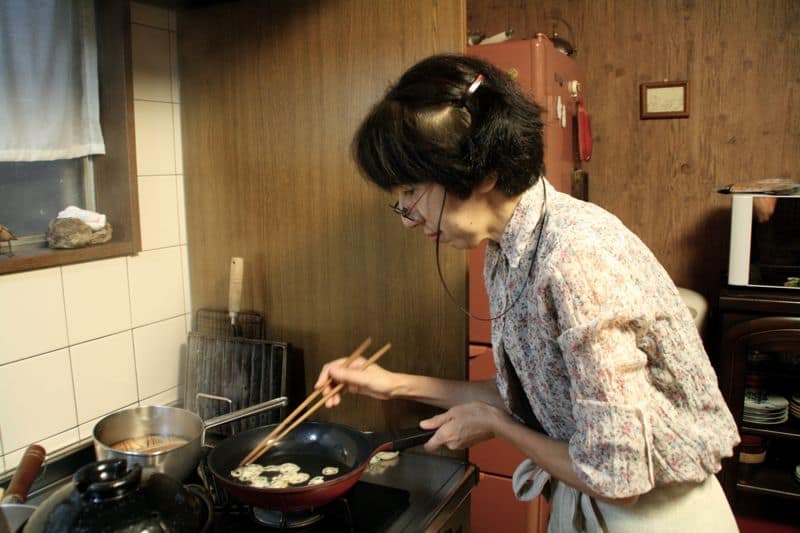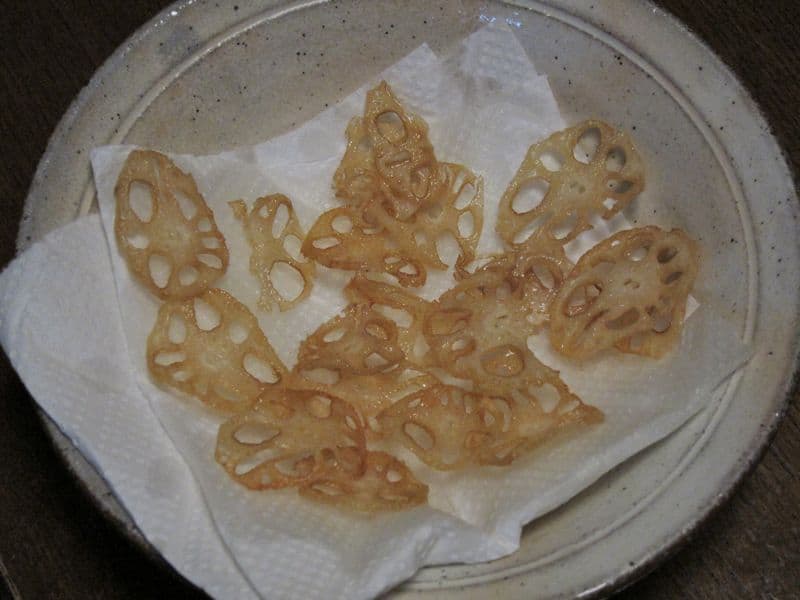 To make the miso soup we combined 300ml of konbu stock, 1tbsp mirin, 1 tsp sake, 1tbsp light soy sauce, and 1 tsp sugar and heated. Then we dissolved 3tsp medium dark brown miso (or more to taste) into the stock.
To serve, three pieces of togan are stacked in individual bowls, the soup is poured over the top and garnished with myoga and lotus root.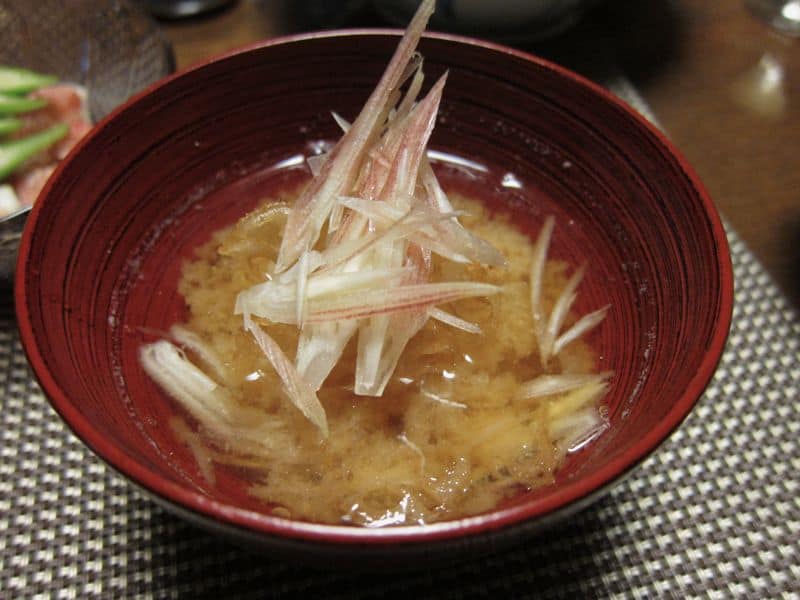 Nagaimo Yam & Nori Seaweed Cocktail with Fresh Wasabi
This is a raw dish and was easy to assemble. We peeled the yam, sliced it thinly and then soaked it in water and a few drops of rice vinegar to remove the stickiness.
We grated the fresh wasabi on the special grater and then everything was ready to compile. Simon transferred the yam to individual bowls stacked up with the highest part in the middle—a slow process using chopsticks.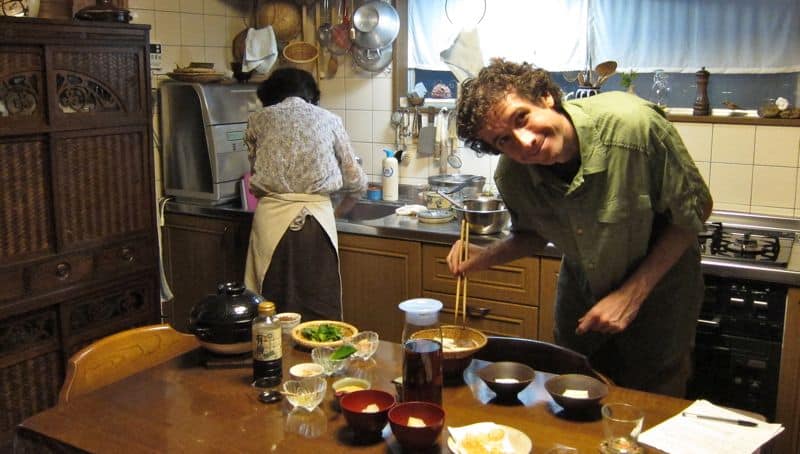 Finally flaked nori seaweed and wasabi are added on top. Served with a small dish of tamari to add as desired.
Early Autumn Salad with Fresh Fig & Okra
The okra was rubbed in salt, boiled lightly for 1 minute, cooled under running water and then chopped in half. The fresh figs are skinned and cut into quarters.
The sesame cream sauce was made by whisking together 1 tbsp sesame paste, a pinch of sugar and salt, 1.5 tbsp rice vinegar, 1.5 tbsp konbu broth and 1 tbsp dark soy sauce. The sesame paste is similar to tahini and is a common ingredient in Zen Buddhist cuisine.
To serve the okra are placed on top of the figs and the sauce is poured over as desired.
Purple Rice with Edamame and Shiso Leaves
Rice is an essential part of every Japanese meal. We used a mix of Japanese white rice mixed with some black grain rice which colours it purple.
First the rice was soaked in water for 30 minutes, using 20% more water than rice. We then added a little salt, a splash of sake and cooked it on a medium-high heat for 14 minutes.
Emi had a special ceramic stovetop rice cooker with two lids and holes to let some steam escape. Once the rice was cooked we left it to steam covered for 20 minutes.
Emi had already boiled the edamame beans for a few minutes and removed them from their pods. We just added them to the rice after it was cooked and let them steam together.
The final task is chopping shiso (perilla) leaves to garnish. The rice is served in individual bowls stacked up rather than flat like in China, as the Japanese consider this the most attractive presentation method.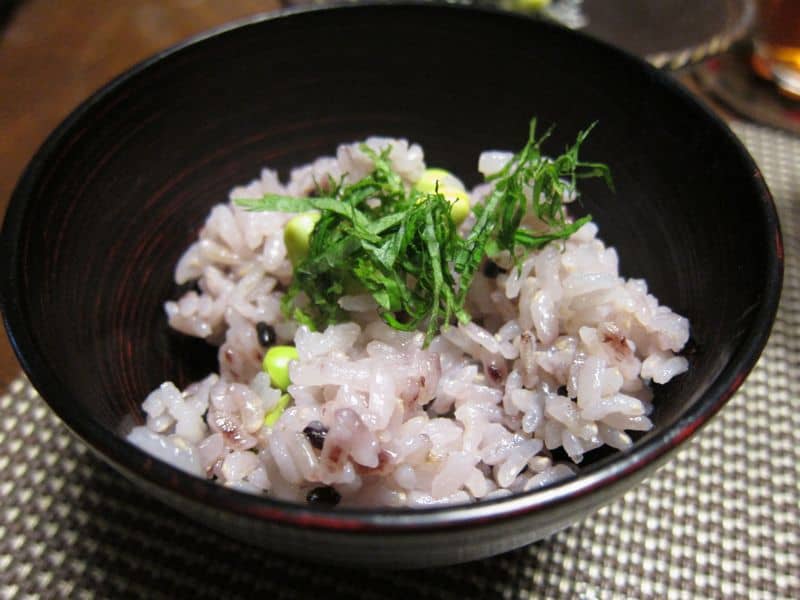 Eating
Of course this was the best bit. Once everything was ready we sat down to enjoy the meal and chat with Emi.
She served us some umeshu, a homemade liqueur made from sake, plums and sugar. Delicious and sweet.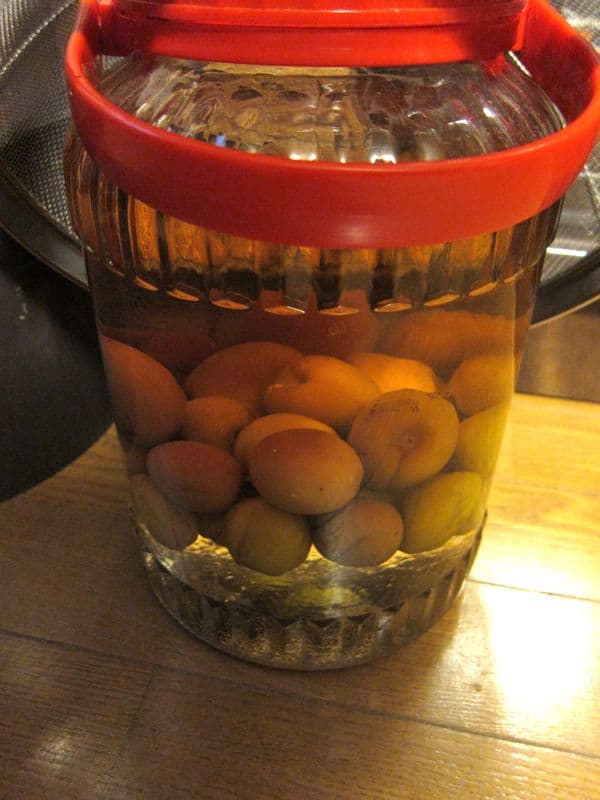 Presentation is important in Japan and our meal looked stunning and tasted just as delicious.
The flavours were delicate, not heavy, greasy or overly spicy, with just a hint of heat from the wasabi and fresh ginger. Using a mix of flavours, textures and cooking methods is an intrinsic part of Japanese cuisine.
Emi asked which of the dishes were most new to us. I chose the Nagaimo yam cocktail as I had never eaten anything like it before. The yam was very unusual; it wasn't like the dense, heavy yam that we are familiar with but instead was light, crunchy, and watery, almost like cucumber. The main flavour of the dish came from the salty nori and hot wasabi.
Simon chose the okra and fig salad as it's not a combination we would have thought of. We have never eaten cold okra, which surprised Emi as she said that's the most common way it's eaten in Japan.
We'll definitely be trying okra in salads in the future and we are now hooked on fresh figs. The combination with the sesame sauce worked really well.
All of the dishes were gorgeous and also super healthy. We learnt a lot in the class and now have a greater understanding of Japanese food and the key ingredients that are used.
We've got some great ideas for cooking at home and we'll be able to eat at one of the Kyoto vegetarian restaurants within Zen Buddhist temples without getting too confused about what we are eating. Most of all, the class was a lot of fun.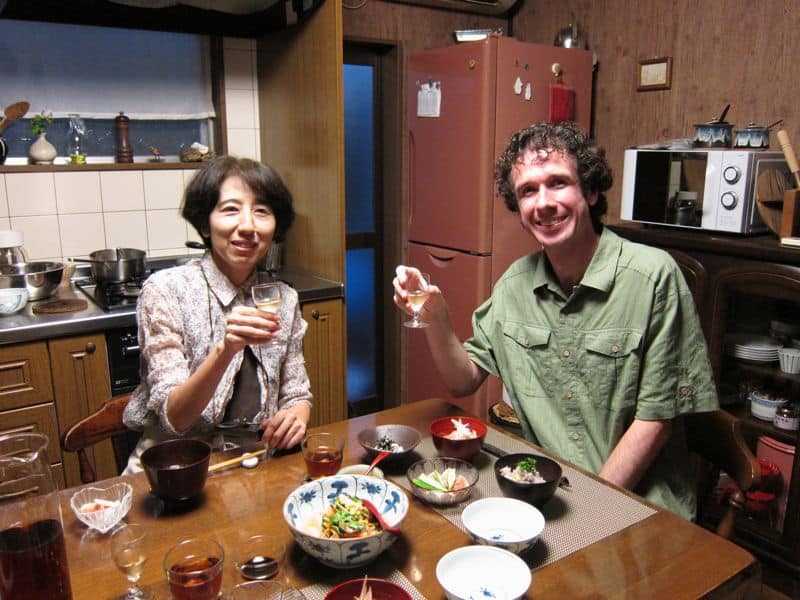 Uzuki Kyoto Cooking Class Details
Update: Sadly, Emi no longer runs cooking classes.
Kyoto Uzuki Cooking Classes with Emi Hirayama take place in Northeast Kyoto for two or three people (individuals may join another group).
You can choose from various options. Classes cost 6000 yen (US$56) for a 2.5 hour class making three dishes and 6500 yen (US$61) for a 3 hour class making four dishes.
There are also options to include a dessert, learn to make vegan sushi, or make meat and fish dishes.
The classes do get booked up as Emi is the only teacher, so I recommend booking as far in advance as you can.