This page contains affiliate links. Please read our disclosure for more info.
We've now updated this post—read the latest digital nomad resources post here.
Technology makes our digital nomad life possible. Without it we wouldn't have been able to spend the last 18 months travelling around the world while running a web design and development business.
These are the products and resources that we use to live and work from anywhere in the world. They aren't all essential but they do make our lives a lot easier.
Equipment
1) Macbook Air 16 inch Laptop– Simon switched to a Mac before we left to travel and is so glad he did. It is a much more efficient system than a PC – everything just runs smoother, more easily and you don't have to worry about constant updates and anti-virus protection.
It's also pretty sturdy and has survived falling down stone steps and 18 months of being carried around in a backpack. I use a lighter, cheaper Eee PC netbook although I do have my eye on a Macbook Air (update: I now have one and love it). One feature we love on the Macbook is how easy it is to set up internet sharing. If we only have a non-wifi ethernet connection then Simon can plug in and the Mac becomes a wireless router so that I can access wifi.
A laptop is the one essential item for a digital nomad but even if you don't work while you travel there are many advantages of travelling with a laptop.
2) Western Digital My Passport Hardrive 500 GB – Backing up is extremely important and this hard drive is so small and light that it's not a hardship to carry it around. Used with Time Machine backing up is easy. There are more robust hard drives out there but we haven't had a problem carrying this one around. We could do with a bigger size now but it has been fine up until now.
3) Camera – We do have a Canon 400d SLR camera for documenting our travels but for the location independent worker I would say a small point and shoot is fine. It's most useful function is as a scanner – we photo receipts so we don't have to carry them around, and have taken photos of our signatures so we can add them to forms and email them. We just upgraded our second camera to the Canon s95 which is a fantastic compact camera with full manual control, HD video and is great in low light.
4) Kindle – A Kindle ebook reader not only saves on book weight but it enables you to buy a huge selection of books from anywhere in the world. Handy when you want to buy a business book in the middle of South America. We also use it to read PDFs and it has replaced our paper guidebooks. The free 3G is amazing for buying books or checking your email when you don't have wifi. See our full Kindle for travellers review for more benefits.
5) iPod Touch – If you need access to a phone then an iPhone would be a great choice, making sure it's unlocked so that you can buy local SIM cards for each new country to save on data roaming charges. We don't need a mobile phone so the iPod Touch is enough for us. We use it for reading guidebooks, maps, language phrasebooks, and for accessing internet when we're out and about.
There are also a huge amount of apps that could be useful for your business. I like taking screen shots of hotel directions on websites so we can access them offline – just press down the power and home buttons at the same time. It's also a calculator, currency convertor, world clock, alarm, and camera/video camera (especially if you have the higher quality iPhone version).
6) Carry-On Size Backpack – We strongly recommend sticking to a carry-on size backpack as it's easier to carry around, saves time at airports, is more secure (you keep it with you on planes and buses) and enables you to carry your laptop in your main bag rather than needing a second one.
My backpack is 30 litres, and Simon's is 40 litres and this is plenty of space. He likes the North Face Overhaul 40 (Update November 2019: he now uses the Tortuga Setout) for its neutral colour, plenty of storage pockets and zippable (therefore lockable) sections – ideal for laptops. If being a permanent traveller with such a small bag seems impossible to you check out our tips on travelling long term with only carry-on luggage.
For more information about what exactly is in our backpacks see our packing list.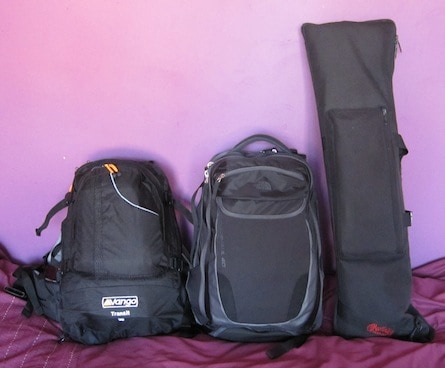 Software
7) Sugar Sync – Backing up is vital and to be extra careful we use SugarSync to back up our most important documents in the cloud, as well as on our hard drive. It also enables us to access our files anywhere from any device, including both of our laptops and iPod Touch, and we can easily share large files with others. You get 5GB of space free and the prices for larger storage are very reasonable.
8 ) MAMP – We like to travel to off the beaten track destinations that don't always have internet. Simon can still work on websites offline though by using MAMP. It's free and installs a local server on your Mac where you can work on your WordPress sites as if it were online. Perfect for testing new designs and plugins before setting them live.
9) Open Office – This is a free, open source version of the Office package that you can use on Mac or PC. We use Writer (like Word), and Calc (like Excel) for keeping track of our income and expenses in a spreadsheet.
10) Skype – We have never found a mobile phone necessary. We keep in touch with family by calling them for free with Skype – video chat really helps when we are away for so long. Make sure you get less tech-savvy family members set up with a free account before you start to travel. You can also use Skype to make low cost calls to landlines around the world – we use this when we need to call banks or airlines.
11) Twitter For Mac – Twitter has been invaluable to us for making connections with other digital nomads and travel bloggers, and promoting this site and our Line In Web Design business.
Simon used to use Tweetdeck on the Mac but it kept losing our configuration data, so he's switched to the official Twitter for Mac client. I still prefer Tweetdeck for use on the Eee PC.
12) Anki – Learning the local language is an important part of travel and Anki is my favourite way to memorise vocabulary. It's basically an up to date flashcard system that uses a spaced repetition system so that the words stay fresh in your mind.
13) Evernote – We use Evernote as an app on the iPod Touch to write down notes while we are out and about. It then syncs with our laptop so we can access the notes there too.
Websites
14) WordPress – If you need any kind of website for your online business whether it's a blog, portfolio, or online shop then this is the best platform. It's free (although you may need to pay for a theme or custom design) and is really easy to update yourself without any technical skills.
15) Internet Banking – Setting up internet banking before you leave your home country is essential for managing your finances. We use it to transfer money between our savings and current account, pay bills and to keep track of our spending. In the UK many banks have started using card readers for some transactions. Don't make the mistake that we did and leave this behind to save space – you never know when you might need it for a transaction so take it with you. Read more about managing your finances on the road.
16) Paypal – This is essential for receiving payments from non-UK clients (UK clients usually do direct bank transfers which saves on fees).
17) Mail Chimp – We use this for managing our subscriber lists and automatically sending out email newsletters from our blogs. It's free up to 2000 subscribers.
18) Google Calendar – This free online calendar helps keep our life organised. I enter in travel dates, work deadlines, blog post schedules, and family birthdays (all too easy to miss when travelling) with email alerts for the important things. We've created separate calendars for travel, work and the blog and we share the calendars with each other so that they are synced between both our laptops (on the Macbook I can access it offline on iCal) and the iPod Touch.
19) Xe.com Currency Convertor – I use this website or their iPod app (much easier to use) to check currency rates for the various countries we travel to. Make sure you know the exchange rate before you land in a new country!
20) Kayak – This is my favourite website for comparing flight prices from multiple sites. It's good for hotels and car hire too. I find it easy to use and if you have flexible dates you can find the lowest prices a few days either side of your target travel date. If you don't know where to travel to next use their Explore page to find the cheapest flights from where you currently are. Kayak doesn't always have the cheapest flight prices so I compare it to a few other flight comparison sites.
21) Skyscanner – Another great site for finding the cheapest flights and it even includes budget airlines. It also has a flexible date search and similar to Kayak's Explore if you write everywhere as your destination you can find the cheapest places to fly to.
22) Hostel Bookers– This is my first stop for looking for hostels. I usually just use it to get a shortlist together to look at when we get there rather than booking in advance, although for big cities and late arrivals booking can be useful.
23) Hotel Booking Sites – In North America you can get some great deals using hotel booking sites such as hotels.com and booking.com. I've also used this for big cities in expensive Japan where business hotels booked online can be cheaper than hostels. I'm not a big fan of the Agoda site but it does have some great prices for Asian cities.
24) Trip Advisor – When I'm researching places to stay and if I find somewhere on one of the booking websites above this is where I go to read reviews by people who have stayed there.
25) Lonely Planet Thorn Tree Forum Update: sadly, Lonely Planet has now taken this offline! – If you have any questions about a place you are travelling to then it's likely that someone has already asked it on this comprehensive travel forum. If you can't find an answer by searching the old threads then ask away.
26) Google Reader (now shut down) -Travel blogs are a great way of researching travel destinations and can be especially useful if you are working while travelling as you can find out the information you need from other digital nomads who have similar concerns. Wandering Earl tells us how to find an apartment in Playa del Carmen, Technomadics share how they are staying connected in Europe, Shannon at A Little Adrift lets us know the cost of living in Thailand and The Road Forks discuss how they work as digital nomads.
I keep up to date with blogs by subscribing to their RSS feeds and reading them in Google Reader. For tips and inspiration from other digital nomads have a look through our Nomadic Interviews series.
27) Instapaper – For long blog posts I like using Instapaper to read them later. I have set it up to automatically send the articles to my Kindle where I can read them offline and on a paper-like screen.
28) Mind My House – Housesitting is a great way to settle down for a while, get some work done and save money. We have used this site to find house sits in Florida and Japan where we stayed in places we would never have been able to afford otherwise.
29) Happy Cow – For vegetarians this is a detailed resource for finding vegetarian restaurants around the world. We write about our favourites in our vegetarian survival guides.
30) Facebook – It had to be on here as you can't deny that it's a fantastic way of keeping in touch with friends and family back home as well as new friends you make on the road. You can keep your personal account just for friends and use a Fan Page for public updates. We use our Never Ending Voyage Page to update our readers on our travels and the latest blog posts.
Other
31) Relative's Address –It's impossible to get by without some kind of address and we are very grateful to Simon's mum who scans in and sends us any post we get and deposits the occasional cheque. Before you leave make sure you switch to online bank statements to reduce the amount of post your friend or relative has to deal with.
So, these are the products and resources that we have used while we travel and work our way around the world. We could probably get away with just a laptop but these other items make our life easier, more productive and help us keep in touch with the rest of the world. Feel free to ask us any questions about how we manage our digital nomad life and we are interested to know the resources you use too.