This page contains affiliate links. Please read our disclosure for more info.
We emerged from the air conditioned and orderly subway station, bleary from a sleepless night on a plane, into the chaotic streets of Mong Kok. The intense heat, streams of people and traffic took our breath away as we searched for our hostel amongst the tenement towers and neon signs. Back in Asia after three years away it was a little overwhelming. We checked into our tiny but thankfully air conditioned hostel room and, giving up on the idea of staying awake until a reasonable time, took a nap for a few hours. We woke energised and after fueling up on a bowl of congee, eased ourselves into the crazy night scene. This time we were invigorated rather than overwhelmed by the sensory overload and immense crowds.
Our plan was to fly to Japan on Cathay Pacific with a transit stop in Hong Kong, but as it turned out cheaper to fly a few days earlier and spend three nights in Hong Kong, we decided to take the opportunity. It turned out to be the perfect place for a stopover – easy transportation from the airport and around the city, signs in English, great food and lots to do.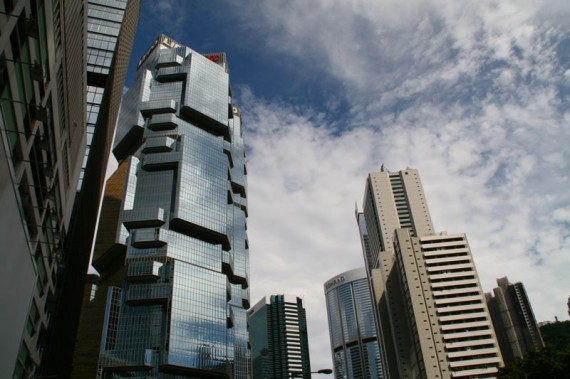 We loved the vibrant, manic city. It's the meeting point of East and West, old and new. We found shiny skyscrapers, a super modern transport system, and oddly, Marks and Spencers. Hong Kong Island is a playground for the rich with fashionable bars, an abundance of Rolex dealers and designer clothing stores – even a Harvey Nichols. Yet, just across the water on the Kowloon peninsular electronic retailers sit next to Chinese medicine stalls selling strange-looking, potent-smelling potions. In one of the many markets wrinkly men sat cooling themselves with ornate Chinese fans and bags of live locusts for sale. It's a place that feels exotic and pleasantly crazy but manageable.
To help you with planning a stopover in Hong Kong here's how we spent our weekend and our recommendations for getting the most out of a short stay in the city.
Things to Do in Hong Kong
Day 1 – First Evening
Wander Around Mong Kok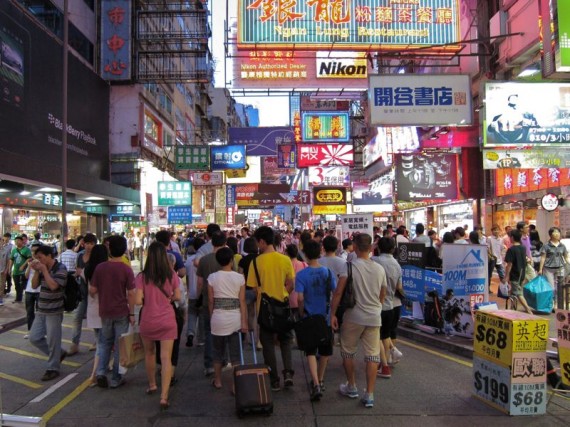 Mong Kok, in the densely populated northern section of Kowloon was our favourite part of the city. It felt alive and real – where regular people live. You find McDonalds and other western chains but it still feels very Asian with hotels rented by the hour next to Chinese pharmacies next to electronics shops selling the latest camera gear next to a stall selling fried octopus balls.
Even if you don't stay in Mong Kok take the time to wander around, especially at night when it comes into its own.
Cost: Free
Symphony of Lights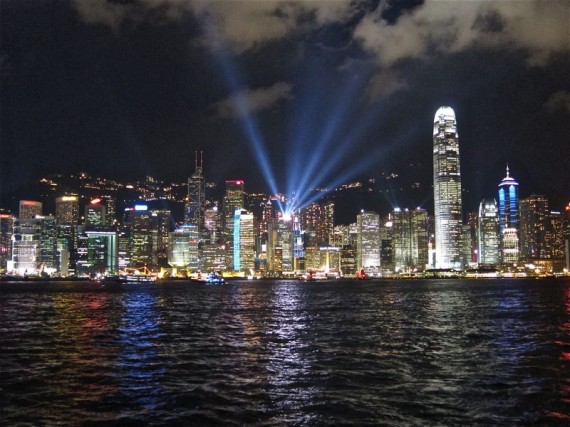 As an introduction to the city we made the long walk from Mong Kong along Nathan Road down to the Tsim Sha Tsui promenade overlooking the harbour in time for the nightly Symphony of Lights. The view of the Hong Kong Island skyline just over the water lit up at night is the most spectacular we've ever seen, and it doesn't really need a fancy light show to show it off, but why not? Stand amongst the crowds and watch the cheesy but fun music and light show as the skyscrapers are lit up like Christmas. It takes place every night at 8pm – just follow the crowds next to the InterContinental Hotel.
Cost: Free
Day 2
Star Ferry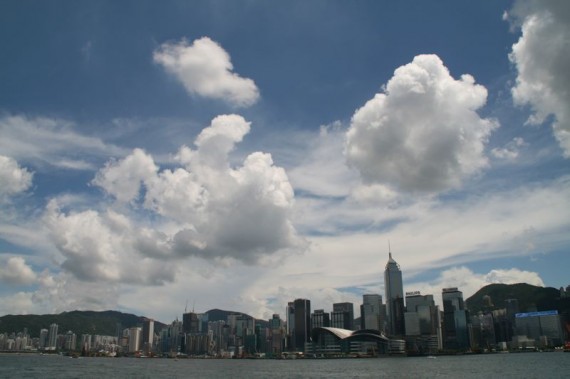 Our first glimpse of the skyline was by night but by day it doesn't disappoint either. The best way to enjoy it is to take the Star Ferry across the harbour for impressive views at a bargain price.
Cost: HK$2.50 (US$0.32)
Eat Dim Sum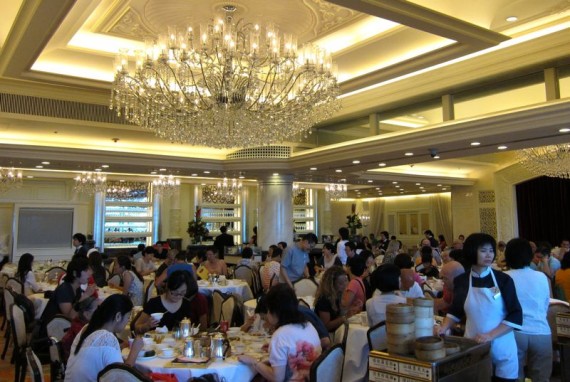 Hong Kong is the home of dim sum and an essential eat in the city. One of the most atmospheric places to yum cha (drink tea with a selection of snack-sized dishes) is at Maxim's Palace in City Hall. Choose your dishes from the trolleys that are wheeled around by uniformed ladies in this elegant dining room complete with crystal chandeliers, silver teapots and wonderful harbour views.
You can read more here about places to find vegetarian dim sum in Hong Kong.
Cost: At Maxim's we paid HK$200 (US$26) for four dim sum and tea for two people (including service charge). In other places we found individual dim sum from HK$13 (US$1.67).
Central-Mid Level Escalators
It didn't take long for us to become exhausted walking around the huge highways of Hong Kong Island, so taking the Central to Mid-Levels escalator seemed like the perfect break – sightseeing without moving. This giant escalator is a way for locals to reach parts of the city located up steep hills and is the largest outdoor covered escalator in the world at 800 metres. We were amazed – it just kept going up and up past the expensive westernised bars and restaurants of Soho and on to the more residential areas with washing hanging from windows.
Cost: Free
Tram to The Peak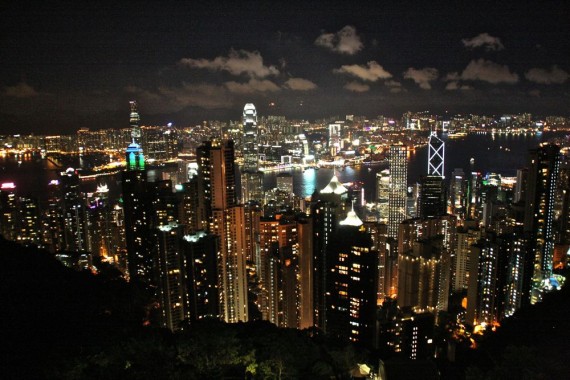 If you only have time to do one thing in Hong Kong this should probably be it. The Peak has spectacular views of the city's skyline and the easiest way to get up there is the tram which has been running since 1888. It's a popular attraction so be prepared to queue – we had to wait over an hour in the heat on a Saturday. We went up in the early evening so we could see the view by day and after nightfall when the lights come on.
We couldn't face waiting in the long queue again for the return journey so took the number 15 bus back down. The windy mountain road was nausea-inducing but much quicker than waiting for the tram. It was less than a third of the price of the HK$28 tram ride too.
Cost: HK$28 (US$3.60) single, HK$40 (US$5.13) return.
Day 3
Markets
Hong Kong is full of markets and even if, like us, you aren't interested in buying anything they are fun to wander around. In Mong Kok you'll find the Ladies Market with cheap souvenirs and clothes for sale and further north you come across the more local markets with particular specialties – goldfish, flowers and birds were a few we came across. Further south in Jordan the Temple Street Night Market is popular with tourists and locals for more bargains and the seafood focused restaurants.
Cost: Free, unless you buy something (remember to bargain).
Kowloon Park
Our energy was flagging so we took a break in Kowloon Park. We were tempted by the large outdoor pool but on a weekend it was just too busy. Instead we strolled through the lush greenery, past the flamingo filled lake and took a seat on a bench amongst picnicking families.
Cost: Free (including the nice clean toilets).
Shop
Hong Kong is a great place to shop. Langham Place Mall in Mong Kok is huge and nearby Sai Yeung Choi Street is full of electronics stores. We were almost tempted by a Macbook Air which was much cheaper than in the UK, about the same as US prices, but had to resist. It seems like a good place in Asia if you need a new camera or laptop though.
Cost: Free to window shop.
Day 4 – Final Morning
Chi Lin Nunnery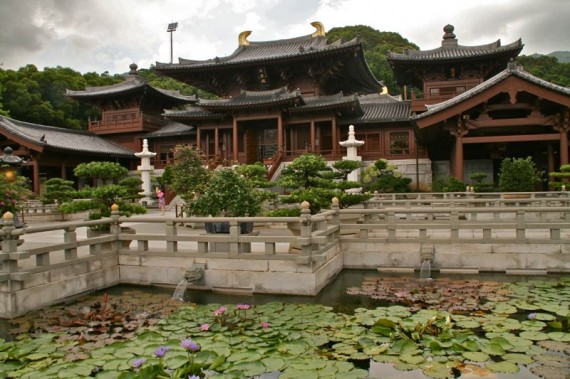 On our final morning we took the MTR to Diamond Hill to visit the Chi Lin Nunnery. This beautiful Buddhist temple complex is a peaceful retreat from the city and an escape from the crowds. It's free, doesn't get many visitors and is located next to the gorgeous Nan Lian Chinese gardens. Walking amongst the temple grounds with only the sounds of monks chanting and birds chirping but with the Hong Kong tenements in the background was a unique experience. There's also a wonderful vegetarian restaurant amongst the gardens.
Cost: Free for nunnery and gardens. HK$88 (US$11.30) for set vegetarian lunch.
Other Things to Do
The other "must do" activity which we didn't do is to visit the Tian Tan Buddha aka Big Buddha. This giant Buddha is over on Lantau Island and can be reached by MTR to Tung Chung and then the Ngong Ping cable car over the lush green hills. After the queues for the peak tram on a Saturday we couldn't face a similar experience and we only had a Sunday available. Next time we'll be back on a weekday.
Where to Eat
See our Vegetarian Survival Guide to Hong Kong for the best places to eat meat-free dim sum and other veggie treats. Meat eaters will also find some good tips on local eats, the best dessert restaurant and Hong Kong drinks you should try.
You can also eat at the world's cheapest Michelin starred restaurant Tom Ho Wan. We didn't try it ourselves as there isn't much choice for vegetarians but I've been told that fish/meat-eaters shouldn't miss out.
Where to Stay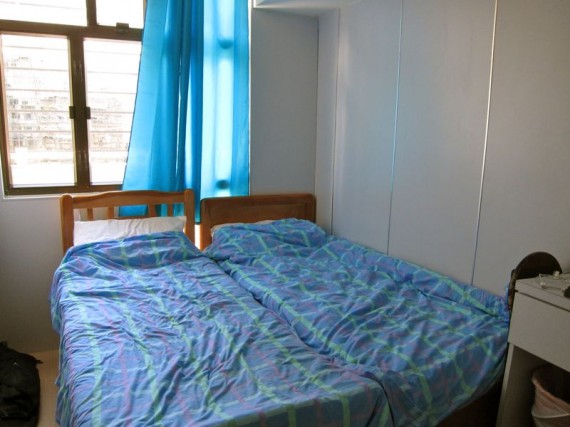 We stayed at Ah Shan Hostel in Mong Kok on Kowloon. We loved the location only a few minutes from Mong Kok MTR station which gets you everywhere easily and it's a vibrant, bustling area. The hostel is located in Sincere House on Argyle Street which is an apartment building full of local residents, a few hostels and even a gym. Taking the lift up to the 14th floor you almost feel like you are living in the city, and the smell of incense and washing hanging from balconies feels very Hong Kong.
The rooms at Ah Shan are teeny tiny but very clean. We splashed out and went for the premium room with a window (it seemed a good idea for combating jet lag) and bathroom (more of a shower/toilet wet room but the water is hot and powerful). You get A/C, a flat screen TV, small shelving area, hooks (yay!), free WiFi, and filtered and boiled water in the shared hallway. Our room cost HK$380 (US$49) but the cheapest doubles start from HK$260 (US$33).
Getting Around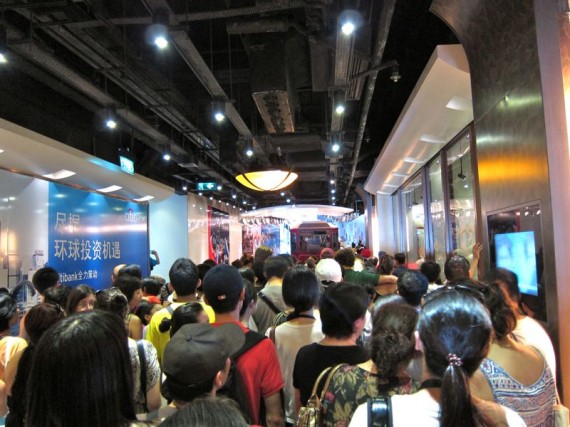 Hong Kong has the best subway system (MTR) we have ever experienced. It's clean, frequent, easy to navigate and gets you to all the main attractions and airport. We loved the maps on each train that light up to show you which station you are at and even which side the next exit will be from. It does get crowded at peak times though.
On arrival at the airport get yourself an Octopus Card from the desk at Arrivals and you can use this for all public transport in Hong Kong (MTR, bus, ferry, tram) – all you have to do is swipe, it even works from within your bag. It costs HK$150 (US$19) initially (including a HK$43 (US$5.50) deposit which you get back when you return the card) which is just enough to get you into town from the airport. Top up with extra credit at the station machines or in 7 Eleven stores. Fares around town are cheap (ours were usually HK$3-6 (US$0.38-0.77) and you can even use the card to pay for things in some shops.
Costs
We saved £200 on our flights by flying a few days earlier on our way to Japan and stopping in Hong Kong. This was our target budget for our three nights in the city, and although we went over this a bit and spent £230 (US$377) it was completely worth it. If you wanted to spend less you definitely could by eating street food and at cheap local eateries and staying in a hostel with a shared bathroom or dorm room. Our meals ranged from HK$44 to 200 (US$6 – 26) for two and we also bought a lot of drinks as it was so hot.
Our Hong Kong budget for two people breaks down like this.
Currency: GBP
Summary

| Country | Total Spent | Days in country | Cost per day |
| --- | --- | --- | --- |
| TOTALS: | £234.00 | 3 | £78.00 |
| Hong Kong | £234.00 | 3 | £78.00 |
Breakdown

| Country | Accommodation | Food | Transport | Entertainment | Other | Total Per Day |
| --- | --- | --- | --- | --- | --- | --- |
| Hong Kong | £30.67 | £39.33 | £8.00 | £0.00 | £0.00 | £78.00 |
Currency: USD
Summary

| Country | Total Spent | Days in country | Cost per day |
| --- | --- | --- | --- |
| TOTALS: | $374.40 | 3 | $124.80 |
| Hong Kong | $374.40 | 3 | $124.80 |
Breakdown

| Country | Accommodation | Food | Transport | Entertainment | Other | Total Per Day |
| --- | --- | --- | --- | --- | --- | --- |
| Hong Kong | $49.07 | $62.93 | $12.80 | $0.00 | $0.00 | $124.80 |
If you have a stopover in Hong Kong we highly recommend that you take a break from your long flight and stay a few nights. A short break doesn't have to be expensive and we're sure you'll enjoy exploring this unique and dynamic city.
Big thanks to our friend Amy for helping us plan our stay in Hong Kong.