This page contains affiliate links. Please read our disclosure for more info.
Kyoto is a magical city like nowhere else. As the imperial capital of Japan for over 1000 years (until 1868), it's the heart of traditional Japanese culture.
There are so many incredible things to do in Kyoto—you can visit golden temples and vermillion shrines, stroll through Zen rock gardens and swaying bamboo forests, slurp down bowls of ramen and participate in graceful tea ceremonies.
It's one of the only places you can still glimpse geisha in extravagant kimono and white makeup rushing to appointments in wooden teahouses.
Monks still live and work in the city's 2000 temples and shrines—you'll see them in flowing robes performing ceremonies and hear the chanting.
You'll visit a lot of temples in Kyoto, but even after spending two months in the city, we never tire of them. They all offer something unique—a shimmering pavilion, peaceful garden, forest hike, or a delicious vegetarian meal.
Although Kyoto is the centre of traditional Japan, it's also a modern city with concrete high-rises, numerous vending machines, and a vibrant food scene.
But it's on a smaller, more manageable scale than Tokyo or Osaka with plenty of green spaces, views of the surrounding hills, and neighbourhoods that feel like villages.
Despite the numerous attractions (including 17 UNESCO World Heritage Sites), Kyoto is best explored at a slower pace with time for aimless wandering down narrow stone streets.
In this Kyoto travel guide, I share all the best things to do in Kyoto as well as tips on avoiding the crowds and how to get around. You'll also find a map with all the top Kyoto attractions.
Contents
Video: What to Do in Kyoto
Watch our video for an overview of what to see in Kyoto, Japan.
How to Avoid the Crowds in Kyoto
In 2011, when we first visited Kyoto, Japan received 6.2 million overseas visitors. In 2019, 32 million tourists visited the country.
That's a huge increase, and as Kyoto is one of the most popular tourist destinations in Japan, we did notice a startling rise in crowd sizes on our last month-long stay in the city.
Even with the greater number of tourists, we loved Kyoto just as much on our second visit—it's still a unique place with an incredible number of stunning sights.
Here are some tips to enjoy Kyoto despite the crowds:
1) Visit for as long as possible
Kyoto deserves more than the two days many people allocate it.
I recommend spending at least four full days here, but a week is ideal and allows time for some of these Kyoto day trips (Nara is the most popular).
We've spent two months in the city and still haven't seen it all.
A longer stay will give you more time to explore less well-known Kyoto attractions and visit popular places at off-peak times.
2) Stay close to major sights
In order to do the next tip, it will help if you are staying close to the popular Kyoto tourist attractions.
You'll be able to set out early in the morning, take a break in the busy afternoons, and head out again in the evenings without having to travel too far.
I think the best area to stay is Southern Higashiyama (including Gion) at the foot of Kyoto's eastern hills.
There are a multitude of temples to explore as well as the most beautiful preserved streets and the chance to spot geisha.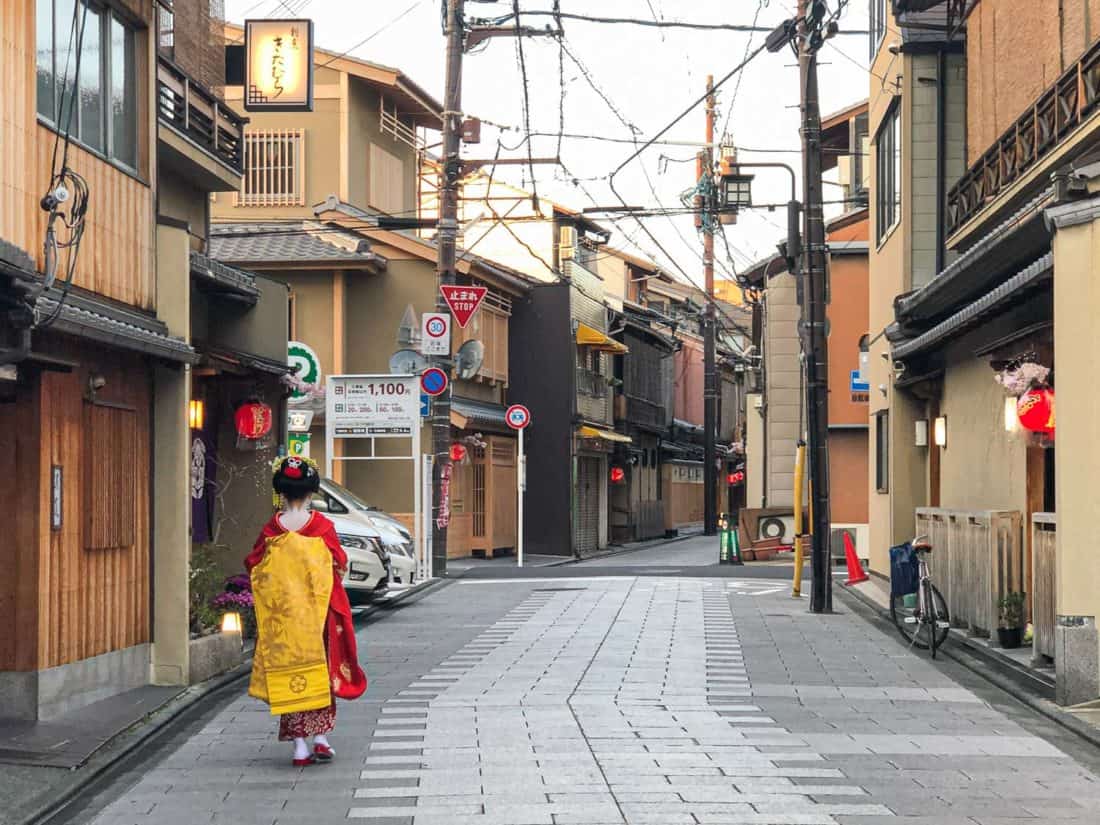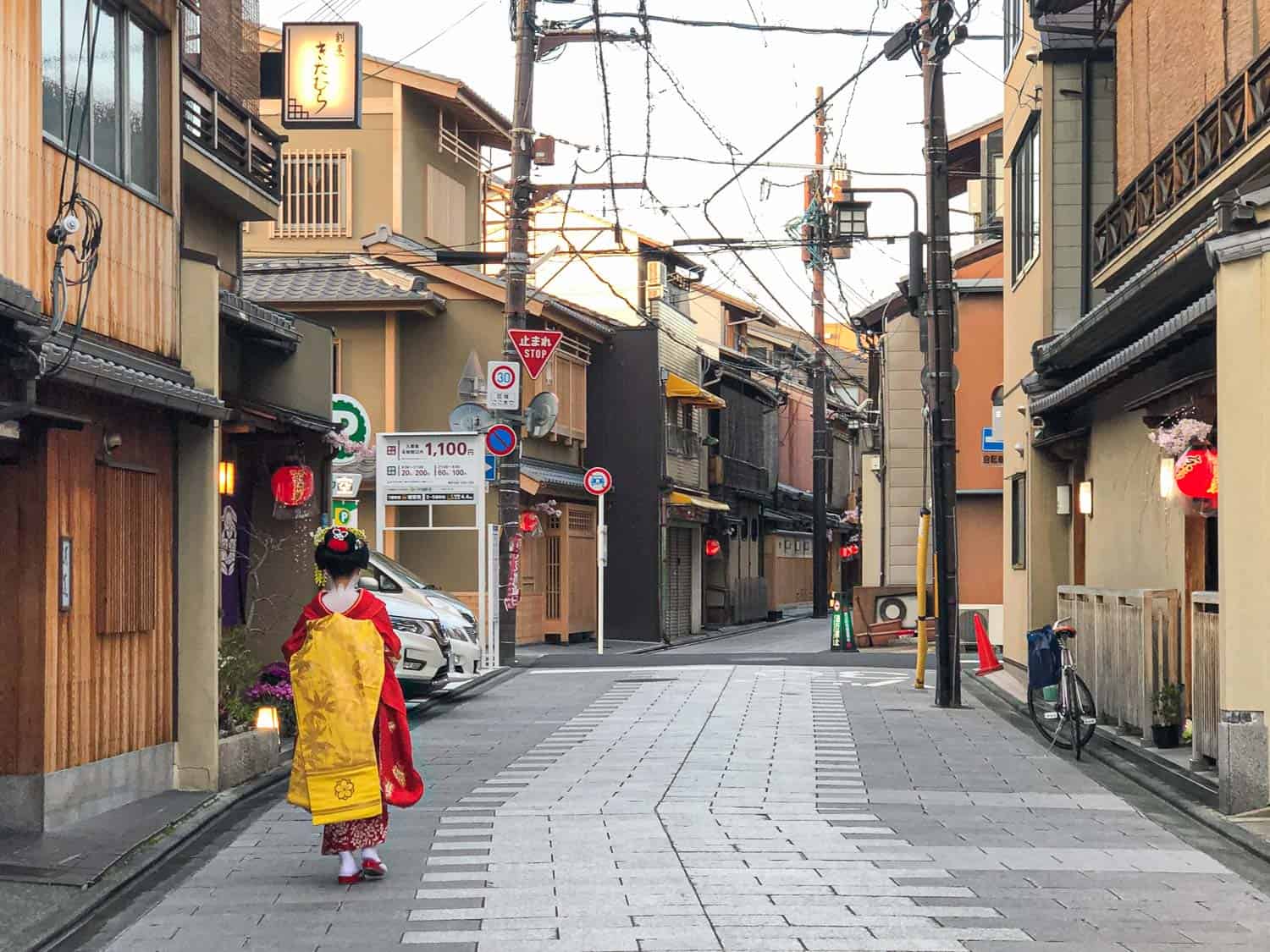 On our last visit we stayed in Miyagawacho, a geisha district along the Kamo River just south of the more well-known geisha area Gion.
It was the perfect location—traditional, quiet, but in walking distance to many attractions. We regularly saw geisha (or geiko as they are known in Kyoto) walking down our street on the way to appointments.
Our Vrbo apartment is no longer available but you can search for apartments in Gion here.
Hotel The Celestine Kyoto Gion is one of the few hotels in this quiet area. It has modern rooms, an onsite onsen and tempura restaurant, and gets excellent reviews.
Kyoto Inn Gion The Second is a more affordable hotel in an ideal location in Gion. Rooms are small but comfortable.
If you'd like to stay in a ryokan (traditional inn), Ryokan Yachiyo looks beautiful with Japanese-style rooms and garden views.
I am very tempted to book a room with a private open-air bath on our next Kyoto trip. It's a little further from Gion but close to Nanzen-ji temple and the famous Philosopher's Path. (Update: I've booked a garden view room with bath for this autumn so I'll keep you posted!).
Sora Niwa Terrace is also worth considering. It's one of Kyoto's newest hotels and has the most incredible views from its terrace and onsen. It's just over the river from Gion.
Search for more hotels in Kyoto here.
3) Get up early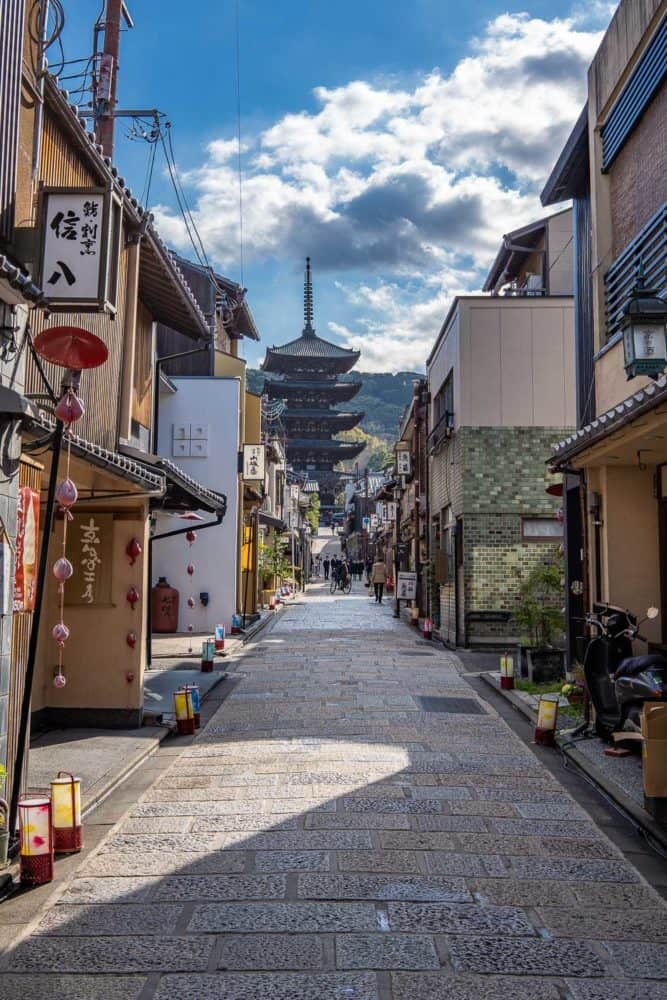 Visiting the most popular sights early in the morning is essential to truly enjoy them. It's so much harder to appreciate the magic when you're battling through tour groups.
These are the places that are most important to visit early (on weekdays if possible). If you can't manage to make it early, then try an hour before closing.
Fushimi Inari shrine – It's open 24 hours so go around sunrise (6 am is best) or as late at night as possible (after 8 pm). It's our favourite place in the city (and one of the most unique things to do in Kyoto), but we gave up after 10 minutes when we visited one afternoon as the crowds were intense.
Kiyomizu-dera Temple – It opens at 6 am and this is the best time to visit (or definitely before 8 am). The picturesque streets leading up to it are also best enjoyed early (or late).
Kinkaku-ji Temple (Golden Pavilion) – It's open from 9 am – 5 pm so either arrive in time for opening or at 4 pm, but it's hard to escape the crowds.
Ginkaku-ji Temple (Silver Pavilion) – Arrive at opening at 8.30 am or at 4 pm (before it closes at 5 pm).
Nishiki Market – It's not as essential to arrive early, but lunchtime here is packed. 10 am is better or just before closing around 5 pm.
I could also add the Arashiyama bamboo grove to this list as it's one of the most popular Kyoto tourist spots and gets horribly crowded (even before 9 am).
Honestly, I think it's overrated and haven't included it in my things to do in Kyoto list. I suggest some quieter, more enjoyable bamboo groves below.
If you have limited time in Kyoto and prefer exploring with a guide, this popular Kyoto early bird tour avoids the crowds at Fushimi Inari, Kinkaku-ji (Golden Pavilion), and the bamboo grove by starting before 7am.
4) Discover quieter temples and shrines
It's easy to find quiet temples and shrines in Kyoto—they are often just around the corner from the crowded spots that everyone feels they have to see.
I highly recommend including some hidden gems along with popular attractions. Perhaps start your day early at one of the temples above and then head to some quieter alternatives.
5) Take a break from temples
Although the temples are incredible, save your energy by mixing them up with some fun and unusual activities.
Take a cooking class, stroll along a quiet canal, sip matcha in a tearoom, learn samurai skills, or hike through a forest—you'll find plenty of ideas of what to do in Kyoto below.
Kyoto Attractions Map
This Kyoto sightseeing map shows the best things to do in Kyoto listed below. Temples and shrines are marked in red, interesting streets and walking paths in blue, and other points of interest in purple.
At the end of this post you'll find transport tips for getting to and around Kyoto.
Top Things to Do in Kyoto
These are the most popular things to do in Kyoto and they do get crowded.
1) Hike Through Torii Gates at Fushimi Inari Shrine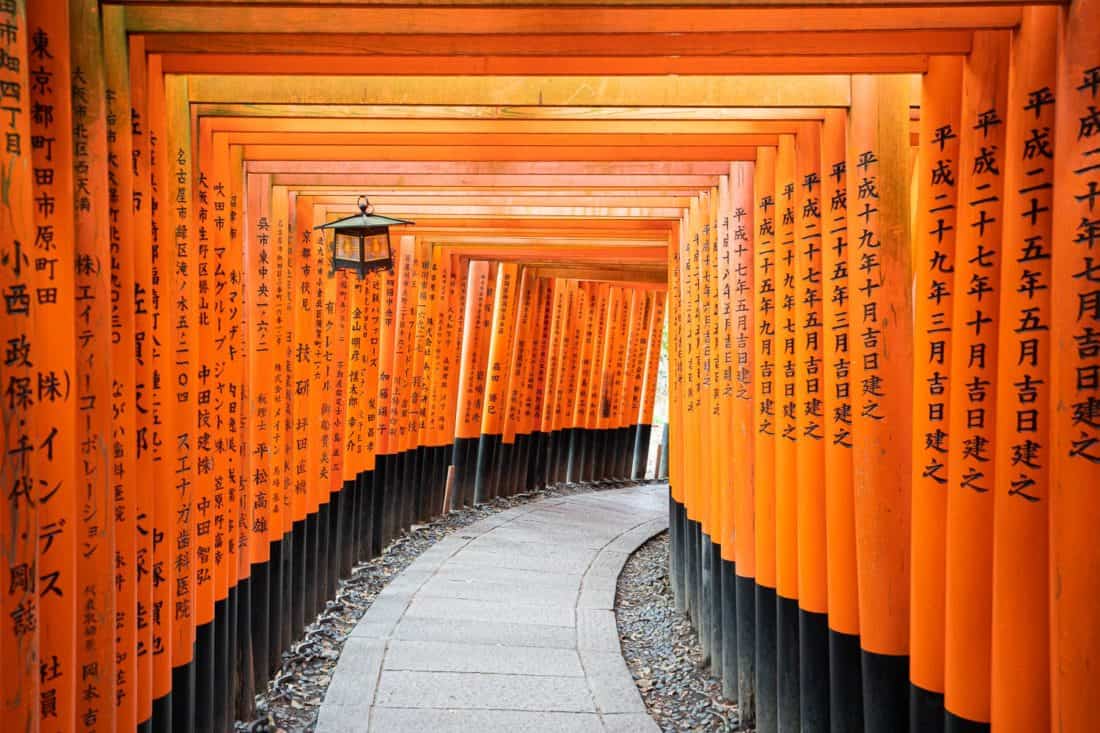 Fushimi Inari is a Kyoto must see. We've never visited anywhere else like it—thousands of bright orange torii gates snake up through the forest into the mountains.
It's as much of a hike as a temple visit (and quite steep in parts), although you do pass many small shrines with stone fox statues and miniature toriis.
The fox is considered the messenger of Inari, the Shinto god of rice.
It takes us about an hour and a half to complete the whole walk (a 5 km/ 3.1 mile loop from the station), but you could easily spend two or three hours here.
You could also choose just to do the lower loop to a viewpoint over the city. I recommend continuing up the mountain as it gets much quieter and feels very peaceful as you walk through the deep forest.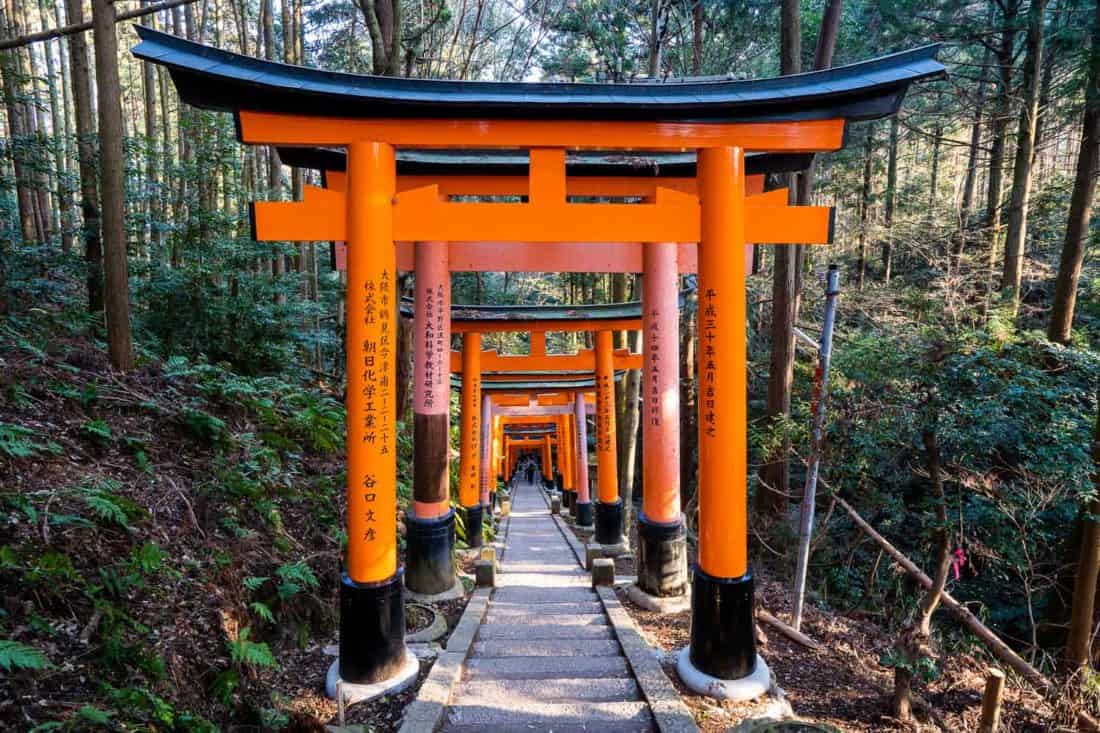 Fushimi Inari gets insanely busy and it's no fun when you are walking with a crowd, so try to visit around 6 am (7 am at the latest) or after 8 pm.
It's a very different experience at night with atmospheric lighting and a slightly spooky feel (we even heard a wild boar!).
Details: Free entry and open 24 hours. Take the train to Fushimi Inari Station on the Keihan Main Line (if coming from Higashiyama, 10 minutes from Gion-Shijo) or JR Inari Station on the JR Nara Line (if coming from Kyoto Station, 5 minutes).
2) Wander Around Gion and Southern Higashiyama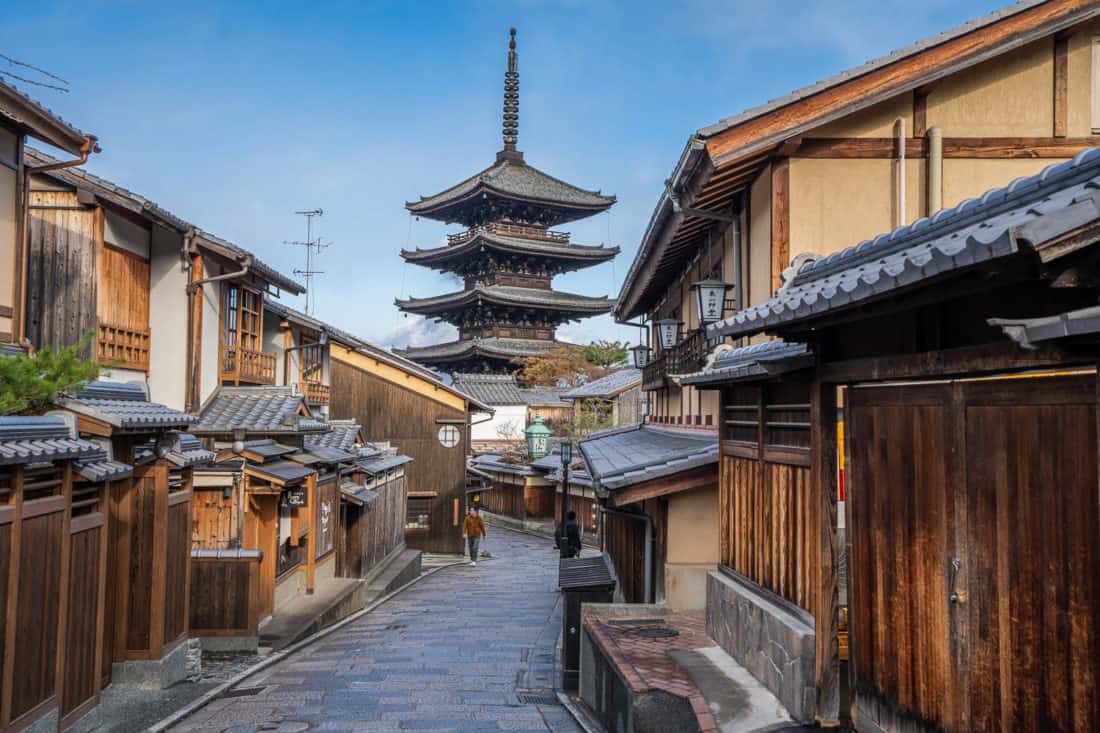 Southern Higashiyama, which includes Gion, is one of the top places to visit in Kyoto with some of the most picturesque and best-preserved streets in the city.
In this historic district you'll find wooden houses on narrow lanes with paved stone pathways and paper lanterns lighting the way.
There are many temples to visit, but this area is perfect for aimless wandering (ideally early morning or late at night) and soaking up the charm.
Many visitors rent kimono for a day and explore in traditional Japanese attire.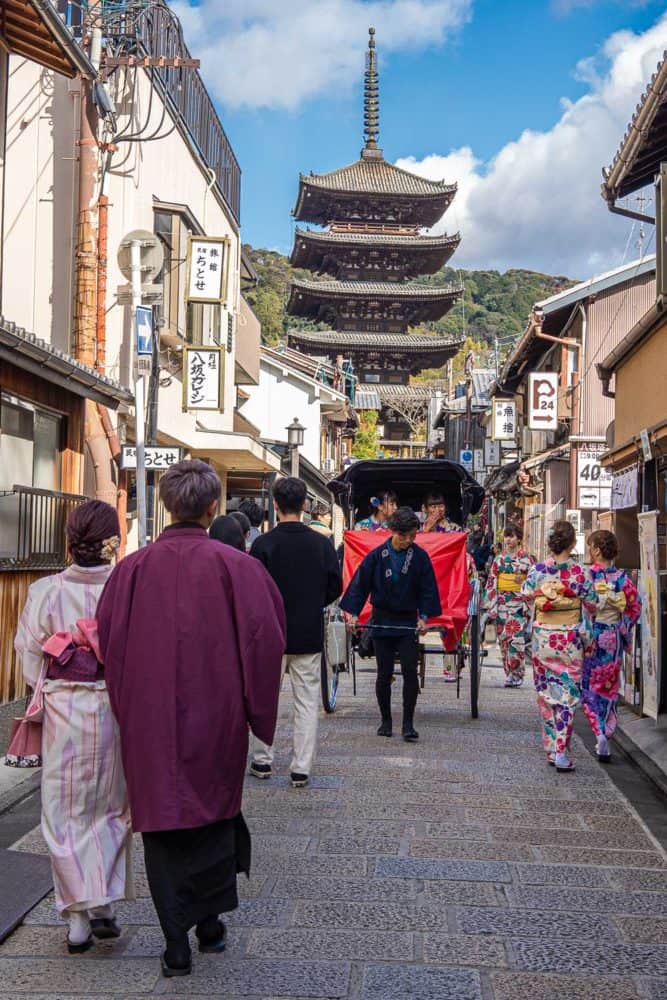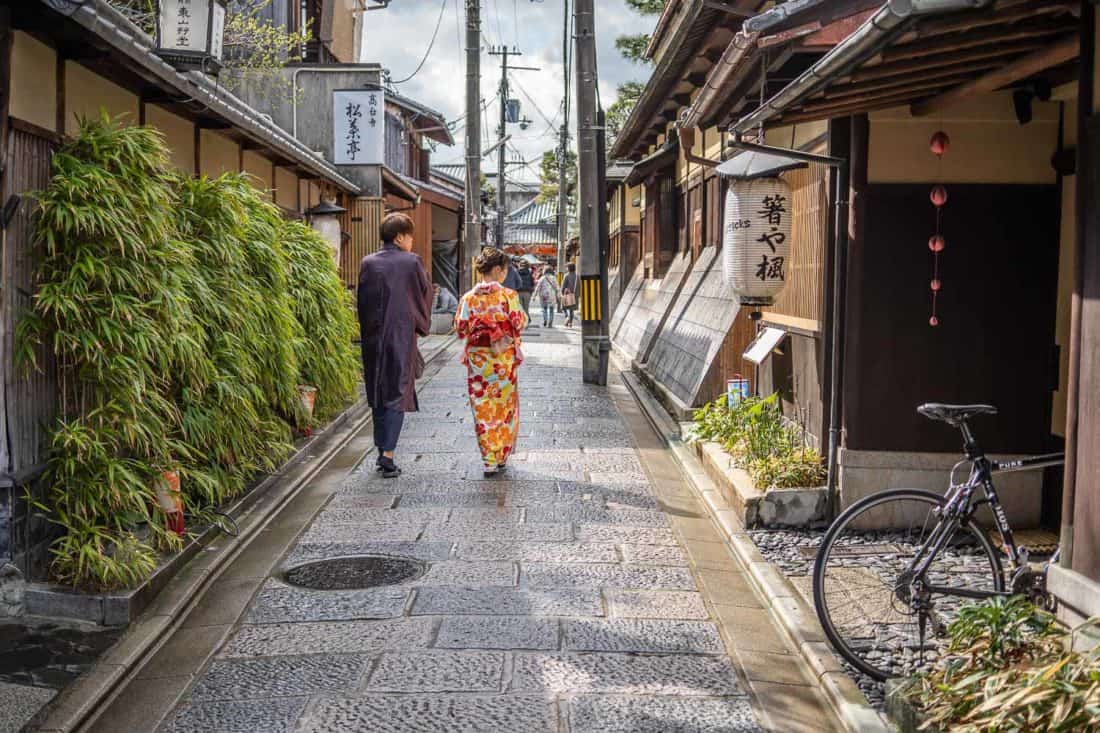 Streets not to miss include Yasaka-dori which leads to Yasaka Pagoda (Hōkanji Temple), Ninenzaka and Sannenzaka, Nene-no-michi, and Ishibei-koji lane (no photos allowed).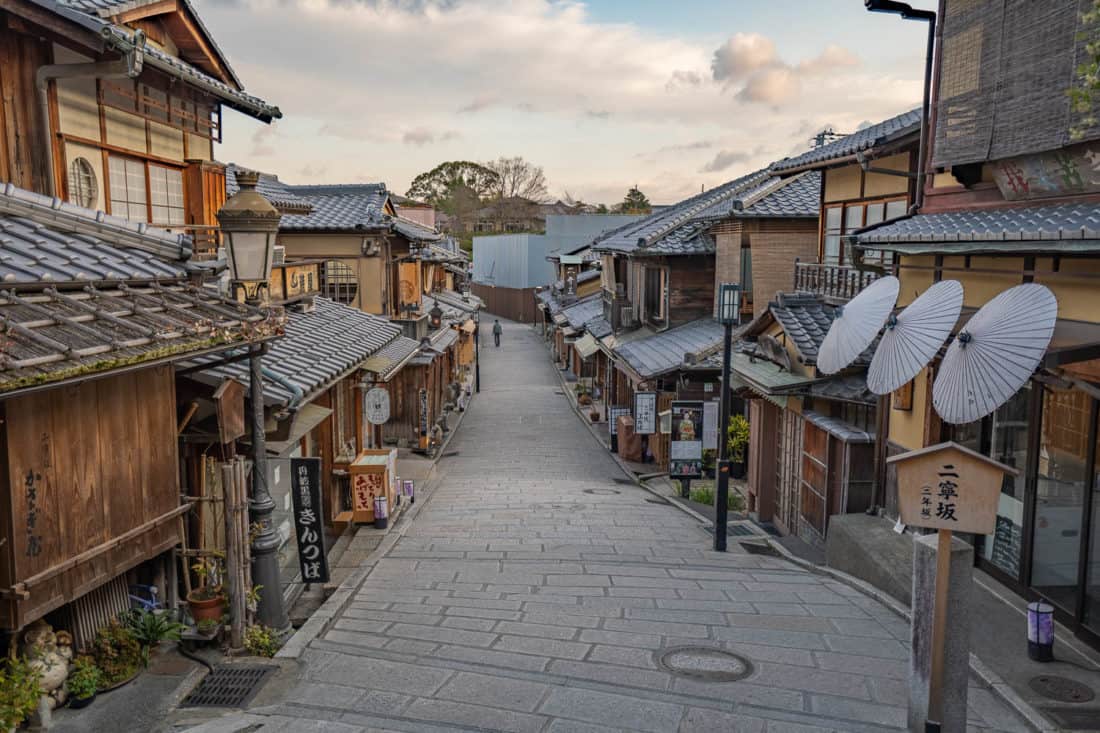 This area is especially wonderful at night in March during the Higashiyama Hanatouro Festival when the streets are lined with thousands of lanterns and there are special events and illuminations at the temples.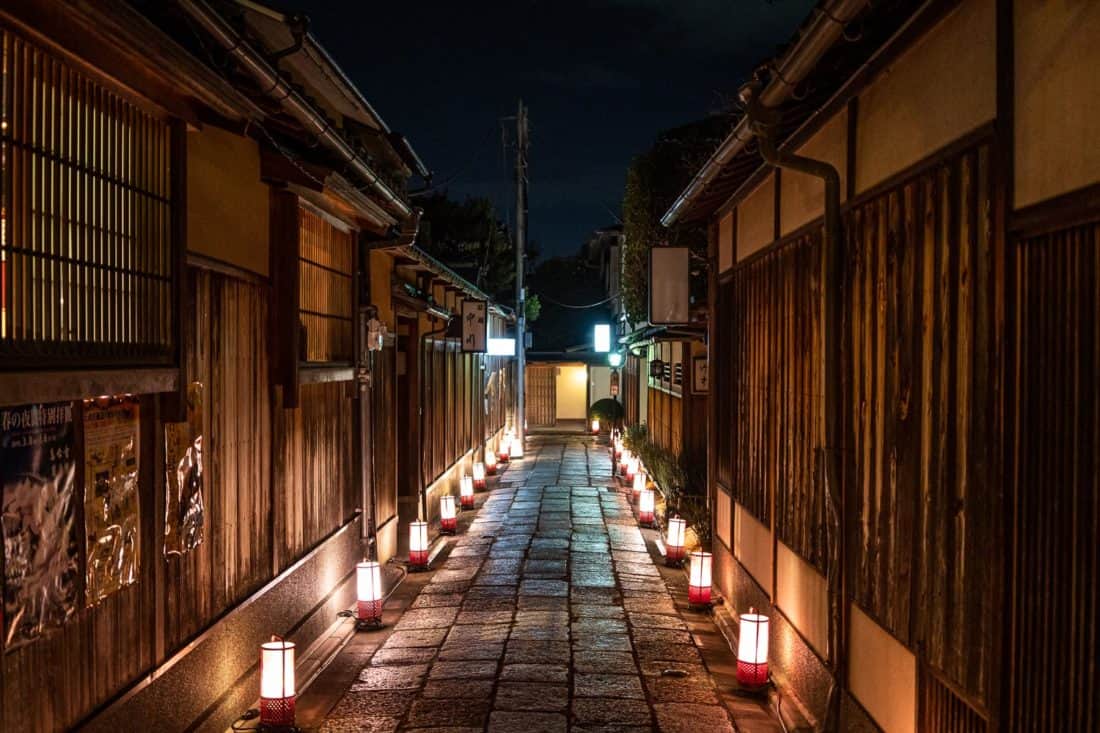 Gion, Kyoto's main geisha district, is also lovely for strolling day and night. Don't miss Hanami-koji, the Shirakawa Canal, Shinbashi-dori, and Yasaka Shrine (free entry).
On the traditional streets of Gion, you may spot a geisha rushing to an appointment at one of the teahouses (especially between 5.30 pm and 6 pm).
Yes, it's exciting, but the hordes of tourists trying to take photos have made life unpleasant for them. Please keep your distance and be respectful.
We often saw geisha without mobs of tourists following them in the quieter Miyagawacho geisha district, where we stayed near Miyagawacho Kaburenjo theatre.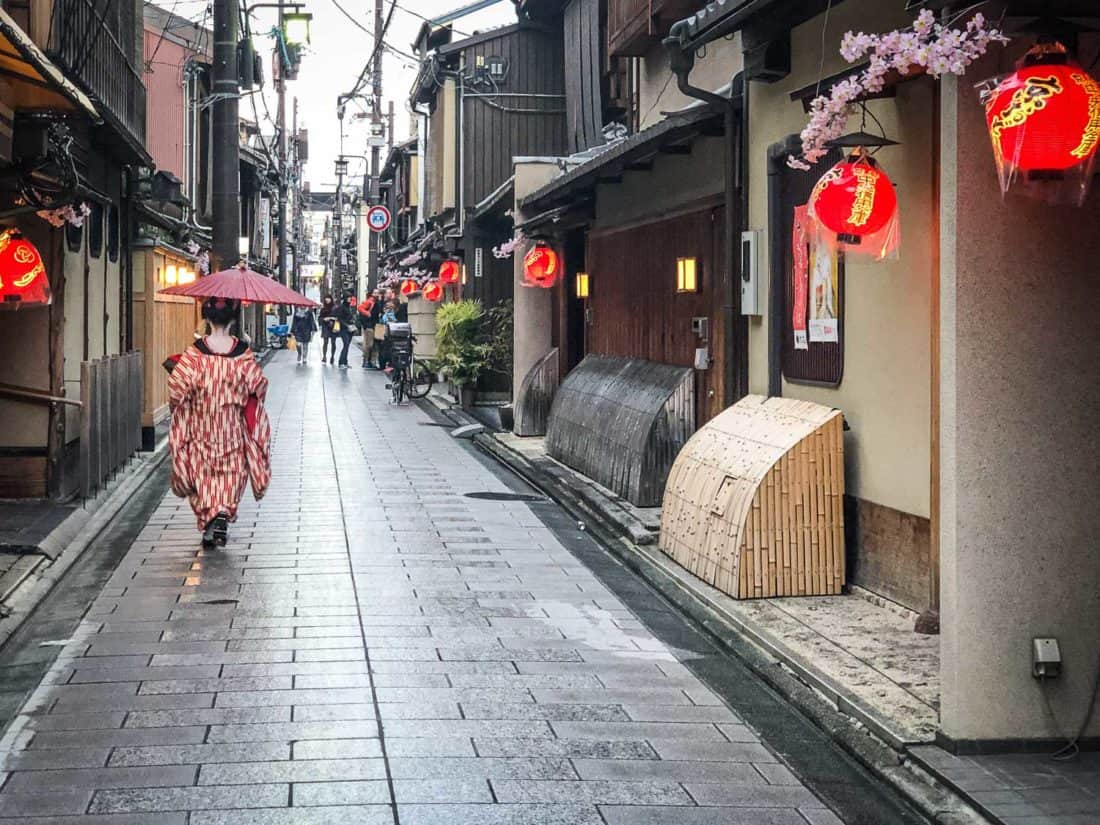 Wandering around Gion is one of the top things to do in Kyoto at night.
If you'd like to explore with a guide, this Gion at night group walking tour has excellent reviews and is a good way to learn about geisha culture. Or try this private Gion tour for a more intimate experience.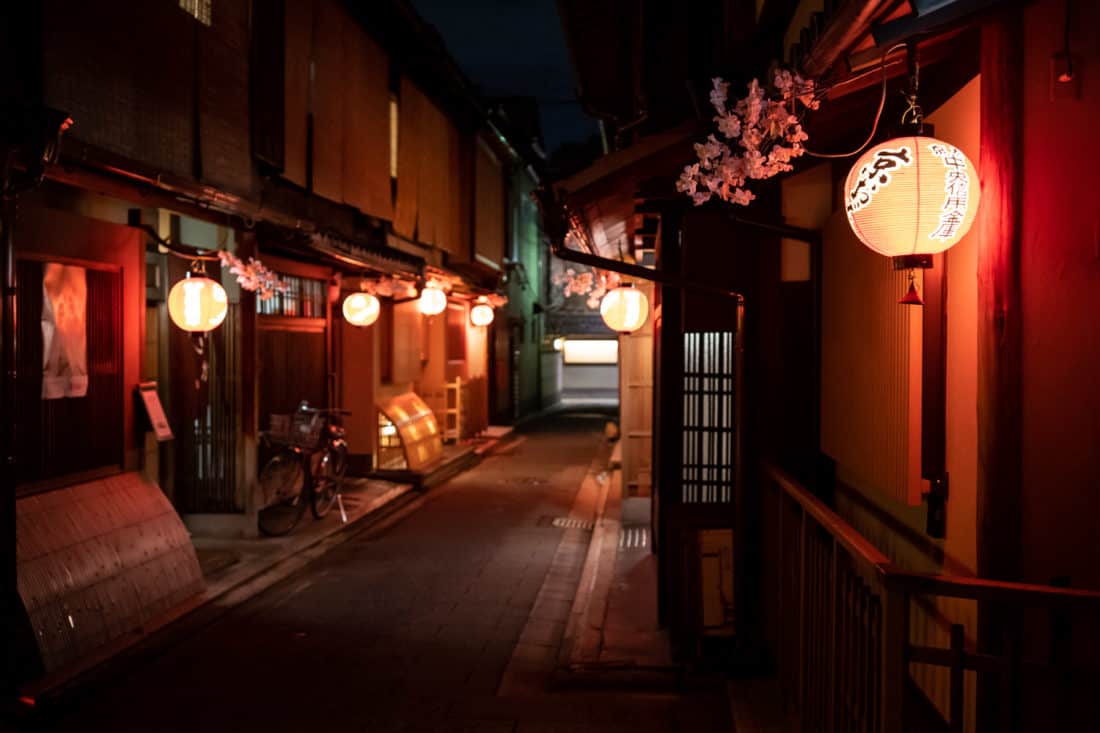 Details: Free to wander the streets. The nearest train stations are Gion-Shijo and Kiyomizu-Gojō on the Keihan Main Line.
3) Enjoy the View from Kiyomizu-dera Temple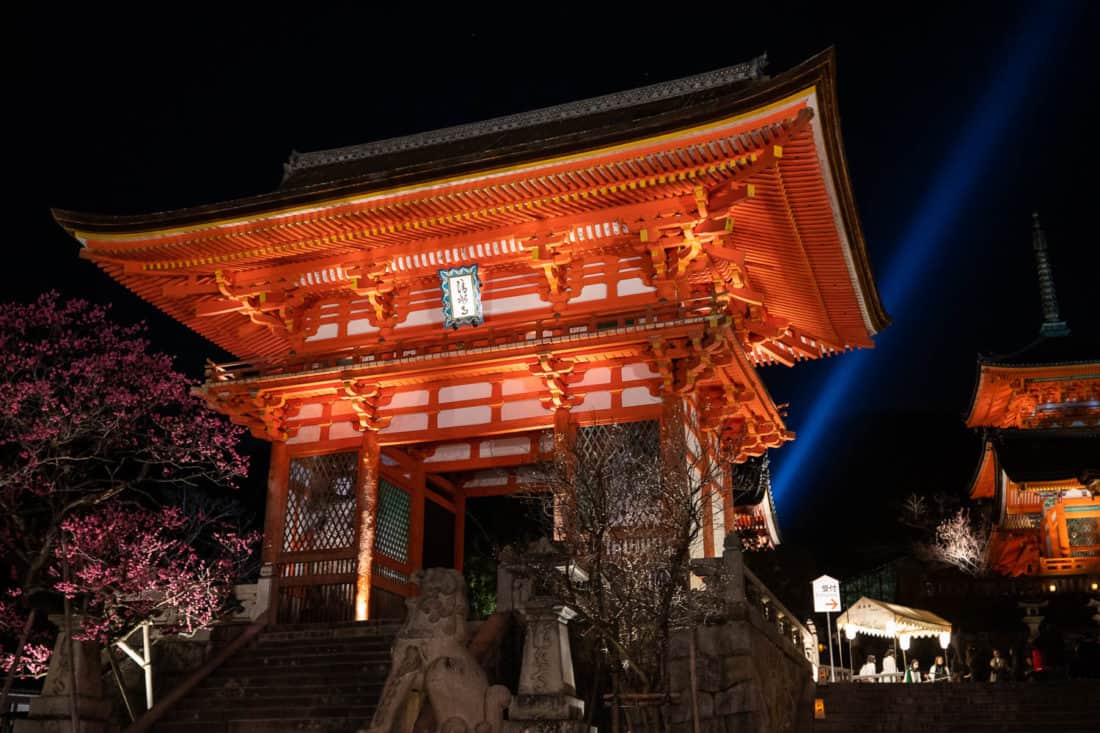 Another top Kyoto sightseeing spot, Kiyomizu-dera was founded in 778 AD and has a dramatic hillside location in Southern Higashiyama with views across the city.
The large wooden main hall was built without nails and houses a statue of the eleven-faced, thousand-armed Kannon.
It's a large complex with many other buildings including an impressive entrance gate, red three-storey pagoda, quiet paths into the forest, and the bizarre Tainai-meguri where you enter into darkness to make a wish (one of the weirdest things to do in Kyoto).
Kiyomizu-dera opens earlier than other temples and it's well worth visiting at 6 am to avoid the tour groups.
It can also be quieter during the night illuminations held in March, April, and November when it's open until 9.30pm.
Details: 400 yen entry fee. Open 6 am – 6 pm. It's a 20-minute walk from Kiyomizu-Gojo Station on the Keihan Main Line. Walking up through the atmospheric lanes full of souvenir shops is part of the fun.
4) Stroll The Philosopher's Path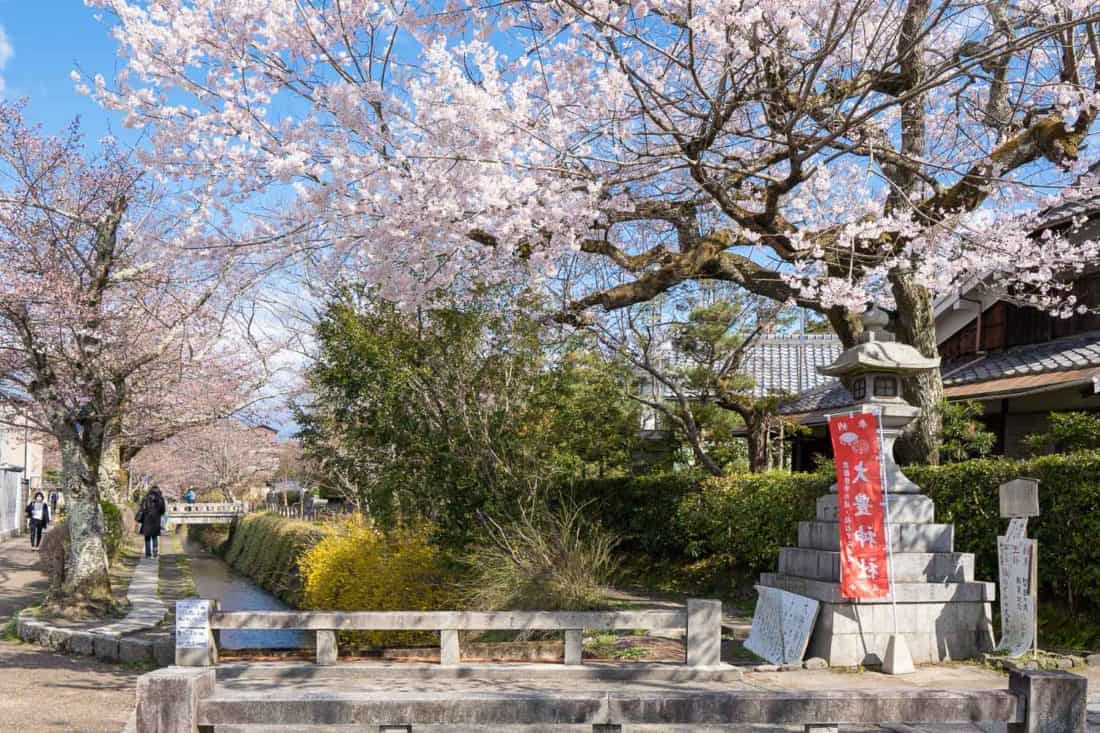 The Philosopher's Path is a pedestrian walkway along a cherry-tree-lined canal in Northern Higashiyama.
It's 2 km (1.2 miles) long and connects two of the most famous temples in Kyoto, Nanzen-ji and Ginkaku-ji.
It's named because the Japanese philosopher Nishida Kitaro was said to have used it for his daily meditation.
The Philosopher's Path is a pleasant place for a stroll and you can stop off at several quieter temples along the way including Honen-in.
In cherry blossom season, the path is a must do in Kyoto.
Details: Free to stroll the path. It's not very near any train stations (Keage Station on the Tozai line is a 15-minute walk away).
We always walk here from Southern Higashiyama via Maruyama Park as there's lots to see along the way. It's about 5 km (3.1 miles) without detours from Yasaka Pagoda to the end of the Philosopher's Path near Ginkaku-ji.
5) Explore Nanzen-ji Temple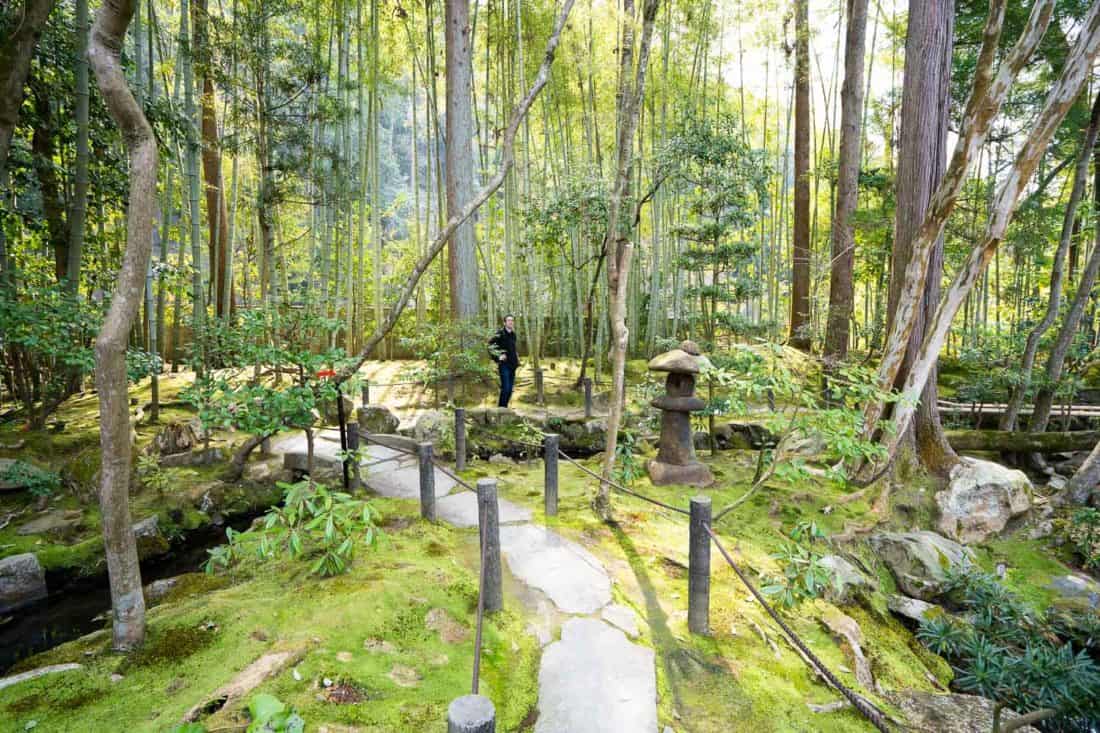 At one end of the Philosopher's Path you'll find Nanzen-ji, a large Zen temple complex that's well worth a visit. It's not usually too crowded and there's plenty of space for everyone.
The shady grounds are free to wander and you can see the massive Sanmon entrance gate and a large brick aqueduct built during the Meiji period.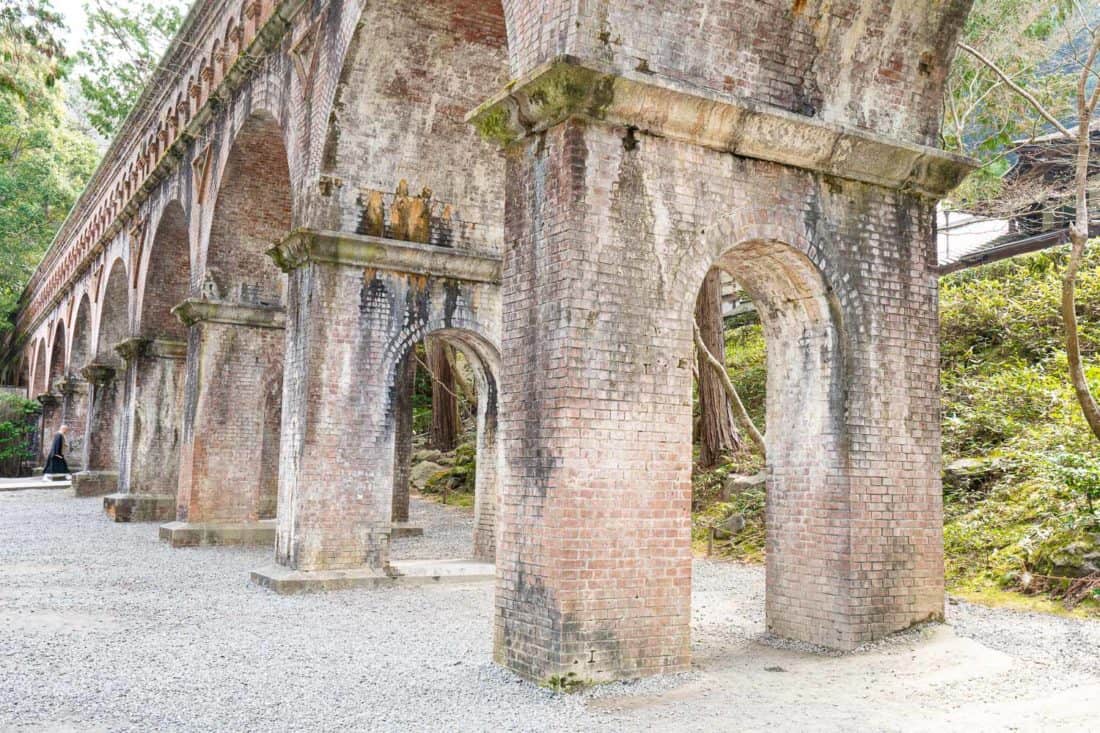 From here we like to head up the hill into the forest to the simple shrine Nanzen-ji Oku-no-in beside a small waterfall.
You can also pay to enter the sub-temples. We visited Tenjuan, which has two lovely gardens and is a peaceful escape from the crowds.
There's a rock garden as well as a large pond garden featuring mossy rocks and a small bamboo grove.
It's especially beautiful in autumn leaf season when it's open for special evening illuminations.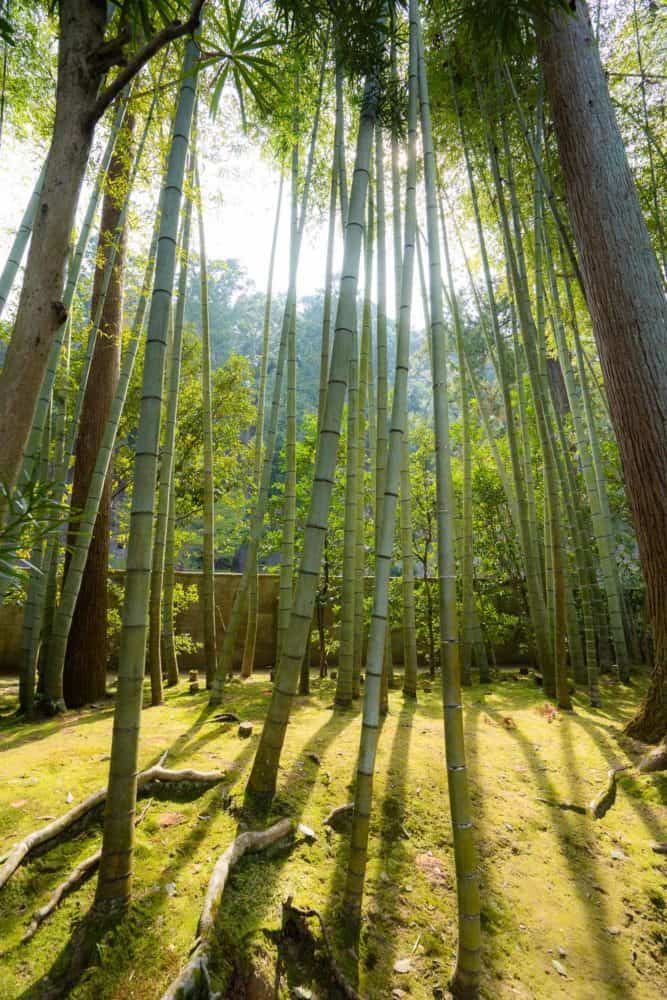 Details: Grounds are free. 500 yen to enter Tenjuan which is open 9 am – 5 pm. The nearest subway station is Keage Station on the Tozai line. We usually walk from Gion and continue along the Philosopher's Path.
6) Visit the Ginkaku-ji Temple (Silver Pavilion)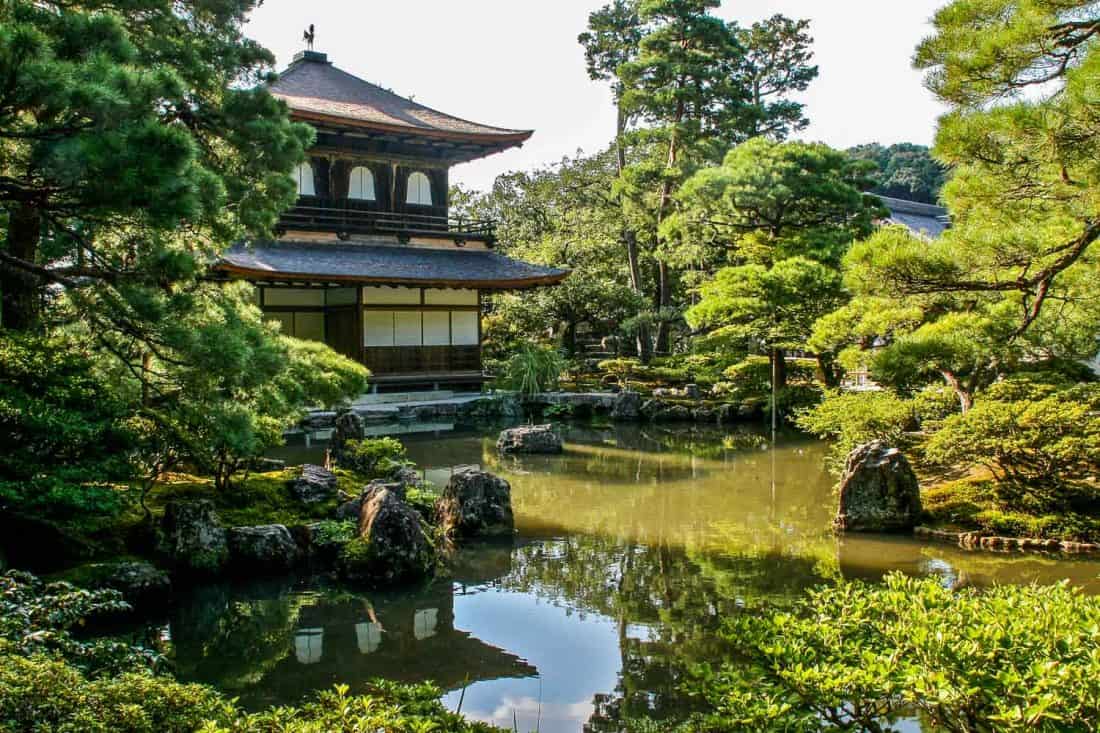 Ginkaku-ji means Silver Pavilion, but it was never covered in silver leaf. It's one of Kyoto's most popular temples and is located at the end of the Philosopher's Path.
Even without the silver, it's a lovely temple reflected in a pond.
The stunning gardens include an immaculately raked white sand Zen garden and a beautiful moss garden.
Make sure you follow the path up the hill to admire the temple from above.
Details: 500 yen entry fee. Open 8.30 am – 5 pm. It's best reached by walking the Philosopher's Path or you can take bus 17 or 100 from Kyoto Station (40 minutes).
7) See the Golden Pavilion at Kinkaku-ji Temple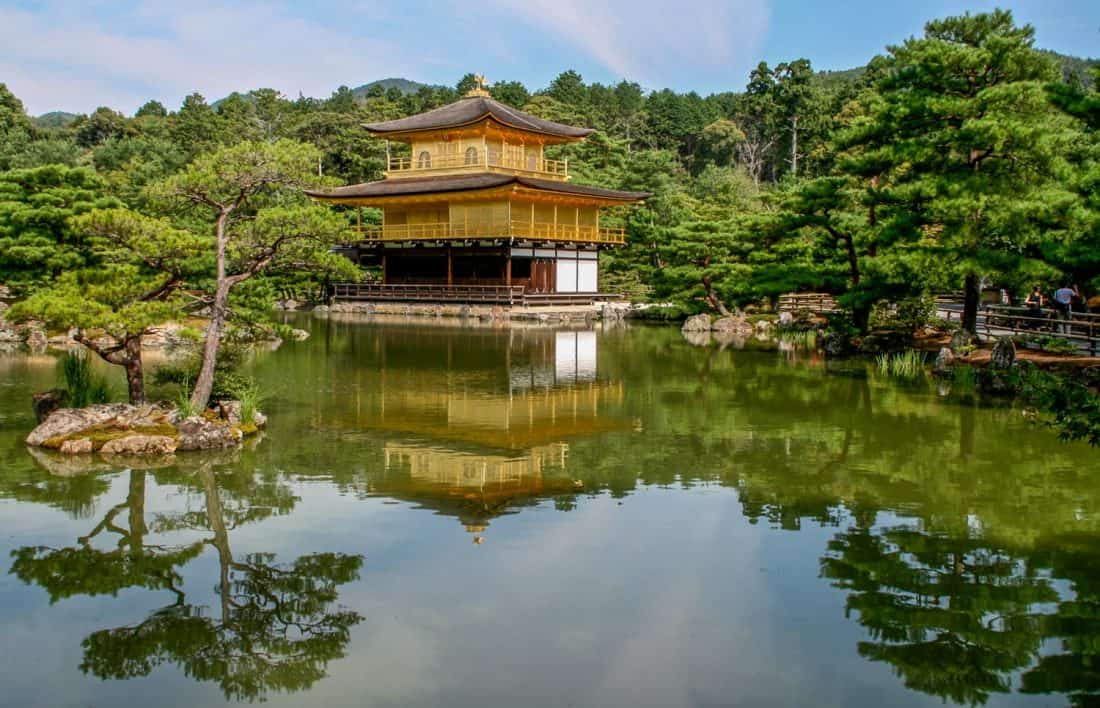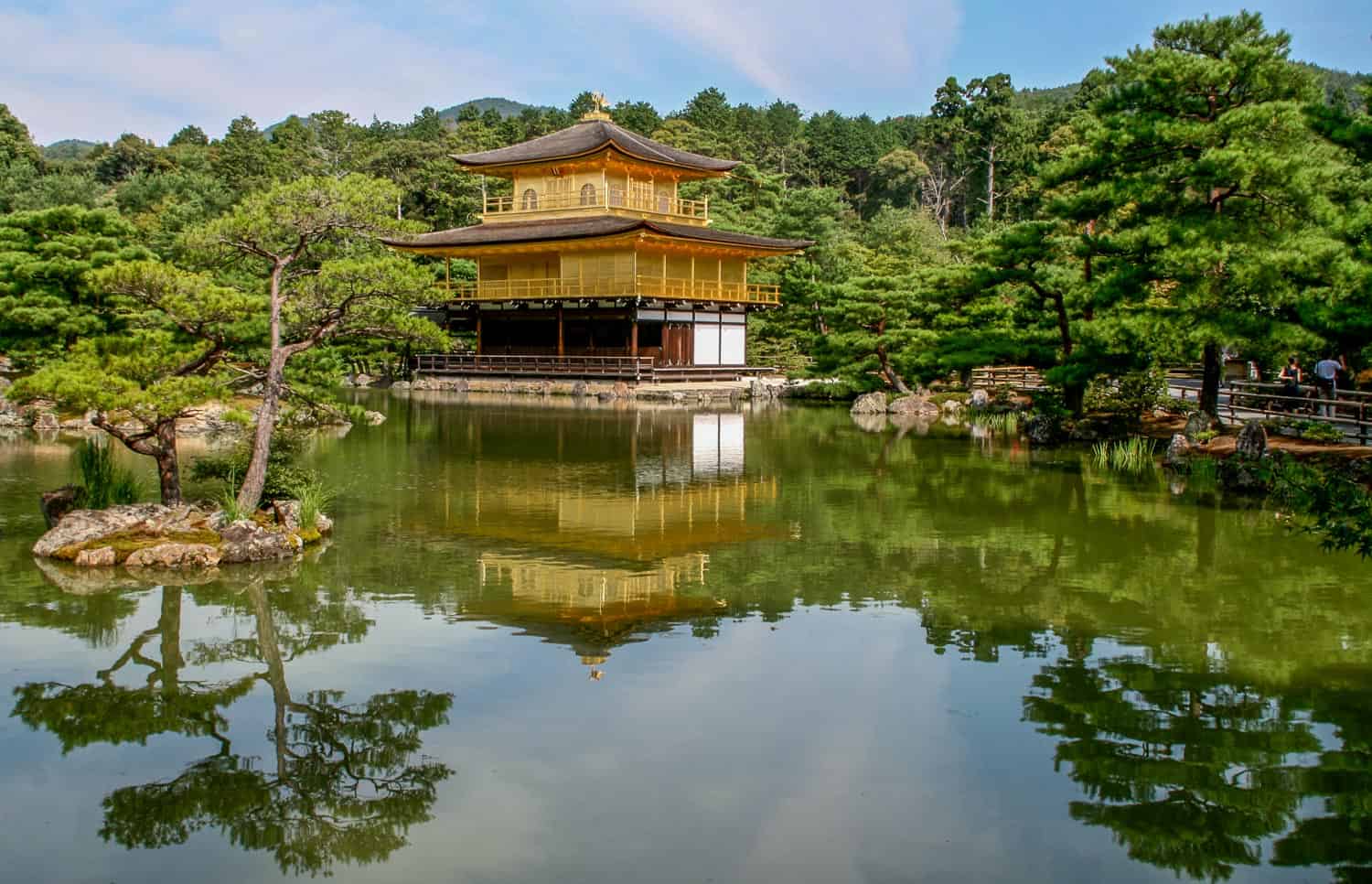 The Golden Temple or Kinkaku-ji is one of the most photographed sights in Kyoto.
We were prepared for the famous Zen temple to be overrated, and although it is almost always crowded, we couldn't help but be impressed by the shimmering golden pavilion reflected in a pond dotted with islands of trees.
It was once the retirement villa of a shogun and it became a Zen temple after his death in 1408 (the building has been rebuilt after numerous fires since then).
The gardens are pleasant for a stroll (if not too busy) and it's fun to get an English fortune from a vending machine.
Although it's beautiful, it's a bit out the way in northwest Kyoto, so if you only have one or two days in Kyoto, I would probably skip it.
Details: 400 yen entry fee. Open 9 am – 5 pm. There are no train stations nearby. You could cycle here (like we did), take a taxi, get the bus 101 or 205 from Kyoto Station (at least 40 minutes), or take a guided tour like the Kyoto early bird tour.
8) Spend a Day in Arashiyama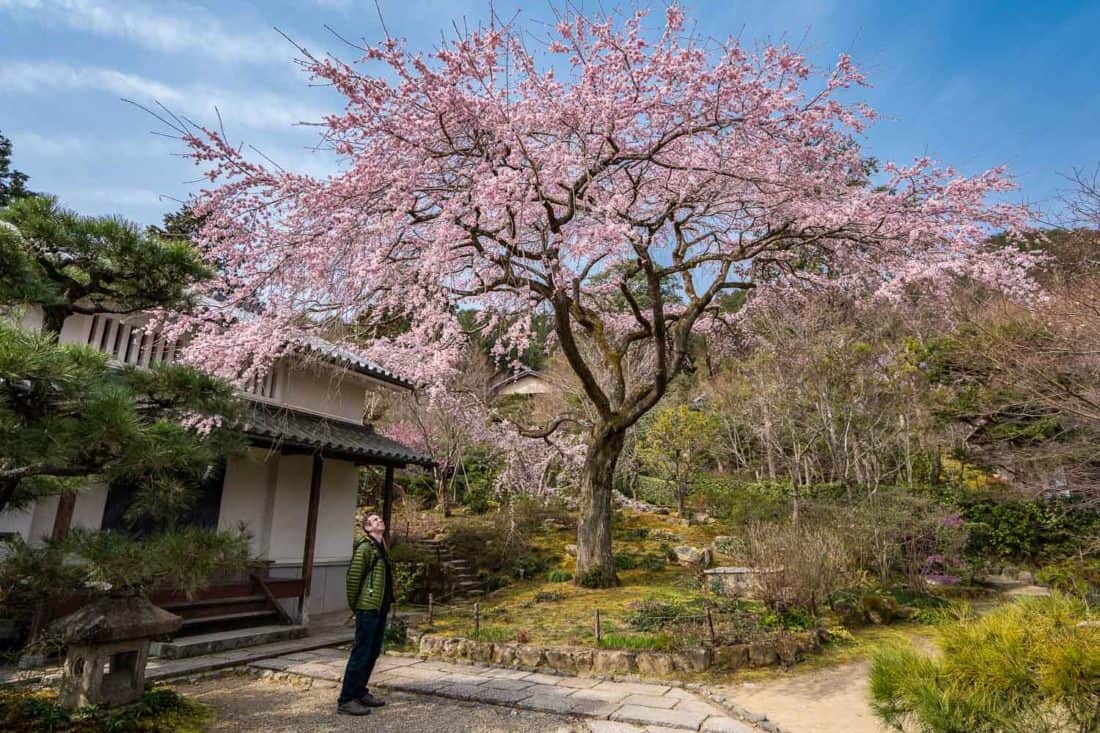 As I said above, I left out the Arashiyama bamboo grove from this list because the crowds have made it unenjoyable (see the bamboo groves at Kodai-ji or Tenjuan in Nanzen-ji instead).
That doesn't mean you shouldn't visit Arashiyama, though—we love this neighbourhood up in the western hills and recommend spending a day here. Away from the main sights it's very peaceful.
Highlights include:
Tenryu-ji – This Zen temple is the most popular attraction in the area and has beautiful gardens and delicious vegetarian lunches at the Shigetsu restaurant (see our Kyoto vegetarian guide). The bamboo grove is just outside if you want a quick walk through (just keep your expectations low).
Okochi-Sanso Villa – The former home of famous film actor Okochi Denjiro features lovely strolling gardens and views of the city.
Jojakko-ji – See below.
Gio-ji – A tiny temple with a thatched-roof main hall overlooking a moss-covered grotto.
Otagi Nenbutsu-ji – See below.
Daikaku-ji – A grand temple complex and large pond with cherry trees.
You could also explore with a guide and enjoy street food tastings on the way on this Arashiyama and Sagano Walking Food Tour.
Details: From Kyoto Station take the JR San-In line to Saga-Arashiyama Station (17 minutes) which is about a 10-minute walk from Tenryu-ji.
From Gion we walked to Kawaramachi station, took the train to Omiya then the Randen tram to Arashiyama, which took about an hour.
9) Seek out Cherry Blossoms or Autumn Leaves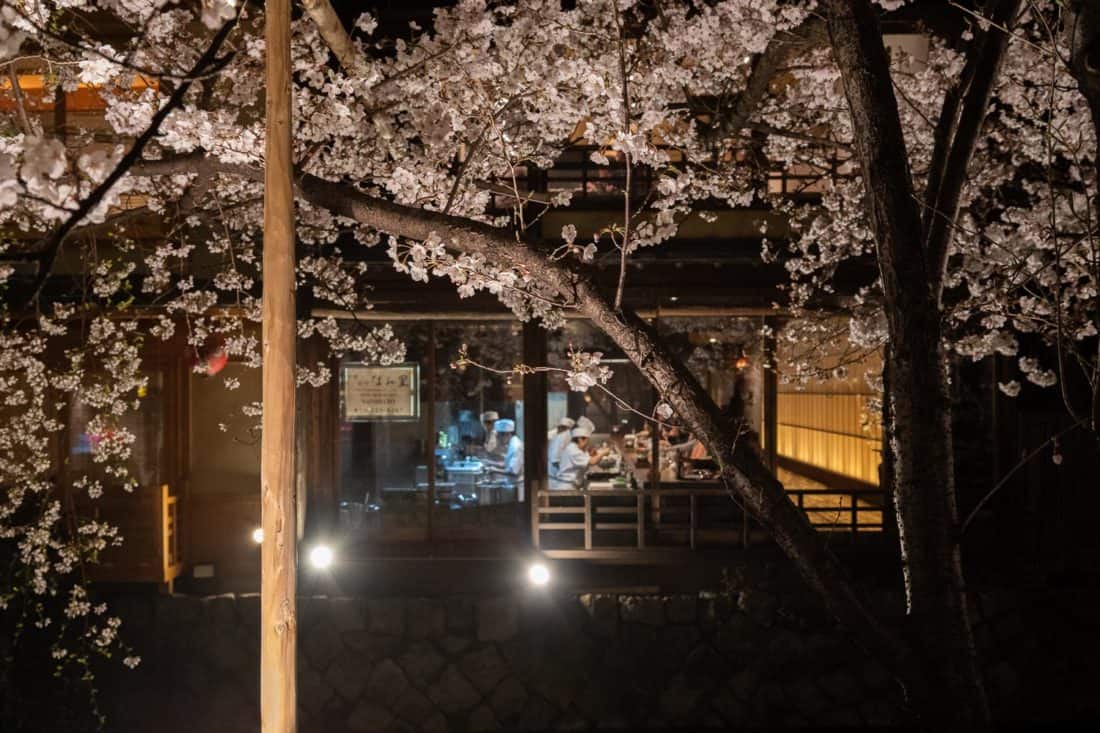 The beauty of Kyoto is that every season is different.
Winter is chilly and quiet; summer is hot, humid, lushly green, and festival-filled; but the most popular times to visit are spring or autumn.
In early April, the cherry blossoms (sakura) transform the city into a flowering wonderland.
While it's crowded and expensive, it's also magical and the festive atmosphere is fun. See our picks for the best places to see the Kyoto cherry blossoms.
Late November to early December is usually the best time to see the colourful autumn leaves in Kyoto, which can be just as beautiful.
Quieter Temples to Visit in Kyoto
These temples may not be as well known as the ones above, but they can often be a more enjoyable experience without the crowds.
See our guide to Kyoto temples and shrines for even more hidden gems.
10) Otagi Nenbutsu-ji Temple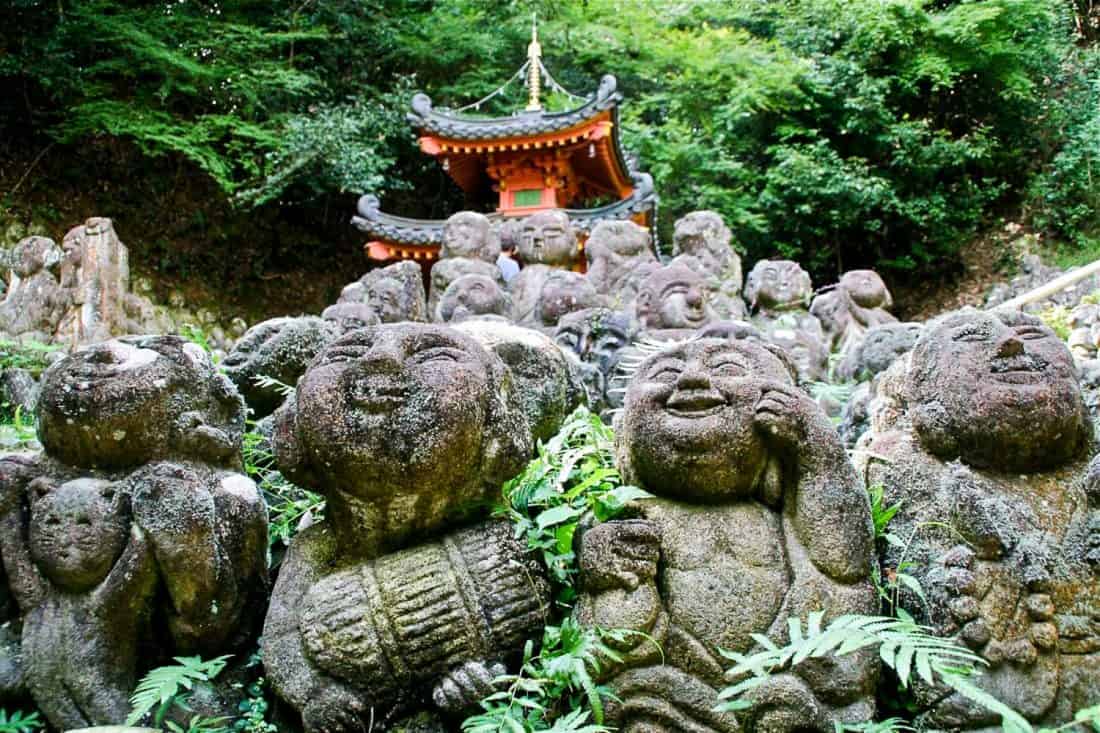 Otagi Nenbutsu-ji is a fairly long walk from the popular sights in Arashiyama, but it's well worth it for an offbeat experience.
It's the quirkiest temple we visited in Kyoto with 1200 stone sculptures of rakan, the Buddha's disciples, scattered throughout a shady temple complex.
They all have different facial expressions and poses—scary, serene, cheerful, cute, and just plain bizarre.
Details: 300 yen entry fee. Open 8 am – 4.30 pm. We walked from the Saga Arashiyama station, which takes about 40 minutes, and there are other temples to visit on the way. There's also an infrequent bus or you can take a taxi from the station for about 1000 yen.
11) Jojakko-ji Temple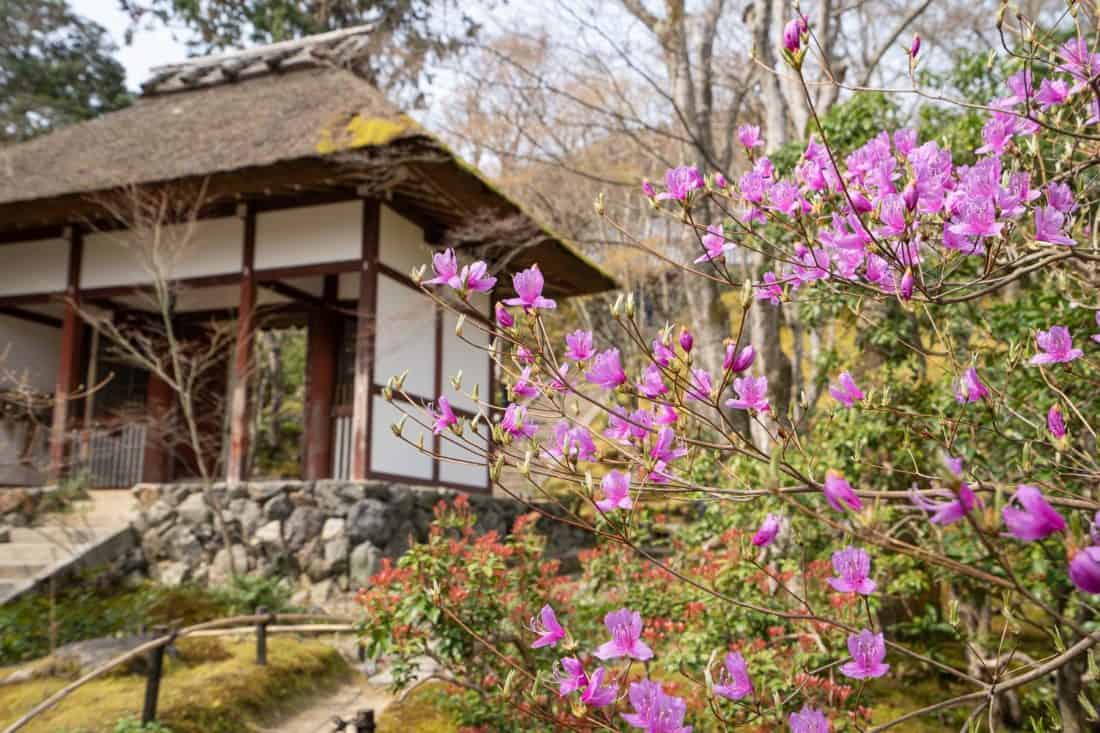 Jojakko-ji is another hidden gem in Arashiyama. Possibly due to lack of expectations and crowds, this was one of my favourite temples in Kyoto.
The hillside gardens are extensive and feature a large cherry tree, mossy roots, small bamboo cluster, a thatched roof gate, and pagoda. There's a fantastic view of Kyoto from the top.
It's a beautiful temple to visit in autumn, but it won't be as quiet then.
Details: 400 yen entry fee. Open 9 am – 5 pm. It's a 15-minute walk from Saga Arashiyama station.
12) Kodai-ji Temple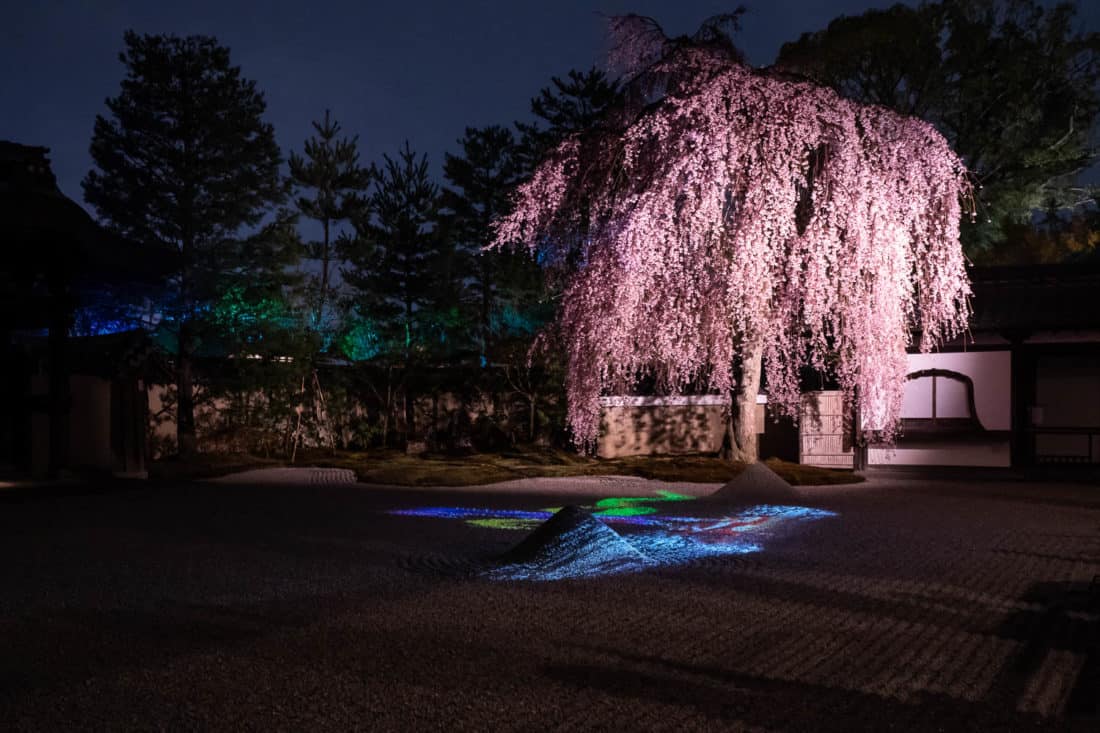 Kodai-ji isn't quite as off-the-beaten-path as the two temples above, but we had it to ourselves when we visited at opening time.
It's in a convenient location in Southern Higashiyama, so it's easy to add in a visit while visiting more popular sights like Kiyomizu-dera.
The Zen Buddhist temple was established in 1606. The main hall features beautiful artwork and painted screen doors, but the gardens were the highlight for us.
The rock garden includes raked gravel and a weeping cherry tree, which is gorgeous in sakura season.
The other garden includes a pond and attractive teahouses. Make sure you walk up the hill to the bamboo grove, which is our favourite in Kyoto.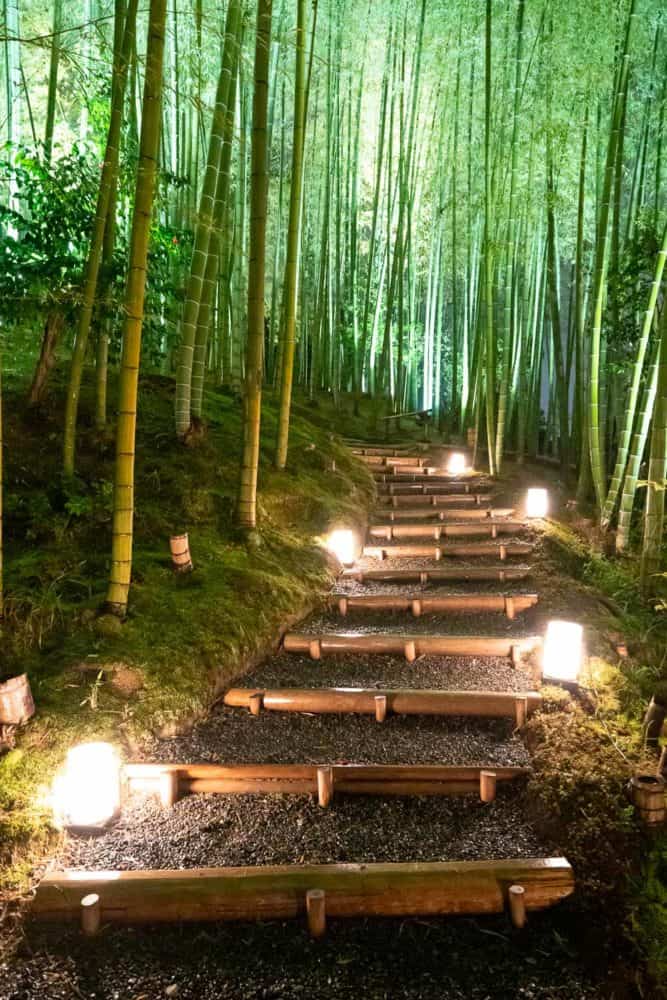 Three times a year (April, August, and November) the temple opens for special night illuminations, which are well worth visiting although it's much more crowded.
Details: 600 yen entry fee (or 900 yen combo ticket with Entoku-in). Open 9 am – 5 pm. Best visited on a walking tour of Southern Higashiyama. It's a 15-minute walk from Gion-Shijo station or a bus will get you closer.
13) Entoku-in Temple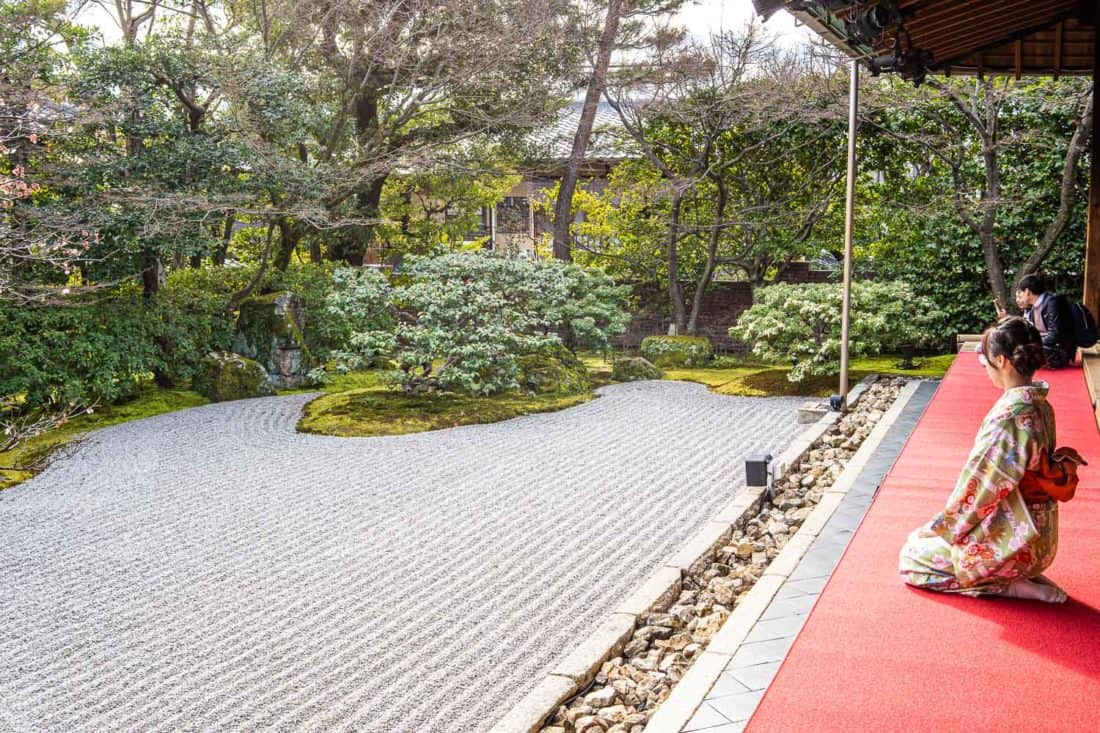 Entoku-in is a sub-temple of Kodai-ji that's usually fairly quiet.
There's a small karesansui (dry stone) garden and some beautiful screen paintings, but what we most liked were the interactive elements here. You can make your own raked stone garden, trace a Buddha picture or sutra, or try zazen meditation.
Details: 500 yen entry fee (or 900 yen combo ticket with Kodai-ji). Open 10 am – 5 pm. It's a two-minute walk from Kodai-ji.
14) Kennin-ji Temple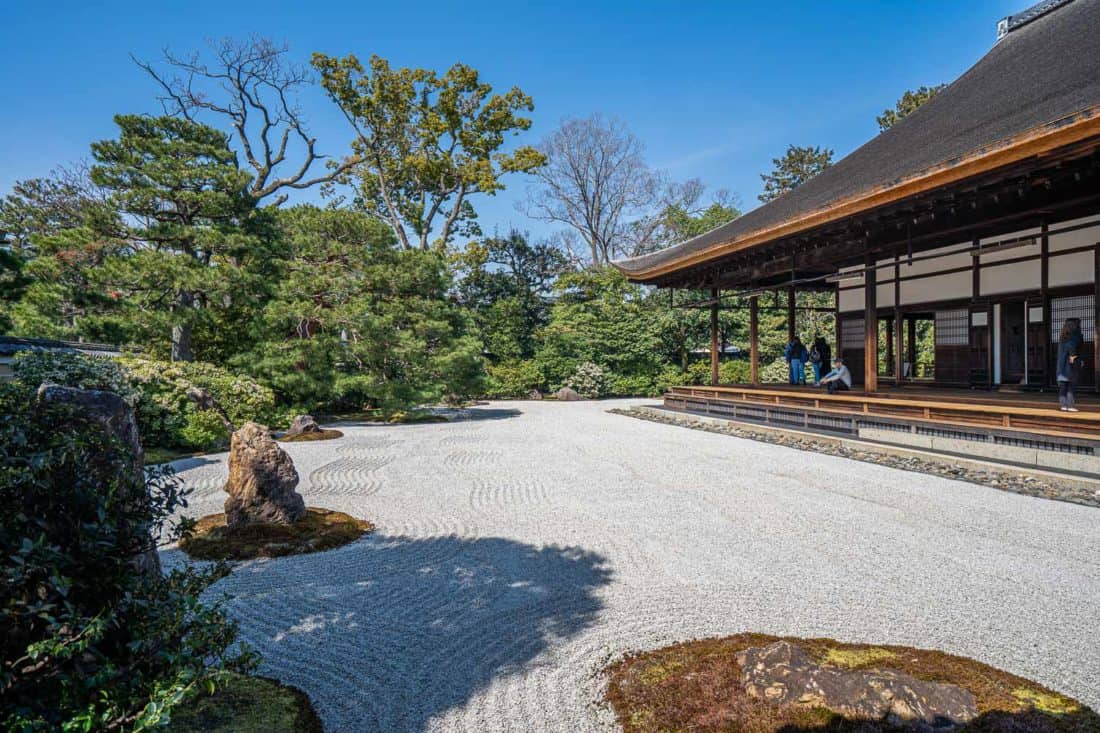 Kennin-ji is conveniently located in Gion and is close to other temples like Kodai-ji, but it doesn't get too crowded, especially if you visit at opening.
It's the oldest Zen temple in Kyoto and was founded in 1202. There's a large complex where you can wander for free, but it's worth paying to go inside.
The main building overlooks a large raked gravel garden, one of the best we visited.
There are lots of small rooms where you can admire beautiful screen paintings and you can walk in the gardens to an old teahouse.
Don't miss the separate building where there's a stunning ceiling painting of twin dragons, painted in 2002 to celebrate the temple's 800th anniversary.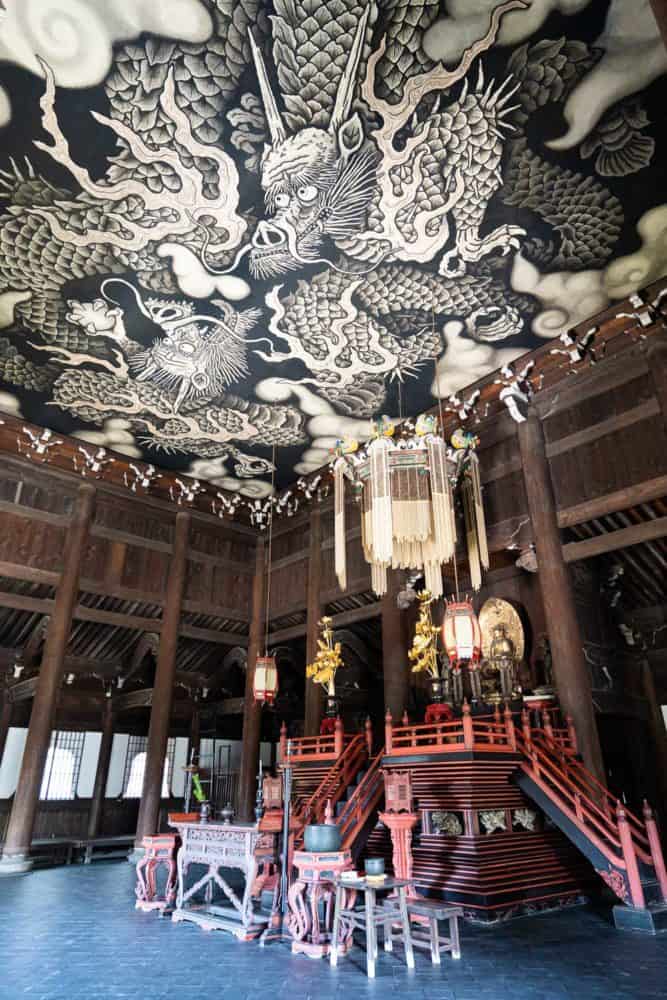 Details: 500 yen entry fee. Open 10 am – 5 pm. Gion Shijo is the nearest station.
15) Yoshida Hill Temples and Shrines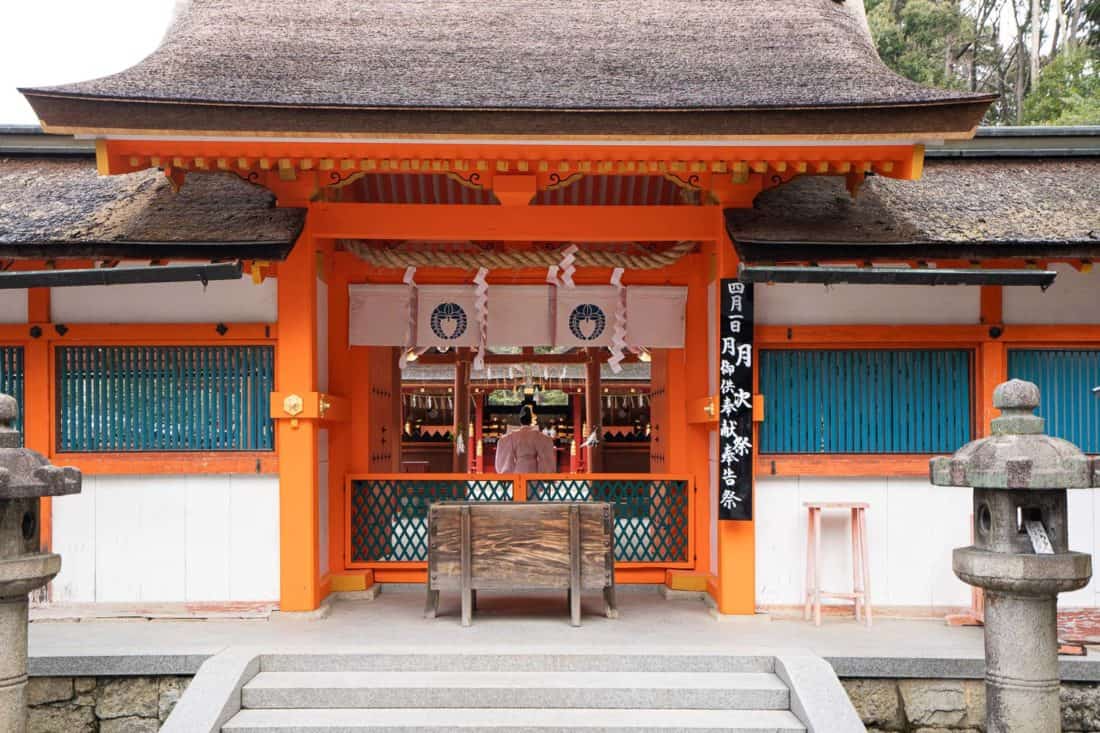 The temples and shrines on Yoshida Hill are hidden gems and are my top pick if you're looking for non touristy things to do in Kyoto.
We couldn't believe how empty they were despite the fact they are just as beautiful as some of the more well-known temples, entrance is free, and there are some good cherry blossom spots.
They are a little out of the way, but we combined them with a walk on the Philosopher's Path—it's a 2 km (1.2 mile) walk from the Ginkaku-ji end.
These are the four we visited with around a 5–10 minute walk between them.
Takenaka Inari Shrine – A small shrine with a tunnel of red torii gates that is especially lovely in cherry blossom season.
Yoshida-jinja Shrine – A peaceful forest shrine with many classic elements like torii gates and sake barrels. We saw a monk performing a ceremony here.
Shinnyodo Temple – A large temple complex with a huge hondo (main hall) and small pond. We walked down the hill through the neighbouring graveyard to get to the next temple.
Konkai-Komyoji Temple – Also known as Kurodani Temple, this large complex has an impressive grand entrance gate and staircase lined with cherry trees.
Details: Free entrance. Best explored on foot while in Northern Higashiyama.
Foodie Things to Do in Kyoto
16) Eat Shojin Ryori in a Temple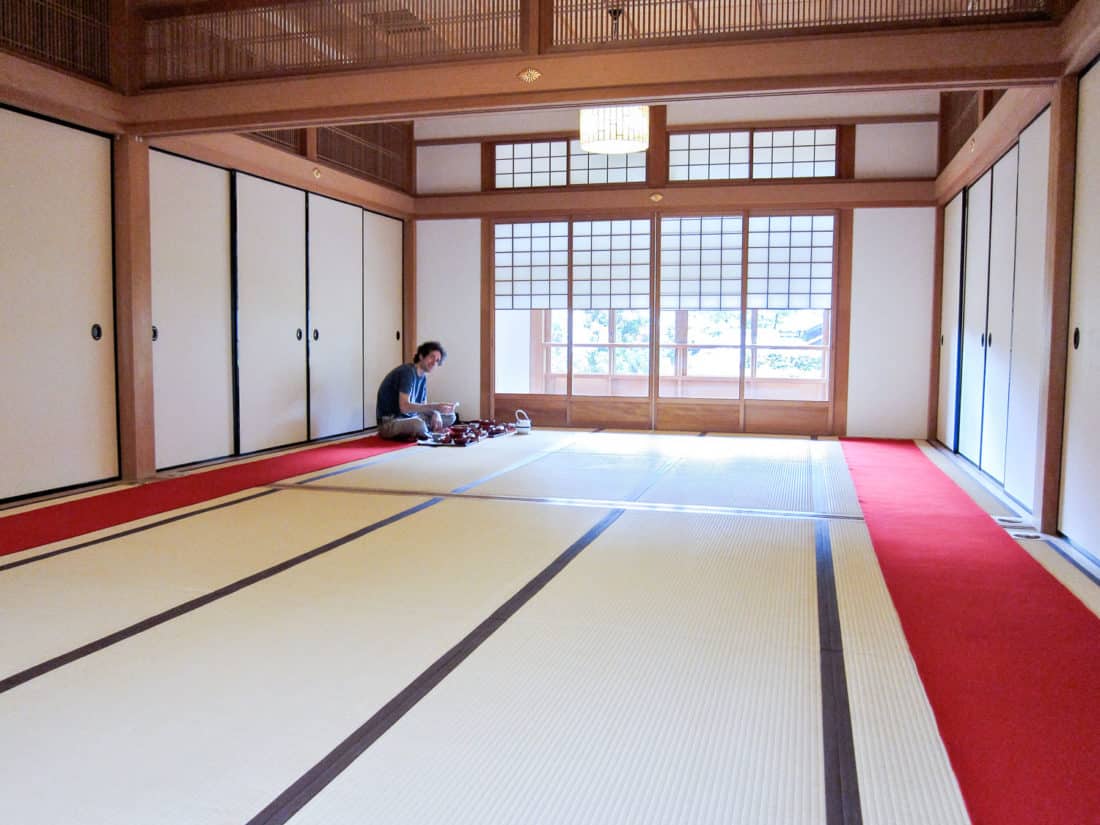 Kyoto is one of the best places in Japan for vegetarians as it's the home of shojin ryori or Zen Buddhist temple cuisine, which is free from animal products.
Shojin ryori features multiple small dishes including tofu, seasonal vegetables, and rice. It's healthy, balanced, and delicious, although you might find some of the unusual ingredients rather odd.
You can try shojin ryori at a number of temples including Shigetsu restaurant in Tenryu-ji in Arashiyama where you eat on the floor in a large tatami room overlooking the gardens.
See my vegetarian restaurants in Kyoto guide for more delicious places to eat.
Details: Shigetsu is open from 11 am – 2 pm and lunch sets costs from 3300 yen. You must also pay the 500 yen Tenryu-ji entrance fee. Make sure you book—ideally a month in advance.
17) Take a Cooking Class
Japanese cuisine is fascinating and a cooking class is a great way to learn more about it beyond sushi and tempura.
We had an excellent lesson with Emi at Uzuki Kyoto Cooking Class but, unfortunately, the school has now closed.
Another option that looks good (and they can cater to vegetarians) is this Afternoon Japanese Izakaya Cooking Class with Cooking Sun where you learn to make 5-6 home-style dishes.
Other cooking classes available in Kyoto focus on different dishes such as bento boxes and sushi.
18) Shop at Nishiki Market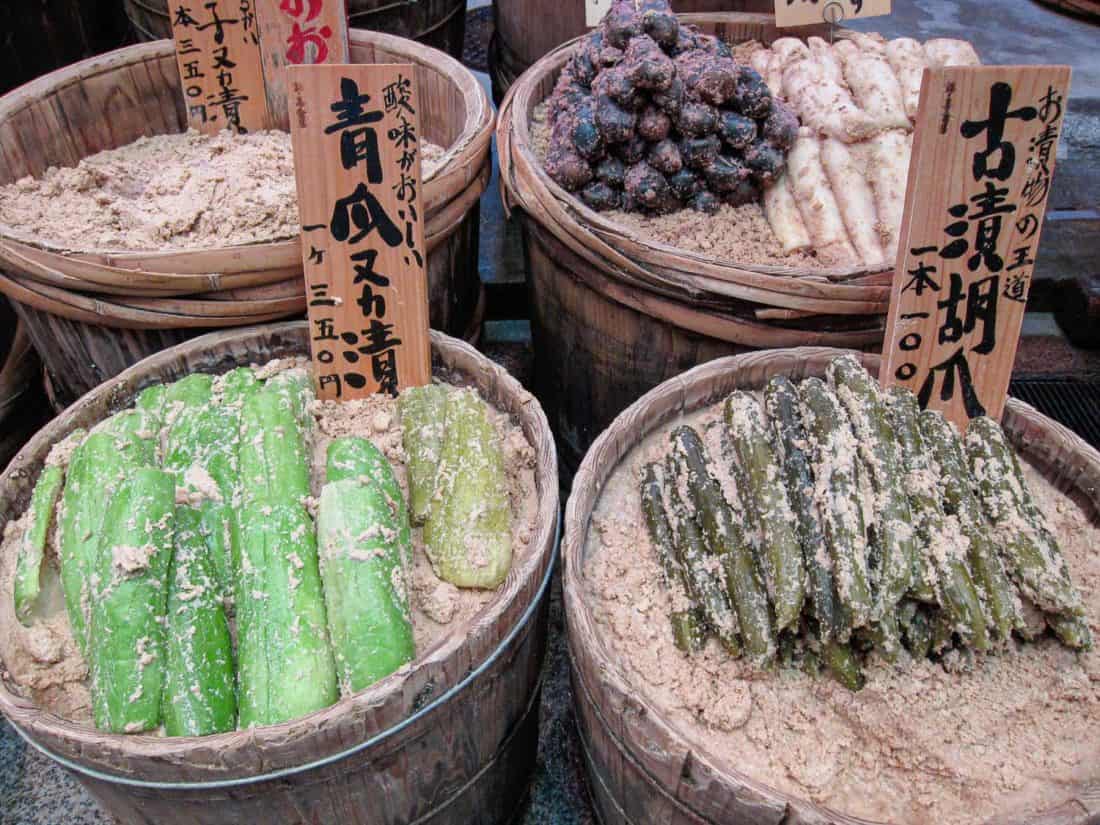 Once you've learnt miso from mirin on a cooking class, you can delve into Kyoto's foodie culture some more with a visit to the Nishiki Market.
On this narrow shopping street you'll find all the ingredients essential for Japanese cooking including an array of pickled vegetables, fish, tofu, giant miso-smothered aubergine, sweets, and other snacks.
There are plenty of opportunities to try free samples or to buy a snack to take with you. We liked the sweet black beans and the chilli coated rice cakes.
The market has become very crowded in recent years, so it's best to visit early.
You might find it more relaxing to visit a food hall in a nearby department store such as Takashimaya or Daimuru instead. This is Kyoto's main shopping area so there are plenty of options.
Nishiki Market can be overwhelming and confusing, so if you want to learn what everything is you might want to explore with a guide (we plan to next time). Options include:
Details: Opening hours vary by stall, but it's best to visit between 10 am to 5 pm. The nearest stations are Shijo Station on the Karasuma Subway Line or Karasuma or Kawaramachi Stations on the Hankyu Line.
19) Drink Matcha in a Teahouse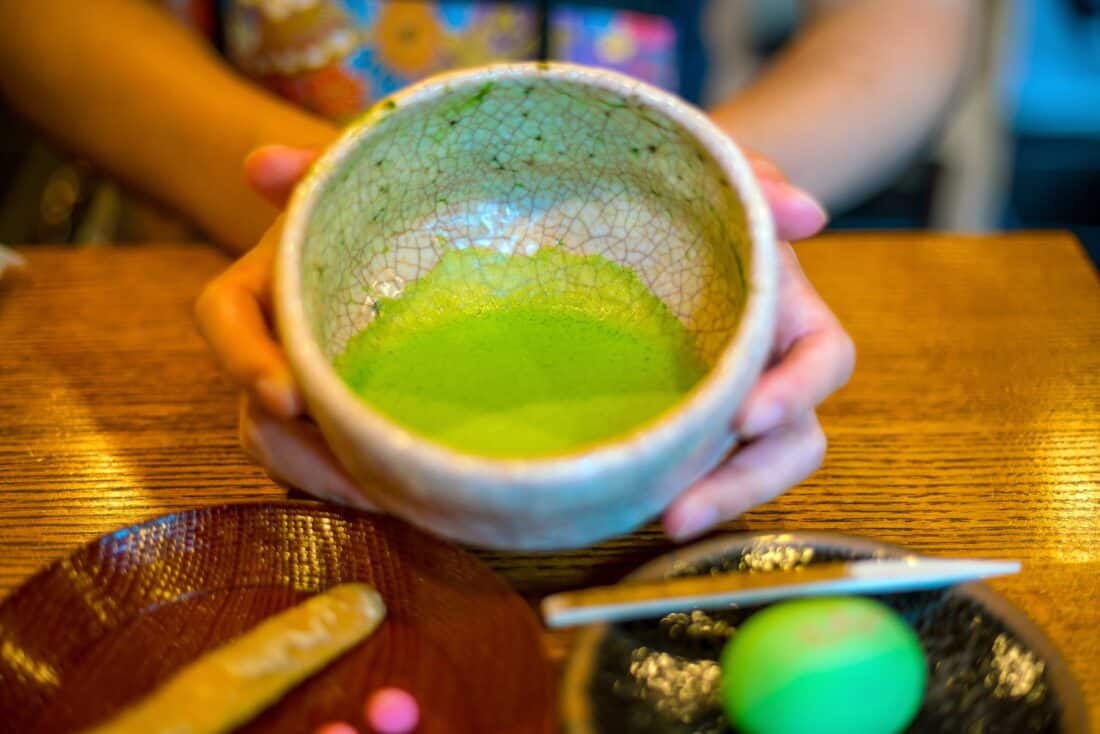 Kyoto is famous for its green tea and stopping at one of the many traditional teahouses is a Kyoto must do and the perfect break on a busy sightseeing day.
Slightly bitter, bright green matcha is served in beautiful bowls accompanied by wagashi, small Japanese sweets such as mochi made from pounded rice and sugar and stuffed with bean paste.
It can be an acquired taste, but even if you're not a fan, it's a great cultural experience and worth trying at least once.
There are many teahouses in Kyoto. We loved our experience at Ippodo Tea, a highly regarded tea shop that's been around for nearly 300 years.
This is the ideal place to buy some high-quality tea to take home as a souvenir, but you can also sample it in their tearoom.
You can choose from a wide range of teas and you'll be given exact instructions (in English) on how to brew it—they take their tea very seriously here. Our tea and wagashi were superb.
To delve deeper into tea culture, you can also participate in a tea ceremony. The tea ceremony ritual originated in Kyoto and is a fascinating insight into Japanese culture—it's about so much more than just enjoying a hot drink.
We took part in a tea ceremony in Kanazawa, but there are many options in Kyoto including this 45-minute tea ceremony near the Golden Temple (with option to wear a kimono) or this tea ceremony at Jotokuji Temple.
Details: The Ippodo Tearoom is open from 10 am – 5 pm. It's a little out of the way but it's not far south of Kyoto Imperial Palace and a 15-minute walk north of Nishiki Market.
Kyoto Activities in Nature
20) Cycle Along the Kamo River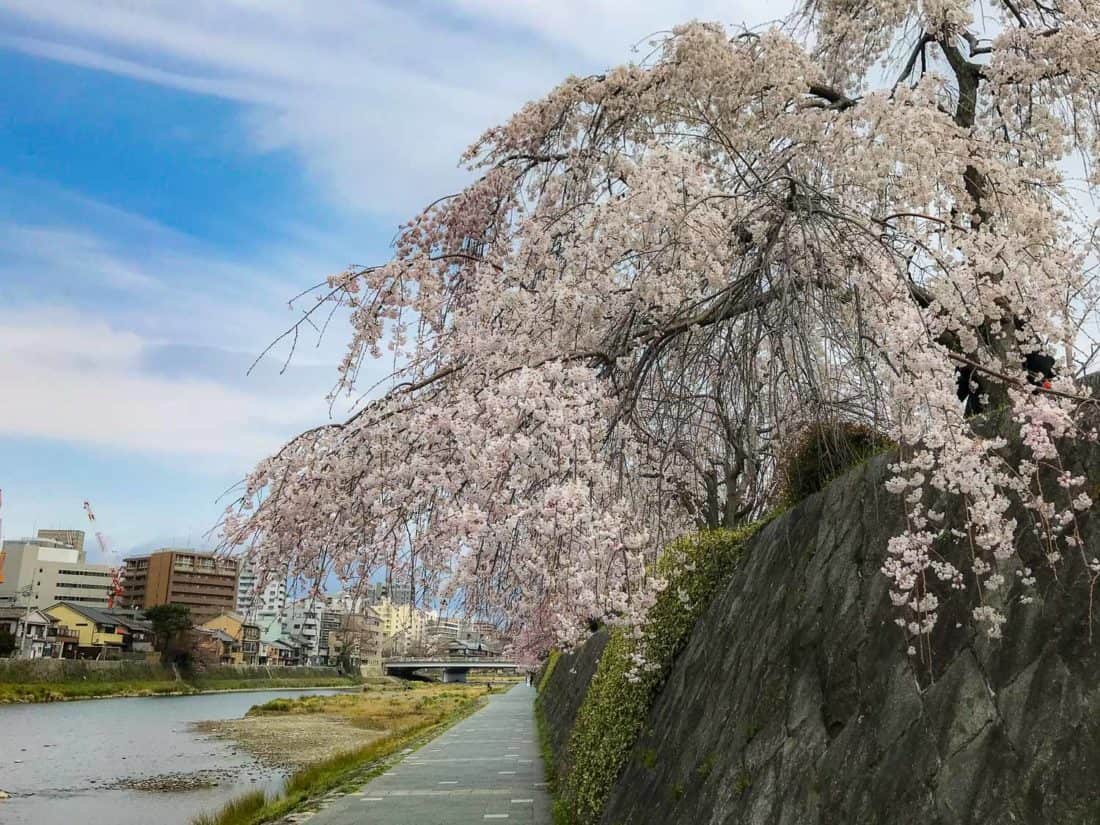 The Kamogawa or Kamo River cuts through the city and is a popular recreation spot for locals.
It's a great place for a run, walk, or bike ride, especially in spring when the banks are lined with cherry blossoms.
On summer evenings, head to the Sanjo bridge where you'll often find bands playing and young people hanging out and drinking—a cheaper night out than paying bar prices.
Cycling is an especially good way to explore and you can use the river path as a way of getting to northern Kyoto.
You could start in Gion and cycle north with a detour to the Imperial Palace. At the Demachiyanagi area the river forks and you'll find the 2000-year-old shrine Shimogamo-Jinja.
Take the left fork to head to the Kyoto Botanical Gardens and the 7th-century shrine, Kamigamo-jinja.
The right fork will eventually take you to Takaraga-ike Park, an off-the-beaten-track spot that's popular with locals for walks, picnics, and boating on the pond. I had a lovely birthday picnic here under the plum blossoms.
If you want to leave the river and cycle up Kyoto's hills, I recommend getting an e-bike.
Details: The bike shop we rented from in Gion has now closed. Bicycle rental Raku-chari Nanajo is another option close to the river and a 10-minute walk from Kyoto Station.
A one-day rental from 9 am – 6 pm costs 1100 yen for a standard bike or 2200 yen for an e-bike.
21) Stroll by the Takase River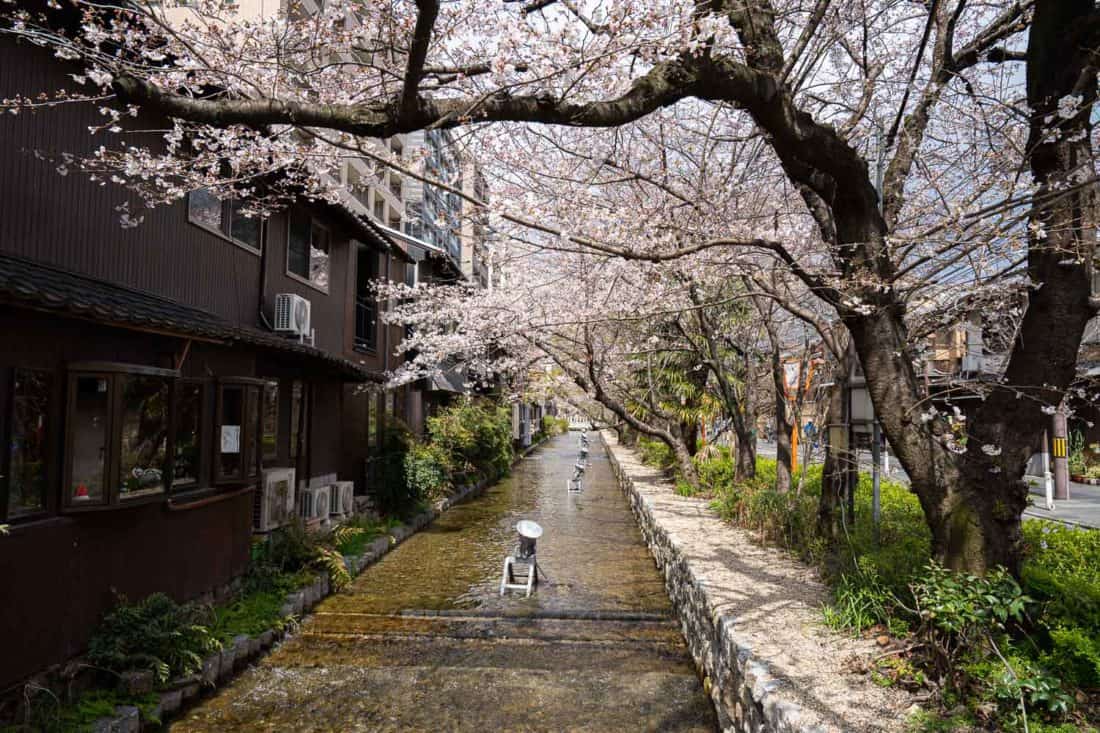 The Takase River is a narrow canal that runs next to Kiyamachi-dori parallel to the much larger Kamo River.
It was used for transporting rice and sake for over 300 years from 1611. You can see a replica of the flat-bottomed boats that were used at the starting point near Nijo-dori.
It's an enjoyable place for a stroll by day and night, especially in spring when the cherry trees bloom, and there are lots of cafes and restaurants along the way.
The section between Sanjo-dori and Shijo-dori can be busy, especially in sakura season, but south of here it's much quieter.
We often walked along the canal south of Gojo-dori and down past Kyoto Beer Lab and it was always a peaceful escape.
Details: Sanjo station is about a five-minute walk from the start of the canal near Nijo-dori. You could also start further south near Kawaramachi station.
22) Hike from Kibune to Kurama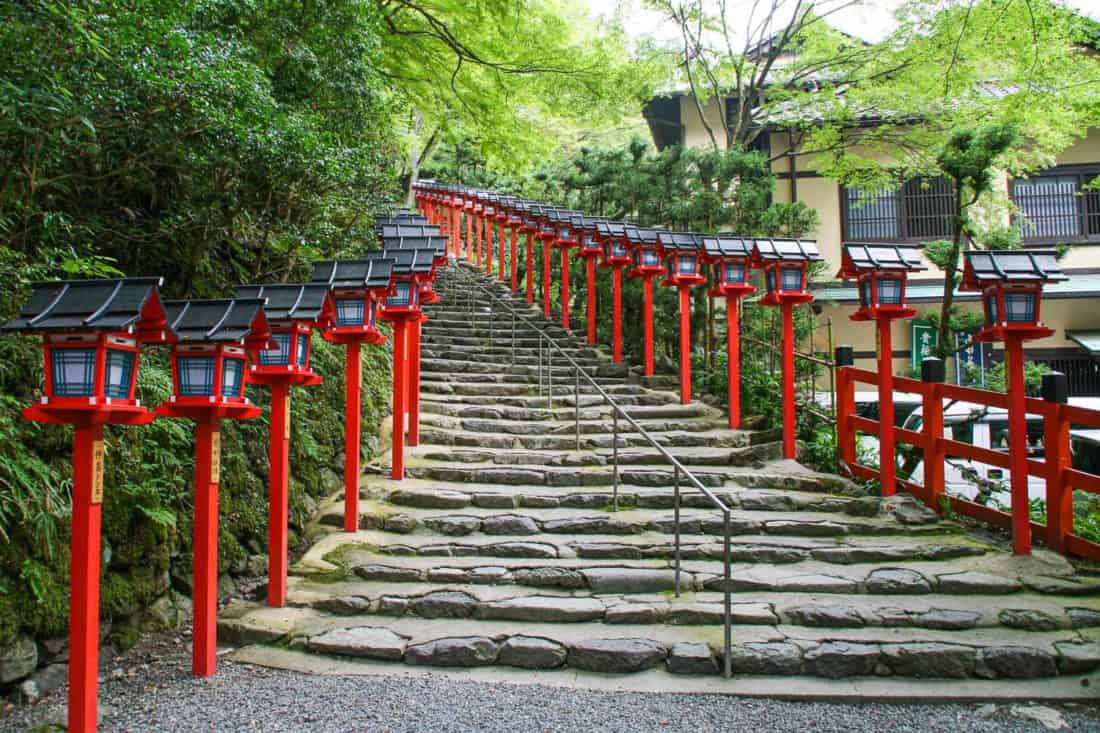 A lovely half-day trip from Kyoto is to the villages of Kibune and Kurama in the mountains a scenic 30-minute train ride north of the city.
You can do the walk in either direction. We started in Kibune, visited the Kifune Shrine, then walked through the forest up a steep path up and over the mountain to Kurama-dera temple, which has fantastic views.
The mountain section only took 35 minutes, but it felt longer as it's uphill most of the way. It's a peaceful walk over root-covered trails surrounded by tall trees with a number of small shrines along the way.
The village of Kurama is about 15 minutes downhill from the temple. We enjoyed a tasty shojin ryori (Buddhist vegetarian) lunch at Yoshuji before taking the train back to Kyoto.
This is a great walk in any season. When the weather is cooler, you can ease your muscles in the outdoor baths at Kurama Onsen.
In summer, walk in the opposite direction and end with a meal on a suspended platform over the river in Kibune.
In autumn, it's especially beautiful as the trees turn red.
Details: The train on the Eizan Kurama Line from Demachi-Yanagi Station to Kibuneguchi Station takes 30 minutes. Return on the same line from Kurama Station.
Entrance to Kurama-dera is 300 yen. Use of the outdoor bath at Kurama Onsen is 1000 yen (or 2500 yen for all baths).
23) Wander Around Kyoto Botanical Gardens
The extensive Kyoto Botanical Gardens are a relaxing place for a walk with a wide range of trees and flowers, a turtle and carp filled pond, and a huge conservatory with plants from different climatic zones.
We visited in late summer, but it's even lovelier with the cherry blossoms of spring or red leaves of autumn.
Details: 200 yen entry fee plus 200 yen for the conservatory. Main gardens open from 9 am – 5 pm and the conservatory from 10 am – 4 pm.
The nearest subway station is Kitayama Station. This is a great place to cycle to as you can get there along the Kamo River.
Cultural Things to Do in Kyoto
24) Watch the Geisha Spring Dances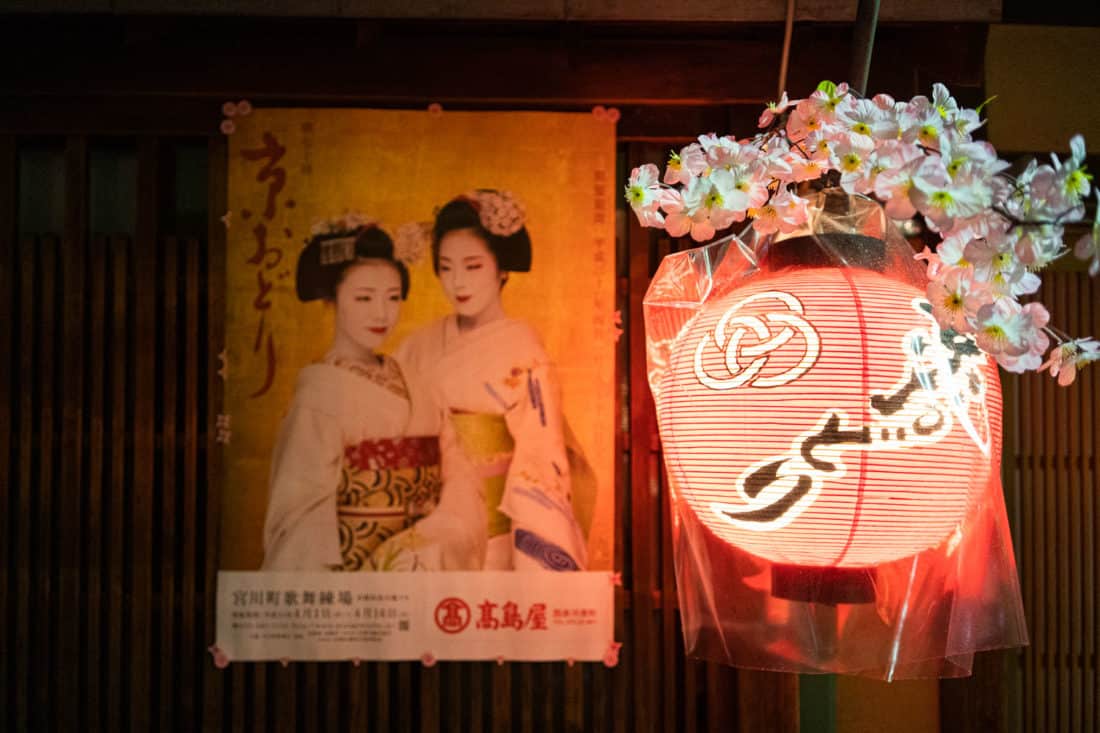 Geisha (or geiko) are one of the most fascinating aspects of Kyoto. These professional entertainers are highly skilled in traditional Japanese arts and wear elaborate outfits that belong to another time.
It's exciting to glimpse geisha as they slip into the teahouses of Gion, but it's even better if you can watch them perform.
Every year in April the geisha districts put on spectacular dances where you can see dozens of geiko and maiko (apprentice geisha) dancing, acting, singing, and playing traditional instruments.
They are stunning shows and I loved getting a closer look at those extravagant kimono and hairstyles.
Don't miss a show if you're visiting in April—it's one of the best things to see in Kyoto.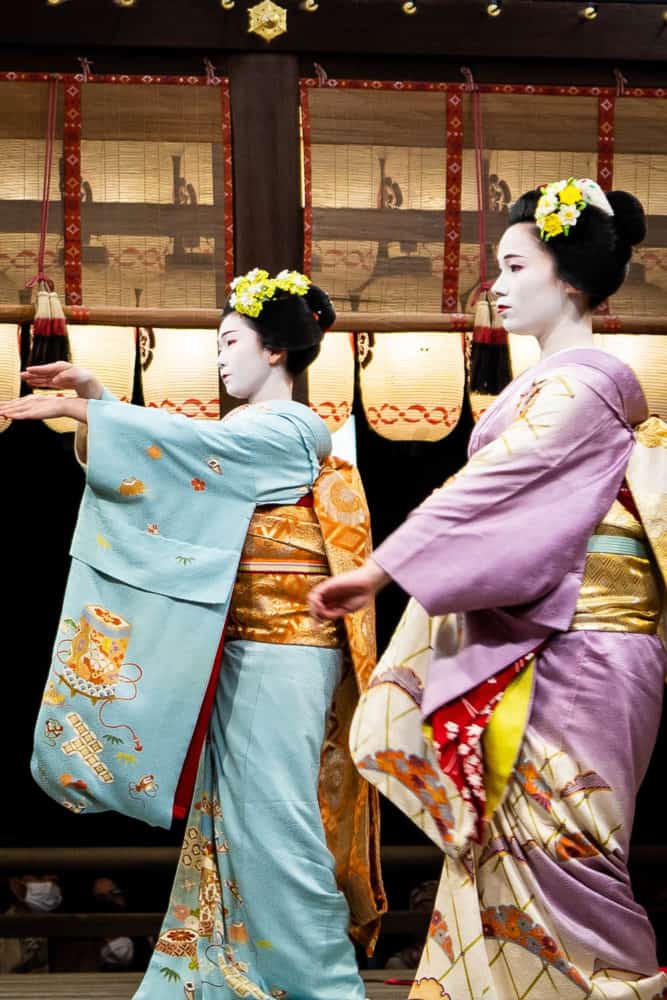 The Miyako Odori in Gion is the most famous, but we went to the nearby Kyo Odori in our neighbourhood Miyagawacho instead where there were very few tourists. See my Kyoto cherry blossom guide for more details.
If you aren't visiting Kyoto in April, the smaller Gion Odori is held from 1 – 10 November.
You can also look out for local festivals that include a geisha dance. We saw one as part of the Higashiyama Hanatoro Festival in March.
25) Geek Out at Kyoto International Manga Museum
If you are interested in manga (comics) culture, the Kyoto International Manga Museum is the ideal rainy day destination.
There's a small exhibition looking at the role manga has played in Japanese culture, but mostly there are just lots and lots of manga comics and graphic novels.
The collection houses 300,000 volumes, and although they are mostly in Japanese, they have translations into many other languages, too.
Throughout the museum you'll find towering bookshelves and geeky kids quietly reading.
Details: 900 yen entry fee. Open 10.30 am – 5.30 pm. Closed on Tuesdays and Wednesdays. Karasuma-Oike is the nearest subway station.
26) Learn a Traditional Japanese Skill
As the home of traditional Japanese culture, there are many opportunities in Kyoto to learn more about the arts and try a unique activity.
We're adding these fun things to do in Kyoto to our list for our next visit:
How to Get to Kyoto
Kyoto is best reached by train.
If you fly into Kansai International Airport (KIX), the Airport Express Haruka train to Kyoto takes 1 hour 20 minutes.
It's cheaper if you get the ICOCA & HARUKA discount set which includes the train fare and a pre-paid rechargeable ICOCA card which you can use for local transport in Kyoto and Osaka.
If you fly into Tokyo, you can take the shinkansen (bullet train) to Kyoto in 2 hours 15 minutes on the fastest train.
If you'll be visiting a few other places in Japan, it's well worth considering a Japan Rail Pass. It usually saves you money and makes travel easy as you just hop on the train.
Read my post on whether a Japan Rail Pass is worth it for more details.
The Japan Travel by Navitime website or app is the best way to check train times and prices.
Getting Around Kyoto
We love to walk as much as possible in Kyoto as we often discover hidden spots along the way.
Cycling is also great along the Kamo River, but I wouldn't venture up to the main sightseeing areas of Higashiyama or Arashiyama as they're too hilly and crowded.
The public transport system isn't brilliant and you'll need to take a mix of trains, subway, and buses to get to every part of the city. A prepaid ICOCA card can be used on all of them.
We use Google Maps for public transport routes and directions.
Life will be much easier if you have a data plan on your phone—a Japan e-SIM by Airalo is the easiest way to get affordable data. You can set it up before you arrive and it doesn't require a physical SIM card (so you can keep your home SIM in your phone).
Taxis can be convenient for out of the way locations and are much faster than the buses (which can also be crowded).
Drivers don't usually speak English so it's best to have your destination written down in Japanese (or show the Google Maps listing) unless it's a well-known sight.
At Kyoto Station there's now a foreigner-friendly taxi stand—the drivers speak English and accept credit cards.
Is Kyoto Worth Visiting?
Yes, Kyoto is absolutely worth visiting! It should be top of your list of places to visit in Japan.
It's a wonderful mix of traditional culture, stunning temples, beautiful gardens, delicious food, and interesting activities.
I hope the ideas in this post will help you love Kyoto as much as we do! There can be an overwhelming amount to do in the city, but don't try to see it all.
Choose a few activities from each of the sections above and you'll have an amazing Kyoto trip that includes some classic spots as well as more peaceful sights off the beaten track.
More Japan Posts
Read more of our Kyoto and Japan travel tips.
Kyoto
General Japan Tips
Enjoyed this post? Pin for later!