This page contains affiliate links. Please read our disclosure for more info.
The Kyoto cherry blossom season is a big deal. Locals and tourists flock to the city in spring for the fleeting week or two when the cherry trees bloom.
Cherry blossoms (sakura in Japanese) are found everywhere in Kyoto—along canals and streets and in parks and temples. They are a truly magical sight.
Locals take sakura viewing (hanami) seriously and they hit the parks in big groups for picnics to admire the flowers, drink, and eat cherry blossom themed food (mmm, sakura and sake kit kats!).
It may be crowded, but it's a joyous time, and we did manage to find some quieter spots.
In this post, I share our favourite places to see the Kyoto cherry blossoms. You could visit most of the spots in Gion and Higashiyama in one day.
It's best to spend at least a few days in Kyoto, though, so that you can visit the popular sakura spots early in the morning to avoid the crowds.
After our time in Kyoto we spent three weeks travelling around Japan and managed to follow the blossoms. Below I've included my tips on other less crowded sakura spots beyond Kyoto.
Contents
Video: Explore Kyoto
Discover the best things to do in Kyoto in this video.
The Best Time to Visit Kyoto for Cherry Blossoms
It's difficult to plan a trip to Kyoto to see the cherry blossoms as every year they bloom at different times.
Sakura usually happens in late March or early April—the first week of April is probably the safest bet if you need to plan in advance.
A few months beforehand you can follow the sakura forecasts to see the estimated bloom dates.
This will include the date for the first bloom (when the blossoms first start to appear) and the full bloom (when most flowers are blooming).
Full bloom happens about a week after first bloom and lasts for about a week.
Bad weather can reduce the blooming period, though. If possible, try to time your trip for the start of the full bloom.
The sakura forecasts refer to the somei yoshino, which is the most popular variety of cherry tree with pale pink five-petal blossoms.
There are other varieties of sakura that you may be able to see before or after the official cherry blossom season.
In 2023, Kyoto's cherry blossoms bloomed earlier than usual with the first bloom on 17 March and full bloom on 24 March lasting until around 2 April.
Our Experience of Kyoto Sakura Season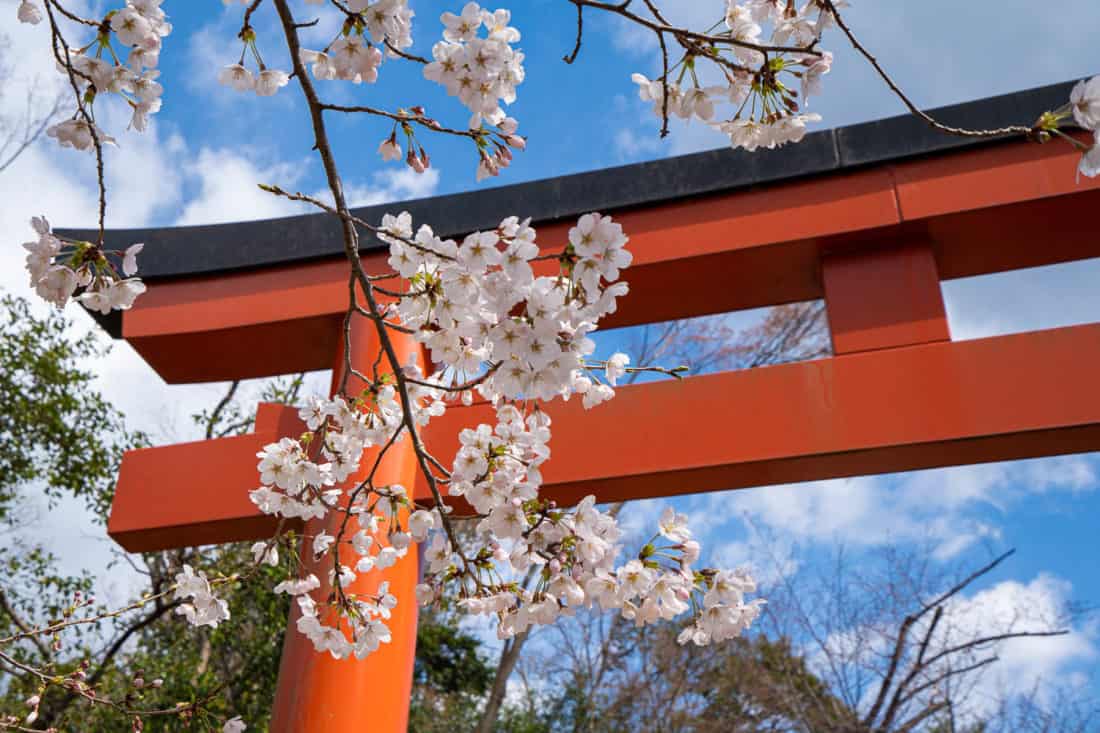 On our Kyoto sakura trip, the first bloom was officially 27 March, but the trees were only just beginning to flower then. We found the occasional tree in full bloom but not whole lines of them.
Full bloom took place nine days later on 5 April (cool weather slowed them down) and the best viewing continued until 13 April. This was slightly later than earlier forecasts had suggested.
Unfortunately, we had to leave Kyoto on 2 April, but we still saw beautiful sakura at the end of March and 1st of April.
Kyoto Cherry Blossom Forecast for 2024
The first cherry blossom forecast for Kyoto in 2024 will be published in late January 2024, but it is more accurate in February and March.
If you are travelling around Japan, you'll also want to check the cherry blossom forecasts for different areas.
Osaka usually blooms around the same time as Kyoto. In Tokyo the trees can bloom a few days or even up to a week earlier.
Sakura in Takayama and the Fuji Five Lakes area (including Kawaguchiko) arrive a few weeks later in mid-April.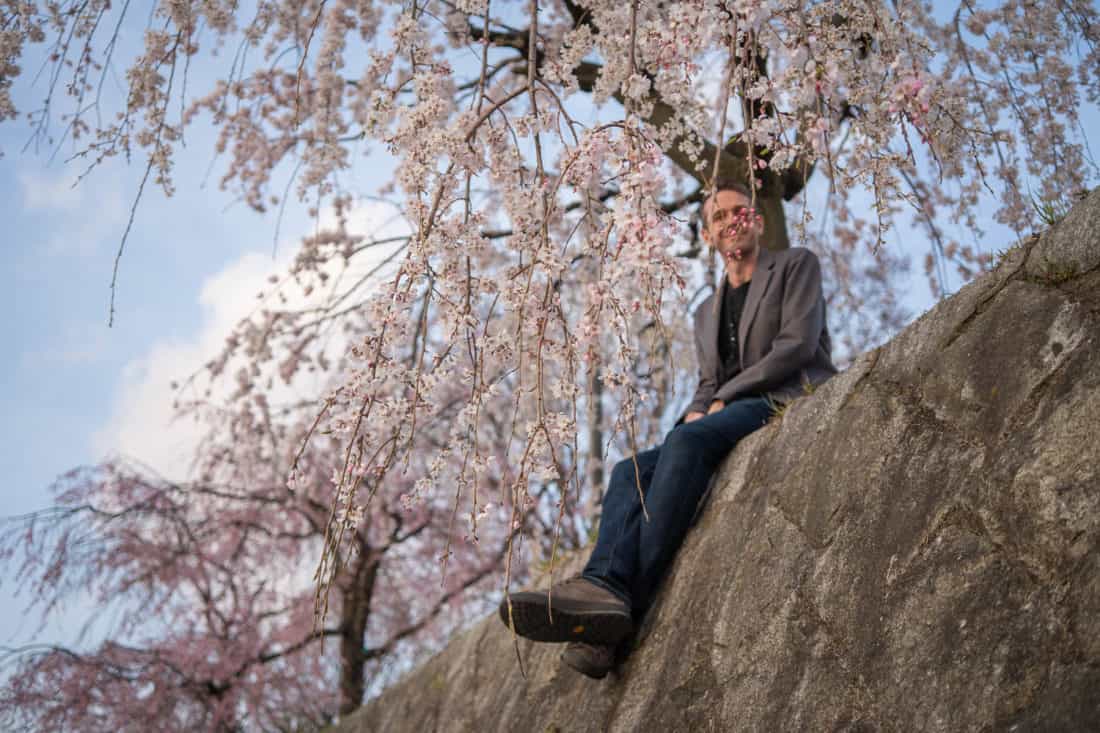 Where to Stay for Kyoto Sakura Season
You definitely need to book accommodation in advance for cherry blossom season in Kyoto as it's the most popular time of year.
I recommend staying as close to the cherry blossom spots as possible so that you can beat the crowds by arriving very early in the morning.
Gion and Higashiyama are the best areas to stay as you'll be able to walk to most of the places on this list (except those in Arashiyama).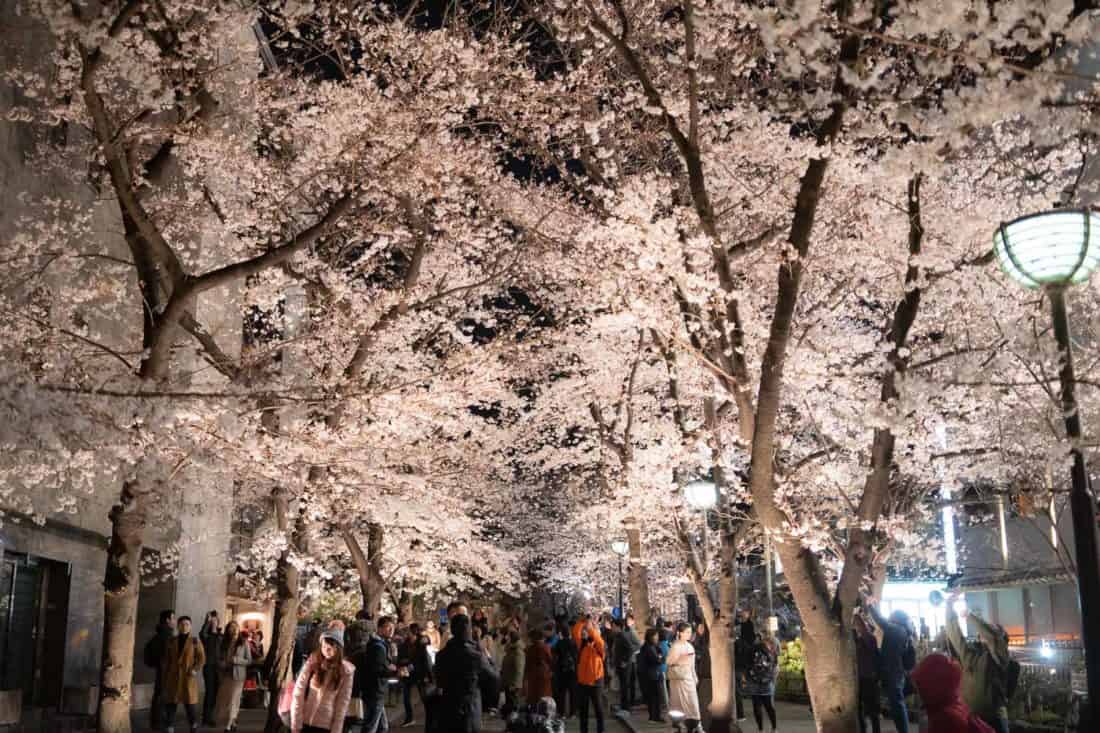 We rented an apartment in Miyagawacho, a geisha district near Gion, for the whole of March. We often spotted geiko on our traditional street and could walk to many attractions.
Our Vrbo apartment is no longer available, but you can search for more apartments in Gion here.
If you'd prefer a hotel, here are some excellent options:
Search for more hotels in Kyoto here.
Popular Kyoto Cherry Blossom Spots
These popular Kyoto cherry blossom viewing spots get extremely crowded.
It's best to visit them early in the morning (at sunrise ideally) then later in the day explore some of the less crowded spots that I've recommended below.
We visited all of these places on foot walking from south to north Higashiyama in the east of the city.
It's about 5 km (3.1 miles) without detours from Yasaka Pagoda to the end of the Philosopher's Path near Ginkaku-ji (covering 1 – 5 on the list).
It's possible to visit all of these in one day, but spreading it over a few days would be better.
You'll find a map of all these spots near the end of the post.
You can also see my detailed post on what to do in Kyoto for more tips on avoiding the crowds and other non-sakura activities.
1) Yasaka Padoda and Ninenzaka and Sannenzaka Streets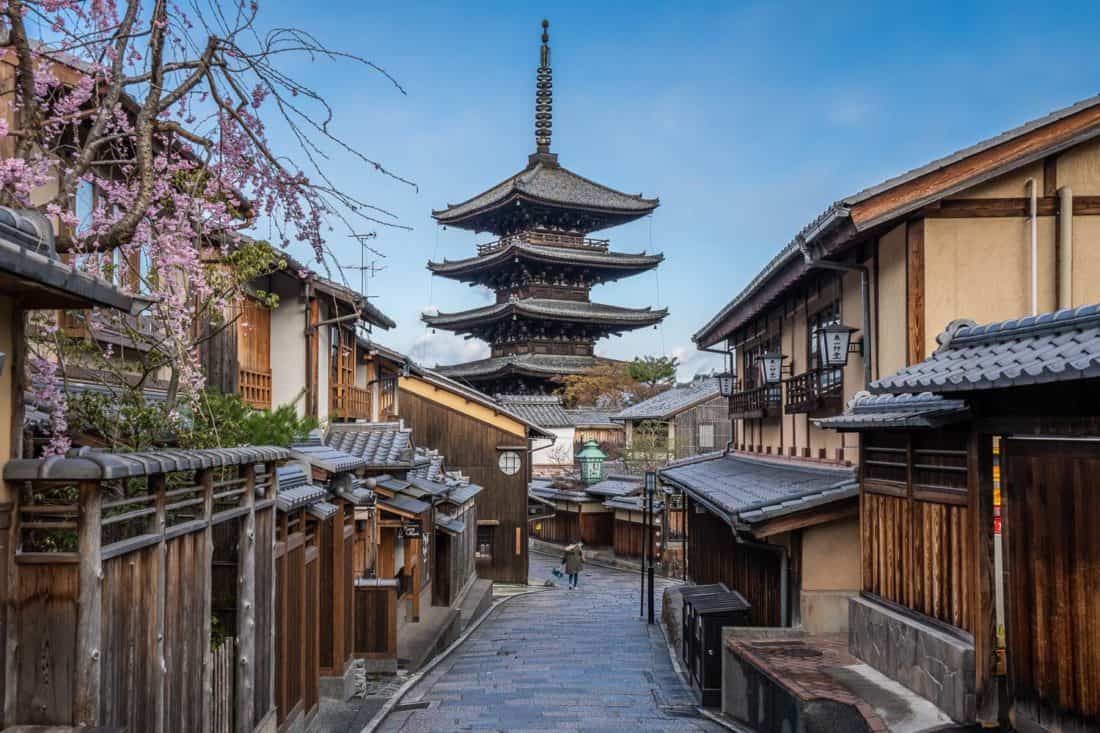 The preserved streets of wooden houses in south Higashiyama leading up to Kiyomizu-dera are some of the most picturesque in Kyoto.
Add in some weeping cherry trees and this is one of the most popular photo spots in the city.
It's gorgeous, but expect crowds—even at 6 am I found it stressful trying to take a photo.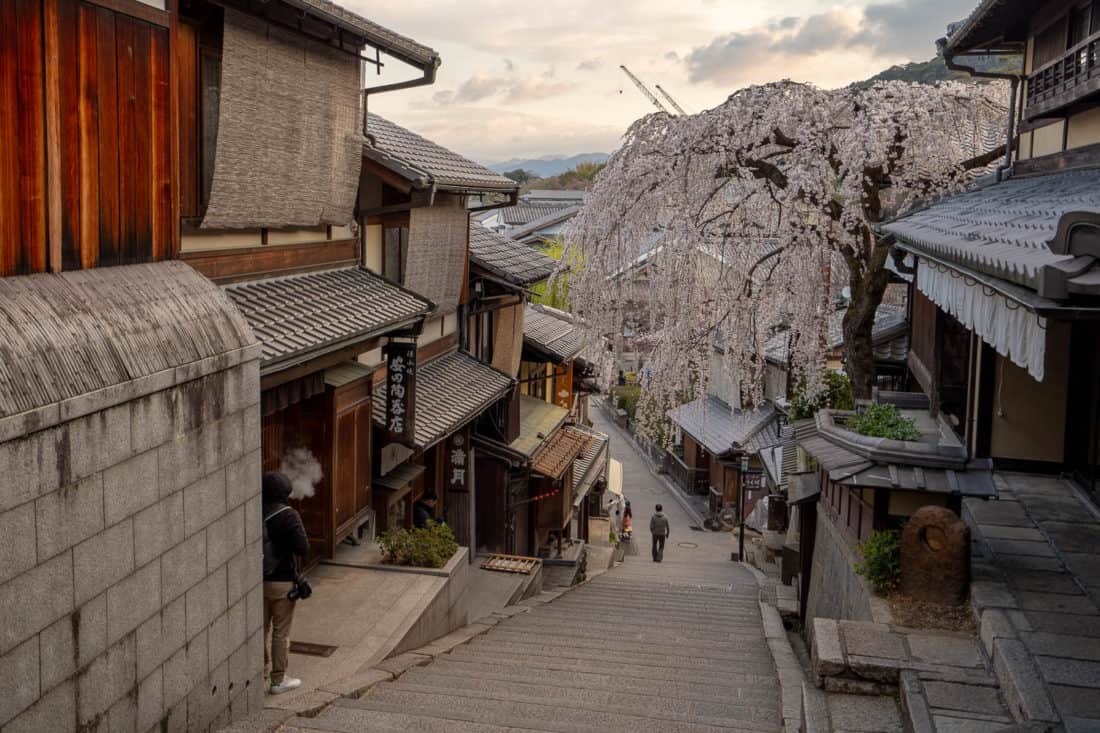 The classic view is of Yasaka Pagoda from the street that leads uphill above it, and then you can continue up to the narrow lanes Ninenzaka and Sannenzaka.
2) Kodai-ji Temple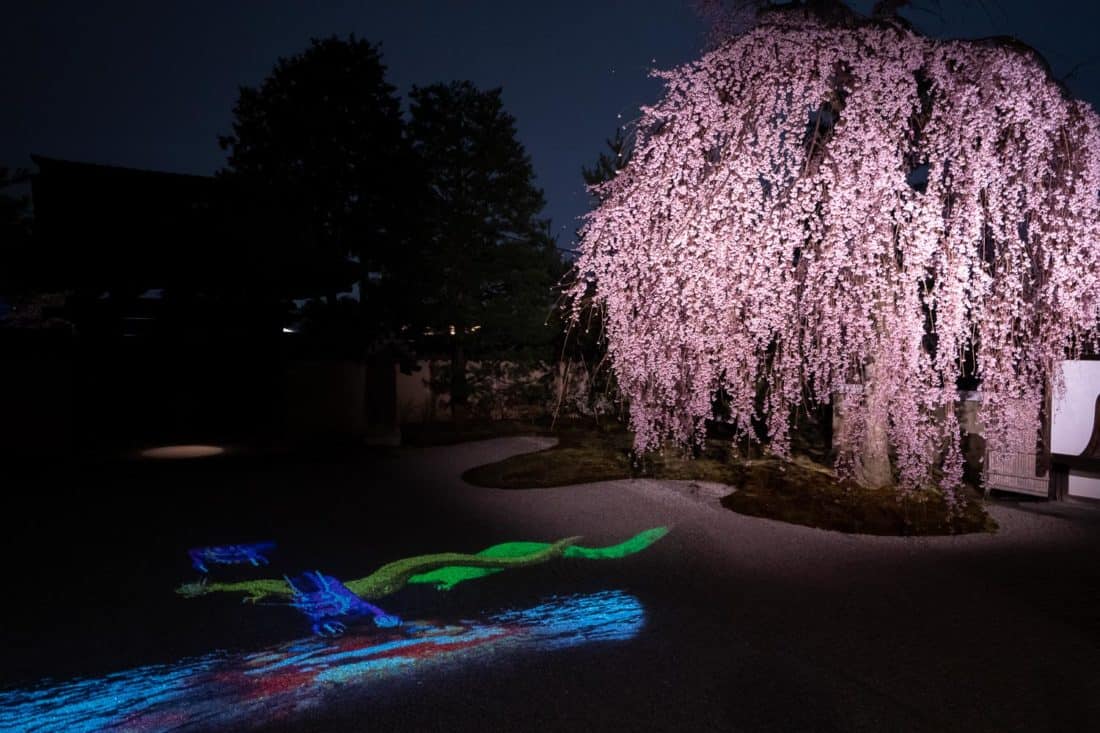 Outside sakura season, Kodai-ji is a quiet temple in one of the busiest areas. It features a beautiful raked gravel garden and a small bamboo grove.
Although it attracts more crowds in spring, it's well worth visiting to see the weeping cherry tree blooming over the gravel garden.
You might also want to return at night when it's open for illuminations—the tree lights up in different colours and animated characters zoom across the gravel.
The bamboo grove is also very atmospheric in the darkness.
The entrance fee is 600 yen.
3) Maruyama Park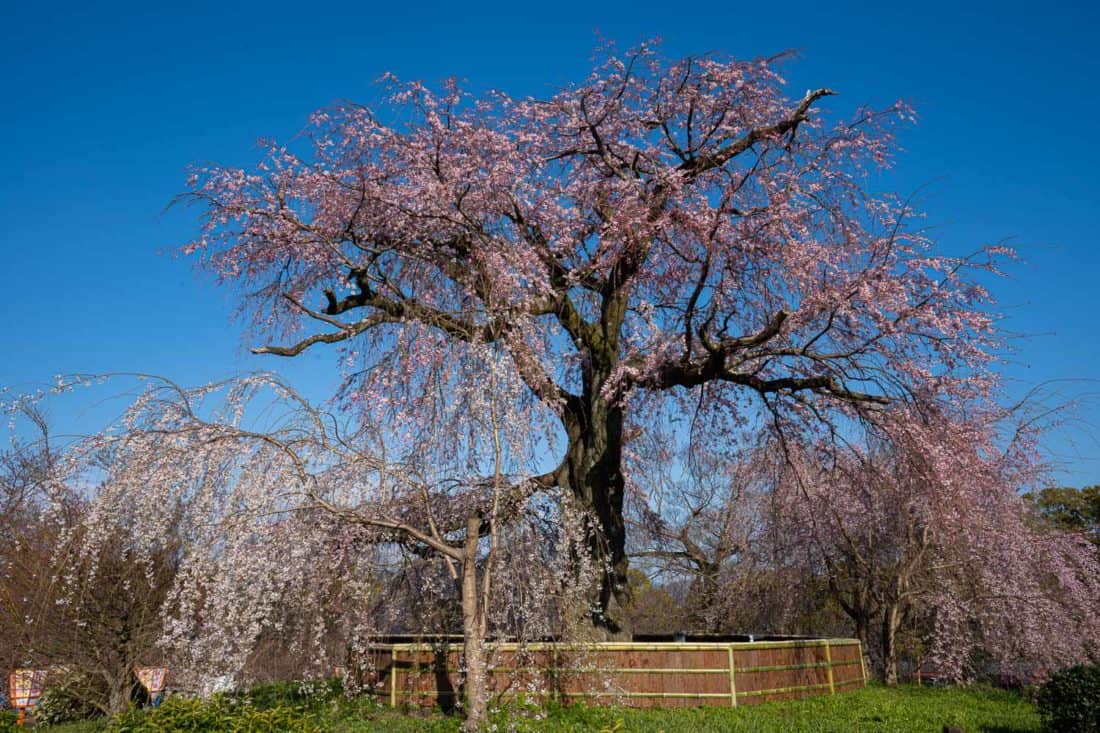 A little further north from Kodai-ji is Maruyama Park, the most popular spot for hanami parties in Kyoto.
Locals arrive early in the morning to save a picnic spot and then gather with friends to drink and eat all day and into the night.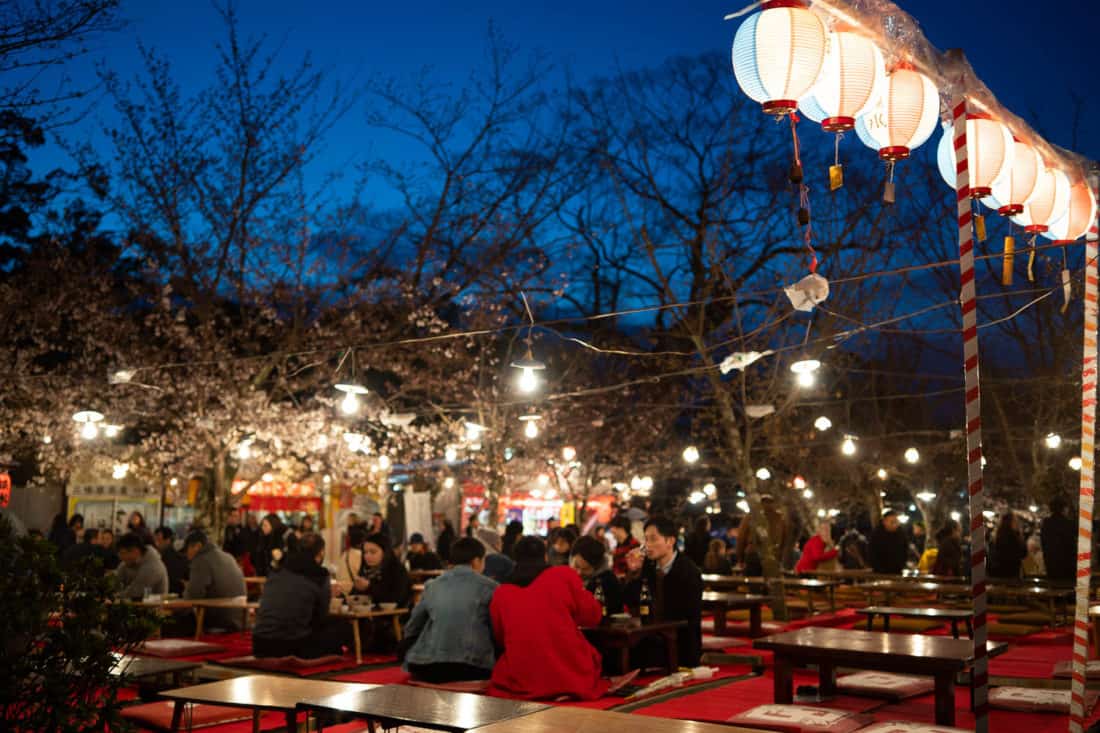 Honestly, I don't think it's the best place for a picnic as grass is limited and it's so crowded, but it's definitely worth a wander.
We visited before full bloom, but there are a couple of weeping cherry trees that were looking magnificent.
It's also worth coming back in the evenings when it's lit with lanterns and lively with food stalls and parties.
The food isn't very veggie-friendly, but some of our favourite vegetarian-friendly restaurants in Kyoto are nearby (with options for meat-eaters too).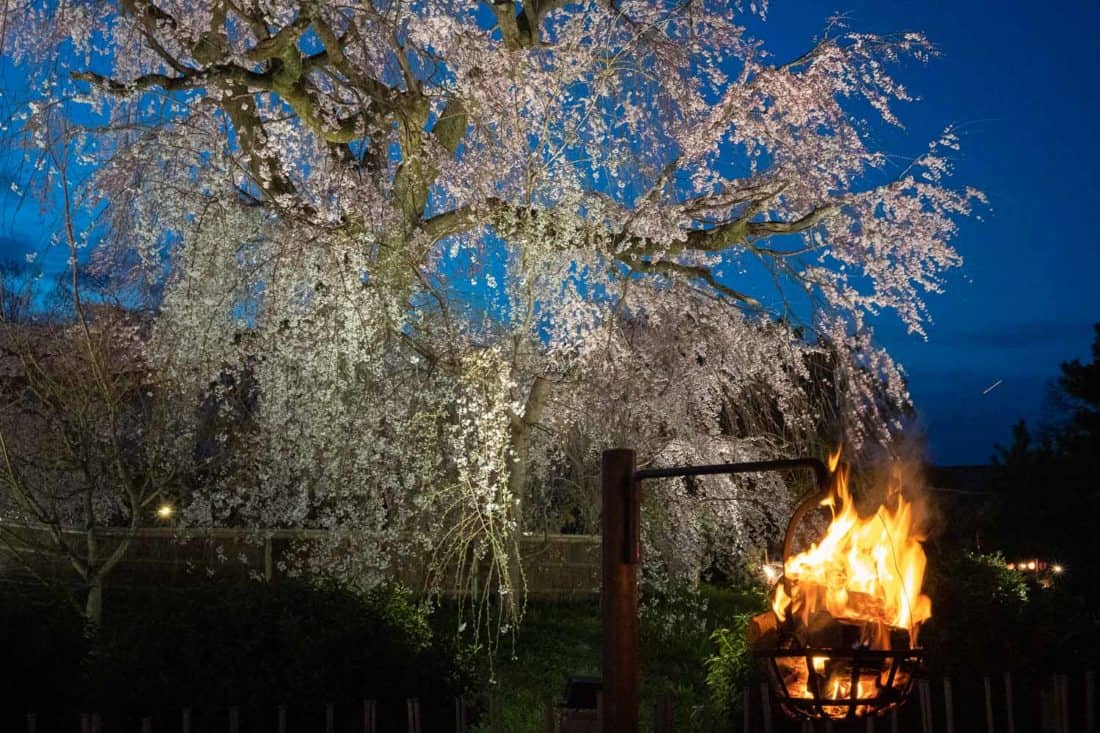 4) Keage Incline
It's about a 20-minute walk from Maruyama Park to Keage Incline, but you might want to take a detour to the Lake Biwa Canal near Okazaki-dori.
The blooms weren't very advanced in late March, but I could see it looking amazing a week later (you can also take boat trips down here).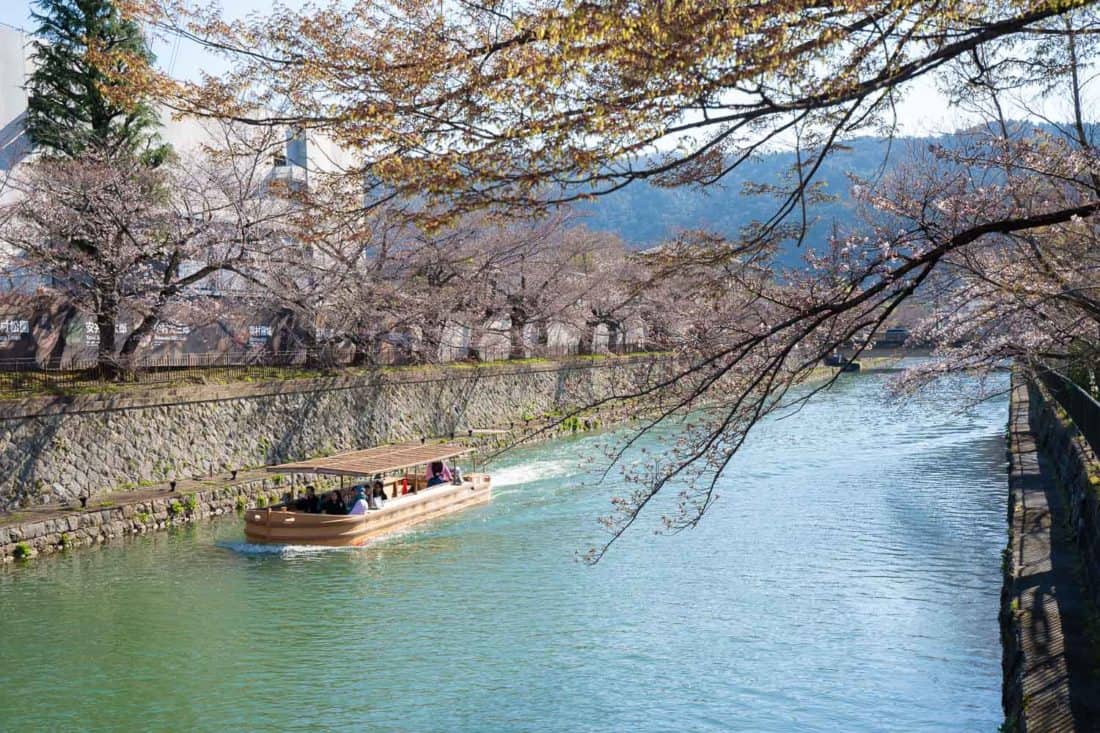 The Keage Incline is a disused cargo railway track that's now a popular Kyoto hanami spot.
It had a few blossoms when we visited, but it's more impressive in full bloom when the trees form a flower tunnel.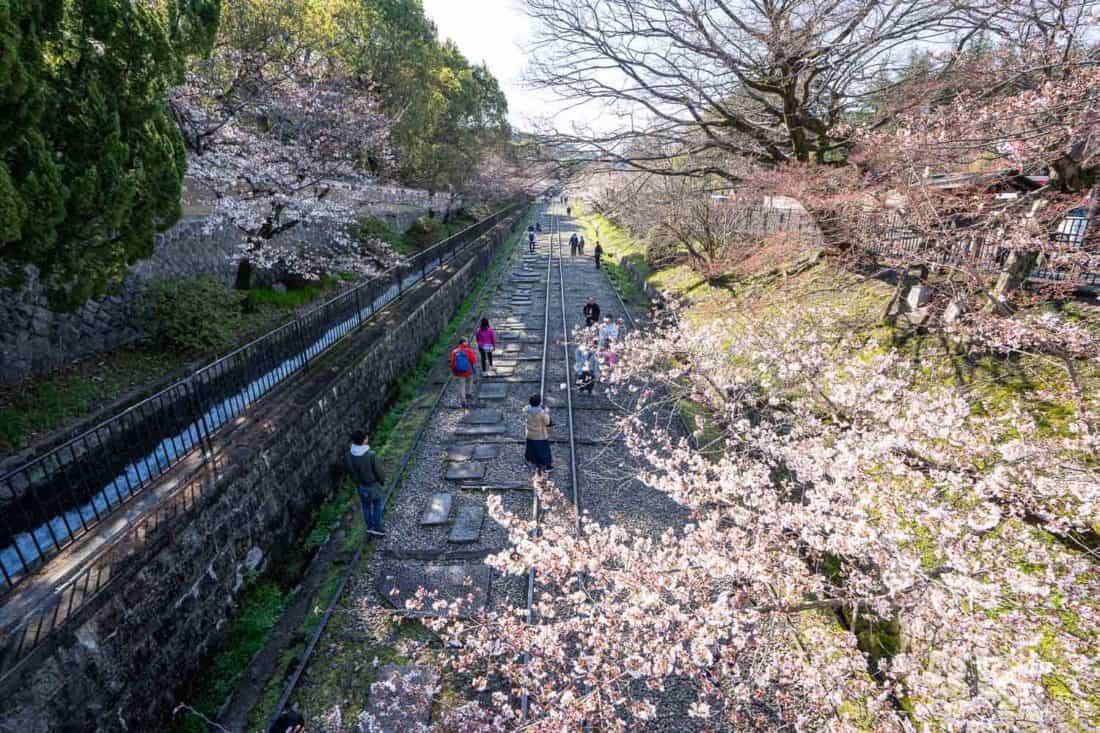 If you are in need of caffeine, the nearby Blue Bottle Coffee is excellent and opens at 8 am.
On the way to the next stop, you might want to visit Nanzen-ji Temple if you have time.
It's a beautiful temple complex that's worth visiting at any time of year and has a few cherry trees. Read more about it in my Kyoto temples guide.
5) Philosopher's Path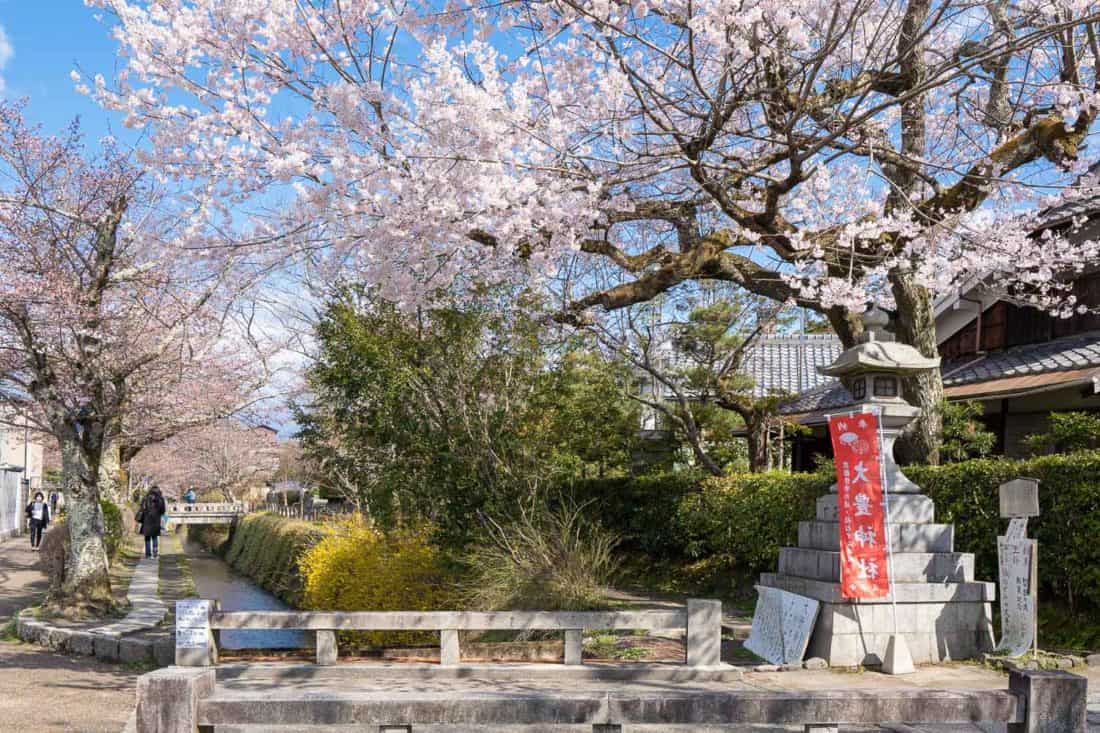 The Philosopher's Path is often considered the best place to see cherry blossoms in Kyoto.
This 2km (1.2 mile) stone path runs next to a canal and connects Eikando temple (just past Nanzen-ji) with Ginkaku-ji.
There are a number of other temples you can stop at, but you won't have time for them all in one day.
It's a pleasant stroll with lots of cherry trees, but only a few trees were in full bloom on the 31st March.
At the height of the season it's magnificent here, but you definitely want to arrive as early as possible to attempt to avoid the crowds.
At the end of the Philosopher's Path near Ginkaku-ji we turned west into an untouristy area on Yoshida Hill where we found some much quieter cherry blossom spots—see the section below.
6) Kamogawa River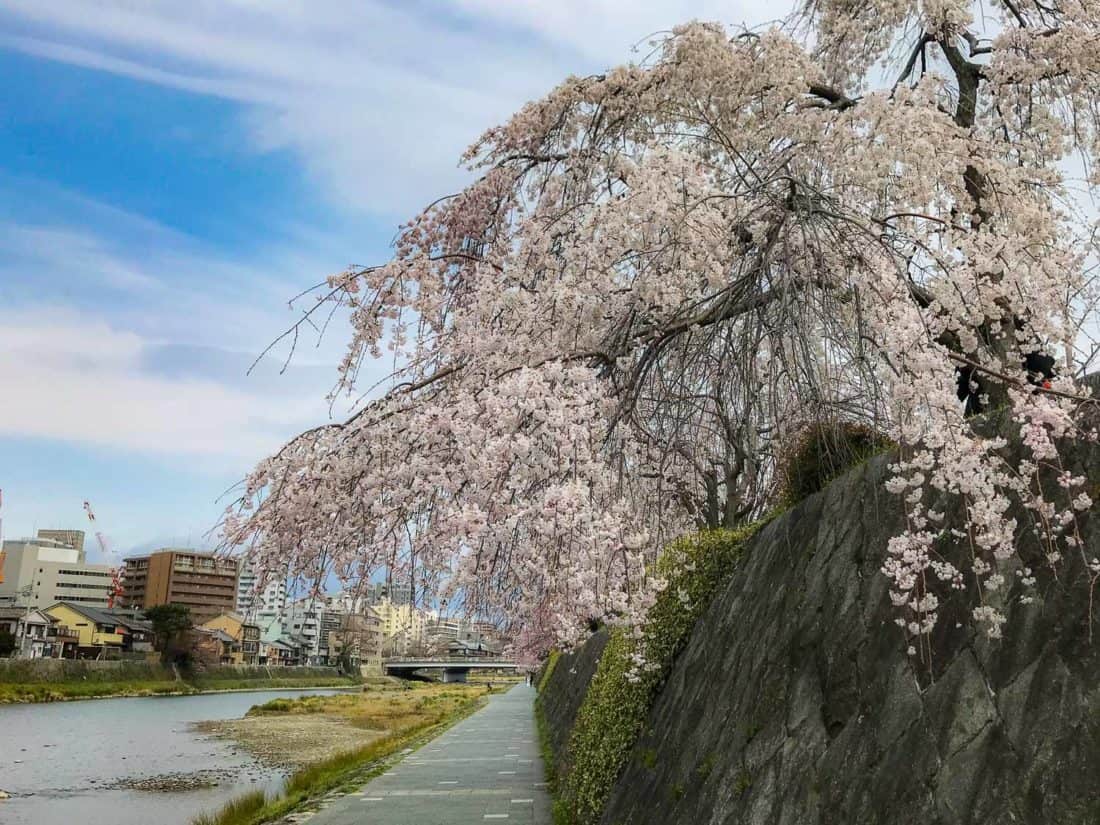 If you still have the energy after visiting our quiet spots below, continue to the Kamogawa, the river that runs through Kyoto.
A path runs alongside the river and it's a fantastic sakura location with trees lining the banks.
Some sections get crowded, but it's also possible to find quieter spots. Many locals have picnics on the grassy banks.
If you have an extra day, a great excursion would be to hire bikes and cycle along the river.
We found some beautiful early blooming trees just south of Kiyomizu-Gojo station.
You could cycle north from there and detour to the Imperial Palace and Kyoto Gyoen National Garden (another sakura spot).
Continue on to the Demachiyanagi area where the river forks, and take the left fork to head to the Kyoto Botanical Gardens, where you'll find even more Kyoto cherry blossoms.
7) Shirakawa Canal in Gion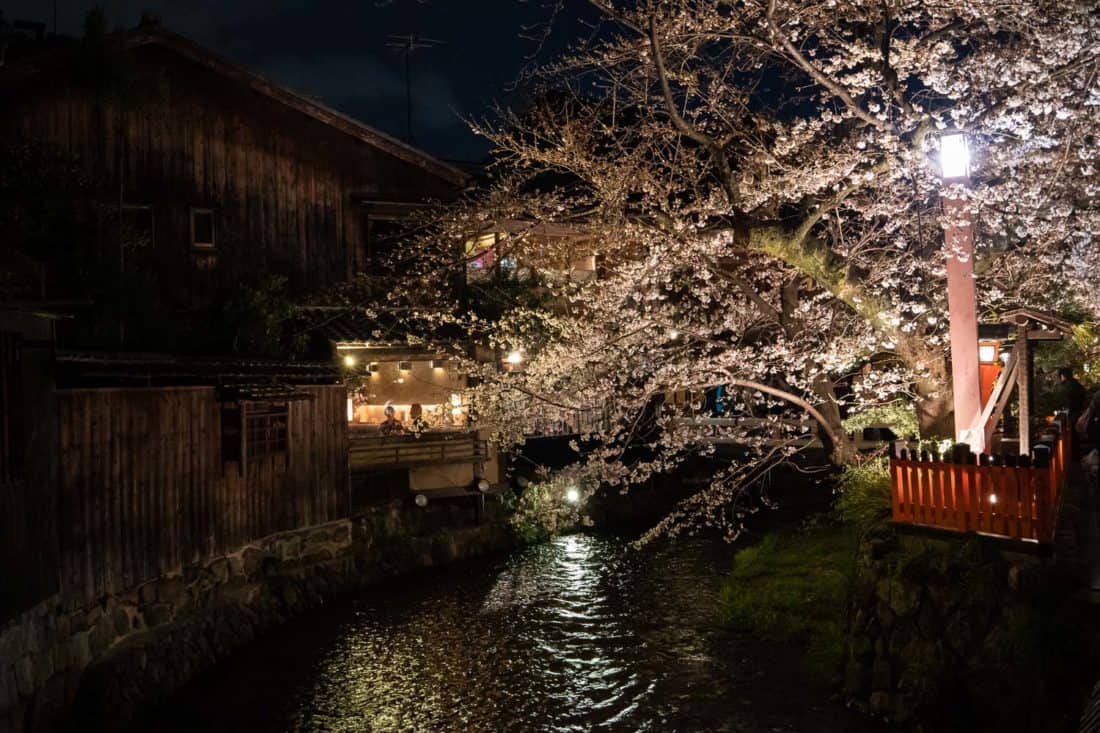 The Shirakawa Canal area of Gion is very pretty with wooden buildings and cute side streets.
There are many cherry trees along the canal and an impressive cherry blossom archway had peaked by 1 April.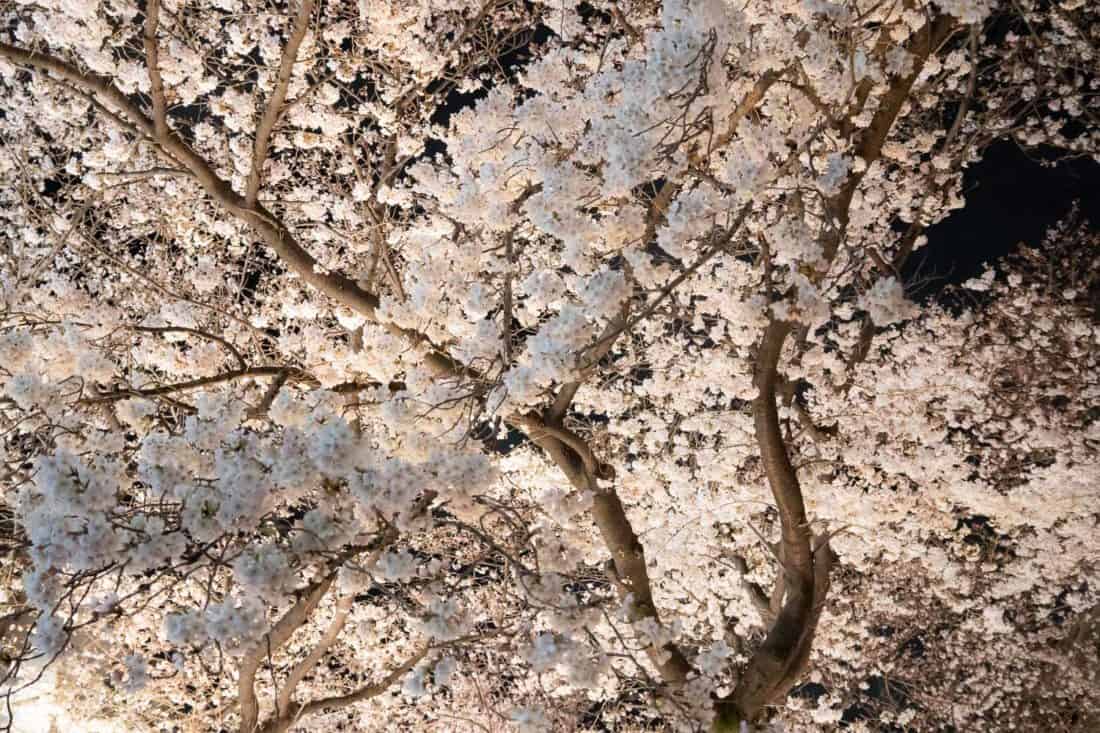 You could add this area to your itinerary in the morning, but it's also nice to see illuminated at night. It gets very busy, though.
Kyoto Sakura Spots to Avoid the Crowds
If you are happy to continue walking after visiting Kyoto sakura spots 1 – 5 above, turn west to see some off-the-beaten-track temples where you can enjoy the cherry blossoms without the crowds.
The Buddhist temples and Shinto shrines listed 8 – 11 below are all on Yoshida Hill and are free to visit.
It's about a 2 km (1.2 mile) walk from the end of the Philosopher's Path to these places plus extra for exploring the temple grounds.
I've then shared some other quiet sakura spots we enjoyed in different parts of the city.
8) Takenaka Inari Shrine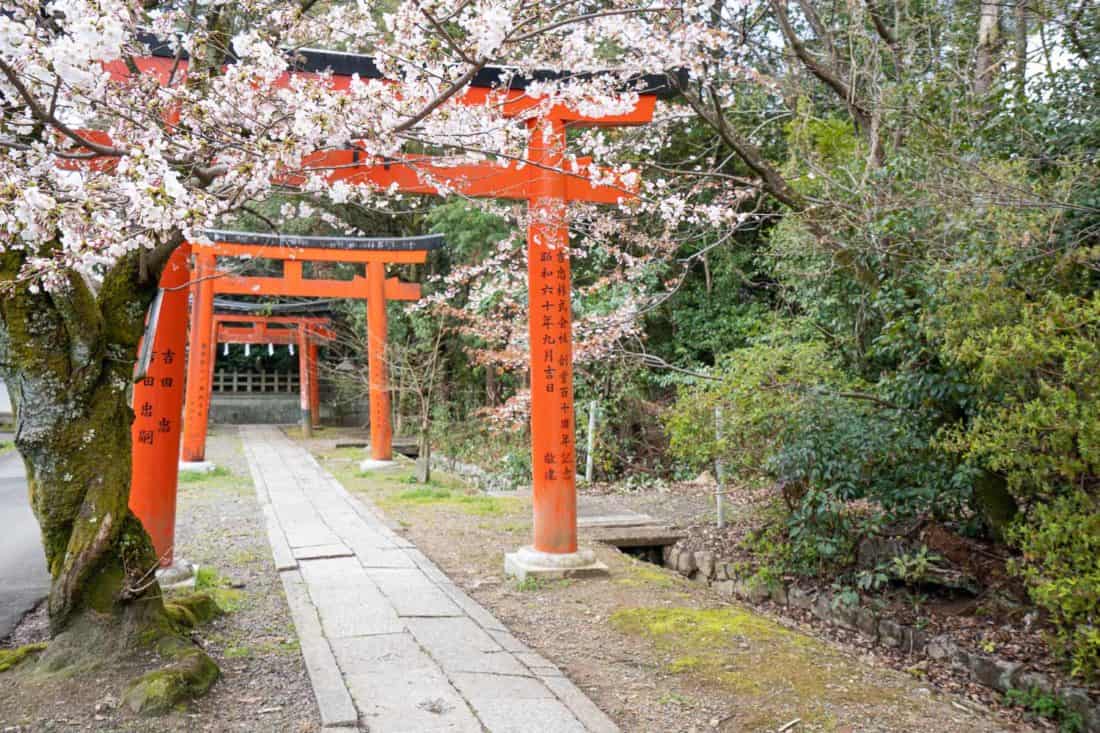 At Takenaka Inari Shrine I was excited to find the classic Japanese image of red torii gates framed with white cherry blossoms.
Even early in the season it was beautiful and there was only one other photographer around.
The atmosphere is diminished a little by the location next to a car park, but it's still well worth the stop.
9) Yoshida-jinja Shrine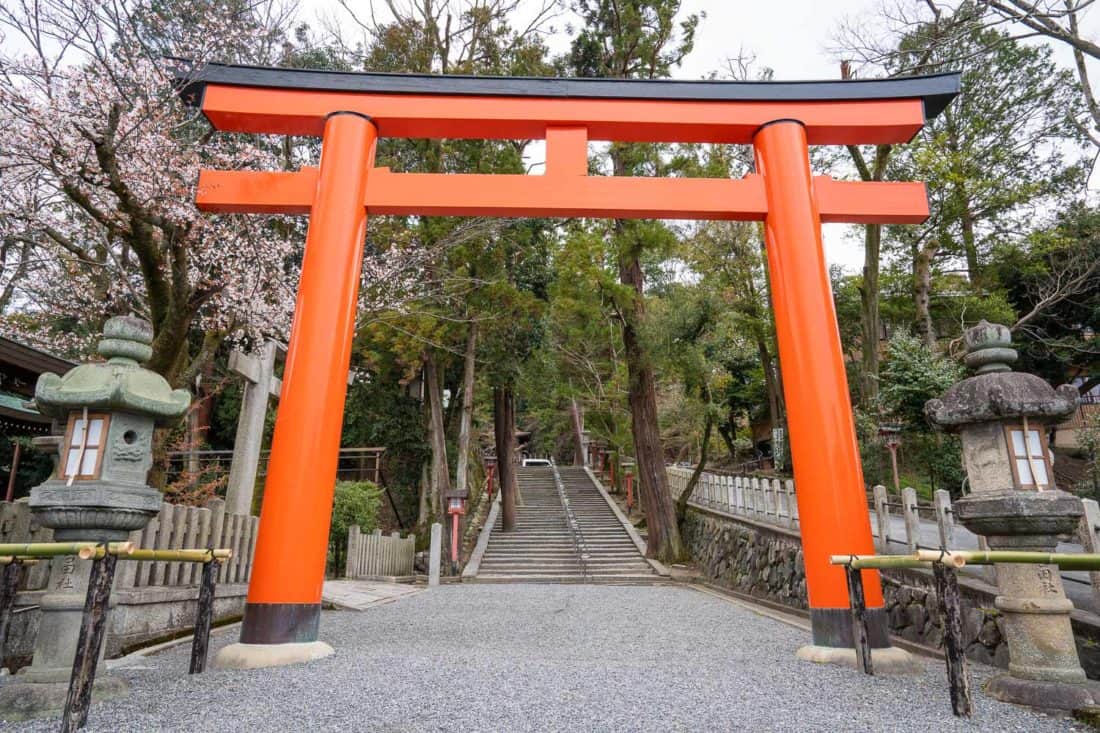 Yoshida-jinja Shrine is a five-minute walk from Takenaka Inari on the other side of the hill. It's surrounded by forest and is very peaceful.
There's one large cherry tree next to the torii gate at the entrance, but the flowers weren't fully open yet.
The shrine complex didn't have any cherry trees, but we saw a monk performing a ceremony and an interesting display of sake barrels.
On our way to the next temple we passed Saijōsho Daigengū, a sub-temple of Yoshida-jinja which features an attractive thatched roof building with a torii gate and cherry tree at the entrance.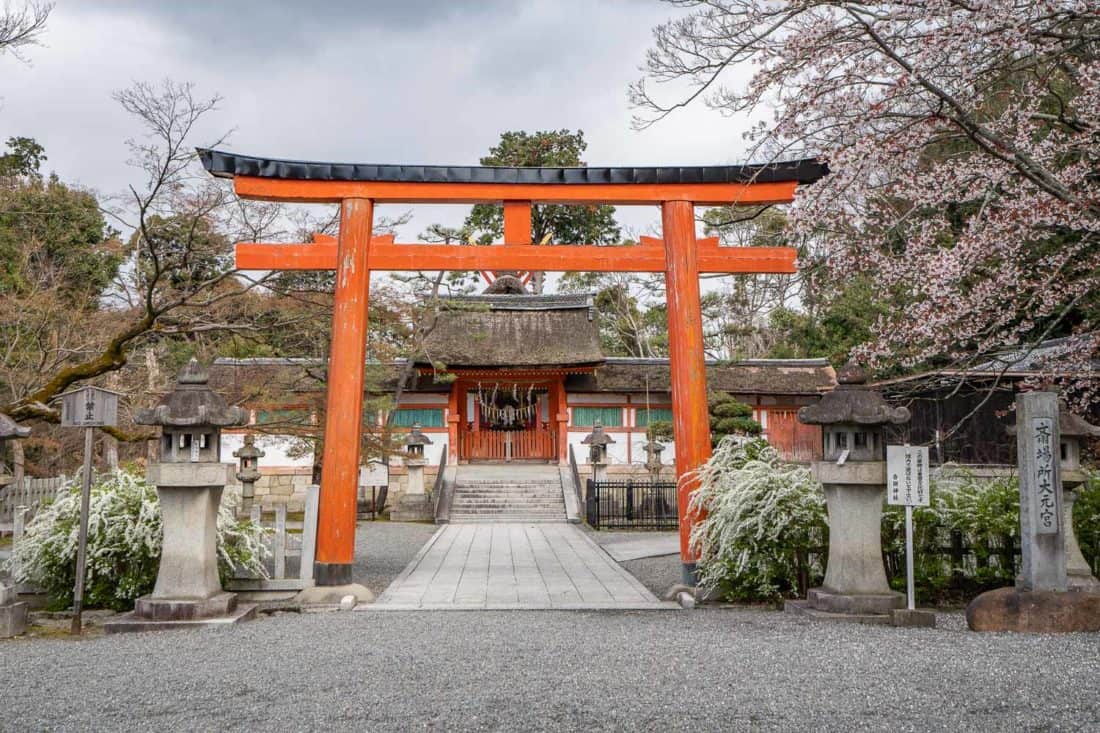 10) Shinnyodo Temple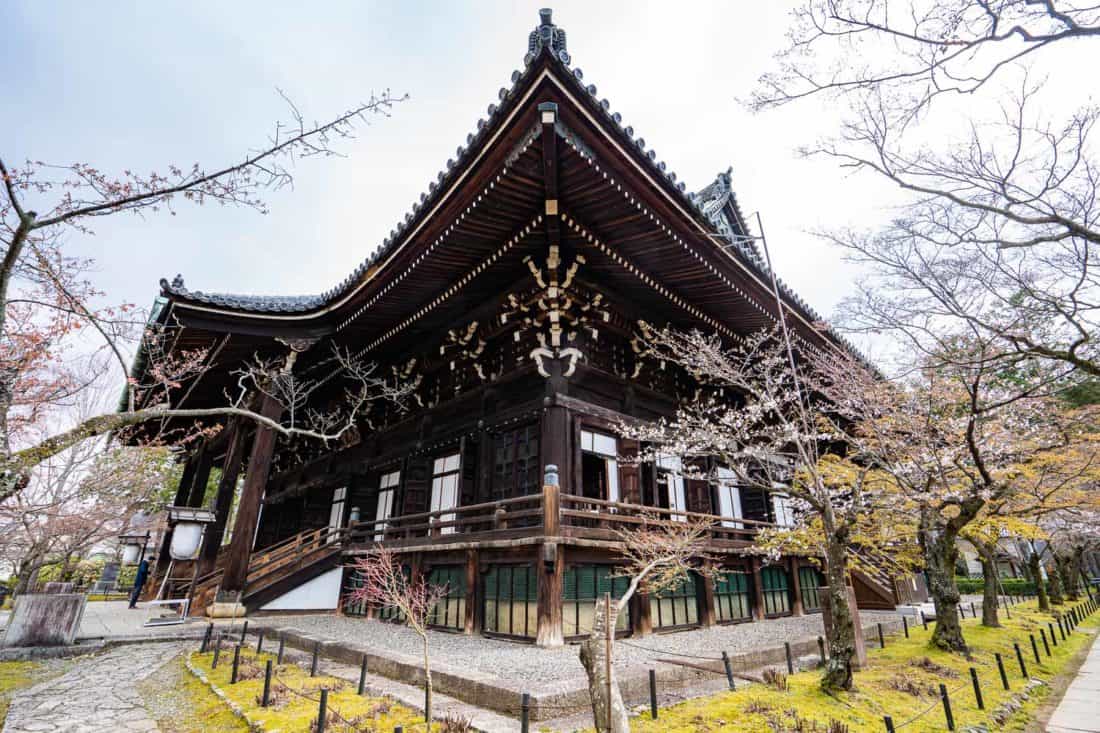 Ten minutes from Yoshida-jinja is the large Shinnyodo temple complex.
There's a huge hondo (main hall), various other wooden buildings, and a small pond with cherry trees throughout. A week after we visited it would have looked lovely.
From here we walked through a huge hillside graveyard where there are fantastic views of the city. The next temple is down the hill.
11) Konkai-Komyoji Temple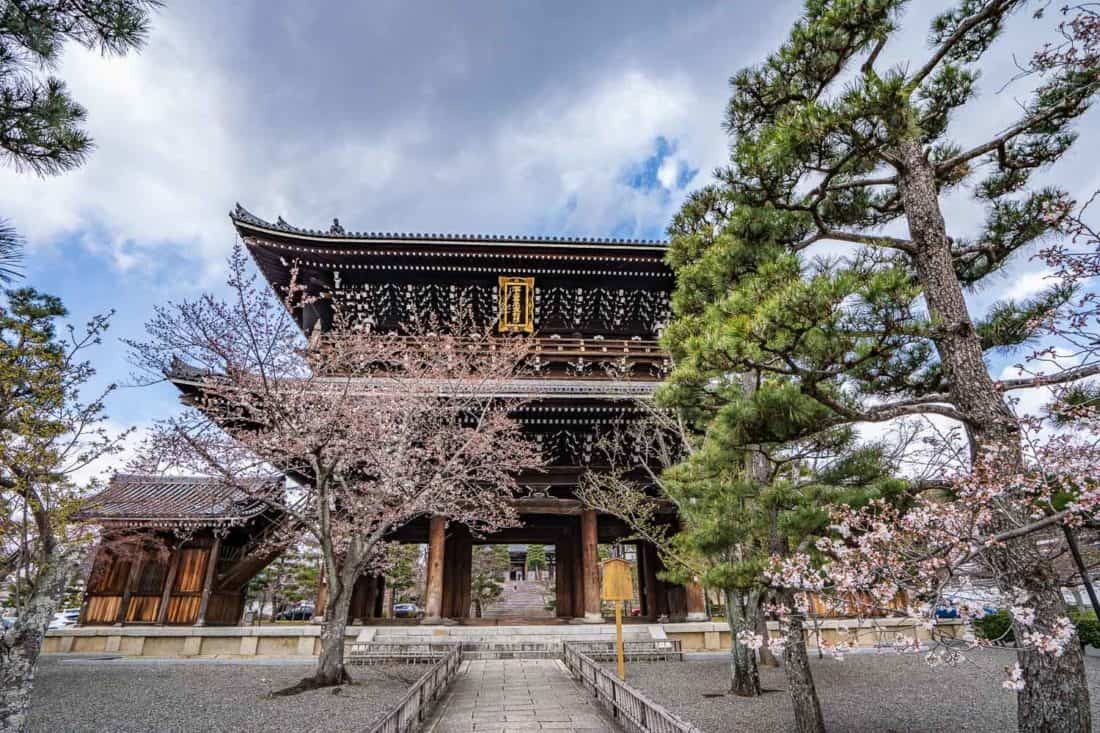 Konkai-Komyoji Temple is also known as Kurodani Temple and is a large and peaceful complex of wooden buildings. The main hall was originally built in 1175 but was rebuilt in 1605.
We entered through the back and left through the front. The entrance was my favourite part—a grand entrance gate and stairs up to the complex lined with cherry trees (unfortunately not in full flower). It would be gorgeous in full bloom.
12) Takase River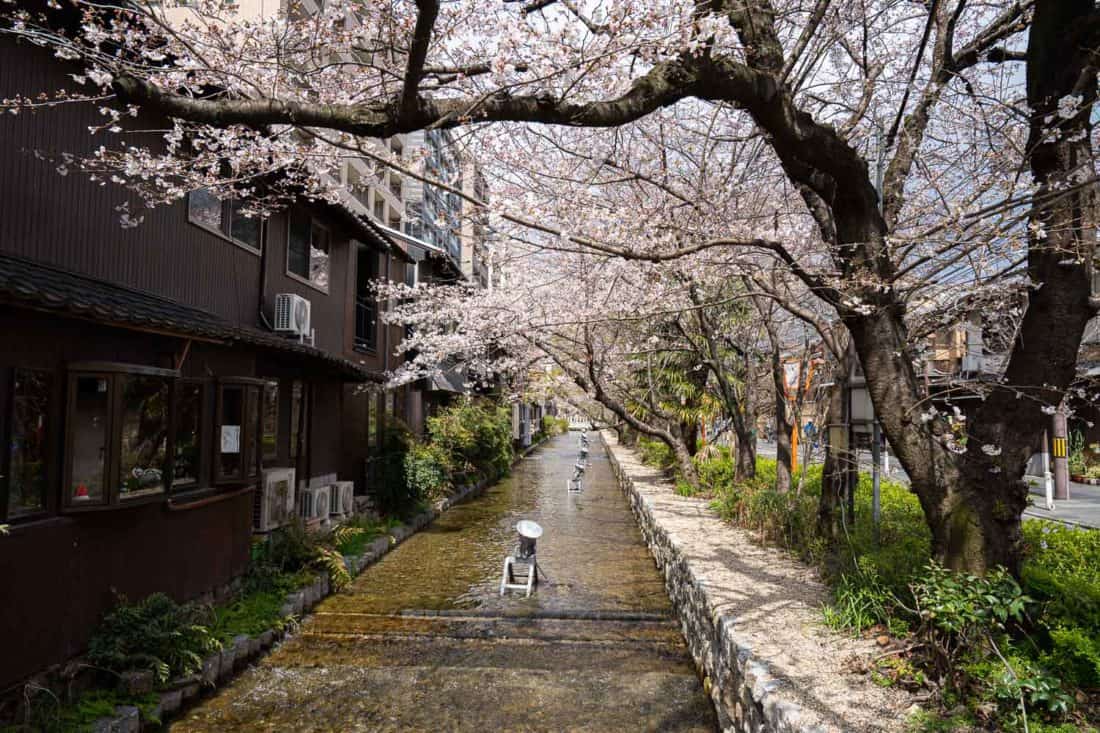 From here the walking tour that we suggested above ends. While you could continue to the Kamogawa and Takase River after the Yoshida Hill temples, it's quite far and would be easiest by taxi.
We got a taxi to the river, had lunch then walked along the canal back to our apartment in Gion.
The Takase River is a narrow canal that runs parallel to the much larger Kamogawa River on the western side.
There are many blossoms along the canal and it's a beautiful place for a stroll or lunch in one of the restaurants that overlooks it.
The section along Kiyamachi-dori between Sanjo-dori and Shijo-dori gets incredibly busy, but south of here is much quieter.
We often walked along the canal south of Gojo-dori and down past Kyoto Beer Lab and it was usually empty.
13) Jojakko-ji Temple in Arashiyama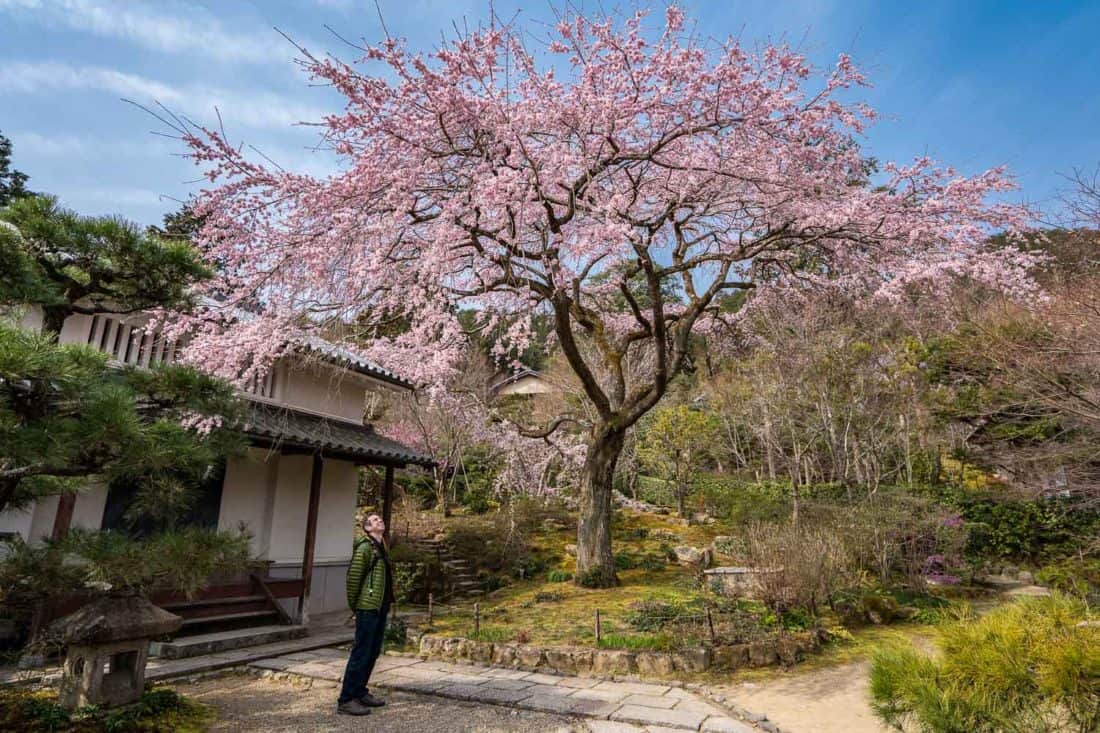 Arashiyama in western Kyoto is one of our favourite parts of the city with many temples to explore including the famous Tenryu-ji and quirky Otagi Nenbutsu-ji.
There are cherry trees along the river near Togetsukyo Bridge, but when we visited on 29th March they weren't in flower.
We did discover a magnificent weeping cherry tree in Jojakko-ji Temple which isn't very well known so we had the tree to ourselves.
The hillside temple complex features many classic Japanese elements and is one of my favourites in Kyoto.
Entrance costs 500 yen.
14) Daikaku-ji Temple in Arashiyama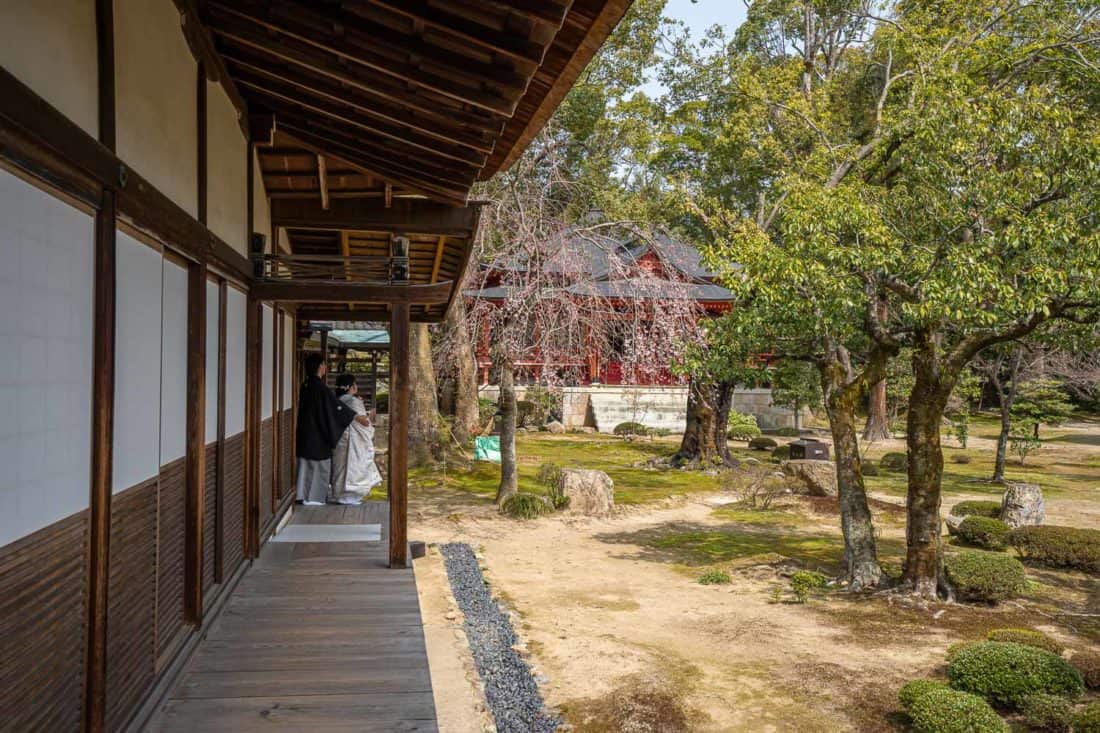 Daikaku-ji Temple is a fantastic cherry blossom spot, but perhaps because we were here early in the season it wasn't busy at all.
This is one of Kyoto's oldest temples and the complex feels very grand.
There was one cherry tree beginning to flower in the courtyard garden, but the main attraction in sakura season is the large pond surrounded by cherry trees.
A few had started to open when we visited and we could tell it would look amazing a week later.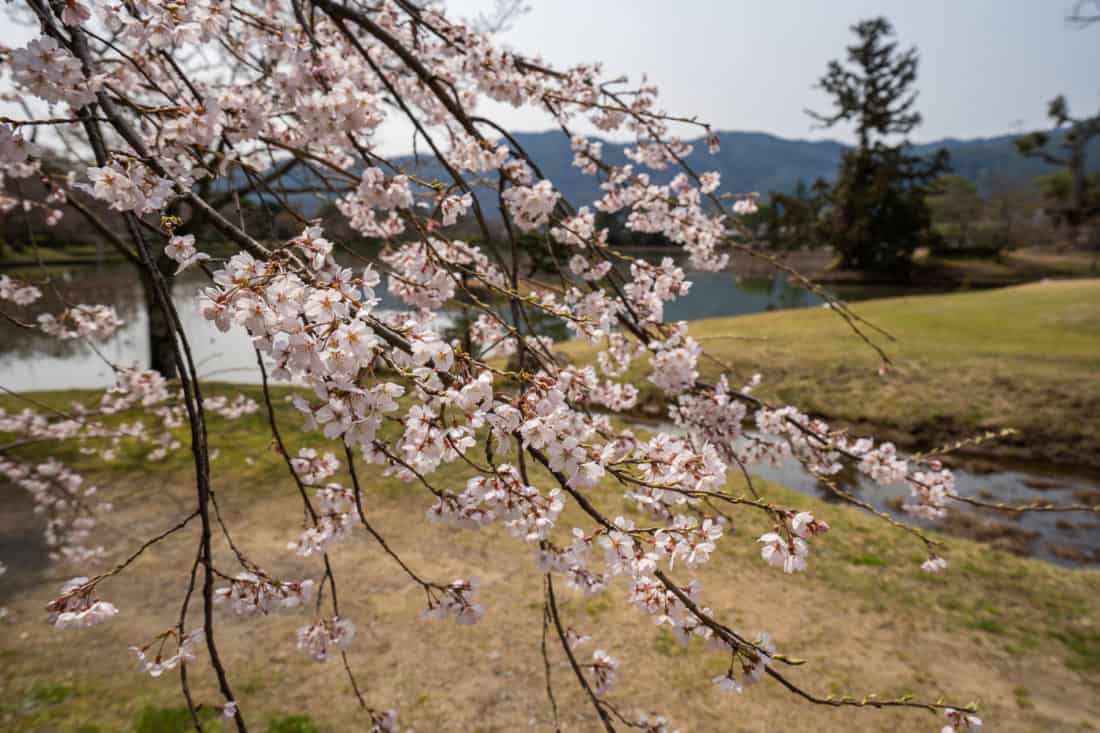 Entrance costs 500 yen for the whole complex or 200 yen for just the gardens and pond.
Kyoto Cherry Blossom Map
Other Kyoto Spring Activities
While you are in Kyoto I highly recommend these other Spring events.
Geisha Spring Dances
April in Kyoto is the time of the annual geisha dances (or geiko as they're known in Kyoto).
The most famous is the Miyako Odori at the Minamiza Theatre in Gion.
We went to the nearby Kyo Odori instead at the Miyagawachō Kaburenjō Theater, which is on the lovely traditional street where we spent a month.
This isn't a tourist experience. It's a time-honoured tradition in the geisha districts, and there were very few foreigners in the audience (but lots of elegant Japanese ladies in kimono and even a few geiko).
The performance was spectacular and it was fascinating to get a closer look at the extravagant kimono, hairstyles and iconic white makeup we'd glimpsed while spotting geiko and maiko (apprentice geishas) in our neighbourhood.
The Kyo Odori runs every day (three times a day) for the first two weeks of April. It's easiest to buy tickets at the venue up to five days in advance.
We didn't want to miss out and couldn't make a payment on their website with an international card, so ended up booking via the HIS travel agency by email ([email protected]). Tickets were 4800 yen with tea ceremony beforehand (4200 yen without).
Temple Night Illuminations
In spring (and autumn) several temples open at night for special illuminations.
Visiting a temple at night is atmospheric and feels like a different experience from a day visit, so I do recommend adding at least one to your itinerary.
Temples that have spring illuminations include Kodai-ji (see above), Kiyomizu-dera, and Shoren-in, all in Higashiyama.
Sakura Beyond Kyoto
Although we left Kyoto before full bloom, it ended up working out well as we had time to see the blossoms in other, less crowded parts of central Japan.
We bought a two-week Japan rail pass and followed this itinerary from Kyoto to Tokyo, where we spent our final week.
If you don't have time to travel extensively around Japan many of the places below including Kinosaki Onsen, Okayama, and Himeji Castle are possible as day trips from Kyoto.
If you are looking for more inspiration, see our guides to the best places to visit in Japan and the top things to do in Japan.
Kinosaki Onsen (2 nights)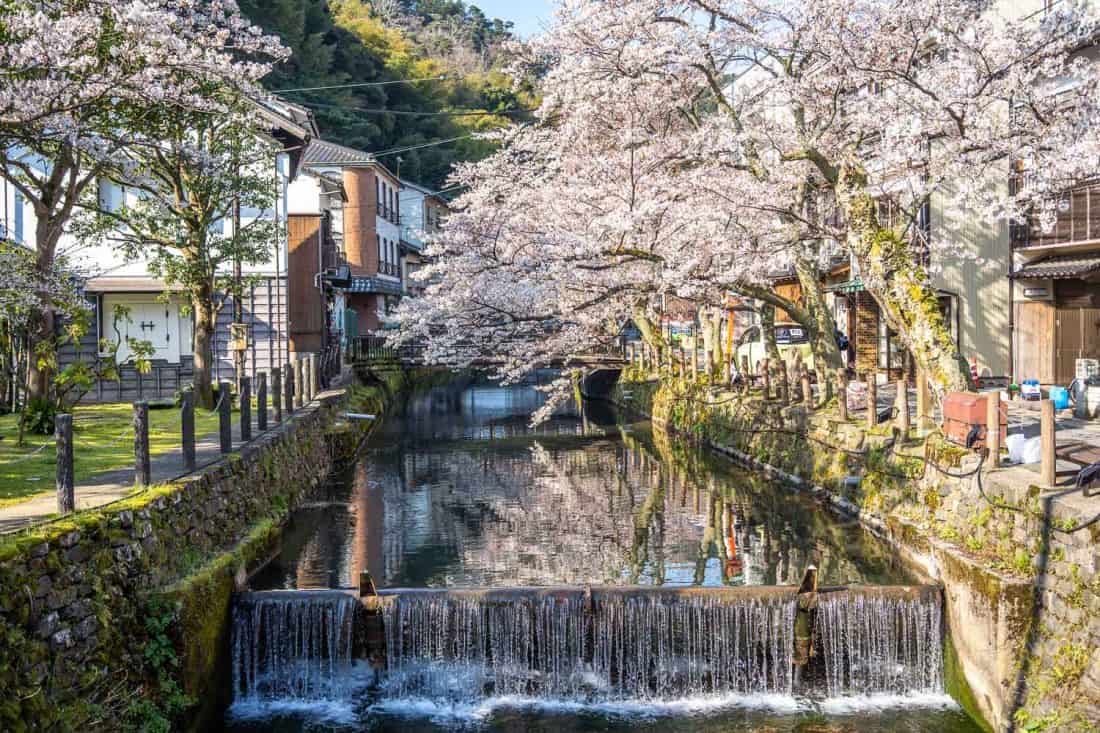 Kinosaki Onsen is a cute onsen town where you stroll between hot spring baths wearing a kimono.
The beautiful cherry trees lining the canals were blooming at the beginning of April and it wasn't crowded.
Okayama (6 nights)
We used Okayama as a base for day trips to Naoshima island, Himeji, and Kurashiki. It also has some great hanami spots itself.
Okayama Korakuen Gardens is one of the most famous gardens in the country.
We actually preferred the sakura at the Okayama City Handayama Botanical Gardens which feature over 1000 cherry trees on a hillside and lots of grassy areas for picnics.
This was our favourite sakura spot in all of Japan and most tourists don't know about it.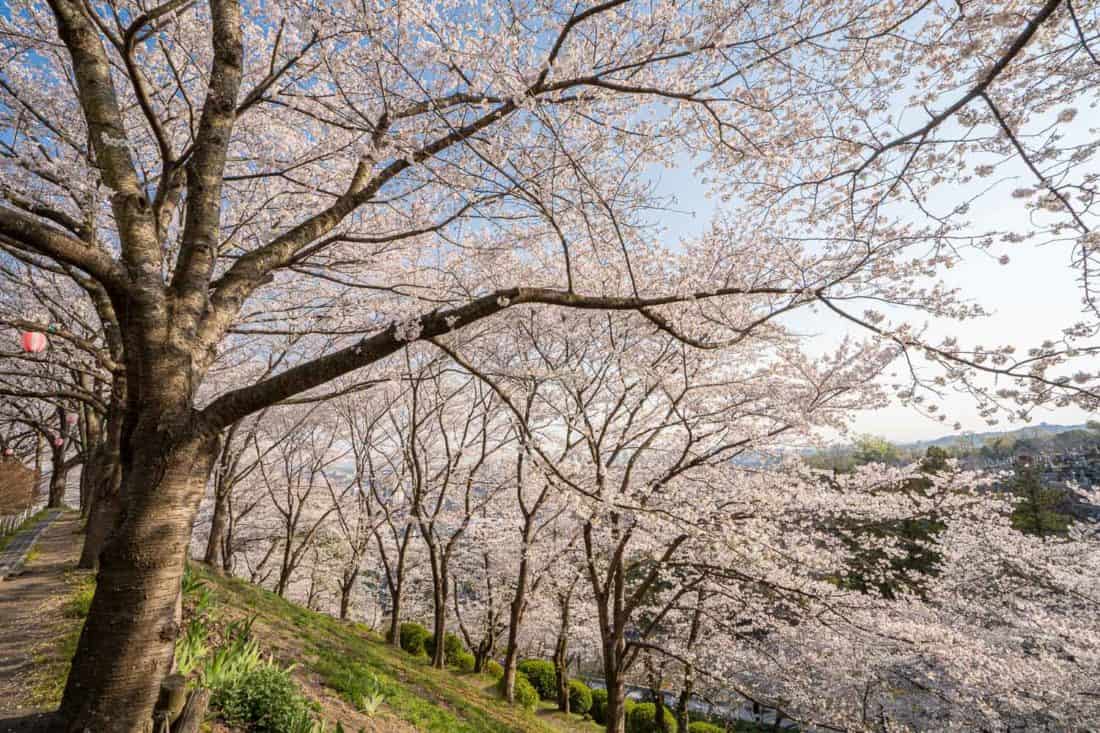 We also enjoyed the cycle ride on the Kibiji bike path between Bizen-Ichinomiya and Soja train stations which took us to some lovely quiet temples and cherry blossom spots.
Naoshima Art Island is more known for its contemporary art galleries than cherry blossoms, but we enjoyed quite a few trees as we cycled around the lovely little island.
It's an easy day trip from Okayama and a much longer one from Kyoto.
Read our Okayama guide for more details.
Himeji Castle (day trip)
The extensive gardens outside Himeji Castle feature about 1000 cherry trees and are a popular hanami spot.
We visited in the late afternoon so we could also stay for the night illuminations.
Kawaguchiko (3 nights)
It's a long trip from Okayama to Kawaguchiko (train to Mishima then bus), but we couldn't resist seeing Mount Fuji framed by cherry blossoms.
The season starts later here so in mid-April the cherries were blooming, despite the fact we had freezing temperatures and even some snow.
The northern shore of Lake Kawaguchiko has lovely Mt Fuji views and plenty of cherry trees.
See our Lake Kawaguchiko guide for more tips.
The most famous view is from Chureito Pagoda, which is a 15-minute train ride away near Shimoyoshida Station.
Even at 8 am is was insanely busy with a queue of hundreds waiting to take the perfect shot of Fuji-san with the red pagoda and blossoms in the foreground (we didn't wait and got this alternative view instead).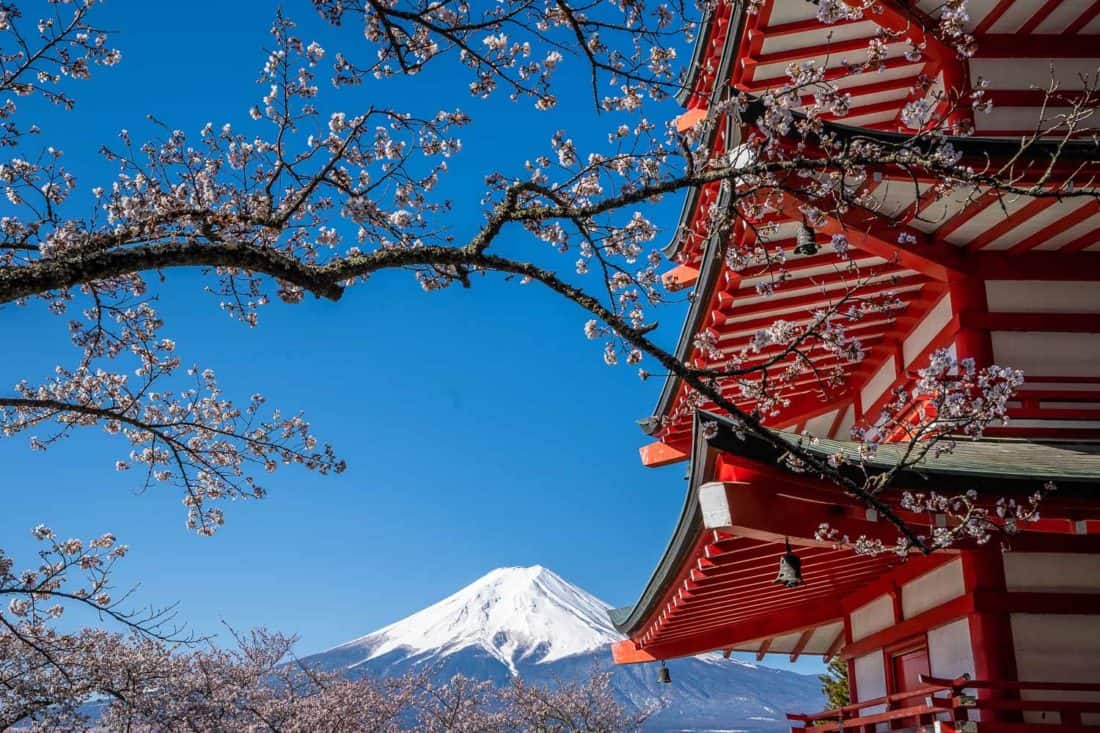 Tokyo
By the time we arrived in Tokyo in mid-April, we knew we were long past the sakura season.
So we were pleasantly surprised that Shinjuku Gyoen park has many late-blooming cherry trees.
The weather was warm and sunny and the trees so beautiful that we ended up having three picnics in the park during our week in the city. It's one of our favourite things to do in Shinjuku.
Read our tips for the best things to do in Tokyo.
Is Kyoto Cherry Blossom Season Worth it?
I was a little worried that Kyoto in cherry blossom season might be overrated. While it's undoubtedly a busy and expensive time to visit, it was well worth braving the crowds as the sakura are magical and the atmosphere one of lively celebration.
I recommend getting up early to visit the popular sakura spots and then hunting out some quieter gems later in the day where you can relax and enjoy the blossoms.
It's also worth taking some day trips or overnight stays to some of the surrounding destinations like Okayama which aren't as crowded.
If you've seen the cherry blossoms in Kyoto, let us know your favourite spots below.
Enjoyed this post? Pin for later!