This page contains affiliate links. Please read our disclosure for more info.
Naoshima Island is a small island in Japan's Seto Inland Sea known for its contemporary art galleries and outdoor sculptures.
The sleepy island with just 3000 inhabitants is an unlikely art hub, but since the opening of the Benesse House Museum in the early 90s, art has revitalised the island.
Since then more art museums have opened and sculptures appeared across the island including Yayoi Kusama's iconic yellow pumpkin (known as the Naoshima pumpkin). Naoshima now attracts art lovers from around the world.
We loved cycling around the relaxed island and combining art with beautiful sea views and tiny fishing villages.
It's well worth adding to your Japan itinerary for something a little different, even if you are not an art expert (we aren't!).
This Naoshima guide will give you all the information you need for the perfect day trip to Naoshima, including how to get there, transport on the island, the best places to visit, and our itinerary.
I've also included accommodation options in case you decide to spend longer on the island.
At the end, there is a Naoshima map with everything mentioned.
Contents
How to Get to Naoshima
Naoshima Island is located in the Seto Inland Sea (also known as Setouchi) which lies between three of Japan's main islands, Honshu, Shikoku and Kyushu.
The nearest major city is Okayama (on Honshu), which you'll need to pass through to reach Naoshima if you are coming from other major cities like Hiroshima or Osaka. It's the ideal location for a Naoshima day trip.
Use the Navitime website or app to check train times and prices.
You can use a Japan Rail Pass to get to the port at Uno, but it won't cover the ferry to Naoshima.
Coming from Tokyo to Naoshima is too far for a day trip as it takes over three hours on the bullet train just to get to Okayama. Hopefully, you can find space for an overnight stay in your Japan itinerary.
Okayama to Naoshima
Okayama isn't a popular tourist destination in Japan, but we found it a useful base for taking day trips, including to Naoshima. See our guide to the best things to do in Okayama, Japan.
The journey from Okayama to Naoshima took us 1 hour 20 minutes.
From Okayama you need to take the train to Uno which takes 40–60 minutes. There aren't many direct trains so you may have to change at Chayamachi. This is very easy (even if you only have a 3-minute connection like us) as you just cross the platform.
We left Okayama at 8.24am (on the Marine-Liner 11 for Takamatsu) and arrived at Uno at 9.10am with a brief change at Chayamachi.
The ferry is across the road from the station—just follow the crowd. Tickets cost 300 yen ($2) for adults/ 150 yen ($1) for children and are sold at the boarding pier at the ticket office or vending machines.
The lines got quite long, so do head straight over if you only have ten minutes before the ferry as we did.
There are two ferry ports on Naoshima. Miyanoura is the main port so it makes sense to start there. Honmura is on the other side of the island and ferries there are less frequent.
We got the 9.22am ferry from Uno to Miyanoura which takes 20 minutes and arrives at 9.42am. As most of the art galleries don't open until 10am, this was the ideal arrival time for a day trip.
The ferry was comfortable with toilets, vending machines, and armchairs facing the windows for enjoying the view.
Osaka to Naoshima
To get from Osaka to Naoshima Island, you'll need to take the shinkansen (bullet train) from Shin-Osaka station to Okayama which takes about 45–50 minutes. You can then proceed from Okayama as described above.
The total journey time should take around two hours (plus time to travel to Shin-Osaka station from your accommodation in Osaka).
I recommend leaving by 8am to make the most of your day trip.
Hiroshima to Naoshima
To get from Hiroshima to Naoshima, take the shinkansen to Okayama which takes about 35 minutes on the Nozomi (not covered by the Japan Rail Pass) or 40 minutes on the Sakura. Continue as above.
Allow around two hours for the trip.
Kyoto to Naoshima
Getting from Kyoto to Naoshima takes at least 2.5 hours and would be a long day trip. The Hikari shinkansen takes about an hour to Okayama; the Nozomi is about the same but isn't included in a rail pass. Continue from Okayama as above.
Personally, I think Naoshima is a bit too far for a day trip and you'd be better off spending the night on the island or visiting from Okayama or Hiroshima.
Check out these Kyoto day trips instead.
How to Get Around Naoshima Island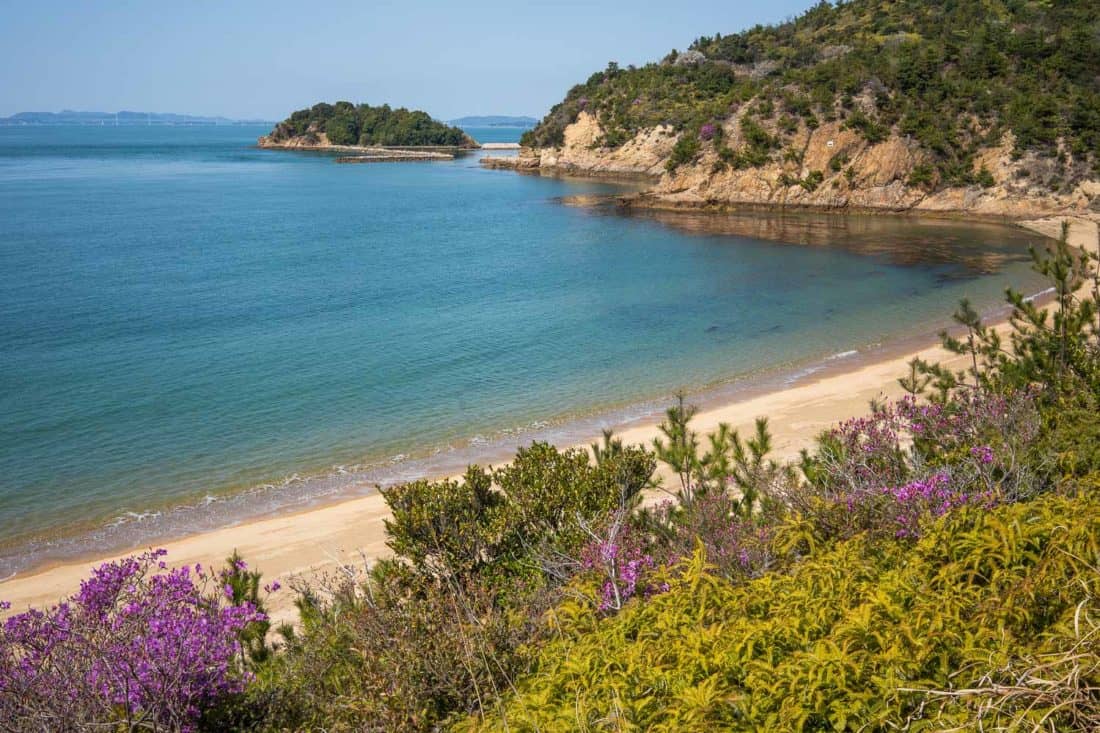 There are buses between the main sights in Naoshima, but they are not very frequent and can be crowded.
Bikes
Renting bikes is a better way to explore the island. You'll have more freedom and can enjoy the scenery along the way.
The distances between sights aren't long (we never cycled more than 15 minutes in one go), but there are a few big hills so it's well worth renting an electric bike which makes them much easier.
When you are on the ferry, head to the disembarkation area as soon as you start approaching Miyanoura port on Naoshima.
By doing this, we were first off the ferry and headed straight across the road to Ougiya bike rental (open from 9am – 6pm).
Bikes are reasonably priced at 1200 yen/$8 for an e-bike, 1600 yen/ $11 for an e-bike with a child seat (limited stock), 600 yen/ $4 for a junior bike with gears.
We didn't have to wait to be served, but by the time we left a few minutes later there was a long queue.
You can also reserve bikes via their website to make the process quicker.
Once booked in you are given a key for the bike which you pick up in a shed a few minutes walk away.
TVC in Miyanoura also rent bikes, but electric bikes are more expensive at 1500 yen ($10).
You could also opt for a Private Guided Naoshima Island 1 Day Cycling Tour that includes bike hire.
Walking
You could also walk around Naoshima, but it will be more difficult to fit everything in during a day trip—a bike gives you more time to enjoy the sights.
Guided Tour
We really enjoyed exploring Naoshima at our own pace, but if you would prefer a guide, then this Naoshima Art Island Guided Tour (meeting at Uno port) is recommended. It includes the ferry from Uno and transport on Naoshima.
Tips for Visiting Naoshima Art Island
Avoid visiting on Mondays – This is the day most of the museums are closed. It's also best to avoid weekends and public holidays when it'll be more crowded.
Pick up the Naoshima Area Map booklet – It has lots of useful information including ferry and bus times, restaurants, hotels, and maps. We got ours at our hotel in Okayama but you could also pick one up on the island or download it here.
Book tickets for Chichu Art Museum in advance – See below for details.
Wear slip-on shoes if possible – You need to take them off at a few of the museums. I wore my trusty Tieks ballet flats.
Take cash – Museum costs add up and they don't all accept credit cards. There are a few ATMs on the island, but it'll be easier to stock up in advance.
Photography is not allowed inside any of the museums.
There are coin lockers at Miyanoura Port if you need to store gear.
There's a 7/11 convenience store in Miyanoura and a small CO-OP supermarket in Honmura.
Naoshima Itinerary
Here's the one day Naoshima itinerary we followed including tips for what we'd do differently.
Arrive in Miyanoura (9.45am)
We arrived at Miyanoura port by ferry from Uno and rented e-bikes to explore the island (see above).
Yayoi Kusama's Red Pumpkin sculpture is at the port, but I recommend waiting to get a closer look until the end of the day.
It's more important to get to the art museums before they start getting too busy.
Buy Tickets for Chichu Art Museum (10am)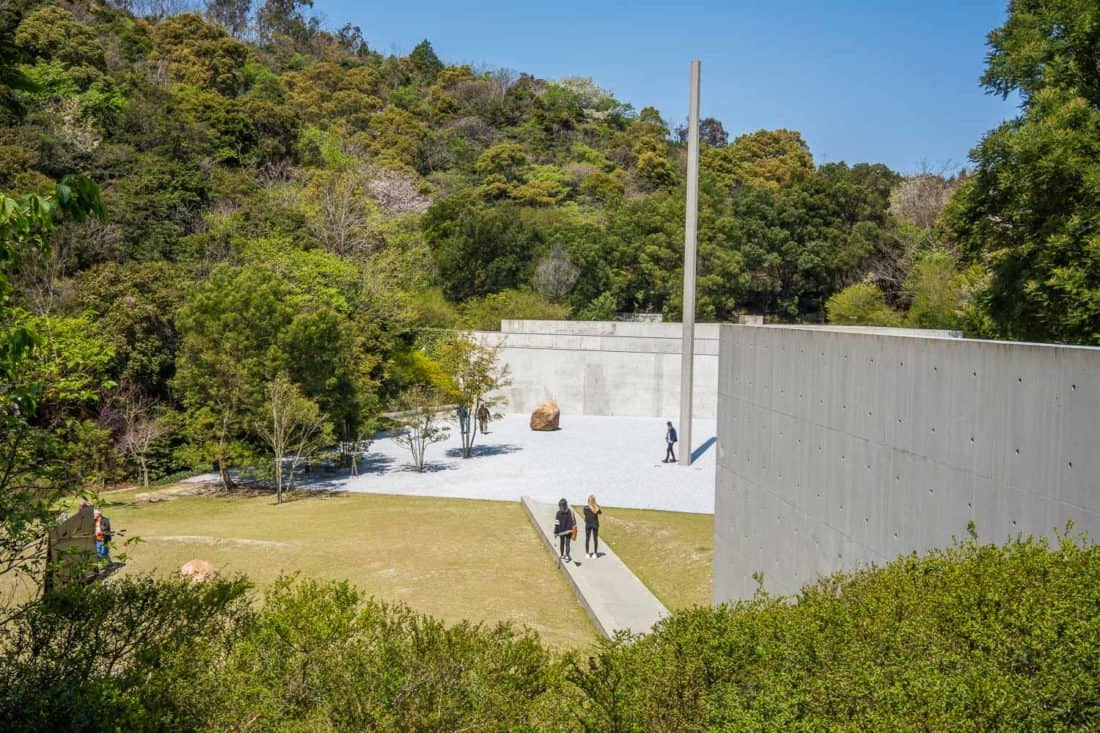 Chichu Art Museum is the most popular museum on the island. It's a 15-minute hilly but scenic bike ride from Miyanoura on a quiet road.
They encourage you to book tickets online in advance as it's so popular. I recommend booking tickets for 10.15am (you'll have until 10.45am to enter) but at popular times you'll need to book a week or so in advance.
We didn't buy tickets in advance and the earliest tickets we could get were for 11.30am.
If you buy onsite you are still buying an e-ticket which needs to be exchanged for another ticket no more than 10 minutes before your allocated time.
The 1.5 hours we had spare was just enough time to visit Benesse House and the Yellow Pumpkin, but two hours would have been more leisurely and allowed us time to stop in the Benesse Cafe.
Another nearby art gallery we could have visited is the Lee Ufan Museum (open 10am–6pm, 1050 yen/ $7 adults, free for children under 15 yrs), but we decided to skip it as it seemed a lot to cover in one day (and the entry costs add up).
Benesse House Museum (10.15am)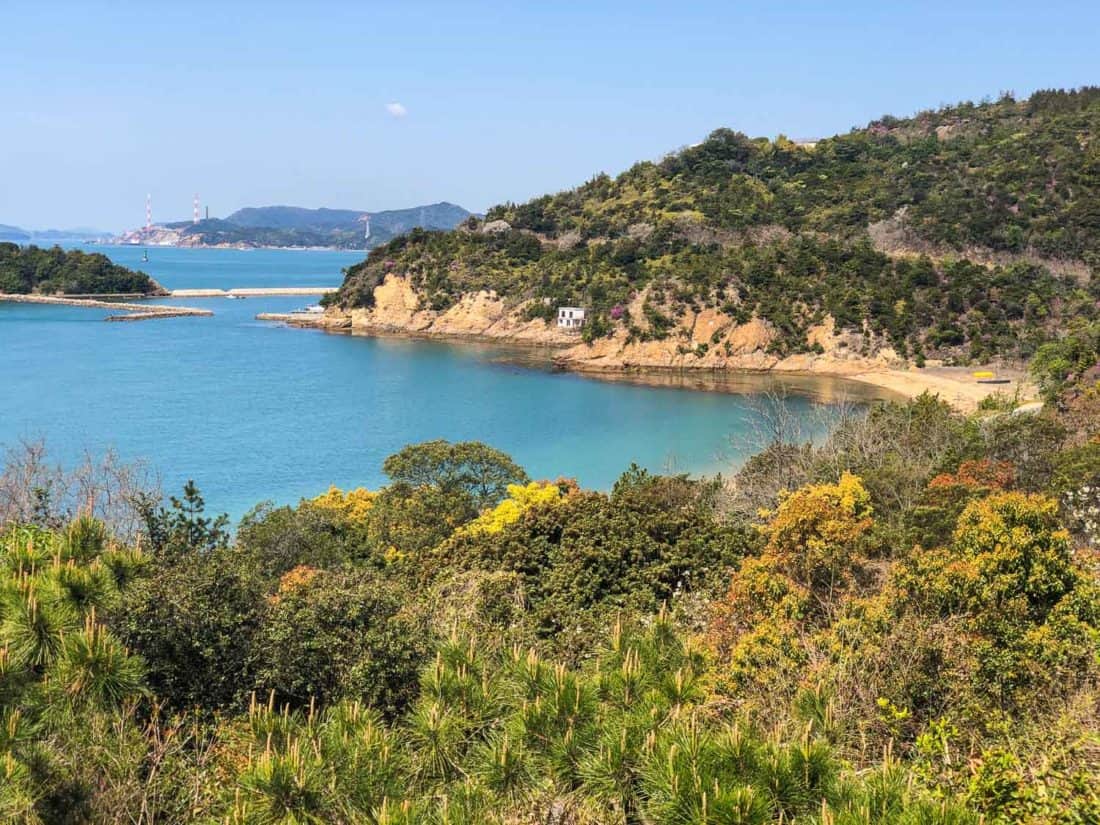 You can't cycle (or drive) through the private Benesse area, so you can either use their free shuttle or walk, which we did as the shuttle times didn't work for us.
We left our bikes at the Chichu parking but you could park a little further along at the north gate.
Benesse House Museum is a 15-minute walk from Chichu with sea views, art installations, and cherry blossoms (in April) to enjoy along the way. The peaceful area was the most attractive part of the island we visited.
This was the original museum on Naoshima and the island's main hotel, spread across multiple buildings, is located here.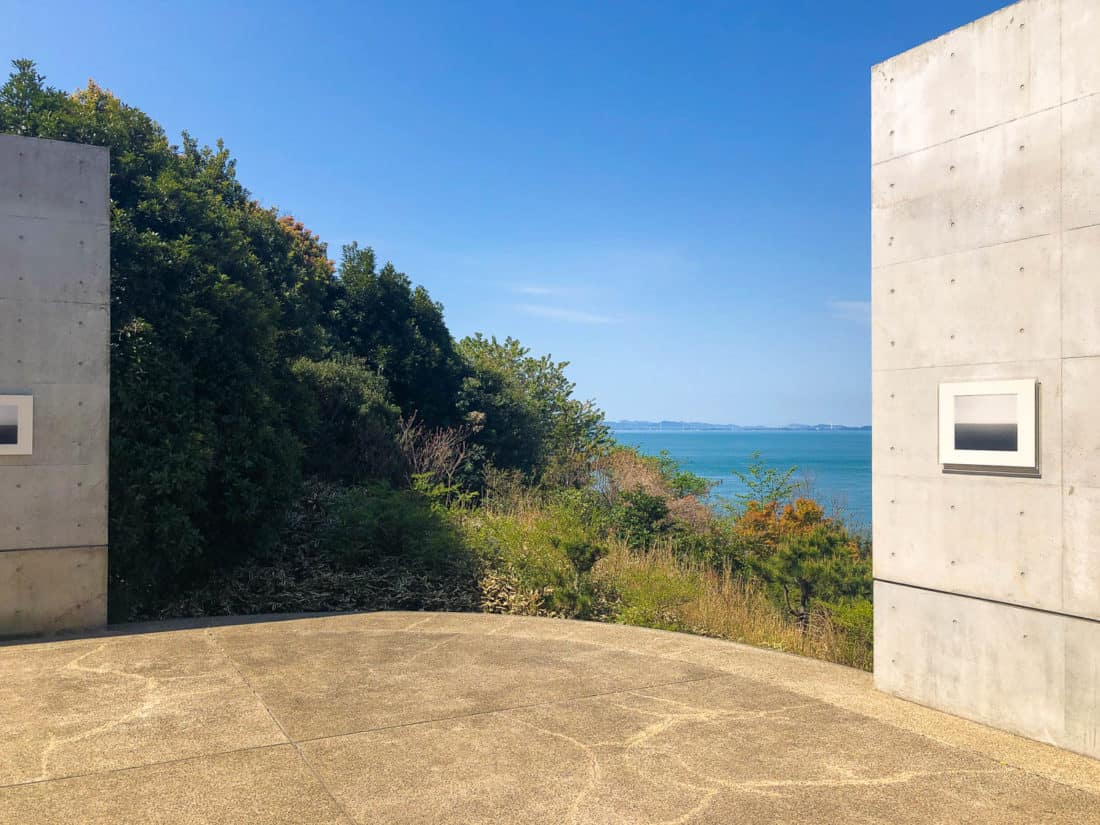 The museum was designed by architect Tadao Ando on high ground overlooking the Seto Inland Sea.
There are fantastic views as well as interesting art installations, many of them with a sea theme. The cafe also looked beautiful, but we didn't have time to stop.
Details: Open daily 8am – 9pm. Cost 1300 yen ($9) adults, free for children under 15 yrs. It's also free for overnight guests at Benesse House.
Outdoor Art at Benesse (10.45am)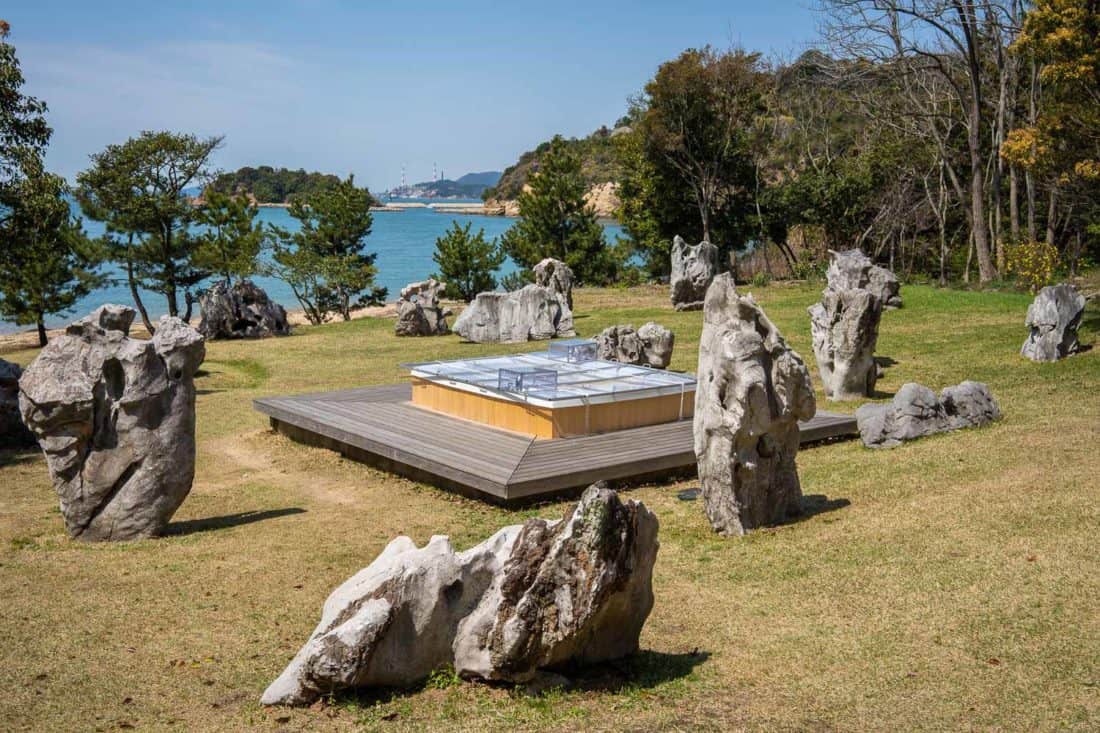 We continued past the Benesse House Museum to explore more of the artworks on the grounds.
The most famous is the Yellow Pumpkin sculpture by Yayoi Kusama which sits on the end of the pier. It has become the symbol of Naoshima.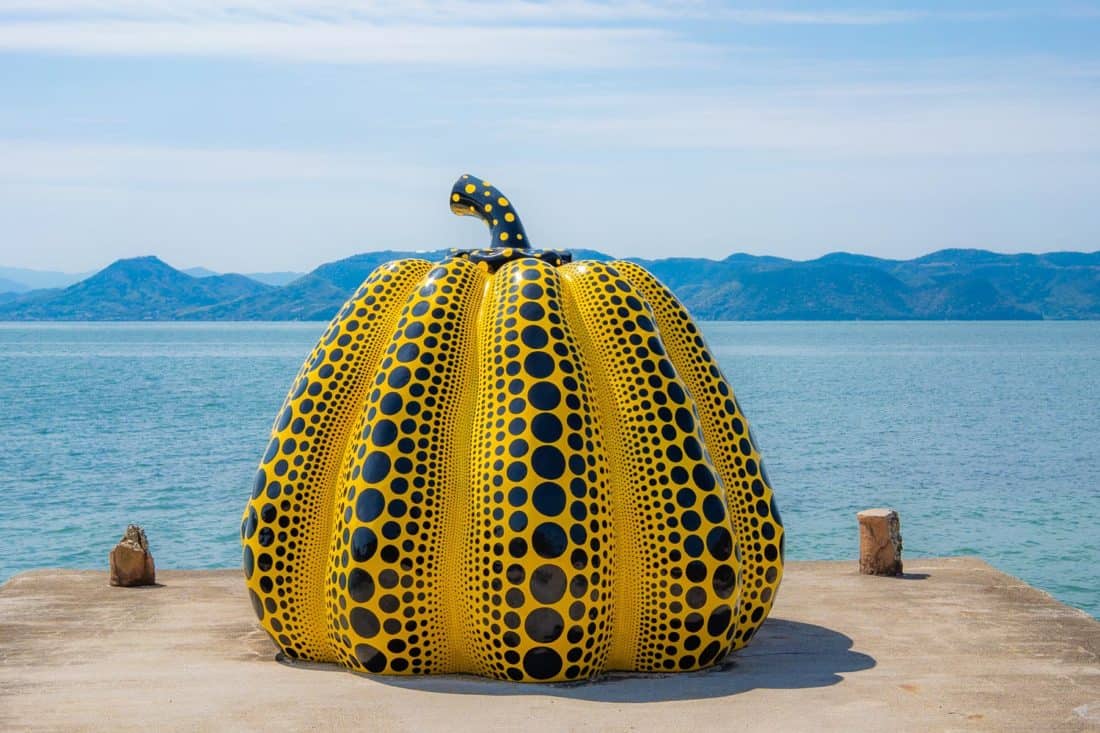 There's also a beach and other fun sculptures in the area.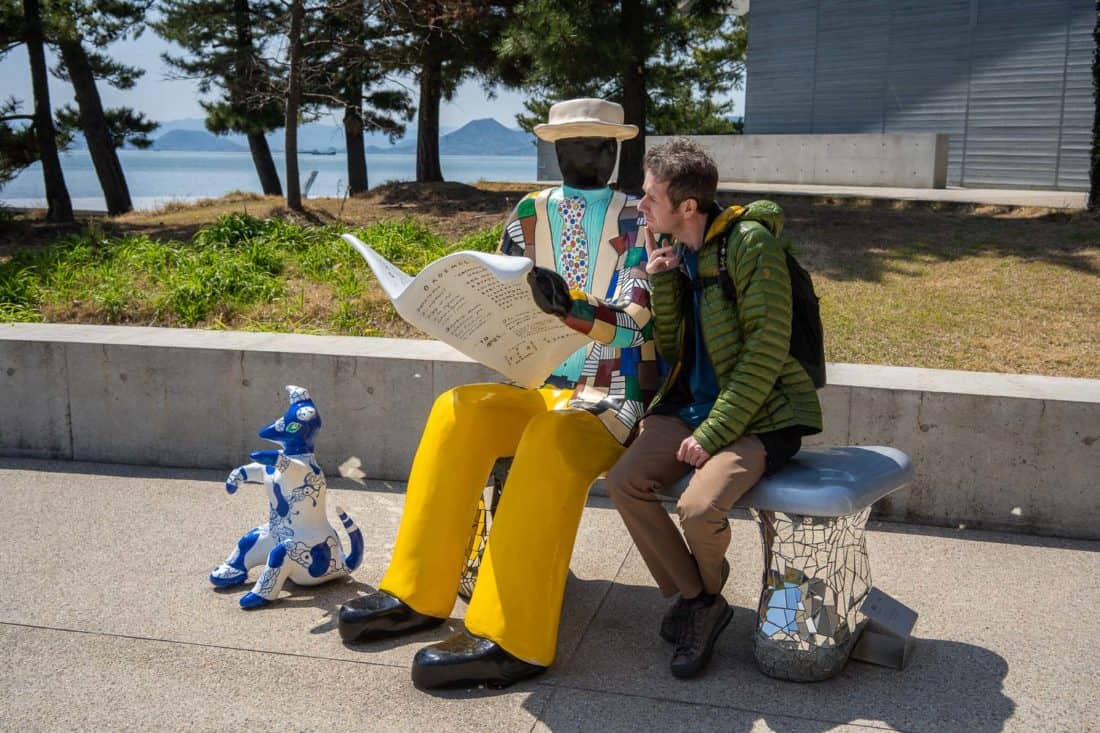 You could take the free shuttle back to Chichu from here, but we walked and explored more of the outdoor installations on the way.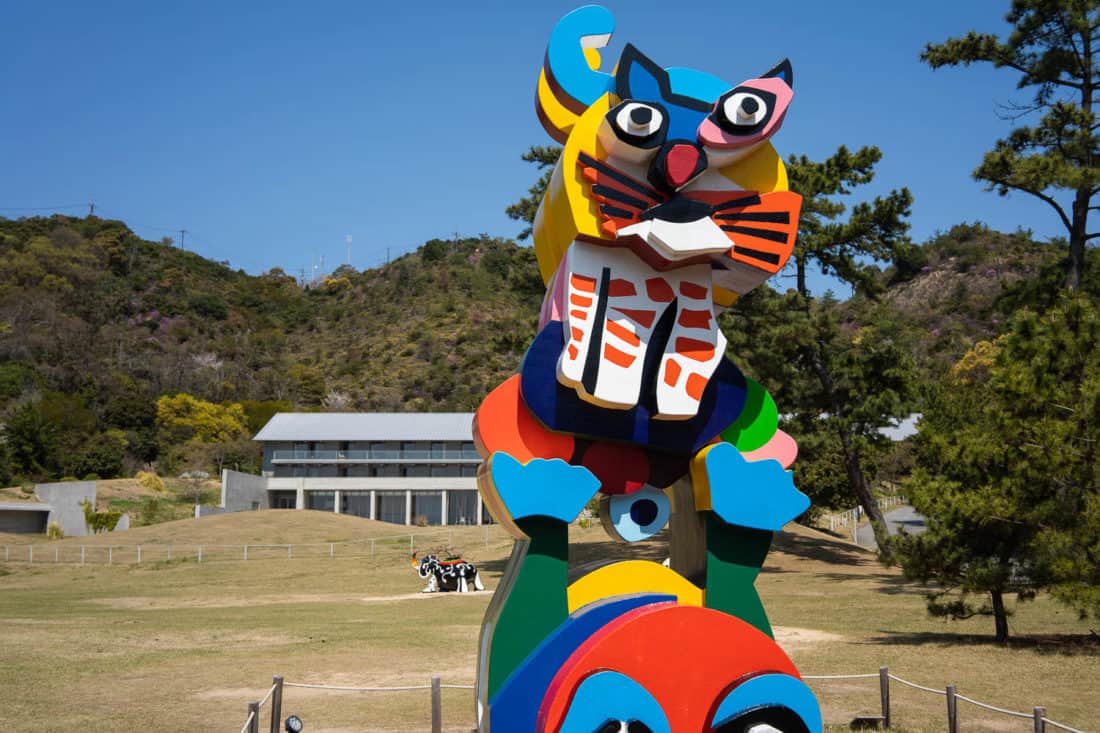 Chichu Art Museum (11.30am)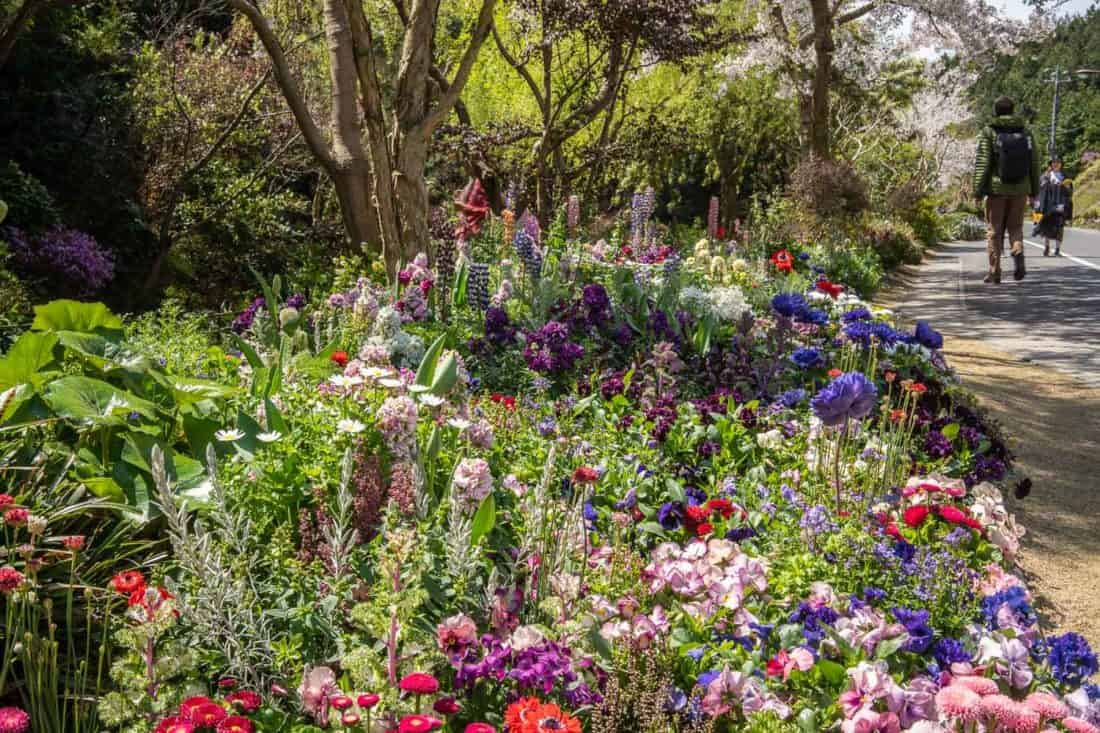 At our allocated entrance time for Chichu Art Museum we dropped off our bags at the free lockers at the ticket office, exchanged our tickets, and walked down the Monet-inspired garden path to the museum.
The museum is located in another dramatic concrete building designed by Tadao Ando.
It's mostly underground and uses natural light from skylights to illuminate the works. This means the art and building change with the passing of seasons and weather.
The Monet Room features surprisingly traditional art—huge paintings from the Water Lillies series lit with natural light.
The Walter De Maria room uses reflections from a skylight to illuminate a giant sphere on a staircase.
The unique James Turrell Open Field room was worth the 15-minute wait. Only a few people are allowed in at one time and you feel like you're walking into an abstract painting. It was our favourite work of the day.
We also had a snack in the cafe which has panoramic sea views. The food isn't great, though, so it's better to wait until Honmura and perhaps just get a drink.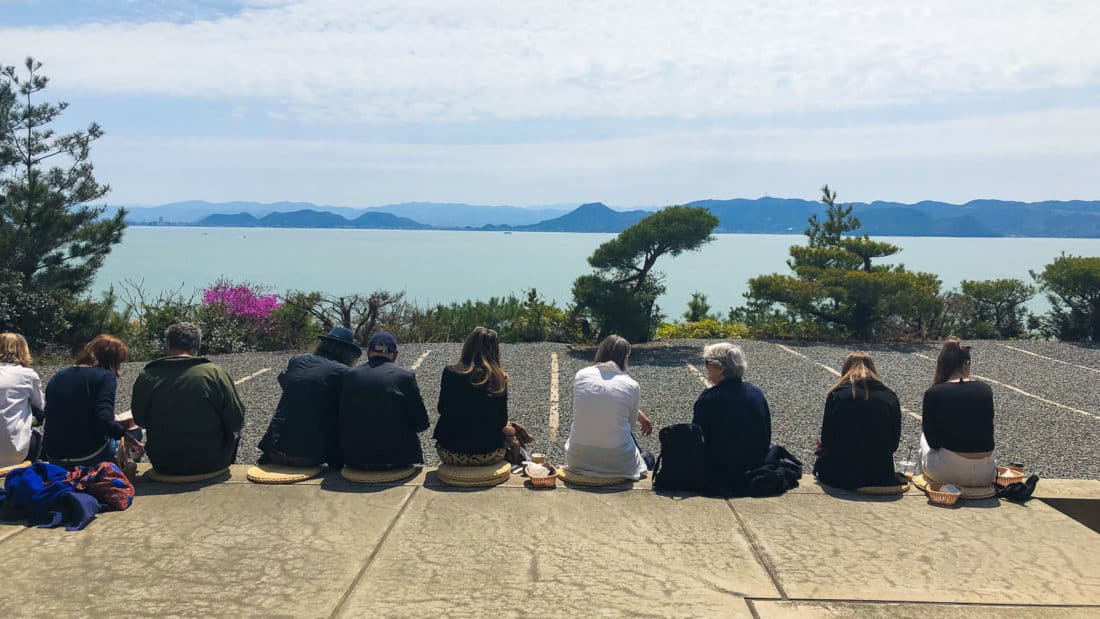 Details: Open 10am – 6pm (last entry 5pm). Closed Mondays. Cost 2100 yen ($14) for adults, free for children under 15 yrs.
Cycle to Honmura (12.50pm)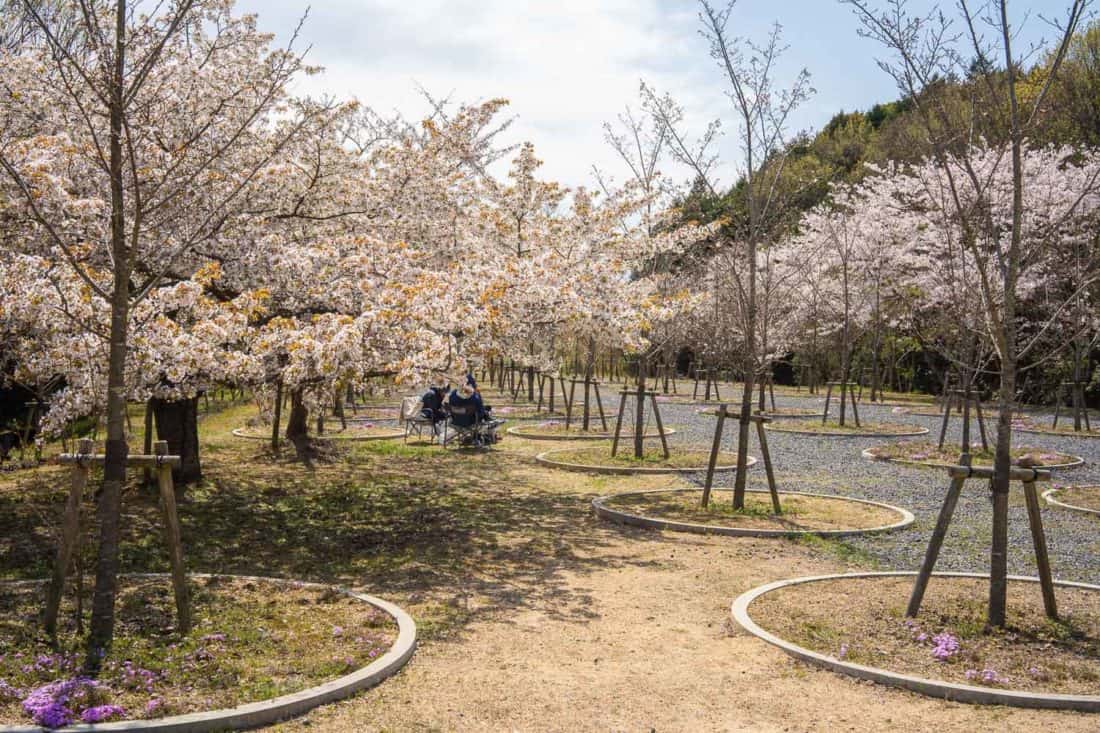 We took the inland route and it only took us 10 minutes to cycle to Honmura.
We stopped at the Cherry Blossom Labyrinth on the way, but although the blossoms were blooming it wasn't very labyrinth-like.
We parked on the edge of the village by Minamidera as bike parking is limited and it's easy to walk everywhere.
Honmura is a cute village of wooden buildings and narrow lanes with some cool looking cafes. It's home to the Art House Project which features a series of exhibitions in various houses.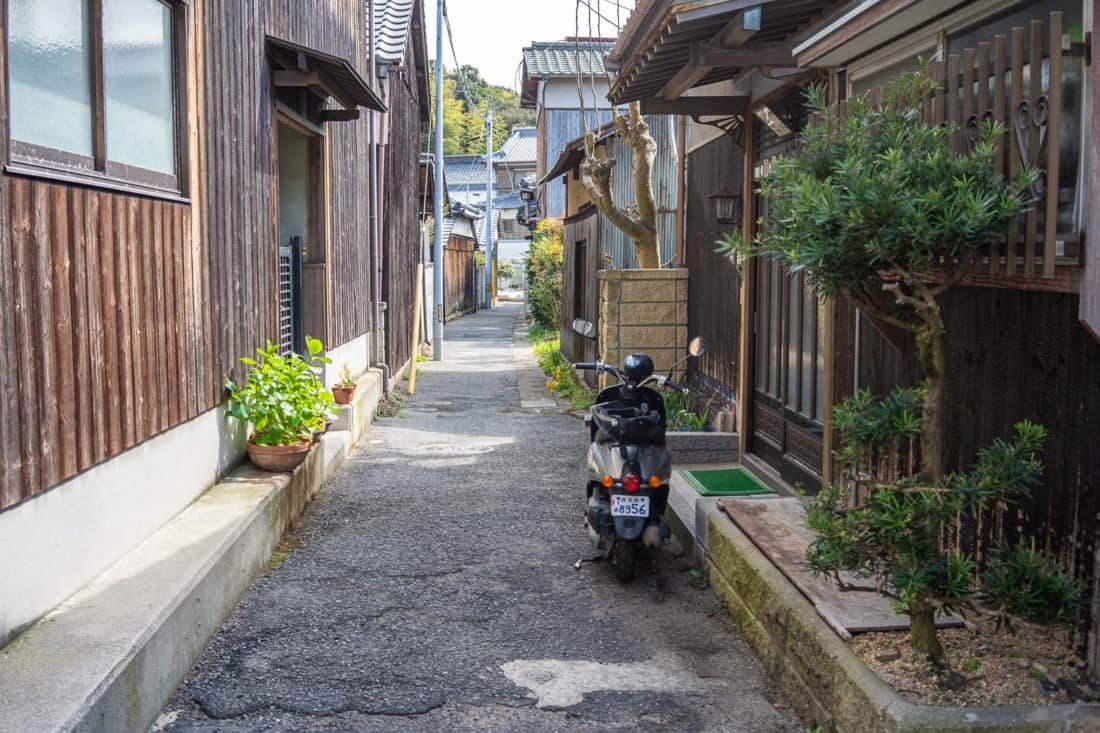 Don't make the mistake we did—before you get lunch, buy your Art House tickets and reserve a slot to visit Minamidera (see below).
In Honmura you could also visit the Ando Museum (open 10am – 4.30pm, 520 yen/$3.50 adults, free for children under 15 yrs), but it has mixed reviews and we skipped it.
Lunch at Aisunao (1.20pm)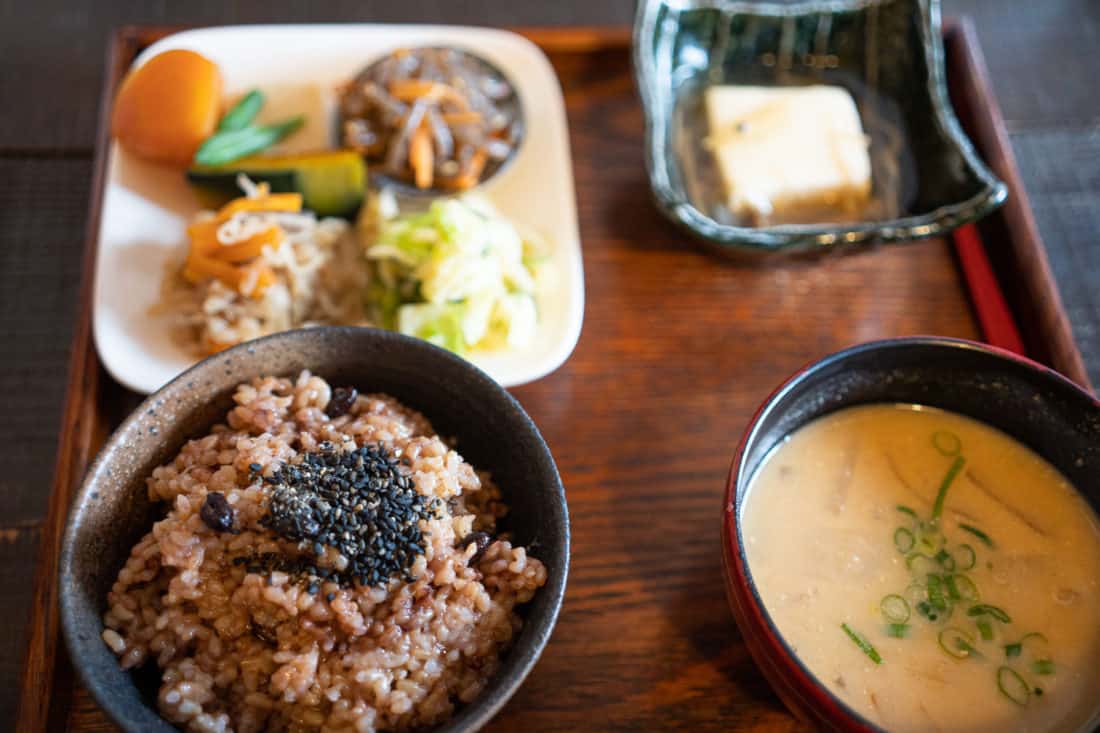 Aisunao is one of the few (possibly only) vegetarian-friendly restaurants on the island.
I recommend it for everyone as it has a characterful setting in a 90-year-old house and serves tasty, healthy meals with a focus on brown rice.
We got the set lunch (1000 yen/ $7) which is vegan and includes brown rice, vegetables, tofu, and miso soup (made without dashi). The noodle soups do contain dashi (fish stock). I also tried some delicious peach sake from Okayama.
Details: Open 11am – 3pm. Closed Mondays. Aisunao (use Google Translate).
Art House Project (2pm)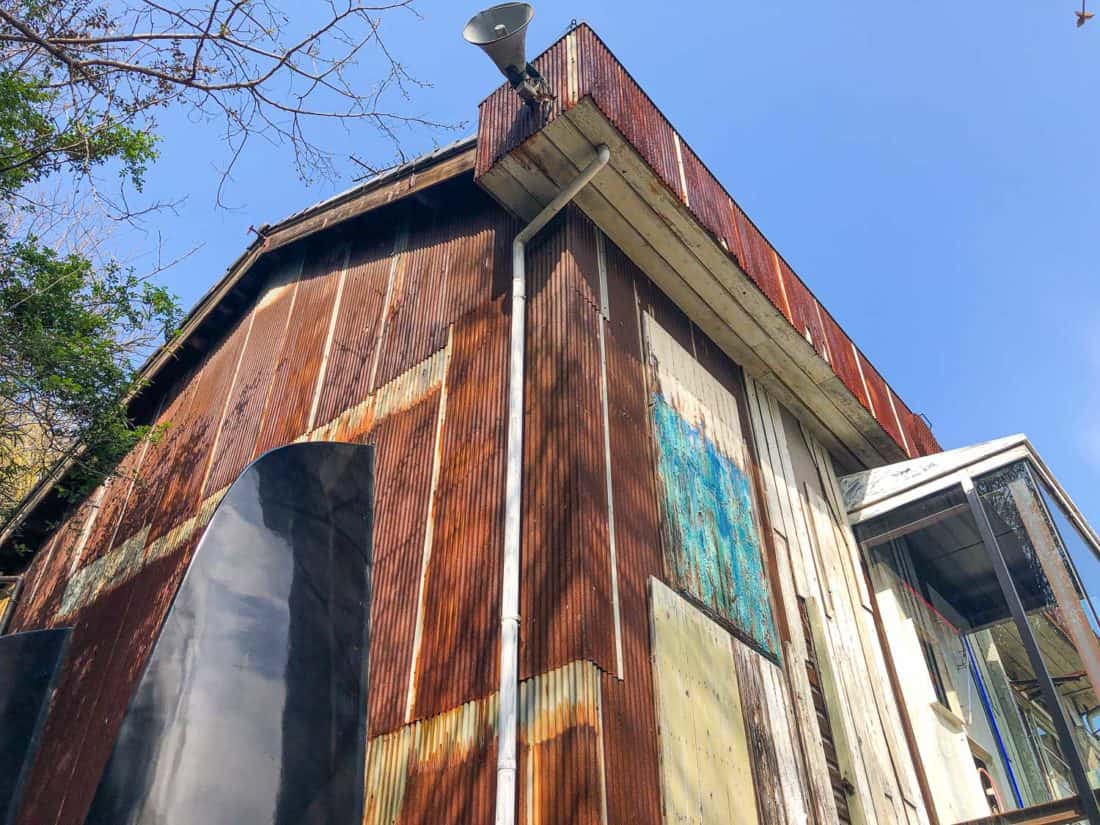 The Art House Project turns empty houses into art spaces and there are currently seven locations in the village.
We bought our combo tickets for all sites from the Honmura Lounge & Archive. You can also buy tickets at Benesse House and other locations.
Unfortunately, they had sold out of timed tickets for Minamidera and when we went to the venue itself the earliest time they had was 4pm. We were feeling tired and didn't want to wait two hours, so we skipped it.
We ended up visiting four of the art houses. None of them are far apart and visits don't take very long as they usually consist of one or two rooms.
We walked to them all except Haisha which we cycled to on the way back to Miyanoura Port.
Our favourites were Kadoya (featuring an indoor pond) and Haisha (a quirky junkyard house). It's a fun way to explore the village and offers a different experience from the art museums.
Details: Open 10am – 4.30pm. Closed Mondays. Cost 1050 yen ($7) for a combo ticket, free for children under 15 yrs.
Red Pumpkin at Miyanoura (3pm)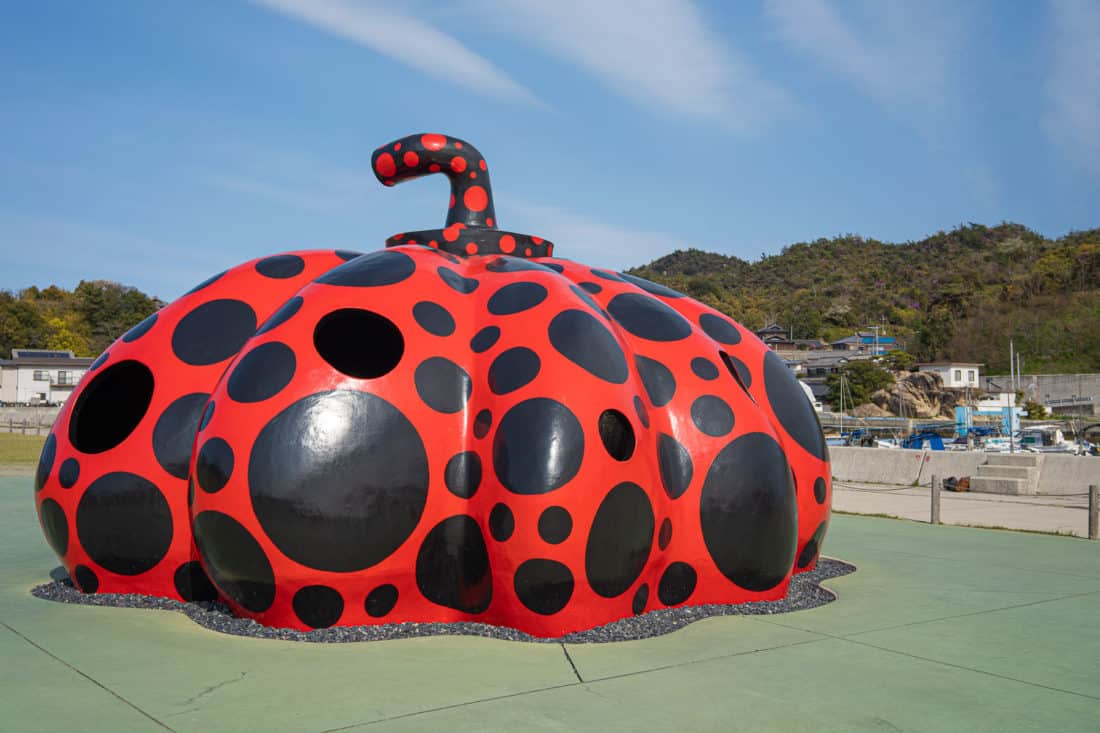 It took us about 15 minutes to cycle back from Honmura to Miyanoura Port.
We dropped off our bikes and went to look at the Red Pumpkin by Yayoi Kusama. It's larger than the Yellow Pumpkin and you can go inside.
In this area you could also take a Japanese bath (communal style) at the quirky Naoshima Bath.
The next ferry wasn't until 4.02pm (with the train to Okayama at 4.45pm arriving at 5.30pm) so we waited in Cafe Ougiya at the ferry terminal and enjoyed an ice-cream.
They also have some unique local salty souvenirs (like salt soda and sweets).
It would have been nice to stay on the island for sunset, but we were feeling too tired.
Naoshima Accommodation
We originally planned to spend a few nights on Naoshima but accommodation options were limited, so we made a day trip from Okayama instead.
As we stayed in the Hotel Granvia Okayama, which is connected to the train station, the trip was simple.
It was easier not having to bring our luggage and we had enough time to see the highlights, but spending a night or two would allow you to take things more slowly.
Benesse House is the only real hotel on the island and has rooms in various buildings including overlooking the beach and within the museum. It's expensive, though, and books up quickly.
A budget option by the beach at Benesse is to stay in a simple yurt or cottage at Tsutsuji-so.
There are also a number of minshuku (Japanese guesthouses) around the island. These are usually quite simple with Japanese-style rooms (futons on tatami mats) and shared bathrooms.
I considered staying at Episode 1 which has small apartments with kitchens and free bike rentals. It's a 15-minute walk from Honmura.
We liked the idea of being able to self-cater as many restaurants close in the evenings and we thought we'd struggle to find vegetarian options.
You can search for more accommodation on Naoshima here.
Other Art Islands Near Naoshima
If you have a longer stay on the island, you could also visit one of the neighbouring art islands such as Teshima and Inujima which can be reached by ferry from Naoshima.
They are less crowded and feature some interesting contemporary art.
Teshima's museums close on Tuesdays year round, and Wednesdays and Thursdays between December and February.
The Setouchi Triennale
The Setouchi Triennale is a contemporary art festival that takes place on Naoshima and other islands in the Seto Inland Sea.
It happens every three years with the next one in 2025.
See the Art Setouchi website for details.
Naoshima Island Map
Is Naoshima Worth Visiting?
Naoshima is well worth visiting if you are a modern art fan.
It's a great escape from the busy cities and we had a relaxing day cycling in the sun, enjoying the scenery, and admiring some unique art and architecture.
More Japan Posts
General Tips
Enjoyed this post? Pin for later!