This page contains affiliate links. Please read our disclosure for more info.
Kyoto makes an excellent base for exploring central Japan on the fast and efficient train network.
There are many rewarding day trips from Kyoto from nearby UNESCO World Heritage Sites like the temples of Nara and Himeji Castle to major cities further afield like Hiroshima.
I share our favourite Kyoto day trips below and have also included suggestions from other travel bloggers.
I've divided them by distance from Kyoto from easy day trips like Mount Kurama to longer but worthwhile excursions such as the iconic floating torii gate at Itsukushima shrine on Miyajima Island.
You'll find details of how to get there by public transport and suggested tours if you'd rather take it easy and have someone else plan the details.
At the end of the post, there is a map with everything mentioned.
Contents
Video: Explore Kyoto
Discover what to do in Kyoto with this video.
Transport for Day Trips from Kyoto
Most of these destinations are accessible by train. You can check timetables and prices on the useful Navitime or its companion Japan Travel app.
Having a Japan Rail Pass will make side trips from Kyoto even easier and cheaper.
You won't need to buy a ticket (just head to the unreserved carriage) and can take the fast bullet trains (essential for the further away locations) without worrying about the cost.
See my Japan Rail Pass guide for more details and to work out whether a rail pass is worth it for your trip.
Note that rail passes can't be used on the fastest Nozomi Shinkansen, so tick "Japan Rail Pass" on the Navitime website to find alternative trains.
Alternatively, if your trip is just focused on the Kyoto area, you might consider the 5 Day JR Kansai Wide Area Pass. With this pass you can visit Osaka, Nara, Kinosaki Onsen, Kobe, Himeji, Otsu, and Okayama, as well as Kansai Airport.
Kyoto Accommodation
Kyoto Station
If you are planning to do a lot of day trips from Kyoto, I recommend staying near Kyoto Station.
It's not my favourite part of the city (it's more modern than other areas), and it's not in easy walking distance of any of the major Kyoto sights, but you'll be able to get around easily by public transport and day trips will be simple.
The most convenient place to stay is Hotel Granvia, which is connected to Kyoto Station. We stayed at the Okayama branch of the hotel and found it comfortable and perfect for day trips.
More affordable hotels near Kyoto Station include:
For a hotel that combines Japanese style with Western comforts, consider The Blossom Kyoto, which opened in 2022 and is a 15-minute walk or one metro stop from the station. The onsen looks beautiful.
Gion and Higashiyama
If you'll only be making one or two day trips from Kyoto and will spend many more days exploring the city, you might want to stay in Higashiyama (especially Gion) instead.
This is where we stayed on our last trip and loved being able to walk to many temples and beautiful historic streets.
Search for apartments in Gion here or check out Hotel The Celestine, which has a great location, stylish rooms, and an onsen.
See my guide to the best things to do in Kyoto for more recommendations.
Kyoto Day Trips Within 1 Hour
1) Kurama and Kibune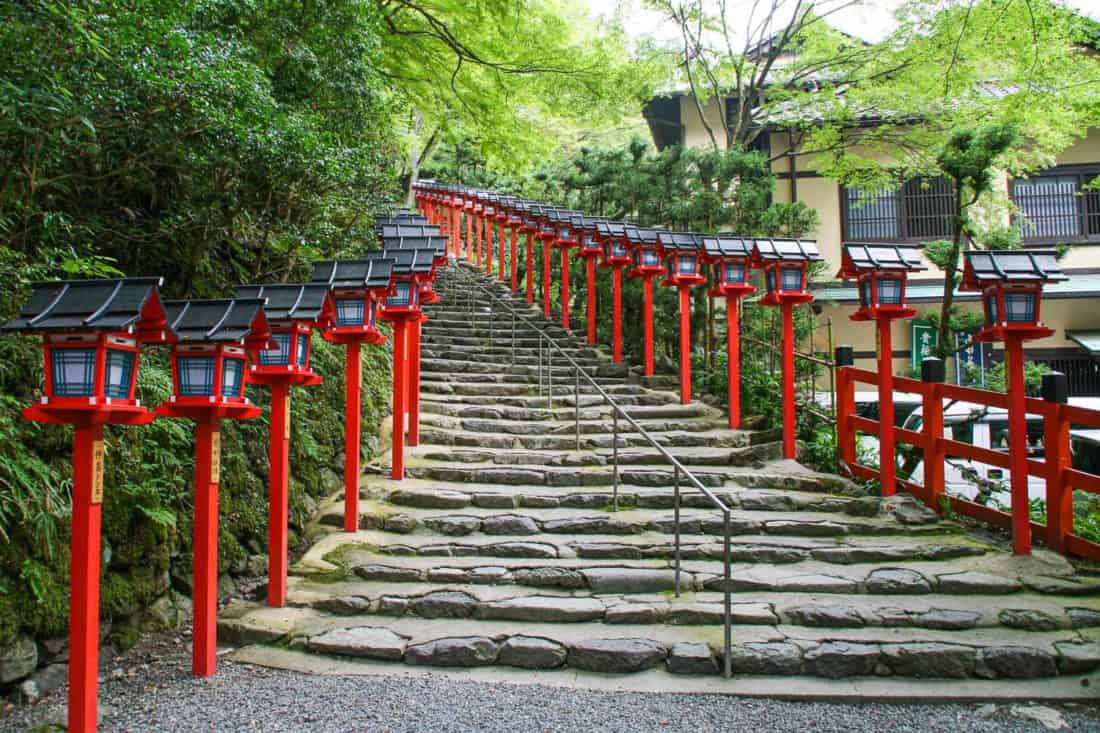 My favourite half-day trip from Kyoto is to the villages of Kibune and Kurama in the mountains north of the city. It's especially beautiful in autumn.
It's a scenic train ride to get there, and then you can hike through the forest on the mountain trail that connects the two villages and visit several temples and shrines.
In cool weather (or if you're vegetarian), I recommend starting in Kibune, visiting the Kifune Shrine, then hiking over to Kurama-dera temple, which is perched on the mountain with fantastic views.
Continue downhill to the village of Kurama. We enjoyed a tasty shojin ryori (Buddhist vegetarian) lunch at Yoshuji before taking the train back to Kyoto.
You could also ease your muscles in the outdoor baths at Kurama Onsen.
In summer, you might prefer to do the hike in the opposite direction and end with lunch in Kibune—there are suspended platforms set up over the river for a unique meal.
The walk from Kibune station to Kurama station takes 2–3 hours with stops.
How to Get There:
Take the train on the Eizan Kurama Line from Demachi-Yanagi Station in Kyoto to Kibuneguchi Station, which takes 30 minutes.
Return on the same line from Kurama Station. You can't use a Japan Rail Pass on this route but it's not expensive.
You can reach Demachi-Yanagi Station from Kyoto Station by taking the JR Nara Line to Tofukuji Station (the nearby Tofukuji Temple is worth a visit) then transferring to the Keihan Main Line to Demachi-Yanagi Station. This takes about 20 minutes in total.
If you're staying in Gion, you can take the Keihan Main Line or walk along the river to Demachi-Yanagi.
Suggested Tour: Private 1 Day Hiking Tour in the Mountains of Kyoto that includes hotel pick up/ drop off and admission fees.
2) Nara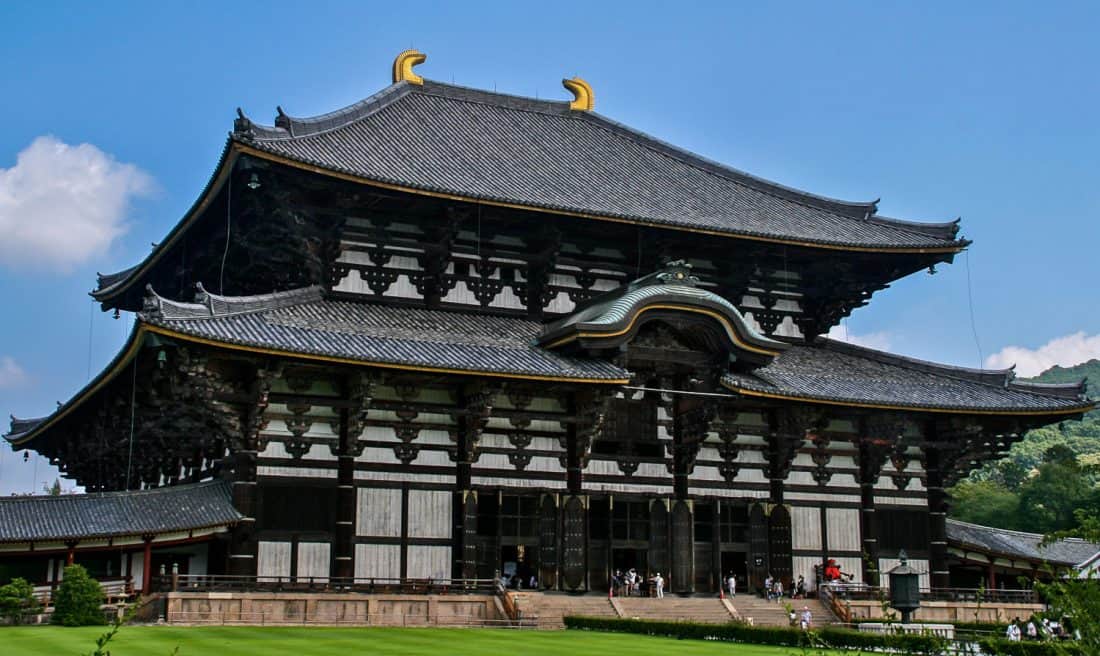 Erin's note: Nara is the most popular day trip from Kyoto. This small city was the capital of Japan from 710 to 784 and its stunning Buddhist temples, including the impressive Todai-ji, are UNESCO World Heritage sites.
Many visitors are just as charmed by the wildlife in the park as the temples themselves, as Sean recounts.
Contributed by Sean of LivingOutLau
If you have seen videos of deer bowing to you when you bow to them, that is at Nara Park.
You are probably thinking this is some sort of freak deer circus where they are trained to bow to strangers to get food or money. This is far from the truth.
All the deer in Nara Park are wild without fences, chains, or anything to restrict them.
However, for some magical reason, they almost never leave the park. Visitors come from all over the world to see the animals in action.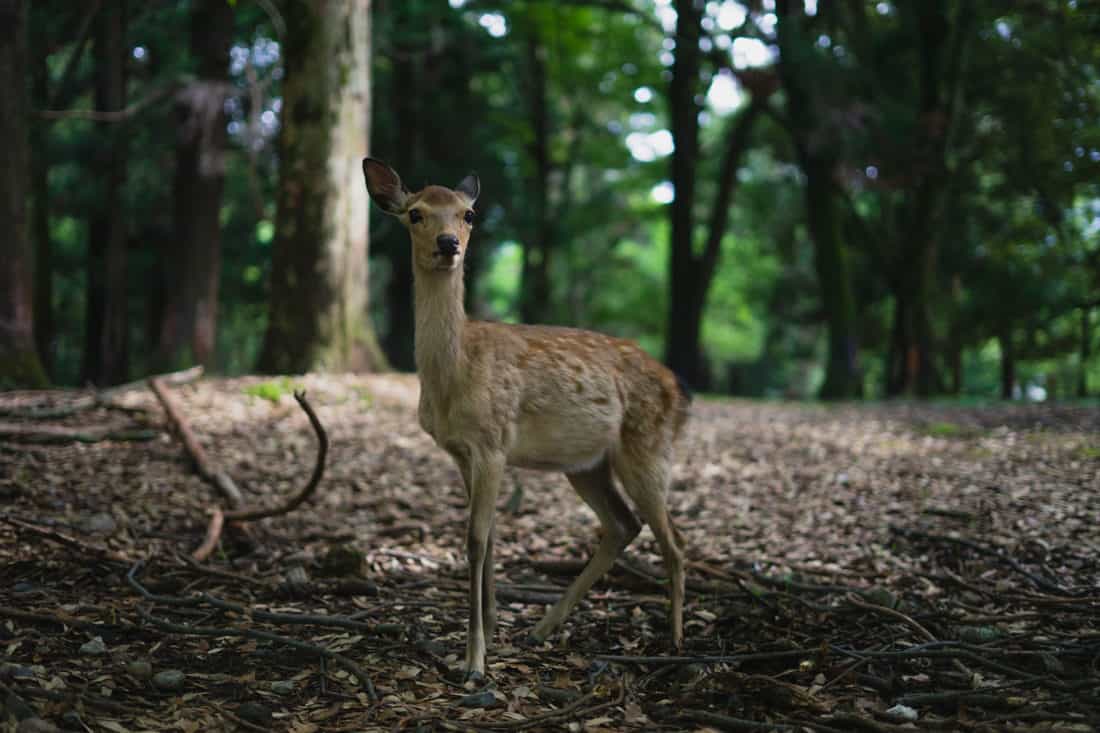 At some point, the deer found out that by bowing and being respectful, you are more likely to get what you want. What a surprise!
There are deer biscuit vendors throughout the park and you can reward the deer for their respectful behaviour.
How to Get There:
The fastest way to make a Nara day trip from Kyoto is on the private Kintetsu Line, which takes 35 minutes by express (tokkyu) train.
It departs Kintetsu Kyoto Station (on the south side of JR Kyoto Station) and arrives at Kintetsu Nara Station, which is the closest station to Nara Park (a 10-minute walk away).
This train isn't covered by the Japan Rail Pass so pass holders should take the JR Nara Line from Kyoto to Nara Station, which takes 45 minutes by express (kaisoku) and 75 minutes by local (futsu) train.
It's a 20-minute walk from Nara Station to the park.
Suggested Tour: Nara Walking Tour with a Private Guide that includes hotel pickup, or for families, this Nara Park Private Family Bike Tour with Lunch sounds great.
3) Osaka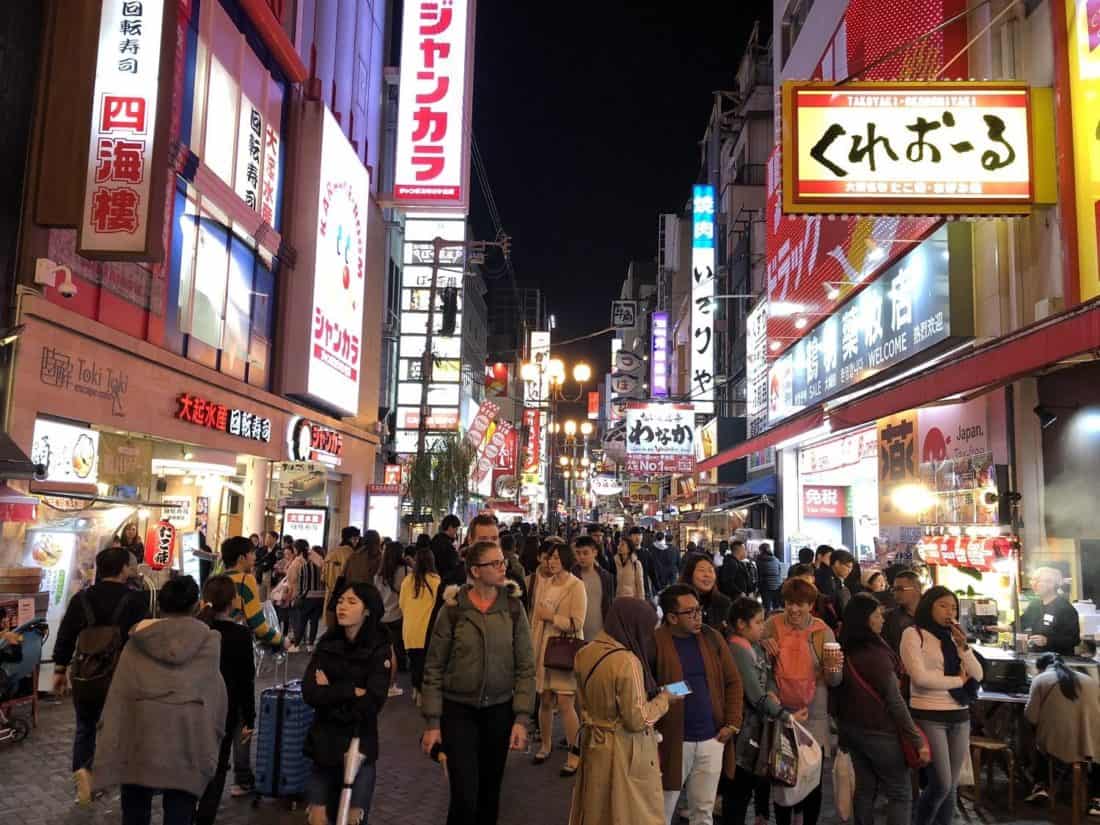 Contributed by Christine Abroad
Osaka is one of the most popular destinations in Japan. It's known as the country's food capital with plenty of delicious local dishes and food markets in addition to the traditional foods from Japan.
Osaka has an interesting mix of modern and ancient with historical sites such as Osaka Castle, Shitennoji Temple, and Sumiyoshi Taisha Shrine.
The most famous district is known as Dotonbori and is home to an almost endless number of shops and street food.
Another place renowned for food in Osaka is Kuromon Ichiba Market, where you can eat Kobe beef and other high-quality wagyu as well as the finest bluefin tuna.
Osaka is known for its lively nightlife and themed cafes, much like Tokyo.
Shinsekai is a vibrant area in Osaka where you'll find lots of restaurants and shops as well as arcades featuring classic retro games. This is where you'll find the iconic Tsutenkaku tower.
For a view of the city, visit the Harukas 300 Observatory.
Where to Eat
Some of my favourite restaurants are Okonomiyaki Chitose, Yakumido, Nikuhoshi, and GYOZAOH!
See our guide on the best vegetarian restaurants in Osaka for where to find meat-free versions of ramen, okonomiyaki, tacoyaki, gyoza and more.
How to Get There:
It's easy to make an Osaka day trip from Kyoto. There are frequent departures and the train takes just 28 minutes. Some of the lines you can take are Tokaido-Sanyo Line and Thunderbird, which are both JR lines.
Suggested Tour: Small Group Osaka Shinsekai Food Tour
4) Himeji Castle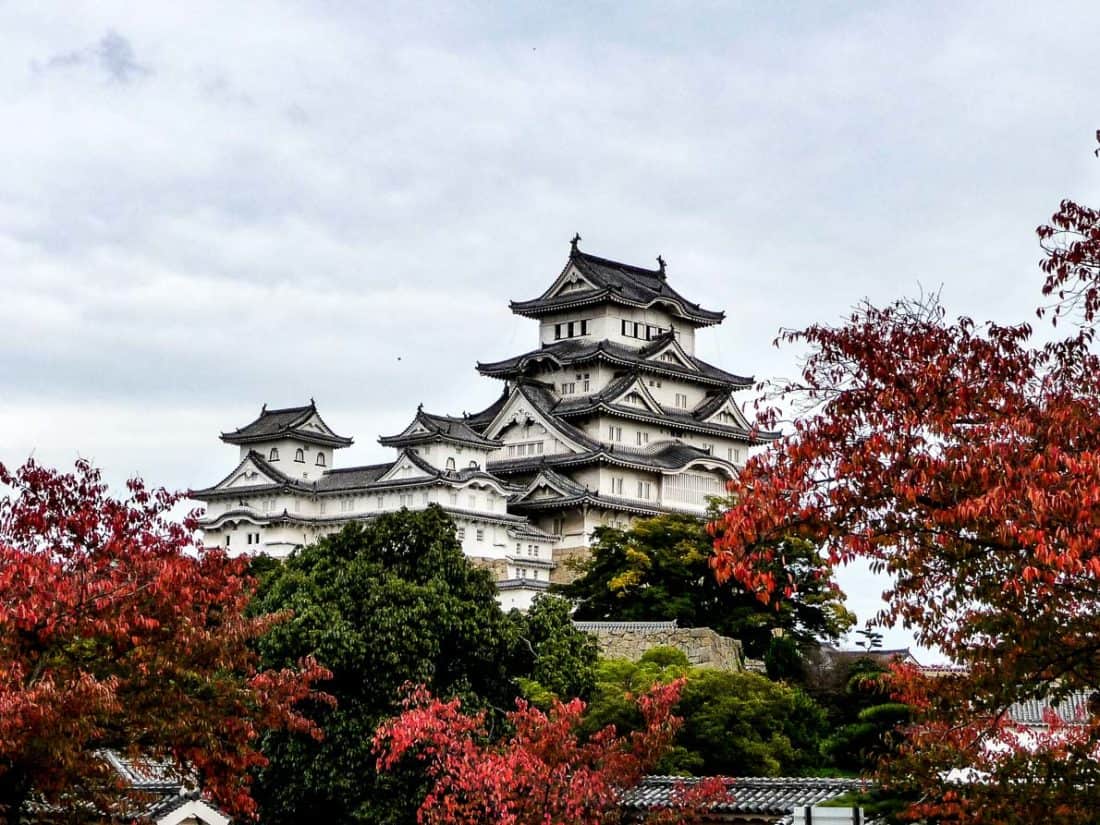 Contributed by Emily of Kids and Compass
Himeji Castle is an absolutely stunning example of Japan's feudal architecture.
It's one of the 12 surviving original Japanese castles; somehow miraculously escaping destruction by fire, earthquake and war over the centuries.
It's a UNESCO World Heritage Site and is counted on Japan's list of National Treasures. If you visit one castle in Japan, make it this one!
The castle is perched high on a hill overlooking the surrounding city and is often called the Heron Castle due to its white colour.
It's breathtakingly beautiful, especially if you catch it on a clear day. The main castle is six storeys high and it's covered in elaborate detailing.
You can explore the whole of the main keep, although unlike many castles in the West, the rooms are fairly empty except for the shrine on the top floor.
The views from the top floor are incredible so it's worth climbing the steep staircases.
Himeji Castle's grounds are also beautiful and you should plan to spend a bit of time exploring.
It's worth buying a combined ticket for Himeji Castle and the Kokoen garden next to it, which is especially beautiful in cherry blossom season and autumn.
The castle can get very busy, so plan to arrive early to avoid the crowds.
How to Get There:
Getting to Himeji Castle from Kyoto is pretty straightforward. Direct Shinkansen lines connect the two cities so you can be in Himeji in under an hour, although on some journeys you might need to change trains at Shin-Osaka.
If you're using a JR Pass then remember that you can't use this pass on the Nozomi Shinkansen.
Once you've reached Himeji station, you can either walk to the castle which will take 20 minutes or take a quick bus journey for 100 yen ($1).
Suggested Tour: Himeji Castle and Akashi Kaikyo Bridge walking tour from Kyoto (by train).
5) Nagoya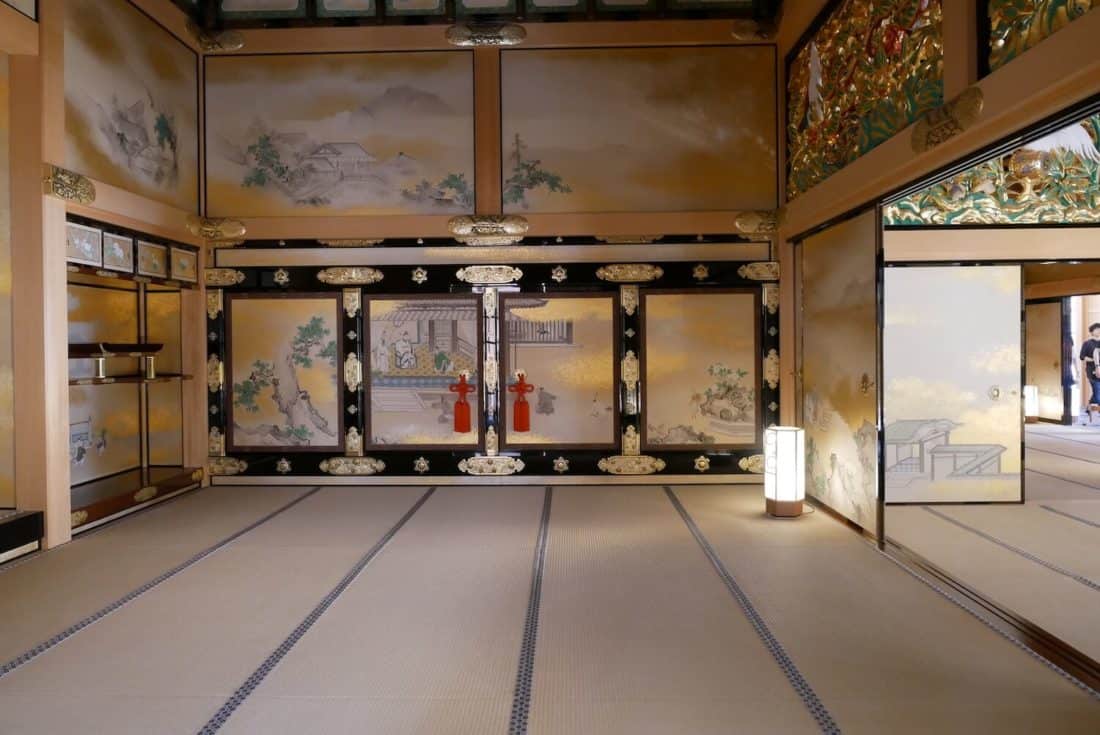 Contributed by Lena of Nagoya Foodie
Nagoya, Japan's fourth largest city by population, is only a short Shinkansen bullet train ride from Kyoto and the perfect day trip destination.
In one day you can get a good overview of the city, its history, culture, and especially its delicious local cuisine.
The newly reconstructed Honmaru Palace at Nagoya Castle is definitely worth a visit.
It has been rebuilt using only traditional methods and impressive craftsmanship. The wall paintings and little details are really awe-inspiring.
Nagoya is also home to one of the biggest car manufacturers in the world: Toyota.
There are multiple museums around the city dedicated to the company, its cars, and its history. If you love cars, Nagoya is the place to go.
The main reason to visit Nagoya is its delicious cuisine which can be found in no other place in Japan.
Nagoya Meshi, as the cuisine is called, is a variety of local dishes such as Hitsumabushi, Miso Nikomi Udon, Kishimen and Oni Manju.
Read more about Nagoya cuisine or join me on a food tour of Nagoya!
How to Get There:
The quickest way to get from Kyoto station to Nagoya station is on the Nozomi Shinkansen which takes just 35 minutes.
The Nozomi is not included in the Japan Rail Pass, so pass holders should take the Hikari or Kodama Shinkansen instead, which take 53 minutes.
Suggested Tour: Private Tour Guide Nagoya with a Local
6) Hanshin Tigers Baseball Game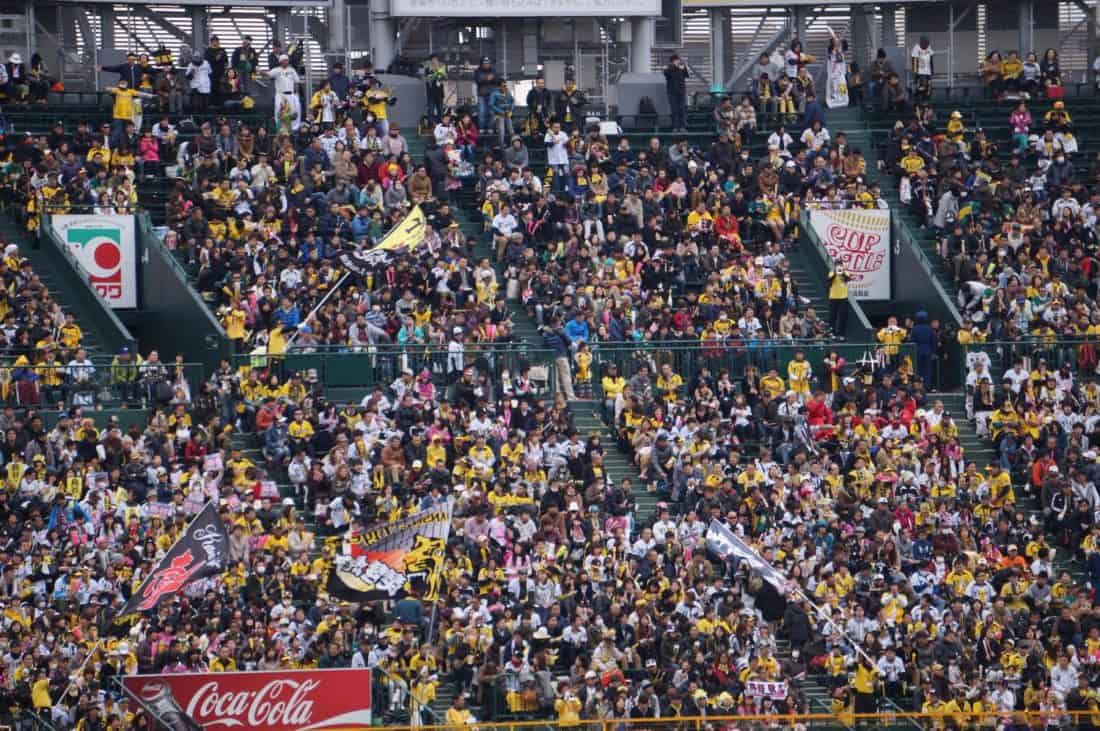 Contributed by Amber of Food And Drink Destinations
An often overlooked experience for travellers to Japan is visiting a Japanese baseball game.
Japan started professional baseball competitions in the 1920s, but after World War Two, it became a national obsession.
Just down the road from Kyoto, the Hanshin Tigers baseball club plays ball outside of Osaka.
The difference between American and Japanese baseball is evident the moment you begin your journey to the stadium.
Diehard is an understatement when describing these fans.
Most, if not all, are covered head to toe in Hanshin Tigers paraphernalia, making supporters of American and international football look like amateurs.
Instead of sitting close to the action, the ardent supporters are seated way out in the outfield bleachers. Dressed and ready to support their Tigers, the supporters are organised into cheering sections.
These groups are led by a head cheerleader equipped with a whistle and white gloves. The fans come prepared with drums, trumpets, and chants.
The noise they create, only when the visiting team is batting, is deafening. You'd never find this at an American baseball game.
The differences don't end there. Eating a hot dog and drinking a beer during an American baseball game is a must.
While you can experience this in Japan, the real thing to try is pork katsu curry washed down with sake.
Even if you have no idea how baseball is played or don't like sports, a Japanese baseball game is a must.
It's best to purchase game tickets ahead of time on the Hanshin Koshien Stadium website. The booking page is in Japanese but their website has English instructions.
How to Get There:
The Hanshin Tigers stadium is a one hour train ride from Kyoto. It takes about 30 minutes by train to Osaka Station where it's a short walk underground to Hanshin-Umeda Station.
From here take the Hanshin Express Line two stops (15 minutes) to reach Koshien Station, which is close to the stadium. On game days, follow the crowds of fans dressed in tiger costumes.
7) Kobe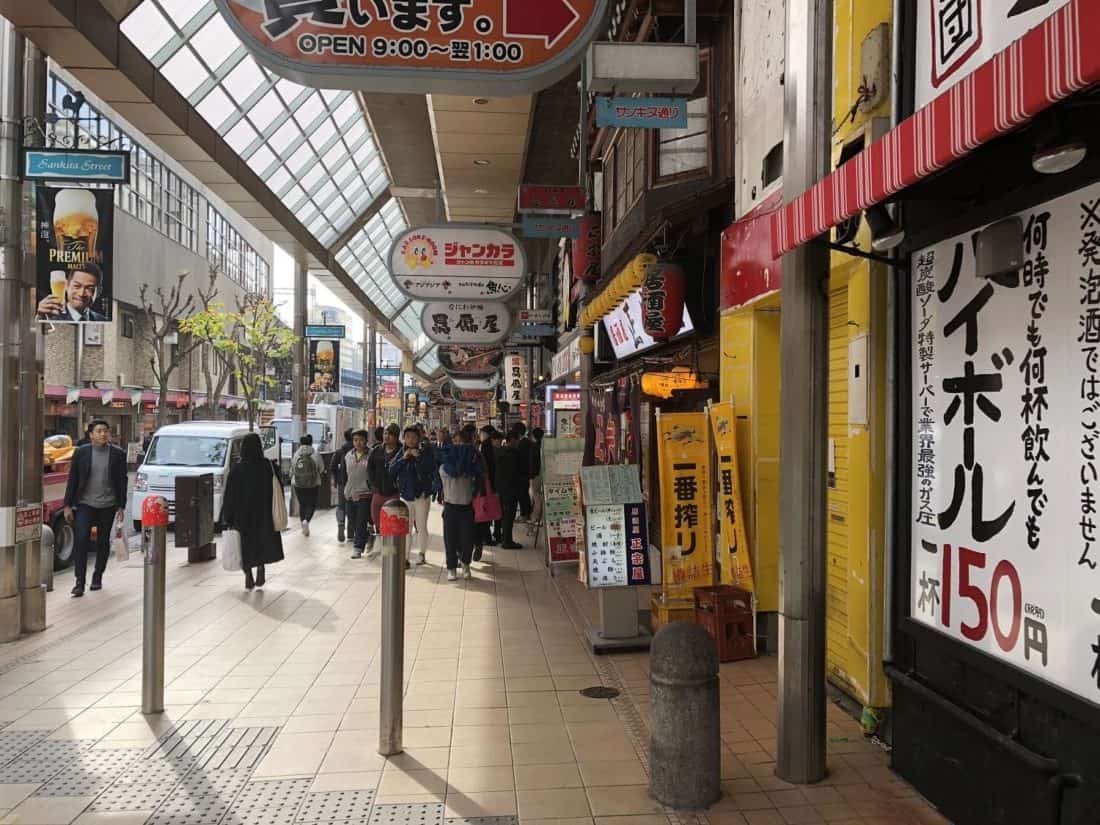 Contributed by Alex of Swedish Nomad
Kobe is one of the major port cities in Japan and is an easy day trip from Kyoto.
Kobe is located in the Hyogo prefecture and is particularly famous for its marbled Kobe beef.
However, there is more to Kobe than "just" a famous type of meat. It's actually a sprawling port city surrounded by beautiful mountains.
The city has a population of around 1.5 million people and there are plenty of things to do here.
Of course, one of the first things one should do in Kobe is to visit a well-known restaurant serving up Kobe beef.
Unfortunately, there are some restaurants that serve low-quality meat to foreigners who don't know what to look for. Therefore, I recommend you visit one of these three authentic and acclaimed restaurants:
Yes, you'll pay a premium price, but you'll get the full experience of Kobe beef and be sure to be served only the best.
In addition to eating Kobe beef, I recommend strolling along the harbour promenade, sake tasting at the Kiku-Masamune Sake Brewery Museum, riding the Mosaic Ferris wheel for an impressive view, eating ramen, and shopping.
Another popular activity is a sunset cruise for a view of Kobe from the water.
How to Get There:
The quickest way to get from Kyoto to Kobe is on the Shinkansen to Shin-Kobe Station, which takes under 30 minutes. If you have a Japan Rail Pass, take the Hikari rather than the Nozomi.
Sannomiya Station is more conveniently located in central Kobe. Direct JR special rapid trains on the JR Tokaido Line take about 50 minutes.
Suggested Tour: Sake Tasting at Local Breweries in Kobe (meeting in Kobe).
8) Ishiyama-dera Temple in Otsu City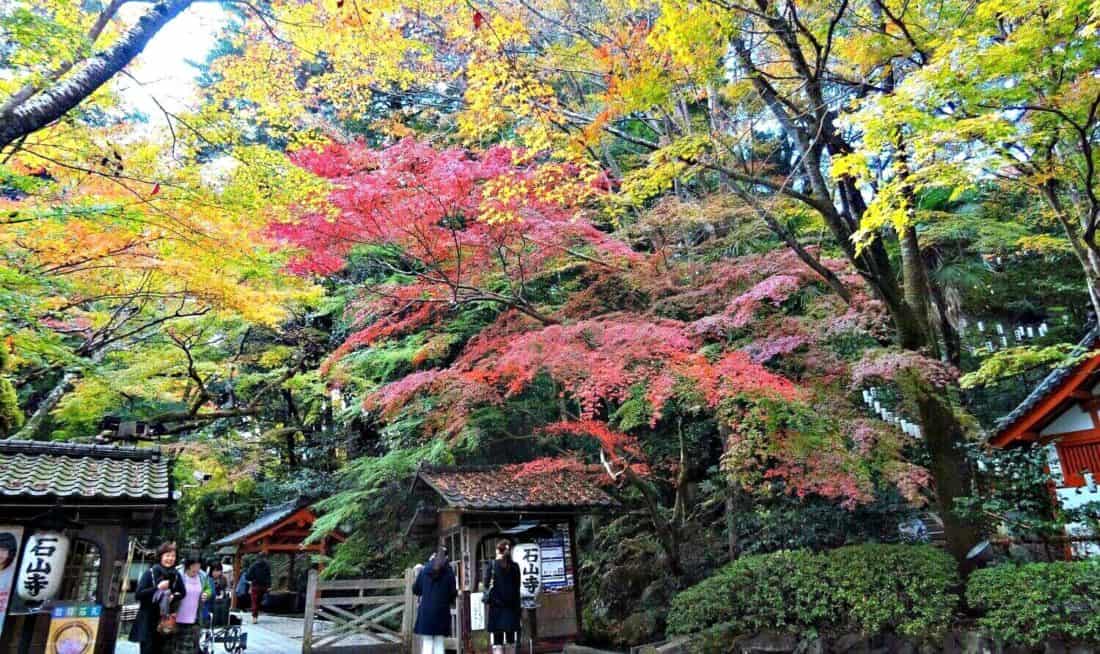 Contributed by Jan of Budget Travel Talk
A visit to Ishiyama-dera temple in Otsu City is one of the best day trips from Kyoto.
Otsu is the capital of Shiga Prefecture, a neighbour of Kyoto Prefecture and situated on the shores of Japan's largest lake, Lake Biwa. A boat trip on the lake is a good option if you have spare time.
Ishiyama-dera, which translates to stone-mountain-temple, unites all the Toji-Shingon Sects in Japan. Buddhists come here for blessings in the realm of safe childbirth, good health, and marriage.
The fact that Japanese author Murasaki Shikibu was inspired to write the classic Japanese novel The Tale of Genji here circa 1020 makes it doubly famous. She has a beautiful statue in the leafy temple garden and an on-site museum dedicated to her.
Also known as the Temple of Flowers, Ishiyama-dera's striking autumn foliage is illuminated on mid-November nights, while in late March to early April, the gardens are a mass of spring cherry blossoms.
Our daytime November visit was particularly beautiful and not crowded. Possibly most visitors prefer the night viewing.
As you climb the hill, look for the 11th century Hondo or main building, the oldest in Shiga Prefecture.
The Tohōtō building (1194) is Japan's oldest and designated as a National Treasure. It's the pagoda with a square base, round upper floor, and spire on top.
The hilly terrain, rocky outcrops, interesting gardens, and great views make this an exciting temple to visit.
If you want to get lunch nearby, Koshu Restaurant is directly outside Ishiyama-dera near the temple bus stop. It specialises in local Shiga dishes like Seta Shijimi (Seta clams).
Extremely popular with both Japanese and Western tourists, their set menus range from 1700 – 2800 yen ($13 – $21). There are also plenty of other places to eat close to the temple.
How to Get There:
The easiest way to get from Kyoto to Ishiyama-dera is by JR Tokaido Line (Local or Special Rapid) to JR Ishiyama Station, which takes 15 minutes.
The temple is approximately ten minutes by bus from Ishiyama Station, or you can take the Keihan Line to Ishiyama-dera Station and then a short but interesting walk along the Seta River.
Whichever option you choose the trip will take less than one hour.
9) Sakai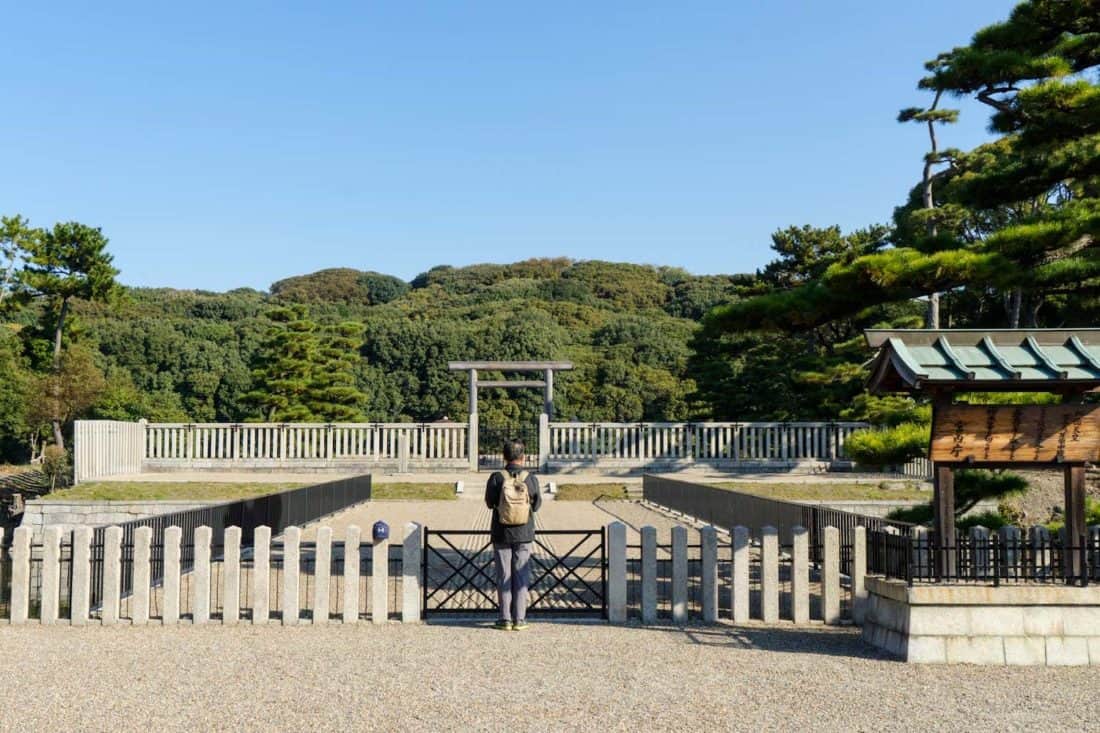 Contributed by Michael of Time Travel Turtle
Although it seems to merge with the metropolis of Osaka, Sakai is actually an independent city and was one of the most important in Japan's history.
Located on Osaka Bay, it was one of the main seaports for international trade for centuries.
The seaport didn't just bring trade, it also brought foreign dignitaries, and the rulers of ancient Japan wanted to make a good first impression.
This is why they built their enormous burial mounds here at Sakai. They still exist today and are one of the best things to see in Sakai.
The tombs are called kofun and they are huge keyhole-shaped islands surrounded by moats.
Most of them were built around 1500 years ago and they have been added to the UNESCO World Heritage List.
The best one to visit is the Tomb of Emperor Nintoku, which is 486 metres long and 307 metres wide. You can't go onto the island but you can walk around the moat and get a sense of its scale.
Near the kofun is the Sakai City Museum, which has lots of information about the tombs and really puts it all into perspective.
There's even a 360-degree VR experience that shows you the kofun from different angles.
Sakai is full of history and I would also recommend the Sakai Plaza of Rikyu and Akiko, where you can learn about the history of the Japanese tea ceremony and take part in one yourself (the creator of the tea ceremony was born in Sakai).
Sakai is also famous for its knife-making, based on the methods used to create samurai swords, and it's worth having a look at one of the blacksmiths and maybe even doing some shopping.
How to Get There:
The best way to go to Sakai from Kyoto is to catch the Tokaido-Sanyo train line to Osaka Station and change onto the local Osaka Loop Line to Mikunigaoka station. It will take about 75 minutes and cost 1100 yen ($8).
Alternatively, you can catch the Kuroshio Express train to Tennoji Station and change onto the Hanwa Line for Mikunigaoka. It's about 15 minutes quicker but costs 2620 yen ($20).
Suggested Tour: Sakai Highlights Bike Tour that includes bike hire and lunch.
10) Universal Studios Japan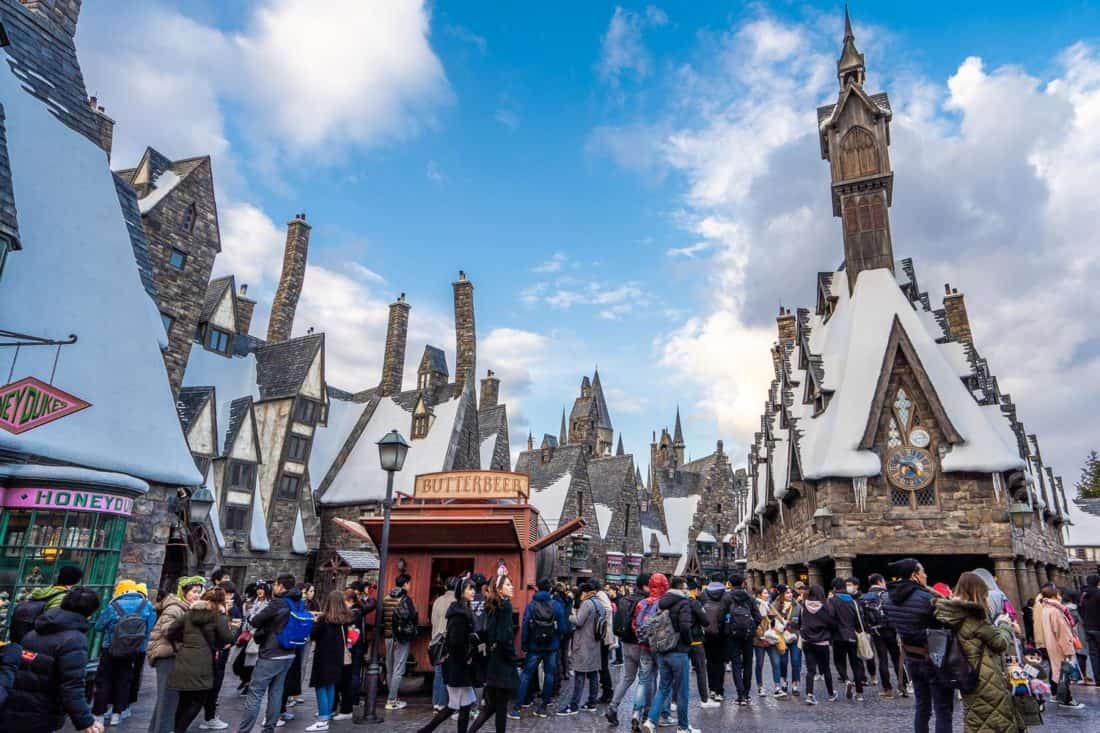 Theme park and Harry Potter fans won't want to miss Universal Studios Japan in Osaka.
The highlight of the park is the Wizarding World of Harry Potter.
It really is a magical world where you can stroll the snowy cobbled streets, shop for sweets in Honeydukes and jokes in Zonkos, and drink butterbeer.
If you buy a magical wand, you can also create your own spells and light up chimneys or make it snow.
Harry Potter and the Forbidden Journey is the most popular ride in the park. It takes place inside Hogwarts Castle and I enjoyed the walk through the castle seeing Dumbledore's office, the classrooms, common room, and talking paintings as much as the ride itself.
Elsewhere in the park are The Flying Dinosaur, the scariest rollercoaster we've ever been on; Hollywood Dream, a fun coaster where you choose your own soundtrack; and 3D rides like Despicable Me Minion Mayhem and The Amazing Adventures of Spider-Man.
Universal gets very busy, so it's best to buy your tickets in advance.
Perhaps consider an Express Pass which allows you to skip the queues on certain rides. You definitely want to arrive at least 30 minutes before the park opens (usually 8.30am or 9 am) and head straight to one of the popular rides.
See our guide to the best Universal Studios Japan rides for more details.
How to Get There:
The Universal City Station is a five-minute walk from the park. To get here from Kyoto you'll have to change at Osaka and Nishikujo stations and it should take under an hour.
There is a Keihan bus that goes directly from Kyoto Station to Universal Studios but it takes two hours on weekdays (leaving at 6.50am). It's only 70 minutes on weekends and holidays, but I don't recommend visiting the park then as it'll be extremely crowded.
Day Trips 1–2 Hours From Kyoto
11) Okayama and Kurashiki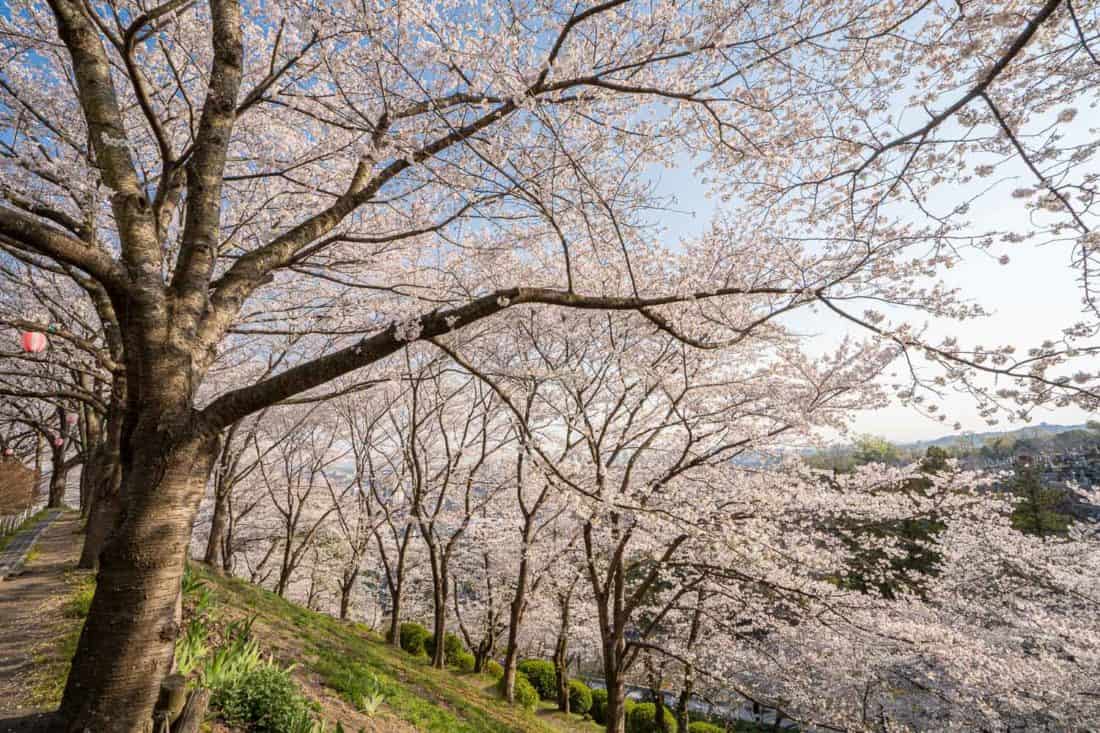 Okayama isn't well known to foreign visitors, but it's famous in Japan as the home of one of the top three gardens in the country. This day trip is especially worthwhile in the spring cherry blossom season.
Korakuen Garden is a beautiful landscape garden that was created by a feudal lord in 1687 for entertaining guests.
The spacious garden features a large pond, expansive lawns, hilltop lookout, cherry tree grove, and even tea and rice fields.
The Okayama Castle is also just across the river and the river itself is a good place for sakura viewing.
In cherry blossom season we actually preferred the much less visited Okayama City Handayama Botanical Gardens.
The hillside park features 1000 cherry trees, and even on a sunny weekend, there was plenty of space for picnics under the blossoms (you can't say the same of anywhere in Kyoto).
See my guide to what to do in Okayama, Japan for more tips.
You could combine a visit to Okayama with nearby Kurashiki, which is famous for the Bikan historical quarter.
This beautifully preserved area features a canal lined with willows and wooden shops that were once used to store rice.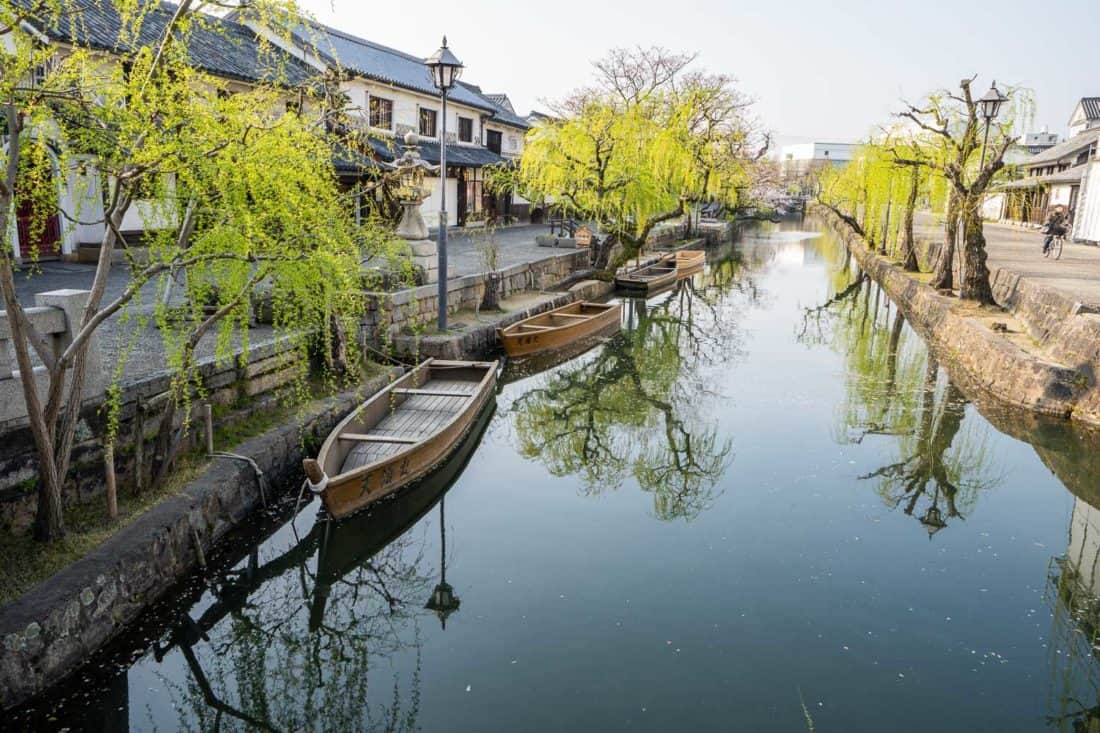 How to Get There:
The fastest train from Kyoto to Okayama is the Nozomi Shinkansen (one hour), but this can't be used with a Japan Rail Pass. Instead, travel on the Hikari Shinkansen which takes 90 minutes.
Okayama Korakuen Garden is a 25-minute walk from the station or you can take a bus or tram.
The Handayama Botanical Gardens are outside the centre of the city—there is a bus but we found it easier to get a taxi.
From Okayama it's a 15-minute train ride to Kurashiki.
Suggested Tour: Okayama Full-Day Private Trip
12) Hiroshima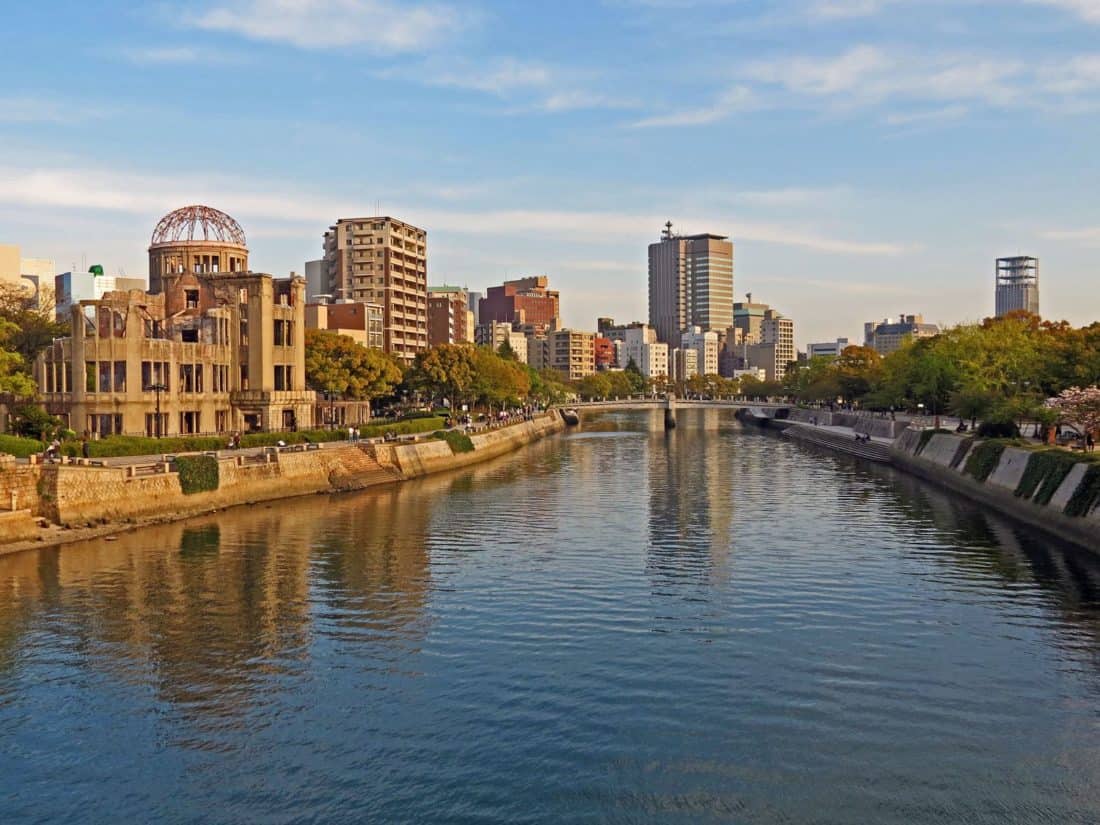 Contributed by Sylvia of Wapiti Travel
When planning our trip to Japan, we absolutely wanted to visit Hiroshima.
Most people immediately think about the atomic bombing of the city when thinking about Hiroshima. This dramatic event took place on 6 August 1945 and brought an end to the second world war.
We spent several hours in the peace park and museum. The park is situated at the hypocenter of the attack and houses many monuments in memory of the thousands of victims.
The most remarkable monument in the park is the A-bomb dome. It is the only building that miraculously survived the destructive power of the bomb although it was located only meters from the hypocenter.
The Hiroshima Peace Memorial Museum is a good place to learn more about the war that led to this event but even more about how the city's residents coped with the consequences.
We found our visit very educational and were touched by the many stories about how the survivors had to rebuild their lives and their town.
If you arrive in Hiroshima early enough, you could combine a visit with nearby Miyajima island where you can see the famous torii gate at Itsukushima Shrine.
How to Get There:
The quickest way to make a Kyoto to Hiroshima day trip is on the direct Shinkansen. The Nozomi takes 97 minutes but can't be used with a Japan Rail Pass.
Pass holders can take the direct Hikari Shinkansen (1 hour 45 minutes) but these are less frequent.
Another option is to take the Hikari or Kodama Shinkansen to Shin-Osaka station, where you transfer to the Sakura Shinkansen to Hiroshima, which has a total journey time of about two hours.
Suggested Tour: Hiroshima Peace Memorial Park and Miyajima Island from Kyoto.
Day Trips 2+ Hours From Kyoto
One place I haven't included here is Naoshima Island. We loved cycling around this small rural island visiting the many contemporary art museums and outdoor sculptures (including the famous Yellow Pumpkin).
Although it's possible to visit Naoshima on a day trip from Kyoto, it'll take at least 2.5 hours each way (on 2-3 trains and a ferry).
I think it's better to stay overnight or visit from Okayama (as we did) or even Hiroshima.
Kinosaki Onsen is another fantastic place to visit with seven public onsens to hop between, but it's best visited on an overnight trip to enjoy staying at a traditional ryokan. It's 2.5 hours on the direct train from Kyoto. See our Kinosaki Onsen travel guide for more details.
13) Miyajima Island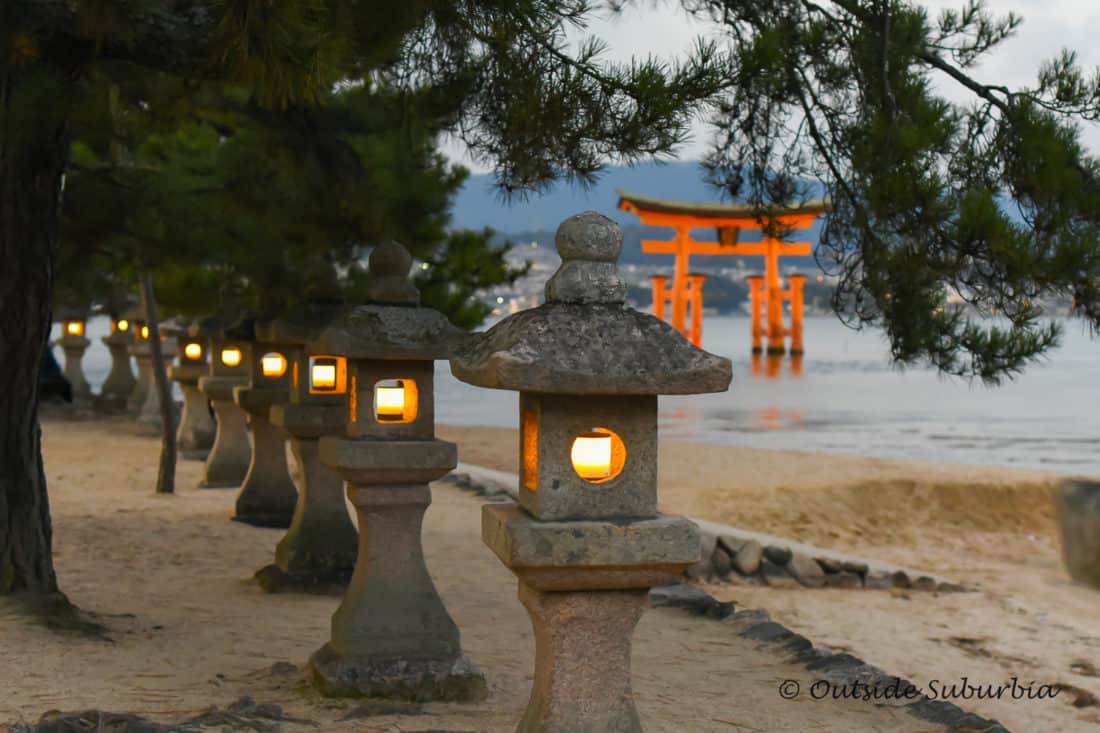 Contributed by Priya of Outside Suburbia
Miyajima is a small island in Hiroshima Bay known for its forests and ancient temples, especially the Shinto shrine Itsukushima.
It is hard to miss the giant orange Great Torii Gate that is partially submerged at high tide. It appears as if it's floating on water.
At low tide you can walk to the shrine and sometimes even see deer.
The torii gate marks the entrance to the Itsukushima Shrine, which was first built in the 12th century. The shrine complex is listed as a UNESCO World Heritage Site.
While you will find many torii gates in Japan that mark the transition from the human to the sacred, this is the only one that sits in the ocean.
When we made our way to the gate of Itsukushima Shrine, often referred to as Miyajima torii, it was almost dusk, and the sun was getting close to the horizon, and the lights on the stone lanterns came on.
It was such a beautiful sight!
Miyajima island has a shopping street called Omote Sando Shotengai where you can try local snacks like maple-leaf-shaped sweet cakes called Momiji Manju.
How to Get There:
To get from Kyoto to Miyajima Island to see Itsukushima Shrine, you need to travel via Hiroshima. See the Hiroshima section above for details of the Shinkansen trains from Kyoto to Hiroshima.
From Hiroshima, take a local train on the JR Sanyo line to JR Miyajima Guchi station (28 minutes) where you can catch the ferry service.
There are two ferry companies, JR and Matsudai (the JR ferry service is included if you have a Japan Rail Pass). The ferry runs every 15 mins and the trip takes around 10 mins.
If you leave Kyoto on the 7.20am Hikari Shinkasen you could connect to the 9.15am JR Sanyo line train and arrive at Miyajima Guchi station at 9.41am in time for the 9.55am ferry to the island.
The total journey time is about three hours, but you could combine it with a visit to Hiroshima.
You can easily spend two to three hours on the island before heading back to Kyoto via Hiroshima.
14) Magome to Tsumago Trail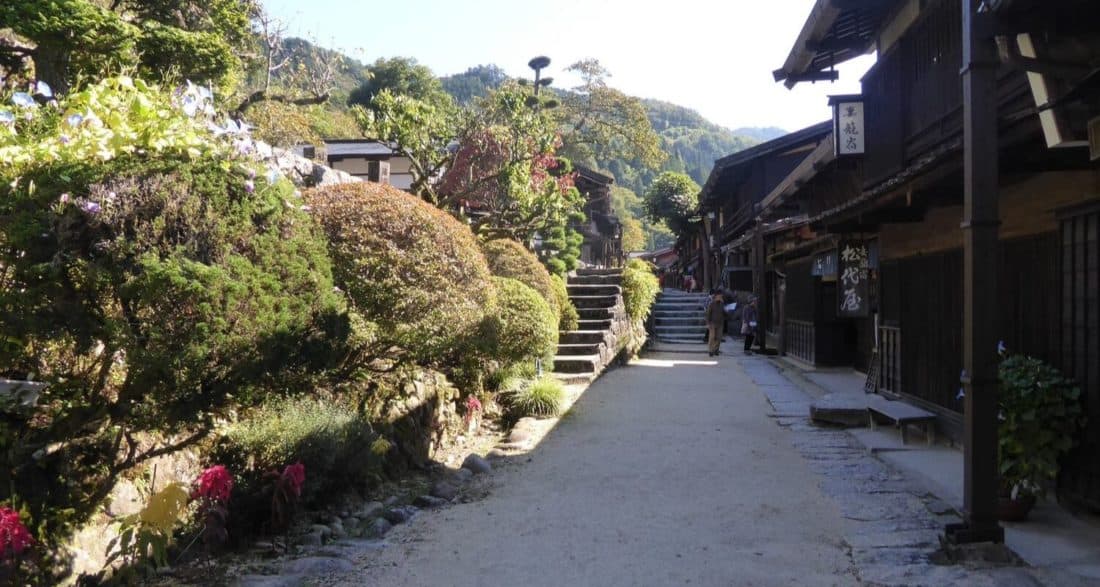 Erin's note: While you could hike this trail on a long day trip out of Kyoto, we enjoyed staying overnight in a traditional inn in the picturesque villages of Tsumago or Magome.
Contributed by Sarah of ASocialNomad
The historic Nakasendo Trail linked the Edo period towns of Kyoto and Tokyo. The post towns along the route were where the tax collectors and travellers of the day rested between their travels.
While it is possible to hike the entire Nakasendo Trail, it's a long walk. You can tackle one of the most scenic parts of the trail as a day trip from Kyoto. It's known as the Magome to Tsumago hike.
The hike is an easy 5 mile (8 kilometres) route and takes between 2.5 and 3.5 hours, depending on how quickly you walk.
The trail is easy to follow and the path is well-formed, winding through woodlands and also following the road for a short while.
You'll also be able to explore the ancient but restored post towns of Magome and Tsumago. Be sure to visit the famous tea house en route.
How to Get There:
First take the train from Kyoto to Nakatsugawa via Nagoya, which takes just under two hours. Then the bus from Nakatsugawa to Magome takes another 20 minutes.
Once you've finished the hike in Tsumago, the easiest way to return to Kyoto is to take the bus to Nagiso JR Station (10 minutes) and from there take the train via Nagoya (around two hours).
Suggested Tours: Private Full Day Magome & Tsumago Walking Tour (meeting in Nagoya).
Kyoto Day Trips Map
Is it Worth Taking a Day Trip from Kyoto?
Absolutely! Whilst there is plenty to explore in Kyoto itself, it is ideally situated for adventures big or small. Being armed with a Japan Rail Pass makes venturing off extremely convenient too.
More Kyoto Tips
If you enjoyed this post, pin for later!