This page contains affiliate links. Please read our disclosure for more info.
Osaka is up there with Kyoto and Tokyo as one of the most vegetarian-friendly cities in Japan. We found a wide range of vegan restaurants as well as Japanese restaurants specialising in typical dishes like ramen and okonomiyaki that offered meat-free versions.
As with our vegetarian Tokyo guide, we focused on finding the best vegetarian restaurants in Osaka that serve Japanese meals. The food is so good in Japan that we wanted to take advantage and be able to try local dishes rather than eat the Western-style salads and burgers that some veggie restaurants focus on.
As with anywhere in Japan, you will struggle as a vegetarian in Osaka if you just wander into a random restaurant. Planning is key and the Happy Cow app is your best friend for finding meat-free meals nearby. Below you'll find the vegetarian-friendly restaurants we enjoyed in Osaka so you can plan your itinerary around some of these.
As many of these restaurants are small, family-run places it's worth checking their Facebook pages before you visit to make sure they aren't closed (you may have to use Google Translate). It's always a good idea to have a backup plan. Google Maps is the easiest way to find your way around (see the map below). See our vegetarian Japan post for more tips.
The current exchange rate is approximately 1 USD = 106 yen and 1 GBP = 129 yen. Note that most restaurants don't accept credit cards. 7-Eleven is the best place to withdraw cash with international cards for free.
Contents
Where to Stay in Osaka for Vegetarians and Vegans
Staying within walking distance of at least a few vegetarian-friendly restaurants will make your stay in Osaka much easier. After a long day of sightseeing, you don't always want to trek across town to find a place to eat.
It's also worth considering staying in an apartment or a hostel with a kitchen so that you'll have the option to prepare some of your own meals. There are plenty of apartments to rent in Osaka and they are often cheaper than a hotel room.
We stayed in Shinsaibashi which was ideal with most of the restaurants below within walking distance. The area is quiet but there are lots of cool shops and cafes nearby, and it's just a 20-minute walk to the vibrant Dotonburi neighbourhood.
Search for hotels in Shinsaibashi here and for apartments on Vrbo.
Vegetarian Osaka Map
This map shows our recommended restaurants. The blue pins are for vegan restaurants and the red pins for vegetarian-friendly restaurants that also serve meat.
Osaka Vegan Restaurants
More and more vegan restaurants are opening in Osaka. All these restaurants and cafes are entirely vegan, so you can safely choose anything from the menu.
1) Green Earth (TOP PICK)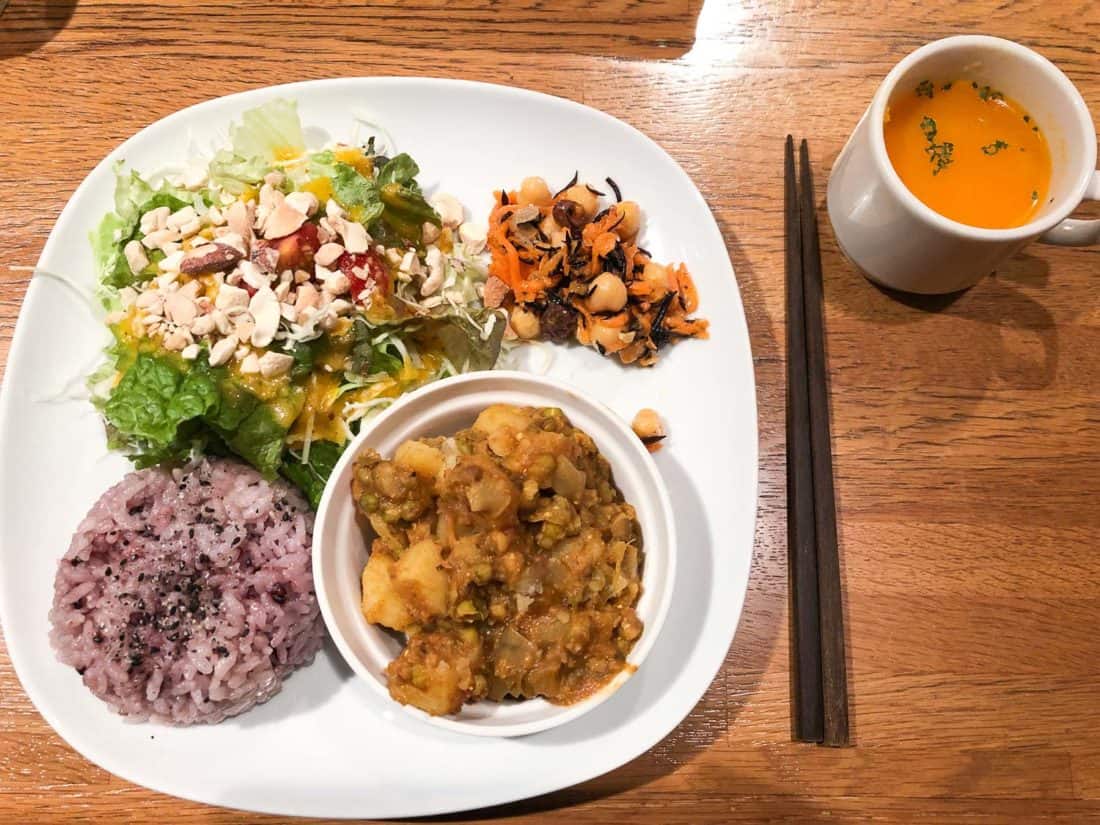 Green Earth is the oldest Osaka vegetarian restaurant and dates back to 1991. It does have an old-school feel with simple decor, but the food is tasty and excellent value. The staff speaks English and there's an English menu. It turned fully vegan in 2019.
The most popular dish is the lunch set meal which changes daily. It includes a choice of brown rice or a black and white rice mix with a main dish, salad, vegetable side dish, and soup. We had a tasty potato and bean curry on one visit and an okra and soy meat curry on another. You can add a kombucha to the set for just 150 yen.
The Japanese curry and rice is even cheaper and you can choose your ingredients—the sauce was so tasty I wanted to lick my plate. The vegan pumpkin cake is also delicious and won a TV award.
They also have sandwiches, salads, pizza, and pasta on the menu and sell a few vegan products like cookies, muffins, and lentils.
Cost for a Main Dish: 850 yen for lunch set and 700 yen for curry.
Details: 4-chōme−2−2 Kitakyūhōjimachi, Shinshaibashi. Lunch from 11.30 am – 4 pm Monday to Saturday. Dinner only on Fridays. Closed Sundays.
Website: Green Earth.
2) Rocca (TOP PICK)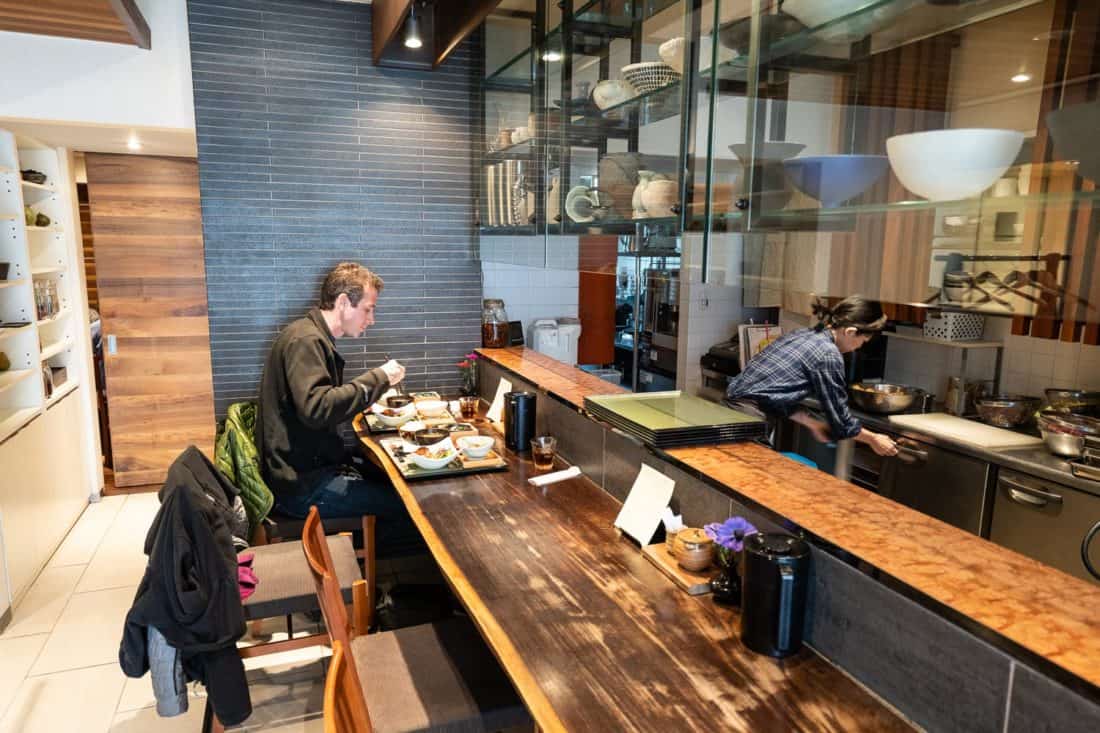 Rocca has the most traditional Japanese set meal we ate in Osaka. There's no English menu and the owners don't seem to speak much English, but you don't need to order. Just take a seat at the counter in this stylish, minimalist space and you'll be brought a lovely vegan meal.
Our set included tea, rice, miso soup, pickles, three vegetable sides, and a main dish of delicious fried balls (possibly potato) in a tasty sauce.
It's the kind of Japanese meal I love—artful, delicate flavours, and an array of dishes that I can't quite identify but which all taste delicious.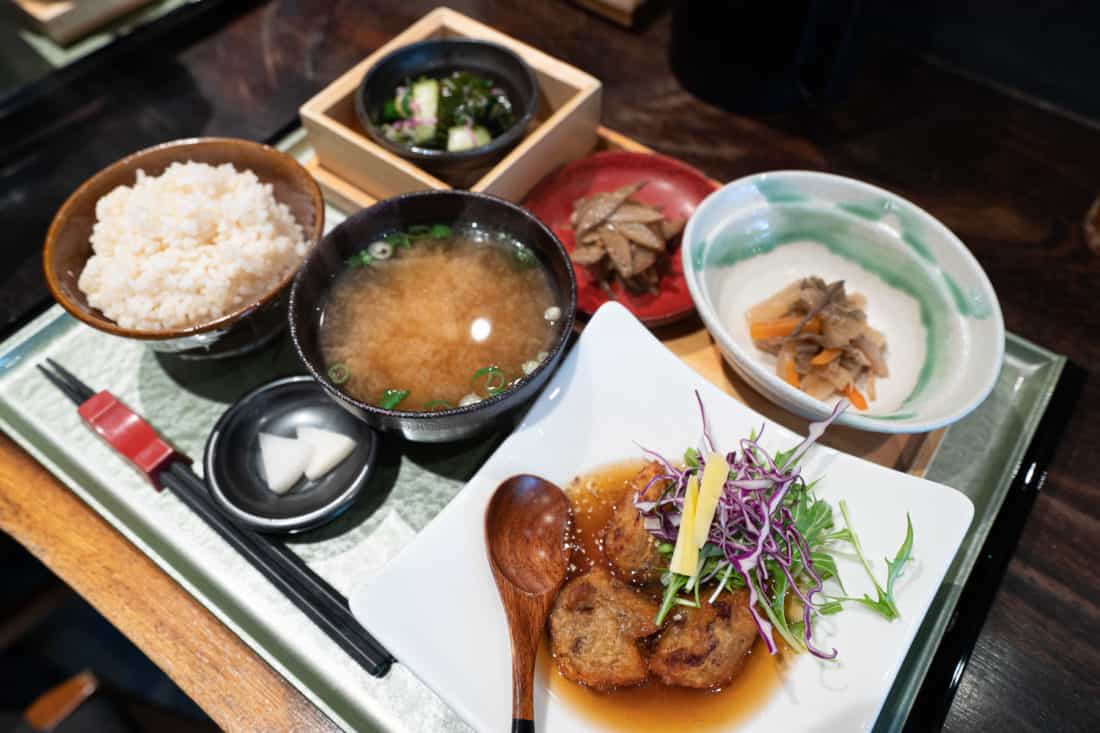 The location is a little out of the way, between the Namba and Umeda areas, but it's worth a detour for a traditional Japanese meal at a great price.
Cost for a Main Dish: 1000 yen for lunch set including tea.
Details: 1-chōme−1−6–6 Tosabori (Vegetarian Meals ROCCA on Google Maps). Open from 11.30 am – 2.30 pm and 6 pm – 9.45 pm. Closed Sunday. Only open for lunch on Saturday and closed the second Saturday of the month.
Website: Rocca Happy Cow listing.
3) Cafe Atl (TOP PICK)
This organic vegan cafe is in a bright, modern space on the first floor overlooking a shopping street in Shinsaibashi. The staff speaks English and there's a simple blackboard menu in English with details and photos of the three items—a Japanese set, fusion set, and curry set.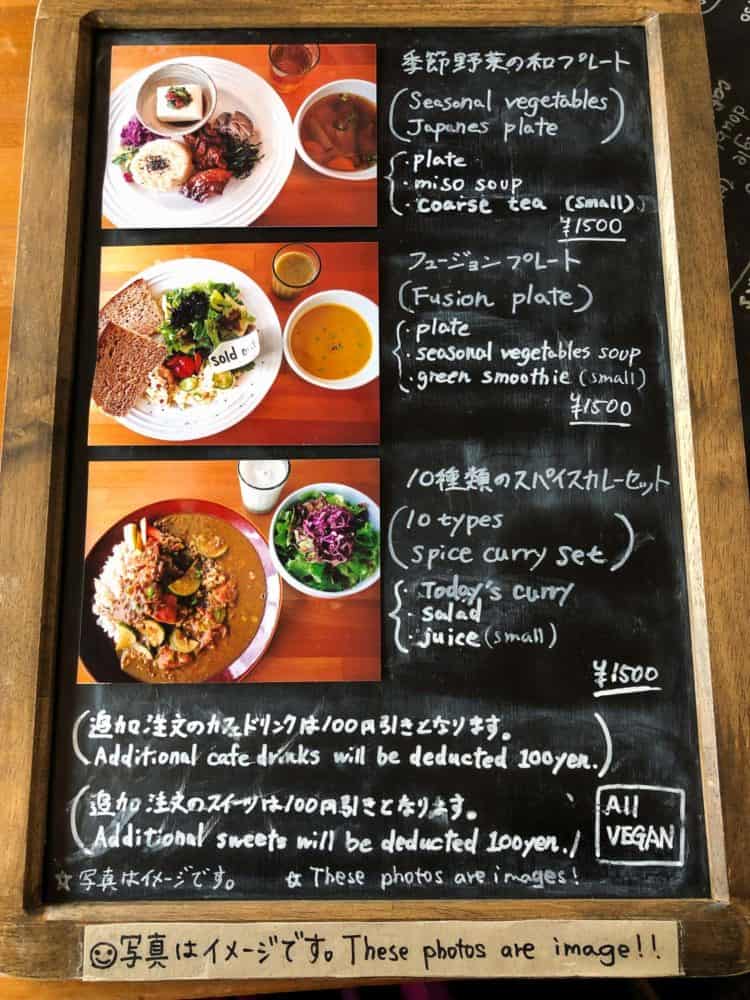 The curry set was good, but we preferred the Japanese set which included tea, miso soup, rice, tofu in a soy sauce dressing, fried tofu in a sweeter sauce, pickles, mushrooms, and greens. It was all delicious and felt light and healthy.
Cost for a Main Dish: 1500 yen for lunch set including drink.
Details: 2 Chome–1–24, Shinshaibashi. Open from 9 am to 5 pm. Closed Tuesday.
Website: Cafe Atl Facebook page.
4) Megumi
This cosy vegan restaurant in Osaka has just a few seats at the counter and is run by one lady who cooks and serves.
The extensive menu is in English and Japanese and includes lots of Japanese dishes including set meals, curry, tempura, ramen, gyoza, and okonomiyaki. Everything is gluten-free and vegan.
My favourite dish was the natto okonomiyaki, which is often described as a Japanese pancake but felt more like a potato fritter in this case—excellent comfort food.
We also got the brown rice miso ramen set which included pickled vegetables, gyoza, and a small salad. The gyoza were good but the ramen was a little plain for our tastes (we like our ramen spicy).
Although the meal was more expensive than most of our others, it's worth it to try a range of vegan Japanese dishes.
I recommend making a reservation (I messaged on Facebook) as it's a small place that often closes and is quite far from everything.
Cost for a Main Dish: Ramen and gyoza set 2900 yen. Natto okonomiyaki 1880 yen.
Details: 2−2−10 東寺町ビル. Open from 6 pm – 10 pm. Closed Sunday, Monday and Tuesday.
Website: Megumi Facebook page.
5) Genmai Cafe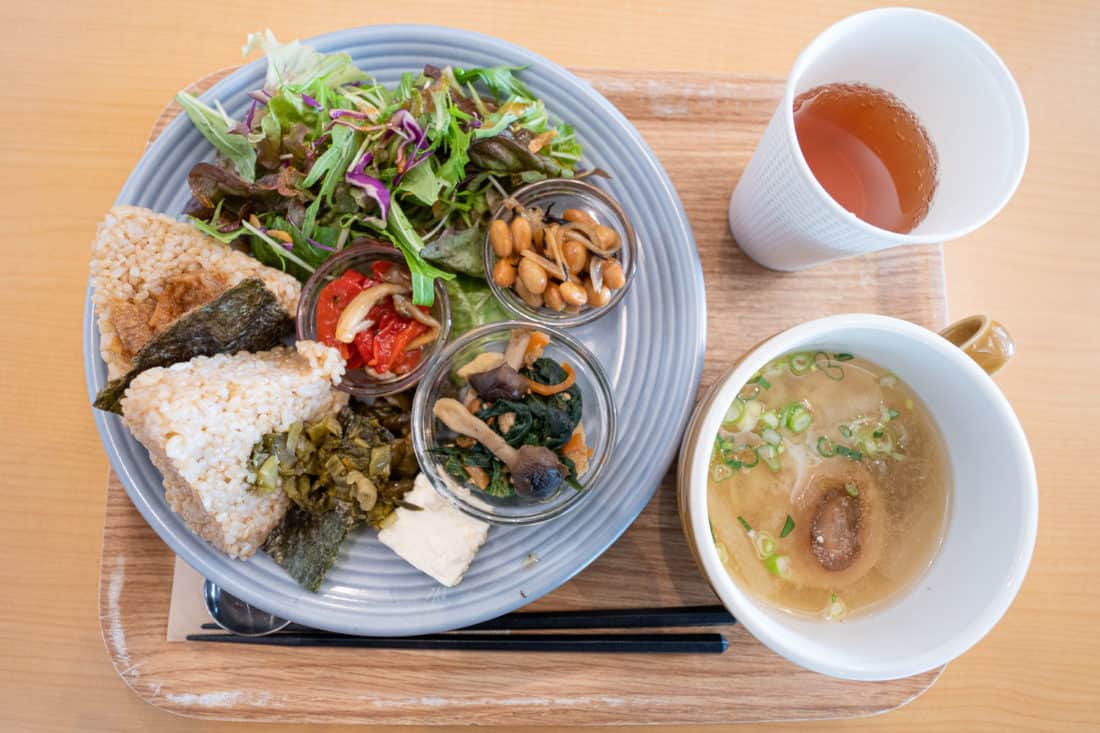 Genmai Cafe (listed as Haigenki Salon Shinsaibashi on Google Maps) has a modern canteen feel and is popular with Japanese office workers on their lunch break (arrive before noon or after 1 pm to avoid the rush).
You order at the counter (there is an English menu) and have the choice of five set meals. The focus is on brown rice balls, but there are also curry, salad, and daily main options.
We got the most expensive Shokujido-Zen set which included a choice of two brown rice balls (fillings include fried tofu, pickled plum, and pickled vegetables), tea, soup, salad, and five vegetable side dishes.
Although Happy Cow doesn't list the cafe as vegan, they say they are entirely vegan and the menu seemed to be. There are vegan desserts too.
While it isn't one of my top picks in Osaka, we did enjoy our meal and it's worth visiting if you are in the area.
Cost for a Main Dish: From 850 – 1200 yen for lunch set.
Details: 3-chōme−6−9 第3酵素ビル1F, Shinshaibashi. Open from 11 am – 6 pm. Closed Sundays (and for holidays in September—check their Facebook page).
Website: Genmai website and Facebook page.
6) Paprika Shokudou Vegan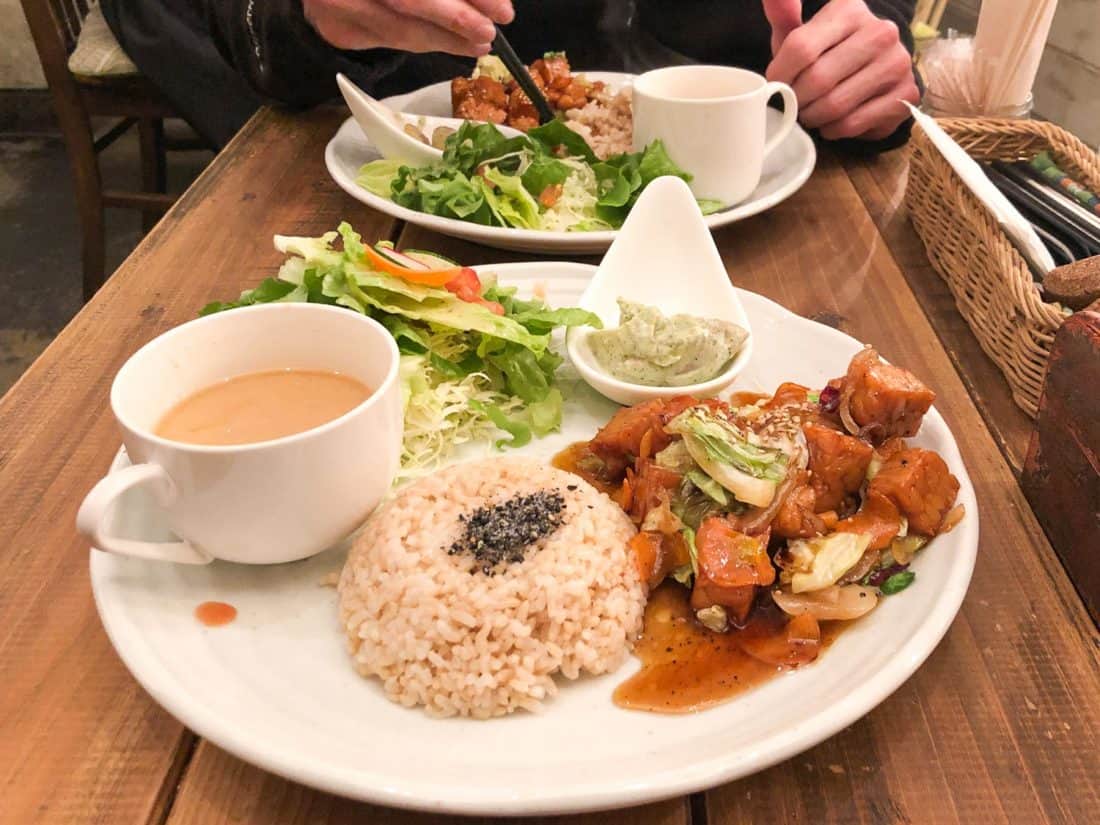 Paprika is a cosy, stylish vegan cafe. The staff didn't seem to speak much English but were friendly and brought us an English menu. Just ring the bell when you're ready to order.
The menu is more limited at lunch and focuses on sets—choose a main and it comes with rice, miso soup, salad, and a side (ours was potato salad).
We found the menu too fake meat focused for our tastes with options like soy meat karaage and vegan hamburger. We chose a vegetable and tempeh teriyaki stir fry, which didn't feel very Japanese but it was tasty.
At dinner they also have rice bowls, pizza, and pasta as well as the sets. There's a 300 yen seat charge in the evenings.
It's not my favourite place in Osaka, but it's a good option if you're in the area and like soy meat.
Cost for a Main Dish: From 1260 yen for lunch set. Credit cards accepted.
Details: 1–9–9 Shinmachi, Shinshaibashi. Open from 11.30 am – 2 pm and 5.30 pm – 10 pm. Closed Monday.
Website: Paprika website.
Vegetarian-Friendly Restaurants in Osaka
Some of the best vegetarian food in Osaka isn't found in vegetarian restaurants. The restaurants below serve meat and/or fish, but they also cater for vegetarians (and often vegans).
They are a good opportunity to try classic Japanese dishes like ramen, gyoza, and okonomiyaki in a typical setting. You may need to explain your dietary needs, but we didn't find it difficult in any of these places.
7) Self Tacoyaki Bar Iduco (NOW CLOSED)
Update: Iduco has sadly now closed.
Tacoyaki is an Osakan street food that's usually made with octopus, but Iduco offers the unique chance to try a vegetarian or vegan version of these balls.
It's a tiny, cute open-air stall where you stand at the bar and make your own tacoyaki. The owner is super friendly (and a big fan of Manchester bands like The Stone Roses!) and will walk you through it. We kept warm on a winter night with some hot umesyu (plum wine).
You pour the batter into small ball moulds on a hot plate and add your choice of fillings such as green onion, pickled ginger, mushroom, konnyaku, puffed rice, and dried seaweed. When they have finished cooking you can top the balls with tacoyaki sauce, mayonnaise (egg-free available), nori, hot sauce, or whatever you like.
The results are delicious—gooey on the inside, crispy on the outside. It's such a fun and affordable experience and a good place to meet locals.
Iduco is just down the road from the Harukas 300 observatory, which has fantastic views at night, and Spa World is also nearby.
8) Matsuri (TOP PICK)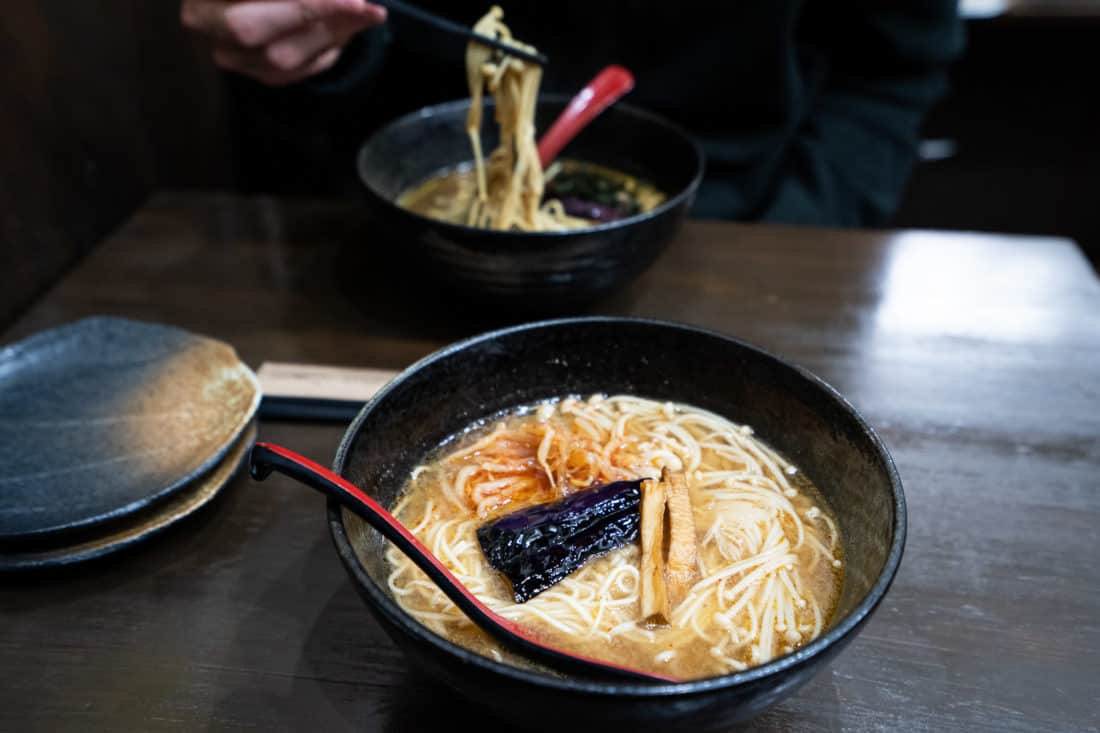 This halal restaurant has a whole separate vegetarian menu (not on their website) which includes Japanese classics like ramen, okonomiyaki, tacoyaki, yaki soba and more. We appreciated that they don't seem to use fake meat.
Vegan dishes are marked but ask if you want something adapted as they speak perfect English.
We both got ramen—the curry ramen and spicy Samurai ramen with beansprouts, eggplant and mushrooms were both tasty. We would have returned to try more things if it was nearer to our Airbnb.
The location is a bit out of the way, but we stopped here on our way back from Universal Studios Japan (which has limited vegetarian options) as it's close to Noda station where we had to change trains.
Cost for a Main Dish: Ramen is 750 yen.
Details: 3-chōme–27–17 Yoshino. Open from 11 am – 2 pm and 5 pm – 11 pm. Closed Sunday.
Website: Matsuri website.
9) Asai Togei (TOP PICK)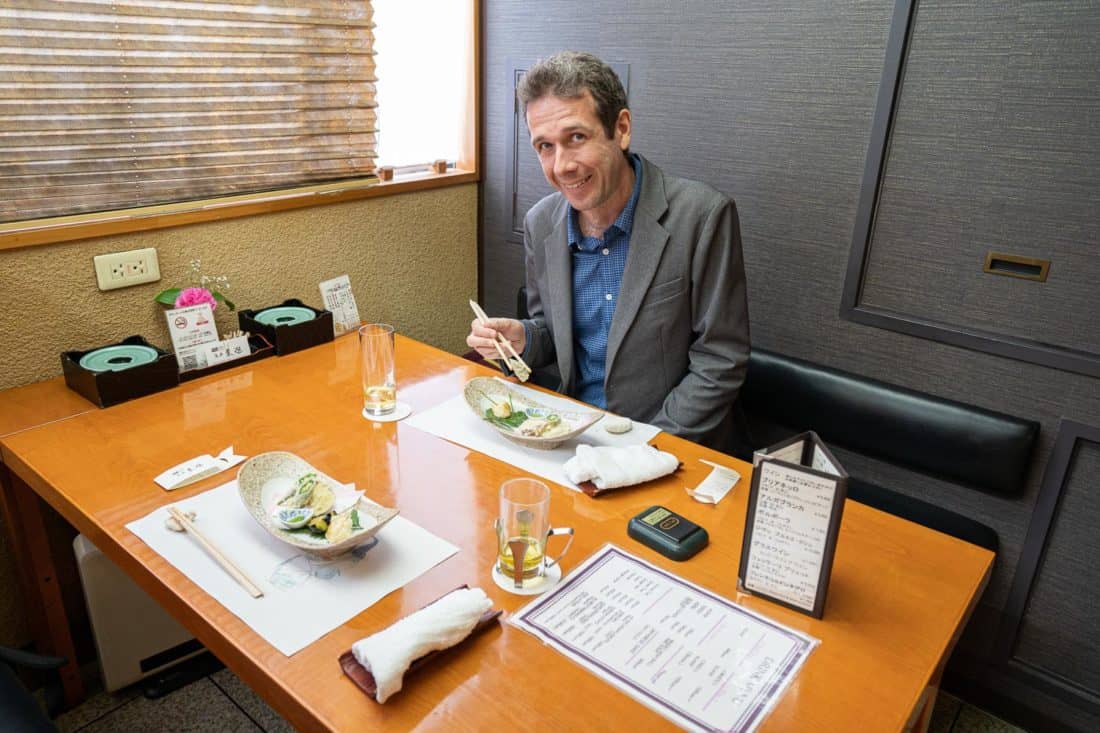 Kaiseki is a traditional multi-course fine dining experience in Japan. It's difficult to find meat and fish free versions of kaiseki, but luckily Asai Togei does a vegan set.
For the vegan kaiseki you must book 24 hours in advance—I emailed them at [email protected] but you could call as they speak good English (our server had lived in San Francisco).
We went for the most expensive option at lunch which included eight dishes—it was a lot of food so you could choose one of the cheaper options. You have no choice over what you eat—you'll be brought a series of beautifully presented small plates using seasonal ingredients.
Our meal included pumpkin soup, a pretty plate of konnyaku, yuba, and mountain yam, lily root dumplings, tempura, noodle soup, and green tea mochi to finish.
The food was excellent and worth the splurge. If you are also visiting Tokyo and only have the budget for one fine dining meal, we preferred Bon which is entirely vegan and has a more traditional setting. Asai Togei has a more casual feel where you sit in private booths rather than on tatami mats (an advantage for some).
Cost for a Main Dish: Vegan set lunch is 3500 yen, 5000 yen or 7000 yen depending on the number of dishes. Dinner is likely more expensive.
Details: 2-chōme–2–30 Shinsaibashisuji. Open from 11.30 am – 2.30 pm and 5 pm – 10 pm. Closed Sunday.
Website: Asai Togei website (use Google Translate).
10) Okonomiyaki Chitose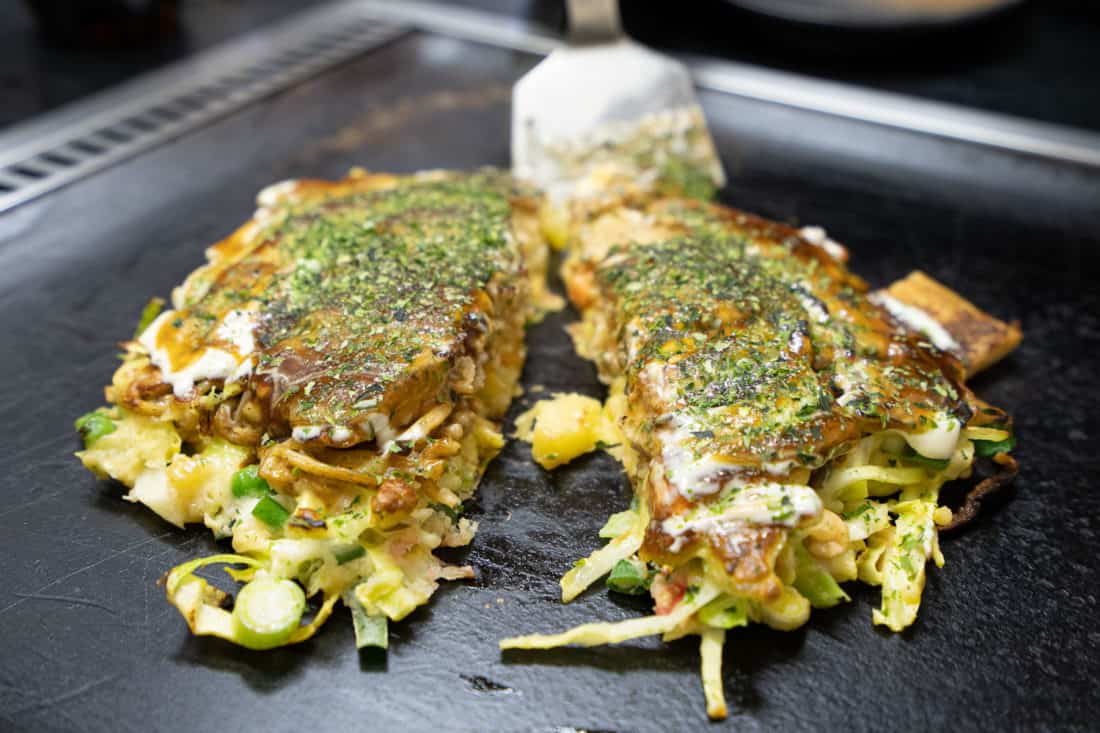 Okonomiyaki is a typical Osakan dish that's often described as a savoury Japanese pancake—an egg and flour batter is cooked with cabbage and various fillings of your choice. Although it can easily be made vegetarian (but not vegan), it can be difficult to explain this in most okonomiyaki places.
Okonomiyaki Chitose is happy to cater to vegetarians, though. This tiny backstreet place in the Tennoji area has just four seats at the counter and two tables. It's popular with tourists and there's often a queue outside, so arrive early (we got the last table just after midday).
There are no vegetarian options on the menu, but the friendly lady who runs the restaurant speaks English and was happy to make us one. Her father operates the grill and you can watch him work. Our veggie okonomiyaki came with cabbage, tofu, peas, sweetcorn, carrots, and pineapple.
They might not be the traditional fillings but it was good. We also got a modan yaki which includes noodles—it was our favourite but very filling so one of each worked well. Go hungry as you have to order one dish per person.
Cost for a Main Dish: 750 yen for vegetarian okonomiyaki and 850 yen for modan yaki.
Details: 1-chōme–11–10 Taishi, Nishinari-ku. Open from 12 pm – 3.30 pm and 5 pm – 8 pm. Closed Wednesday.
Website: Chitose website.
11) Gyozaoh Dotonbori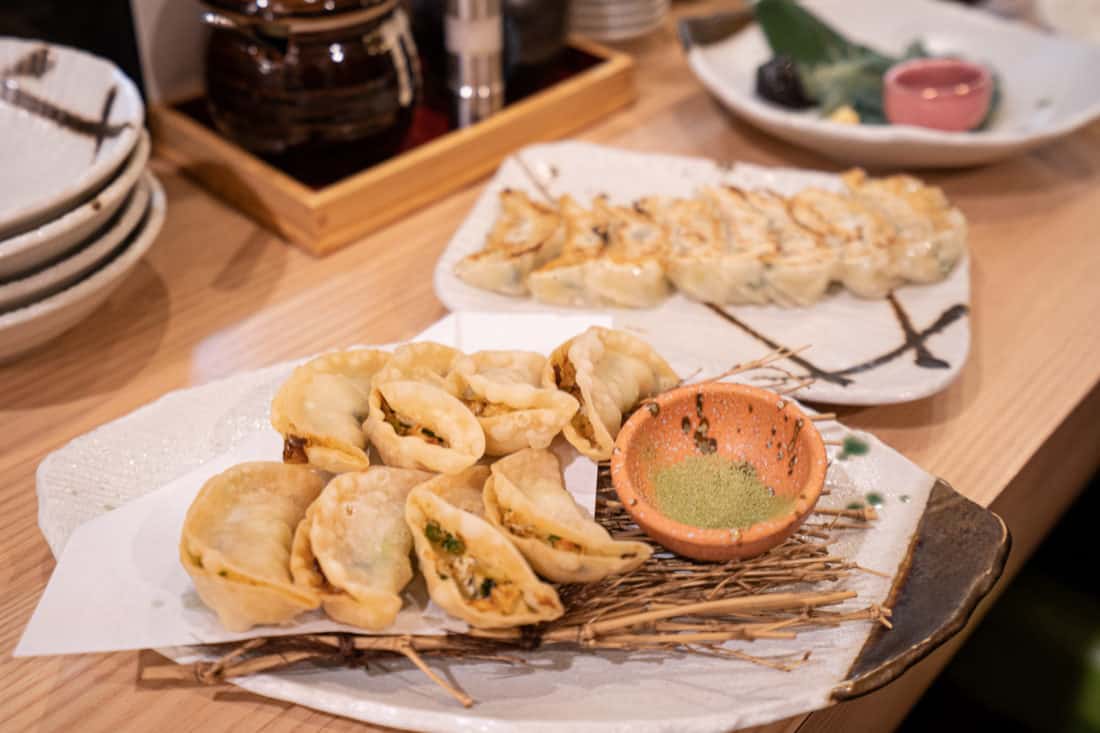 Dotonburi is known as the area to eat at night in Osaka, but vegetarian options are limited. I definitely recommend coming in the evenings to experience the neon chaos, and Gyozaoh Dotonbori is the ideal place for a quick and affordable meal.
This traditional gyoza bar has counter seating, where you can see the chef at work, and a few tables. There's an English menu and the friendly staff speaks a little English. They have vegetable gyoza either pan-fried or deep-fried (both are worth trying) and a few vegetable sides—we got the cucumber and the eggplant.
It's worth telling them you are vegetarian as they advised us that the eggplant dipping sauce contains dashi (fish broth) and brought us soy sauce instead. I think the gyoza are vegan, but it's worth checking.
Cost for a Main Dish: 480 yen for vegetable gyoza and 290 yen for sides.
Details: 2-chōme–4–14 Dōtonbori. Open from 5 pm – 1 am.
Website: Gyozaoh Dotonbori Facebook page.
12) Chabuton Ramen
Chabuton is a ramen chain that offers vegan ramen and gyoza. We went here several times in Osaka and Kyoto and enjoyed having the typical ramen experience where you order at a vending machine.
In Osaka we went to the Chabuton Yodobashi-Umeda branch which is on the 8th floor of the Yodobashi electronics store. When you arrive, order and pay at the vending machine. The machine is in Japanese but if you look at the English menu on the wall you can compare the items you need—the vegan ramen and gyoza are marked as green on the menu.
Once you have the ticket give it to the staff and say you ordered the vegetable gyoza as the meat gyoza shares the same button.
The ramen comes quickly and is packed with vegetables. You can jazz it up with the condiments like chile on the table. The gyoza are good too.
Cost for a Main Dish: 750 yen for ramen and 320 yen for gyoza.
Details: 8F of Yodobashi Umeda near Umeda and Osaka stations. Open from 11 am – 10 pm.
Website: Chabuton Happy Cow listing.
13) CoCo Ichibanya Curry House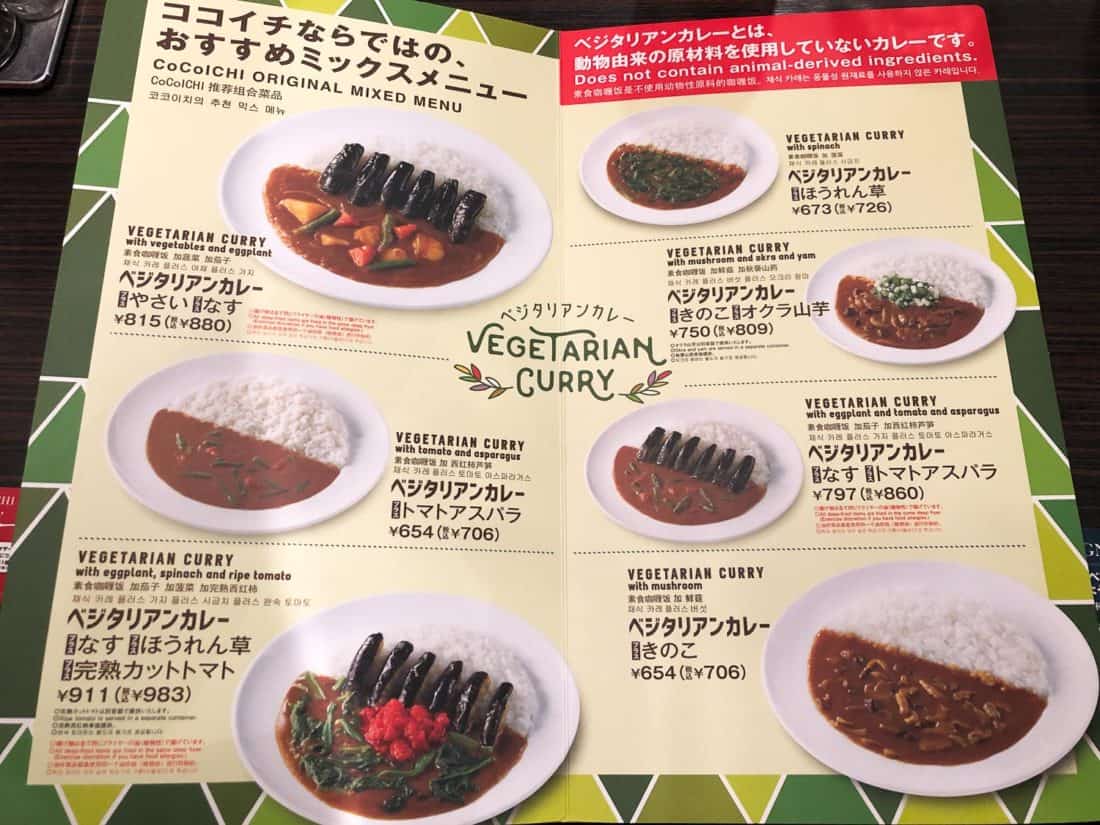 If you are ever stuck for a vegetarian meal in Japan, look for the nearest CoCo Ichibanya. Most branches of this Japanese curry chain have a separate vegetarian menu—look for signs on the window or for the green menu at the tables. The regular English menu is helpful to explain the ordering process.
You can choose your fillings (we usually get vegetables and eggplant), spice level (3 is pretty spicy), and size of rice portion. It's tasty, filling, inexpensive, and quick.
We went to the branch nearest to our Airbnb, "CoCo Ichibanya Nishi-ku Awaza 1-chome" but "CoCo Ichibanya Kitahorie 1 Chome" between Shinsaibashi and Dotonburi also has a vegetarian menu. There are many other branches. I check the Google Maps reviews to see if anyone mentions the vegetarian menu.
Cost for a Main Dish: Vegetarian curries from 654 yen to 911 yen.
Details: Various branches. Open from 11 am – 11 pm (some branches 1 am).
Website: CoCo Ichibanya website.
14) Mochisho Shizuku Shinmachi
We're not usually fans of Japanese desserts (rice and beans don't appeal in sweets), but we loved this traditional Japanese wagashi (sweet) shop that our Airbnb host recommended.
It's minimalist and stylish. We got sweets to take away, but I recommend eating in with some green tea for a unique Japanese experience (apparently there is an English menu).
You can choose from the rows of colourful daifuku on the counter. Names are written in Japanese so we just pointed.
Our host recommended the Framboise Daifuku (the bright pink one) and it was definitely our favourite—a soft glutinous rice ball with a whole raspberry inside. The chocolate one was also good, but the green tea was less to our taste.
Daifuku are traditionally vegan so I assume they are here, but I don't know for sure.
Cost: 400 yen for Framboise Daifuku.
Details: 1-chōme−17−17 Shinmachi. The tea house is open from 1 pm – 5.30 pm, but the shop may open from 11 am – 7 pm.
Website: Shizuku website.
Other Japan Vegetarian Guides
I hope you enjoy eating your way around Osaka as a vegetarian as much as we did! Leave a comment below if you have any more recommendations.
If you enjoyed this post, pin for later!