This page contains affiliate links. Please read our disclosure for more info.
Singapore is one of our favourite places in Asia and we've visited many times.
This island nation, that's both a city and a country, is an easy introduction to the continent as it's clean, efficient, and English is widely spoken.
There's plenty to do, a fascinating culture, and lots of delicious food.
This ultimate Singapore itinerary is ideal for first-time visitors to the city and will take you to unique neighbourhoods that highlight Singapore's multicultural heritage.
You'll see a wide variety of architecture from colourful traditional shophouses to futuristic skyscrapers, visit some fun attractions, and have time for many tasty meals along the way.
Three days in Singapore is a good amount of time to get an overview of the city and see the highlights, but you could easily spend a week here.
If you only have one day in Singapore, then pick and choose your favourite activities from the itinerary below—I recommend focusing on the Marina Bay area as it's so unique.
If you have four days or more, I have included additional suggested activities at the end of the post.
A handy map with everything mentioned is also included.
Prices quoted below are in Singapore dollars. The current exchange rate is S$1 = 0.75 USD, 0.59 GBP and 1.14 AUD.
Contents
Where to Stay in Singapore
The Best Neighbourhoods to Stay in Singapore
Choosing a central area to stay will help you make the most of your time in the city. I recommend finding a hotel in one of these areas which are all convenient for this Singapore itinerary:
Marina Bay – Fantastic views, beautiful riverfront area, close to top Singapore attractions like Gardens by the Bay, expensive.
Bugis – Convenient location between Marina Bay and the Kampong Glam and Little India neighbourhoods. We stayed here on our most recent visit and could walk to most places on this itinerary. Budget and luxury accommodation available.
Chinatown – Good value hotels not too far from Marina Bay.
Orchard Road – A good option if you want to be close to shopping malls and embassies (we've gotten visas for Thailand and Indonesia here). The Singapore Botanic Gardens are close by, but it's less convenient for the other areas in this itinerary.
Recommended Hotels in Singapore
Andaz Singapore, Bugis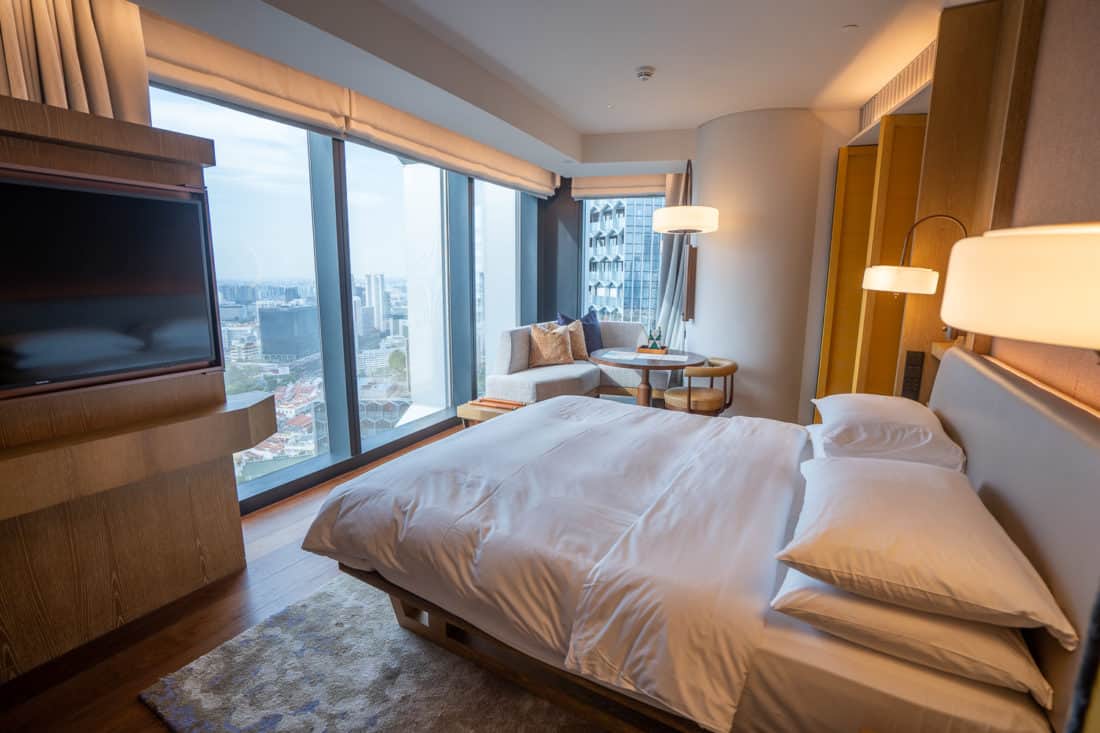 Andaz Singapore is one of our favourite places to stay in Singapore. This hip hotel is in the perfect location just a few minutes' walk from trendy Haji Lane and the traditional architecture of Kampong Glam.
Little India and the Colonial District are also walkable and Marina Bay is a 30-minute walk or two stops on the MRT (the hotel is connected to Bugis station).
We loved the spacious, stylish rooms with fantastic city views from the floor to ceiling windows, free minibar, and all the mod cons like a Nespresso machine.
The bed was so comfortable it was hard to leave.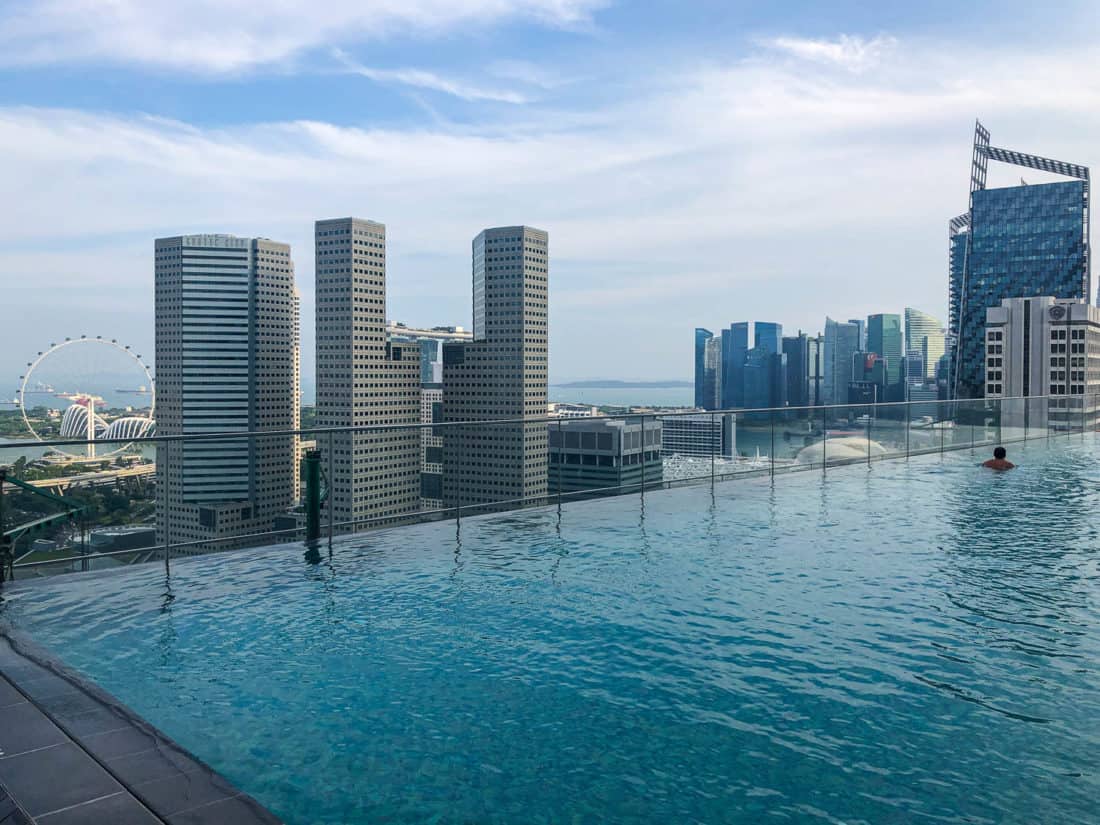 The views from the infinity pool and rooftop bar (which features cool teepees) are also stunning.
You can help yourself to complimentary hot and cold non-alcoholic drinks and snacks in the Sunroom all day.
Our room rate didn't include breakfast, but we preferred ordering room service anyway or there are many cafes nearby.
Check the latest prices at Andaz Singapore here.
Treetops Executive Residences, Orchard Road
We stayed at Treetops for a family reunion and loved it.
The one and two bedroom apartments have a four-night minimum stay, so it's good for longer trips, especially for families.
The apartments are spacious and comfortable and have everything you need to self-cater, but a buffet breakfast is included in the rate. There's a lovely large pool surrounded by tropical vegetation.
Marina Bay Sands
Marina Bay Sands is the ultimate splurge—Singapore's most famous hotel features the world's largest rooftop infinity pool.
Expect crowds and high prices, but the views might just be worth it. We haven't stayed here yet, but we are tempted.
Budget Accommodation
There are plenty of hostels and capsule hotels in the Bugis and Kampong Glam area such as Beary Best and ZEN Hostel Bugis.
Chinatown is a good area to look for budget hotels. The Bohemian Chic is a well-reviewed, stylish hostel and Hotel Mono has attractive ensuite double rooms.
Search for more hotels in Singapore here.
Singapore Transport
Singapore is easy to get around. It's a walkable city and we always find gems when we're on foot, but the heat makes walking exhausting (and sweaty) in the middle of the day.
Save your energy by hopping on the clean, efficient, and inexpensive MRT metro. You can buy tickets as you go, most trips are only S$2.
You could also purchase a SimplyGo EZ-Link card for S$10 which includes S$5 credit. Downloading the EZ-Link app will make topping up your card even easier.
You could also consider a Singapore Tourist Pass which costs S$34 for unlimited rides for three days (with a $10 refundable deposit).
Another easy option for getting around is the Grab app (there's no Uber here) which makes it easy to call a taxi. Short rides cost around S$10.
We use Google Maps for walking or public transport directions.
Singapore's Changi Airport is one of the best in the world so allow time before your flight to explore the various gardens and attractions.
You can get the MRT to/from the airport but we find it easier to get a taxi which costs about S$15–20 to Bugis.
The Best Time to Visit Singapore
You can visit Singapore at any time of year.
We have travelled to Singapore in many different months and the weather is always the same—hot, very humid, lots of clouds, and often short rain showers (which are usually quite refreshing).
It has the least amount of seasonal variation of anywhere we've ever visited, so I wouldn't let the weather influence your decision on when to visit.
Check for local holidays and festivals when you are planning your trip to Singapore.
There is often a vibrant event to enjoy like Chinese New Year in January or February or Diwali in Little India in October or November.
Map for Singapore Itinerary 3 Days
This Singapore map has all the recommended sights for this itinerary. Activities for each day are pinned with a different colour—Day 1 in blue, Day 2 in red, and the various options for Day 3 in green.
Singapore Itinerary Day 1: Colonial District and Gardens by the Bay
National Museum of Singapore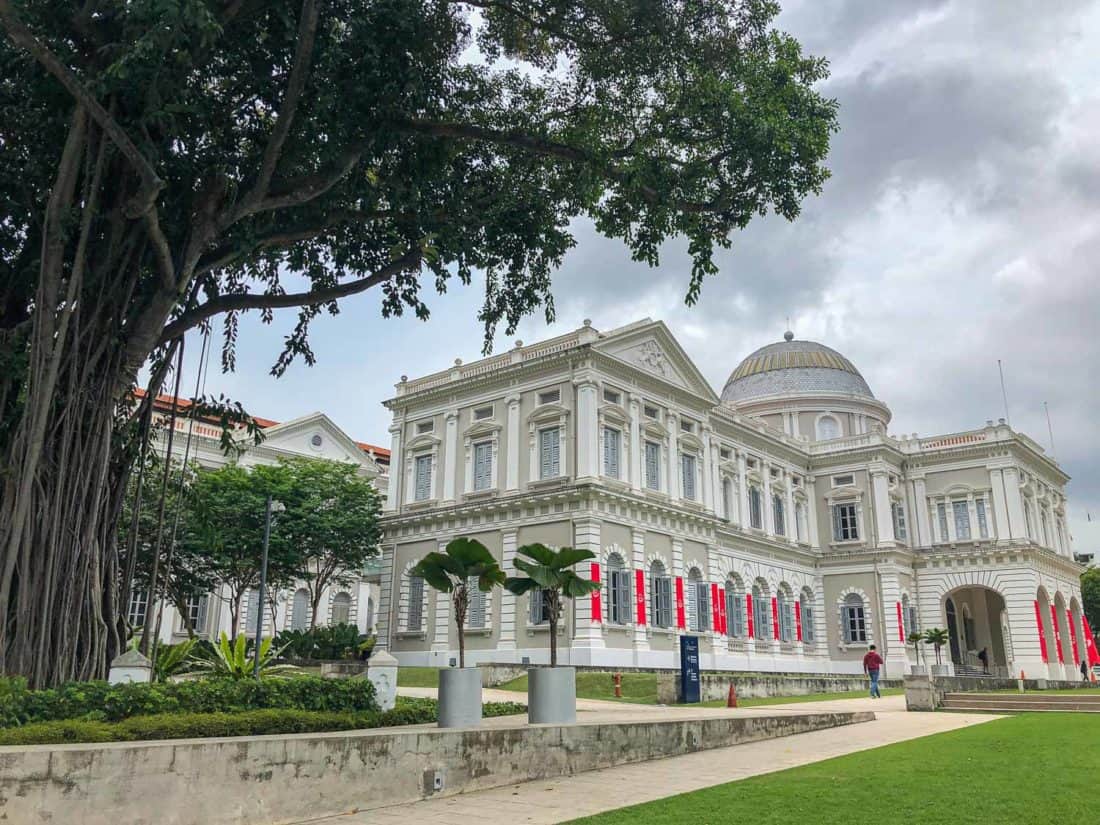 The National Museum of Singapore is a great introduction to the history of the city and will give you an understanding of its multicultural roots.
It's housed in an elegant Neo-Palladian building dating back to 1887 with a towering Indian rubber tree outside.
I recommend starting on the second floor at the Glass Rotunda. The Story of the Forest exhibit was created by the Japanese digital arts collective teamLab and brings drawings of the Malay Peninsulas's jungle and wildlife to life.
It's a unique exhibition and will lead you down to the first floor where you can work your way through the history of Singapore.
We spent about two hours here but still didn't see all the exhibitions.
Transport: We walked from the Andaz Singapore Hotel in Bugis (20 minutes). The nearest MRT station is Bencoolen Station on the Downtown line.

Suggested Tours: If you'd prefer to learn about the city's history from a guide rather than a museum, you could take this guided Colonial Singapore Walking Tour that includes lunch.
Explore the Colonial District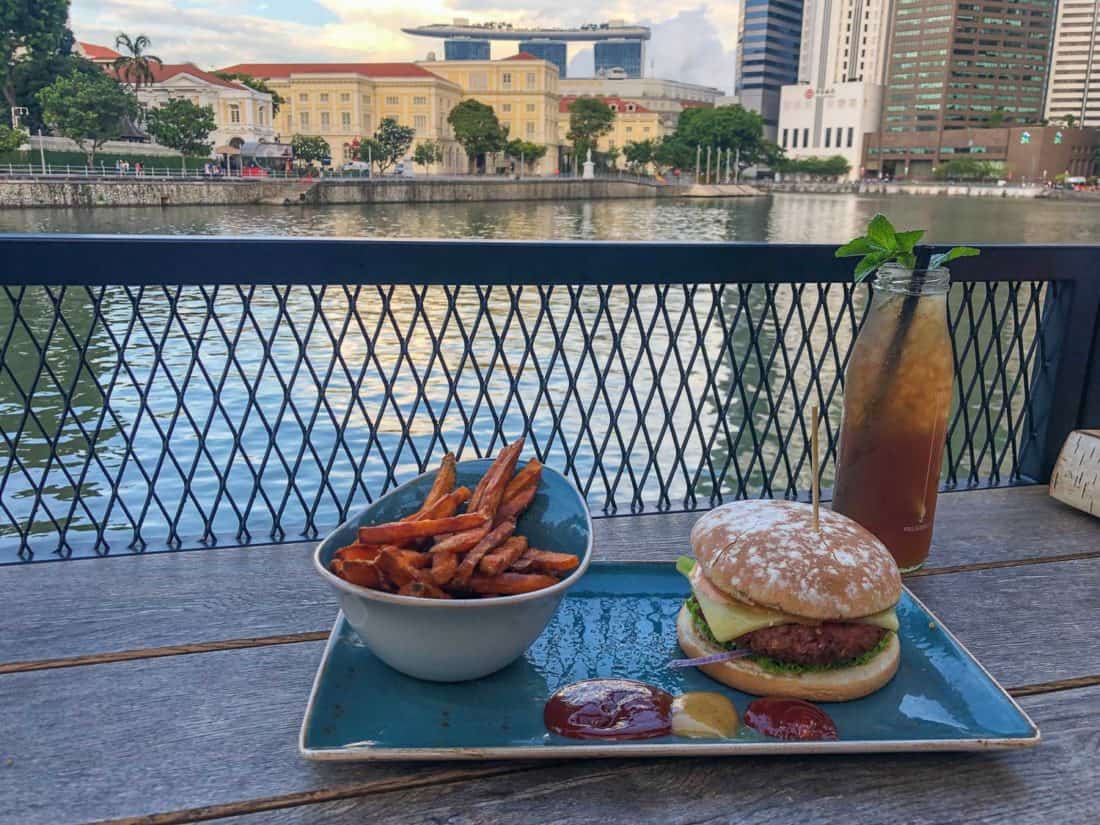 The National Museum is located in Singapore's Colonial District so after your visit you could take a stroll through the area and visit 150-year-old St Andrew's Cathedral and Fort Canning Park.
One of the top Singapore tourist spots is also nearby. The Long Bar in the historic Raffles Hotel is where the Singapore Sling cocktail was invented and peanut shells are brushed onto the floor. We've still not been as it's expensive and touristy, but if it's on your bucket list, go for it!
One of our favourite places to stop for a cake break is Fabulous Baker Boy on the edge of Fort Canning Park.
For lunch you could head to the Raffles City shopping mall food court (these are always a good, inexpensive option in Singapore) or walk down to Boat Quay (about 20 minutes) for a meal overlooking the river.
We like the burgers at Hans im Glück (with a wide variety of veggie options) and tapas at My Little Spanish Place or there's plenty of seafood on offer.
Here are some more ideas on where to eat at Boat Quay.
Gardens by the Bay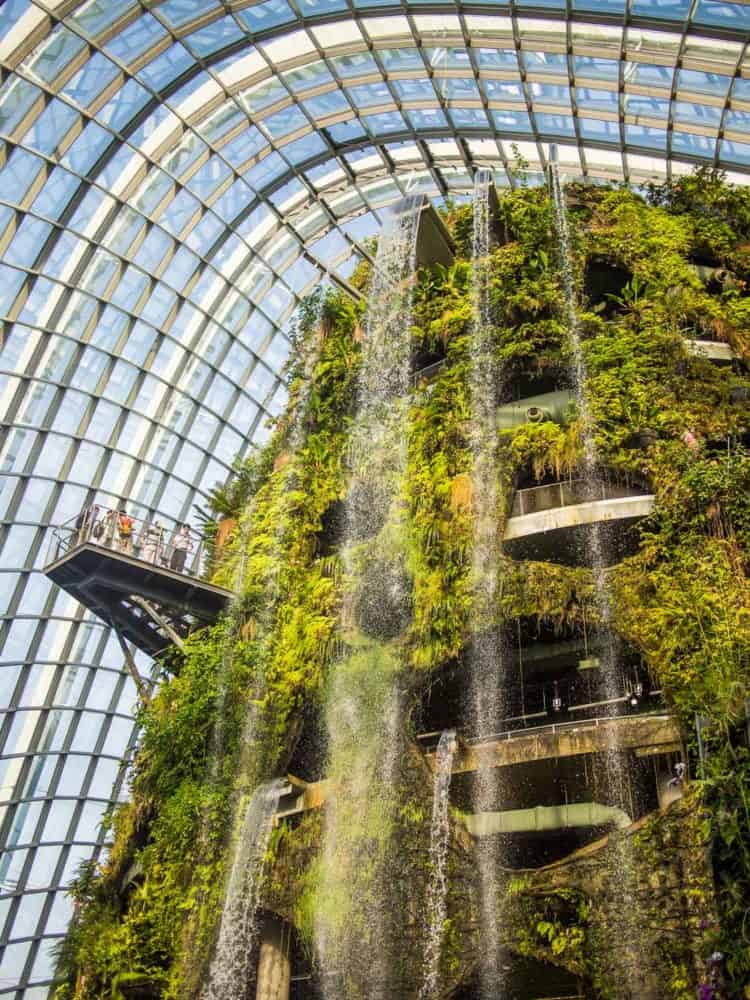 Gardens by the Bay is one of the best places to visit in Singapore and is my number one must-see for any trip to the city. Try to avoid visiting on weekends if possible as it gets very busy.
You'll want to time your visit to the gardens so that you'll be finished by just before sunset as this area is attractive after dark. If you arrive by around 2 or 3pm you should have plenty of time.
The extensive outdoor gardens are free, but at this time of day you'll probably be eager to get inside and the paid conservatories are superb.
Both climate-controlled domes—the Flower Dome and the Cloud Forest—are worth visiting, but if you have limited time, choose the Cloud Forest which is the most unique and features a large waterfall. A combined ticket is S$53 adults/ S$40 children.
Transport: Gardens by the Bay is a 30-minute walk from the Colonial District or the nearest MRT station is Bayfront on the Downtown and Circle lines.

Suggested Tours: If you plan on riding the Singapore Flyer then this Flyer & Gardens by the Bay Ticket Bundle looks like a great deal.
Marina Bay Sands Sunset Cocktail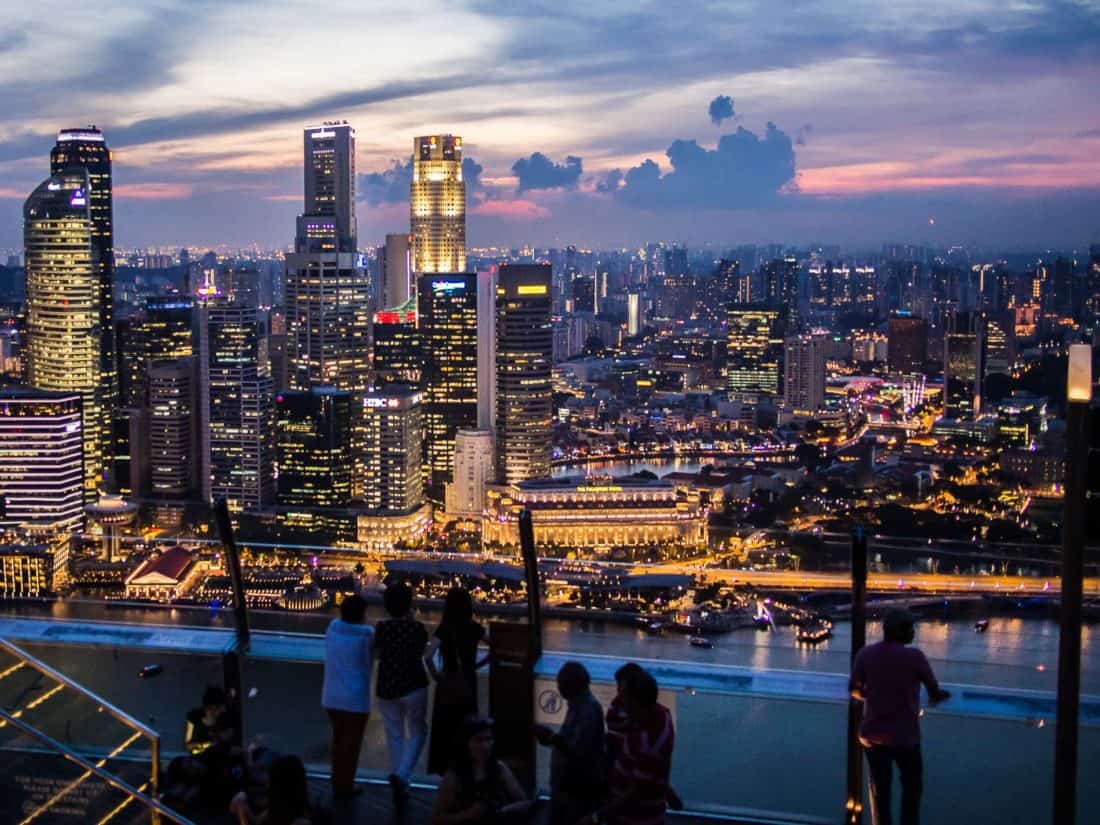 Marina Bay Sands is Singapore's most iconic building. Three 55-storey towers are topped by a boat-shaped structure that features the famous infinity pool, gardens, and an observation deck. The building houses a hotel and many shops and restaurants.
Before sunset I recommend heading to Marina Bay Sands for an amazing view from the top as the sun goes down and the city's skyscrapers light up.
I think it's better value to pay for a drink at the CÉ LA VI SkyBar (minimum spend S$30) than pay S$32 adults/ S$28 children for the Sands SkyPark Observation Deck.
Sunset times vary from 6.50pm to 7.20pm depending on the time of year.
Last time we visited on a Sunday there was a long queue to get up, so allow time for this and consider making a reservation if you'd like a seated table (standing tables are on a first come, first served basis).
Note that the bar has a dress code from 6 pm—no swimwear, singlets, sleeveless shirts, and flip-flops are allowed for men. There is no dress code on Mondays, Tuesdays and Sundays.
If you want to swim in the famous infinity pool, you'll have to stay at Marina Bay Sands.
Supertrees Light Show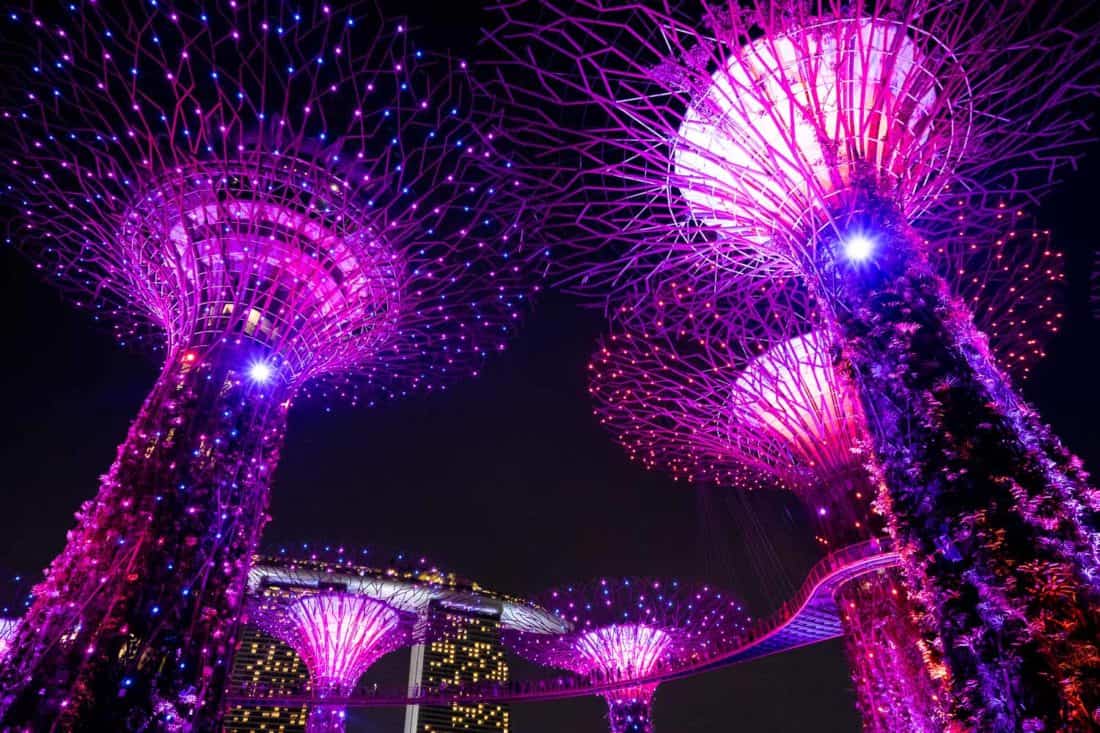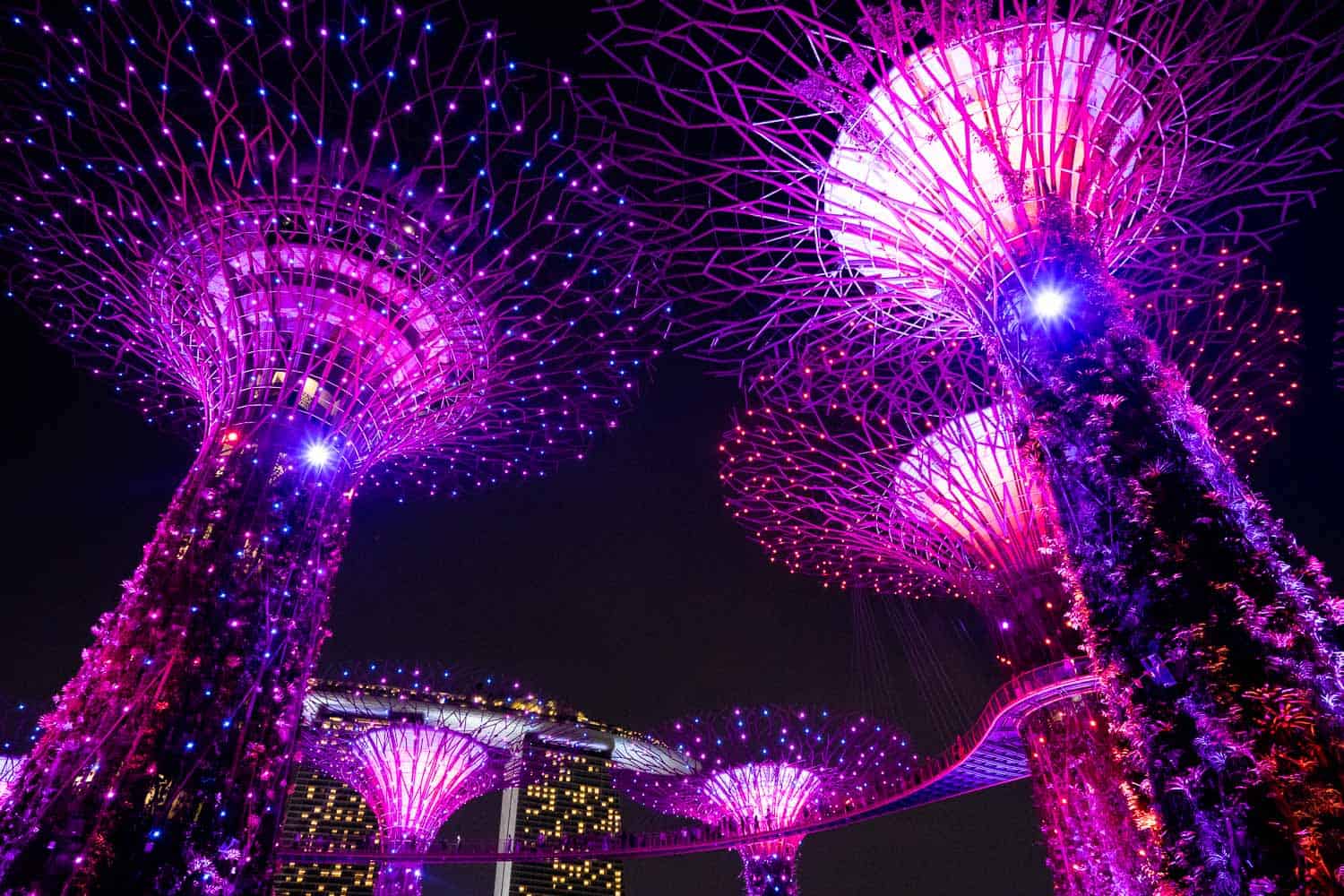 Once darkness has fallen head back down to Gardens by the Bay to my favourite part— the Supertree Grove.
These futuristic trees are 25 to 50 metres tall with steel trunks covered in orchids, ferns, and climbing tropical flowers. Many of the trees generate solar power and collect rainwater.
The Supertrees are best seen lit up at night and the free Garden Rhapsody light and sound show takes place at 7.45pm and 8.45pm every day.
You can also get up close to the large canopies on the 22-metre-high OCBC Skyway (it costs S$12 adults/ S$8 children and last admission is 8pm).
Satay by the Bay is the best place in the area for a quick, inexpensive dinner. The large, open-air food court features local specialities like satay, chicken rice, and BBQ seafood.
As vegetarians we head to the Indian stall for a masala dosa (crispy rice flour pancake stuffed with potato curry) which only costs S$3. It's a 10-minute walk from the Supertree Grove.
There's lots more to do in the Marina Bay area at night. I've put the rest in the itinerary for Day 2, but if you are feeling keen, you could continue on to explore more of the area including Clarke Quay and the Singapore Flyer.
Transport: The nearest MRT station is Bayfront on the Downtown and Circle lines.
Day 2: Exploring Singapore's Multicultural Heritage and Marina Bay at Night
Singapore is a multicultural city and the three largest ethnic groups are Chinese, Malay, and Indian.
On your second day in Singapore explore three of Singapore's distinct ethnic neighbourhoods.
This Private Chinatown, Little India & Kampong Glam Tour looks like a great option if you have limited time.
Little India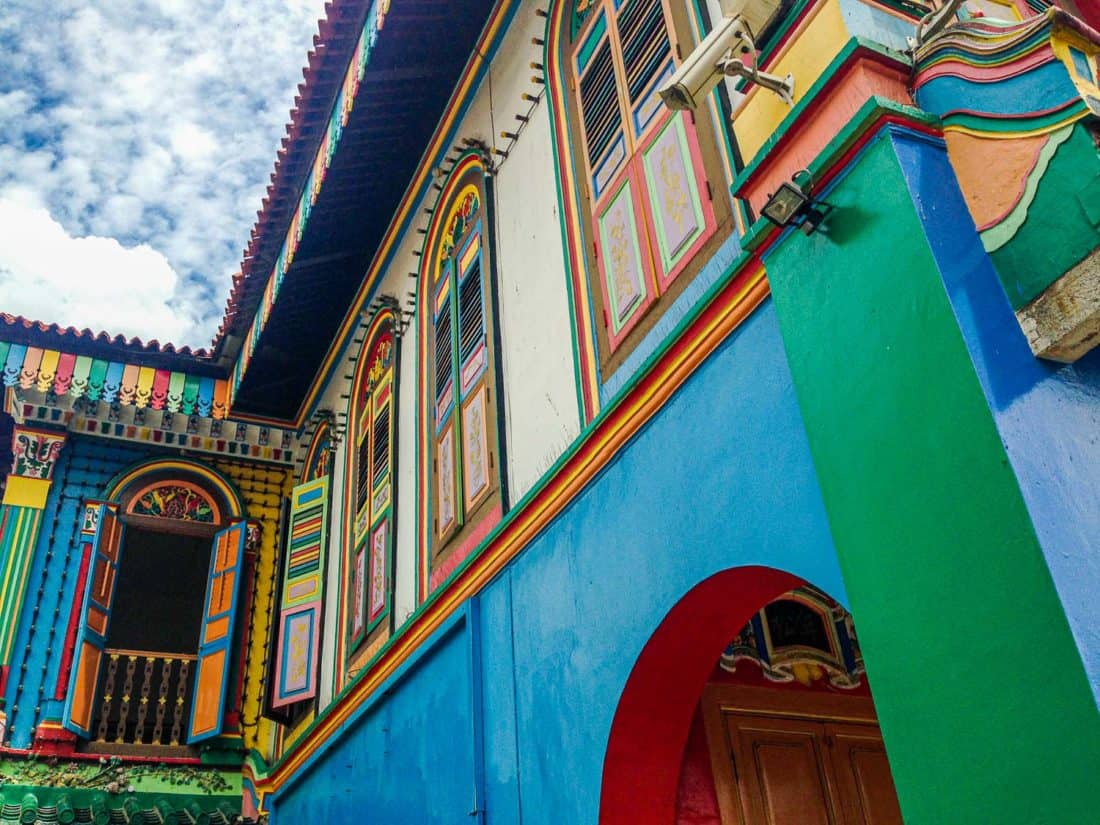 Little India is home to Singapore's Indian community and is a vibrant, bustling place that really does remind us of India with its smells of incense and sounds of Bollywood music.
In Little India you can:
Explore the colourful wooden shophouses.
Visit the extravagant Sri Veeramakaliamman Hindu Temple.
Take photos of Tan Teng Niah, a vibrant Chinese villa built in 1900.
Shop at the lively Tekka Centre and Mustafa Centre (open 24 hours).
Eat cheap South Indian food at one of the many vegetarian restaurants like Komala Vilas. Try a masala dosa (rice flour pancake stuffed with curry) or a thali where mounds of rice and curries are served on a banana leaf.
Witness the colourful kavadi procession if you visit during the Thaipusam Hindu Festival in January or February. Some devotees pierce their bodies and tongues with spikes.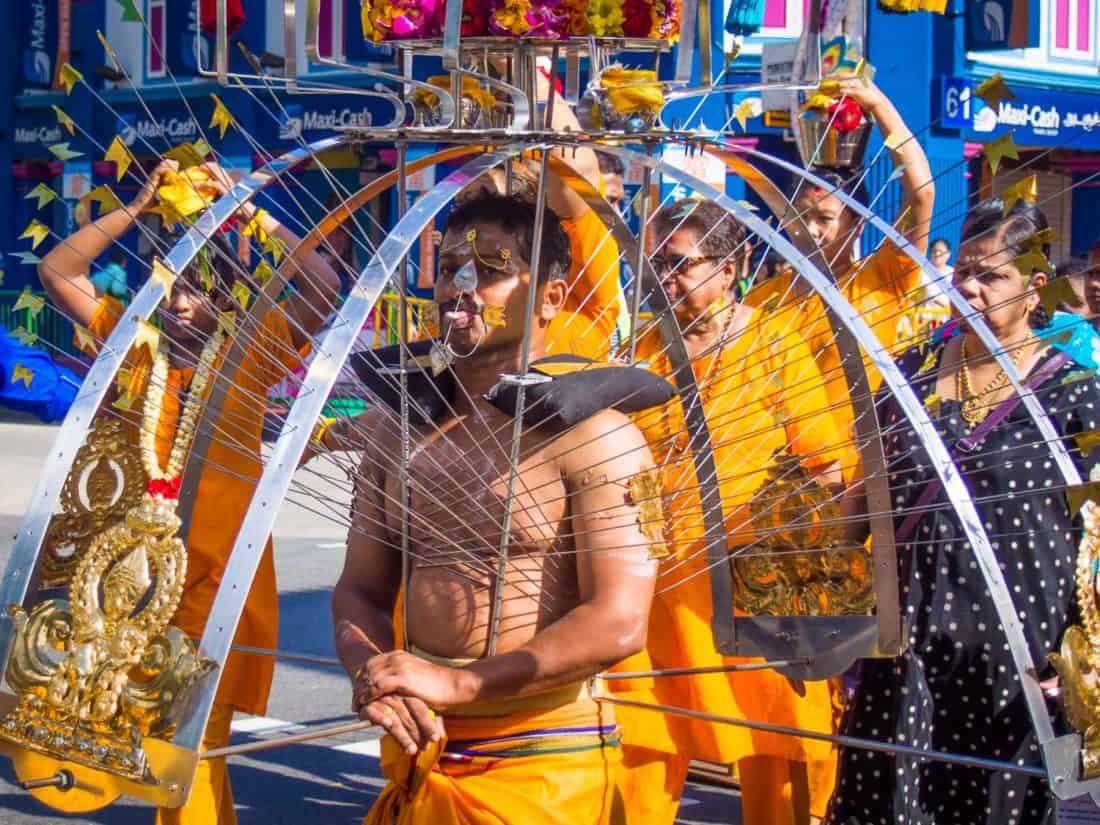 Transport: Little India is walkable from the Bugis area (where we stayed) or take the Downtown or North East MRT line to Little India station.

Suggested Tours: Immerse yourself with an expert guide on this Little India, Tekka Centre & Temple Walking Tour.
Kampong Glam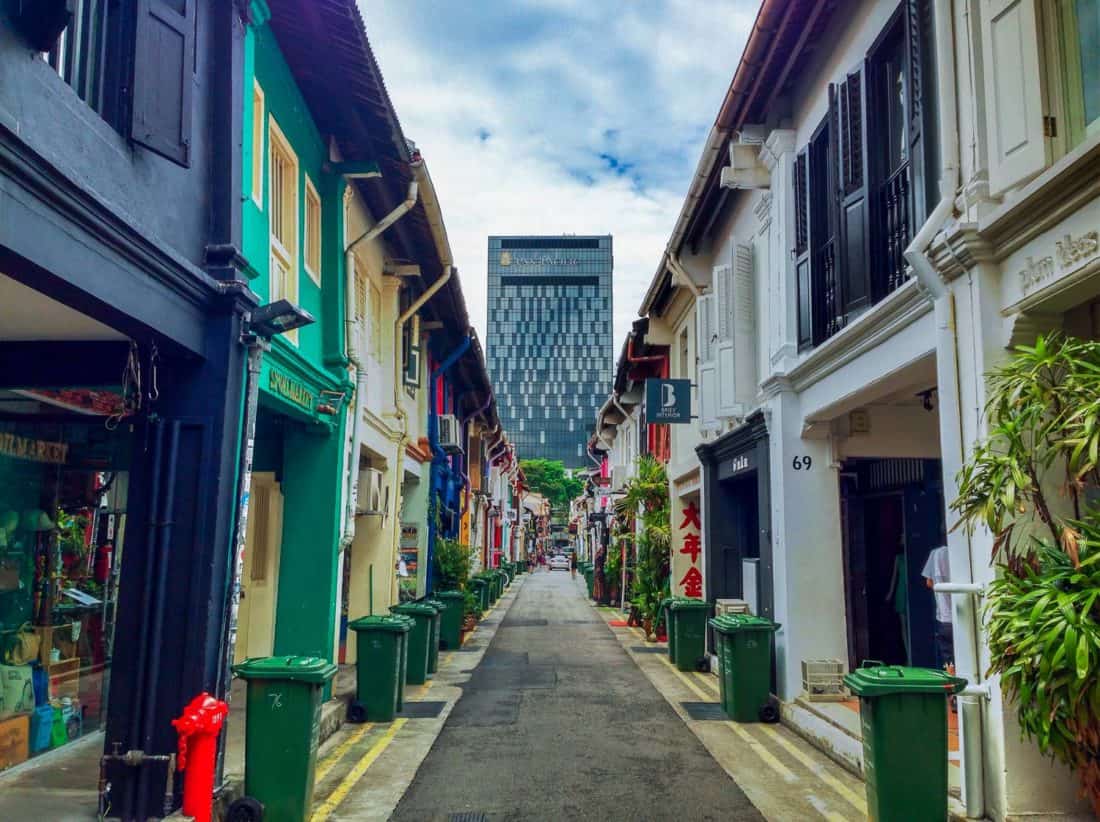 Kampong Glam is Singapore's Muslim and Arab neighbourhood.
It's Singapore's oldest urban quarter—in 1822 it was allocated by Sir Stamford Raffles (the founder of the city) to the Malay and Arab communities.
There are some lovely colourful shophouses, mosques, and a hipster scene with trendy cafes and bars.
In Kampong Glam you can:
See the golden domes of Sultan Mosque.
Learn about the Malay community in the Malay Heritage Centre (currently closed for renovations).
Shop in the funky boutiques and admire the street art on Haji Lane.
Listen to live music at one of the pavement bars on Haji Lane in the evenings.
Transport: It takes about 15 minutes to walk between Little India and Kampong Glam or take the MRT Downtown line to Bugis.

Suggested Tours: Why not explore the area on this unique Kampong Glam Storytelling Walking Tour?
Chinatown
Chinatown was once home to Singapore's Chinese immigrant community, but it's now a mix of cultures with historic temples and trendy cafes.
It's the only Chinatown in the world with a Buddhist temple, mosque, and Hindu temple on one street.
In Chinatown you can:
Visit the beautiful Buddha Tooth Relic Temple (Buddhist).
Compare it to the Thian Hock Keng Temple (Taoist).
See the oldest Hindu temple in Singapore, Sri Mariamman.
Learn about Singapore's earliest immigrants at the Chinatown Heritage Center (temporarily closed).
Grab a bite to eat at one of the open-air eateries on Chinatown Food Street (from 11am–11pm) or Maxwell Hawker Centre.
Eat vegetarian Peranakan dishes at nearby Whole Earth.
Experience lively Chinese New Year celebrations if you visit at the right time (usually January/February).
Transport: Take the MRT Downtown line from Bugis to Chinatown station.

Suggested Tours: Learn more on this Historic Chinatown Walking Tour, including lunch.
Riverside and Marina Bay Walk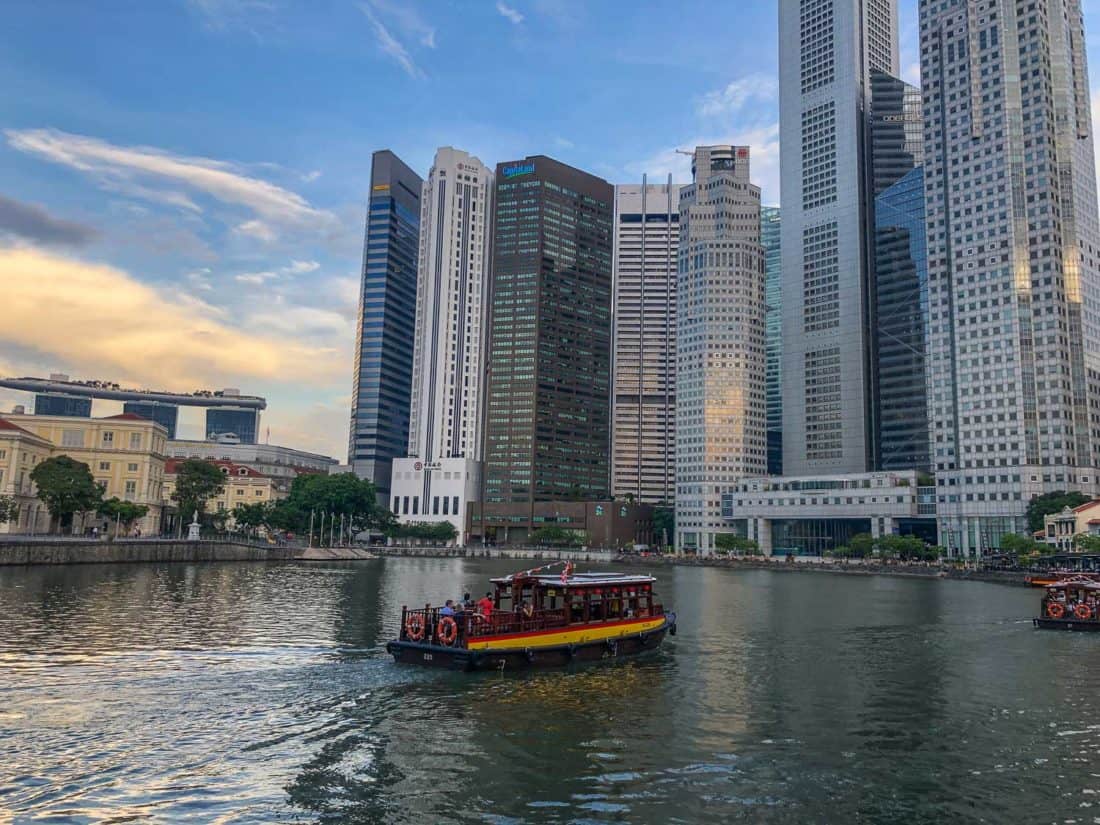 It's worth spending two nights at the Marina Bay area as there's lots to see.
On the second night, I recommend taking a walk along the Singapore River, which is one of my top things to do in Singapore at night when it's cooler and the skyline views are fantastic.
This walk takes about 40 minutes plus stops (there are lots of photo opportunities).
If you don't want to walk, you could take a Singapore River Cruise on a bumboat from Clarke Quay (40 minutes, S$25.50).
Start the walk in Clarke Quay and continue through Boat Quay—both have lots of bars and restaurants overlooking the water. It's a little touristy but fun and the views are superb.
Continue down the river past Fernando Botero's Bird sculpture and the grand Fullerton Hotel to the Merlion fountain.
This iconic statue has the body of a fish and the head of a lion that shoots water from its mouth.
The body symbolises Singapore's humble origins as a fishing village and the head represents its original name Singapura or Lion City in Malay.
From this area you can see Spectra, a free light and water show that takes place every night at 8pm and 9pm (also at 10pm on Fridays and Saturdays).
This side of the bay will give you a view of the colourful laser beams projecting from Marina Bay Sands.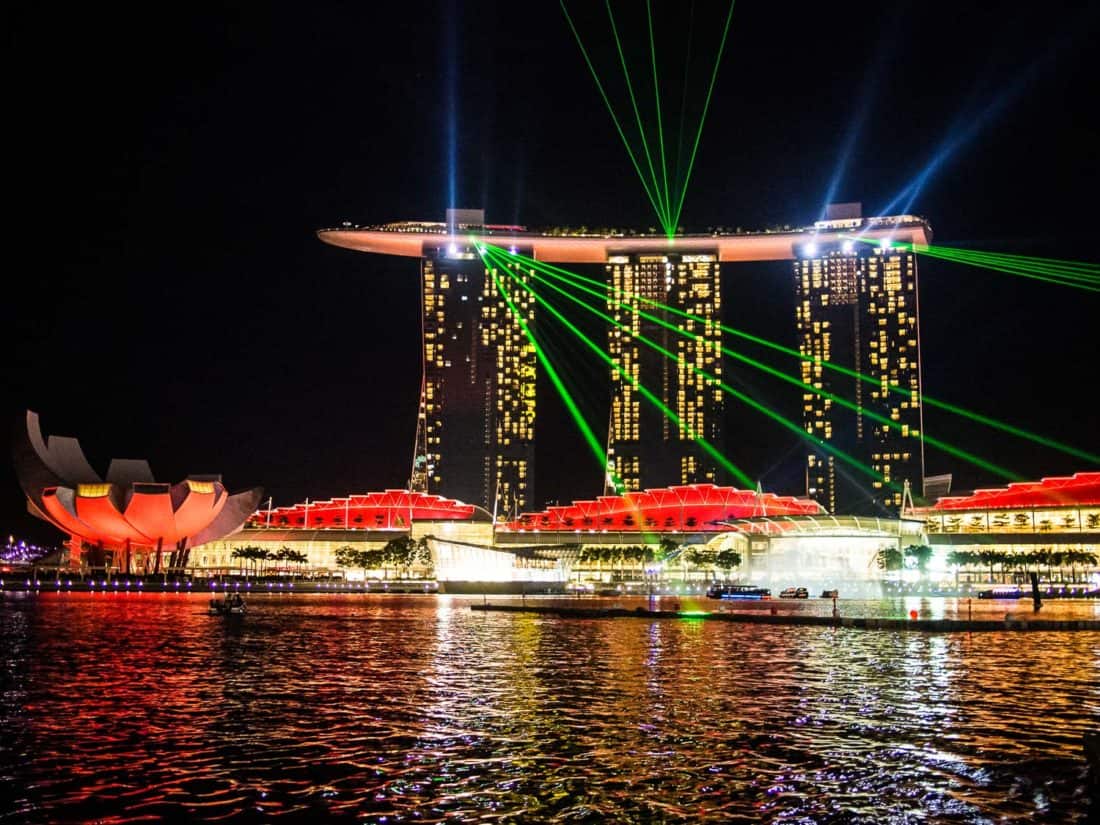 You could also try to see a later show on the other side of the bay in front of Marina Bay Sands for a different perspective.
You'll be able to see the projections on water from the seating area outside The Shoppes (the shopping mall at Marina Bay Sands).
From Merlion cross over the Esplanade Bridge to the Esplanade Outdoor Theatre where there are often free performances.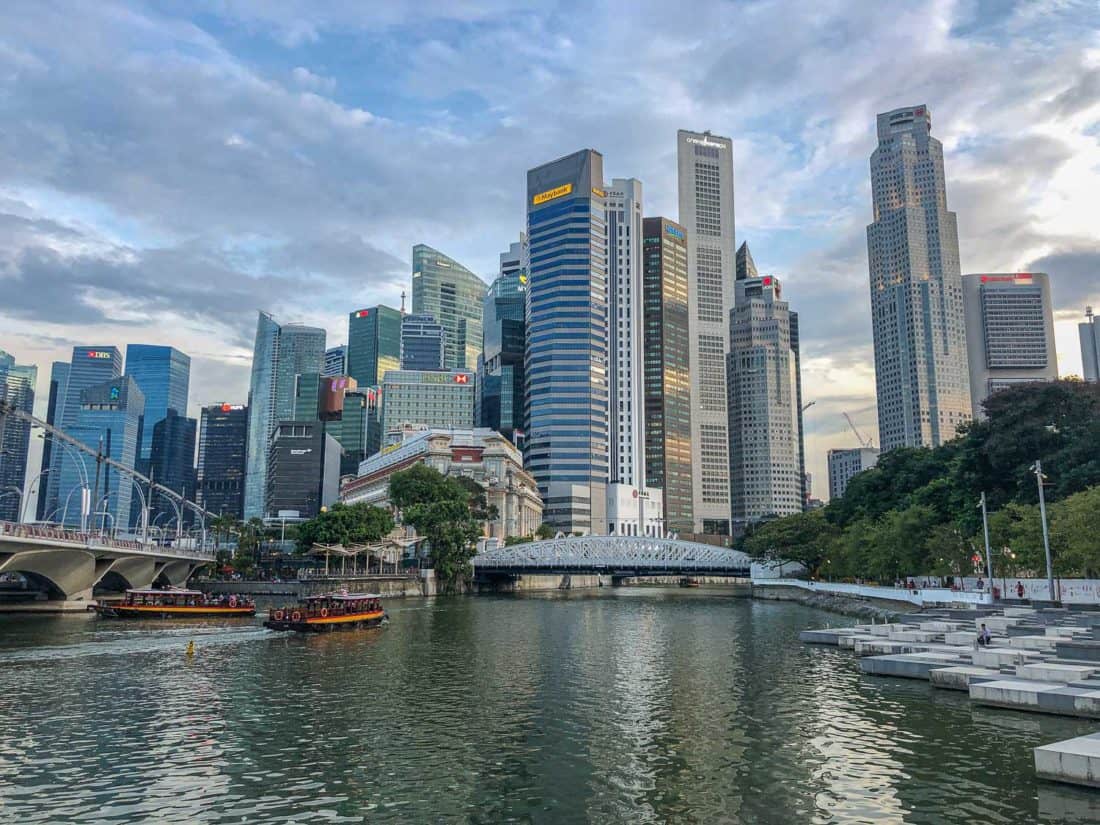 If you are hungry, the Makansutra Gluttons Bay food court is next to the Esplanade.
A little further down the river is the impressive Helix Bridge which connects to Marina Bay Sands, so cross over here if you want to catch the light show from that side.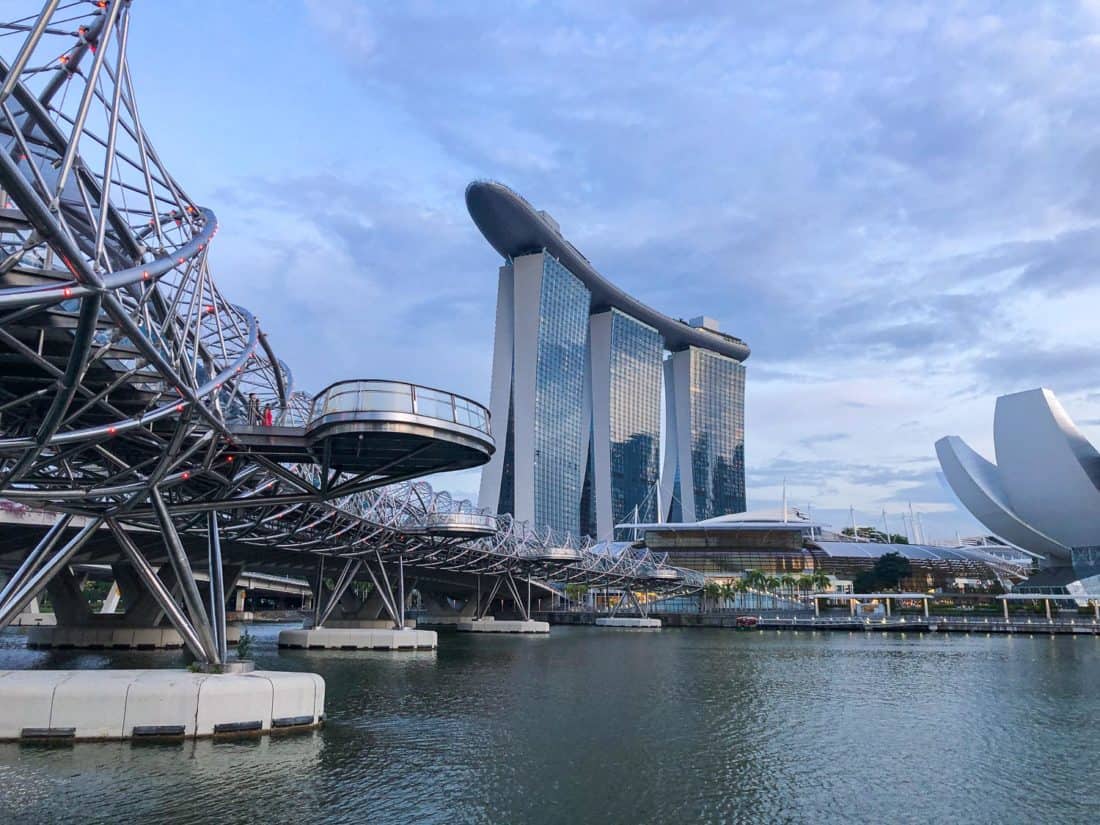 Or continue a little further along the river to the Singapore Flyer to take your Singapore sightseeing up high.
Transport: From Chinatown it's a 15-minute walk to Clarke Quay or take the MRT Downtown line to Fort Canning station or the North East line to Clarke Quay.

Suggested Tours: Why not explore the illuminated waterfront on wheels on this Marina Bay Night Tour by Bicycle?
Singapore Flyer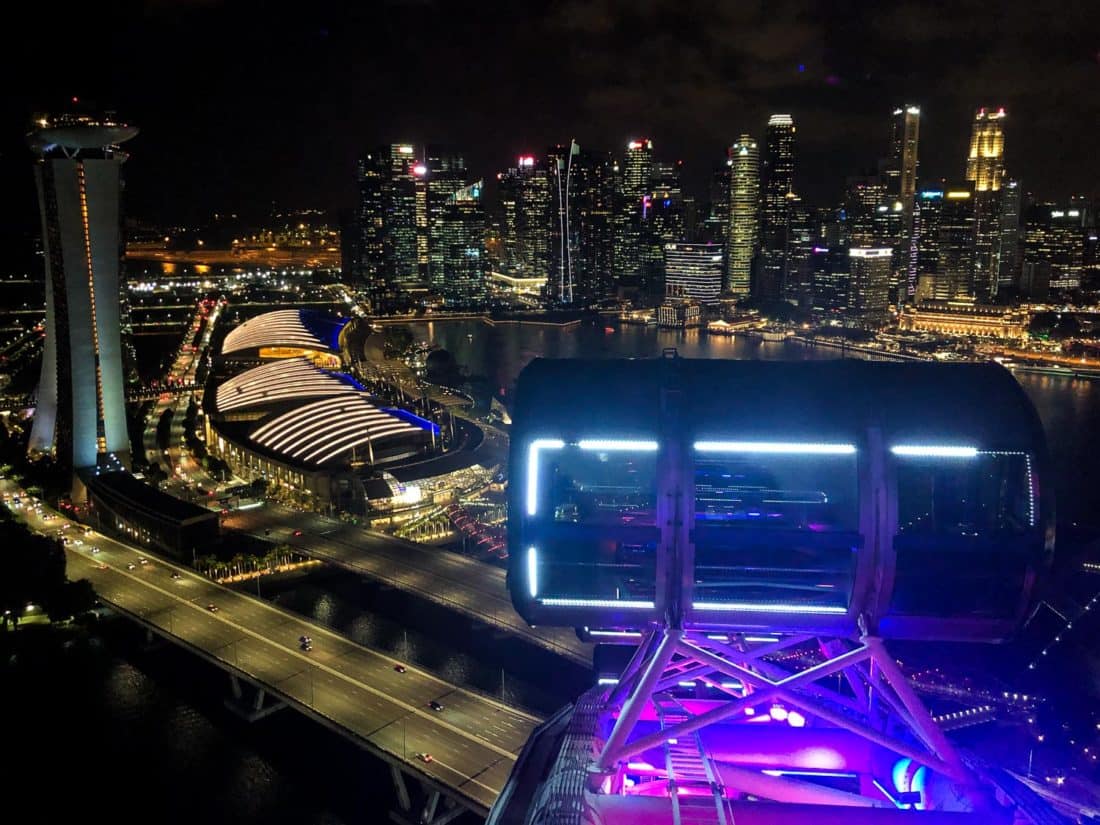 A ride on this huge observation wheel takes 30 minutes. I wasn't sure it was worth it at first, but once we reached the top (at 165 metres) and started descending, the view was truly spectacular.
You can see Marina Bay Sands, Gardens by the Bay, downtown skyscrapers, and the whole of the Bay.
Transport: I recommend walking here along the river, but to get back to your hotel the nearest MRT station is Promenade on the Downtown and Circle lines.

Suggested Tours: Book your Singapore Flyer tickets here, including the Time Capsule exhibition entry.
Day 3: Universal Studios Singapore or Shopping and Gardens
On your final day in Singapore you can choose the activity that interests you most. If you are a theme park fan like us, I recommend visiting Universal Studios Singapore on Sentosa Island.
If rides aren't your thing, you might prefer shopping in the malls on Orchard Road and visiting the nearby Botanic Gardens. I've included some other suggestions below.
Universal Studios Singapore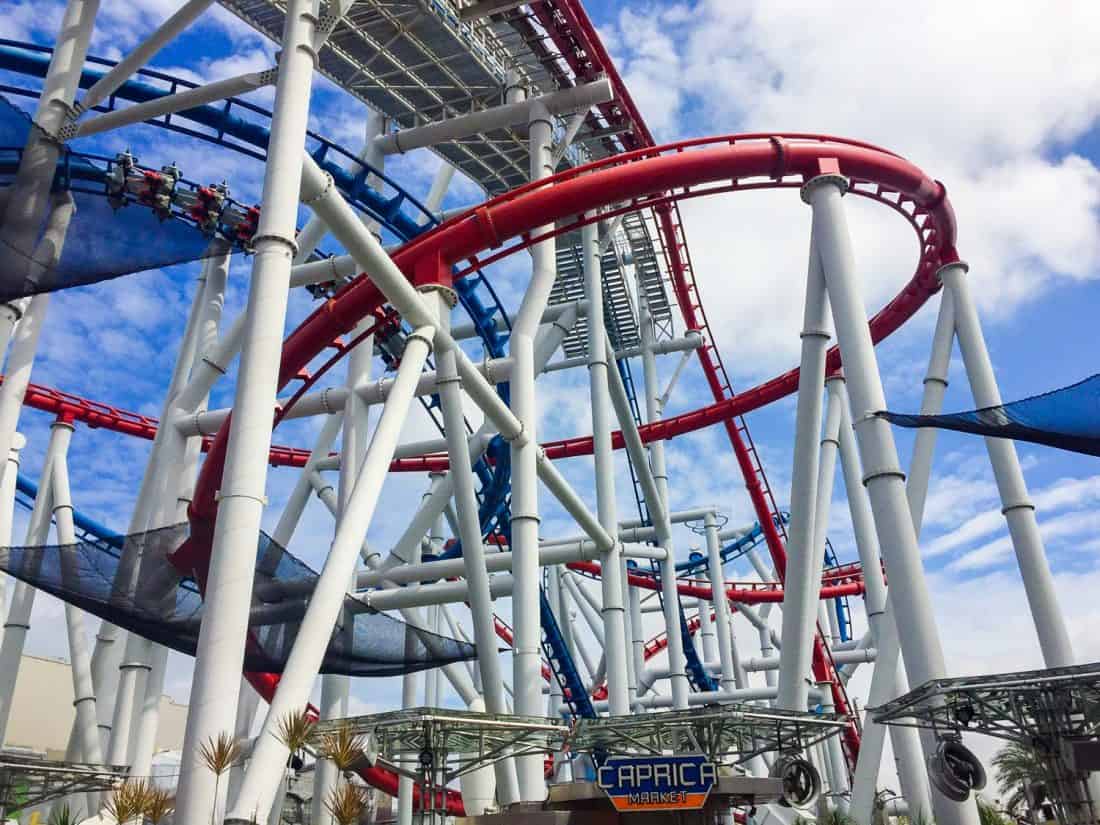 Universal Studios Singapore is a fun day out with various movie-themed rides and attractions.
It's not a huge park so if you arrive at the 10am park opening (which I recommend to avoid the crowds), you can be done by mid-afternoon and be back at your hotel for a much-needed refreshing swim.
Our favourite rides are Battlestar Galactica, a duelling roller coaster (ride both sides!); The Revenge of the Mummy, a fast roller coaster in the dark with some surprises; Transformers, an intense 3D experience; Jurassic Park, a fun water ride; and Waterworld, a live show with impressive stunts.
Read our guide to the best Universal Studios Singapore rides for more details and tips on avoiding long queues.
We always buy e-tickets in advance to avoid the queues and because you can save money by booking here with Klook. Full price adult tickets cost from S$82 depending on the date.
Transport: Take the MRT to HarbourFront station and connect to the Sentosa Express monorail to Waterfront station, a short walk from the park. The monorail is a little more expensive than standard MRT rides (S$4 one way), but you can use your MRT card to get straight on. The journey will take about 30 minutes from Bugis.

Alternatively, take the cable car to Sentosa Island to enjoy the view. From HarbourFront MRT station, ride the cable car to Imbiah, then take the Sentosa Express monorail one stop to Waterfront station.
Singapore Botanic Gardens and Orchard Road Shopping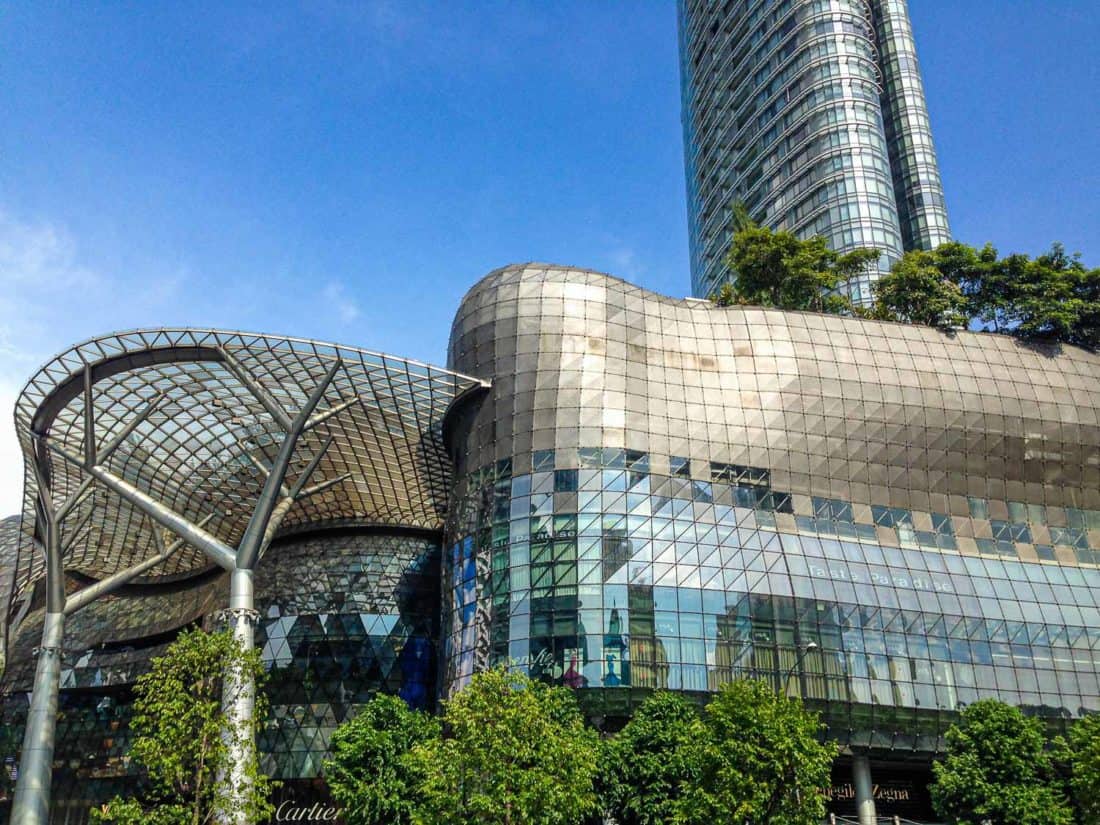 Shopping fans might prefer to head to the Orchard Road area instead for a day of shopping in the many (blissfully air-conditioned) malls.
Not far from Orchard Road are the Singapore Botanic Gardens, which date back to 1859 and are a UNESCO World Heritage Site.
These extensive gardens are a lovely place for a stroll, but due to the heat it's best to visit in the early morning or late afternoon.
When we stayed on Orchard Road I liked running here at dawn. I recommend starting your day here and shopping in the afternoon.
The gardens are open from 5am to midnight every day and entrance is free to most of the gardens.
The National Orchid Garden which opens from 8.30am (last entry 6pm)—there are 1000 species and 2000 hybrids on display.
The futuristic-looking ION Orchard mall is one of the most popular on Orchard Road with everything from luxury brands to high street fashion.
All the malls have food courts for inexpensive local dishes and there are plenty of restaurants in the area.
Transport: Take the MRT to the Botanic Gardens MRT Station on the Downtown and Circle lines. From here to Orchard Road you could walk, but if you are feeling the heat, take a taxi or the MRT from Botanic Gardens to Newton on the Downtown line and change to the North South line to get to Orchard MRT station, which is next to ION Orchard mall.

Suggested Tours: This Half-Day Walking Tour includes the Botanic Gardens, Tiong Bahru Market and Gardens by the Bay.
Other Things to Do in Singapore
If theme parks and shopping don't interest you, choose from one of these other Singapore activities:
TreeTop Walk in MacRitchie Reservoir – For a taste of the jungle and a peaceful escape from the city, head to this nature reserve, where you can hike on nature trails, including a free-standing suspension bridge which gives you a bird's eye view of the forest canopy.
National Gallery Singapore – An extensive collection of Southeast Asian art in a beautiful historic building in the heart of the Civic District.
Singapore Zoo and Night Safari – These aren't really our thing (we prefer seeing animals in the wild) but are popular Singapore tourist attractions.
Is Singapore Worth Visiting?
Absolutely! Singapore is a unique place with diverse neighbourhoods, fun attractions, and delicious food.
I hope this Singapore travel guide has helped you plan your trip. Feel free to ask any questions in the comments below.
More Singapore Posts
If you are combining a trip to Singapore with Bali, check out these posts:
If you enjoyed this post, pin it!