This page contains affiliate links. Please read our disclosure for more info.
Ubud has overtaken Chiang Mai as our favourite digital nomad destination in the world. Where else can we afford to rent a house with a pool and rice field view?
Add to that beautiful scenery, an incredible vegetarian food scene, plentiful yoga classes, a fascinating culture, and friendly people.
It's a very easy place to live and a difficult place to leave—we kept extending our stay and eventually left after nearly five months (longer than we've spent anywhere else except Chiang Mai). We returned again for another five months a year later.
If you are considering living in Ubud, here are some tips to help you get settled.
Contents
This post was written after living in Ubud for five months in 2016 and again in 2017. I've updated the information since then where possible, but some things may have changed.
Visas
Update 2022: Due to Covid, Indonesia's entry requirements have changed. Visa waivers are currently unavailable for most nationalities but many can get a 30 day Visa on Arrival. Additional requirements depend on whether you are vaccinated or not. For UK citizens, see the FCDO website for the latest requirements.
Most nationalities (including UK, USA, Canada, EU) can enter certain airports and seaports in Indonesia (including Bali's Ngurah Rai airport) without a visa for stays of up to 30 days. This visa waiver is NOT extendable, so if you think you might want to stay longer, you have two options:
1) For stays up to 60 days
Get a 30-day Visa on Arrival at the airport for $35 (in cash)—just go to the Visa on Arrival counter before going through immigration. This is extendable once for another 30 days.
2) For longer stays
Update: There's now a new e-visa scheme where you can apply for a visa online.
Apply for a 60-day tourist visa before you arrive in Bali. We got ours from the Indonesian Embassy in London—read how to do so here. The London Embassy is stricter than most (we needed onward flight tickets, bank statements, and confirmation of employment/self-employment). Asian embassies are easier—on our second visit we applied in Singapore or Penang, Malaysia is another option. 60-day visas can be extended four times for 30 days each time, for a total stay of 180 days.
Some digital nomads in Bali apply for social visas, but I can't see the advantage over a tourist visa. A social visa allows you to stay for the same amount of time, but you need a local sponsor.
As for most countries, make sure your passport is valid for at least six months after your arrival date.
To extend your visa in Bali, you need to pay three visits to the Denpasar immigration office, which is an hour from Ubud. To avoid this, most people pay extra for an agent to do it for them. On our first stay we used Elizabeth, who has an office opposite Alchemy in Penestanan, and found it very easy.
On our second trip we used Bali Viza, who will collect and deliver your passport from your house. Read our post on how to extend an Indonesia visa in Bali for more details.
When to Go and Weather
The best weather is typically from June to September—it's dry and not too hot, with cool evenings. July and especially August are the peak months, and Ubud's centre gets congested. The rainy season is from November until March.
We visited from the end of August until mid-January and didn't find the rain a problem. We had a few days of rain in November, and occasional heavy showers in December, but they didn't last too long, and our last few weeks were dry.
We found ourselves wanting it to rain as a relief from the heat. We're so glad we didn't let our concerns prevent us from staying. Obviously, this may differ each year, but as Christmas is peak season for visitors to Bali, I can't see that it's ever that bad.
It became much hotter as the months went on. October felt noticeably warmer, and it got worse by December/January, with daytime temperatures increasing from 28ºC to 33ºC, and night temperatures from 20ºC to 24ºC. The humidity made it worse, and by the end of our stay, we couldn't face cooking in our outdoor kitchen. Air conditioning is a must at this time of year.
Update: On our second visit from May to September 2017, supposedly the dry season, it rained way more throughout our stay than it did in the rainy season. In July and August is was cooler and less humid though. The weather patterns have changed a lot in recent years so you never know what to expect.
Getting There
We used Kiwi to find cheap flights to Bali. It turned out to be much cheaper for us to travel from London to Amsterdam and then get a Singapore Airlines flight to Bali (via Singapore).
Most people arrive by air at the Ngurah Rai International Airport (DPS) which is about 1.5 hours from Ubud. Your hotel can arrange a driver to pick you up for about 300,000 IDR ($22), or you can arrange a taxi when you arrive.
Uber is available, but only in southern Bali, so drivers might not take you to Ubud. If you can use it, it's much cheaper—when we left, we paid 79,000 IDR ($5.90) from the beach town Canggu to the airport, rather than the 200,000 ($15) taxi drivers charge.
Getting Around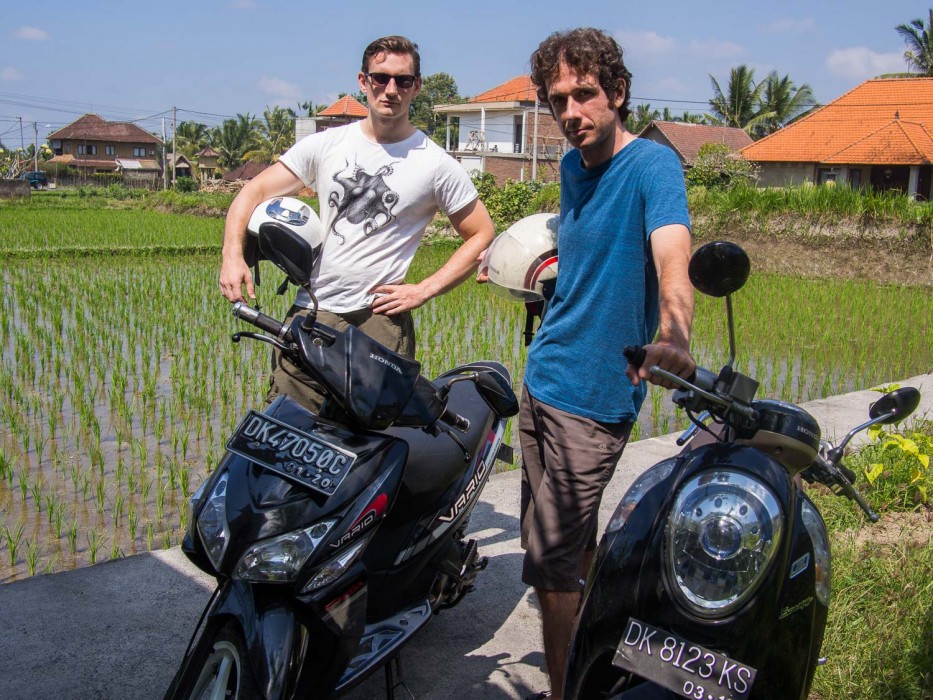 The centre of Ubud is walkable, but the nicest places to live are in the rice fields outside the centre. The best and cheapest way to get around is by motorbike.
There are many drivers in town, but a short taxi ride costs 50,000 IDR ($3.70), the same as a one-day motorbike rental. Monthly rates are even cheaper—we paid 550,000 IDR ($40) a month to rent an automatic Scoopy scooter.
We rented from a travel agent next to Bali Buda restaurant—there are plenty of places offering rentals, but not all are used to giving monthly rates. Ubud Scooter Rentals seems like a good option, but they are usually booked up.
On our second visit we responded to an ad for a Scoopy in the Facebook group Ubud Community (you could also post your own message). Everyone here is used to giving monthly rates (500,000-600,000 IDR) so it's easier than traipsing the streets.
Renting is simple—just fill out a form with your passport number and hotel address. You don't need to leave a deposit or show a driving licence.
Technically you need an international driving licence to drive in Indonesia, so get one from your home country if possible. If police stop you, and you don't have one, you can pay an on the spot "fine" of 50,000 IDR ($3.70) or so.
Police never stopped us in Ubud, but it could happen if you head out of town (it happened to us in Canggu). We did see police stop foreigners who drove down the one-way section of Jalan Raya the wrong way (which is a common practice for motorbikes), so avoid doing this.
Petrol is cheap—about 10,000 IDR ($0.70) for a one-litre bottle by the side of the road, or even less at petrol stations. It cost about 20,000 IDR ($1.40) to fill our tank.
Travel Insurance
Travel insurance is essential for any trip but especially in Bali as if you need serious surgery, you'll have to be flown to Singapore. Make sure your policy covers riding a motorbike if you'll be hiring one.
On our last Ubud trip we used True Traveller, but it's only available for travellers from the UK and Europe.
SafetyWing

Since then we've discovered SafetyWing, which is available worldwide and is very affordable. It's designed by nomads for nomads and is ideal for those on longer trips.
We love its flexibility—you can purchase it abroad when travelling on a one way ticket, pay monthly, cancel anytime, and you don't need to choose your destinations (just decide whether to include the US or not).
It's also great for travelling families as up to two kids under 10 are covered for free.
Get a quote from SafetyWing here or use the widget below:
Read my travel insurance for digital nomads guide for more information.
Money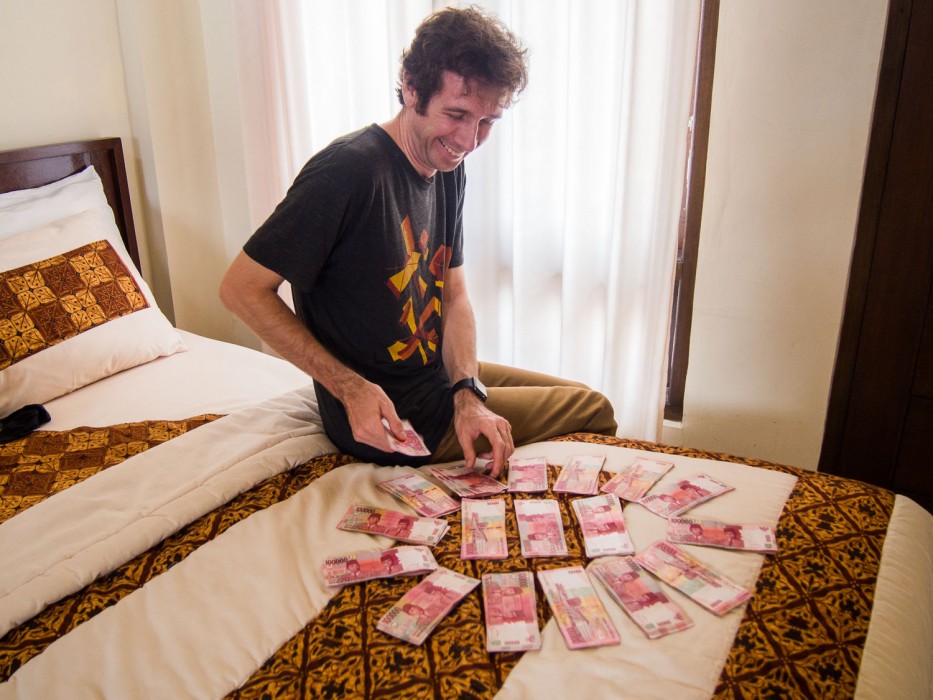 The currency is the Indonesian rupiah. Exchange rates fluctuate but are currently US$1 = 13,600 IDR, £1 = 19,700 IDR, and €1 = 15,200 IDR.
Most ATMs have maximum withdrawals of one or two million rupiah and many charge fees. The best ATM is Maybank which lets you withdraw three million without fees. There's a branch at 115 Jalan Raya Ubud (heading towards the Arjuna statue on the corner with Jalan Raya Andong),
Cost of Living
The cost of living varies widely. You could manage on $500 a month per person if you rented somewhere simple and stuck to local food.
We spent $1000 per person because we rented a beautiful house with a pool, went to yoga classes most days, and ate out frequently—often at more expensive restaurants. This does include our monthly visa extensions and a side trip to the Gili islands.
We think it's good value for money considering our quality of life. You can see our Ubud budget for a detailed breakdown.
Accommodation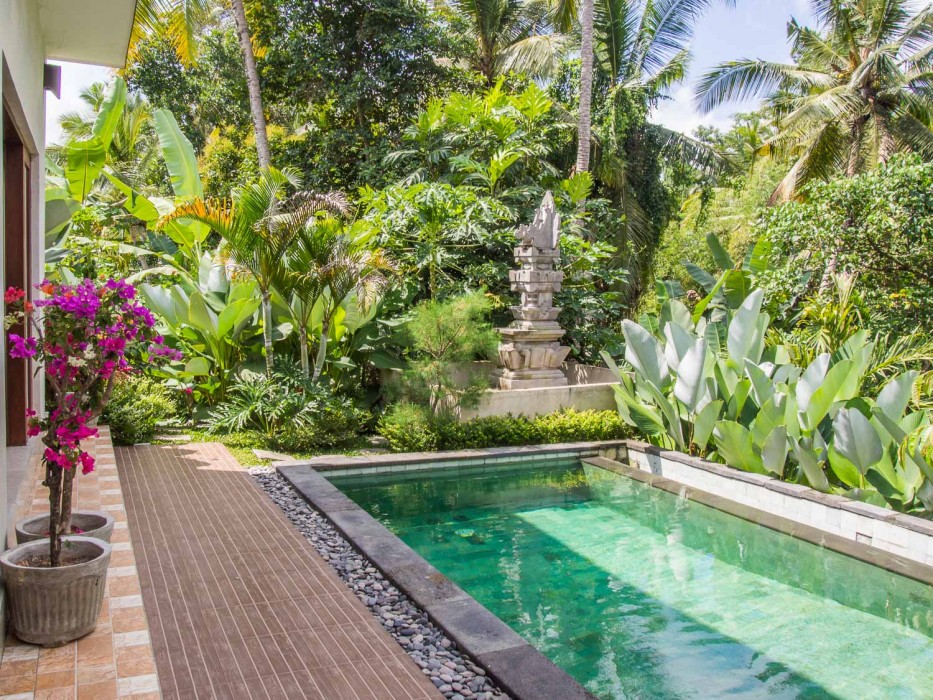 If you are staying for a week or more, it's worth renting a house as there are plenty available. It's much cheaper to look around when you arrive—we spent five days searching, but if you are less fussy than us, you can find somewhere in a day.
Prices range from three million ($220) a month to 12 million ($880)+ for a two bedroom with a pool and view. Read my post how to find a house to rent in Ubud.
Although I usually recommend visitors stay outside of the centre for a more pleasant experience, it was a convenient base while we house hunted. We stayed in two good guesthouses, both of which we booked on Booking.com. WiFi was slow at both, which is typical in Ubud guesthouses.
Gerhana Sari 2 Guesthouse – A quiet but very central location set back from busy Monkey Forest Rd. Superior rooms are quite plain but clean, comfortable, and well-equipped with large bathrooms and A/C. Breakfast is served when you are ready on the couch on your balcony overlooking the garden. We paid 400,000 IDR ($29) a night. They do get booked up (which is why we moved).
Corner Guesthouse – A good option if you want to experience a Balinese family compound. It's on a quieter, less touristy street, but the kids in the family meant it was a bit noisier. There's no garden or view, but the room is spacious, with a bedroom upstairs and a sofa and bathroom downstairs. The breakfast was tasty, especially the green pancakes with coconut and banana. We paid 300,000 IDR ($22) a night.
On our second visit to Ubud we stayed in a more expensive but good-value small hotel with pool that we highly recommend:
Desak Putu Putera Cottages – This is our new favourite place to stay in the centre of Ubud. It's on Jalan Sukma, close to the centre (you can walk everywhere), but in a very quiet jungle location with fantastic views.
The comfortable rooms are clean, spacious and have air conditioning, mini-fridge, decent wifi, powerful hot showers, and balconies. The pool is lovely, and the staff are very helpful and can arrange transport or motorbike hire. It's reasonably priced at 561,600 IDR ($42) a night.
If you are staying for a week or two but don't want the hassle of house hunting, search for rooms and villas on Airbnb or Vrbo.
Internet
The internet in Ubud has improved dramatically in recent years. Although we found the WiFi slow in most guesthouses and cafes, fibre optic is becoming more prevalent, especially in house rentals, so speeds can be good.
In our house we had 4-7 Mbps download speeds and 2 Mbps up—it worked well most of the time and Netflix was no problem, but sometimes Skype could be flaky, and everything was a bit slower on Sundays. Other house rentals have 10 Mbps download speeds. We found using a VPN helped speed things up and prevented ad injection by the ISP.
Seniman coffee shop has excellent coffee and is a popular place to work, but we found the WiFi quite slow.
Vegan restaurant Sage also has fast WiFi (9 Mbps down) and delicious breakfasts—it's our favourite place to work. Lazy Cats Cafe has fast WiFi, good coffee, stylish decor, comfy seating, and veggie meals. Sayuri, a raw vegan cafe, has fast speeds too (16 Mbps down).
If your accommodation doesn't have fast internet, your best bet is a co-working space (see below).
Mobile Data Plans
If you are staying somewhere with slow internet, tethering is an option as 3G/4G/LTE speeds are good, and data is cheap.
The easiest option these days is to purchase an eSIM in advance. This means you don't need a physical SIM card and can set it up before you arrive in the country. We've used Airalo for multiple countries and it works great.
While a local SIM would be cheaper, you can't beat the convenience of Airalo, and with prices from $11 for 30 days, it's still affordable. The only downside is it's data only and you don't get a local phone number (just use WhatsApp to communicate instead). Check out Airalo Indonesia eSIMs here.
Here is what we learnt about buying SIMs locally on previous trips:
Avoid buying SIMs in the centre of Ubud as they overcharge. There are many phone shops just outside town on Cok Gde Rai, which sell them for 15 or 20,000 IDR (possibly including some credit). They didn't speak much English, but they cut down the SIM and set it up for us.
On our second trip we bought SIMs at Rakha Cell on Cok Gde Rai. The lady spoke good English and offered us a great package—65,000 IDR ($4.90) for the SIM including 7GB of data (4 of it 4G—we actually got LTE).
We bought phone credit in Circle K and then data by dialling *363#, choosing the Paket Flash option in the menu, and selecting a data plan. It costs 80,000 IDR ($6) for 2 GB of data valid for a month; larger plans are available. This included a certain amount of 4G when we had speeds of 9 Mbps down.
Co-Working Spaces
We prefer to work at home, but there are a number of co-working spaces in Ubud, all of which have fibre optic.
Hubud – By far the most popular place to work and a good place to meet people. It's a beautiful wood and bamboo building overlooking the rice fields, there's a raw cafe onsite, and there are lots of events. Prices start from $60 a month for 30 hours.
The Onion Collective – There's a cool vibe, pool, and restaurant onsite, and they have live music in the evenings. Rates are donation based.
Outpost – A new space opposite the excellent vegan restaurant Sage with two pools and a riverside cafe. The daily rate is $16.50 or 25 hours is $49 a month.
Laundry
Rentals don't usually include washing machines, but there are plenty of cheap laundry services. They either charge per kilo (we paid 10,000 IDR/ $0.70) or per item—we found it worked out about the same either way.
Water
The tap water isn't drinkable, and after getting sick when we first arrived, I didn't even use it for brushing my teeth. You can buy reusable 19-litre jugs at local shops for 16,000-20,000 IDR ($1.20-1.50).
Homeware Shopping
Our kitchen wasn't well-equipped, so we bought extra things at Delta Dewata supermarket on Jalan Raya Andong including a rice cooker for 225,000 IDR ($16.50). We later found Kitchen Kingdom on Jalan Raya Sanggingan which has a better selection and prices—we bought a decent chef's knife for 47,000 IDR ($3.45).
We bought cushions from the central market on Jalan Raya (make sure to bargain hard). On Jalan Andong past Delta Dewata, there are homeware shops selling bean bags, cushions, etc. We bought a mattress chair for 300,000 IDR ($22).
Finding a coffee maker was difficult. Seniman sells some (including AeroPress and Italian moka pots), but they are quite expensive. Simon asked a visiting friend to bring him an AeroPress (which he is now experimenting with travelling with, as he loves the coffee so much).
I bought a yoga mat for 250,000 IDR ($19) from Coco Supermarket—much cheaper than the yoga shops. The Smile charity shop opposite Seniman Coffee also had a second hand one for 150,000 IDR ($11), so it's worth trying there if you are on a budget.
Don't be tempted by the cheap guitars—they don't stay in tune.
I found the Ubud Community Facebook group helpful for asking questions about where to buy things.
Food Shopping
Supermarkets
There are three main supermarkets, and you'll probably go to your nearest one: Delta Dewata is east of the centre on Jalan Andong, Bintang is west near Penestanan, and Coco is south near Yoga Barn. They are good for imported food and basic supplies, but I wasn't impressed with their fresh produce.
Fresh Produce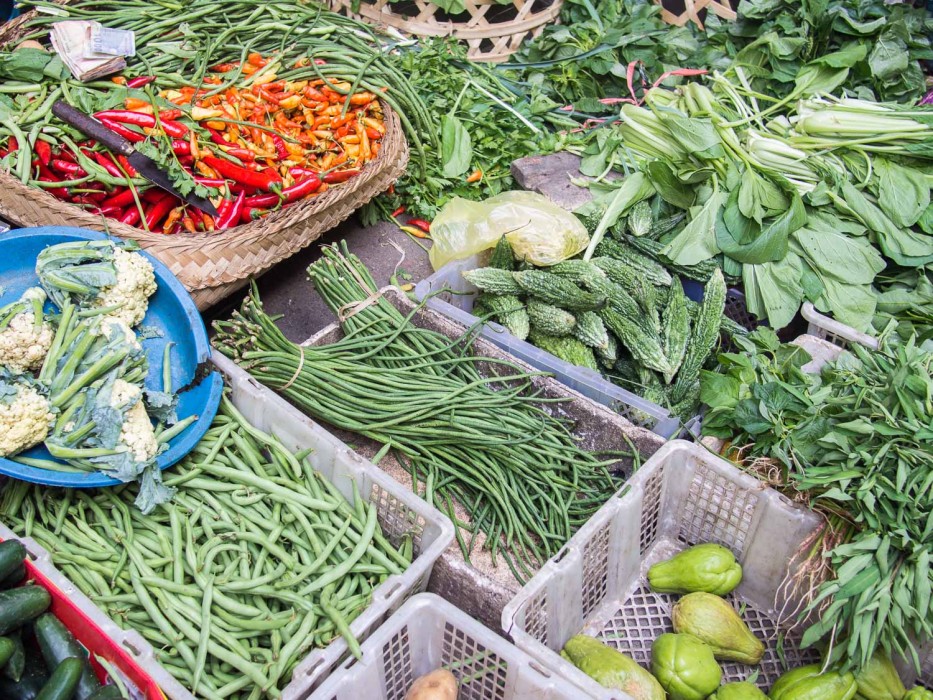 You can buy fresh fruit and vegetables at the main market on Jalan Raya, but the prime shopping hours for locals are 4-6 am! After 9 am it turns into a souvenir market, so you need to get there early. You also need to bargain as they overcharge foreigners.
We preferred to shop at the organic farmer's market at Pizza Bagus on Saturday mornings. It's quite small, but you can find high-quality vegetables from local producers at reasonable prices, including unusual things like kale and rocket. You can also buy red rice, nuts, seeds, bread, honey, etc. There's a smaller market on Wednesday mornings at Ubud Food Court on Jalan Sukma opposite the SenS Hotel.
Sari Organik has an organic produce shop in Penestanan.
Health Food Stores and Imported Goods
I found the Pizza Bagus deli had the best prices for things like oats, cashews, and cheese. They have lots of imported foods (especially Italian products), and we liked their hummus, pesto, bread, and create-your-own deli sandwiches.
Ubud Deli is also worth checking our for good prices on nuts and lentils and lots of imported items.
Bali Buda was the health food shop we went to the most. They have quite a big range including seeds, nuts, lentils, beans, kombucha, sauerkraut, bliss balls, bread, and baked goods. The bulk section is helpful if you only need a little.
The shop at Earth Cafe has lots of health food products, but I found them more expensive than other places. Raw restaurant Alchemy also has a shop and is a good place for raw snacks.
Bread and Pastries
Pizza Bagus has an excellent wholemeal loaf if you can get it before it runs out. We also bought rye bread from Bali Buda and sourdough from Kue.
Monsieur Spoon has the best croissants and pastries, but try to get a fresh batch as they lose their flakiness quickly in the humidity.
Daily Baguette sells good croissants and baguettes and will deliver for free (minimum order 100,000 IDR), which is a lovely morning treat. They even found our house despite its lack of proper address.
Coffee
Seniman sells a range of quality Indonesian coffee beans and will grind them for you.
Jam
Confiture de Bali is a tiny shop that makes low sugar jams using local produce. There are many unusual flavours including soursop, spicy mango, and jackfruit. Prices are reasonable, and you can try before you buy. I don't usually eat jam, but I loved it here.
Eating Out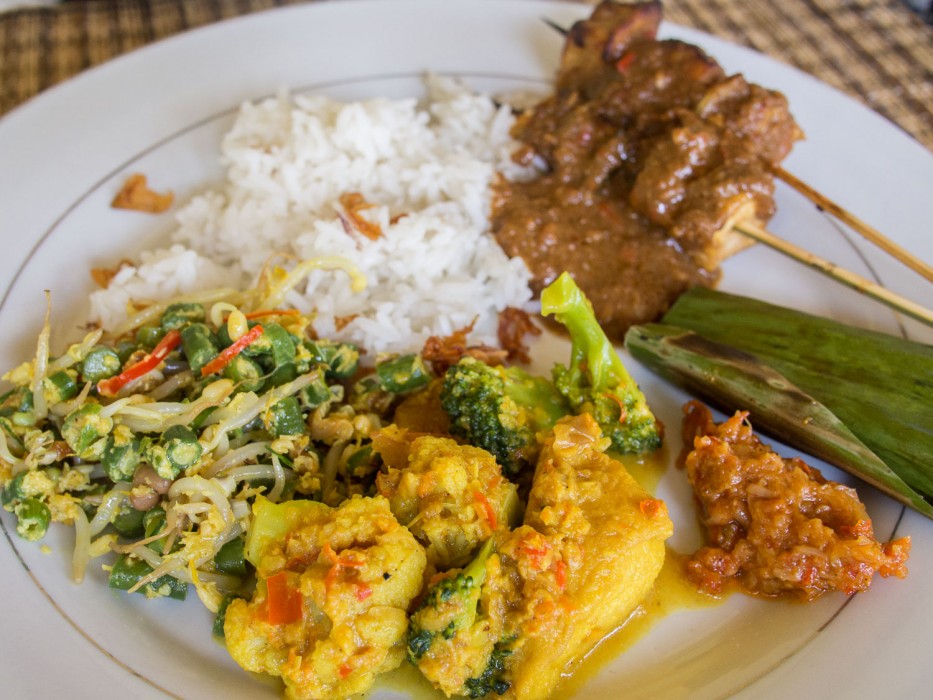 Ubud is a foodie heaven, especially if you like healthy, vegetarian, and vegan food, although there are plenty of treats too. Here are our picks for the 30 best vegetarian-friendly restaurants in Ubud, plus our favourite sweet treats.
Yoga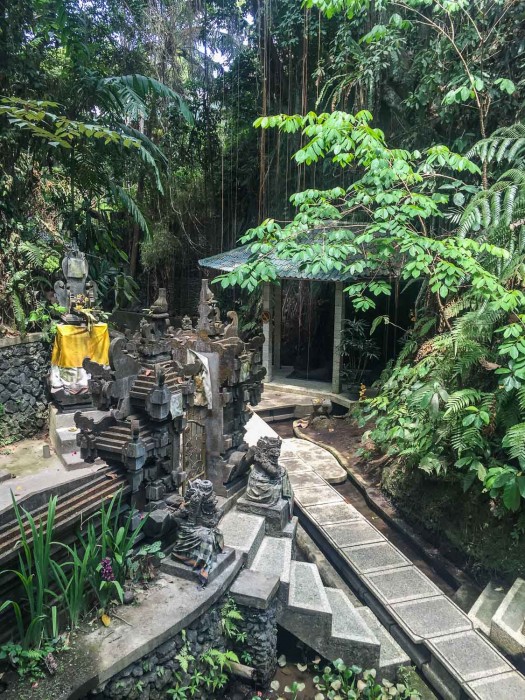 Ubud is a major yoga destination, and there are dozens of classes to choose from every day, all in beautiful settings with views of tropical gardens and rice fields. The Yoga Barn is the most popular studio, but with class sizes of up to 60 people, you might want to consider one of the smaller studios.
I've written a comprehensive guide to yoga studios in Ubud.
Running and Gym
It's difficult to find a place to run away from traffic, so it's best to head out early. I ran at 6 am and even by 6.30 am traffic started to pick up with kids driving to school on their motorbikes. I ran on Jalan Tirta Tawar in Junjungan village as it's where we lived and then turned down towards Petulu village.
If you are staying in the centre, your best bet is to head north along the Campuhan Ridge (see Things to Do in Ubud) or along the rice field path towards Sari Organik.
If you need a gym, the Ubud Fitness Centre is the best option.
Healthcare
The Toya Medika Clinic is professional and has English speaking staff. You don't need to make an appointment—I waited about 15 minutes to see someone. The downside of this system is that I had a different doctor on each visit. A consultation costs 350,000 IDR ($26), and follow-up visits were 160,000 IDR ($12), not including treatments and medication.
The ubiquitous Guardian pharmacy chain doesn't sell prescription medications—it's more a place for toiletries and vitamins. Kimia Farma is a reliable and affordable pharmacy. There's one on Jalan Raya heading towards Jalan Andong.
Things to Do
See my Things to Do in Ubud post for some suggestions.
More Resources
Our Ubud Posts
Summary
Ubud is a fantastic digital nomad destination if you like being in nature but don't want to miss out on the good food of a city.
On the surface, it can feel touristy and over-developed, but give it time and the magic reveals itself. I hope you end up loving it as much as we did.