This page contains affiliate links. Please read our disclosure for more info.
We chose Canggu for our last week in Bali for one reason: the food! Other Balinese beach towns have their benefits: Balangan has a beautiful beach, Amed is quiet and undeveloped, Kuta has ideal beginner surf conditions, but none of them have great food for vegetarians. After being spoilt in veggie paradise Ubud, we couldn't face going back to plates of boring fried rice.
The surf town Canggu has an alternative, hipster vibe, and is more popular with expats and digital nomads than with tourists. Instead of souvenir shops, there are stylish boutiques and surf shops, and instead of identical tourist menus, restaurants serve creative, delicious food.
Canggu isn't as vegetarian-friendly as health-conscious Ubud—surfers replace yogis and there's more meat on menus—but it's the second best vegetarian destination in Bali with some excellent vegetarian and vegan restaurants and meat-free dishes on most menus.
We spent our week in Canggu taking sunset walks on the beach, attempting to surf, and hunting down the best vegetarian eats.
1) Peloton Supershop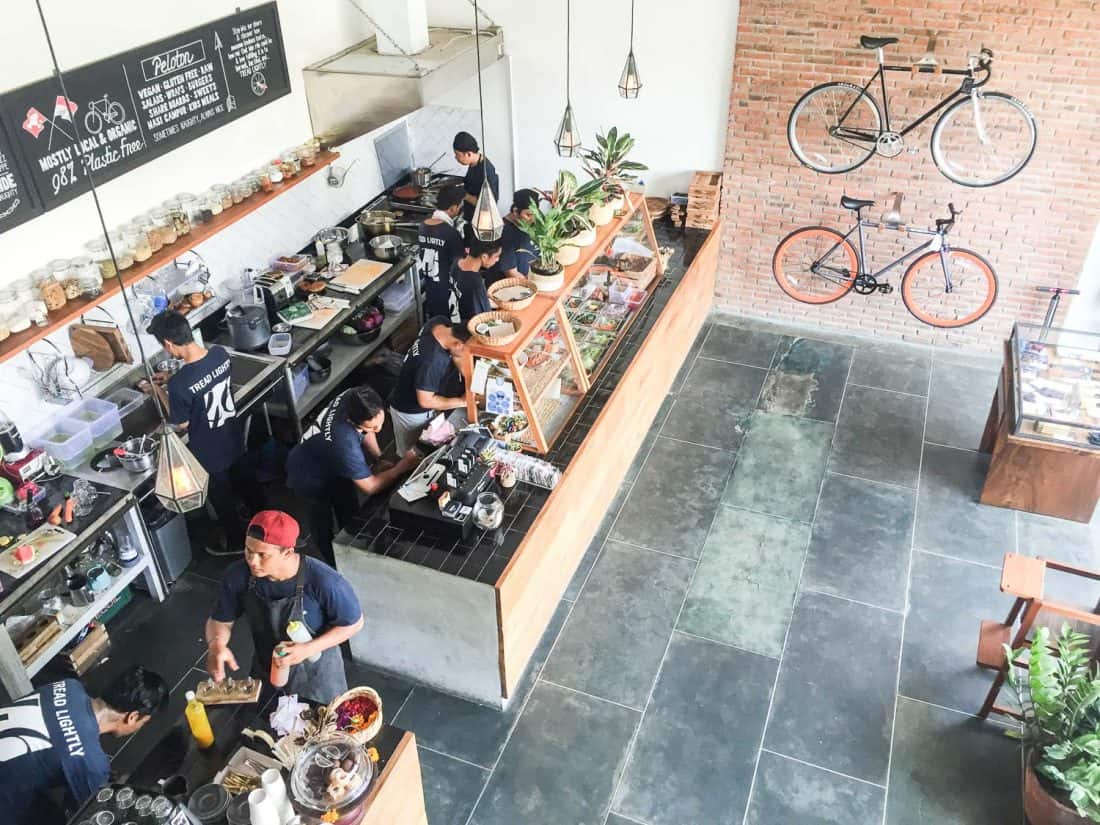 Ultra-cool Peloton is a vegan cafe and artisan cycling store that uses mostly local, organic ingredients. Their creative menu features raw tacos, burgers on charcoal buns, and nasi campur. Their breakfasts look amazing—smoothie bowls, cinnamony pancakes, scrambled tofu burritos, and more. They also have lots of healthy juices and kombucha.
My salad was the best I had in Bali—I went for the Fully Tabouleh, which was packed with goodies: mixed greens, falafel, tabouleh, hummus, sauerkraut, pickles, and sundried tomatoes, served with a tangy citrus dressing. The sweet potato fries were also excellent. I wish we could have gone back to sample more.
Peloton Supershop: Jalan Raya Pantai Berawa 46. Every day 7.30 am – 4.30 pm.
2) Betelnut
Betelnut is an expat favourite with views over the rice fields. It's not entirely vegetarian, but there are plenty of meat-free options including salads, wraps, burgers, curry, and Mexican dishes. I had the huge, delicious Veggie Patch salad with roast pumpkin, beetroot, feta, cashews, spinach, and rocket. The smoothie bowls are supposed to be excellent, too.
Betelnut: Jalan Batu Bolong 60. Tue-Sun 7 am – 10 pm.
3) Green Ginger Noodle House Update: Sadly, now closed.
We sadly didn't make it to Green Ginger, but I know it would have been good because it's the sister restaurant of The Elephant, one of our Ubud favourites. It's entirely vegetarian (including some vegan options) with a focus on Southeast Asian dishes such as laksa, ramen, pho, and pad thai. They also serve breakfasts and salads (which I loved at The Elephant).
4) Poke Poke
Poke Poke is a cute place with colourful Hawaiian decor and fun props for photo opportunities. They have four vegetarian bowls—the sesame crusted tempeh was amazing, featuring a spicy tempeh that was the best we ate in Bali. You can customise your bowl by choosing white or brown rice, quinoa, or salad (or a mix). My only complaint was that I would have liked more greens in my bowl (but Simon preferred it this way).
Poke Poke: Jalan Batu Bolong 58. Every day 7 am – 9 pm.
5) Warung Bu Mi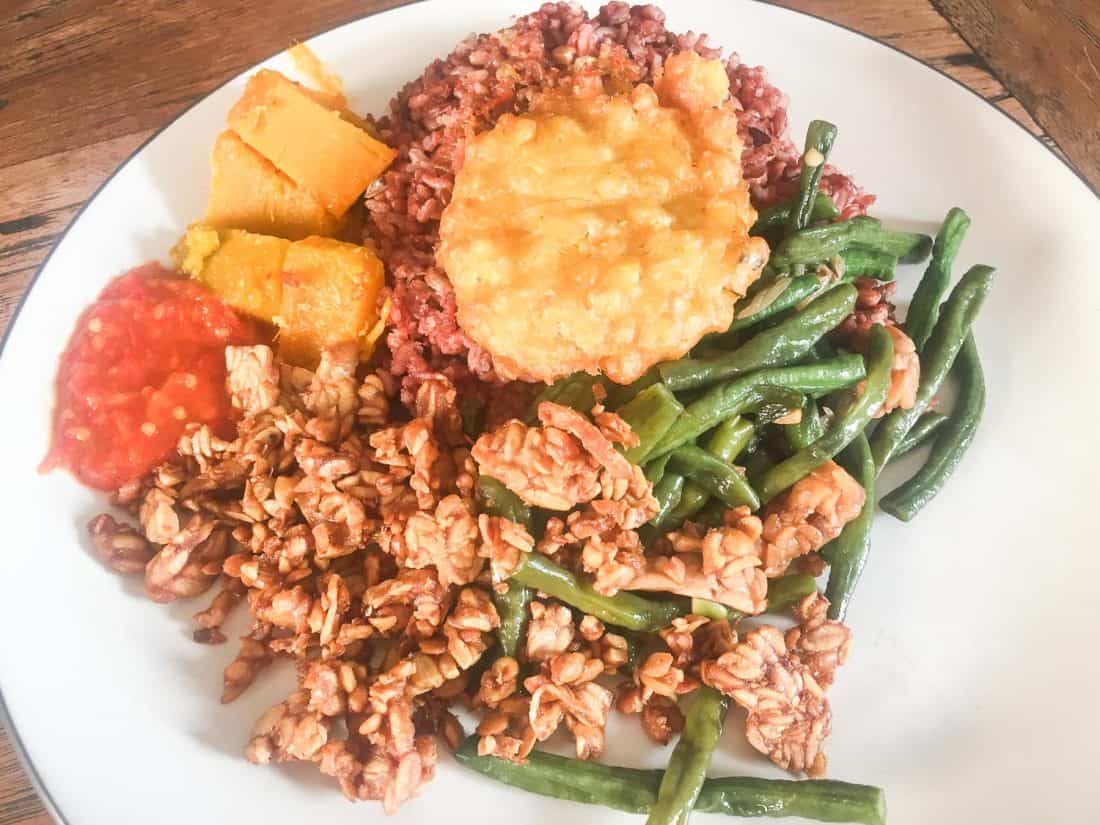 For a cheap Indonesian meal, head to Bu Mi. They have a large selection of nasi campur including plenty of vegetarian options. You choose what you'd like from the cabinet, and it's served with a big portion of red, yellow, or white rice—we had pumpkin curry, green beans, tempeh manis, and a corn fritter, all for only 17,000 IDR ($1.30)! If you like things spicy, ask for sambal on the side. As always in nasi campur places, the food is lukewarm.
Warung Bu Mi: Jalan Batu Bolong. Every day 9 am – 9 pm.
6) Samadi
Samadi is a well-being centre with yoga classes, treatments, and an organic vegetarian cafe. On Sunday mornings, they have a farmer's market where you can buy fruit, vegetables, clothes, baked goods, and kombucha.
We combined it with brunch at the cafe—the Mysore dosa was tasty, but not exactly authentic (it was too thick and not crispy). As well as Indian dishes, they have a salad bar and raw vegan options like lasagna and zucchini pasta.
Samadi: Jalan Padang Linjong 39. Every day 8 am – 3 pm.
7) Canteen Cafe
Canteen is a casual cafe with a funky retro surf vibe and a few vegetarian dishes. I really enjoyed the roast vegetable, feta, and sundried tomato panini; Simon's pumpkin burger was good but fell apart. Their all-day breakfasts are popular—I liked the berry smoothie bowl. It's not the best place for vegans—I heard someone asking staff about the options, but they didn't understand.
The gelato shop next door is worth a stop afterwards—the coconut gelato is delicious.
Canteen: Jalan Batu Mejan 33. Every day 7 am – 5 pm.
8) Taco Casa
Simon was so happy that Taco Casa, his favourite restaurant in Ubud, opened a branch in Canggu just before our visit. It has all the same Tex-Mex classics (burritos, nachos, tacos, enchiladas, etc) and everything can be made vegetarian. They have super fast WiFi (18 Mbps down), and it's usually quiet, so it would be a good place to work.
Taco Casa: Jalan Batu Mejan. Every day 11 am – 10 pm.
9) Lacalita Bar y Cocina
We only had lunch at this Mexican bar because we were flagging in the heat and couldn't be bothered to walk any further. So we were pleasantly surprised to discover they did really tasty food—I loved the superfood salad with quinoa, veggies, and feta, while Simon thought the burrito was better than at Taco Casa—you can choose your toppings and sauces (the ranchero and corn salsa were delicious). The colourful Mexican decor makes it a fun place to hang out.
Lacalita: Jalan Batu Bolong 68. Every day 9 am – midnight.
Other options that we didn't make it to include Alkaline Restaurant at Serenity Eco Guesthouse (which also has yoga classes and budget accommodation, but a friend said the food was nothing special), and Green Garden Cafe. They both have quite a few vegetarian, vegan, and raw dishes including raw desserts.
For the best croissants and pastries, don't miss Monsieur Spoon on Jalan Batu Bolong.
Canggu Vegetarian Restaurants Map
Canggu Details
We stayed in a spacious Airbnb apartment a few minutes walk from Batu Bolong beach. Our one-bedroom apartment cost £31 ($45) a night and was comfortable and modern with a lovely shared pool. It's just a shame the Wi-Fi was slow and there's only A/C in the bedroom (it was hot in January).
Canggu is 1 to 1.5 hours from Ubud (a taxi cost us 300,000 IDR/ $22), and 45-60 minutes from the airport. It's the next town along from Seminyak.
Uber is officially banned, but it worked for us. We paid 79,000 IDR ($5.90) from Canggu to the airport, rather than the 200,000 ($15) taxi drivers charge.
Canggu is spread out over a series of connecting beaches, and most people hire a motorbike to get around (50,000 IDR/ $3.70 a day). We were in walking distance of Batu Bolong and the beach, so we managed without one until our last day when we hired one to visit the Berawa area (where Peloton is).
You can rent surfboards on the beach for 50,000 IDR ($3.70) for two hours. Teachers are also available. Simon didn't find the surfing as easy for beginners as in Kuta.
Canggu may not be the most beautiful beach in Bali, but it has an alternative atmosphere and plenty of delicious vegetarian food. As elsewhere in Bali, new villas and hotels are popping up, but it's still less developed than other beach towns, and the rice fields haven't completely vanished. For vegetarians in Bali, it's definitely worth adding to your itinerary.