This page contains affiliate links. Please read our disclosure for more info.
It's our six year nomadiversary! We've spent the last six years travelling the world with just a carry-on backpack each, running an online business as we go. These milestones are important to us as reminders of how far we've come—and not just the miles we've travelled. Running our own business is the most challenging thing we've ever done, and we often feel like we're making a mess of it, but our nomadiversary is a celebration of how we've made it work so far.
For more about our thoughts on living and working on the road, see our reflections on 2000 days as digital nomads. Today I want to look back at the highs from our sixth year, which took us to 10 countries in North America, Europe, and Southeast Asia.
Mexico
Living in Oaxaca
We didn't fall in love with Oaxaca the same way we have with other destinations in Mexico, but we still have plenty of wonderful memories from our six weeks there: strolling down the gorgeous pedestrian Alcala, exploring the ruins of Monte Alban on my birthday, decorating easter eggs with our friends Tom and Jenny and hiding them around town, the smell of freshly ground cacao from the many chocolate shops. It was also a very inexpensive place to live, so we could save up for our next destination…
The USA
Pure Fun at Disney World!
We spent nine days of pure, if exhausting, fun, exploring the four parks, two water parks, two mini golf courses, and one giant arcade at Disney World, Orlando. It's Simon's favourite place on earth and one where he can truly switch off and forget about work. It really is magical.
Seeing Friends and Family in New York
I struggle to enjoy New York City (the chilly April weather didn't help), but we did get to catch up with friends for a screening of their amazing film Planetary. Then we took the train up to Poughkeepsie to visit Simon's relatives. It was lovely to catch up with everyone, and the area surprised us with how much there is to do: the Vassar College art gallery, FDR Presidential Library, Culinary Institute of America, and the Walkway Over the Hudson were highlights.
Finland
Snowboarding with Reindeer in Lapland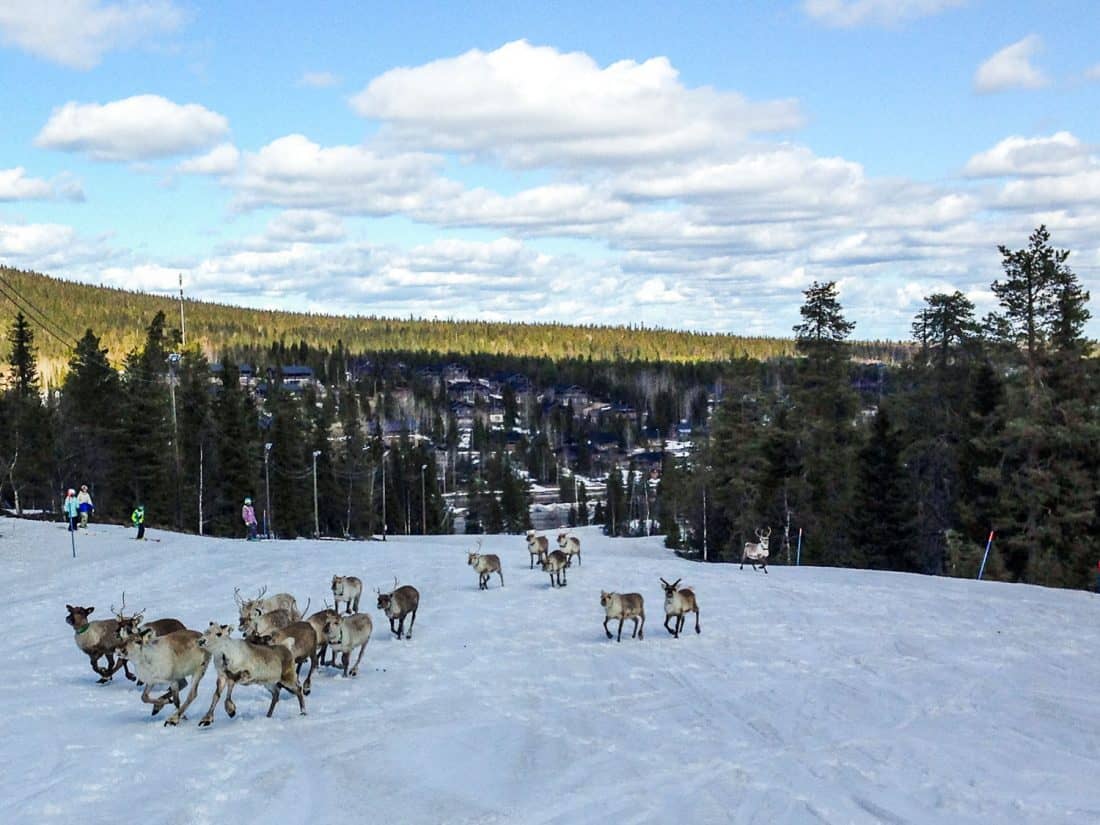 Our first new country of 2015 was very different from our usual tropical locations, but we loved Finland. We chose it because it has one of the longest ski seasons in Europe. We were able to snowboard in May at the cute resort Ruka—the slopes were almost empty except for a herd of reindeer!
Off the slopes, we loved horse riding in the snow and grilling veggie sausages over the fire on a chilly hike (a very Finnish activity). We appreciated how the Finns don't let the cold stop them from enjoying the outdoors.
Eating and Cafe Hopping in Helsinki
Helsinki is an easy city to like—it's walkable, close to nature (300 islands are a short ferry hop away), and has a surprisingly excellent food and cafe scene. We spent our time learning about local organic food on a walking tour, sampling the best vegetarian restaurants, cafe hopping, and eating one of the best gourmet meals of our life. Oh, and eating way too much chocolate—it's really good in Finland!
The UK
Simon Gets His Motorbike Licence!
Simon did his CBT (compulsory basic training) before we became digital nomads, but he finally managed to squeeze in the various tests to get his full licence. His training on crazy Asian roads paid off—he passed his practical road test with a perfect score!
Italy
Rome
This was our fourth visit to Rome together and it was as glorious as usual. We didn't feel any pressure to see the sights, so our time was spent in our two favourite pursuits—eating, and then burning it off with long walks around this stunning city. I don't usually like big cities, but Rome doesn't feel like one to me—it's so walkable and the neighbourhoods feel like villages, especially Trastevere, where we stayed. We also enjoyed an escape from the city on an olive oil tour to the picture perfect hill town Casperia.
Hiking the Path of the Gods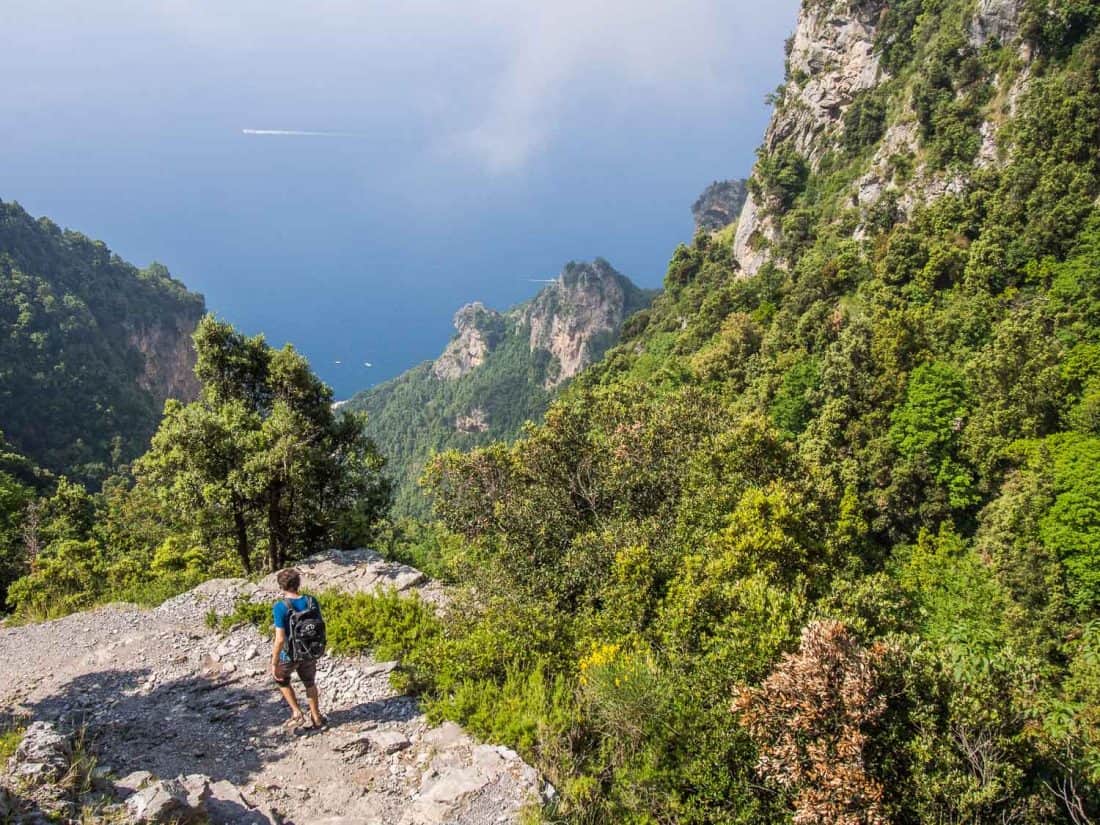 The Amalfi Coast is one of the most popular and expensive areas of Italy. We discovered that you can visit on a budget by staying in the mountains above the coast. Untouristy San Lazzaro was our base for the spectacular Path of the Gods hike. We walked on narrow trails carved into the limestone mountains with views of the colourful villages that tumble down the cliffs to the deep blue sea below. By starting early we had this famous hike to ourselves and were back in time for a big pasta lunch and a siesta.
The Secret Island of Procida
This was my 11th visit to Italy and on each trip I'm amazed to discover more gorgeous places that no one has heard of. Procida is a true hidden gem just a short ferry ride from Naples and the immensely popular Capri. It's a tiny island so we walked everywhere—along winding narrow lanes past lemon groves to black sand beaches and multi-coloured fishing villages. The view of Marina Corricella from the Terra Murata is one of my all-time favourites.
A Wine-Themed Sailing Trip Along the Amalfi Coast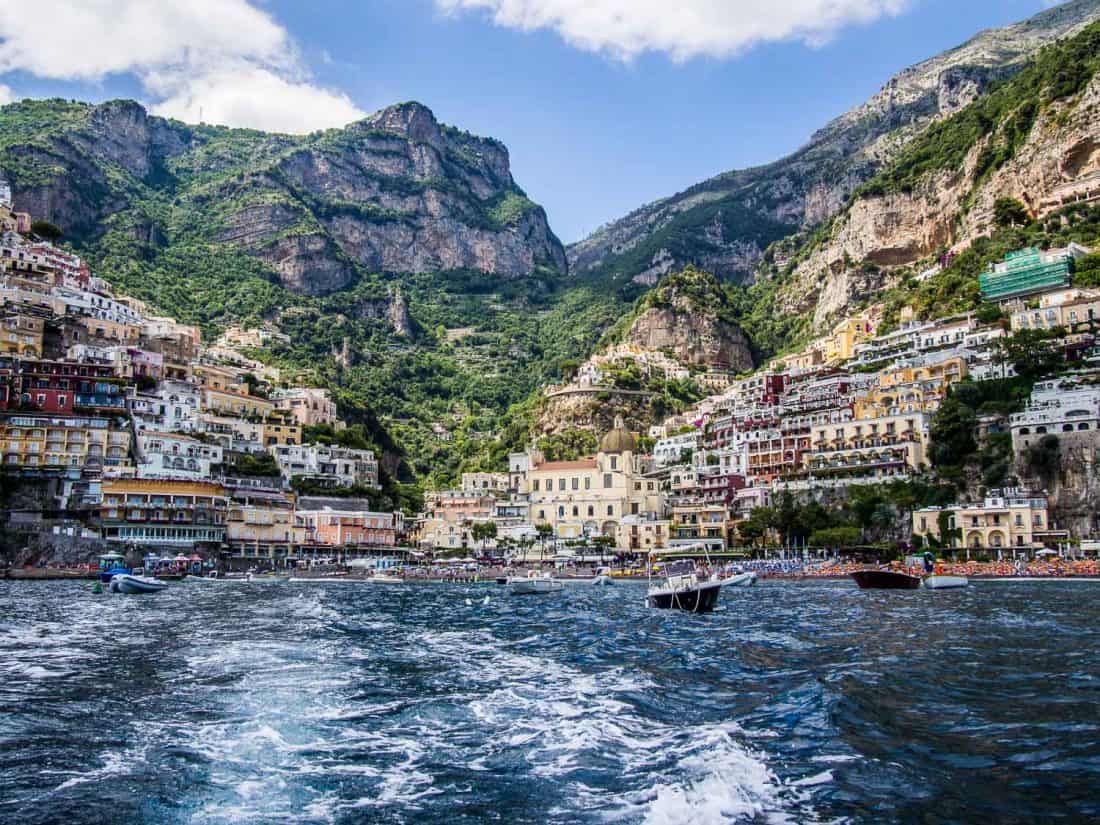 Sometimes this lifestyle is as glamorous as it seems! We spent a week sailing along the Amalfi Coast on a 65ft yacht with Intersailclub, who arrange cabin charters to make sailing more accessible. The coastline is seriously stunning and it's best seen by boat where you can appreciate how precariously located the towns are. We visited everywhere from popular Positano to the quiet fishing village Cetara, stopping along the way to sample the region's best wine and food.
Orvieto: A Perfect Hill Town
Orvieto is a hill town perched on a volcanic rock in the Umbrian countryside. It was perfect—beautiful streets for wandering, many delicious restaurants, views of the countryside, and my favourite cathedral in Italy.
Housesitting a Country Mansion
We were lucky to find a housesit on Trusted Housesitters looking after two dogs, a cat, and a stunning six bedroom farmhouse in the middle of nowhere in the Umbrian countryside. The heat wave that sent temperatures soaring to 40ºC was challenging, but we loved the peaceful location and cooking produce straight from the vegetable garden.
Travelling Across Europe by Train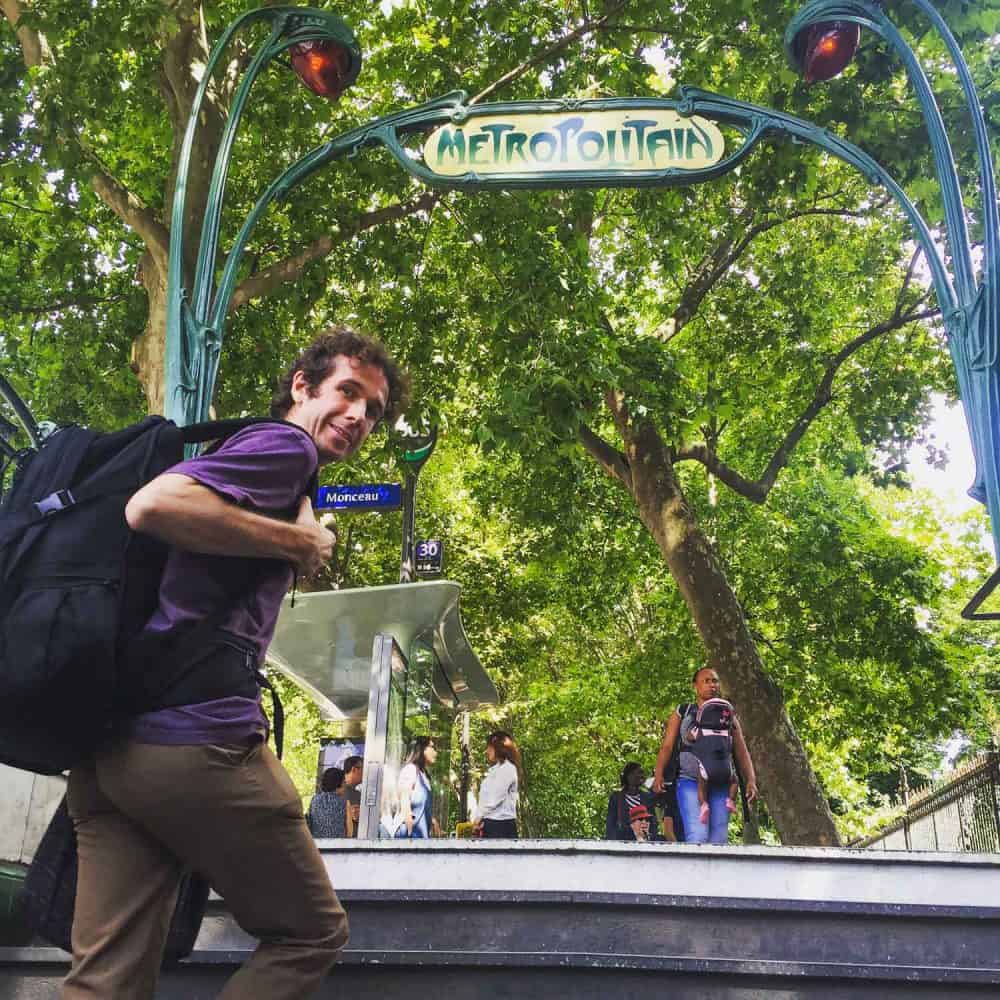 We decided to travel from Umbria to London by train rather than flying as we find it much more relaxing. We stopped in Florence for lunch and a quick peek at the Duomo, visited the Milan Expo, and spent a couple of nights in always-beautiful Paris. As in Rome, we didn't feel we had to visit the sights. Instead, we spent a balmy summer evening drinking rosé and eating the most amazing cheese and baguette with a friend in a park, got up early for a long run past the Louvre, and skipped lunch for two decadent breakfasts of croissants and thick hot chocolate. We walked, lazed in parks, drank more wine, ate more cheese. We did not want to leave.
The UK (Again)
Housesitting in London
Last year we experimented with spending longer than usual in the UK. Despite growing up 50 miles from London, we've never spent an extended period there, so we found a three-week housesit in the posh neighbourhood Barnes, looking after Griff, a large and exuberant wirehair pointer. We spent our time taking Griff on long walks along the Thames, enjoying fresh produce from the allotment, and hosting friends and family. It was lovely to catch up with everyone, and Simon even got to play the drums for the first time in years. I also ran my second 10k race in Regent's Park (despite my struggle with minimalist running shoes). I don't love everything about the UK, but it is one of the world's best running destinations, with cool weather and plentiful trails, even in the busy capital.
A Magical Cornwall Wedding
We were determined to see more of the UK and were excited to visit Cornwall, one of the most beautiful places in the country. We were looking forward to long hikes and trips to the picturesque beaches. But, this is England. It rained furiously for our entire week, and the sea was lost in a grey mist. All wasn't lost, though—we rented a cute cabin in the woods on Airbnb and enjoyed being forced to snuggle inside and read.
The rain didn't bode well for our friends Victoria and Steve's wedding at a tipi campsite in the forest, but Brits don't let the weather get in the way. It ended up being the most magical wedding we've been too (read all about it on Bridges and Balloons), and I'll take weddings in wellies over heels any day.
The Netherlands
Staying on a Houseboat in Amsterdam
Using our new favourite flight search, Kiwi, we found that flights to Bali were much cheaper from Amsterdam than London. We chose to take the train again—much more pleasant than a budget airline flight. We stayed on a surprisingly spacious houseboat on a quiet, leafy canal only a 10-minute walk from the train station. I love how with Airbnb you can experience local life even on a short visit. We spent our time wandering the gorgeous streets and eating frites (not as good as English chips, sorry!).
Indonesia
Living in Ubud
We fell deeply in love with Ubud, an artsy village in the centre of Bali, and ended up staying for nearly five months. We loved the rice fields, the colourful ceremonies, the gamelan music, the yoga, the healthy food, the ease of life there. It has topped Chiang Mai as our favourite digital nomad destination and we will be back.
Doing Nothing on Gili Air
Gili Air didn't quite live up to its paradise island reputation, but with no motorised transport and unreliable internet, it was the perfect place to relax for Simon's birthday.
Beach Time in Canggu
Before leaving Bali we spent a week in the surf town Canggu. It has a more alternative vibe than other Bali beach towns, with delicious vegetarian-friendly food and more expats than tourists. We loved our sunset walks along the beach.
Oh So Easy Singapore
We love Singapore. It's so efficient and easy and green. We stayed with Simon's brother in his fancy new apartment and took trips to Universal Studios and to the Thaipusam festival in Little India, where pilgrims engage in acts of devotion, most notably piercing their skin with skewers. It's a shocking but strangely beautiful sight.
Vietnam
Local Life in Hoi An
Ho Chi Minh City was too chaotic for us, so we changed our plans and headed north to Hoi An. The city is much more our pace with a beautiful ancient centre set along the river, and beyond that rice fields and a long golden beach. We've rented an apartment here for 2.5 months to be settled for my book launch (see below) and love seeing life beyond the touristy centre—saying hello to farmers as they water their vegetable gardens or herd their cows, shopping for fresh rice noodles and produce in the market, and witnessing local festivals like the new year celebrations of Tet.
The Growth of Trail Wallet
In the last year, Simon finally felt that all his hard work on Trail Wallet paid off. Our travel budget app has continued to grow, and in the last year made nearly four times as much as in its first year (2013). It has now been downloaded by over 72,000 people (not all sales—we wish!).
Increasing our Income (Finally)
In years two to five as digital nomads we broke even but never managed to increase our savings. In year six, due to the increase in Trail Wallet income and affiliate income from this site, we were finally able to put some money away. Best of all, it is passive income. Although Simon continues to work on Trail Wallet updates, if he doesn't, the money still comes in. For five months while travelling in the US and Europe last summer, we did very little work (besides the usual blogging) and our income grew. It feels great to know that we can take time off when we chose to and still earn a living.
So passive income isn't a myth (as we once thought)—it just took us five years to get there!
Writing My First Book
In my reflections post, I wrote about how I struggled with a lack of purpose. It was only by giving myself permission not to need a huge lofty goal that I let myself start on a project I first had the idea for over three years ago. I wish I hadn't put it off for so long, as despite some struggles along the way, I enjoyed writing my first book. It has felt good to try something new, have a project to work on when we're settled for a few months, and (from what my early readers say) help people by sharing my experience.
My book is called The Carry-On Traveller: The Ultimate Guide to Packing Light and will be available on Amazon on 4th April!
Simon Going Digital with his Drawing
For years, Simon has been carrying around sketch pads and pens and accumulating drawings that he couldn't bear to part with. This year he bought an iPad Pro and Apple pencil and has gone entirely digital with his drawing. It's a bit of a beast, but the iPad has enabled him to get rid of his graphics tablet, Moleskine, sketch pad, and many pens and pencils. It's amazing for artists as the pencil has pressure sensitivity that replicates real life drawing and painting. He is drawing more than ever and has even created a travel-themed Instagram web comic, which he creates entirely on the iPad—follow on Instagram here.
Our Most Popular Posts of Year Six
Year six was a fantastic year. We felt like we had a good work/life/travel balance—we didn't work too hard and explored some new places but still managed to grow our business. Thank you to everyone who has read Never Ending Voyage or used Trail Wallet this year. As always, we really appreciate your support. Now, onwards to year seven!