This page contains affiliate links. Please read our disclosure for more info.
Update 2022: Johnny Madge has moved to Valencia, Spain and no longer runs olive oil tours in Italy.
If you've ever tasted really good olive oil you'll understand how easily you can become obsessed with the liquid gold. Excellent olive oil can change your life—it did for Johnny Madge, an Englishman who visited Italy over 30 years ago and, after trying it, knew he had to learn more. So he moved to Italy and became an olive oil expert.
The first time we self-catered in Italy we bought a bottle of olive oil from a farm near our little village in the Tuscan countryside and it transformed everything we ate—I've never eaten so many bowls of simple lettuce as I did on that trip.
Since then our mission on arrival in Italy is to find a good bottle of oil—not always easy as most stuff in supermarkets is rubbish. While researching where to buy good oil in Rome (our first stop on our current two month visit) I came across Johnny Madge's olive oil tours near the city. A day trip from Rome to the Lazio countryside to buy a bottle of oil may seem a bit extreme, but that's just how important it is.
We took the train an hour outside Rome where Johnny picked us up. On the 40 minute drive from the station he told us his history and gave us an introduction to Italian olive oil. Since first discovering it all those years ago Johnny has become a professional olive oil judge and is the only non-Italian to judge for Slow Food's Extravergini olive oil guide. His passion is obvious and we were excited to learn more from him.
Johnny lives in Casperia, a medieval hill town in the Sabine hills (also called Sabina). The drive there was gorgeous and we were amazed that so close to Rome was unspoilt countryside of rolling hills, olive groves, and vineyards that rival any Tuscan landscape.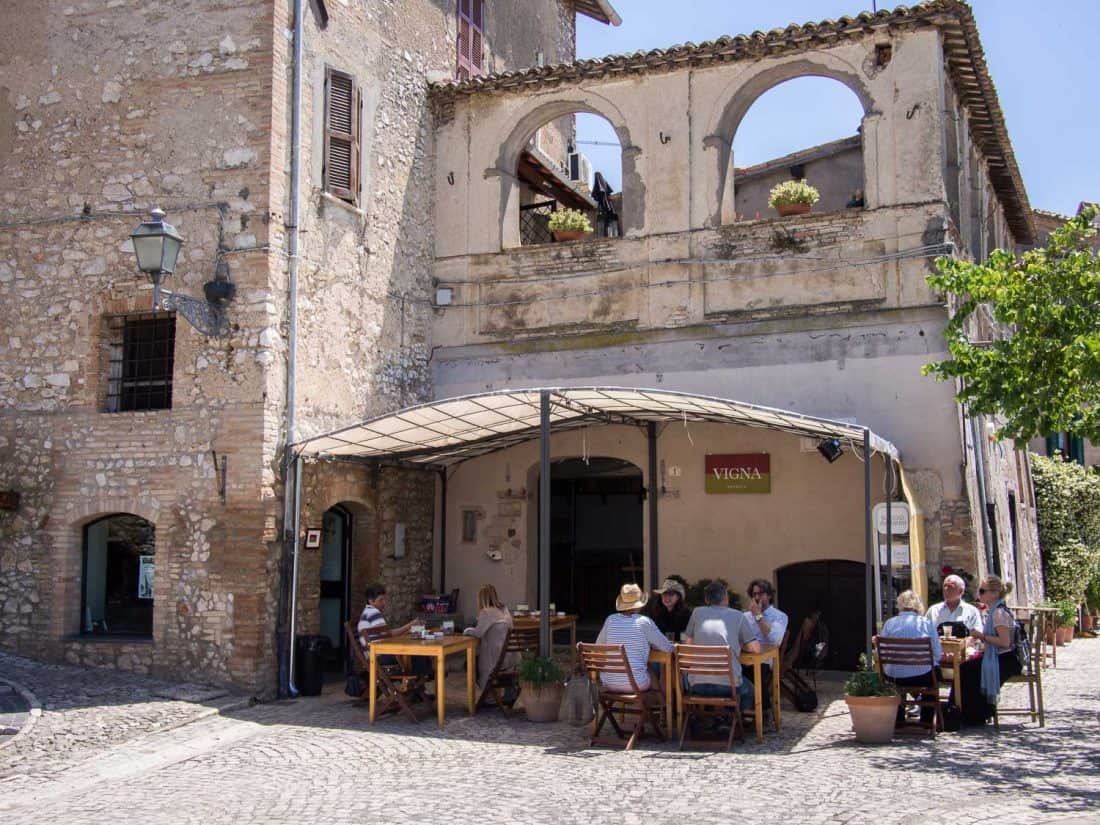 A year ago Johnny opened a restaurant in the village, Osteria Vigna, and that's where we had our olive oil tasting. He taught us how to taste oil like an expert—they don't dip bread in it, but drink it, so that's what we did.
First we put our hand over the top and rubbed the cup to warm it and release the aromas. Then we took a sip, covered the inside of our mouths and made a hissing sound to send it to the back of our throat—by breathing through your nose you get more aromas this way. Some oils can burn but if there's no smell or burn then it's not extra virgin oil.
We tried three different oils—a tomatoey aromatic oil from Sicily, a minty fresh oil from the nearby Lazio hills, and a pungent coratina from Puglia. They were all excellent oils and have different uses as we'd discover later in the food pairing.
Interestingly we didn't just taste good oils—we smelt a few bad ones too, including a very standard supermarket oil that was familiar to us. This is the kind of oil that most people are used to, but it's not really extra virgin oil and doesn't compare to the aroma and flavour of the good stuff.
During our tasting Johnny taught us all about olive oil including what extra virgin means, how olives are picked and oil is produced, and how to choose a good oil. A few of the facts we learned:
There are over 600 varieties of olives in Italy. Each produces a different flavoured oil, just like different grape varieties for wine.
Always buy extra virgin olive oil. This oil needs to have character, taste, burn, and under 0.8% free fatty acids (the oils we tried were 0.1 or 0.2%). The fresher the olives are when pressed, the better.
Unfortunately just because an oil is sold as extra virgin doesn't mean it is. Many refineries produce terrible oil with almost no colour, smell, flavour, or health benefits. Andreas Marz, a Swiss olive farmer, did tests of 31 supermarket oils in Germany and found that only one was really extra virgin.
It's very difficult to tell if an oil is good without tasting it. You can look for a few indicators on the bottle that show the producer is serious: the date produced (not just the sell by date), the olive variety, and if it mentions early harvest or made from green olives.
Oil is made by crushing olives into a paste and then heating it so the oil is released. Cold pressed oil just means the temperature is not as high.
Store oil in dark glass bottles to protect it from the sun. It can last up to 18 months, or three months after it's opened.
After the tasting and olive oil lesson we had lunch, starting with an olive oil and food pairing to see how the oils work with different foods, just as wine does. A ball of mozzarella went perfectly with the lighter, tomatoey Sicilian oil, and the stronger oils brought out the flavours of some plain lentils and cannellini beans. The transformation of the simple lentils by the Puglian oil was incredible—it became a completely different dish.
Lunch was wonderful and they were happy to cater for vegetarians. We had grated raw zucchini with pecorino and lemon oil, ricotta and lemon ravioli with sage and asparagus, and bunet, a chocolate creme caramel.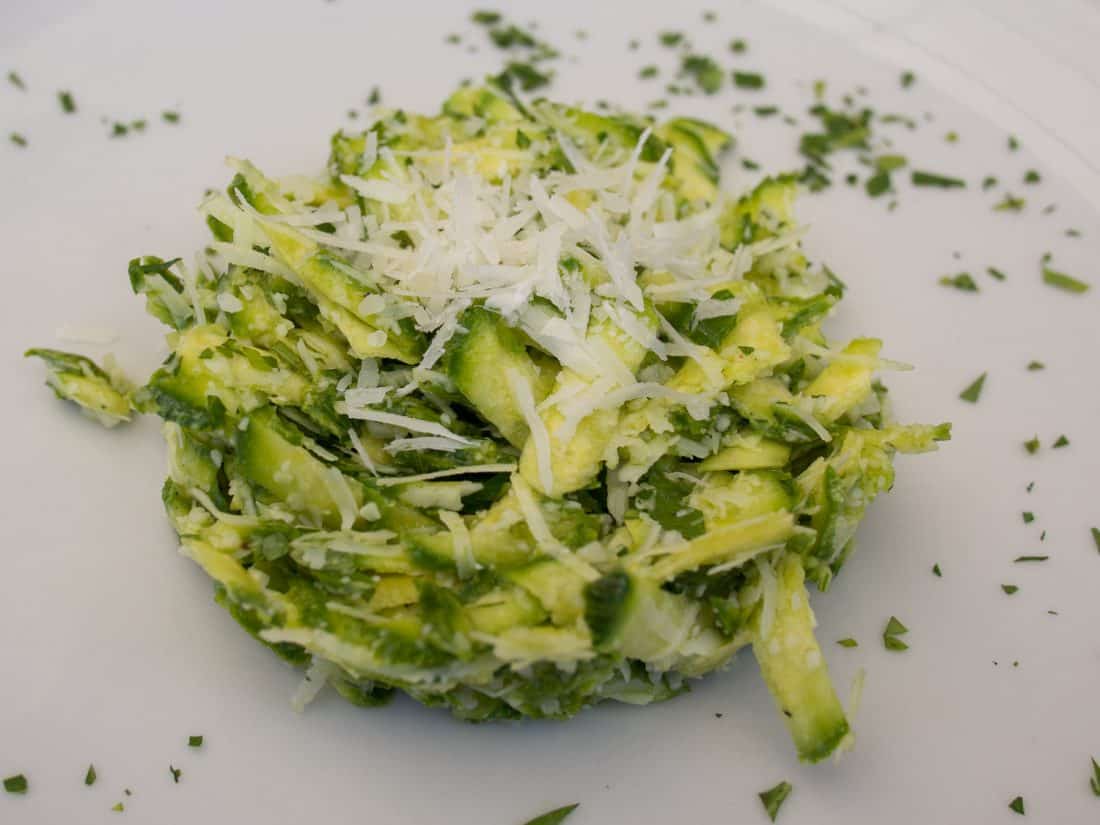 We were in need of a walk after all this so we took a stroll around Casperia. It's a picture perfect Italian hill town with cobbled streets, stone arches, and balconies adorned with flower pots. It's very quiet as cars can't come in the village—the streets are mostly staircases. An elderly man invited us into his watch making workshop and proudly showed off his tools. We felt a world away from the tourist shops and tour groups of Rome.
Before we left we had the opportunity to buy a bottle of oil from Johnny's large range, but there was no hard sell and we picked up a bottle of the Puglian. We drove the long way back to the train station past flowering olive trees and green hills, with the scent of jasmine drifting through the window. Our final stop was to see a 2000 year old olive tree—a truly impressive sight.
I wouldn't describe the day as a tour—there aren't many stops and as we were out of season we didn't visit any olive oil producers or mills (coming in the autumn for this would be ideal), but it is an olive oil learning experience.
We felt like we were being shown around by a friend. Johnny is jovial, laid-back, and very knowledgeable—it was a pleasure to get to know him. It was a wonderful day out and a great way to escape the city and see this pocket of countryside that isn't very well known. If you need a break from Rome's museums and churches we highly recommend spending a day learning about olive oil with Johnny.
Olive Oil Tour Details
Update 2022: Johnny Madge has moved to Valencia, Spain and no longer runs olive oil tours in Italy.
See our picks for the best unusual things to do in Rome for more ideas.
Thank you to Johnny who provided us with a complimentary tour.