This page contains affiliate links. Please read our disclosure for more info.
We'd originally planned to spend longer in Puerto Escondido on the Oaxacan coast, but as accommodation was more expensive than expected we moved on to Oaxaca City, the capital of the state.
The colonial city is located at 1550 metres in the foothills of the Sierra Madre and is known for its beautiful architecture, local cuisine, indigenous culture, and vibrant arts scene.
Oaxaca is so well loved and I'd looked forward to visiting for so long that initially we were disappointed. We had the same problem as we did in Puerto Escondido—comparing it to other places in Mexico.
We had fallen for the colonial cities of Guanajuato and San Cristobal de las Casas, and found Oaxaca more hectic and less attractive.
In time though the city grew on us and we came to appreciate the colourful buildings, street art, and elegant churches. We loved strolling down the Alcalá, a pedestrian street with a lively atmosphere, getting lost in the markets, and weekly trips to the cinema.
The cost of living in Oaxaca is very inexpensive—accommodation especially was far cheaper than on the coast. We rented a house for 38 days in March-April 2015. As our other cost of living posts share our monthly expenses, I've calculated those by multiplying our average daily costs by 30.
These were our monthly expenses in USD for two people:
Monthly Expenses in Oaxaca
Accommodation
$296
Eating Out
$205
Food Shopping
$240
Coffee
$87
Drinking Water
$10
Transport
$61
Entertainment
$47
Miscellaneous
$95
Total Monthly Expenses
$1041 (£706) for 2 people
Here are the total costs for 38 days in the three currencies we used: British pounds, US dollars, and Mexican pesos.
We budgeted £25 ($37) a day and amazingly (this never happens) we were under budget. For the daily average of each category see the screenshots below.
Here's what $520 (£353) per person a month got us in Oaxaca:
Accommodation
Accommodation in Oaxaca is so much cheaper than in Puerto Escondido, and in March is was easier to find. Three days before we arrived I responded to lots of ads on websites I'd found by googling apartments in Oaxaca including Airbnb, Oaxaca Times, and Craigslist.
I made appointments to view four places in our first few days. Everything we saw was between $280-500 a month and we had a few decent options to choose from. We spent three nights in a hotel before we moved into our new place.
Surprisingly for us, we ended up choosing the cheapest option—a one bedroom bungalow is a quiet courtyard only five blocks from the Zocalo. It was much more basic than we usually like with sparse furnishings, harsh fluorescent lights, threadbare mattress, and dribbly shower.
It was spacious and quiet though, and the WiFi was much better than in Puerto Escondido (2-3 mbps download speeds). It was fine for a month but ultimately we decided that although we could rent cheap places like this if we needed to, we prefer somewhere more comfortable and pleasant as we spend most of our day at home working.
Our rent was 4300 pesos ($280) a month including utilities, although we paid 100 pesos ($6) for an extra gas canister and 300 pesos ($19) for the final cleaning and laundry (we had the option to do this ourselves).
Eating Out
Our biggest shock in Oaxaca was that we didn't like the food. I know—it's the culinary capital of Mexico and everyone raves about the food here. But unfortunately it's not very vegetarian friendly. The famous mole sauce is usually made with chicken stock and served over meat, and the vegetarian street food options are very heavy on the cheese. The few vegetarian friendly restaurants serve international rather than Mexican food. After trying various things we didn't enjoy we ended up cooking most of the time and eating out once a week—usually Italian as it had the best options for us. We also often bought breakfast pastries from the excellent Boulenc bakery.
Meals ranged from 10 pesos ($0.65) for a memela on the street to 300 pesos ($19) per person for a fancy Italian meal with wine (our favourite was Epicuro Cafe Bistrot) or upscale Oaxaca food at La Biznaga (which has a few meat-free options).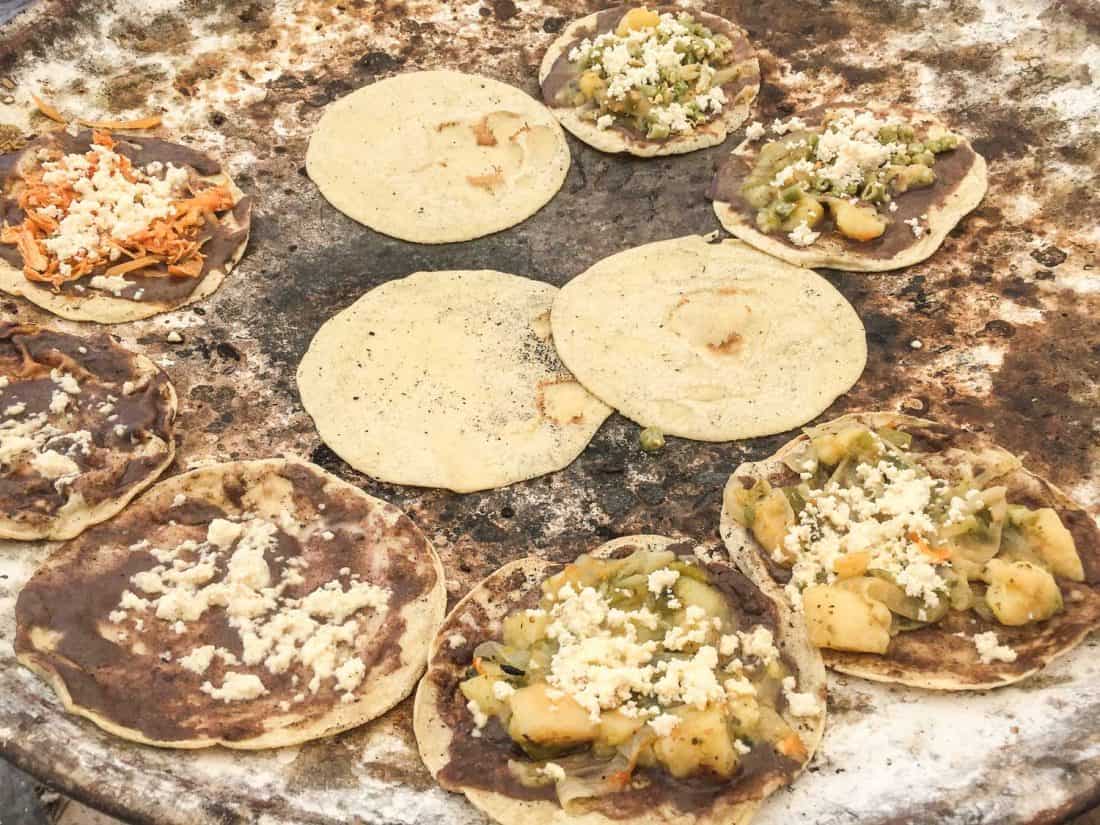 Food Shopping
We did most of our food shopping at the Benito Juarez market. It's a maze and quite touristy but we usually found everything we needed—fruit, vegetables, beans, spices, nuts, seeds, oats, and even brown rice.
We bought a few things from the Soriana supermarket and bread from Boulenc. There are a number of chocolate shops on Calle Mina where you can buy excellent drinking chocolate and freshly ground cacao.
Coffee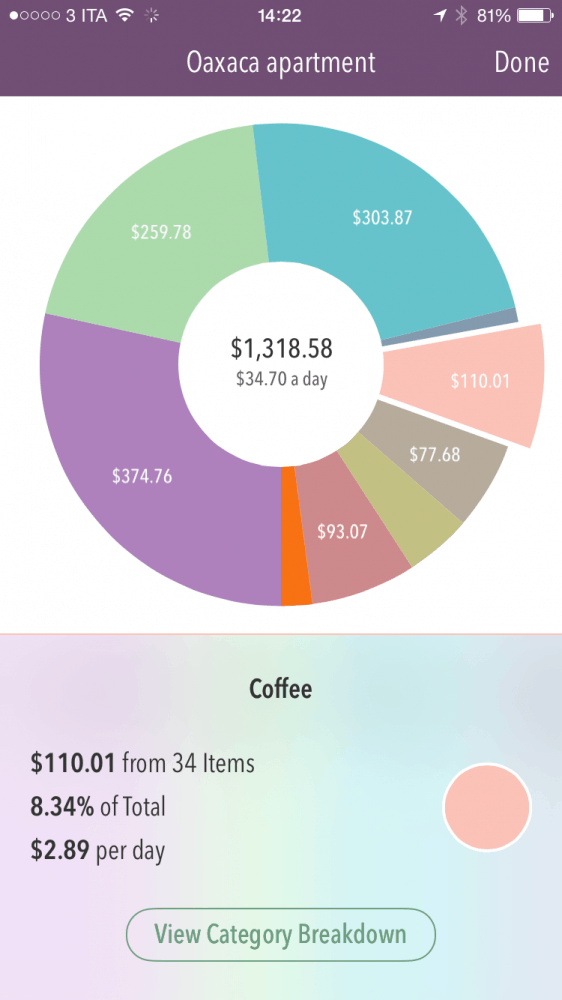 We didn't have a coffee maker in our house so Simon bought coffee one or two times a day. A cappuccino cost about 35 pesos ($2.25) and his usual stop was Cafe Brujula which has two branches on the Alcalá. We also worked in cafes more than usual as our house was a bit gloomy. Two of our favourites (also on the Alcalá) were Cofetarika which does Aeropress coffee and Voces de Copal located inside an art gallery that has comfy seats and pretty good food.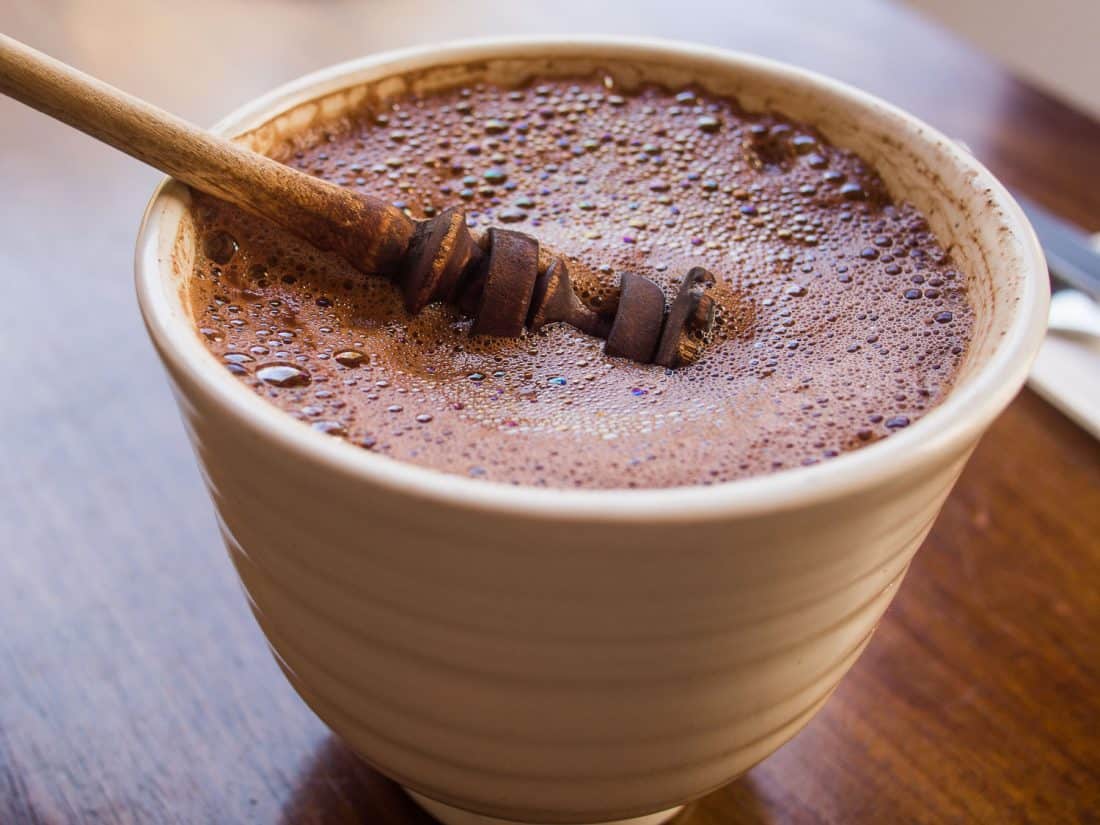 Drinking Water
We bought reusable 20 litre garrafones from the shop next door for 15 pesos ($1).
Transport
Most of the time we walked everywhere in Oaxaca. We took a taxi to the cinema a few times (50 pesos/ $3) and the bus to Monte Alban was 50 pesos ($3) each return (from the hotel at Mina #518). The biggest expense in this category is our onward bus tickets to Mexico City which were 452 pesos ($30) each with ADO.
Entertainment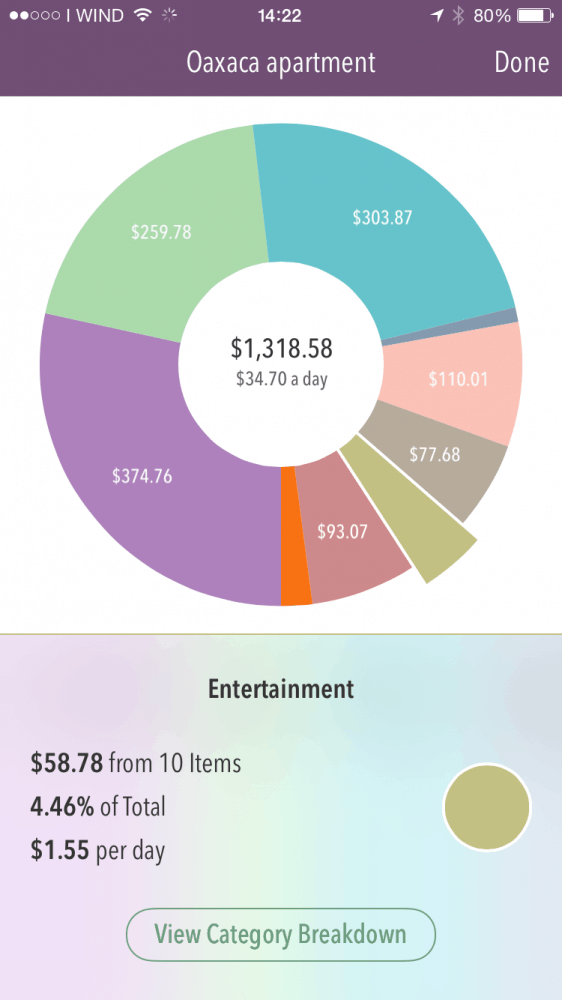 Most of our time was spent working or wandering the city. Here are a few activities we did:
I went to Blanca's Vinyasa Hatha yoga class once or twice a week at Prana Yoga (sadly now closed). A four class pass usually costs 300 pesos but was discounted to 270 pesos ($17).
We went to the Cinepolis cinema every Wednesday which is cheap day so tickets were only 31 pesos ($2). It's a nice cinema, never very busy, and a 35 minute walk or short taxi ride from the centre. (Note: this website might not work in countries that aren't Mexico.)
Entrance to Monte Alban, a Zapotec archeological site just outside the city, was 64 pesos ($4) each. We aren't usually into ruins but it's well worth a visit as it's inexpensive, uncrowded, and a peaceful escape from the city.
Entrance to MACO, the Oaxacan Museum of Contemporary Art was only 10 pesos ($0.65) but I think it's usually double that when all the exhibitions are open.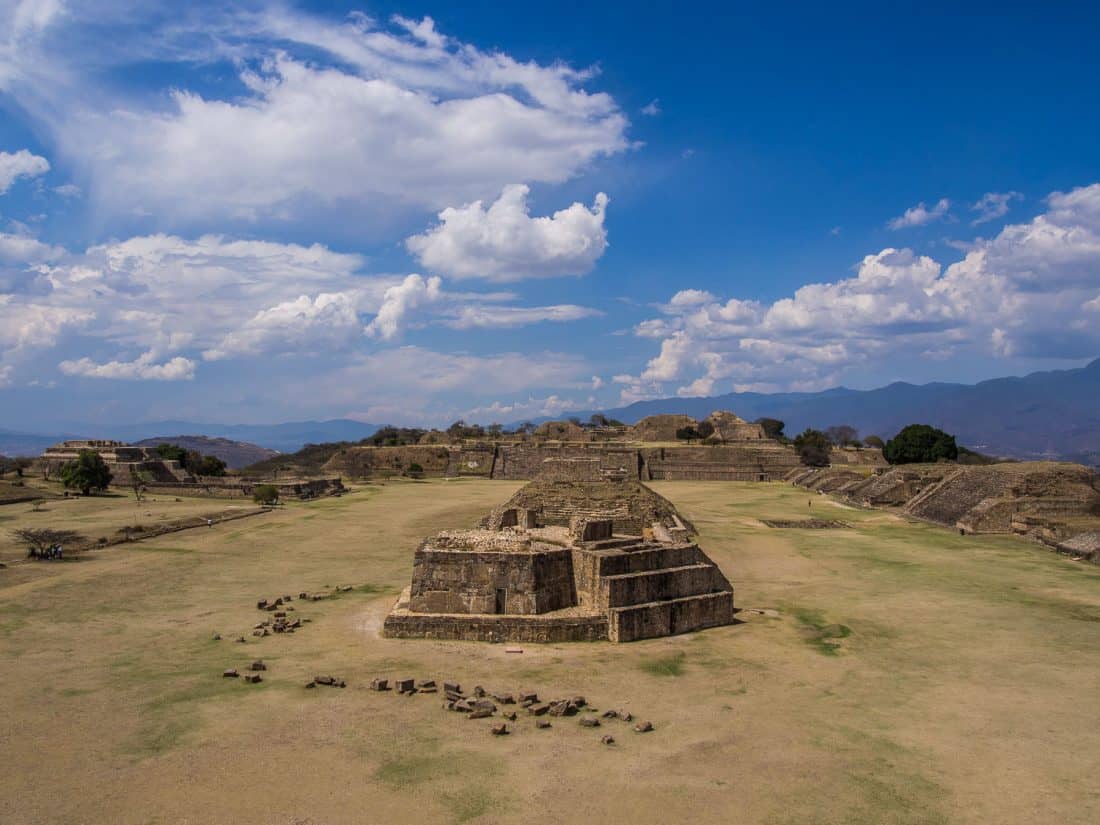 Miscellaneous
This includes a hair cut (90 pesos/ $5.80), toiletries, medications, printing, art supplies, and presents. Laundry usually cost 77 pesos ($5) once a week including our clothes, towels, and bedding. A Telcel mobile data plan cost 299 pesos ($19) for 1 GB valid for 30 days (Update October 2019: better plans are now available, including 3GB for 30 days at 200 pesos).
Simon also has a category for apps and games that he buys online. He spent $22 on these and I added them to the Miscellaneous total.
Oaxaca makes a good digital nomad base—it's very affordable, easy to find rentals, the WiFi is decent, and there are plenty of cafes to work in. It's definitely cheaper and the weather is cooler than on the coast and there's lots going on. You could even keep costs lower than we did by sticking to street food and avoiding too many cafe and bakery visits.
For other cost of living breakdowns for Mexico and Guatemala see our posts on Puerto Escondido, Playa del Carmen, San Pancho, and Lake Atitlan.
If you enjoyed this post, pin it!