This page contains affiliate links. Please read our disclosure for more info.
My life changed when I first discovered the AeroPress. I liked coffee before, but the AeroPress is what made me really love it. Getting hold of decent coffee that isn't roasted to oblivion is an important part, but there's also some magic that happens in the total immersion pressing method that makes the coffee smoother and richer and lets the subtle coffee flavours shine through.
Whenever I had the choice, I would choose AeroPress. I even bought the coffee maker for our friend Jason, ostensibly so that he, too, could experience the awesomeness but also so I could drink it while we stayed with him.
I never intended to travel with a coffee maker—it seemed like way too much of an extravagance for someone who travels with just a carry-on backpack. But after being unable to find a regular coffee maker in Ubud, Bali, I got a visiting friend to bring me my own.
I planned to leave it behind when we left after five months, but it was so compact that I decided to give travelling with it a try.
Preparing the AeroPress for Travel

The AeroPress is basically a plastic tube with a rubber plunger. There are a few unnecessary accessories that I got rid of to save space—the funnel, stirrer, and filter holder—and haven't missed them. I could probably get rid of the scoop too, but it doesn't weigh much and making a decent coffee is a science and an art.
I later replaced the paper filters with a reusable metal filter. This saves space and I don't have to find replacements for the paper filters when I run out (which would, inevitably, happen in some remote town, probably in a country that has outlawed coffee). Some people say there's a difference in taste between the metal and the paper, but I'm no coffee sommelier.
The main AeroPress components (plunger, chamber, seal, and filter cap), scoop, and metal filter weigh 200g (7 ounces) and easily fit in my Outbreaker backpack. I occasionally travel with coffee if I'm going somewhere it might be hard to find the good stuff (like when we were island hopping in the Maldives), but usually I just buy it wherever we land.
Luckily, the exact grind of coffee isn't as important for the AeroPress as it is for an espresso maker, and you can get away with a coarser grind. Where possible, I buy coffee from serious coffee shops who are usually happy to freshly grind beans to my specifications, but otherwise I buy espresso grind from supermarkets.
Some serious coffee lovers even travel with portable hand grinders so they can grind their own beans, and to those ladies and gentlemen I nod my head respectfully, but it was either that or an iPad Pro so pre-ground it is!
UPDATE: I have upgraded my coffee stack and now travel with a Porlex mini coffee grinder. This is a solid little stainless steel grinder with ceramic burrs that make a nice even grind and I love it!
Travelling with the AeroPress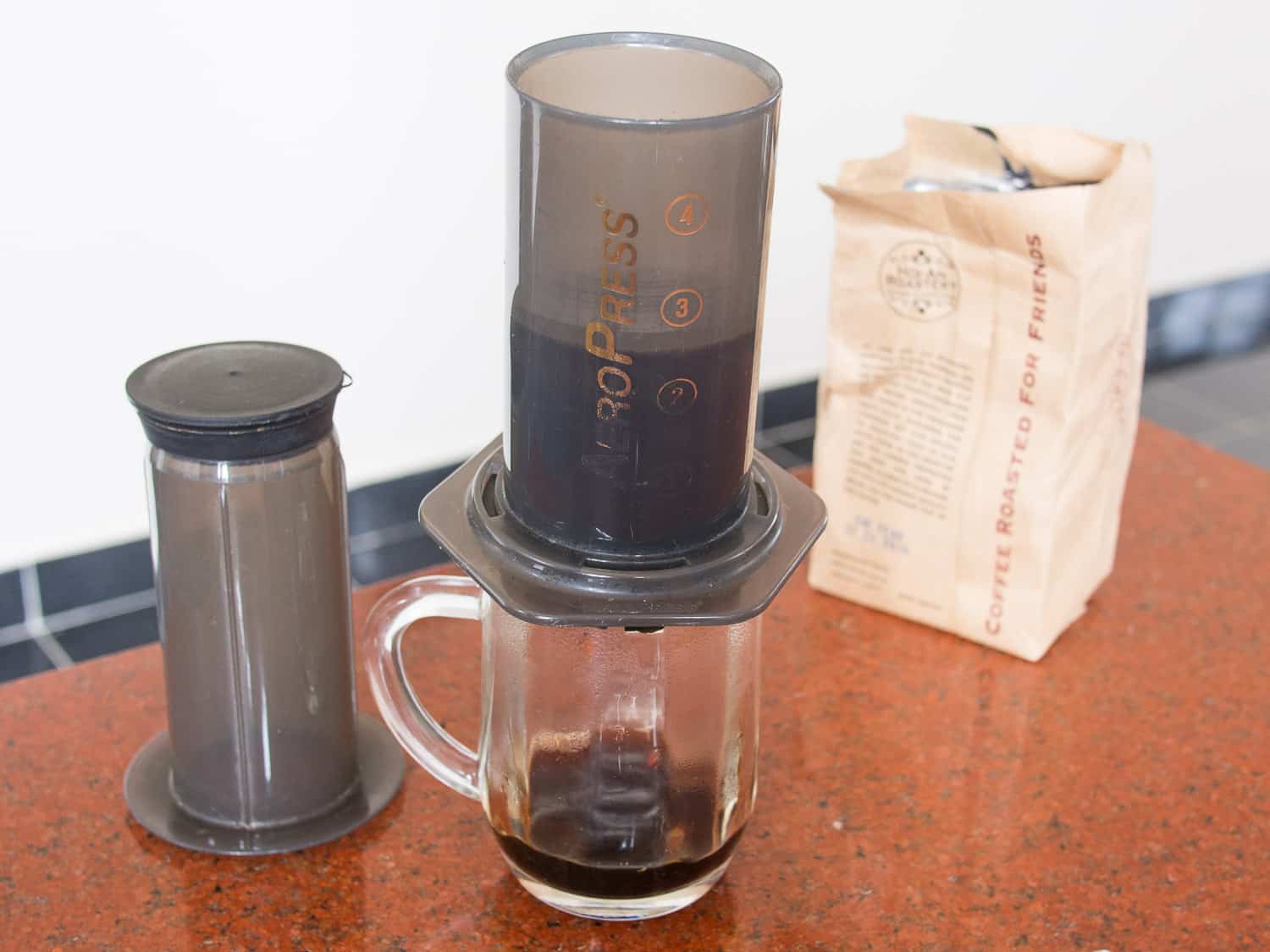 This whole thing was a short-term experiment to see if the AeroPress could earn its place, but ten months later it's still in my backpack. I've used it to make coffee in apartments without coffee makers in Bali, Vietnam, Barcelona, Berlin, Paris, Turin, and more. It has saved me from the steaming horse diarrhea that is instant "coffee" in hotels and guesthouses in Saigon, the Maldives, and all over Europe.
Most places we've stayed provide at least a kettle (or a saucepan in apartments), but in a pinch, you can always ask for hot water.
It's reassuring to know that however remote we are I can always have a good morning brew. Which, yeah, sounds like an addiction, but it's only a problem if you can't reliably get a fix and now I can!
I also don't have to go out to cafes as much, which I prefer because then you have to put on pants and a t-shirt and flatten down your hair and it's a whole big thing. My wallet prefers it too and with the money I save on breakfast I can buy games, like Euro Truck Simulator 2 (Seriously. 10/10 on Steam.). I also don't have to buy a new coffee maker every time we settle somewhere for a few months (I've bought quite a few over the years).
The AeroPress is made of rugged plastic, so it has stood up well to the rigours of the road. I don't bother with a case for it.
How to Brew AeroPress Coffee
Brewing AeroPress coffee is quick, easy, and makes minimal mess—perfect for travel. It only makes enough coffee for two or three cups at a time, but unless you're making a round for the entire hostel, it'll probably be fine.
1) Heat some water in a kettle or saucepan to just below boiling. Don't you boil it. Don't.
2) Put the filter into the cap and twist onto the chamber.
3) Stand the chamber over a mug and add one measured scoop of coffee per cup. Remember, science.
4) Add the hot water to the chamber and stir. I usually count ten elephants. I love my coffee elephants and my coffee elephants love me.
5) Insert the plunger, press gently, and wait for the satisfying steamy noise.
Your mug is now full of delicious coffee!
AeroPress makes a concentrated espresso-style cup of coffee, so I usually add more hot water to make an Americano. When I'm making enough for other people, I mix the coffee with additional hot water in a jug.
Clean up is very easy. Just remove the cap, push the plunger to eject the used coffee (it pops out easily in a neat puck), and rinse the rubber seal.
If you love good coffee, I definitely recommend travelling with an AeroPress. It's light, compact, durable, easy to use, and makes the best coffee you've ever tasted. Save yourself from the tongue torture that is instant!
Where to Buy the AeroPress
The AeroPress costs $29.95/ £24. It's available on Amazon US, Amazon UK or from some specialist coffee shops.
I also recommend buying a metal filter like the Able Brewing Disk (Amazon US) or KOFFI Disk Filter (Amazon UK).
If you enjoyed this post, pin it!
We do receive a small commission if you buy through the links above, but my AeroPress evangelism is genuine. We only recommend gear that we love and use ourselves.