This page contains affiliate links. Please read our disclosure for more info.
Puerto Escondido, on the Oaxacan coast, is the third Mexican beach town we've lived in. We loved Playa del Carmen and San Pancho and were tempted to return, but we decided to explore a new part of the coast.
Puerto Escondido is a relaxed, medium sized beach town with a population of around 45,000 known for its excellent surfing. It has grown in size over the years and is popular with expats and surfers, but has managed to avoid huge development and all-inclusive resorts.
Puerto Escondido is very spread out with a series of beaches stretched along the coastline. The surf beach Zicatela is the longest, and there are a number of smaller beaches closer to the centre of town.
The beaches are beautiful and we enjoyed our stay but it wasn't our favourite Mexican beach town. Playa del Carmen was more walkable and had better infrastructure like faster WiFi and a cinema, and San Pancho is much smaller with a magical charm. Comparisons really affect your experience and the more we travel the more spoilt we become, so I'm sure we would have loved it if we hadn't been comparing it to other towns.
We spent a month in Puerto Escondido from the end of January 2015. These were our monthly expenses in USD for two people:
Monthly Expenses in Puerto Escondido
Accommodation
$753
Eating Out
$137
Food Shopping
$326
Transport
$71
Entertainment
$94
Miscellaneous
$136
Total Monthly Expenses
$1518 (£1029) for 2 people
As always we tracked our expenses in our travel budgeting app Trail Wallet (sadly, no longer available). Here are the total costs for the month in the three currencies we used: British pounds, US dollars, and Mexican pesos. Each currency is shown in a different Trail Wallet theme.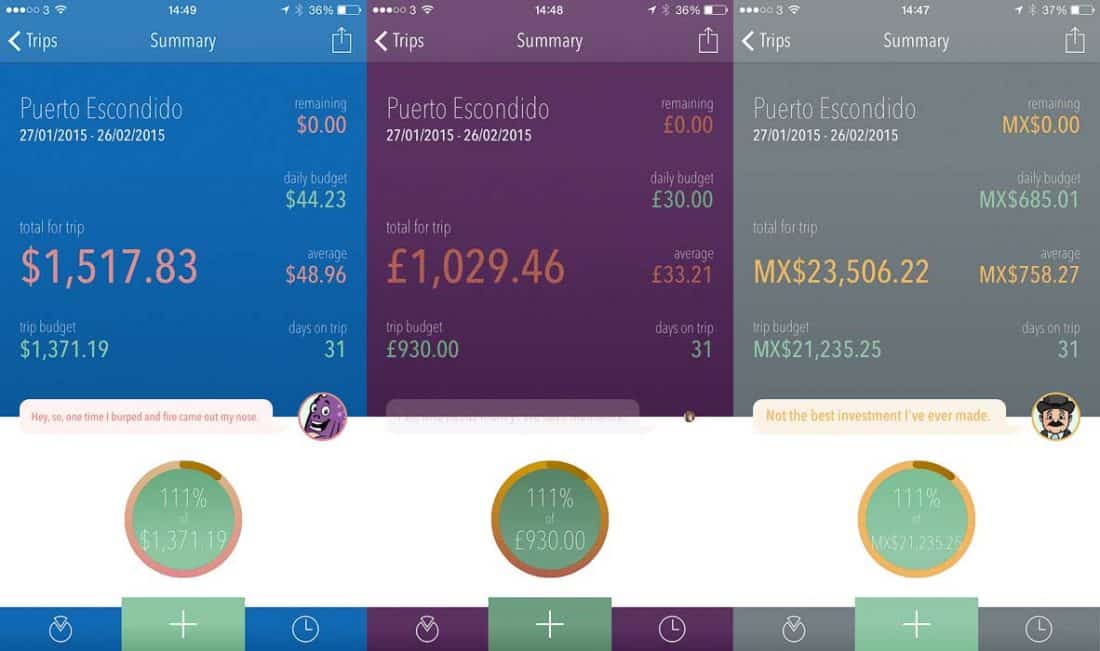 We budgeted £30 ($44) a day but, as often happens, we were over budget. For the daily average of each category see the Trail Wallet screenshots below.
Here's what $759 (£515) per person a month got us in Puerto Escondido:
Accommodation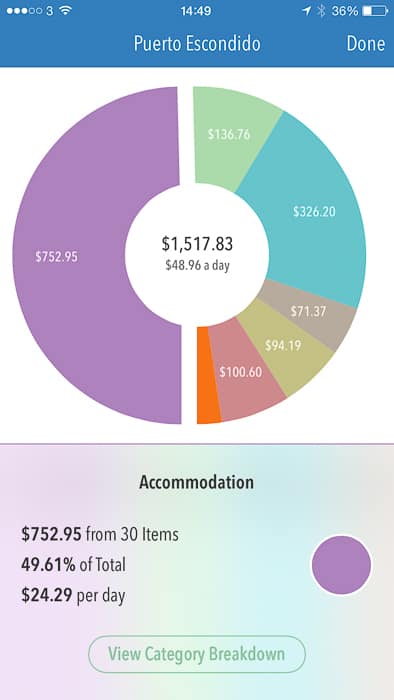 Accommodation was our biggest problem in Puerto Escondido. Apartment rentals in Mexico are cheaper if you turn up and look around rather than booking online. But we made the mistake of arriving in January which is peak season—everything was booked up and prices were much higher than we expected.
A few days before we arrived I contacted a number of Puerto Escondido real estate agents to see what was available and arranged viewings for our first day in town. In the meantime, we stayed at Hotel Las Olas, a simple but decent and central option on the main Zicatela strip.
Brett from Puerto Real Estate showed us a few villas but the best place was double our budget at US $1550 a month. Luckily our friends Tom and Jenny were also looking for a place so we were able to share the two bedroom house.
I'm sure if we were looking for a long term rental in Puerto Escondido we would have found a better deal. For short term rentals I recommend looking on Airbnb. This works best if you book in advance as in peak season all the reasonably priced options were booked up.
I would not recommend trying to find a rental in Mexican beach towns from December to February. It's best to arrive before (or even better after) the peak season to find an affordable place, or book online but prices will be higher.
Despite the problems, we ended up with a lovely house in the Don Goyo complex with two shared pools, a comfortable rooftop palapa with sea views, a large living/dining area and a well-equipped kitchen. It was a very quiet area but felt a bit isolated as we were a 15-minute walk down a steep hill to La Punta beach and around an hour walk to the centre. We liked La Punta neighbourhood with its sandy streets and laid-back vibe, much quieter than the main Zicatela strip (La Punta is at the far end of Zicatela, furthest from the town centre).
The WiFi was only OK (around 1 Mbps download speeds) but this is fairly typical in Puerto Escondido.
All bills were included in our rent except the mandatory once a week cleaning fee which I've included in Miscellaneous.
Eating Out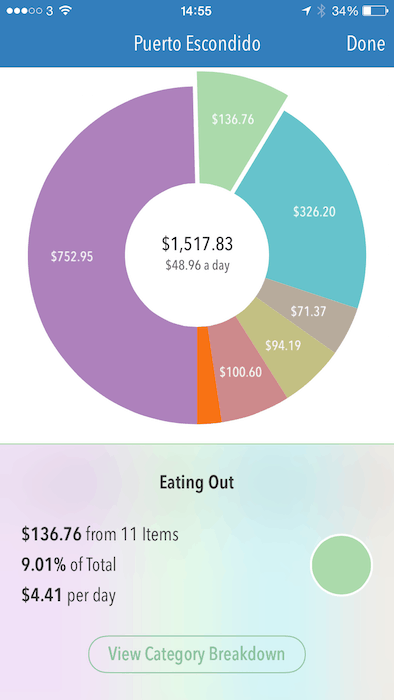 We didn't eat out often as we were far away from everything and the walk to La Punta was unpaved and dark at night. In total we ate out 11 times in the month, usually for lunch. Our meals ranged from 50 pesos ($3) for two quesadillas and a huge green juice at the market to 400 pesos ($26) for a meal for two at an Italian restaurant, with most costing around 150 pesos ($10).
Food Shopping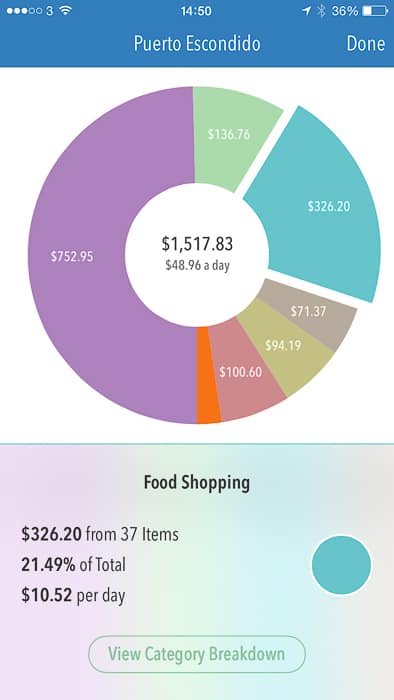 We did most of our shopping at the excellent Benito Juarez market— it's inexpensive, not too crowded, and has a good range of quality produce. We bought our fruit, vegetables, beans, spices, nuts, and seeds here.
There are a number of food shops near the market including tortillerias for freshly made corn tortillas, La Casita where freshly ground coffee costs 120 pesos ($7.75) a kilo, and Mayordomo chocolate shop where freshly ground pure cacao costs 67 pesos ($4.32) for half a kilo—it smells heavenly in there!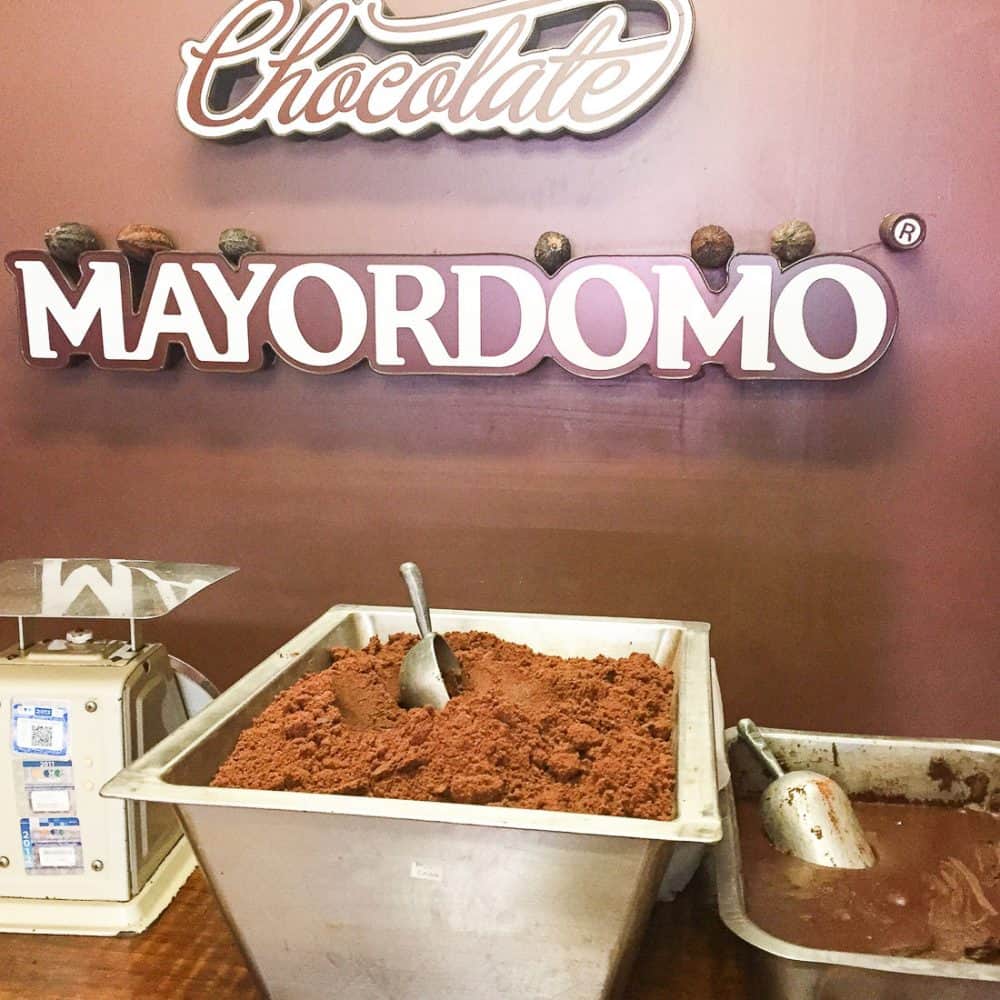 Occasionally we'd shop at the large supermarket Super Che for things like toilet paper and cheese. It's a 15-minute walk from the market so it wasn't convenient to combine the shopping trips.
We bought wholemeal bread, cheese, nuts, brown rice, and vegan bliss balls from Moringa, a surprisingly good health food shop attached to the Frutas y Verduras hostel in La Punta.
This category also includes drinking water—20 litre garrafones were delivered to our house and cost 12 pesos ($0.80).
Transport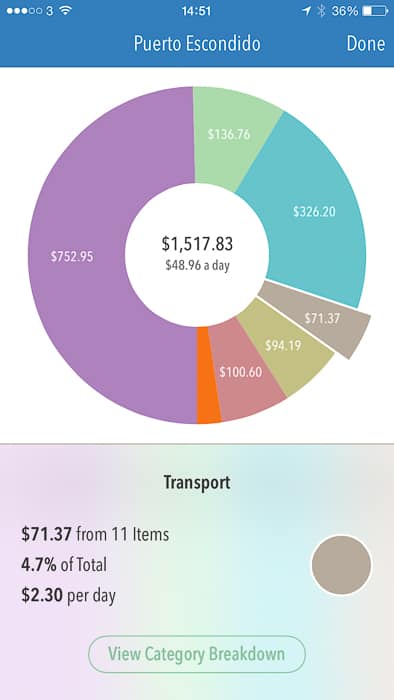 As we were so far from the centre we had to use transport to get to most places. A colectivo (shared pickup truck) cost 8 pesos ($0.50) to the market or 5 pesos ($0.32) for shorter trips. We got a taxi back from the market with our shopping for 50 pesos ($3). Often we'd share taxi costs with our friends.
This category includes the cost of the 10 hour OCC bus trip to Oaxaca when we left Puerto Escondido—it was 652 pesos ($42) for us both. If you don't fancy the long trip you can fly on a tiny plane instead which takes just 30 minutes.
Entertainment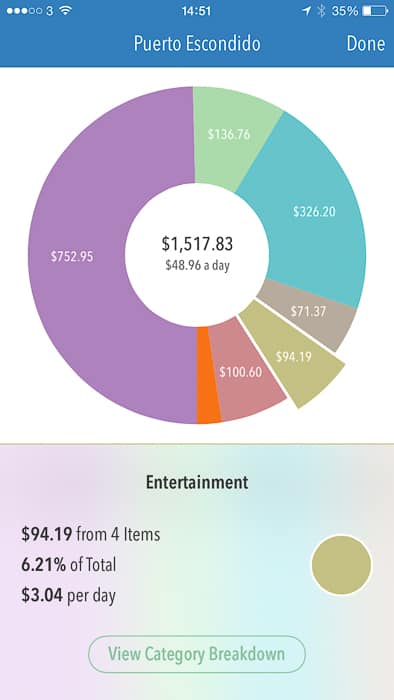 Our main forms of entertainment were relaxing in our pool and watching the sunset from our roof, which cost nothing.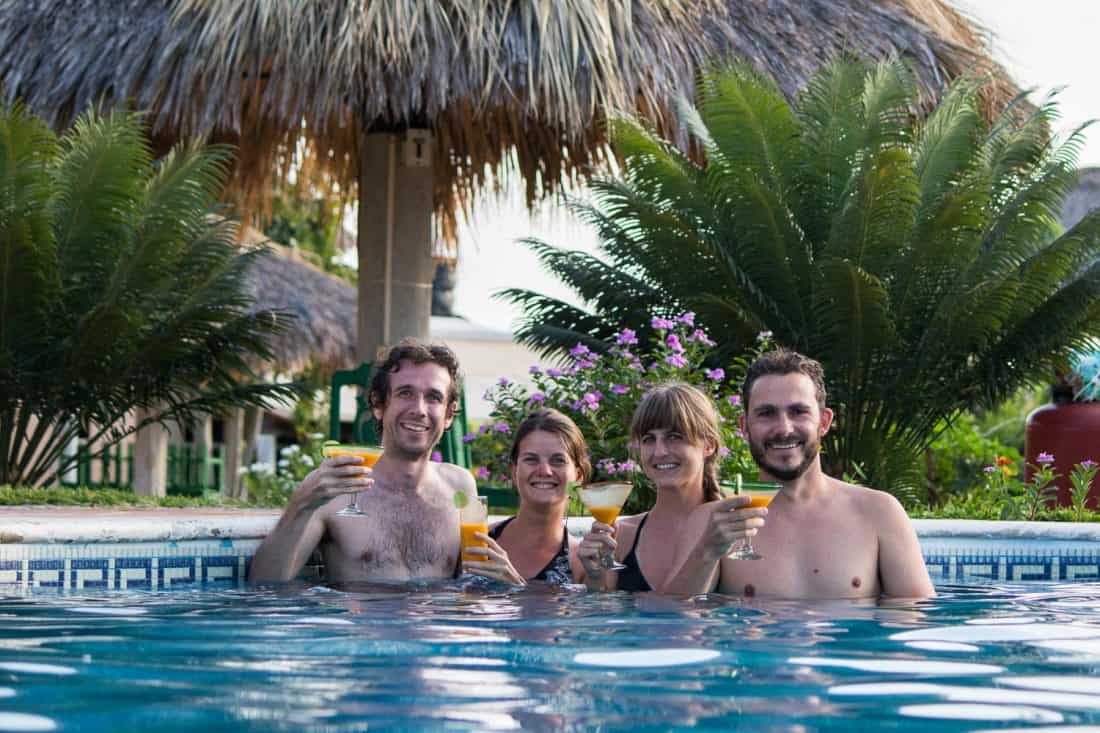 We did do a few activities:
A yoga class at Casamar hotel cost just 40 pesos ($2.60) but it wasn't very good so I only went once.
A 1.5 hour rental of a stand-up paddleboard at Playa Carrizalillo cost 200 pesos ($13).
A half day boat trip to see whales and dolphins (we ended up seeing flying manta rays instead) cost 450 pesos ($29) each.
Releasing baby turtles into the sea cost 600 pesos ($39) for a group of four including taxi and tip to the turtle centre, of which we paid half.
There was a 150 peso ($10) minimum spend to use two sunbeds and an umbrella at a restaurant on our favourite beach Playa Carrizalillo, but this is included in our eating out budget.
Miscellaneous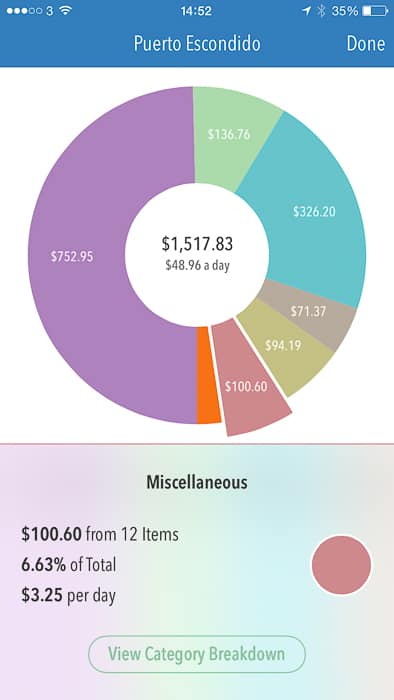 This included:
Telcel phone data—A 3GB data plan cost 399 pesos ($26) valid for 30 days. We had to buy two data plans during our stay as our internet went down for a few days and we used our phone as a wireless hotspot.
A cleaner once a week who charged 200 pesos ($13), of which we paid half.
A pair of sunglasses for 110 pesos ($7).
Various toiletries, medications, and suncream.
Simon also has a category for apps and games that he buys online. He spent £24 ($36) on these and I added them to the Miscellaneous total.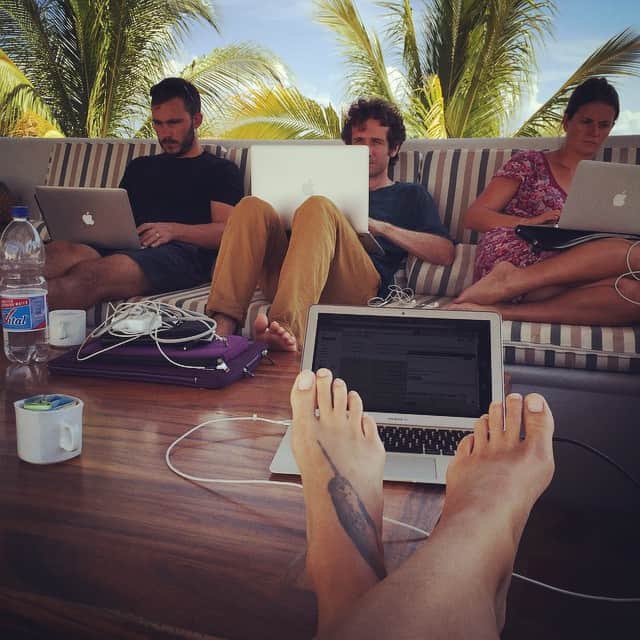 Recommended Resources
This Puerto Escondido travel guide has lots of useful tips.
Heymondo – Don't forget travel insurance in case anything goes wrong. Heymondo are a comprehensive travel insurance provider who we've used before.
Puerto Escondido was more expensive than Oaxaca, San Pancho or Playa del Carmen (for us at least), but it is still good value. We only managed to stick to this budget by sharing a house—on our own we would have struggled to find affordable accommodation. You could keep costs down by renting for a longer period of time and arriving early or late in the season to get the best deals.
If you enjoyed this post, pin it!